Berlin Women
LRC Kenya's Gladys Cherono Wins Her Second Berlin Marathon In 2:20:23 There were a ton of PRs in this one as the opening pace was hot (69:40).

LRC 2017 Coast-To-Coast Battle In Beantown: #27 Illinois Goes 1-2 But #3 Syracuse Men Roll As #7 Providence Women Hold Off #18 Indiana & #25 Georgetown The Orange (35 points) went 3-4-5 and cruised past the Illini (56 points) but the Friars (71 points) had to work for it despite going 4-5-6 as the Hoosiers and Hoyas were each just 7 points behind. Illinois' Jesse Reiser (24:13) and New Hampshire's Elle Purrier (16:49) were your individual champions. Might Illinois win its 1st Big 10 title since 1984?
*Interview With Illinois Stars Reiser And Davis
Bureaucracies At Their Worst And Best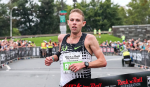 The Week That Was is in fine form this week as we talk about Galen Rupp's half in Philly, Jordan Hasay's slowdown in Philly, sub-4 mania in Alaska, races with interesting prize money structures and of course the two super-fast half marathons in Europe.
Before Berlin On Sunday, A Look Back

LRC Classics #1 A Look Back At A Race For The Ages: Eliud Kipchoge Takes Down Kenenisa Bekele & El Guerrouj At The 2003 World Championships In 5,000 14 years ago, three of the greatest distance runners of all-time squared off at 5,000m and hardly anyone realized it.