World Record History: A Look Back At The Men's Marathon World Records Set in Berlin
by LetsRun.com
September 21, 2017
If you want to set the world record in the men's marathon, we've got some good advice: start by getting yourself to Berlin.
The last six marathon world records have been set in Berlin (and seven of the last nine) and Berlin has held the world record in the men's marathon for the last 14 years. The last world record not set in Berlin came at the 2002 London Marathon, where Moroccan-turned-American Khalid Khannouchi ran 2:05:38.
Since then, the 2:05 barrier, the 2:04 barrier, and the 2:03 barrier have all been broken in Berlin. With anticipation high that we might see another world record in Berlin this Sunday, we thought it would be fun to take a look back at the seven world records that have been set in Berlin.
World Record #1: Brazil's Ronaldo da Costa runs 2:06:05 on September 20, 1998
If one looks at the progression of the men's marathon world record since the first race over the official distance of 26 miles, 385 yards at the 1908 Olympics (American Johnny Hayes set the first world record at 2:55:18.4), one sees that historically the world record doesn't last very long. The official IAAF world record has been broken 39 times since then, meaning on average each world record lasts just over three years (3.05). Only twice in history has a world record lasted for more than 10 years.
Article continues below player.
The first time — from 1935 to 1947, when the world record was stuck at 2:26:42 — there was a good excuse as World War II was going on. The second time there was a 10+ year marathon world record drought started on April 17, 1988, when Belayneh Dinsamo of Ethiopia ran 2:06:50 in Rotterdam. That lasted for 10 years, 5 months and 3 days until da Costa broke the record. With no world war to blame the drought on, we'll blame it on the low mileage mantra that dominated the late '80s and early '90s.
To say da Costa breaking the record in 1998 came as a surprise would be an understatement.
The 28-year-old da Costa came into Berlin with one career marathon under his belt, having finished 5th in Berlin the year before in 2:09:07. Yes, he had run a 60:54 half marathon in 1994, a relatively rare feat at the time (only 24 53 men in history had run sub 61 prior to 1998 according to all-athletics.com), but nothing that indicated he'd get the world record. Coming into the race, da Costa had only run a 62:13 half marathon for third at the South American champs on August 23rd. And we doubt many people were predicting a world record after halfway was hit in 64:42, but da Costa ripped the second half in 61:23. He still had enough left in the tank to do a cartwheel in celebration after it was all over.
To say that da Costa was a flash in the pan also would be an understatement. After the WR, da Costa did next to nothing. He never ran faster than 2:12:52 in the marathon after the WR.
| | |
| --- | --- |
| Overall | |
| Comfort | |
| Cushioning | |
| Durability | |
| Appearance | |
| Value | |
Little-known fact #1: da Costa raced the World Half Marathon champs the week after Berlin and finished 12th in 61:40.
Little-known fact #2: da Costa was once lapped by LetsRun.com co-founder Weldon Johnson in a 10,000 at Mt. SAC.
Race Highlights
More: *Jere Longman NY Times article on the WR
World Record #2: Paul Tergat breaks 2:05 barrier and runs 2:04:55 on September 28, 2003
After da Costa's 2:06:05, Khalid Khannouchi set the next two world records in places other than Berlin. Running for Morocco in 1999, he ran 2:05:42 in Chicago, and then running for America in 2002, he ran 2:05:38 in London.
In that London race, former 10,000 world record holder Paul Tergat was second in 2:05:48, and 17 months later, it was Tergat's time to shine.
In contrast to da Costa's WR five years earlier, Tergat certainly had the credentials of a world record holder coming into Berlin. He was a five-time World Cross Country champion, a former 10,000 world record holder (26:27 pb), and at the time held the half marathon world record at 59:17 (also ran 58:51 on a slightly short course).
Tergat turned down a larger appearance fee offered to him in Chicago to run fast in Berlin and was rewarded with a world record. Like da Costa, Tergat ran a negative split as he ran the first half in 63:04 and the second in 61:51. Unlike da Costa, who won his race by a ton (1:21), Tergat got the world record in part because he had to fight for the win.
The pace got going after 15 miles and Tergat soon found himself in a battle with the top two pacers. The first was Sammy Korir of Kenya, who held a personal best of 2:08:02 and had won six career marathons, including the 1998 Amsterdam Marathon (2:08:12). In all, he had broken 2:09 five times in his career. The other was Titus Munji, also of Kenya, who has run 2:16:58 in his debut in Zurich earlier that year. All three runners were trained by Dr. Gabriele Rosa.
The leading trio ran the 5km segment from 25k to 30k in 14:42, the 5km segment from 30k to 35k in 14:35 and the 5k segment from 35k to 40k in 14:38, dropping Munji at the 37k mark. It was now a two-person race and Tergat pulled ahead with less than 1k to go. As he ran under the Brandenburg Gate with the finish line in sight, Tergat appeared to have the race and world record in hand as Korir languished approximately 10-20 meters behind. However, Tergat, who was famous for finishing second to Haile Gebrselassie on the track, soon started to repeatedly look over his shoulder and Korir started to inch closer. In the end, Tergat held him off by one second as Korir also broke the old record by running 2:04:56.
Tergat, who was 34 at the time of his world record, would continue to race for another six years. However, he never ran a really fast marathon again, as his best post-WR time would be 2:08:07 (London 2007). Part of the reason why he never ran that fast again may have been that he never ran in Berlin again as he did the Olympics in 2004 (10th) and then started racing New York in the fall, which he won in 2005.
Highlights of finish
Splits
5 km 0:15:01   15:01
10 km 0:29:58   14:57
15 km 0:44:46   14:48
20 km 0:59:45   14:59
Half marathon 1:03:04
25 km 1:14:43   14:58
30 km 1:29:25   14:42
35 km 1:44:00   14:35
40 km 1:58:38 14:38
Little-known fact: Tergat once got to visit the Oval Office and meet the president after bumping into LetsRun.com at a road race.
More: LetsRun's Recap of Tergat's WR
LetsRun.com's Homepage Coverage of Tergat's WR (Scroll down on left)
World Record #3: Haile Gebrselassie runs 2:04:26 on September 30, 2007
Tergat got to enjoy his world record for four years, but then Ethiopia's Haile Gebrselassie did what he so often did during his career — upstage Paul Tergat.
The 34-year-old Gebrselassie, who set 27 world records during his career, including one the year before in the half-marathon (58:55), came into Berlin looking for redemption after dropping out of the London Marathon in April. In Berlin the year before, Geb won his first title in an Ethiopian national record of 2:05:56 before winning again in Fukuoka (2:06:52) in December. While he was a DNF in London, he bounced back and ran a 26:52 10,000 in May and a 56:26 20,000m world record in June. During his Berlin prep, he won the NYRR's half marathon in New York (a summer race at the time) in a speedy 59:24.
Eight weeks later, Geb wanted the world record in Berlin. Just as was the case with da Costa and Tergat, Gebrselassie got the WR in Berlin by running a negative split. He went out in 62:29 and came home in 61:57. Geb's splits were interesting because throughout the entire race, he was way ahead of Tergat's splits but as late as 35k, Geb was still slightly behind world record pace (he was on 2:04:57 pace at 35k) as Tergat ran a huge negative split. As you can see below, Gebrselassie made it clear between 35k and 40k that he'd be the new world record holder as he ran that stretch in a ridiculous 14:28.
The runner-up in the race was Abel Kirui in 2:06:51. Kirui would go on to win a world title in Berlin in 2009 (and repeat in 2011) before winning Olympic silver in 2012 and Chicago in 2016.
| | | | |
| --- | --- | --- | --- |
| Split | Geb 2007 | Tergat 2003 | Diff for split/(overall) |
| 5k | 14:44 | 15:00 | -16 (- 16) |
| 10k | 14:41  (29:25) | 14:55 (29:55) | -14 (-30) |
| 15k | 14:50 (44:15) | 14:50 (44:45) |  Same (-30) |
| 20k | 14:55 (59:10) | 14:58 (59:43) |  -3 (-33) |
| 25k | 14:55 (1:14:05) | 14:59 (1:14:42) |  -4 (-37) |
| 30k | 14:51 (1:28:56) | 14:42 (1:29:24) |  +9 (-28) |
| 35k | 14:42 (1:43:38) | 14:35 (1:43:59) |  + 7 (-21) |
| 40k | 14:28 (1:58:06) | 14:37 (1:58:36) |  -9 (-30) |
| Finish | 6:20  (2:04:26) |  6:19  (2:04:55) |  + 1 (29) |
Halfway splits: 62:29 for Geb, 63:04 for Tergat.
 Race highlights
More: *Letsrun messageboard thread on Geb's run
*IAAF Recap
World Record #4: Haile Gebrselassie breaks the 2:04 barrier and runs 2:03:59 on September 28, 2008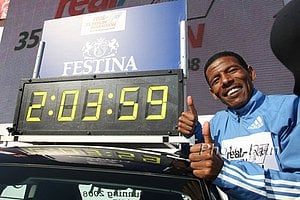 After his world record in Berlin in 2007, Gebrselassie picked up a cool $250,000 by wining Dubai in January in 2:04:53. That may sound like a lot, but Gebrselassie was hoping to win $1,250,000 as there was a $1 million world record bonus. Geb went for it big time as he went out in 61:27.
After Dubai, even though he was the world record holder in the marathon, he skipped the Olympic marathon and opted for the 10,000 as he thought Beijing's pollution wouldn't work well with his allergies (he was 6th in the 10k on August 17 in 27:06.68). Prior to Berlin, Gebrselassie said he wanted to run 2:03 and he did exactly that.
It was achieved by running a narrow negative split as he went 62:03 – 61:56. Geb was slightly behind pace until the rabbits dropped out and he and James Kwambai, the 2007 Boston Marathon runner-up, started to race. Kwambai, who'd end up running 2:05:36, stayed with Geb until the 1:47 mark. Once Kwambi fell off, it was pretty clear that Gebrselassie would get the world record — the only question was would he also break 2:04:00? In the end, Gebrselassie broke 2:04 by one second by ripping the final 7.2 kilometers. 2:04:00 pace is 14:41.6 per 5k and at 35k (1:43:05), Geb was on 2:04:16 pace. But he ran his next 5k in 14:29, meaning he was on 2:04:01 pace at 40k. Geb was able to dig deep over the final 2.2 kilometers and get under 2:04:00.
Unofficial splits
5 km 14:35
10 km 14:38 (29:13)
15 km 14:50 (44:03)
20 km 14:47 (58:50)
25 km 14:51 (1:13:41)
30 km 14:38 (1:28:27)
35 km 14:38 (1:43:05)
40 km 14:29 (1:57:34)
40-fin 14:35 pace
Final few minutes of race
More: *2008 Berlin Marathon live thread *Haile's Splits from Berlin……how far could you run with him??
*Partial LRC homepage after Geb's run
World Record #5: Patrick Makau runs 2:03:38 on September 25, 2011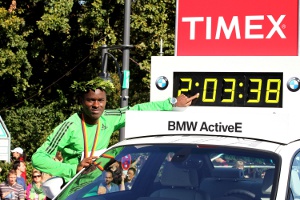 Gebrselassie's second marathon world record lasted two years longer than the first, but in 2011 it went down to 26-year-old Patrick Makau of Kenya, who ran 2:03:38. This world record was the first one in Berlin that was run with a positive split as Makau went 61:43 – 61:55.
Heading into the race, everyone was expecting a duel between Makau and the 38-year-old Gebrselassie, who was racing a marathon for the first time since dropping out in New York the year before, and that's what they got for 16.7 miles. At that point, Makau was tired of Gebrselassie drafting off him so, according to Jere Longman of the NY Times, Makau "veered from one side of the road to the other three times, with Gebrselassie drafting a step behind him. He thought it might confuse Gebrselassie and also tire him. It did."
Makau took off and dropped Gebrselassie. The veering may have gotten the headlines, but the fact Makau ran the 5k from 25k to 30k in 14:20 was really what was lethal. Once dropped, Gebrselassie would end up dropping out and the rest of the race was just Makau against the clock. Makau held up well and got the record.
Splits according to Sportscientists.com
Leaders Splits
5km – 14:36 (2:03:13 pace)
10km – 29:17 (2:03:34)
15km – 43:51 (2:03:21)
20km – 58:30 (2:03:25)
Half marathon – 61:43 (2:03:26)
25km – 1:13:18 (2:03:43)
30km – 1:27:38 (2:03:15)
35km – 1:42:16 (2:03:17)
40km – 1:57:15 (3:03:41)
Finish – 2:03:38
As mentioned above, Makau's win was far from a surprise as he had great credentials. He came into the race with a 2:04:48 pb and was the defending champ. He also had a 58:52 half pb. Makau ran the final part of this race all alone as the rabbit Stephen Chemlany ended up second in 2:07:55.
Final minutes of race
More: LetsRun.com homepage day after race.
Messageboard chatter: 2:03:38 ! ! ! Patrick Makau Shatters Marathon WR
*Berlin Marathon Analysis
*Canova was right Fools! 2:03:02 Should be WR!!
World Record #6: Wilson Kipsang runs 2:03:23 on September 29, 2013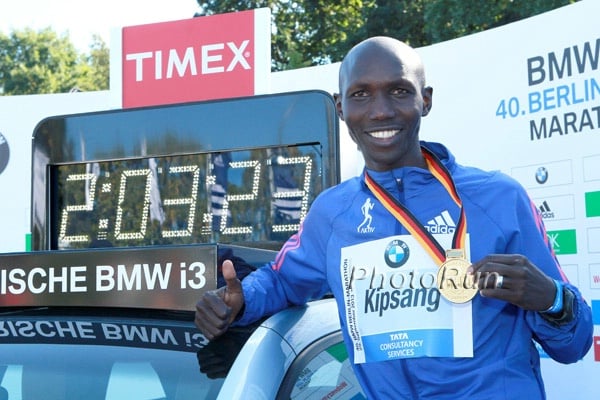 Before the 2013 Berlin Marathon, we hyped the race as a three-way battle between the world's best marathoner in 2012, Wilson Kipsang, the 2003 World 5000 champion Eliud Kipchoge and rising star Geoffrey Kamworor. And that's exactly what happened as those three guys went 1-2-3 with Kipchoge second in 2:04:05 (in his second career marathon) and Kamworor third in 2:06:26 (in his third career marathon).
This world record was the second straight one achieved in Berlin with a positive split as Kipsang went 61:32 – 61:51.
The pace slowed a lot between halfway and 35k as they hit 35k in 1:42:36 (2:03:42 pace) — that's 20 seconds slower than what Makau hit 35k in, even though their halfway split was 11 seconds faster than Makau's. But shortly after the final pacemaker dropped off at 35k, Kipsang picked up the pace and within a kilometer he had started to pull clear of Kipchoge and Kamworor.
The 30-year-old Kipsang – who had a 2:03:42 pb and who in 2012 had won London (2:04:44), finished third in the Olympics (2:09:37) and won Honolulu after NY was cancelled (2:12:31) -ran the 5 km between 35k and 40k in 14:36 to hit 40k in 1:57:12 – three seconds faster than Makau. Kipsang didn't let up as he ran his final 2.2 km in 6:11 – 12 seconds faster than Makau.
Full race replay
More: LetsRun.com homepage after Kipsangs' win
*OFFICIAL 2013 BERLIN MARATHON THREAD
*WILSON KIPSANG 2:03:23!
World Record #7: Dennis Kimetto breaks the 2:03 barrier and runs 2:02:57 on September 28, 2014
Makau's world record didn't even last a full calendar year as in 2014 Dennis Kimetto took down the record in Kipsang's absence as Kipsang opted to run New York instead (he'd win New York in 2014, just like he had won in London earlier that year).
Before the race, Kimetto made it clear that he wanted the world record. For starters, he didn't go back to Chicago even though he was the defending champ — at 2013 Chicago he had obliterated the course record by running 2:03:45, the third-fastest time ever recorded on a record-eligible course. Then he flatly said before the race, "If the weather is good, I trust myself to run a world record," and stated he planned on running 61:30-61:40 for the first half.
Kimetto lied about one thing. He didn't go out in 61:30. For the fifth time out of the seven, the world record was set with a negative split as Kimetto went 61:45 – 61:12.
Kimetto's second half was brilliant. In the process of closing things out with a 61:12 and setting the world record, he also dropped a very tough field of challengers (runner-up Emmanuel Mutai also broke the old world record) and broke the wind-aided 2:03:02 time that Geoffrey Mutai had run in Boston three years earlier.
Here is how we described the 2nd half of the race in our recap:
At 25km, the lead pack still had the rabbits, and five racers, the three favorites, Kimetto, Mutai, and Geoffrey Kamworor, plus another Kenyan Franklin Chepkwony (3rd in Boston this year) and a lone Ethiopian Abera Kuma (5th at Worlds in 2011 at 10k and 5k).
Those five would stay together through 30km, as the pace increased ever so slightly with the rabbits still in front.
Once the rabbits dropped out at 30km, Emmanuel Mutai made his push for history and the world record.  He hit the accelerator and briefly gapped and strung out the field behind him. Only Kamworor and Kimetto could respond.
Overall, the field needed to average 2:55 a km to break the world record. Now with no rabbits and Mutai pushing the pace, the men were running sub-2:50 for the first time all day.
The 31st kilometer was 2:47, it was followed by a 2:46. Mutai had made the initial break, but then Kimetto led with Kamworor right there. All three men were now ahead of world record pace. Unless they ran each other into the ground, the world record looked like it would go down.
After a 2:52 kilometer (still faster than the world record pace), the hammer was put down again and the 34km was run in 2:48. That was too much for Kamworor and he fell off the back.
At 35km, it was a two-man race, as Kimetto and Mutai were chasing history. Four and a half miles of racing remained but sub-2:03 was a real possibility. Kimetto and Mutai remained together until the 38km when Kimetto opened up a slight gap on Mutai. By 40km, the gap had grown to 7 seconds. There was almost no question at this point that the world record would fall with both Kimetto and Mutai ahead of pace.
The big question was could Kimetto hang on and run sub-2:03:00? His 40th kilometer had been a 3:00, one of only three 3:00+ kilometers the entire race. To break 3:00, Kimetto needed to average 2:58 the rest of the way home.
Mutai was following in Kimetto's wake, settling for second place in 2:03:13, faster than the old world record. Kimetto increased the pace to 2:57 on the 41st kilometer, and followed up with a 42nd kilometer of 2:55 and then crossed the line in 2:02:57.
Full race video:
More: LRC Dennis Kimetto 2:02:57: The 2:03:00 Barrier In The Marathon Is Gone
*LRC homepage after Kimetto's WR
Conclusion: Berlin is the common denominator
The last six world records in the men's marathon have come in many different types of races – some in very close races, some in blowouts, some in negative-split races (4), others in positive-split races (2), but they all have one thing in common — they all came on the streets of Berlin.
Berlin Marathon World Records By The Numbers
Bold = Negative Split
Yr
Time
Runner
1st Half
2nd Half
Margin of Victory
1998
2:06:05
da Costa
64:42
61:23
1:21
2003
2:04:55
Tergat
63:04
61:51
1 second
2007
2:04:26
Geb
62:29
61:57
2:25
2008
2:03:59
Geb
62:03
61:56
1:37
2011
2:03:38
Makau
61:43
61:55
4:17
2013
2:03:23
Kipsang
61:32
61:51
42 seconds
2014
2:02:57
Kimetto
61:45
61:12
16 seconds
---
Full 2017 Berlin Marathon Coverage Here.
Talk about the amazing 2017 Berlin Marathon on our messageboards:
MB: Berlin is next weekend. We can officially start the "Expect Great Things" thread!
MB: If Kipsang breaks the WR in Berlin, he is the best marathoner of all time