WTW: Galen Rupp Picks It Up Then Slows Down, NorCal Disbands, And It Was The Weakest Year In The 5,000 Since 1994
The Week That Was In Running – September 11 – September 17, 2017
by LetsRun.com
September 20, 2017
Past editions of the Week That Was can be found here. Got a tip, question or comment? Please email us or post in our forum.
****
Fast Half Marathons In Denmark and the Czech Republic
If you want to run fast, we suggest you get on a plane and fly to the Czech Republic as yet another amazing race was held there last week as part of the RunCzech running circuit. Already this year, the women's half-marathon and 10k world records have been set in the Czech Republic. Last week, no world records were set but the Japanese record for the men's half marathon did fall as Yuta Shitara ran 60:17 at the Mattoni Ústí nad Labem Half Marathon, breaking the record of 60:25 that Atsushi Sato had held since 2007.
And guess where 60:17 placed Shitara?
It was just 8th. Yes, 8th.
Article continues below player.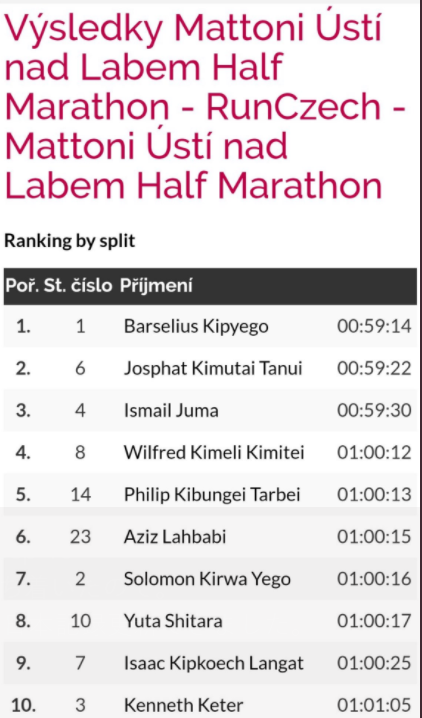 As you can see, Kenya's Barselius Kipyego got the win in a super quick 59:14 – the 5th fastest half-marathon time on the year for 2017. Kipyego, who won the same race last year in 59:15, is a 24-year-old who has yet to make his marathon debut.
In the women's race, Violah Jepchumba surprised herself by running 66:06 to win. The 26-year-old Jepchumba, who ran 65:22 in Prague in April and also has never run a marathon, said afterwards she was hoping for "maybe" 67 minutes.
###
Kipyego's 59:14 would have been the 2nd fastest time of the year except for the fact there was an even faster and deeper half marathon in Denmark. The Copenhagen Half Marathon held its third edition on Sunday and it may already have established itself as the fastest half marathon in the world. For the second year in a row, a ridiculous seven men broke 60:00 in Copenhagen. Leading the way was Bahrain's Abraham Cheroben, who picked up $17,000 by running a world-leading 58:40, making him the third fastest half marathoner in history. Also breaking 59:00 in the race were Kenyan's Jorum Lumbasi Okombo and Alex Oloitiptip Korio. Okombo now holds the title (along with Sammy Kitwara from the Rock 'n' Roll Philly Half in 2011) for being the fastest runner-up in history, while Korio is the fastest 3rd placer ever.
It's only the second time ever that three men have broken 59:00 in the same half-marathon (also happened at 2013 RAK Half) and for good reason as sub-59s are rare – only 18 men have ever broken 59 in a half marathon (and three of those were on non-record-eligible courses). If you are wondering, the most sub-60s in a single race is nine, from the 2014 New Delhi Half.
Here are the top seven men in Copenhagen and their credentials:
1. Abraham Cheroben, BRN            58:40 PB  – Listed age of 24. Ran 58:48 in 2014, 59:10 in 2015. In 2016, 10th in Olympic 10,000. Was 12th at Worlds in 10,000 this year in 27:11.08 pb.
 2. Jorum Lumbasi Okombo, KEN        58:48 PB – Listed age of 20. Tilastopaja lists no results for him prior to this year. Was 18th at Kenyan XC champs and a DNF in Kenyan 10,000 Trials. Ran 60:20 in his half debut in March.
 3. Alex Oloitiptip Korio, KEN       58:51 PB – Listed age of 26. Ran 13:08 in 2012. Ran 59:58 in 2014, 59:28 in 2015. Has won $54,000 in his career at the TCS World 10K in Bengaluru, India, which he won this year and in 2013.
 4. Albert Kipkosgei Kangogo, KEN    59:25 PB – Listed age of 30. Ran 62:44 in 2015, 59:29 in 2016 (in Copenhagen). Fastest non-Copenhagen half is 60:21.
 5. Leonard Barsoton, KEN            59:28 PB – Listed age of 22. 13:26 in 2012, 27:20 in 2014, 13:16 in 2015. World XC silver medallist this year. 4th at Kenyan WC 10,000 Trials this year. This was his half debut.
6. Moses Martin Kurong, UGA         59:50 PB/NR – Listed age of 23. 2013 African jr champ at 10,000. 27:22.33 10,000 pb this year. 18th at Worlds in 10k. First Ugandan ever under 60:00 on a legal course.
7. Geoffrey Kimutai Koech, KEN      59:50 PB – Listed age of 24. 3rd at Kenyan Trials in 5000 this year but didn't have standard (13:28.07 pb from 2015 at altitude). Ran 61:00 in Prague earlier this year.
What do all seven of those men have in common?
Besides being sub-60 men, we think it's pretty amazing that none of those men have ever run a full marathon.
So we don't want to hear any excuses for World Marathon Majors not having deep fields. There are plenty of super talented men to go around.
The women's race in Copenhagen was quick as well as Eunice Chumba (66:11), Joan Chelimo Melly (66:25), and Brigid Jepchirchir Kosgei (66:35) all broke 67 and all PR'd. Kosgei, by the way, was just added to the Chicago Marathon field on Wednesday.
PRs were the name of the game. If you want to run a PR, get on a plane and fly to Copenhagen for next year's race as the 8 of the top 10 men (including all of the top 7 finishers) and 9 of the top 10 women (including the top 5) all PR'd. Included in the PR list was American Sara Hall, who ran 69:37 for 10th in the women's race, a 30-second improvement from her 70:07 pb.
More: Abraham Cheroben Runs World-Leading And #3 All-Time 58:40 As The Top 3 Go Under 59 Minutes And The Top 7 Under 60 Minutes At The Copenhagen Half Marathon The women's race was quick too as Eunice Chumba took it in 66:11 with the top 3 sub-67.
*MB: Booom – 58:40 in Copenhagen half
Barselius Kipyego (59:14) And Violah Jepchumba (66:06) Breaks Course Records At Usti Nad Labem Half-Marathon Kipyego lead two others under the 60-minute barrier as the top 3 finished within 16 seconds of each other. *Results
*A Week After Running A 28:55 10K, Yuta Shitara Breaks Japanese NR With 60:17 For 8th
MB: 2016: Barselius Kipyego rocks 59:15 half-marathon in Czech Republic. Peres Jepchirchir (whalf champ) wins women's race
*****
Galen Rupp Negative Splits Again … But Struggles Late?
Speaking of half marathons, Galen Rupp and Jordan Hasay both got their final pre-Chicago Marathon races in at the 2017 American Association for Cancer Research (AACR) Rock 'n' Roll Philadelphia Half Marathon on Sunday. Rupp won the men's race in 62:18 while Hasay was third in the women's race in 1:10:42 as Meseret Defar's comeback from injury picked up some steam with a 68:45 win. Conditions weren't great for running fast as it was 70 degrees during the race with 90% humidity and a dew point of 66.9 degrees, per Weather Underground.
If you are wondering if Rupp and Hasay were just practicing running marathon pace, we think the answer is probably no.
Like he did at the New Haven 20k a few weeks ago, Rupp ran the second half of Philly much faster than the first half. Rupp hit 10k in 29:56 (4:49 mile pace, 63:09 half pace) but ran the final 11.0975 km at 4:41.6 mile pace (61:32 half marathon pace).
That's the good news. The bad news is the high humidity seemed to get to Rupp late.
"The last three, four, five miles, I cannot lie, it was hot," said Rupp.
The stats bear that out as reports from the press truck say that Rupp ran miles 7-11 in 4:34, 4:38, 4:44, 4:36, and 4:34 – that's 4:37.2 pace. Individual splits for miles 12 and 13 aren't available as the press truck sped to the finish but if our math is right, he only ran the final 2.1094 miles at 4:49.2 pace.
Take a look at the video below. When Rupp finishes, he doesn't look like he's moving very fast.
First video is from LetsRun visitor Matthew Davis. (More Rock N Roll Philly Half videos here).
— Rock 'n' Roll Marathon Series (@RunRocknRoll) September 17, 2017
As for Hasay, she got slower as the race went along. She ran her first 5k in 16:10 (5:12.2 pace), her next 5k in 16:38 (5:21.2 pace), her next 3.78629 miles (to 10 miles) in 20:50 (5:30.1 pace) and the final 3.1094 miles in 17:04 (5:29.0 pace). (Finish video of Hasay).
###
One other thing about Philly. The number of people running the race was WAY down. Only 8,795 total ran the race, which is down a lot from the 12,206 that ran it last year. And 12,000+ isn't unusual for Philly as there were 14,000+ in 2015.
*****
Stat of the Week I
0 – number of words written in the Philly or Chicago newspapers (or on Philly.com) about Galen Rupp's final prep race –  his 62:18 win at the 2017 American Association for Cancer Research (AACR) Rock 'n' Roll Philadelphia Half Marathon, at least according to our online search.
We need our sport to be covered as a sport and it's not happening in mainstream publications.
****
Stat of The Week II – This Was The Worst Year In the Men's 5000 Since 1994
While getting ready for this upcoming weekend's BMW Berlin Marathon, we took a look back at the 2003 World Championship men's 5000 final that featured Eliud Kipchoge, Hicham El Guerrouj, and Kenenisa Bekele: LRC Classics #1 A Look Back at a Race for the Ages: Eliud Kipchoge Takes Down Kenenisa Bekele & El Guerrouj at the 2003 World Championships in 5000.
As we were working on that piece, we decided to do some research on the number of sub-13 5000 performers in a given year. We didn't end up including it in the piece but wanted to share it here. In 2017, there were just three men who broke 13 on the year – the lowest amount since 1994.
# of sub-13 performers by year
1987 – 1 (Photo above is Said Aouita becoming the first human being to break 13:00 for 5,000m; video here)
1988 – 0
1989 – 0
1990 – 0
1991 – 0
1992 – 0
1993 – 0
1994 – 1
1995 – 4
1996 – 10
1997 – 8
1998 – 7
1999 – 10
2000 – 12
2001 – 6
2002 – 7
2003 – 13
2004 – 11
2005 – 17
2006 – 19
2007 – 8
2008 – 6
2009 – 15
2010 – 17
2011 – 13
2012 – 16
2013 – 7
2014 – 4
2015 – 6
2016 – 4
2017 – 3
In case you were wondering, the three sub-13 guys in 2017 were world champ Muktar Edris (12:55.23) of Ethiopia, his countryman Selemon Barega (12:55.58), and Joshua Cheptegei of Uganda (12:59.83). All three did it in the same race in Lausanne on July 6.
****
Quotes of the week (that weren't quote of the day)
#1 Eliud Kipchoge is so good he could run a 2:08 marathon at altitude
"I watched him do a 40K as his training run, and if he had done the extra 2K he would have clocked in at a 2:08 marathon, and this is at altitude as part of his training."
-Director Martin Desmond Roe talking to Runner's World about what he witnessed while making National Geographic and Nike's documentary, Breaking2. The film airs tonight (Wednesday) on National Geographic at 8 p.m. ET in the US and will be available online on Thursday.
If you are wondering if that's even possible even for someone as great as Kipchoge, we've done an analysis and think the answer is "Yes it is." Running 40k at 2:08 pace would mean that Kipchoge was running 13.8 seconds per mile slower than world record pace (and we're talking about the 2:02:57 WR), which is definitely doable considering Geoffrey Kamworor has run a 10,000 at altitude just 8.7 seconds per mile off WR pace.
More: MB: Wait, what? I'm supposed to believe Eliud Kipchoge ran 2:08 marathon pace for 40k at altitude in training?
*This Documentary Takes You Inside the 2-Hour Marathon Pursuit
#2 RIP to anti-doping pioneer
"I grew up believing that our sports heroes were genuine, that they were great athletes because they had special skills and trained harder."
-Anti-doping pioneer Gary Wadler, who died last week at 78. Wadler learned during his professional career that he was naive.
The thing we loved about Wadler is he wasn't afraid to point out that the testing in the major professional leagues of the US is still largely a joke. He called the NFL testing "blatantly ridiculous" and said that MLB's testing policy was one "designed to silence its critics," but not actually tough enough to end doping. "The devil's in the details," he said. "The rest of the story might be equivalent to having no testing at all."
Those quotes come from various NY Times articles on Wadler, which you can read below.
More: Gary Wadler, Antidoping Pioneer, Had a Gift for Straight Talk – The New York Times
*Gary Wadler, Expert on Doping in Sports, Dies at 78 – The New York Times    
**** The NorCal Distance Project Is No More
Last week, Leah O'Connor (9:18 steeple PR, #5 all-time U.S.) announced that she was leaving Drew Wartenburg's NorCal Distance Project to return home to Michigan.
This came on the heels of Olympic finalist Kate Grace's announcement last month that she was leaving the group to relocate to Portland. With Wartenburg's wife Kim Conley the only big name remaining, NorCal, which had been based in Sacramento, essentially ceased to exist.
Heavy hearted that this chapter of the NorCal Distance Project has come to an end, but ready to move forward with renewed perspective! pic.twitter.com/WmXBI2yGjH

— Drew Wartenburg (@Drew_Wartenburg) September 16, 2017
LRC reached out to Wartenburg this week after O'Connor's departure and he gave a rundown of the recent dissolution of the NorCal Distance Project.
"I'm sure people would love to imagine what goes on inside groups but there was no one big incident or event or even underlying ethos that led to where we are," Wartenburg said of Grace's departure. "I can't speak for Kate's rationale, partially because it wouldn't be fair and partially because I honestly can't.
"We produced some really good results, and I felt like we had a working understanding. I don't know. London didn't go as planned, I think, obviously when you look through a coach and an athlete lens. I think speaking for [the] team or for athletes, in this case, and for myself, her decision was a blindside. So that piece, when you look back retrospectively, it inevitably makes you wonder what was said and left unspoken along the way that ends up in a unilateral decision."
If Wartenburg was surprised by Grace's departure, we can understand why. Under Wartenburg's direction, Grace ran personal bests in the 800 (1:58.28, previous PR 1:59.47), 1500 (4:03.59, previous PR 4:07.35) and mile (4:22.93, previous PR 4:28.79) and made her first two U.S. teams, qualifying for teams both times she tried out for while a member of the group. In 2016, she was the U.S. 800 champ and advanced to the Olympic final in Rio. In 2017, she finished second at USAs in the 1500 and was eliminated in the semifinals at Worlds in London.
LRC reached out to Grace, who provided us with the following explanation for her departure.
"My time with NorCal changed my life. I firmly believe that the program's structure, championship culture, and individual coaching were keys to an incredible period of consolidation and growth in my track career. My decision to move is not a reflection of any dissatisfaction with my time or the group. There are so many positive results, and great friendships from the past two years. Drew's coaching has laid the foundation for all of my success over the last few years. I am forever grateful to him and my teammates.
"At this point I am looking toward what will allow me to sustain and improve performance in the coming three years, culminating in 2020. I'm a firm believer that as an elite individual performer, you have to be constantly evaluating your situation and needs, both with training and also on a personal level, with an eye toward achieving your potential. I also believe that those needs change, and that I cannot assume that what has worked in the past will always be the way, or that there is one way. Joining NorCal Distance Project was the best decision for my track career. I can only hope that in three years, I can say the same about this move. Of course nothing is promised, but it never is in this sport."
Besides Grace, Brie Felnagle was spending time in Washington preparing for grad school and trying to rehab an injury and Lauren Wallace retired, so Grace's departure left Conley, O'Connor and Lianne Farber as the only remaining members of the group.
"Rather than just sort of coasting at that point and saying 'we're just going to see where all the chips fall,' I felt the need to be a little more proactive on the individual front there and say to everyone, to all three athletes, this is the chance to assess," Wartenburg said. "You need to step back, do some personal assessment as to whether this group, Sacramento, is the place for you. And moving forward, if it is, now both the opportunity and the burden changes a little bit in terms of determining what the direction might be for rebuilding a group if that's what we choose to do — but with no guarantee that we were going to do that. That's what Leah, Lianne, and Kim all assessed. At the end of the day, there wasn't resounding collective commitment to say 'let's all plant our feet and stay.' So that, in large part, was the basis, I think, for Leah's final decision to return home to Michigan."
Wartenburg said that he did not think that sponsor pressure was a factor in either Grace or O'Connor's decision. Unsponsored NorCal Distance Project members were provided with New Balance kit and shoes, but New Balance did not fund the group itself. Grace is sponsored by Nike, O'Connor by adidas.
"I've had first- and second-hand accounts from a couple people at Nike assure me that, 'Hey, we weren't involved in this or we were hands off,'" Wartenburg said. "I don't think there's been anything active in terms of them looking at 'we need to move [on from] this.' I'd never heard anything [other than] positive feedback from what we were doing in our situation in terms of serving Kate from the Nike side."
When we asked whether Grace's relocation to Portland had anything to do with her Nike sponsorship, Grace provided this response:
"Yes, Nike in Beaverton was a factor, but not in the sense of conspiracy theories that I am asked about. This was a personal decision about me being happy, healthy and strong over the coming cycle, to put myself in the position to get the best possible performances. Nike has incredible facilities in Oregon, both Portland and Eugene. Being close to those resources is a great plus."
Grace said that she has just finalized the process of deciding upon a new coach/training group and plans to announce them within the next week or so.
Wartenburg will continue to coach Conley and said he wouldn't be opposed to coaching other athletes moving forward, but he's not actively recruiting anyone to join him right now.
****
Don't Want To Run Fast? Fine, But We Aren't Going To Pay You
We know tactical races drive some of our visitors nuts (not us). Well the Beijing Marathon organizers have an interesting solution to the problem. They offered $40,000 for first but only if you broke 2:09:00 and 2:27:00. In the end, the race winners (and top 3) had their prize money reduced by 50% for not breaking 2:09:00 and 2:27:00 according to David Monti.
Top Three Results
Men
1. Salah-Eddine Bounasr, MAR        2:11:18 USD 20,000
2. Girmay Birhanu Gebru, ETH        2:11:26     10,000
3. Stephen Chemlany, KEN            2:11:50      6,000
Women
1. Meselech Tsegaye Beyene, ETH     2:27:44 USD 20,000
2. Rebecca Kangogo Chesir, KEN      2:30:31     10,000
3. Rahma Tusa Chota, ETH            2:33:22      6,000
****
The World's Richest Road Mile 
Speaking of interesting prize money structures, a road mile in Australia was held last week with a million-dollar purse — the aptly-named Lottoland Mitchell Street Million Dollar Mile. Now, no one is going to win the million Australian dollars ($800,325) as to do so you have to break the IAAF track world record on the road course, which is out and back.
Regardless, the race does offer the biggest cash award for the winner of any road mile in the world – $12,000 (technically 15,000 AUD, which is $12,004). And guess who won it on the men's side? Kenya's Silas Kiplagat in 3:58.90 – which reminds us of something that was bugging us.
A few weeks ago, during the broadcast of the New Balance 5th Avenue Mile on NBC, announcer Craig Masback said 5th Avenue "features the world's best milers competing on one of the iconic roads of the world." We think better phrasing would be "some of the world's best milers" because the NYRR hasn't been getting the top African milers in its race.
The NYRR has shown its priority is getting milers based in America with the occasional Brit and Aussie thrown in. Looking at this decade, going back to 2010 on the men's side, of the five fastest 1500m runners on the year (40 in total), only two have run 5th Avenue that same year: Nick Willis in 2015 (he won) and Amine Laalou in 2010 (he won).
On the women's side, the numbers aren't as stark as the American women have had some of the top 5 spots, but Laura Muir is the only non-American in the top 5 on the year to run 5th Avenue.
The NYRR is free to invite whoever they want, and some may think an American-focused field is more interesting, but being factual is important.
On the women's side in Australia, Australia's Brittany McGowan won the big payday in 4:43.54. 23 women went sub 4:43 at 5th Avenue. Here's an idea for Jenny Simpson or anyone else eyeing a vacation in Australia next year. Fly yourself to Australia after the season is over, win the race, and then go on vacation.
****
Sub-4 Mania In Alaska
Continuing our theme of interesting prize money races, Alaska native Trevor Dunbar organized two track miles last week in Alaska, hoping to give America's largest state its first ever sub-4 mile outdoors.
Dunbar got what he wanted as Kyle Merber (3:59.36) and Ben Blankenship (3:59.67) both broke four in the first race in Anchorage and then Blankenship did it again in the second one in Kodiak (3:57.85). The series offered $2,000 in prize money for each race and then a $1,000 bonus for the lowest combined time from both races, which Blankenship won as Merber only ran 4:03.18 in the second race.
We wonder if Blankenship's 3:57 is a world record for a mile race held in sub-50-degree temps (48F/9C).
MB: Kyle Merber becomes 1st human to run sub-4 mile outdoors in Alaska
****
Run 34:27, Win $2,000
The 40th Great Cow Harbor 10K was held over the weekend on Long Island in hot and humid conditions. The race annually serves as a nice payday for American runners. This year, the biggest winner of easy money was women's runner-up Kaitlin Goodman, who picked up $2,000 for running just 34:27.78.
The race winners were Natosha Rogers (33:23.57 – $3,500) and Donn Cabral (29:24.24 – $3500)
More: Donn Cabral (29:24) And Natosha Rogers (33:23) Get Big Paydays With Victories At The Cow Harbor 10K *Results
****
All Good Things Must Come To An End
The 28th CVS Health Downtown 5K was held last week in Providence and for the first time since 2001, the race didn't serve as the US road 5k champs. Yes, Providence, which hosted the US champs for 15 straight years – from 2002 to 2016 – isn't the US champs race this year. Instead, the Abbott Dash to the Finish 5K in New York City on November 4 — the day before the NYC Marathon — will serve as the US champs.
Not hosting the champs didn't impact the number of racers in Providence as finishers were up to 3,057 this year from 2,813 last year.
It's worth noting that the oft-injured Aisling Cuffe, the 2010 Foot Locker champ who was twice a runner-up in the NCAA 5000 for Stanford, won the women's race in 16:28.2, in what we believe was her first race in 14 months. The Saucony-sponsored Cuffe trains under Ray Treacy in Providence.
****
Unemployed? Maybe You Should Look For A Job At This Office Park

Earlier this month, a new office building – White Collar Factory – opened up a London. Check out what's on top of the building.
More: Spikes: Check Out London's New Office Building With A 150m Track On Top Of It
*White Collar Factory Website
*****
Stat of the Week III
10:08.3 / 10:57.3 – pace per mile averaged last week by the winners of the men's (Harvey Lewis III) and women's (Tara Landon) winners at the US 24-Hour Champs last weekend, held as part of the NorthCoast 24-Hour Endurance Run in Cleveland.
7:38.1 / 8:54.8 – pace per mile averaged during the men's (Yiannis Kouros) and women's (Patrycja Bereznowska) world records for the 24-hour run.
More: 2017 NorthCoast 24 Results
Editor's note: Initially we posted Lewis and Landon's pace per lap, rather than their pace per mile. This article has been corrected.
****
Recommended Reads
Seb Coe Writes Editorial Saying If We Are Going To Win The Doping Fight, Everyone Must Be Fighting Against Dopers – Not Just The Testers
Q&A With Director Of New National Geographic Documentary Taking You Inside Nike's Breaking2 Project Martin Desmond Roe says he saw Eliud Kipchoge do a 40K training run at altitude where if he added on the last 2K he would have run a 2:08 marathon.
Toni Reavis wonders if technological advances are hurting runners
NY Times Tribute: Gary Wadler, Antidoping Pioneer, Had A Gift For Straight Talk Wadler was one of the first to start educating people about the prevalence and dangers of doping in sports.
*AP: Anti-Doping Pioneer And Expert Gary Wadler Dies At Age 78
To see our favorite reads from other weeks, go here.
****
Quotes Of The Day And Last Week's Home Pages
To see the actual quotes of the day from last week or last week's home page or any home page, go to our archive page.
---
Correction: The credentials for the 2nd placer in Copenhagen Jorum Lumbasi Okombo were initially incorrect as we said he was 19 and hadn't run a half-marathon before.