by Race Results Weekly 
September 24, 2017
Kenya's Gladys Cherono, who didn't run any marathons in 2016 due to injury and was just 5th in Boston earlier this year, returned to the winner's circle this morning as she won the 2017 BMW Berlin Marathon in 2:20:23.
Cherono had to overcome a strong challenge from Kenyan compatriot Valary Aiyabei and Ethiopians Ruti Aga and Amane Beriso.  The quartet were all together at halfway (1:09:40), and only Beriso had fallen off by 30-K (1:38:58).  Cherono pushed ahead at the 35-K mark, ran 17:07 for the final 5 km segment of the race, and sealed her victory. After going out in 69:40, Cherono was spent as she staggered to the right and nearly fell after hitting the tape.
"I am so happy to win because last year I was injured and thought I would never run at this level again," Cherono told race organizers.  "The atmosphere along the course was wonderful for me and the other runners."
Last year's third placer Aga, who was just 13th in Dubai and 10th in Boston earlier this year, moved up a spot and got second in a big PR of 2:20:41, and Aiyabei ended up third in 2:20:53. Ethiopia's Helen Tola got fourth (2:22:51), Germany's Ana Hahner fifth (2:28:32), and Italy's 45 year-old Olympian Catherine Bertone got sixth (2:28:34).  Bertone's mark was a world record for 45 to 49 year-olds.
Article continues below player
Cherono won €40,000 in prize money and a €15,000 time bonus for breaking 2:20:30.
Top 10 Results
1 Cherono, Gladys (KEN) 2:20:23
2 Aga, Ruti (ETH) 2:20:41
3 Aiyabei, Valary (KEN) 2:20:53
4 Tola, Helen (ETH) 2:22:51
5 Hahner, Anna (GER) 2:28:32
6 Bertone, Catherine (ITA) 2:28:34
7 Samuels, Sonia (GBR) 2:29:34
8 Diaz, Azucena (ESP) 2:30:31
9 Ribeiro, Catarina (POR) 2:33:13
10 Dillen, Kim (NED) 2:33:24
Quick Take Analysis by LetsRun.com
Quick Take#1: Gladys Cherono is back
Cherono's 2015 Berlin victory, where she ran an incredible 2:19:25 (#8 all-time) was a truly magnificent performance, but after an injury-plagued 2016 and a fifth-place finish in her marathon return in Boston in April, it looked as if it were possible that Cherono's marathon career could be headed for the "Whatever happened to xxxx ?" pile. She silenced those doubts today. The 34-year-old, who didn't make her marathon debut until age 32 in 2015, showed great resilience in overcoming those injuries and now she's on top again with another commanding victory in Berlin.
Quick Take #2: Behind Cherono, there were a flurry of personal bests
Cherono couldn't improve her personal best (which, admittedly, is tough to do when you've run 2:19:25). But the three women behind her took advantage of the hot pace at halfway (69:40 for the lead group of four) and all ran sizeable PRs of a minute or more. Check it out:
2. Ruti Aga, Ethiopia 2:20:41 (old PR: 2:24:41 from 2016 Berlin)
3. Valary Aiyabei, Kenya 2:20:53 (old PR: 2:21:57 from 2017 Prague)
4. Hellen Tola, Ethiopia 2:22:51 (old PR: 2:25:04 from 2017 Barcelona)
Of the lead group at halfway (Cherono, Aga, Aiyabei, Amane Beriso), only the Ethiopian Beriso struggled as she dropped out before the 35k mark.
Quick Take #3: Gladys Cherono, like Eliud Kipchoge, was hoping to PR, but weather and late-race fatigue may have played a factor
As we noted in our men's recap, the pace slowed dramatically over the final 7.2 kilometers as the 15:04 5k split from 35k to 40k was by far the slowest of the race of the men's race. It's worth noting, however, that the women's race featured an even bigger slowdown over the final 7.2 k. After a 69:40 opening half, at 35k, Gladys Cherono was on 2:19:26 pace but she ended up winning in 2:20:23.
Fades at the end of a marathon aren't unusual but the fact that both races faded in similar fashion may indicate that the weather finally started to take its toil. Cherono certainly thought the weather was why she could not hold her pace.
"If it wasn't [for the] weather conditions, I could have run my personal best," Cherono said after the race.
Top 30 Women's Results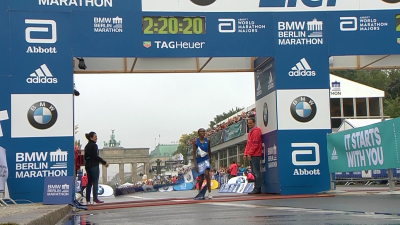 1 Cherono, Gladys (KEN) 2:20:23
2 Aga, Ruti (ETH) 2:20:41
3 Aiyabei, Valary (KEN) 2:20:53
4 Tola, Helen (ETH) 2:22:51
5 Hahner, Anna (GER) 2:28:32
6 Bertone, Catherine (ITA) 2:28:34
7 Samuels, Sonia (GBR) 2:29:34
8 Diaz, Azucena (ESP) 2:30:31
9 Ribeiro, Catarina (POR) 2:33:13
10 Dillen, Kim (NED) 2:33:24
11 Amrhein, Fabienne (GER) 2:34:14
12 Galimany Guasch, Marta (ESP) 2:34:16
13 O'Kane, Ellie (AUS) 2:35:55
14 Graham, Laura (IRL) 2:37:05
15 Ganiel, Gladys (IRL) 2:37:55
16 Phillips, Caitlin (USA) 2:38:27
17 Rüegger, Susanne (SUI) 2:39:39
18 Li, Haifeng (CHN) 2:39:45
19 Moen Guidon, Karoline (NOR) 2:40:36
20 Moser, Cornelia (AUT) 2:41:27
21 Hyland, Rachel (USA) 2:41:50
22 Esser, Anke (GER) 2:43:14
23 Jareb, Nera (AUS) 2:44:39
24 Sustic, Nikolina (CRO) 2:46:01
25 Pollack, Jillian (USA) 2:46:03
26 Gustafson, Kate (CAN) 2:46:40
27 Heinemann, Toni (AUS) 2:47:02
28 Fogg, Erica (GBR) 2:47:34
29 Lepik, Kaia (EST) 2:47:49
30 Liu, Ziyang (CHN) 2:48:29
Men's Recap: LRC Eliud Kipchoge (2:03:32) Holds Off Debutant Guye Adola (2:03:46) to Win 2017 Berlin Marathon as World Record Attempt Fizzles T
---
Advertisement
The 1:59:40 GOAT shirts are here