Tracking, Results and Live Leaderboard For 2017 BMW Berlin Marathon
by LetsRun.com
September 23, 2017.
Updated September 24, 2017.
The 2017 BMW Berlin Marathon took place on Sunday, September 24. The race started at 9:15 am local (3:15 am ET).
Article continues below player.
Individual results for recreational runners can be found here. A live leaderboard with 5k splits is here. Tracking for the 2017 BMW Berlin marathon is here.
Top 30 men's and women's results appear below. For more info go to the Berlin website.
Our men's recap is here: Eliud Kipchoge (2:03:32) Holds Off Debutant Guye Adola (2:03:46) to Win 2017 Berlin Marathon as World Record Attempt Fizzles.
Our women's recap is here: Kenya's Gladys Cherono Wins Her Second Berlin Marathon In 2:20:23.
Be a fan and talk about the race on our fan forum / messageboard as it happens: MB: Official 2017 BMW Berlin Marathon Thread.
Top 30 Men's Results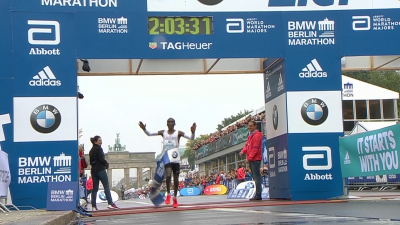 1 Kipchoge, Eliud (KEN) 2:03:32
2 Adola, Guye (ETH) 2:03:46
3 Geremew, Mosinet (ETH) 2:06:09
4 Kandie, Felix (KEN) 2:06:13
5 Kipruto, Vincent (KEN) 2:06:14
6 Shitara, Yuta (JPN) 2:09:03
7 Sano, Hiroaki (JPN) 2:11:24
8 Vail, Ryan (USA) 2:12:40
9 Adams, Liam (AUS) 2:12:52
10 Mellor, Jonathan (GBR) 2:12:57
11 Malaty, Benjamin (FRA) 2:13:10
12 Belachew, Melaku (ETH) 2:13:22
13 Gokaya, Koji (JPN) 2:14:28
14 Lashyn, Dmytro (UKR) 2:14:45
15 Tiruneh, Chalachew (ETH) 2:15:05
16 Lehmann, Adrian (SUI) 2:15:12
17 Kikuchi, Masato (JPN) 2:15:32
18 van Schuerbeeck, Willem (BEL) 2:15:49
19 Seaward, Kevin (IRL) 2:15:50
20 Sharp, Matt (GBR) 2:16:02
21 Csere, Gaspar (HUN) 2:16:03
22 Abdulaziz, Ebrahim (NOR) 2:16:38
23 Cuneaz, Rene (ITA) 2:16:53
24 Martelletti, Paul (NZL) 2:17:10
25 Mull, Brandon (USA) 2:17:17
26 Kreienbühl, Christian (SUI) 2:17:17
27 Herzog, Peter (AUT) 2:17:37
28 Criniti, David (AUS) 2:17:57
29 Arrospide, Iraitz (ESP) 2:18:09
30 Gelaw, Getaye Fisseha (ETH) 2:18:15
Top 30 Women's Results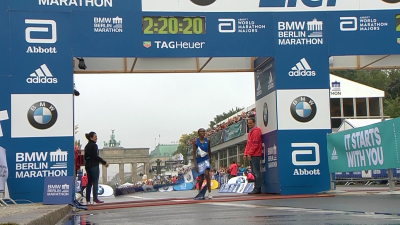 1 Cherono, Gladys (KEN) 2:20:23
2 Aga, Ruti (ETH) 2:20:41
3 Aiyabei, Valary (KEN) 2:20:53
4 Tola, Helen (ETH) 2:22:51
5 Hahner, Anna (GER) 2:28:32
6 Bertone, Catherine (ITA) 2:28:34
7 Samuels, Sonia (GBR) 2:29:34
8 Diaz, Azucena (ESP) 2:30:31
9 Ribeiro, Catarina (POR) 2:33:13
10 Dillen, Kim (NED) 2:33:24
11 Amrhein, Fabienne (GER) 2:34:14
12 Galimany Guasch, Marta (ESP) 2:34:16
13 O'Kane, Ellie (AUS) 2:35:55
14 Graham, Laura (IRL) 2:37:05
15 Ganiel, Gladys (IRL) 2:37:55
16 Phillips, Caitlin (USA) 2:38:27
17 Rüegger, Susanne (SUI) 2:39:39
18 Li, Haifeng (CHN) 2:39:45
19 Moen Guidon, Karoline (NOR) 2:40:36
20 Moser, Cornelia (AUT) 2:41:27
21 Hyland, Rachel (USA) 2:41:50
22 Esser, Anke (GER) 2:43:14
23 Jareb, Nera (AUS) 2:44:39
24 Sustic, Nikolina (CRO) 2:46:01
25 Pollack, Jillian (USA) 2:46:03
26 Gustafson, Kate (CAN) 2:46:40
27 Heinemann, Toni (AUS) 2:47:02
28 Fogg, Erica (GBR) 2:47:34
29 Lepik, Kaia (EST) 2:47:49
30 Liu, Ziyang (CHN) 2:48:29