IAAF Athlete Of The Year Finalists
Non-LRC NYC Coverage
Previous
Previous NYC News
Non-LRC NYC Coverage
Doping News: Another Argument For Lifetime Bans
World Indoors In Portland?
USATF Officially Announces Portland As US Bid For 2016 World Indoor Champs The British city of Birmingham is the only other city known to be preparing a bid. If Portland wins, it will only be the second time the US has hosted World Indoors (the first was in Indianapolis in 1987).
*USATF Press Release
Post-NYC / Distance News: Dennis Kimetto Says Chicago Was A Missed WR Opportunity
Women: LRC 6 Takeaways From The Fascinating Women's Race Big props to runner-up Buzunesh Deba, an awful day for the Americans and - most importantly - did a mysterious man on a bicycle save the day for Priscah Jeptoo, who is the greatest women's distance runner in the world right now?

Race Recap Priscah Jeptoo Comes From Behind For $625,000 Victory RRW 14 miles into the race, Priscah Jeptoo was 3:24 behind 2011 runner-up Buzunesh Deba. Jeptoo had to catch her if she wanted to win $600,000. She did it in impressive fashion as Deba held on for second. Top results. Adriana Nelson was the top American. *Results
Other News
*LRC Photo Gallery link fixed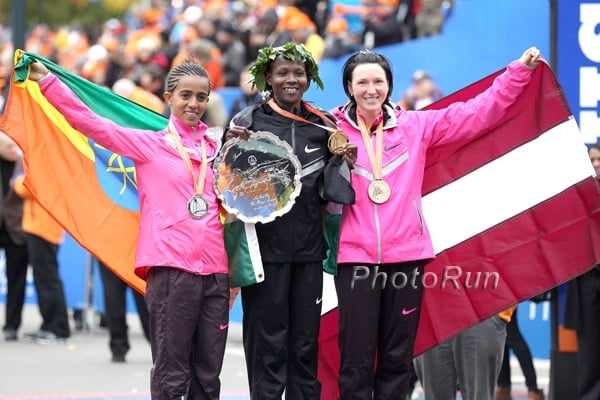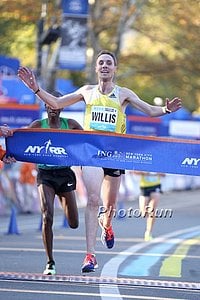 LRC Nick Willis Over Sam Chelanga, Aaron Braun link fixed
Nick Willis showed he's pretty good at 5k with a big kick the final 800m to get the win over Ben True's new training partner Sam Chelanga and Aaron Braun. Recap, results, post-race video.
LRC Chris Solinsky's Still Got The Fire After His 14th Place Finish: "It's Embarrassing" ... "It Was Really Bad" ... "A Shit Performance" Video and text.
*Discuss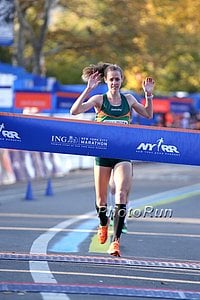 LRC Molly Huddle Over Emily Infeld & Shalane Flanagan updated Molly Huddle got the best of Jerry Schumacher-coached athletes Emily Infeld and Shalane Flanagan as she won in course record time. Recap, results, post-race video.
*Discuss

LRC Photo Gallery
Other Weekend Results
More Friday NYC
LRC Geoffrey Mutai Has Answers For All Of You Who Say You Can't Run A 2:03 Marathon Clean LRC asked Geoffrey what he would tell people who say it's not possible to run 2:03 clean. He had a good answer. Video and text.

LRC Ageless Veteran Martin Lel Is Back In New York 10 Years After His First NY Victory Lel's body of work in the early part of the decade was amazing. He's still hoping to win on Sunday in his second race of the year.
*NYRR: Healthy Martin Lel Hopes To Recapture Youth In NYC; Says He "Can't Predict Anymore" If He Can Win

LRC Yuki Kawauchi, The Citizen Runner, Invades The 2013 New York City Marathon: Five Takeaways This is the 9th of 11 marathons for Yuki in 2013 and we no longer think his racing is quite as crazy as we once did.
*Brett Larner's Japanese NYC Preview Kawauchi says he wants to beat Meb.
Day 2 Media Day
LRC Tsegaye Kebede is Confident: "I think the money is mine. Nobody will take it." We really enjoyed talking to Kebede, one of the most consistent marathoners in history, who was full of smiles and confident he'll win the $500,000 jackpot on Sunday.

LRC: Stephen Kiprotich: "I Can't Run 2:03" - Kiprotich Video Before 2013 ING New York City Marathon Plus he reveals he didn't want to initially run the World Champs, but the Ugandan federation encouraged him and he walked away with Gold.
*Stephen Kiprotich Happy To Have Uganda Training Partner Jackson Kiprop In NYC With HIm Kiprop ran with Kiprotich for a while in Moscow before fading to 10th place.
RRW: Stephen Kiprotich, Tsegaye Kebede Ready To Duel For World Marathon Majors Title


LRC Wesley Korir: Marathon Champion, Member Of Parliament, Humanitarian Korir's learned a lot from the US and has taken it back home to Kenya, where he wants to try to stop the corruption and fat cats. Also, read this if you want to run just 40 mpw and get 5th at the Boston marathon.
*USA Today: Wesley Korir Mixes Running And Politics To Work Against Terrorism

Thursday Video: LRC Stephen Kiprotich The Olympic champ didn't want to run Worlds but the federation urged him to. He left with a gold medal.
*LRC Wesley Korir The Kenyan member of Parliament gets paid $10k a month to be in Parliament. More coming from Wesley and Stephen. *LRC Tsegaye Kebede
Ashton Eaton Plans On Defending His World Indoor Heptathlon Title It will be Eaton's only combined events competition of the year as he focuses on individual events such as trying to do 400 hurdles.
Day 1 Media Day
Day 1 Media Day:

LRC Discount Firehiwot Dado And Buzunesh Deba At Your Own Peril; The Two Ethiopians Say They've Been Training Better Than Ever LRC totally discounted Firehiwot Dado and Buzunesh Deba two years ago at the ING NYC Marathon. (Full disclosure: We even thought Dado's name was Dado Firehiwot). We're not going to do it this year. The two Ethiopians are primed and ready for NYC 2013.
*RRW: Close Friends Dado, Deba Happy To Be Back In New York City The 1 and 2 from 2011 are back in NYC again.

LRC Former Hobby Jogger, Now Pro, Yolanda Caballero's Still Inspired By Her Husband 21 Months After His Death; Words Of Wisdom From Super Master Chema Martinez Yolanda Caballero was a hobby jogger and then her now-deceased husband made her world class. At 42, Spain's Jose Manual "Chema" Martinez wants to be a factor in NYC.

More From Wednesday: After World Championships Silver, Valerie Straneo Ready For More In NYC The 37-year-old Straneo made a name for herself with her silver medal at the recent World Champs.
*2013 ING NYC Marathon Honors Boston Marathon With Yellow Line To Finish
More NCAA (Full Updated Conference Champs Coverage Farther Down)
Friday's New York City Marathon On The Run Video Show (Meb, Mutai, Alisha Williams, Jason Hartmann, David Epstein, Wejo). More Episodes Here.
Don't Think You Can Run 2:03 Clean? Geoffrey Mutai Wants To Talk To You (More Here).
Episode #2 On The Run With Frank Shorter, Bill Rodgers, Joan Benoit, Stephen Kiprotich, More (Larger Here). Each Night At 8pm Eastern Here.
Random Stuff: Harry Potter Is Seb Coe
Weekly Recap
LRC Week That Was 10/29/13 - Walking On At Wisconsin, Marathon Abstinence, And Wilson Kipsang's World Record Is Broken? (link fixed) This week, we give out free coaching advice to Alberto Salazar and Shannon Rowbury, introduce you to a true hero for walk-ons at Wisconsin, and talk about marathon abstinence and teetotalers at Rio 2016. Plus running in the Serengeti, bad running journalism and Wilson Kipsang's world record is broken?
Sunday: Inaugural EQT Pittsburgh 10 Miler Attracts Strong American Field Men's field is led by Americans Brent Vaughn, Andrew Carlson, Jon Grey and Fernando Cabada, who face Kenyan Julius Kogo and Scottish runner Andrew Lemoncello. The women are led by Ethiopia's Askale Merachi.
Top International Updates