LRC Scandal At NYC Half As Favorite Kim Smith Eats A Cupcake And Wilson Kipsang Drinks A Coke The favorites Kim Smith and Wilson Kipsang went before the media on Friday and it was full-out scandal in NYC. Kim Smith ate a cupcake, and Wilson Kipsang had a non-diet Coke. Mayor Bloomberg had no comment. In less important news, Kipsang and Smith talked about their preparations for the race.

LRC Janet Bawcom And Jason Hartmann Both American Stars, Both Pondering Their Future In The Sport Janet contemplates becoming a full-time nurse despite being an Olympian and Jason still is without a sponsor after finishing 4th at Boston last year.

Lagat And The FULL: Bernard Lagat Says If NYC Half Goes Well He May Do A Full Marathon In The Fall He said it's "Very likely, very likely."

NYRR: NY Times: "NYRR Facing More Difficulty 4 Months After Marathon Uproar" According to this article, "Questions about the group's future persist, including whether its dominance has started to erode because of rival race organizers and disaffected runners."

Interesting: IAAF Online Diary From PV Olympic CHamp Renaud Lavillenie Who Says He Doesn't Think He Can Get Sergey Bubka's WR "I am sure that you are wondering what I think from now about the World record of Sergey Bubka. I am going to answer frankly: I think that it is not inaccessible. ... In order to raise the bar to 6.15m and manage to clear it, I still need to gain consistency. This winter, I managed to go past the 5.90m mark four times. Now, I have to be able to clear 5.95m or 6m more often, if I do not want to look ridiculous when I will attempt to beat his World record."
Previous NYC Half News
LRC Bernard Lagat, Abdi Abdirahman and Dathan Ritzenhein are all running the 2013 NYC Half Marathon on Sunday with different objectives. For Lagat, it's his anticipated half marathon debut. Lagat sounds ready and has been training some with Abdi. For Abdi, the emphasis is on getting ready for the Boston Marathon next month. Abdi sounds off on that and the drug problem in the sport. For Ritz, there is no spring marathon or World XC. Can he regain his 1:00:00 form? Textual recaps coming. Interviews with all 3 below:
More Action This Weekend
Jamaica's Champs Have Started
Other Weekend Action
Track And Field News Lists All Of The Indoor Records That Were Broken This Winter From HS To Pro
Random US News
Week In Review
LRC WTW: Mary Cain Vs. D'Agostino, Lawi Lalang's Double Vs. Galen Rupp's Triple, Eric Jenkins, And The Greatest High School Finish Ever? Abbey D'Agostino and Lawi Lalang stole the show at NCAAs, but Jordan Hasay ended her NCAA indoor career with an impressive feat. Plus, Eric Jenkins turned a few heads and we have a must, must watch video from the NBIN if you have 90 seconds to spare.
Drug News: 17 More Caught By Biological Passport
Looking Ahead
Lithuania's 2000 & 2004 Olympic Discus Champ Virgilijus Alekna Still Going Strong At 41 Years Old He'll compete in this weekend's European Cup Winter Throwing meet in Spain.
UK News
Laureus Awards
Usain Bolt And Jessica Ennis Win World Sportsman & Sportswoman Of The Year At Laureus World Sports Awards
*Felix Sanchez Wins Comeback Of The Year Award As Seb Coe Won The Lifetime Achievement Award
*Video Of Ennis Accepting
*Video Of Usain Bolt's Hologram Accepting The Award Not sure why, but Bolt coudln't make it, so his Hologram accepted for him.
News From Africa
UK News
NCAA And Other Post-Weekend News
World XC Is March 24th: Mercy Cherono And Vincent Chepkok Off Kenyan Team
MB: Something to ponder, Mary Cain beat Emma Coburn (NCAA mile champ) and Abbey D'Agostino (NCAA 3k/5k) prior to 2013 NCAAs What event(s) might Cain have won at NCAAs?
*Mary Cain Feature In Her Local Paper Not only is she incredible at running, she has a 4.2 GPA.
LRC W3k: The Coronation: Abbey D'Agostino Completes The Double The NCAA has a new queen and American distance running may have its leading face for the next decade as D'Agostino became the first American 5,000 and 3,000 NCAA indoor champion ever, let alone at the same NCAA meet. Jordan Hasay finished second in what she called "probably the best race of my life." as she gave Oregon the points that gave them their 4th-straight team title. Emma Coburn won the mile and Natoya Goule the 800.
*Flash recaps - more later. In the meantime, check out:
*LRC Post-Race Video Interviews With Most Of Saturday's Major Players

Meanwhile, On The Boards:
Friday Night
LRC 5ks: Abbey D'Agostino And Kennedy Kithuka Dominate In Different Ways The women's 5,000 came down to the final mile between stars Abbey D'Agostino, Betsy Saina and Jordan Hasay - and it was no contest. D'Agostino was clearly best. On the men's side, Kennedy Kithuka put in an early surge and that was all it took despite a game effort by Diego Estrada to keep it honest throughout.

*Friday Photo Gallery Here *Friday Video Highlights From NCAA (1:24) *LRC Friday Interviews
Meanwhile, On The Boards:
Day 2: LRC Mary Cain Dominates & Wins Her First US Indoor Title Cain was simply brilliant and thrashed the field. In the process, she showed a technical savvy and closing speed way beyond her years.
*Sunday Photo Gallery *Video Of Cain's Win

*LRC Rest Of Mid-D & Distance Action: Will Leer Completes Heart-Warming Double As Erik Sowinski's Dream Season Continues And Teen Phenom Ajee Wilson Joins Cain In Winner's Circle The 2013 USA indoor meet ended up being fantastic from a fan's perspective. With his cancer-stricken father in the stands, Leer found the guts to complete the 3k/mile double as Erik Sowinski just held off Robby Andrews and Wilson led throughout.
*Short On Time? Men's 800 Recap Only
*Women's 800 Recap Only
*Men's Mile Recap Only
*USATF Recap Of Day 2 Ryan Whiting threw a world leader in the shot put (21.80), Mississippi State's D'Angelo Cherry ran the world's 3rd-fastest 60m of the year (6.49 - world leader is 6.48) and 2004 Olympic gold medallist Jeremy Wariner won his first-ever US indoor crown with a 45.82 clocking (#4 in the world).
*AP Recap Of USAs From A Guy Who Clearly Doesn't Cover Track
*IAAF Recap

More 2013 USA Indoor News

Updated: LRC Day 1 Distance: Chelsea Reilly Wins National Title As Lisa Uhl Nearly Impales Herself, Will Leer Dominates
Chelsea Reilly won her first national title in NASCAR fashion as she and Lisa Uhl collided right before the finish with Uhl catapulting herself head first off the track. Fortunately, both women survived without serious injury. Will Leer dominated the men's as expected. Can he pull off the 3k/mile double tomorrow? In the 800, the "names" - Mulder, Andrews, Centro, Sowinski - all advanced except for Mark Wieczorek.
*Photos
(Video of 3k finish in article or to right on homepage)
Stockholm Meet *Results
LRC Friday Tidbits From Stockholm: Update On Galen Rupp's Record, Plus Dibaba News We've got splits for Galen Rupp's last 600m, plus news that Genzebe Dibaba is not now coached by Jama Aden, the coach to Taoufik Makhloufi, who has strong USA ties.
On The Boards: Jama Aden Coaching Philosophy


LRC Galen Rupp 7:30.16 American Record! Aregawi Just Misses 1,500m World Record Galen Rupp's tremendous 2013 continued with his finest performance yet. Not only did he get the American record, but perhaps most importantly he got his first European win of note. The other big news was new Swedish citizen, Abeba Aregawi, just missing the world record by .12 in the women's 1,500m. In other action, Genzebe Dibaba blitzed an 8:26.57, Mohammed Aman ran a world leader in the 800m, and Matt Centrowitz came up well short of the American 1,000m record. Flash recap.
*IAAF Recap: Olympic Silver Medallist Yarisley Silva Breaks Her Own Cuban Record And Sets World Lead In PV With 4.71m Shelly-Ann Fraser-Pryce set a PR in her 2nd-ever 60m to win with 7.04.
*Pre-Race Interview With Rupp

On The Boards: *Rupp 7:30.18!!! *GALEN RUPP NEW 3000 AR 7:30.18 *STOCKHOLM MEET updates! *Galen Rupp Will NOT Break U.S. 3000m Record In Stockholm
Profile On Recent 600m AR Setter, Erik Sowinski, Who Works 30 Hours A Week At A Shoe Store & Only Got Into Millrose After Kevin Borlee Pulled Out At The Last Minute
Weekend Results: Kawauchi PR's Again
Jamaican Boys And Girls' Champs
LRC Matt Tegenkamp Missed A Week Of Running And Will Not Be Running 2013 World Cross-Country
Learn From The Pros
LRC Ten Training Tips From Bernard Lagat, Dathan Ritzenhein And Abdi Abdirahman The American men took center stage at the NYC Half on Thursday. You can watch video interviews with the top American men (Lagat here, Ritz here and Abdi here) and we will have more on their race preparations on Friday, but in the meantime we compiled ten training tips from Bernard, Dathan, and Abdi that you can use in your own training.
How Well Do You Know Your Mile Trivia?
Random But Newsworthy
English Are Still Really Upset The Commonwealth Games Standards Are Stiffer Than The Olympics
NY Times: "After The Mile: The Tim Danielson Story"
Drug News
Assorted International News
Jamaican Boys And Girls' Champs
London Takes A Hit
Tirunesh Dibaba Withdraws From 2013 London Marathon With Shin Injury The marathon debut of the greatest women's distance runner in history is going to have to wait 365 days.
Boston Takes A Big Hit
LRC Ryan Hall And Moses Mosop Both Pull Out Of 2013 Boston Marathon Two of the biggest names have both pulled out and somehow John Hancock thought it was appropriate to title the press release "John Hancock Financial Announces 2013 Boston Marathon Online Media Guide Is Now Live." Boston has scrambled and added in 2013 Dubai winner Lelisa Desisa.
*RW Q&A With Ryan Hall About Pulling Out Of The Boston Marathon And His Injury Status He says he's back running fine and the injury to his quad wasn't serious, but it was enough to keep him from doing "any substantial running" for a month and he missed too much time to be fit for Boston.
*MB: Ryan Hall pulls out of Boston
*MB:Will Ryan Hall ever commit to and finish another marathon?

Citing Tightness In His Calves, Meb Pulls Out Of This Weekend's NYC Half Meb said he recently had 2 great months of training and called this "one of the most difficult decisions in my career."
Other US News
International Admin News
4 Interesting Reads
World XC Is Next Weekend
Jack Daniels Takes XC Job At Wells College
NYC Half And LA Marathon Are This Sunday
The Top Training Partners On The Planet
Great News: After Running 2:24 In Nagoya, 2004 Olympic Champ Mizuki Noguchi Says She's Operating At 70-80%

LRC M Mile/3k: What A Double - The Great Lawi Lalang Is Back Lalang, who up until this time last year was viewed as unbeatable at the NCAA level, got his mojo back with some major style points thrown in as he had one of the greatest nights in NCAA history, as he won both the mile (3:54) and 3,000 (7:45) in meet records. The Arkansas Razororbacks won NCAA title #41.


LRC 800s/W Mile: Elijah Greer Outduels Cas Loxsom; Emma Coburn Adds The Mile Title To Her Résumé And Natoya Goule Wins NCAA Title #1 The men's 800 ended up being the mano vs. mano battle between the two American seniors that everyone wanted to see - Greer and PSU's Casimir Loxsom with Greer coming out on top.


AP Recap: Arkansas Gets Its 20th Indoor Title And 1st Under Coach Chris Bucknam It's NCAA title #41 for the program as legend John McDonnell won 40.
*LRC Coach Chris Bucknam And John McDonnell Talk About Bucknam's NCAA Title #1
*Oregonian: Oregon Wins Its 4th Straight Women's Indoor Title

More:
Friday
LRC DMRs: Vig Does It Again With Princeton, Michigan Woman Win Coach Jason Vigilante's mid-d magic continued at the NCAA meet this time at his third school - Princeton. The Ivy Leaguers got the NCAA title thanks to a blistering final 200m by Belgian-American Peter Callahan. The Michigan woman passed up on individual success to get the team DMR title.

LRC Miles & 800 Prelims: Emma Coburn Cruises, Favorites Advance In Men's Mile, The #1 Seed Crashes Out In Men's 800, LSU Looks To Go 1-2 In Women's 800

More NCAA Day 1 News:
IAAF Names More 2005 Dopers: 4 Belarusians And 2 Russians
IAAF Reveal 6 More Positive Tests From 2005 Helsinki Retests Shot putter Nazdeya Ostapchuk, who was stripped of her London Olympic gold, tops the list of Belarusians that also includes Ivan Tsikhan and Vadim Devyatovskiy, the gold and silver medallists in the men's hammer in Helsinki, and Andrew Mihhnevich, who finished 6th in the shot put final. The two Russians were women's hammer gold medalist Olga Kuzenkova and long jump silver medallist Tatiana Kotova.
*IAAF Release
LRC Photo Gallery


Men's 3k: LRC Galen Rupp Is Defeated As Hagos Gebrhiwet Sets New World Junior 3,000 Record Of 7:32.87


Women's 2-Mile: LRC Mary Cain Runs 9:38.68 For 2 Miles - The Greatest Distance Performance In US HS Girls History Tirunesh Dibaba was way ahead of the field as she won in 9:13.17.

LRC The Rest Of The 2013 New Balance Indoor Grand Prix - Centro, Lakhouad And Wright Win As Suhr Takes Crack At AR
Rest In Peace Will Steele - aka "The Cancer Guy"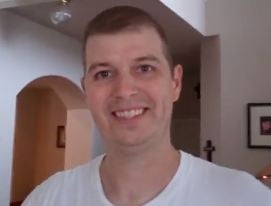 LRC Celebrating The Life Of "The Cancer Guy" Will Steele Will Steele was running 18-minute miles last year. And never has there been a more inspirational runner on LetsRun.com. We pay our respects to this great man who contributed so much to the LetsRun.com community and lost his battle with cancer one month ago on Christmas eve.
NCAA Admin News
"Brilliant Video Interview" (Those Aren't Our Words): Lagat Making His Half Marathon Debut (More Here)
Ritz At The NYC Half (More Here)
Three Cheers For Abdi Sounding Off On Drug Cheats (Abdi Talks His Training Here)
Abbey D'Agostino: Double NCAA Champion
Oscar Pistorius News
Week That Was
Jenn Suhr World Record *Photos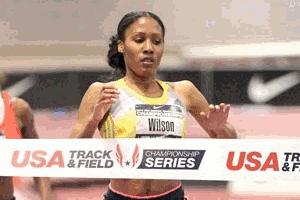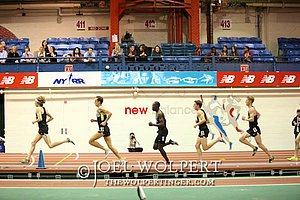 Crazy Finish Of Women's 3k (More Here)
Usain Bolt Does The Harlem Shake
Beautiful People: NCAA Banquet Photos (Click On Photo)