Janet Bawcom and Jason Hartmann Talk 2013 NYC Half Marathon, Staying in the Sport
by: LetsRun.com March 15, 2013 On Friday 2013 NYC Marathon favorites Kim Smith and Wilson Kipsang ate cupcakes and drank cokes and addressed the media (more here on that). Also, Americans Janet Bawcom and Jason Hartmann addressed the media. Highlights below. Janet Bawcom From Nearly Quitting the Sport to  US Olympian Janet Bawcom's story is […]
Join Our Supporters Club To Keep Reading
Sign up today to get a free 12-week training program and t-shirt.
by: LetsRun.com
March 15, 2013
On Friday 2013 NYC Marathon favorites Kim Smith and Wilson Kipsang ate cupcakes and drank cokes and addressed the media (more here on that).
Also, Americans Janet Bawcom and Jason Hartmann addressed the media. Highlights below.
Article continues below player
Janet Bawcom From Nearly Quitting the Sport to US Olympian
Janet Bawcom's story is an incredible one. Walking on the side of the street one day in Kenya, she was picked up in a car by Olympic champion Peter Rono. He told her she could get a college scholarship through running so she started running.
She had not broken 20 minutes for 5k when Harding University recruited her. According to her husband, Jay, somehow they were told to believe she ran 2:08 for 800m. Janet got to the States and realized she was slower than many of the girls who had less of a scholarship than her. She was determined to work harder to beat them to justify her scholarship. That lead her to three NCAA DII titles. However, it wasn't good enough to make her think she could run professionally full-time.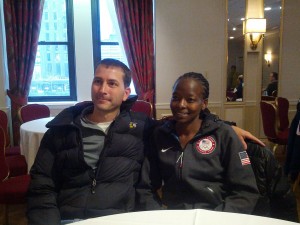 After college, Janet did road-race on the weekends. Her husband, Jay, called it a high paying part-time job. Janet continued to get better and better and once she became a US citizen in November 2010, people began to notice her exploits. However, Janet was thinking of giving up running to become a registered nurse. In 2011, Janet took on Jack Daniels as her coach. At first her thoughts upon seeing his workouts were, 'This dude is crazy,' but soon Janet was able to do the workouts. Since college she has increased her mileage from 60 miles per week to 90-95 and believes that the marathon training has helped her in shorter distances.
There is no spring marathon for Janet this year. She still talks about leaving the sport and getting on with her life, because she realizes that nursing and the medical field is a more long-term way to provide for her family than running. However, with the running going so well (she made $17,000 last weekend at the USA 15k champs), Janet is a full-time runner waiting to become a nurse.
Janet revealed she is super competitive and studies all of her competitors. The most important news was she said her sister is a huge LetsRun.com junkie.
| | |
| --- | --- |
| Janet Talks Running And Maybe Giving Up Running | Janet Talks About Her Sister Being an LRC Junkie |
Jason Hartmann, 4th Place at Boston Still Without a Sponsor
Jason Hartmann almost got out of the sport last year. Then he finished 4th at the 2012 Boston Marthon. He said, "It definitely was life changing." That kept him going in the sport, but the American star still does not have a shoe sponsor and financially the sport is not easy on him.
The cancellation of last year's NYC Marathon, did not think things easier for Jason, as he was going to run it and hopefully get another payday. So now Jason, is back where he was last year, focused on the Boston Marathon.
For Boston this year, Jason has upped the mileage a little more to 130-135 a week and added in alter-G treadmill training twice a week thanks to a PT in Boulder who lets him get on the alter-G. Jason hopes it all pays off in Boston, but before that he is hoping for a strong performance this weekend in NYC. Full-interview below.
Thursday's USA coverage:Abdi Abdirahman interview here, Dathan Rizenhein here. Bernard Lagat here