Say It Ain't So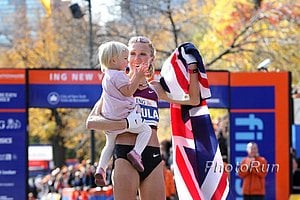 Paula Radcliffe Admits Foot Injury May Have Ended Career As An Elite Runner For Good Her most recent surgery resulted in 10 weeks of total immobilisation and the rehab may take 8 months, so 2013 Worlds is out. But she's not a quitter and she's hoping London 2014 is in and then the Commonwealths.
*Just To Run With My Kids Would Be Enough, Admits Radcliffe After Triple Operation
*Discuss
Weekend Action We Didn't Cover Yesterday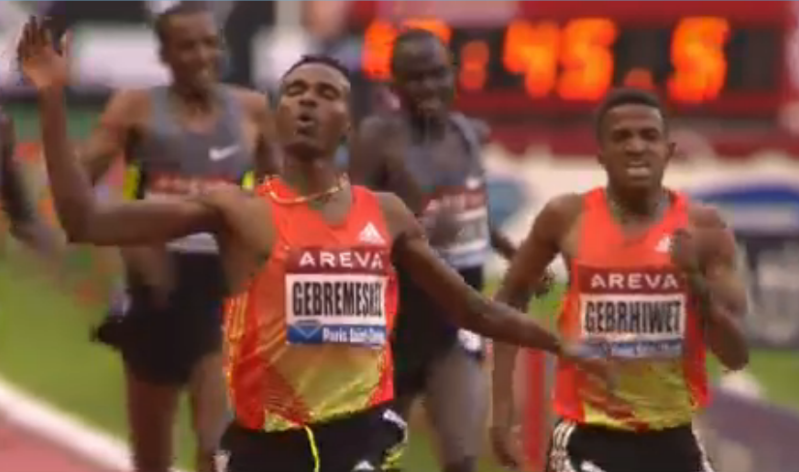 12:47 Man And World Junior Record Holder Hagos Gebrhiwet And The 2012 Berlin Marathon Champion Aberu Kebede Win Great Ethiopian Run

Osaka Marathon: 39-Year-Old Lidia Simon Defends Crown (2:33:14) As Mongolia's Ser-Od Bat-Ochir Set's New Men's CR Of 2:11:54 Simon was the 2000 Olympic silver medallist and 2001 world champ.

2010 World Cross-Country Silver Medallist Teklemariam Medhin Dominates IAAF XC Meet Outside Of Madrid Olympic bronze medallist in the steeple Abel Mutai was 4th. Eritrean Nazret Weldu won the women's race.

Ethiopians (2:09:59 & 2:30:08) Dominate Florence Marathon

Ethiopia's Mosinet Geremew (27:36) Wins 10k In India Yebrqual Melese won the women's 10k in 33:21.
Euro XC Is This Upcoming Weekend
Administrative News
In Case You Were Gone Over the Weekend: IAAF Gala Awarding Athlete Of Year And Celebrating 100 Years Of IAAF
Usain Bolt, Allyson Felix: 2012 IAAF Athletes Of The Year Bolt won out over Aries Merritt and David Rudisha and of course Mo Farah (who was not a finalist, which means he didn't finish in the top 3). Jessica Ennis and Valerie Adams were the other women's finalists. LRC cast its ballot for Rudisha and Felix. The IAAF should release the vote tallies.
US Running: The State Of The Sport
Sunday Marathon Results
Jarmila Kratochvilova Thinks A Russian Could Be The One To Finally Break Her 29-Year-Old 800m WR (1:53.28) In Moscow Next Year Hers is the longest standing record on the track.
Pregnant Writer Says The Olympics Have Inspired The Next "Baby Boom" In The UK "In the Telegraph offices alone, three of us are due within a week of one another - in mid- to late April. ... It seems that it wasn't only the athletes who needed to be provided with condoms, as they were before the Games started - it was the spectators, too."
Thanksgiving Day Action
And To Think, Unlike Lance, He's Actually Clean

Unbelievable 4 Months After Nearly Dying In Bike Crash, Lukas V Runs 5:25 Pace For 2.5 Miles The phenom who went sub-4 in HS is truly thankful to be second in his age group. *MB Thread On Lukas V's Comeback

Chiba Ekiden: Galen Rupp Wins His Leg With 28:20 10k Split (28:46 Was 2nd) As Kenya Edges Japan The most impressive running by a male may have come from New Zealand's Zane Robertson, who ran 13:29 on leg #1. His twin Jake also won his leg. *MB: On Chiba Ekiden
The Greatest Feat In HS XC History?
Recommended Read: With State Meet Saturday, NJ MOC Wednesday & NXN Saturday, CBA Sits Top 5 - Runs JV - And Still Wins New Jersey Meet Of Champs Three sophomores, two freshman, a junior and a senior pulled off one of the most remarkable feats in HS XC history.
This Bud's Not For You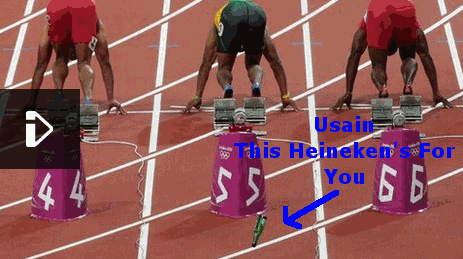 Man Who Threw Heineken Bottle At Start Of Olympic 100m Final Is Out Of Mental Hospital & Will Stand Trial In January

34-Year-Old Father Admits He Threw It But Is Denying Charge - Only Question Is His Mental State At Time
We Are Thankful For The Many Great Coaches Out There
Recommended Read: Famed Coach Bill Squires Is Turning 80 & Toni Reavis Celebrates His Life Squires is a legend to many. Squires: "Oh, I can figure out anyone. I figured out Shorter. I know your tendencies. I know what you do. And all you have to do is put it into reading, or whatever, and I can do - I can!"

Jessica Ennis' Coach Is Thankful For Jessica Ennis
RR: Profile Of Toni Minichiello, The Man Who Coached Jessica Ennis To Olympic Gold We love this guy's humility. "I don't have a magic wand like Harry Potter. The truth is, as a coach you're only as good as the material you're given. The day I met Jessica Ennis it was like being dealt four aces in a hand of poker." and on having to re-apply for his job: "If I don't get my old job back I'll just have to go back to an office and come down here coaching as a volunteer. Im not giving this up now."'
*Minichiello Named UK Athletics Coach Of The Year

More UK News
*UK Athletics Defends Plans To Create Elite Hub At Loughborough
*After Failing To Medal In Home Olympics As Reigning WChamp, Dai Greene Has Moved On & Is Ready To Try To Defend His World Title
Jamaican Tempers Starting To Flare
1st Place Pub:

*Great Q&A With OK State's 13:15 #2 Man Tom Farrell He admits #1 man Girma Mecheso ran more aggressively than planned. Farrell has his own blog here, which we just found.
*After XC Crown, Oregon Women Are Dreaming Of Becoming First Women's Program To Win Triple Crown Only the UTEP men (3 times) and Arkansas men (5 times) have ever done it.
*Kithuka Embraced Underdog Role At NCAAs The article reveals what we'd heard - TTech coach Jon Murray IDed Kithuka 5 years ago in Kenya and had him placed at Wayland Bapist.
Previous Post-NCAAs Reactions
*Wisco Men Not Upset With 2nd
*OSU's 5th Man Shane Moskowitz: "It was definitely the best day of my life. For sure."
*ISU's Corey Ihmels Full Of Praise For Indivual Champ Betsy Saina: "Her life revolves around being as good as she can be and it showed ... She's a great athlete but she's just as great of a person."
*Colorado Women Had Worst Showing In School History (28th) - But Coach Wetmore Is Excited As Everyone Returns For 2012 Included in the returners is Olympian Shalaya Kipp, who will be looking to become Colorado's 1st 4-time XC women's All-American.
*NCAA Cross-Country Champs Stat Facts

Mixed Day For FSU: FSU's #1-Ranked Women Finish 4th But #18 Men Finish 5th

Oregon Reacts Differently To Scoring Mishap:
*Oregon's Asst. Coach: "That was bush league. I had to walk back into a tent and tell seven girls that they didn't win."
*Oregon Runner: "It was kind of a shock when they said we didn't win, but now, we're good."
Recommended Read: Toni Reavis Fondly Remembers The Great Joseph Kimani Especially Kimani's amazing CR run in Cleveland, where Kimani ran so fast that Reavis while doing TV thought the mile markers were likely misplaced.
LRC Oregon Wins NCAA Title As Betsy Saina Outkicks Hasay Confusion reigned supreme with the team results as Oregon was the winner, then Providence, but eventually once it was all sorted out the Oregon Ducks had a convincing NCAA championship over Providence. There was no confusion on the individual side as Betsy Saina outkicked Jordan Hasay and Abbey D'Agostino for the win.
*Full Results *Photo Gallery

NCAAs On The Boards:
Yet Another Great Dies Too Young
Former 10k WR Holder Joseph Kimani Has Died At Age 40 The former road superstar took down the world's best in the 10k by a ridiculous 30 seconds in the summer of 1996 as he ran a still unthinkable 27:04 at Peachtree. He won virtually every big road race in the US at least once, also set a 12k WR, and is still the CR holder at Boilermaker.

More: *LRC MB Remembrances of Kimani
*RRW Article On Kimani
US News: Lolo Jones Wins Bobsled World Cup Silver Medal
5 Silvers Is Way Too Many; Let's Hope He Gets Olympic Gold #1
MB 2004 Olympic Shot Put Champ Yuriy Bilonoh Has Tested Positive In IOC's Re-Test Of 2004 Olympic Samples - Adam Nelson May Be Elevated To Olympic Gold When Nelson failed to make the Olympic team in June, we assumed the two-time Olympic silver medallist would never realize his dream of Olympic gold since he's 37. We guess we were wrong.
*IOC To Hold Hearings Early Next Month For 5 Busted In 2004 Re-Tests - US's Adam Nelson May Be Elevated To Gold
Odd But Interesting
The 2012 New York City Marathon That Never Happened
Yohan Blake Talking A Bit About 2013: "My legacy starts next year."
Saturday HS Foot Locker/NXN Coverage
Next Weekend: Fellow Japanese Amateur Sho Matsumoto Looking To Gun Down Yuki Kawauchi At Sunday's Fukuoka International Marathon Taking after Kawauchi's prolific racing, he ran a 65 minute half marathon on Nov. 25th and will have a full this Sunday.
News From The IOC, WADA And IAAF
Weekend Cross-Country Action: Cam Levins Wins His 3rd Straight Canadian Title
Cam Levins Wins Canadian Cross-Country Championships He won with 29:41 just ahead of Wisconsin's NCAA 8th placer Mohammed Ahmed (29:42).
*Full Men's Results *Women's Results *Meet Site
*Hosea Macharinyang & Magdalene Masai Win Senior Races At The Latest KCB/AK National Cross-Country Series In Mount Elgon
*Recap Of UK Trials For European XC Champs
IAAF Gala Legends Of The Sport News
The IAAF has many of the sports stars in Barcelona for the celebration of its 100th anniversary.
Love For DIII And An "Overaged" Collegian - DIII Women's National Champ Is A 27-Year-Old Mother Of Two
27-Year-Old Mother Of Two & DIII National Cross-Country Champion, Christy Cazzola, Named USATF Athlete Of The Week

*Nov 17: Mike Woods Column: In life and running, Cazzola staying ahead
*Running Times Profile Of Cazzola From Sept. Cazzola was a the Wisconsin 800 state champ in 9th grader in 2000 and then walked away form it all and had a kid. She ran the 2008 XC nats while pregnant with kid #2.
*Mike Woods DIII Race Story On Cazzola: Cazzola Wins DIII Title
*2012 NCAA XC D3 Photo Gallery
Track And Field's Male Fans Are Thankful For This
Fit Again & Recovered From Achilles Surgery & Bacterial Infection, Blanka Vlasic Is Ready To Compete Again

37-Year-Old Sergey Lebid Hoping To Get European XC Title #10 On Dec. 9th
UK Olympians And Their Coaches In The News
Ladies 2012 New York City Marathon - Or At Least As Close As We Are Going To Get To It
Yokohama: Lydia Cheromei Wins With 2:23:07 CR As Kim Smith (2:27:35), Amy Hastings (DNF) And Jo Pavey (DNF) Disappoint Smith's PR remains 2:25:21 from her debut in London 2010. Her teammate Amy Hastings was a DNF. Serena Burla was 11th. MB: Live Thread on Yokohama Non-NCAA Weekend News

JRN Recap: Mizuho Nasukawa Was Top Japanese In 2:26:42
*Kiwi Kim Smith Finishes Sixth
Pre-Race: Pavey Was Adamant She Could PR (2:28:24)

Turin: Boston Winner Sharon Cherop Runs Negative-Split CR (2:23:57) The top 3 finishers were all going to run NYC. #2 Hilda Kibet (KEN) 2:25:46. #3 Valeria Straneo (ITA) 2:27:04. 2:10:34 won the men's race.

Kenya: Weldon Wins Kass Marathon In Kenya - Will He Be Kenya's Next Star? Weldon Kirui, that is. He got the win 1 month after being 2nd in LA. The winner of the Kass often becomes a star like G. Mutai. Agnes Jepkosgei won the women's race.
*RR: Weldon: "Let me tell you, life has been hard for me. I braved numerous challenges."

Philly: 36-Year-Old Mike McKeeman (2:17:51) Wins Hometown Philly Marathon Over Scott McPherson As Women's CR Goes Down To Russia's Irina Mashkantceva (2:35:27) The half marathons were won by the same people who won the 8ks on Saturday.
Records Are Made To Be Broken: 8k In Philly: Samuel Ndereba's 22:28 Smashes Marcus O'Sullivan's 23:03 CR That Had Stood Since 1997

Non-Marathons:


Seven Hills Loop 15k: MB: Tirunesh Dibaba Destroys Olympic Marathon Champ Tiki Gelana - 47:08 To 48:09 - At Seven Hills Loop 15km *Video Highlights In Dutch
*IAAF Recap: Nicholas Kipkemboi Upset Men's 15k WR Holder Leonard Komon In Men's Race

Big Sur Half Marathon: 3 Weeks After Marriage, Husband-Wife Combo Of Ben Bruce (1:04:45) And Stephanie Rothstein-Bruce (72:19) Win

A Really Rich Mountain Race: Ethiopians Abebe Dinkesa And Etenesh Dironeda Win $50,000 (US) At Obudu Mountain Race
*Australian High Commissioner To Nigeria Completes Mountain Race
Kenyan News: Paul Tergat Is On The IOC
After 3 Days In Cell With 40 Men, One Open Toilet And A Blanket That Had Not Been Washed In Years, Former World High Jump Champion Jacques Freitag Gets Bail

National Security Issues Start With Running:
Wall Street Journal Examines Paula Broadwell And David Petraeus' Running: "Paula Broadwell Is Faster Than You" She ran 1:36 for the half marathon at 39.
Recommended Reads And Seb Coe News
NYC News: NYPD To Refund Fees Paid By NYC Marathon Police fees were the main reason entry fees spiked for the 2012 marathon.
Final Day Nike: 25% Off Clearance With Code BLUERIBBON + Free Shipping With Code JUSTDOIT
2012 Canadian XC Highlights - Men
2012 Canadian XC Highlights - Women
Thanksgiving Day Action
Manchester: Aaron Braun Equals Course Record & Wins 2012 Manchester Road Race

Delilah DiCrescenzo Comes From Behind & Guns Down Lisa Uhl To Win 2012 Manchester Road Race Down with 400 to go, Delilah got the win as Amby Burfoot finished for the 50th straight year.

Silicon Valley: Sambu (13:28) & Kim Conley (15:40) Break Silicon Valley CRs *MB: Discuss

*Manchester Road Race results ... Top 25 Aaron Braun and Hey Delilah were the winners. *Thread Discussing Race Here
*Alan Webb 23:10 8k On Thanksgiving Morning
NCAA Cross Photo Galleries (Captions Now Added)
Beautiful People: NCAA Banquet Photos (Click On Photo)
First-Ever LRC Naked D3 Nationals Photo Gallery
D3 Beautiful People: NCAA Banquet Photos (Click On Photo)
LRC Oklahoma State Makes It Three Titles In Four Years Team Recap Wisconsin had 3 runners in before OSU, but Oklahoma State was much better at 4 and 5. OSU was led by Girma Mecheso, who was the top American in fifth (learn about his incredible life story here).


LRC Texas Tech's Kennedy Kithuka Makes It Look Easy Over Lawi Lalang & Stephen Sambu Lawi Lalang had all the attention coming in, but Kennedy Kithuka dispatched him with ease. Only one American in the top 10. Read all about it.
*Full Results
RRW: After Delay, Oregon & Oklahoma State Declared 2012 NCAA Cross-Country Champions

Outside Coverage Of NCAAs:
LSU Women Lose Their Outdoor National Title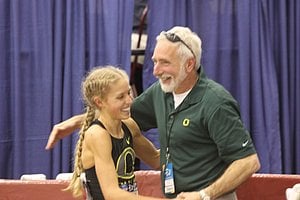 Oregon Women Win NCAA Title ... In Outdoor Track LSU has been forced to "vacate" their national title after sprinter Semoy Hackett tested positive for a banned stimulant.
*TrackFocus Article The Oregon women have placed second at the NCAA meet four years in a row ... so we guess this breaks the streak.
Has This Been Alberto Certified?

Mo Farah To Face Other British Gold Medallists In Superstars Competition Sounds like fun as they'll do races over 100m and 800m, archery, javelin, a 50m swim, a kayak race, a cycling hill climb and the challenges in the gym tests.
*MB Archive: Superstars Competition half-mile run record is 1:57.36?
*MB Archive: 1981 Superstars Half Mile
HS News
New Scientific Study Says Ice Baths Don't Actually Help Athletes With Recovery After Exercises Yeah, and there are also studies which say you're less likely to be injured if you run on the hard pavement instead of soft trails.
More On Athlete Contracts: LRC Jesse Williams Of Brooks Sports: Brooks Shoe Contracts Don't Have Reduction Clauses
Field Event News