Jesse Williams of Brooks Sports: Brooks' Shoe Contracts Don't Have Reduction Clauses
by: LetsRun.com
November 8, 2012
Yesterday's Quote of the Day on LetsRun.com was from Amy Yoder-Begley, the former Olympian who used to be sponsored by Nike, and in it she lamented the reduction clauses in athletes' shoe contracts.
A reduction clause is where an athlete's base sponsorship is cut if they do not attain certain performance standards.  You can read Amy's Quote of the Day here. 
Article continues below player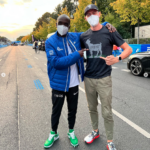 Kipchoge loves the 1:59:40 Shirt Get Yours Today
What a legend!
The Quote of the Day prompted Jesse Williams, the Sports Marketing Manager at Brooks Sports, to email us and to point out that reductions are not a part of all shoe contracts.
Jesse wrote under the subject line: "Yoder's Quote":
She (Amy Yoder-Begley) makes a strong argument but I wish athletes didn't make such generalized statements about shoe companies.  We (Brooks) have never signed an athlete to a contract with salary reductions.  In fact, most of our agreements increase an athlete's salary each year.  There is obviously always the chance of not being re-signed after the current agreement is up but if an athlete is continues to run well or shows promise that usually isn't an issue.  We don't have a giant roster of athletes and so we are at an advantage in a way.  Maybe the larger companies have to take those precautions since they have so many athletes.  From our point of view though, we don't want an athlete to run scared or have ill will towards their sponsor because they feel their contract isn't fair.  We want brand ambassadors out there on the track and roads and that only works if the athlete is a fired up and proud to represent a company.
LetsRun.com asked Jesse if we could print his words and he said yes. A word of advice to athletes from LRC, nearly everything in life is negotiable. If you don't want a reduction clause, tell your agent. Remember your agent works for you and not the shoe company. If you don't want a reduction clause and want guaranteed money, you may have to give up some of the upside, but it is not an unreasonable request.