5th Avenue Mile Is Today
*Top US 800m Runner Feeling Intimidated Going Into 5th Avenue Mile Alysia Montaño, Maggie Vessey, and Nick Symmonds are in the field and not sure what to expect.
*RRW: Preview Of Saturday's 5th Avenue Mile
*NYRR Preview: Lagat Looking For 1st 5th Avenue Victory As Uceny, Simpson & England Clash On Women's Side

*As World Champ: Jenny Barringer Simpson Steals All The Press's Attention As The AP Profiles Her "I still haven't seen any of the papers, any of the headlines, or read any of the articles. I'm excited to indulge and enjoy all of that." We hope she reads the letsrun.com archives from Sept. 1 or Sept. 2, as our sport is suffering in the mainstream press.
*Sports Illustrated: Simpson Sheds Title Of Underdog Despite the title, we believe she's definitely the underdog at 5th Avenue. The article is great, as it reveals Simpson is serious about a law career and includes Simpson's reflections on her stunning 169th-place showing at NCAA cross-country as a 3:59 performer.
*Joe Battaglia Doesn't Forget Morgan Uceny Uceny wants to win in NY but knows it won't reverse her WChampionships fall.
*Hannah England Looking Forward To 5th Avenue Race & Spending Some Of $30,000 She Won In Daegu In New York
*The Wall Street Journal Looks At The Magic Of The 4-Minute Mile In Anticipation For 5th Avenue Quotes from Jenny B, Lagat and many more, including Eamonn Coghlan and Ray Flynn.
Looking Ahead To 2012
*Morgan Uceny: Next year at the Olympics, one of those medals will be for me."
*Haile Gebrselassie Talks About The Match-Up Between Mo Farah And Kenenisa Bekele At The 2012 Olympics He says he doesn't think Mo Farah should move up the marathon after 2012.
30 Track Stars And Their Major Sports Doppelgangers Usain Bolt is Shaquille O'Neal.
A Brief Chat With World Mountain Running Champ Max King Ahead Of XTERRA Trail Run Nationals
Emily Sisson & Ray Treacy Talk About Her Decision To Transfer To Providence After Just One Year At Wisco Sisson is the US HS record holder at 5k who bolted Madison after just one year even though her dad was a teammate of Wisco coach Jim Stintzi.
Usain Bolt News
Random News
Two Good Reads
Chicago Tribune's Philip Hersh Writes About Why He Always Is Thinking About Doping "At the end of a 20-minute interview, they asked me if I were suspicious about everything exceptional that happens in the sport. My answer: yes." Hersh says he has questions about Carl Lewis, Kevin Young, Carmelita Jeter and everyone else in the sport. We don't really blame him.

Kirani James' Potential Is Limitless Harvey Glance: "Put it in perspective, Michael (Johnson) was nearly 32 when he set the 400m world record; Kirani has just turned 19." The Telegraph
Sad News
2003 USATF 5km Road Champ Henry Dennis Killed By Drunk Driver This story is not a happy one on any level. Two days after being sentenced to six months in prison for sexual relations with a student, Dennis while biking with a helmet was struck and killed by a drunk driver. *Message board thread here.
David Rudisha Loses *Race Video
In Rainy & Windy Conditions, David Rudisha Loses For 1st Time Since 2009 Worlds The weather was similar the last time Rudisha lost in Berlin in 2009 and Rudisha said he had trouble warming up. Ethiopian teen sensation Mohamed Aman got the win 1:43.50 to Rudisha's 1:43.57.
*AW: Rudisha's 34-meet winning streak is broken by a 17-year-old
*Milan Results
*LRC MB: Aman has beaten Rudisha
Course Record Falls At BUPA Great North Run *Cool Photos
Martin Mathathi Sets New Course Record (58:56) As Lucy Kabuu Wins Women's Title In 67:06 Jonathan Maiyo was 2nd in 59:27 while London champ Emmanuel Mutai was third in 59:52. *BBC Recap *IAAF Recap
*Kabuu And Mathathi Were Former Teammates On Japanese Suzuki Team

Other Hot Weekend Road Action:
Zersenay Tadese Runs 59:30 In Portugal

Leonard Patrick Komon Runs 44:34 10-Miler In The Netherlands
Meet World Championships Silver Medallist Vincent Kipruto
Recommended Read: Rupp & Salazar Reflect On Galen's Historic Run Galen's mindset and focus on improvement is 100% spot on. The article is a great read and full of interesting quotes, including this one from Salazar, who thinks the heat hurt Galen in Daegu: "Galen is not a big guy, he's still big compared to a Kenyan or an Ethiopian. It's a disadvantage if you are a Caucasian running in the heat versus an African, you just have more body mass and it's going to be harder."
*LRC MB: Discussion Of Rupp Article
*Writer Admits He Mistakenly Doubted Bekele: "Never again will I doubt Bekele's ability to do amazing things on the track."
2011 Diamond League Is Over *Results
LRC 2011 Brussels Recap: Usain Bolt Runs World Leader But Gets Overshadowed By His Training Partner Yohan Blake's 19.26!! (link fixed) In terms of sprint action, Yohan Blake and Usain Bolt may have done the fans a disservice by ducking each other, but at least they put on quite a show as Usain Bolt put up a world leader in the men's 100 before Yohan Blake stole the show by running 19.26. *IAAF Recap: Blake Upstages The World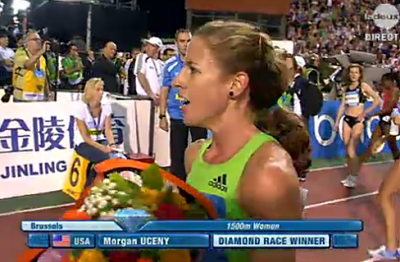 LRC Morgan Uceny Emphatically Shows She's The Best In The World The American who suffered a heartbreaking fall at the World Championships destroyed the field over the final 400 to win the Diamond League title in a world-leading 4:00.06 as she got her third DL victory on the year. World champ Jenny Barringer Simpson was way back in 13th.
*LRC MB Chatter: Pic of the Day, Uceny, really?
*Uceny just proved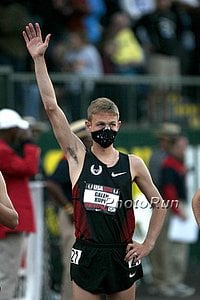 LRC Galen Rupp Shatters The American 10,000 Record By Running 26:48.00 Galen Rupp crushed the American record and became the 16th-fastest man in history, as Kenenisa Bekele won in a world-leading 26:43.16.
*LRC MB Chatter: CALLING IT RIGHT NOW, RUPP WILL RUN A 2:03 MARATHON
*Dear Galen Rupp: Time to Move up to the Marathon
*Remember when 13:26.6 and 13:23.4 would have ranked you in the top 5 in the US? Now they're 10k splits
*Galen Rupp's 10000m Is Not Superior To Chris Solinsky's
*Official Brussels 10k live update thread
2012 US Olympic Trials Standards Released The standards include "approximate" field sizes. However, we are almost certain that John Chaplin will find a way to ruin several people's dreams. LRC Rule #1 - Please put 32 people exactly in the men's and women's 800s. 30 makes zero sense. LRC Rule #2. Please share rule #1 with Mr. Chaplin.
The Short Track Stanford Of Europe? Rieti *Results
Rieti Saturday: Rudisha 1:41.33!!!, Kiprop 3:30.46 PR Rudisha returned to the site of his 1:41.01 world record and he came close to matching it. Asbel Kiprop, two days after not being able to finish 3rd in Zürich to win the $40,000 Diamond League title, blasted a 3:30.46 to get a PR faster than Andrew Wheating. And WORLD CHAMPION Jenny Simpson raced for the first time since Worlds. The result? 4:06.13 for 10th place. Lagat outkicked Vincent Chepkok, Thomas Longosiwa and last year's winner Tariku Bekele. In the 100, Walter Dix won in 10.02 over Jamaica's Lerone Clarke in 2nd, and Justin Gatlin 3rd. Lashawn Merritt ran 20.13 to win the 200 beating Norway's World Champs fourth placer Jaysuma Saidy Ndure (20.41).
*Video Of Rudisha's Run
*Aussie Jeff Riseley Gets Pulled To 800 PR In Rieti With 1:44.64 For 7th
*Poland's 800m Runner Adam Kszczot Runs 1:43.30
*Jamaica's Kaliese Spencer Wins 400m Hurdles
Rieti On The Boards: *Asbel 3'30.46 *RUDISHA 1:41.33 *Jenny Simpson 4:06.13 in Rieti Today

Three Recommended Reads
LRC Men's 5,000 Gets Physical: Farah Wins But Lagat Says He Had It Deserving champ Mo Farah goes home with 5,000m gold, but were it not for a now-DQed Imane Merga getting physical with 3 top contenders in the span of 300m, including prime rival Bernard Lagat, Farah may have returned to Oregon with 2 narrow losses. We've got the story of the most controversial distance event at Worlds.
LRC Women's 800 Final: Semenya Goes Down Caster Semenya goes home with silver as Russian Mariya Savinova ran 1:55 to shock the huge favorite and herself to take home the gold, with Alysia Montano just missing out in 4th. Semenya, who was permitted to skip the press conference amid the 2009 controversy in Berlin, did a great job talking to the media in her first Worlds press conference.
*After 6th Place Finish In 800, Maggie Vessey Says She's Disappointed She concedes that having to run multiple fast 800s to make the final took a lot out of her.

Sunday AM: 2011 World Championships Marathon: Abel Kirui X 2 Kirui destroyed the field the second half to get his second world title. Despite being 2009 World Champ, Kirui switched coaches this year to LRC message board favorite Renato Canova. Kirui gave Canova a call after the race. The American men struggled.
LRC Bolt Back - 19.40 ... Lemaitre Medals - 19.80 ... Vlasic, Thor, Dix - Silver ... We recap the non-distance action from the penultimate day in Daegu, including Sally Pearson's phenomenal 12.28 in the 100m hurdles, a super-fast 200m final, and more posing from high jump 2nd-placer Blanka Vlasic.
*"The Fierce White Girl" Sally Pearson Sets CR
*Bolt Photos

Friday:
*LRC Day 7 Non-Distance: Dwight Phillips Gets Gold #5, US 4 X 400 Kicks By S. Africa, VCB Over Jeter And Felix, US Shotputters Shut Out The quotes, the interviews, the results ... plus the cover jinx barely survives, why Pistorius didn't run for South Africa's medal-winning 4 x 4, and more.
Worlds Thursday
LRC Day 6 Jenny Gets Gold Jenny Simpson powered home the final 100m to stun the world Thursday night to end America's 28-year drought of distance gold. Her run was unexpected, but in retrospect not totally shocking, as the American phenom showed in 2009 she can run with the world's best when fit and healthy. And she's definitely fit and healthy now and from now on will always be Jenny Simpson ... World Champion.
*British Media Falls In Love With "Starlet" Hannah England, Who Won Silver Some great photos of her on her victory lap.
*Hannah England Makes Mentor Kelly Holmes Proud By Winning Silver
*Seb Coe Always Believed In Her As Well (But Few Others) It's a shame the British media doesn't realize how hard it is to win an NCAA title.
On The Boards: *Simpson wins 1500m - Uceny falls! *GUTTED for Morgan Uceny
Previous Worlds
800m Final LRC David Rudisha Gets The World Title He Deserves, Nick Symmonds Comes Up Short Rudisha had been undefeated in every race since the last World Championships and on Tuesday he won the one race he hadn't won in two years - the World Championships. American Nick Symmonds was in medal contention but came home in fifth and the American medal drought continues at 800m.
More On The Boards: Mens 800 Final
*Nick Symmonds Post-Race Comments



Monday: LRC Lots Of Sprint Intrigue: WR Holder Dayron Robles Goes From Gold To Zilch, Allyson Felix Upended By Botswanan, Pistorius Has Chance But Fades Good thing there was no distance action Monday night, as we wouldn't have had time to recap all the sprint/field event action. A DQ in the hurdles that gave Jason Richardson the unexpected World title, Allyson Felix got a PR but lost, and Oscar P fizzled out. Plus an unexpected medal in the shot for an American, a thrilling pole vault and, oh yeah, the 100m women's final, where HSI got its 2nd gold of the night.


Men's 10,000m: LRC Ibrahim Jeilan, A Guy You've Never Heard Of, Stuns The World In Men's 10,000m The men's 10,000m was a total shocker as Ibrahim Jeilan, a former World Junior champion who was passed over by the Ethiopian team on two occasions and had to go to Japan to keep his running career alive, shocked the world's best distance runner Mo Farah in a great duel over the final 100m, as Farah apparently kicked too hard, too soon. Galen Rupp was 7th and the great Kenenisa Bekele dropped out, losing his first 10,000m ever.


LRC Kenya's Heavenly Day 1 Ends With Perfection! Vivian Cheruiyot Leads Kenyans To 1-2-3-4 Domination Of Women's 10,000 The much-anticipated battle between the undefeated Meseret Defar and Vivian Cheruiyot never materialized as Defar fell off and then dropped out, but Cheruiyot did come through as expected. The Oregon track club's Sally Kipyego got the silver as the Kenyan women's day went from incredible to heavenly, as they followed up near perfection in the marathon with total perfection in the 10,000. The American women struggled, as Shalane Flanagan was 7th and Kara Goucher was lapped. Jen Rhines was 9th.
*LRC Video Reaction From Cheruiyot, Kipyego, Flanagan And Goucher

LRC Recap Now Up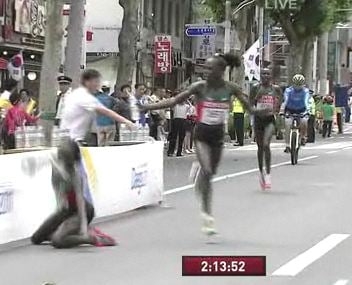 Saturday's Action Underway: Edna Kiplagat Survives Fall, Leads Kenya To 1-2-3 Sweep In Marathon To Start Worlds Kiplagat has shot to the top of the world marathon ranks in the last two years (New York champ last year, 2:20 for 3rd in London) and she backed it up with an impressive win despite falling at a water station in the final 10km. Priscah Jeptoo was second and Sharon Cherop third. Tera Moody - just months removed from 3 surgeries - was the first American (interview here) in 17th and Kathy Newberry was 30th (interview here).
BMW Berlin Marathon Is Sunday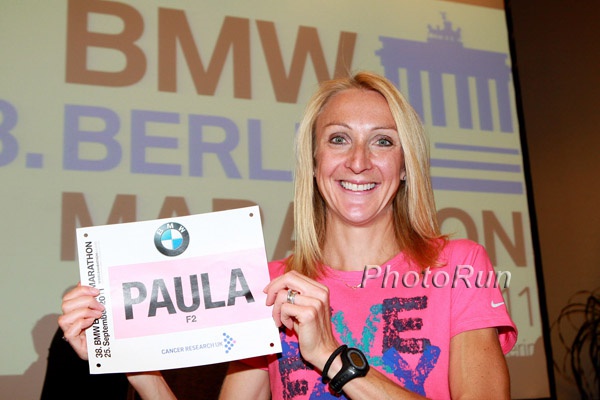 *Haile Gebrselassie Vs Patrick Makau In Berlin Sunday Both seem eager to call the other one as the favorite. This will be Geb's first marathon attempt since dropping out of NY last November.
*For Paula Radcliffe And Haile Gebrselassie "Age Is Just A Number"
*Lengthy NY Times Article Profiling Paula Radcliffe's Return To The Marathon
*Will Berlin Be The Start Of Paula Radcliffe's Comeback?
*Paula Radcliffe To Her Rivals: ""Let them think I am old and can't do it any more."
*Haile G Focused On A Fast Time, Not Victory At Berlin He needs a fast time to make sure he is selected by Ethiopia for the 2012 Olympics.
AW: Relaxed Radcliffe ready to run in Berlin It's her first marathon since Nov. 2009 and just her 3rd race since then and she needs to hit 2:31.00 (which should be a joke for her).
*Guardian: Paula Radcliffe hoping to finish "crappy year" with success in Berlin
*Telegraph: Radcliffe planning to send out message to her rivals in Sunday's Berlin Marathon
*Radcliffe - New WR Rule Is Ridiculous: "I fully believe that I would have run pretty much the same time that day alone."
*IAAF: Is Berlin Radcliffe's moment of truth?
Canada Won't Follow IAAF Road Record Rule They say that national records run by women in mixed races will stand.
Other Weekend Action
LetsRun.com NCAA XC Fan Polls Are Back
LRC: NCAA XC Poll: Get Your Votes In With the collegiate cross-country season about to have its first important meets of the year, it is time for 2011 LetsRun.com Poll #1. National and/or conference voting now open.

Makau vs Geb and the World Record: Makau Ready for Geb and Possible WR Attempt