Can USATF Be Trusted To Get It Right?
Distance News
Monday's US 10k Road Champs *Results
Molly Huddle Wins Third Straight US Road 10k Title At Tufts Health Plan 10k For Women Huddle capped a great 2010 with the the overall win by 5 seconds over Genoveva Kigen. Jen Rhines was 16 seconds back.
Non Chicago Road Action
LRC Wanjiru Wins Epic Battle With Kebede, Shobukhova Dominates
In a epic, late-race, back-and-forth battle of attrition between the world's two greatest marathoners for $500,000, Sammy Wanjiru stamped his career as legendary with his 2nd straight Bank of America Chicago Marathon victory. This time Wanjiru had to dig deep to come back repeatedly against London and Fukuoka champ Tsegaye Kebede. In the women's race, front-running Atsede Baysa blew up in the final 10km as Liliya Shobukhova motored steadily to her 3rd consecutive World Marathon Major win, sealing a $575,000 $615,000 payday in the process. Americans Jason Hartmann and Desiree Davila impressed with PRs of 2:11 and 2:26 and 53-year-old Joan Benoit-Samuelson ran sub-2:50 for the 5th consecutive decade with a 2:47.

More: *Philip Hersh Chicago Tribune Article On Shobukhova Winning And Picking Up $615,000
*Joan Benoit Samuelson Runs 2:47:50, Just Missing Olympic Marathon Trials At 53 Runnersworld
*Chicago Tribune Article Top Americans Jason Hartmann And Desiree Davila
*Desiree Davila Leads US Women At Chicago As 3 Get In Top 10
*Sammy Wanjiru Outlasts Kebede To Win Chicago (And $615,000)
*US Men Take 11 Of Top 20

Recommended Read: Because Of $$$, Marathon Getting Younger & Younger Phil Hersh talks about how so many of the top contenders in Chicago are very young. There is a reason for that - $$$. Nowadays a 2:09 debut will get you $20,000 but a 13:00 will get you $250.
NY Times Profile of 53-Year-Old Joan Benoit Samuelson She once promised her mother she'd stop running marathons when she quit smoking, but 20 years later, her mom isn't smoking but Joanie is still racing 26.2.
Elites Will Be Done Way Before 80-Degree Heat Hits Chicago Race director Carey Pinkowski: "I would imagine that the first two hours of the race should be very accommodating.. For them, it's going to be optimal opportunity to go fast."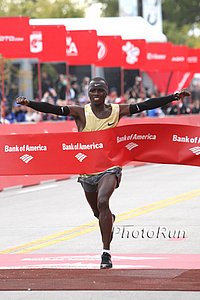 LRC Men's Preview: The Best Chicago Ever? Wanjiru Vs. Kebede Vs. Cheruiyot And Crew This year's Chicago marathon may be the best ever. The men's field is absolutely loaded with the Olympic and defending champ (Wanjiru) taking on the Boston champ and record holder (Cheruiyot the Younger) taking on the hottest marathoner in the world and London champ (Kebede). Not to mention that there is a $500,000 match race on the side for the World Marathon Majors title.


LRC Women's Preview: Shobukhova, Mikitenko, 3 Strong Ethiopian Contenders And $500,000 Barring a big surprise, the world's top female marathoner Liliya Shobukhova will walk away form Chicago with at least $500,000. Will she walk away the champion in Chicago? Will a woman do what has not happened in over two full years anywhere in the world (go sub-2:22)? Can Americans Magdalena Lewy-Boulet or Desiree Davila crack the 2:25 barrier? And what about Joan Benoit? We've got your women's field covered.
Good News (Bad) From The UK
Roads Action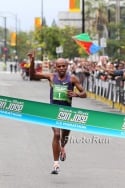 San Jose: Meb Tunes Up For New York With 1:01:45 Win In San Jose This was a glorified training run for Meb, as he had training partner Patrick Smyth with him for 10k and then was all alone. Up next for Meb - defending his ING NYC Marathon crown. Blake Russell won the women's crown and 49-year-old Linda Somers-Smith ran 1:13:31 for 2nd.
On The Boards: 1 Meb Keflezighi 1:01:45

Europe: Gilbert Chepkwony Runs 2:08:33 To Win Kosice Marathon, The Oldest In Europe At 87 Years

It's All About The Name: Coolboy Ngamole Wins S. African Marathon Champs In 2:16:19
The New Head Of USATF?
Bill Schmidt, Former VP Of Gatorade, Javelin Bronze Medallist In 1972, Would Accept USATF Job The board wants someone who knows something about the sport and has sports marketing experience. Schmidt meets the criteria.
3 Recommended Reads
Fifth Avenue Mile Behind The Scenes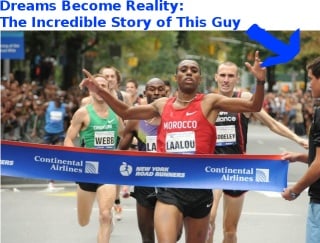 Story Of The Week!!! 4 college cross-country teammates from UMBC went up to NY to watch the 5th Avenue Mile. Before the day was over, they were holding the finishing tape and hanging out with some of their heroes. How did it happen? A GREAT read.

More Post-5th Avenue News:
*US Olympic Committee Profiles Shannon Rowbury
*Bernard Lagat Looking Forward To Big Marathon Payday In 2013
Say It Ain't So
Ryan Hall Pulls Out Of Chicago Marathon Philip Hersh of the Chicago Tribune broke this story. Hall isn't injuried; he's just had some subpar training and is out after his subpar race in Philly. We're surprised.
Pat Butcher: Patrick Makau Is Now The Man To Beat In The Marathon He's certainly the #1 in the world in our minds so far for 2010.
LetsRun.com's Endorses This Guy As Doug Logan's Replacement
South African Olympic Head Says He's Willing To Personally Clean Toilets To Insure India's Commonwealth Games Go On This guy clearly isn't afraid of getting his hands dirty and doing the grunt work. Certainly much better than what could be said of the old AAU guys.
*USOC Might Intervene If USATF Appoints Board Member CEO
In Case You Don't Want To Know The Results
The Last Minute Of The 2010 Berlin Marathon:

***** **** Wins Berlin Marathon In Sprint Finish In 2:05:06 (Warning: We're about to reveal the winner's name) Despite rain, Patrick Makau won the race in a sprint finish in 2:05:06 over Geoffrey Mutai as Bazu Worku was close behind. The rain prevented a world record attempt, but Makau has established himself as a marathon star. Aberu Kebede won the women's race by over a minute in a slow 2.23.58.

Toronto Waterfront Marathon: Kenneth Mungara (2:07:57) And Sharon Cherop (2:22:42) Both Break Kenyan All-Comers Record At Scotiabank Toronto Waterfront Marathon Canadian Reid Coolsaet ran 2:11:23 to make the Canadian Olympic standard by 6 seconds. Sharon Cherop got the women's winby 1 second over Tirfi Beyene with 2:22:43, which was faster than the winning time in Berlin.
*Message Board Discussion

Stop The Presses: Say it Ain't So: Menjo Loses At Lisbon Half Marathon, Mary Keitany Romps Races need to do a better job of promoting Menjo. We had no idea the LetsRun.com superhero was running. In case you have no idea what we're talking about, Menjo earlier this year soloed a 3:53 mile, a 12:55 5k, and the world-leading 10k.
Big Family News
Kara Goucher Gives Birth To Colton Mirko Goucher Congrats to Kara and Adam. Mom and baby are doing well after the baby was face up during delivery. The baby was 5 days early, which means Paula Radcliffe's second child is due in 5 days.

Galen Rupp Gets Married. Congrats to Galen and Keara.
Unbelievable
USATF Board Gave Logan $140,000-A-Year Pay Raise 9 Days Before Starting Termination Process If you're thinking of terminating someone, it's probably not a good idea to bump their base pay which their severance is calculated off of. The AP article above is excellent and has the 3 criteria the board wanted to see more from Logan on.
"The only amateurs left in the Olympic movement are the people running it." That's what Philip Hersh, the pre-eminent Olympic writer in the US, commented after hearing about the Logan raise.
Update: USATF Communications Director Jill Geer Writes To Clarify Our Comments Above
Menjo Caps His 2010 Season In Style By Taking Down Eliud Kipchoge And Shaheen To Win In Belgrade "Menjo" finished his remarkable 2010 season, during which over the span of 11 days earlier this year he ran a solo 12.55.95 for 5,000 meters, a solo 3.53.62 mile and a solo 26.56.74 10,000 meters, with a narrow win over Kipchoge. *Pre-Race Artilce On Historic/Scenic Belgrade Race That Is One Of Paul Tergat's Favorites
Tuesday: Silas Kiplagat Caps Incredible 2010 With Gold, Nick Willis Gets Bronze
*Mr. Clutch Mark Lewis Francis Walks Down Jamaican Anchor & Delivers 4 X 100 Gold For England The guy also brough it home at the 2004 Olympics.
*Brave Steph Twell Fights Kenyan Women To End In 5,000 But Ends Up 4th This article is a great recap of the ladies 5,000.
*Baddeley Disgusted With 6th In 1,500 Baddeley: "I ran that race like an idiot and there's no excuses for that."
More On 1,500: "If you're not familiar with the story of Silas Kiplagat, take a minute to read this excellent profile on him. Earlier in 2010, Silas in his first European race EVER ran a 3:29 1,500m, which was not only a 5-second PR but also the fastest time in the world in four years. Pretty amazing. On Tuesday, he capped his emergence with a Commonwealth Games Gold as countryman James Magut got silver and former Michigan alum and Olympic silver medallist Nick Willis got bronze.
More Tuesday: World Champ Vivian Cheruiyot Gets 5k Gold As Indian 4 X 400 Wins Gold Cheruiyot's win over Worlds silver medallist Sylvia Kibet was not a shocker but the Indian 4 x 400m gold sure was. The Indian women had a great meet.
Photos: Men's 1,500m *Tuesday Results
On The Boards: Letsrun poster makes the final of CWG 1500!


Monday: Nancy Langat Wins 800m To Go Along With Her 1,500m Gold The Olympic champ just edged Nikki Hamblin of New Zealand. Hamblin got silver in the 1,500m as well. This race had the Indian crowd going nuts, as Indian Tintu Luka opened a big lead on the first lap only to fade. The Indian female distance runners are having a good meet.
*Uganda's Moses Kipsiro Blasts 54-Second Lap To Complete 10k-5k Double Kipsiro is very good and the CWG are letting him and Uganda earn some accolades.

*Richard Mateelong Leads Kenyan Sweep Of Steeple The Olympic champs Brimin Kipruto and Ezekiel Kemboi filled out the medals.
*Milkha Singh Gives India Its First Athletics Gold In 52 Years She won the discus. Kenya got its first track medal of any kind in 52 years earlier in the week with a bronze in the 10k.
*Sally Pearson Wins 110m Hurdles To Get Her Commonwealths Gold Pearson is the woman who won the 100m only to be DQed after the race.
*Steve Hooker Gets Pole Vault Gold

*Nick Willis Makes 1,500m Final He was the last automatic qualifier but said he was just cruising.

*Women's 100m Champ Osayemi Oludamola Of Nigeria Flunks Drug Test
Results: Monday The CWG results website isn't that great, so we're trying to compile the results in one place.
Sunday: Kenyan Men Sweep 800m The Kenyans are performing well at the CWG so far.
Saturday: Kenyan Wins Men's 400 As Kenyan Ladies Sweep Steeple
Great Early Results For Kiwis Are Inspiring Nick Willis The defense of his 1,500 title starts on Monday.
Friday: Nancy Langat Gets 1,500m Gold At Commonwealths Langat is the best 1,500m runner in the world and she still unbelievably has never broken 4:00. The Olympic Champ got it done in India. We hope she goes undefeated the rest of her career never breaking 4:00.
*After Commonwealths 1,500m Bronze For 21-Year-Old Stephanie Twell, Her Future Is Bright

More: 400: Botswana Gets Its First CWG Gold Ever Thanks To Amantle Montsho's 50.10 Win
10K: Grace Momanyi Of Kenya Wins 10k Gold At CWG
110H: English, Led By Andy Turner, Go 1-2-3
Decathlon: Canada's Jaime Adjetey-Nelson Wins Commonwealth Games Decathlon
More Pearson Debacle: Sally Pearson Goes Back And Sits In Stands To Watch Commonwealth Games 100m Medal Ceremony
*Detailed Look At Sally Pearson's Ordeal
*Australians Says DQ Of Pearson Was "Payback" From English
4 X 400: Former NAIA Dickinson State Stars Leading Bahamian 4 X 400 Team At Commonwealth Games

Thursday: Chaos On The Track:

Women's 100m: Sally Pearson Wins 100m At Commonwealth Games Only To Be DQed Hours Later The IAAF board DQed her for a false start even though she false started after another athlete. So 2 people were DQed on the same false start. Video of race at link above or on right hand side of page.

Men's 100m:
*MLF On Cloud 9 After 100m Silver At Commonwealths

Condoms Are NOT Clogging The Toilets At Commonwealth Games The message boards were all excited about all the sex going on at the Games. Guess it wasn't true.

Wednesday:

Uganda's Moses Kipsiro Starts Commonwealth Games Off With Gold At 5,000m Over Eliud Kipchoge The track action got underway and the highlight on day 1 was a gold by Uganda's Moses Kipsiro. Kipsiro is the guy who kept Matt Tegenkamp from getting a WC bronze in 2007 and in '08 and '09, he was 4th at the Olympics and WC. The non-Africans took spots 5-8, as Chris Thompson was 5th, Collis Birmingham 6th, Ben St. Lawrence 7th, and David McNeill 8th.
*Kenyan Papers Recap Of Men's 5,000 Kipsiro: "I wanted this badly, badly, badly and God has given me the gift."

*Nick Willis Trying To Acclimatize To Heat By Wearing Extra Layers Of Clothing While Training In Hong Kong
*New Zealand's Female National Record Holder Nikki Hamblin (4:05.93) Also Training In Hong Kong She used to be a Brit.
*Australian Wrestler Gives Finger To Judges In Middle Of Gold Medal Match And Is DQed
Non-Chicago US Distance News
Last Week's Week In Review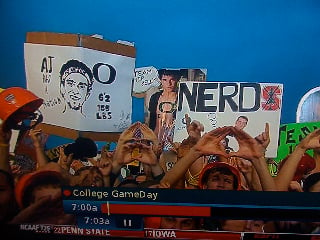 LRC Week In Review: Ryan Hall Drops Out And AJ Nation Sweeps America This week in our week in review, we look at Ryan Hall not running Chicago, we compare the NY and Chicago Marathon fields and we heap praise on AJ Nation making it big time on ESPN Game Day.
Catching Up With The Former And Present American 5,000 Record Holders + Nick Symmonds
Recommended Read Ben Johnson's Autobiography Seoul To Soul Is Coming Out Next Month And It's Going To Drop Some Bombshells Johnson hints that he thinks a rival shoe company spiked his drink in Seoul and says the sport is still dirty. link fixed
Lopez Lomong Back In Flagstaff Working On College Degree & His Own Biopic Film That Is Coming Out In 2012
US Men's Marathon Champs: Sergio Reyes Runs 2:14:02 To Win Twin Cities And US Marathon Title Over Jeffrey Eggleston By 7 Seconds It was Reyes' first US crown and the 7 seconds for the win were worth at least an extra $10,000. Debra Buzenesh won the women's title in 2:27:23, winning by nearly 8 minutes as she got the win here to go with her win in Grandma's.
*Minnesota Newspaper Recap
*Results
*USATF Recap

US Women's 10-Miler Also In Twin Cities: Katie McGregor Wins 2010 US Title McGregor won $10,000. If she had run 1:20 slower, she would have received $9,750 less, as the first 9 women were all within 1:20 of each other. *Results
Beppu-Oita Marathon Officially Accepting Female Applicants Women only participated in the race by special invitation in the past.
Post Ryan Hall Dropout News
Catching Up With Four Top Milers
3 Good Pre-Race 5th Avenue Mile Profiles:
*Alan Webb In The NY Times
*Recommended: Great NY Times Profile On Leo Manzano Leo talks about turning around his 2010 season and growing up very poor (his parents didn't really understand what it meant to go to college).
*Lengthy Profile On Nick Willis, His Upbringing In New Zealand And This Sunday's 5th Avenue Mile Written by a Kiwi who saw Nick run a race at age 7 (the article talks about Nick's family and how his mother died when he was 5).
New World Road 10k Record
Leonard Komon Runs 26:44 WR He smashed the old record but famed coach Renato Canova tried to put it in perspective, as the 10k on the track and roads has become much less of a priority recently.
*Message Board Thread On Record
Newsweek: The Case Against College Athletic Recruiting We must admit we don't get why totally obscure sports get supported at the Ivy League level, but then again, some might say track is obscure. No mention though of how athletes might succeed better after college.
The Chicago Finish Was Epic, But This Was The Closest Finish Of The Weekend (3-Way Sprint At Eindhoven Marathon)
Desiree Davila And Tera Moody After Chicago
Jason Hartmann 1st American In Chicago
Must-Watch: Epic Final Mile From 10.10.10 BoA Chicago Marathon