2010 Fifth Avenue Mile Recap And Results: Shannon Rowbury And Amine Laalou Cap 2010 Seasons With Wins In New York
by: LetsRun.com
September 26, 2009
*Photo Gallery
The 5th Avenue Mile is the end of the season for a lot of track and field runners and while some in Sunday's field will be continuing on to the Commonwealth Games, Shannon Rowbury and Amine Laalou ended their seasons with wins in New York. Women's recap first, then men's.
Women's Race: Rowbury Times It Perfectly
Shannon Rowbury knows how to run on Fifth Avenue in New York. She showed that on Sunday by timing her kick perfectly to repeat as Fifth Avenue Mile Champion, overtaking Erin Donohue in the final ten meters.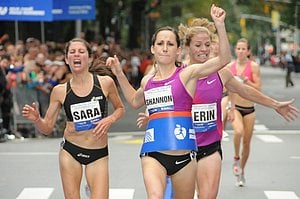 Donohue, dumped by Rowbury's coach John Cook last year, has had a tremendous 2010 (1:59.99 for 800m) and she almost capped it off with a 5th Avenue Mile victory. She, like many before her, however, just slightly misjudged her kick and was overtaken in the final ten meters.
The pace was a modest 2:16 (estimated split) the slightly uphill first 800m and Donohue was in the lead picking up the $1,000 prime. The pace would only quicken on the downhill to the finish. 1,200m was in roughly 3:20 (Carmen Douma-Hussar in the lead) and then Donohue started making her bid for home. At 200m from the finish, she opened a gap on the field. 200m is a long way to sprint and Rowbury took advantage of that. With 100m to go, Rowbury was still in fifth (Donohue still had a couple of meters gap on the field with Sara Hall, Morgan Uceny, Hannah England and Rowbury in close pursuit) with Donohue still out in front. Rowbury, however, saved it all for one final perfect kick. Donohue put up a game fight, but roughly ten meters from the finish, Rowbury overtook Donohue and held off Hall as Donohue slipped to third.
Afterwards, Rowbury told the NYRR, "To be honest, I thought Erin had it at the end." She said however she had learned to look at the signs put out that say there is 200m to the finish and then 100m to the finish. Obviously pleased with her repeat win, she said, "I love this race; it's such a fun way to end the season."
1
31
Shannon Rowbury
26
San Francisco
CA
USA
Nike
4:24.12
2
40
Sara Hall
27
Mammoth Lakes
CA
USA
Asics
4:24.34
3
34
Erin Donohue
27
Haddonfield
NJ
USA
Nike
4:24.40
4
42
Hannah England
23
Birmingham
Great Britain
Nike
4:25.29
5
39
Molly Huddle
26
Providence
RI
USA
Saucony
4:25.92
6
33
Morgan Uceny
25
Mammoth Lakes
CA
USA
Reebok
4:26.27
7
43
Amy Mortimer
29
Kansas City
MO
USA
Reebok
4:27.07
8
35
Carmen Douma-Hussar
33
Ardmore
PA
Canada
New Balance
4:27.53
9
36
Elisa Cusma Piccione
29
Modena
Italy
Nike
4:28.50
10
41
Treniere Moser
28
Knoxville
TN
USA
Nike
4:28.84
11
37
Nicole Edwards
24
Ann Arbor
MI
Canada
Saucony
4:29.14
12
50
Gabriele Anderson
24
Minneapolis
MN
USA
Brooks
4:30.95
13
47
Heather Dorniden
23
Minneapolis
MN
USA
Team USA Minnesota
4:31.05
14
48
Hilary Stellingwerff
29
Le Mont sur Lausan
Canada
New Balance
4:32.06
15
44
Megan Wright
28
Morgantown
WV
Canada
New Balance
4:35.28
16
45
Liz Maloy
25
Washington
DC
USA
New York Athletic Club
4:37.06
17
49
Aziza Aliyu
24
Bronx
NY
Ethiopia
West Side Runners
4:37.84
18
46
Brenda Martinez
23
Alamosa
CO
USA
New Balance
4:46.36
If Amine Laalou didn't have your respect before now, hopefully he does now, as he ran 3:52.83 to defeat a star-studded field at the 5th Avenue Mile.
Laalou had the fastest 800m (1:43.71) and 1,500m (3:29.53) this year in the field. He made the finals of the 800m and 1,500m at last year's World Championships. Yet heading into the 5th Avenue Mile, all the talk was on which American would win the race.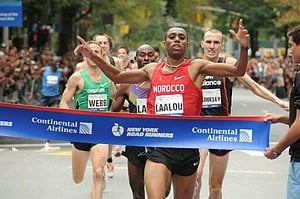 After a slow (over 2:00) uphill opening 800m, the real running began. Former NCAA champ Alistair Cragg, who ran a half marathon last weekend, threw down the gauntlet the third quarter, opening up a ten-meter lead at 1,200m, figuring the only way he was going to win the race was to steal it.
The field behind him, however, had too much talent and savvy to let that happen. They caught Cragg with 200m to go and all the main contenders (Laalou, double world champ Bernard Lagat, last year's champ Andy Baddeley, Alan Webb, Leo Manzano, Nick Willis) were all there ready to go all out to the finish. Lagat had the lead but Laalou was positioned perfectly on him and they would battle it out the final 100m. Laalou passed Lagat the final 20 meters and got the win.
Lagat held on for 2nd, Baddeley closed well for 3rd, Webb was a very respectable 4th, Manzano didn't quite have his great last 100m and was 5th, and Nick Willis, who had been in great position with 100m to go, was 6th.
Afterward, Laalou dedicated the victory to his 15-day-old daughter.

Alan Webb told the AP, "I give myself a C-plus for the day. I have come a long way this year. It's good just to be in the mix and competing with these guys again." He also added to the WSJ, "In the final stages I didn't really commit like I wanted to."
1
3
Amine Laalou
28
Rabaat
Morocco
Nike
3:52.83
2
2
Bernard Lagat
35
Tucson
AZ
USA
Nike
3:53.30
3
1
Andy Baddeley
28
London
Great Britain
New Balance
3:53.34
4
6
Alan Webb
27
Portland
OR
USA
Nike
3:53.72
5
4
Leonel Manzano
26
Austin
TX
USA
Nike
3:54.17
6
5
Nick Willis
27
Ann Arbor
MI
New Zealand
Reebok
3:54.81
7
9
Will Leer
25
Eugene
OR
USA
Oregon TC Elite
3:55.02
8
7
Tom Lancashire
25
Manchester
Great Britain
Nike
3:55.22
9
8
David Torrence
24
Berkeley
CA
USA
Nike
3:55.43
10
11
Adrian Blincoe
30
Bryn Mawr
PA
New Zealand
New Balance
3:56.07
11
14
Garrett Heath
24
Palo Alto
CA
USA
Saucony
3:56.15
12
17
Daniel Huling
27
Geneva
IL
USA
Reebok
3:56.77
13
22
Pedro Antonio Esteso
33
Madrid
Spain
Strands.com
3:56.96
14
10
Haron Lagat
27
Lubbok
TX
Kenya
New Balance
3:57.43
15
12
Taylor Milne
29
Guelph
ON
Canada
New Balance
3:58.05
16
15
Tim Bayley
28
Lafayette
CA
Great Britain
Puma
3:58.29
17
18
Alistair Cragg
30
Mammoth Lakes
CA
Ireland
adidas
3:58.59
18
21
Abiyot Endale
24
Bronx
NY
Ethiopia
Westchester TC
4:02.41
19
20
Sean Brosnan
33
Wantagh
NY
USA
Mizuno
4:04.92
20
19
Jon Rankin
28
Seattle
WA
Cayman Islan

ds

MarathonGuide.com
4:12.06