2010 B Of A Chicago Marathon Men's Preview

We Try To Break Down Arguably The Greatest Chicago Field Ever
By LetsRun.com
October 7, 2010
*Race Time: 7:30 AM Central On Sunday Watch Live
Over the years, the Bank of America Chicago marathon has had some stellar fields, but the 2010 edition might very well be the best ever on the men's side. The field features five men who have all run 2:05 in their careers.
That is an impressive stat all by itself, considering that only 21 men in history have broken 2:06. But making the Chicago field all the more impressive is the fact that the five 2:05 guys all are young and in the prime of their careers. None of the five is older than 23 years old. How crazy of a thought is that? If these guys were in the NCAA, it's likely they could still be fifth-year seniors.
Most importantly, these guys have all run 2:05 recently - since the start of 2009. Four of the five have run 2:05 this year, while 2008 Olympic marathon champ Sammy Wanjiru did it in 2009.
Since 2009, only 13 men have run 2:05 and Chicago will feature five of them on the start line on Sunday. Seven guys have broken 2:06 this year and Chicago will feature four of them. Oh yeah, and did we also say that three of these five men are the reigning Chicago, Boston and London Marathon champs?
The "Fab 5" of the 2010 Bank of Chicago Marathon are as follows:
2010 BOA Chicago Elite Field - Personal Best/Best Time Since 2009 - Age - 2010 Marathons
Samuel Wanjiru 2:05:10/2:05:10 - 23 years old - DNF London - (2008 Olympic champ)
Vincent Kipruto 2:05:13/2:05:13 - 23 years old - 3rd Rotterdam
Tsegaye Kebede 2:05:18/2:05:18 - 23 years old - London champ
Feyisa Lilesa, ETH 2:05:23/2:05:23 - 20 years old - 1st Xiamen (2:08:47), 4th Rotterdam (2:05:23)
Robert Kiprono Cheruiyot, KEN 2:05:52/2:05:52 - 22 years old - 2010 Boston Champ
There is one other guy you should worry about if you are thinking about guys that could win the title on Sunday. 2009 Boston marathon champ Deriba Merga is no slouch either:
Deriba Merga, ETH 2:06:38/2:07:52 - 27 years - 3rd Boston - (2009 Boston champ)
One of these six men will win in Chicago on Sunday. The question is, "Which one?"
And that's where we must say it's almost impossible to predict. The problem is basically none of these guys have run a significant prep race. Since August, only Deriba Merga has raced, and his 62:31 win at the Bogota half marathon on August 1st doesn't tell us too much except that he was is in decent enough shape 10 weeks ago.
A few days before that, three of the "Fab 5" did show up at the same race - the prestigious 85th Giro Podistico Internazionale de Castelbuono - an 11.3km race in Italy. What happened there 11 weeks ago?
Kipruto was the only one to run decently, as he was third in 34:34 in a race that was won by four-time world road running/half marathon champion Zersenay Tadese in 34:20. Kiprono Cheruiyot was 7th in 35:54 and Sammy Wanjiru was a DNF (click here for a race recap).
So without much recent running to go by, we'll try to handicap the field by talking in generalities.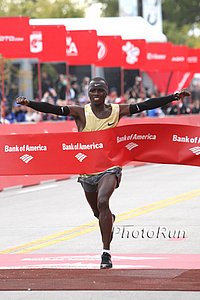 The Course Record Got Wanjiru

an Extra $100,000 Last Year
The Defending Champ - Coming Back From Injury
Let's start with the defending champion Wanjiru. Heading into 2010, he was viewed as basically unbeatable in the marathon. Having destroyed the Olympic record in Beijing in 2008, he then proceeded to have a great 2009, as he won the most competitive race in the world in London before setting the course record in Chicago. However, 2010 has been a totally different story. A DNF in London was followed up with the DNF in Castlebuono.
Then Wanjiru announced he'd be defending his title in Chicago. However, the weird thing was what he said when he'd be going back to the Windy City. The Xinua news service quoted the Olympic champ as saying the following on August 12th: "I will not be ready for Berlin. It is a disappointment that I will miss out on a race I really wanted to run. But all is not lost, Chicago has a fantastic course and I will return there to defend my title."
Wanjiru clearly sounds disappointed in that quote. He's had his eyes on the world record for some time and had talked about going after it in Berlin. But the rest of the article revealed much more. It revealed that Wanjiru had a knee injury leading up to London that had still been causing him some significant problems - so much so that he'd been in and out of the hospital after the race. His DNF at Castlebuono showed he was nowhere near good fitness and his quotes on August 12th supported that fact, as he said the following about the current state of his knee: "But it is all gone and now the race is on to get the fitness ahead of Chicago."
A race to get fitness isn't going to cut it in Chicago this year. Wanjiru may be the greatest marathoner in history to ever lace up the spikes when in full fitness, but it just seems unlikely that he's in top fitness right now. Moreover, mentally Chicago doesn't seem to be his #1 goal, as Xinua quotes him in August talking about Dubai in January: "I will be ready mental and physically for the Dubai marathon and with its fast course, I am sure I will be able to attempt breaking the world record."
If he's not 100% fit and focused, he won't win in Chicago. As a result, we think someone else will win.
What About The London And Boston Champs?
So if Wanjiru doesn't get the job done, then who will? Well in non-Olympic years, the hardest marathon to win year-in and year-out is London. London is the #1 most competitive marathon in the world and the winner of that race was Tsegeye Kebede. It was only appropriate that Kebede got his first World Marathon Major win in the big one (London), as the guy certainly deserved it. His career marathon record is stunningly good. In 2008, he won in Paris and Fukuoka and was 3rd in the Olympics. In 2009, he was 2nd in London, third at the World Champs and first in Fukuoka. This year, he won London.
Three of his last four marathons have been in the 2:05s. He's currently tied with Wanjiru for 2nd place all-time with the most sub-2:06 clockings at three (world record holder Haile Gebrselassie leads the list with six). If he wins in Chicago, he will have to be considered to be the top marathoner on the planet. In our minds, given his amazing consistency of late, he has to be considered the favorite.
But 2010 Boston champ Robert Kiprono Cheruiyot can't be ignored either. Most people thought they'd probably never see a 2:05:52 run at Boston. Before Cheruiyot, a 2:06 had never even been achieved in Boston, but he went out and obliterated the record by 82 seconds. But winning in Boston without a rabbit is different than getting in line on running for time as is done in Chicago.
But Cheruiyot is a seasoned marathoner. He's run five of them and his worst result was a 5th-place showing in Boston in 2009. Expect him to be in the mix. Don't be fazed by his poor 7th-place showing at the Castelbuono race, which was 11 weeks prior to Chicago. Six weeks prior to running 2:05 in Boston, Kiprono Cheruiyot only was 8th in the Paris Half Marathon in 63:16, yet somehow he managed to run a faster pace for the whole thing in Boston.
One person that might end up getting ignored in the pre-race buildup this week because his PR is "only" 2:06:38 is 2009 Boston champ Deriba Merga. It would be a mistake to ignore Merga. It should not be forgotten that there is a reason why Cheruiyot ran 2:05 in Boston and that's because Merga was hammering right next to him until blowing up over the final 2.5 miles. Merga is a go for broke type of guy that Steve Prefontaine fans should like. At the 2008 Olympics, he cost himself a medal as he was willing to try to push the pace on Wanjiru who was in the process of obliterating the Olympic record by a ridiculous 2:49.
Look for Merga to go for broke in Chicago yet again. Given the fact that he's a former Boston champ, it's time for him to get in the 2:05 range.
The Other 2:05 Guys
Kipruto is a good marathoner, but he's only won once in four tries, so we are discounting him a bit - although his form at Castlebuono wasn't too shabby.
Lelisa is the youngest 2:05 guy in history. He is also a proven winner, having won two of his three marathons, but the fact of the matter is this is his fourth marathon in the last calendar year and that makes us a bit nervous, although since he's only 20, we think mentally and physically he's probably very much ready to run his first world marathon major. If he wins it, we have a new star on our hands.
LRC Prediction: It's hard to bet against Wanjiru, but it just seems as if he's coming back into shape and using this as a springboard for Dubai. Maybe we'll find out otherwise at the pre-race press conference. In our minds, the London champ is always the top dog on the earth until proven otherwise. Thus, Kebede should be our #1 pick but thinking back to the Olympics, while Kebede finsihed third and Merga finished 4th, the only reason Merga was fourth was because he relentlessly tried to push and stay with Wanjiru. So if you are looking for an "upset," go with Merga. 1) Kebede 2) Cheruiyot 3) Lelisa. Upset Pick - Merga.
The $500,000 Match-Race Between Kebede and Wanjiru?
The two-year World Marathon Majors title which is worth $500,000 for first and $0 for second will be determined in Chicago. Wanjiru and Kebede are both tied for first with 50 points and Merga is in 3rd with 35 points. The scoring is 1st place 25 points, 2nd place 15 points, 3rd place 10 points, 4th place 5 points, 5th place 1 point. So most likely whoever finishes first between Wanjiru and Kebede will win the title and $500,000. However, if Merga wins in Chicago, it gets interesting. That would give him 60 points. Both Wanjiru and Kebede could tie him with a third place finish. (For the tie breaking scenarios click here). (Emmanuel Mutai also tied for 3rd place is running New York and could with a win possibly move into the lead).
What About The Ameicans?
The Chicago Marathon also is very generous each year to the top American runners looking to make their mark. This year is no different. The top Americans entered in Chicago include:

The US Sub-2:10 Club
2:05:38 Khalid Khannouchi
2:06:17 Ryan Hall
2:08:40+ Alberto Salazar
2:08:47 Bob Kempainen
2:08:54 Dick Beardsley
2:08:56 Abdi Abdirahman
2:09:00 Greg Meyer
2:09:15 Meb Keflezighi
2:09:28 Bill Rodgers
2:09:32 Ron Tabb
2:09:32 David Morris
2:09:35 Jerry Lawson
2:09:37 Dick Beardsley
2:09:38 Ken Martin
2:09:41 Alan Culpepper
2:09:46 Mebrahtom Keflezighi
2:09:57 Benji Durden
2010 BOA Chicago Elite Field - Personal Best/Best Time Since 2009 - Age - 2010 Accomplishment
Nick Arciniaga USA 2:11:48/2:11:48 - 27 years old - 3rd in Rock 'n Roll San Diego
Jason Hartmann USA 2:12:09/2:12:09 - 29 years old - 28:25 for 10,000 on the track this year
Justin Young USA 2:13:52/2:16:54 - 31 years old - 16th in Vienna (2:16:54)
Chad Johnson USA 2:15:03/2:17:41 - 34 years old - 19th in Boston (2:17:41)
Mike Morgan USA 2:15:11/2:15:27 - 30 years old - 62:56 for half marathon this year
Luke Humphrey USA 2:15:22/2:18:48 - 29 years old - 66:01 half this year
Patrick Rizzo USA 2:15:48/2:1:48 - 27 years old - 65:04 half this year
Mike Sayenko USA 2:16:38/2:16:38 - 26 years old - 13:53 5,000 this year
Fasil Bizuneh USA 2:16:47/no marathons - 30 years old - US 10-Mile champ in August in 47:29 (27:50 10,000 during his career)
James Carney USA 2:15:50/2:15:50 - 32 years old - 13th in Rotterdam (2:15:50) - 27:43 during his career
So the field includes three Americans who have gone under 2:14 plus two sub-28:00 10,000-meter runners in Fasil Bizuneh and James Carney. In terms of who is most likely to make a major splash and become the 18th American to break 2:10:00 and maybe finish in the top 5, we'd have to go with Bizuneh or Carney.
We're sure the more accomplished marathoners on the list are irate that we picked Bizuneh and Carney but at some level to run 2:09, you have to have a certain amount of speed and both of them have run under 28:00 on the track. Yes, they are totally unproven in the marathon, but Bizuneh picked up his first USA title while training for Chicago in August when he won the US 10-miler and Carney was third in the New Haven 20k on Labor Day in a quick 59:33. Those performances had to boost their confidence. The duo, along with 2:11:48 performer Nick Arciniaga, are all training under Greg McMillan. Arciniaga ran 2:11 earlier this year but again at some level, speed wins out and the guy only has a 63:22 half marathon PR, so we unfortunately think he's close to being totally maxed out.
Additional Foreigners
There are few other guys from overseas that are running Chicago, including former Oregon Duck Shadrack Biwott. Biwott has run 61:40 for the half this year and is the brother of Kenyan record-holder Duncan Kibet, who has run 2:04:27. Former Louisville star Wesley Korir, who is a two-time winner of the LA marathon, is also running.

Shadrack Biwott KEN Debut - 25 years old
Negari Terfa, ETH 2:07:41/2:07:41 - 27 years old
Wesley Korir, KEN 2:08:24/2:08:24 - 27 years old
Laban Moiben, KEN 2:09:43/2:09:43 - 26 years old
Ridouane Harroufi MAR 2:10:14/2:28:52 - 29 years old
---
Runner's World &
Running Times



Combined Only $22
a Year
Save $87

---

Running & Track and Field Posters
---

Running Shoe Savings: Nike Lunar Glide 20% Off Super popular shoe from Nike featuring Flywire and Lunar Foam
---