The Week That Was In Running - September 20 - September 26, 2010
To read last week's LRC Week That Was, click Here.
To read any 2010 LRC Week That Was, click Here.
By LetsRun.com
September 28, 2010
Continental Airlines 5th Avenue Mile
Did you miss the 5th Avenue Mile on Sunday? We'll let you guess who won the race.
Runner A:
Age: 35
2010 Seasonal Best: 3:32.51 (World #13)

Finishes In Golden League Or Championship 1,500s/Miles For 2010: 5th (NY), 9th (Pre), 7th (Monaco)

Runner A's Post-Race Comments To The NY Times: "It was really a hard race. I'm not happy with the way I ran. I wanted to win, but in the end, running a smart race, coming in second, I'm pretty pleased."

Runner B:
Age: 28
2010 Seasonal Best: 3:29.53 (World #2)

Finishes In Golden League Or Championship 1,500s/Miles For 2010: 2nd (Pre), 2nd (Lausanne), 2nd (Monaco), 2nd (African champs), 4th (London), 1st (Continental Cup)

Runner B's Post-Race Comments To The NY Times: "It was really easy. It was so relaxing, no stress at all."
In case you haven't figured it out, Runner A is Bernard Lagat and Runner B is Amine Laalou and Runner B was the victor. The LRC visitors may have been surprised by Laalou's victory, as 36.9% of them picked Lagat to win as compared to only 8.2% for Laalou, but they shouldn't have been. The fact of the matter is, Laalou is the 2nd-fastest 1,500 guy on the planet in 2010 (and probably the world #2 for 2010 as well as we feel like his overall year was better than that of Silas Kiplagat but worse than that of Asbel Kiprop) and he's way younger than Lagat. He should have won and he did win. End of story.
5 Other Quick Takeaways From The 2010 Continental Airlines 5th Avenue Mile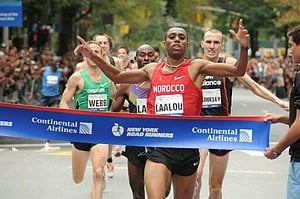 1) Alan Webb is still Alan Webb. What do we mean by this statement? Simply that Alan Webb is still an unreal talent.
Webb finished fourth on Sunday in 3:53.72 to end an abbreviated 2010 season that started with a 1:52.32 800 on August 13th and ended with a 3:53.72 mile just over six weeks later. To go from 1:52 to 3:53 in six weeks isn't possible for normal people, but the 2010 season has revealed what we knew all along - Alan Webb is an incredibly talented runner and that talent didn't magically disapppear. If you can't fathom how Webb can improve so much in such a short period of time, then ask yourself, "Could most pro runners go out and run their high school PRs on a few months of training?" The answer would probably be yes. The real mystery is how someone like Webb could not make the Olympics in 2008.
2) Alan Webb is still Alan Webb. What do we mean by this statement? Simply that Alan is way too hard on himself.
We were stunned that Webb gave himself a C+ for the 5th Avenue mile. That's ridiculous. Webb deserves an A. He beat both Nick Willis and Leo Manzano. How Webb beat those two is beyond us. When Webb was only running 1:52 at the end of August, Manzano was running 3:32.37, a time Webb has only bettered once in his career. Now Webb finishes ahead of both of them and is giving himself a C+? That's crazy.
Webb needs to not be so hard on himself, as at the top level it's virtually impossible to win all the time, so one has to be able to handle defeat and setbacks.
In that light, we want to give a big Thumbs Up to coach Alberto Salazar, who told the New York Times that he plans on having Webb race more in the future "to reduce the pressure when he does compete and to help him enjoy the sport more." This is 100% a good idea. The best idea is the fact that Salazar also realizes that Webb needs to learn how to lose. "It does not have to be every time Alan Webb goes on the track, he sets a record. It's O.K. to lose. You manage stress that way."
Since the whole training motto of letsrun.com is unofficially strength (endurance) = speed, we're not so sure we agree with Salazar's other training idea of "Alan was a strength-trained runner suited more for a 5K than a mile. I will give him more speed training than he did before. He'll run the 400 and 500 indoors and even some 800s."
3) Nick Willis knows how to lose and he's got an Olympic silver medal to prove it.
If you had let us bet prior to the 5th Avenue Mile as to who would finish first - Alan Webb or Nick Willis - we would have happily taken all of the money we had available and put in on Nick Willis. The 2008 Olympic silver medallist had crushed Webb twice already this year at both 800 and 1,500 and is getting ready to defend his Commonwealth Games title. However, Willis was defeated by Webb, as Willis was sixth in 3:54.81. But we bet Willis stays focused on the prize and has a great Commonwealth Games. (Willis ran a five mile XC race the week before so he wouldn't be too sharp too early). Willis doesn't get caught up in the highs or lows of the sport. He just keeps plugging away. In 2008 when he won Olympic silver, Willis was used to losing, as he'd finished 2nd, 2nd and third in his major pre-Games prep races. 2nd sometimes is a very good finish in the sport of track and field.
4) If the top US women are lining up in a race, your best bet is to go with Shannon Rowbury.
Rowbury won USAs in 2008 and 2009 and she won in Fifth Avenue on Sunday. Admittedly, her top rivals in sub-4:00 runners Barringer, Wurth Thomas, and Pierce weren't there, but even if they were, Rowbury probably would have won. The fact that her PR is slower than others doesn't matter. She knows how to win.
5) Sara Hall is way better on the roads than on the track.
Sara Hall does amazingly well if she's not running on a standard track. On the roads or at Millrose, she seemignly almost always does very well - whether it's finishing 2nd in th US 5k champs and BAA mile this year or 2nd at Millrose in 2008 and 2010 or 2nd in the US mile champs and third at 5th Avenue last year.
More: *LRC Recap Of 2010 5th Avenue Mile *Top Results *Searchable Results *Photo Gallery *Video *Alan Webb Profile In the New York Times *NY Times Recap Of 5th Avenue Mile
Proof Positive That The Commonwealth Games Is Losing Some Of Its Stature

Much has been made of the fact that some of the biggest stars eligible for the Commonwealth Games - like Usain Bolt - are skipping the event. We have no problem with people criticizing stars for skipping the event. However, not enough has been made of the fact that the biggest star of them all - Her Majesty Queen Elizabeth - isn't going either. If she can't be bothered to go to the Games where she traditionally opens the Games at the Opening ceremony, then people can't rip the athletes too much.

Granted the queen is no spring chicken at 84, but if she physically can't travel then send Prince Charles (like she's doing) AND Prince William and everyone else you can think of to show this is still important.
More: Indians Pissed That Queen Elizabeth Isn't Coming To Open Games As She Normally Does - May Snub Prince Charles As A Result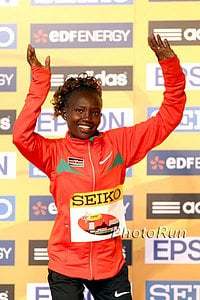 Glass Is Half Empty / Glass Is Half Full
Two Years & Counting / Women's Marathon Fans Should Start Getting Excited For New York
Women's marathoning has been down of late. Gone are the glory days of 2002 and 2003 when six different times a woman broke 2:20 in a two-year span. The last two years have been terrible - as of September 28th, it's now been more than 2 years since a woman has broken 2:22. Yes, that's right, there have been no sub-2:22s since September 28, 2008 when Irinia Mikitenko ran 2:19:19 and Askale Tafa Magarsa ran 2:21:31 in Berlin. Zero sub-2:22s in two years and to think back in London in 2006, five women did it in one race alone.
Fans of women's marathoning therefore are probably anxious for a new star. Hopefully Kenya's Mary Keitany is it. The 2009 half marathon world champion is making her debut in New York this fall and, given the fact that she's the third-fastest in history at the half marathon, there is reason to believe she'll run fast at the marathon. Take a look at the all-time top 5 list for the half and see what each of them has run for the full marathon.
All-Time Half Marathon List / Marathon PR
1. Paula Radcliffe - 65:40/2:15:25
2. Susan Chepkemei - 65:44/2:21:46
3. Lornah Kiplagat - 66:25/2:22:22
4. Mary Keitany - 66:36/TBD
5. Ingrid Kristiansen - 66:40/2:21:45
Of course, stats are made to be manipulated by smart people like ourselves. We stopped at #5, as if you look at #6-10 on the all-time half marathon list and, you'll notice only one of them has broken 2:23.
6. Masako Chiba - 66:43/2:21:45
7. Elana Meyer - 66:44/2:25:15
8. Esther Wanjiru - Maina - 66:49/2:23:31
9. Kara Goucher - 66:57/2:25:53
10. Derartu Tulu - 67:03/2:23:30
Regardless of what stats you use, there are a lot of reasons to believe Keitany will ultimately be at least pretty good at the marathon. The only questions are if she is in shape and if she will run well in New York. Last week, we got the answer to the first question and the answer is yes, she's in shape.
Keitany got an easy win at the Lisbon half marathon last week in 68:46.
Menjo Getting Some Press
On the men's side of things in Lisbon, Tadese Tola got the win over LetsRun favorite Josphat Menjo, 61:05 to 61:42. Speaking of Menjo, LetsRun.com is pleased to report that we've been told that our hyping the guy who earlier this year soloed 12:55 and 26:56 has garnered him a small profile piece in an upcoming edition of Running Times.
More: Menjo Loses At Lisbon Half Marathon, Mary Keitany Romps
Joan Benoit Samuelson Getting Ready For Chicago

This year marks the 25th anniversary of Joan Benoit Samuelson's 2:21:21 American record at Chicago, which stood as the AR for 18 years. To celebrate, Chicago has invited Samuelson as well as 1985 men's champ Steve Jones, who ran 2:07:13 and missed the world record by 1 second, back to celebrate their great runs. Both Jones and Samuelson are running Chicago and these aren't necessarily glorified fun runs. Samuelson is racing Chicago and she's got some lofty goals. Her dream goal is to run under 2:47:00 and qualify for the 2012 US Olympic marathon trials at the age of 53. Samuelson said a sub-2:47 would be very hard for her to accomplish, but her main goal is to go sub-2:50 for the third time since turning 50. If she does so, she will have done it at each of the Big 3 of US marathoning - Boston (2:49:08 in 2008 at age 50), New York (2:49:09 in 2009 at age 52), and Chicago (at age 53). Samuelson hasn't gone sub 2:47 since 2005 when she ran 2:46:27 at Twin Cities.
The idea that it's even conceivable for Samuelson to qualify for the US Olympic marathon trials at age 53 is superhuman to us. The crazier thing is that Samuelson isn't the world record holder for women's marathonng at age 50, 51 or 52.
The records according to http://www.arrs.net are as follows:
 50y  2d   2:31:05     Tatyana Pozdniakova (UKR)   04 Mar 1955   06 Mar 2005  Los Angeles CA USA
 51y 15d   2:35:46     Tatyana Pozdniakova (UKR)   04 Mar 1955   19 Mar 2006  Los Angeles CA USA
 52y108d   2:48:47     Edeltraud Pohl (GER)        14 Jul 1936   30 Oct 1988  Frankfurt GER
 53y301d   2:53:38     Manna Kwak (NED)            14 Dec 1944   11 Oct 1998  Eindhoven NED

So it looks like Samuelson will get the world record for age 53 if she runs well in Chicago. But that 2:31 at age 50 is simply ridiculous.
Having looked at those marks, we decided we'd make Steve Jones nervous. We have no idea how fast he's trying to run, but Mr. Jones is 55 years old. The world record for a 55-year-old male is ...
Take a guess ...
2:25:56 by The Netherlands' Piet vanAlphen. vanAlphen was no flash in the pan. He holds the world records for ages 51 through 55, as each year he ran between 2:22:14 and 2:26:35.
More: *53-Year-Old Joan Benoit Samuelson Hoping To Qualify For Olympic Trials In Chicago *World Records For Marathon By Age
Patrick Makau Is The Top Marathoner In The World (For The Time Being) For 2010
Makau has run two marathons in 2010 and they've both been amazingly good. Last week, he won in Berlin in awful, wet conditions in 2:05:06. Earlier in the year, he finished 1st in Rotterdam in 2:04:48. So in 2010, he occupies the #1 and #3 spots on the yearly list. Very impressive. That being said, his DNF in New York last fall weighs very heavily in our minds. Until he wins a London or New York, we can't call him the best in the world. Chicago may tell us who is the best in the world, as it will feature a clash between Boston winner Robert Cheruyiot, London Winner Tsegaye Kebede and the Olympic champ Sammy Wanjiru, who was viewed as totally unbeatable until his slip-up this spring in London. If Kebede wins Chicago, how can one not rank him as the world #1 for 2010? They can't.
Finishing 2nd in Berlin was Geoffrey Mutai. People have to feel a little sorry for him. He's run two marathons in 2010 and the slowest was the 2:05:10 he ran on Sunday in Berlin. Yet he's won zero races, as he's been second to Makau both times.
We give you more Makau info as we now head to our Quotes Of The Week (that weren't Quotes Of The Day) and our Free Coaching Advice.
Weekly Free Coaching Advice
As for Makau, it's clear he's a student of the sport who is seemingly getting better with each race. In April 2009 in his debut, Makau "only" ran 2:06:14 in Rotterdam. But Makau says the lessons learned from that race were simple and we now give them to you as our Free Coaching Advice of The Week. After Berlin, Makau told Pat Butcher why he only ran 2:06:14 in his debut.
"I knew my mistake. I did just one long run (before), 38k, and it wasn't enough. And I was training alone, I feared the marathon. Now I do eight long runs, the longest is 38k, but I also do 25k, and every week a 30k, and I do track sessions, speed workouts in a group."
So there you have it. When training for the marathon, don't forget the truly long run and do more than one of them. Also run moderately long nearly every week.
Now we give you our Quotes Of The Week, starting with one from Makau's manager.
More: Pat Butcher: Patrick Makau Is Now The Man To Beat In The Marathon *Makau Wins Berlin Marathon In Sprint Finish In 2:05:06 *Live Thread *Splits
5 Quotes Of The Week (That Weren't Quotes Of The Day)/Leonel Manzano Lovefest
#1 From Patrick Makau's Manager Zane Branson
"He's very methodical. And he's focused. He makes a plan and he sticks to it. Unlike a lot of Kenyans. Before his first marathon, he'd already planned his first three marathons."
- Branson talking about Makau in an IAAF article in arguably the most un-politically correct statement we've seen all year. Branson should be thankful that Makau isn't American and that Al Sharpton isn't a fan of track and field.

#2 From US Miler Leonel Manzano
"They said I have the engine of a Ferrari in the body of a Pinto."
- Leonel Manzano talking in a New York Times profile of himself prior to the Continental Airlines Fifth Avenue Mile that noted the 5'5" Manzano has a heart the size of a six-foot man, which results in him having a higher aerobic capacity than Lance Armstrong.
#3 From Leonel Manzano's Coach
"My most important role with him was to make sure I had the entry fee paid and the bus gassed up."

- Manzano's high school coach Kyle Futrell talking in the same New York Times article, which noted that Manzano ran a ridiculous 1:55 as an 8th grader even though he barely trained.
#4 From US Miler Leonel Manzano
"I think I run really well when I take it back to the basics, and I think that's what running should be all about, about just having fun doing. When you start thinking about time and who's in the race and all this clutter of information that's really useless, it's not really helping out your cause. When you think about being on the playground and being like 'hey, let's go touch the tree' or 'let's just race to the fence,' I just want to take it back to those times and just make fun with it. And all the sudden, you're not thinking about anything except running."
- Manzano talking a Brief Chat interview in Runner's World where he admits in the middle of the summer he wasn't sure if he wanted to run any more but now he realizes he's got the coolest job out there.
#5 From Chicago Tribune Writer Phil Hersh Writing About The Firing Of Doug Logan
"The only amateurs left in the Olympic movement are the people running it."

- Hersh writing about the firing of Doug Logan in an article where he reveals that board members met to discuss firing Logan the very same day they gave him a pay raise. We must admit we find it 100% completely indefensible that Doug Logan was given a raise just 9 days before an evaluation process was officially started that led to his firing.
Recommended Reads
*Great NY Times Profile On Leo Manzano
*Amazingly, Sydney Maree's Record From Year 1 At 5th Avenue Mile Still Stands
*Bernard Lagat's 4-Year-Old Son Is Tired Of Dad Losing Races
*Lengthy Profile On Nick Willis, His Upbringing In New Zealand And This Sunday's 5th Avenue Mile
*Meet Rafer Johnson The man who knew John Wooden, Robert Kennedy and Cassius Clay also won Olympic gold in the decathlon 50 years ago.
*Photo Of The Week - A 9-Year-Old Nick Willis With Arthur Lydiard Can Be Found Here
*TFN Interview With Arkansas Sensation Dorian Ulrey
Other Happenings Of Note
*Leonard Komon Runs 26:44 WR He smashed the old record but famed coach Renato Canova tried to put it in perspective, as the 10k on the track and roads has become much less of a priority recently.
*Message Board Thread On Record
*Kenneth Mungara (2:07:57) And Sharon Cherop (2:22:42) Both Break Kenyan All-Comers Record At Scotiabank Toronto Waterfront Marathon
*Galen Rupp Gets Married
*Kara Goucher Gives Birth To Colton Mirko Goucher
Doping News
*Authorities On Alert For Possible EPO Substitute
*Katerina Thanou And Costas Kenteris Trial For Making False Statement To Authorities Postponed
Quotes Of The Day From Last Week
Monday: "I give myself a C-plus for the day. I have come a long way this year. It's good just to be in the mix and competing with these guys again ... In the final stages I didn't really commit like I wanted to."
- Alan Webb on his fourth-place finish at the Continental Airlines 5th Avenue Mile.
---
Sunday: "If there's anything that's gone right in my life the last couple years, it's been her. She has been the one good decision I have made for sure."
- Alan Webb on his fiancée Julia Rudd.
---
Saturday: "He was ecstatic, like a little kid. It reminded me: I used to be like him, not really caring, just going out and having fun. That was the start of my loving the sport again."
- Leo Manzano on Andrew Wheating in Monaco, where Wheating ran his PR and Manzano finished last. After that race, Manzano went on a tear, giving Asbel Kiprop a scare twice and running his 3:32.37 PR. The quote is from an excellent NY Times profile on Manzano. Watch Manzano take on Bernard Lagat, Alan Webb, Nick Willis and Amine Laalou live Sunday on LetsRun.com at 12:50 pm Eastern.
---
Friday: "We just wanted to see how fast we could run in a straight line."
- Ray Flynn talking about the first-ever Fifth Avenue Mile in 1981 when the runners threw caution to the wind and ran all-out from the gun and Sydney Maree was rewarded with a 3:47.52 victory - a time that still stands as the record as the race enters its 30th edition on Sunday. The quote comes from a great article in the Wall Street Journal on Maree, entitled "The Record That Won't Go Away." Maree says he got the fast time as he'd trained very hard and was simply "possessed" and coming into his own.
---
Thursday: "Daddy lost but you're still good in the country, right, Daddy?"
- Bernard Lagat's son talking about his dad losing twice this year and still setting an American record. Fortunately, Lagat became American to set the bar higher for the other Americans to make it harder to settle for being first American.
---
Wednesday: "(The USATF Board) is 15 people who want to be taken seriously who, for all practical purposes, are 15 bodies in funny suits stumbling out of a little car. It's people who have earned their credentials to sit on a board because they've had a whistle around their neck at regional youth meets."
- former USATF head Doug Logan ripping the people that took him down in an article in the New York Times. Logan certainly isn't going quietly, as he expanded on his critical comments in a Running Times interview as well. The soap opera is getting to be pretty interesting in our book, as Logan and Brooks Johnson are ripping each other across cyberspace.
---
Tuesday: "We (Nick Willis and Alan Webb) both talked about the future. We both feel like we're rookies starting out again. There's a new chapter starting in our professional careers and we both feel we're got another six to eight years ahead of us. We're both 27 years of age and we'd like to go, like Lagat, into our mid-30s. We're looking forward to a friendly rivalry but also doing some training together when opportunities present themselves."
- Nick Willis talking about his time in Italy with Alan Webb earlier this month. Willis and Webb and Bernard Lagat and Leo Manzano all will square off in a super-stacked Continental Airlines Fifth Avenue Mile Sunday Live On LetsRun.com (Pros at 12:50 pm Eastern).
Last Week's Homepages
*Mon (Sept. 27) *Sun (Sept. 26) *Sat (Sept. 25) *Fri (Sept. 24) *Thur (Sept. 23) *Wed (Sept. 22) *Tue (Sept. 21)