NCAA Indoor Championships - Tonight *Men's Heats *Women's Heats *Schedule *Live 8:55pm Eastern - ESPN360.com
Team Titles On The Line: Oregon Will Go All Out For Title If Meet Is Going Well Heptathlete Ashton Eaton may have to finish 7-event event and then run the 4x4.

Calvin Smith Hopes To Lead Gators To NCAA Title

LRC Video of last lap of all 2009 NCAA indoor men's distance races Rupp became a legend as he won the 3000, 5000, DMR, and Andrew Wheating dueled to the line with Jacob Hernandez.

LRC Preview Of Women's NCAA Indoor Distance Races Find out what we're looking for in the women's races where Jordan Hasay debuts on the big stage on the track, Lisa Koll goes for the 5k/3k double, and the quiet girl Angela Bizzarri looks for another NCAA crown. Or, could the Villanova women steal the show like they did in cross-country?

Great Read: Angela Bizzarri Is Named #4 Illini Athlete Of The Decade Surprise 2009 NCAA cross country champion Angela Bizzarri is running the 3000 on Saturday.

LetsRun.com Previews The Men's NCAA Indoor Championship
We wanted to pick true freshman Robby Andrews over Olympian Andrew Wheating in the 800 but we came to our senses. See who we're picking in the distance races and in the team race on the men's side.

Vin Lananna Staying Behind With Medical Concerns
Before Vin Lananna came to Eugene, the best Oregon's women had ever finished indoors was double digits. This year they might win it all but the man behind the curtain will be watching from home.
Elites Announced For This Weekend's Gate River Run in Jacksonville - US 15km Championships Tim Nelson almost won last year and he's back for a race with Team USA Minnesotans Patrick Smyth and Antonio Vega. Jen Rhines is the big name on the women's side and might get her stiffest challenge from Colleen de Reuck.
More Meet Coverage
Usain Bolt Wins Laureus World Sportsman Of The Year For 2nd Consecutive Year Bolt is the Tiger Woods of track and field. That comparison used to work so well.
News From The World Of Performance-Enhancing Drugs
Isaiah Kiplangat Talks About Inclusion On Kenyan World XC Team
LetsRun.com The Week That Was This week we dish out Weekly training advice from coach Jama Aden and our Stat of the Week from Down Under, praise Doug Logan, and give a Thumbs Down to athletes skipping Worlds, especially Qatari Saif Saaeed Shaheen. Plus we set the over/under on US mid-d/distance medals in Doha and have updates on Alan Webb and Serena Burla.
2 Articles From Brett Hoover At HepsTrack
*Kyle Merber's 3:58 Makes Him 17th Heptagonals Runner Sub-4 Every school in the heptagonals (including former members Army and Navy) have had a sub-4 miler on their team at some point.

*Former Harvard Triple Jump Heps Champ Is Competing For Haiti In Doha The true amateur spirit: Samyr Laine, a law student at Georgetown, says he's not in the sport for the money but to pursue excellence.
Young Guns - HS Tracksters Section
Nike Releases Full Information On New Nike Track Nationals To Be Held In Hayward In July Read about how a high school team can qualify for this national high school team track and field championhip ...

17-Year-Old Marathoner Inspired By Billy Mills Oliver Bear Don't Walk is 17 and ran 2:37 in his first try at the marathon. He says: "My goal is to keep running long enough to get to the Olympic Trials in the marathon and hopefully the Olympics." We wish him luck.
Marathoner Going For Sub-3 Clocking In 5th Decade 53-year-old Gary Allen ran a sub-3 in the '70s, '80s, '90s, '00s and is going for the '10s.
US Running News
USATF CEO Doug Logan On The Deficiencies He Has Noted In Track Events - Live And On TV We are glad to see Logan is working on improving the way track is presented as a live event and on television.

Webb A Hit At Olympia Running Store The bigger news to distance fans is how Webb is recovering from Achilles surgery.
*Message Boards: Webb running 3-4 miles per day

Linda Somers-Smith Runs 57 Minutes For 10 Miles At Age 48 To Break American Record

Brief Chat With Paige Higgins - Running LA On March 21 Higgins is training with Training Talk III guests Greg McMillan and Brett Gotcher in Flagstaff.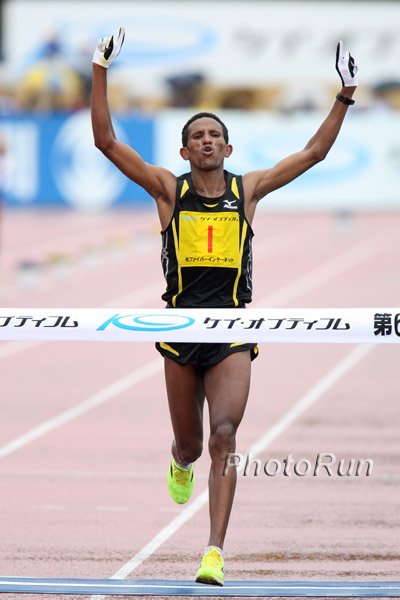 LRC Photos From 65th Lake Biwa Marathon
*Recap: Yemane Tsegay Wins Rainy Marathon As Japanese Again Impress

6-Time Olympian Maria Mutola Is Now Scoring Goals As Soccer Striker

Bett and Felix Take Almond Blossom XC Titles This was the last IAAF XC permit meet.
Uh-Oh: Russian Government Wants More Medals
"A victory has plentiful fathers, and a defeat is always an orphan." Prime Minister Vladimir Putin is very unhappy that Team Russia only scored 11th on the team medal charts in Vancouver despite tens of millions of dollars in government funding. The next winter Olympics will be in Sochi, Russia, so Putin and the gov't are going to do everything they can to restore former glory.
Non-Worlds/NCAA News
Feeling Intellectual?
Almost There: Celebrating 10 Years Of LetsRun Perfection
Khalid Khannouchi - Not Done Yet
News From Kenya
Popular Threads Wednesday On LetsRun
Better Than Advertised: Video Of Usain Bolt's 43.58 Relay Split (Anchor Leg)
Usain Bolt On The 400m
"The 400 I don't want to do, but I think I'll do it in the future because my coach can be very convincing. And he'll find some argument for me to do it." Usain, how about this argument: you'll be the first man under 43. Watch MJ's 400m WR.
80-Year-Old Coaching Legend Joe Newton Talks (More Here)
Help Your Dreams Become Reality: LRC Training Talk - Listen To Our First Episodes
Recommended Reads - You Can Buy The Books Online
One for the Mind: Running Within
One for the Soul: Best Efforts
More Great Deals