Big Savings::
*15% off


Orders of $60 and Up
Enter Code 140387 at checkout
*Eastbay Coupon
*Fotlocker Coupon
If You're Thinking of Going to Beijing Do it With the Experts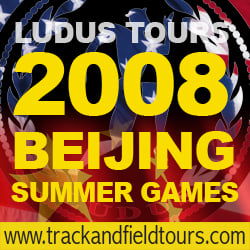 Mention LetsRun and Save $100

Book Review: Running Within
Want to improve your mental outlook on running? Then Running Within is the book for you. Read our review of this excellent book.
Recommended Reads
Looking for a good running book ? Read our mini-reviews and suggestions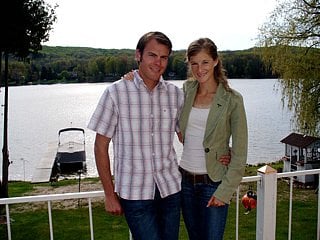 Ryan Shay
1979-2007
*Official Ryan Shay Remembrance Thread.
*Ryan Shay Photo Gallery
We interview one of our own:
LetsRun.com's Rojo talks about coaching at Cornell
This Weekend: With $50,000 1st Prize, Nigeria's Obudu Ranch International Mountain Running Race Has Attracted Some Traditional Stars Like Mestawat Tufa IAAF

Flora London Men's Field Announced ...
It's Going To Be Sick Once Again
Today the Flora London Marathon announced a positively sensational field of men's runners for their 2009 race. The field will include 3-time winner Martin Lel, "The Future" Sam Wanjiru, half marathon phenom Zersenay Tadese making his marathon debut, US greats Khalid Khannouchi and Dathan Ritzenhein, Felix Limo, 2-time World champion Jaoud Gharib, "Mr. Runner-Up" Abderrahim Goumri and 5 other guys who have run under 2:08 in their careers. Ryan Hall's Boston debut certainly won't be an easy win, but with these guys all running London he'll have a great shot.
*Unbelievably Exciting Men's Field Announced For London!
*Video Highlights Of Martin Lel's 2008 London Record 2:05:15 Win

Turkey Day Racing: (Manchester Road Race still to come)
*Not Messing Around: Scott Bauhs To Run Turkey Trot 5k, Go For USA Road Record 13:24
*Why Berwick's Thanksgiving Race Is Special

Olympic And IOC News
*Nervous Holidays For Some: Olympic Drug Retests For CERA To Take 4 More Months
*IOC Head Rogge Glumly Speaks On Cheating By Athletes
*We Agree: "London Should Be London" In 2012 - Not Try To Outdo/Outspend Beijing

More Chiba Recaps:
*Great Recap With Video Of Ethiopian Course Record Performance At Chiba Ekiden
*US Individual Splits From Chiba; Ed Moran Runs Best With 13:47 5k, Good For 5th
*Chiba Ekiden Recap: Ethiopia Wins (Combined Men's And Women's Team)

Ian Stewart (Guy Who Beat Pre For Bronze) To Lead British Distance Buildup For 2012 Games

Isinbayeva Is Better And Hotter Than Her Rival

World's Fa$$$$test Man
*Bolt Fights For Right To Party And Rule The Sprinters' Roost He's going to stop partying now and start training, but he doesn't get why some are upset that he's been enjoying himself for the last few months.
*Bolt Will Be Cashing In In 2009 To The Tune Of $200,000 An Event
*Bolt And Isinbayeva Are 2008 IAAF Athletes Of The Year 800m star Pamela Jelimo was undefeated for the year but didn't win.

Paula Radcliffe Has Discovered Childbirth Has Made Her A Better Athlete

Drug News *Disgraced Cyclist Bernard Kohl To Reveal Sources Of CERA As He Agrees To Cooperate With Officials
*Researchers Studying Potential Performance-Enhancing Benefits Of Viagra
*Survey: 20% Of Young Greeks Would Take PEDs To Improve Physique

Quotes From The Greats At World Athletics Gala

World Silver Winner Leonard Komon Wins IAAF Spanish XC

Myron Rolle Wins Rhodes Scholarship

Liz McColgan And Paula Radcliffe Call For Cycling-Style Centers For Running Where People "Can Eat, Sleep, Drink & Train"
*Radcliffe Still Dreaming Of Marathon Gold

Ryan Hall's first international marathon on US soil will come on Patriot's Day of '09.
John Hancock Financial Signs Ryan Hall To Run Boston Marathon!
*Message Board Thread Here *Hall quote: "To win [Boston] would mean as much to me as winning any marathon in the world, including the Olympic Games. To win in Boston would show the world that American distance running is indeed back to the days of Salazar, Beardsley, and Rodgers ... What is done in Boston lives on for all time."

A LetsRun.com Thumbs Up
Children's Running Book Review LRC reviews Kids Running and our guest reviewer says, "I can say with full confidence that it is perhaps the best children's running book of 2008."

Usain Bolt Answers Carl Lewis' Doping Questions In Interview


LetsRun.com Boston 08 LetsRun.com Party Photos The party hosted by Puma was a smashing success. A packed house, as those passionate about running (from ages 5 to 65+) came to celebrate a great weekend in Boston. LetsRun.com fans celebrated with Rojo, Wejo, Matt Taylor, and a few legends in the sport, including former marathon world record holder Steve Jones and Olympic Silver Medallist Sonia O'Sullivan. The Harpoon beer was flowing, DJ Inkognito kept things going and contrary to popular opinion, there was a healthy mix of males and females. The reviews were excellent. "It's refreshing not to see the same 50 people (industry insiders) at a party." "Most favorable female-to-male ratio I've seen in a long time."

101 Years Old, Still Smoking, Running and Drinking: Buster Martin: "I'm not worried about the fags because I'll carry them with me. Everyone says smoking kills but it's taking a long time in my case." The 101-year-old legend plans on smoking while running Sunday's London Marathon.

LetsRun.com 2007 Worlds Coverage:
*Sunday's Homepage Ndereba marathon
*Saturday's Homepage
*Friday's Homepage Tyson Gay
*Thursday's Homepage Lagat
*Wednesday's Homepage Lagat
*Tuesday's Homepage Bekele 10k
*Monday's Homepage Tyson Gay
*Sunday's Homepage Dibaba/Goucher 10k
*Saturday's Homepage Kibet Marathon

LetsRun.com London Men: Lel Leads 3 Under 2:05:30!!!, Ryan Hall 2:06:17
Ryan Hall Goes Through Halfway on World Record Pace
The 2008 Flora London Marathon will be remembered for a long time. The lead pack of 9 went through 5k at 14:21 (2:01 pace). They continued together (yes, all 9) through halfway on world record pace (1:02:13). Ryan Hall then went to the front soon after and asked the pacemakers to go FASTER. Soon Hall was off the back, but he would catch the leaders briefly again and go on to run 2:06:17. Until Sunday, only 7 guys had ever run under 2:06:15, now 11 have. Up front, it came down to a 3-man battle over the final mile before Martin Lel got his 3rd straight World Marathon Major win over the final quarter mile as he led 6 guys under 2:07 and to $50,000 bonuses each. Recap, photos, video above
This Guy Has Totally Won Back Our Respect
Maasai Warriors Finish Marathon link fixed One of them went back to the course and finished the race a day after being forced to go the hospital after a ceremonial wrap cut off his circulation. He said, "It was very important for me to do this. This is what I came to England for."
LetsRun.com Ryan Hall Reflects On His Incredible Run We tell you (and let you watch) what Ryan, his dad, his granddad, his coach and even Martin Lel had to say about Ryan. Lel was full of praise for the American and shocked by Ryan's attempt to get the pacemakers to go even faster. If Hall didn't already have your respect, he does after reading this article, as he pays homage to a throwback type of guy - Steve Jones. Text and Video.
LetsRun.com Video: Ryan Hall Talks About His 2:06:17 at the 2008 Flora London Marathon
*More LRC London Videos Here
*Photo Gallery

LetsRun.com Rojo's Tour of China, Part 1 - Hanging Out With Usain Bolt
Rojo went to the Puma Party put on for Usain Bolt. Open bar, Chinese dancers putting on their best sorority girl imitations, and then Rojo going 1-on-1 with Bolt. Rojo actually asked Usain about moving up to the 800m. Bolt hinted the Jamaicans want him to run the 4 x 400m. More importantly, Bolt apologized for visiting Facebook instead of LetsRun.com.

2008 real,- BERLIN MARATHON - Watch Video Highlight or Race Replay *Results *Photos
Haile G. 2:03:59!!! Mititenko 4th Fastest Woman Ever Haile Gebrselassie made more history Sunday on the streets of Berlin. After going through the halfway point in 1:02:04, Haile continued to flirt with world record pace but was stalked by Boston runner-up James Kwambai. Haile threw down the gauntlet the last 7km to dispatch Kwambai and just dip under the 2:04 barrier. On the women's side, German star Irina Mikitenko ran a brilliant race, running a negative split to smash the 2:20 barrier and become the fourth fastest woman ever.
*Geb: "I can go faster."
*The Science Of Sport Analyzed Geb's Splits As The Race Unfolded link fixed
*Geb's Record in Berlin Is His 24th World Record (or 26th depending on who is counting)
*Mikitenko Moves Into Tie in World Marathon Majors Standings Gete Wami must finish 2nd or higher in New York to move ahead. If she doesn't, they will be tied (and tied in the tie-breakers) so they might share the title. *Washington Post Article on WMM
*Falk Cierpinski, son of Waldemer Cierpinski, 2:13 in Berlin
On the boards:
*Wanjiru's Olympics > Geb's WR
*Haile's Splits from Berlin. ... how far could you run with him??
*Live Message Board Thread

Not Sure We Put This Up: Adidas And IAAF Announce 11 Year Partnership Hopefully it will be beneficial for both sides. But then again Charlie Weiss and Notre Dame have a 10 year contract. IAAF
Former World Heptathlon Champ Eunice Barber Facing Possible Jail Time For Biting Police Officer
Haile G In Melbourne For Great Australia Run
A Great Move For Britain: Paula Opens Up Camp For Compatriots To Train With Her
More Paula: Paula Talks About The "Choker" Tag And Gary's 40th Birthday Bash www.guardian.co.uk
Is He Nuts?: Dwain Chambers: "I don't give a damn how fast Bolt ran, Powell should not have lost that medal ... He'll get the world record back again next year."
Paula Radcliffe Says Motherhood Has Made Her A Better Athlete And She Talks About Kid #2 Times of London
TV Reminder: Disgraced Sprinter Tim Montgomery To Be Profiled On Real Sports On HBO Tuesday At 10 PM ET/PT
*Tim Montgomery Admits To Doping While On 4*100 Team In 2000
*IOC To Investigate Montgomery's Olympic Steroid Claims
Craig Mottram Now Coaching Himself, Representing Himself
German Fernandez Possibly Facing Long Recovery From Injury
Aron Rono Wins - Men's NAIA Recap And Results
Duncan Kibet Goes Sub-2:08 At Milan Marathon

LRC: World Famous NCAA XC Prediction Contest Get your picks in. Win $1000 if you pick the top ten teams perfectly.
"Why do newspapers relegate running to the agate page and 10 inches buried in the sports section every other Sunday?" Jim Hage asks the question since 90,000 finished Washington, DC's 5 biggest races in 1998.
Unreal! HSer Trevor Dunbar Runs 9:01 In Snow

Wife Of Operation Puerta Doctor Threatens To Talk & Warns What She Knows "Could Bring Down Sport" She herself was a member of the 4 x 400m.
The Rich Get Richer IAAF Athlete Of Year To Get $100,000
*Usain Bolt Is Getting Driving Lessons Puma gave him a fully loaded, custom made BMW M3 and he is attending the world famous BMW "M" driver school prior to going to pick up his $100,000 at the IAAF Gala.
Lord Coe Confident World-Wide Credit Crunch Won't Hurt London Being Ready for 2012
Philadelphia Marathon Going To Great Lengths To Track Runners It looks like you'll be able to see them every 5k on the Internet.

Good Audio Interview: Chris Lear With FSU Coach Karen Harvey
Help A LetsRun.com Fan Get Onto MTV's Real World Vote early, vote often.

Interview With America's Golden Discus Diva Stephanie Brown Trafton Her mom died when she was five, she works full-time, and, oh yeah, she won the Olympic discus gold out of nowhere.

Pole-Bender Turned Gender-Bender: Former German Woman Pole Vaulter Credits Steroid Use For HIS Recent Sex Change
USATF Announces Chiba Ekiden Teams
Jenny Barringer A Semi-Finalist For NCAA's Wooden Award

Scott Bauhs Going Pro After NCAA XC While we are opposed to collegians going pro early, we agree there is no reason for a 27:48 10ker to run D2 track. We also think it's great Chico St. held a press conference to announce it. *Video Of Scott Bauhs Announcing He's Going Pro
Reflecting On Rupp: Is His Sub-28:00 The Best-Ever NCAA XC Time? 27:41 on a course that was 85 meters short is still worth sub-28:00.
Rupp Mania On The Boards
*does Rupp train with Oregon or Salazar?
*Rupp poised to crush Chelanga
*Is Rupp the most hated runner in the NCAA?
*GALEN RUPP AT NCAA WEST REGIONALS
On the boards: Quantum of Solace: NOT GOOD
Runner Dies In Tulsa Half Marathon, Event Record Set In Men's Marathon
First-Ever Pasadena Marathon Cancelled Due To Fires
US Was 94th Nation To Ratify UNESCO Doping Treaty
Constantina Dita Starts An Online Journal
College Commitments From The Message Board
*Jordan Hasay To Stanford
*Ashley Brasovan to Duke
*Briana Jackucewicz going to Harvard
2008 Junior College National XC Results

A Sad/Uplifting Story We Missed
*Prep Wins TN State Title Less Than Week After His Best Friend (And State Champ) Was Killed In A Drunk Driving Accident
*Multi-time state champ Markie Voyles was killed after leaving a party that she left early because she didn't want to drink. Unfortunately, the driver was drunk. *Voyles remembered at state cross-country meet
On The Boards
*The $700 Billion Bailout Package
*How hard is Organic Chemistry really?
*Compare Your Fastest Race PRs To Your Fastest Practice Bests
Moving HS News:
*High Schooler Wins State Championship While His Home Burns Down
*Matthew Sonnenfeldt Wins Tennessee State Title for His Friend Who Died In A Car Crash
LRC The Week That Was Last week was certainly a week to remember. Thankfully, we've got it all covered for you. From the the election of Barack Obama to the mayhem at Divsion II West Regionals, we have everything in between covered, including info on Sally Kipyego training with the men, Johnny Gray joining the Hall of Fame and the Russians trying once again to make a mockery of women's track and field. We save our most praise appropriately for a black man who ripped a white man as the biggest thumbs-up of the week goes to Lamine Diack for ripping IOC head Jacques Rogge.

On The Boards
*German Fernandez vs. Kendra Schaaf
*49 Pages And Counting ... The "Atlantic Region XC 2008" LRC Message Board Thread The thread that keeps getting bigger.
*Worst Choking Moments in Running
*Why do most college girls burn out by their soph year of college?
Obama Mania Continues: For Some Reason People Think His Election Will Boost Chicago's 2016 Olympic Bid

Jose Canseco Gets 10 Months Unsupervised Probation For Trying To Smuggle In Steroids The $25 fine may be a big deal as he's broke.

Carolina Kluft May Miss Indoors With Stress Fracture
New XC Polls Released
*Boards: Where's UVA?
*Men's National XC Poll
*Women's National Poll
*Regional XC Polls here.
We would need counseling, too: Liu Xiang Needs Psychological Help Says Coach Unexpectedly letting down a billion-plus people has to weigh on one's mind. Get his Achilles tendon fixed and he'll be fine.
Recommended Read NYTimes: Static Stretching Is A Waste Of Time And Actually Weakens You If you are looking for a new way to warm up before your next race, we recommend you read this.
Blog on LetsRun.com, Become Famous: LetsRun.com's Scott "Slicko" Anderson In the Modern Love Section of the NY Times
What Actor and Actress Would Ryan Hall Want To Portray Himself and His Wife In A Hollywood Film? Hall thinks Adam Sandler would fit the bill for him.
Video: (It will Expand) Usain Bolt Predicted His 9.69 Last Week While Playing His New Online Computer Game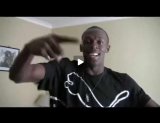 Click To Play
You can Race Bolt at www.chasingbolt.com
Last Year's World Champs Video Race Highlights:
1,500: The Final lap of the men's 1,500m
Video: Horrendous Fall in Men's Steeplechase Warning: this is not for the faint of heart.
Video: Video of Tyson Gay's 200m Win