Justin Gatlin's Suspension Upheld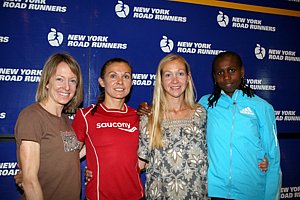 NY Mini is Saturday: Lrc NY Mini Celebrates Women's Running
The NYRR is celebrating its 50th anniversary this week, and its fitting the week ends with a celebration of women's running with the US Women's Olympic Marathon team on hand at the 2008 NY Mini 10k. Kathrine Switzer was on hand to give some perspective and educate our younger viewers on how much progress has been made. Take a minute to educate yourself. The first Mini really was worried about not being able to get a lot of women runners. After a mass mailing, some playboy bunnies for promotion, 78 women toed the line and it was considered a great success.
*Deena Kastor Interview: "I want a gold medal" It's just about the only thing missing on her resume. Plus she reveals she was probably in 2:19-2:20 shape for the Olympic Marathon Trials, briefly talks about Ryan Hall at London, and this photo of her husband.
World 400 Hurdles Champ Jana Rawlinson Racing for First Time in 9 Months
Move Over Oslo, Pre: Asbel Kiprop Running Kenyan Police Champs on Friday
Thursday Action:*Drug Cheat Dwain Chambers Runs 10.25 to Win in Greece, Will Not Take on BOA to Try and Get on British Olympic Team
*Kalamata Greece Recap: Popescu runs the 1500 in 4:00.36 IAAF
*Malmo Recap Klüft leaps 6.77m IAAF
Usain Bolt Says He's Not Sure He'll Run 100 at Olympics He's crazy if he doesn't.
LRC US Steeple Rankings Last week we uveiled our US distance rankings at 800 and 1500. We'll update those tomorrow and give our 5k rankings as well. But here today are our men's and women's steeple rankings.
*Last Week: (We'll update them tomorrow) Women's 800 & 1,500
* Men's 800 & 1,500
How Fast Can We Run in the 100? independent.co.uk
Saturn Midwest Distance Solution This Saturday A last chance for a 10k qualifier for the Hanson guys and girls.
11,000 Sign Up for Next Weekend's Comrades UltraMarathon
*Last Year's Champ Leonid Shvetsov Suing to Get a Bonus He Feels He Deserves
French Agent Who Kept Kenyan Athletes in Squalor Pleads Guilty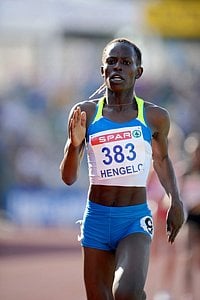 LRC: Week That Was: Once again we break down the action from the prior week in the world of track and field. This week we show you the first 9 meter long jump in history, continue our love affair with Pamela Jelimo, compare Usain Bolt's world record in the 100 to Kirk Gibson's 1988 World Series homer, and make fans of Alan Webb (and maybe even Bernard Lagat) a little bit nervous.
The Oregonian Looks at Lauren Fleshman's 14:58, Rupp's DNF and Goucher's Olympic A Standard A good article as it provides some nice info. Rupp's injury isn't too serious and Goucher was shocked to see Lynn Jennings cheering for her.
*More on Fleshman From Eugene Register Guard She's focusing more on the process than the results and it's paying big dividends as she's now the 9th American under 15:00.

Oslo Is Coming
*Greatest Ever Women's Steeplechase Set for Oslo - ÅF Golden League Russia will send WR holder Gulnara Samitova-Galkina (9:01.59), reigning World champion Yekaterina Volkova (9:06.51), and World silver medallist Tatyana Petrova (9:09.19).while Kenya will field the jr. record holder Ruth Bisibori Nyangau (9:24.51) and African Area record holder Eunice Jepkorir (9:14.52).
Eugene Register Guard Looks At Geoff Hollister's New Book On Nike & It's Impact on Running - Hollister was Nike's 3rd employee.
Marathon and Beyond Loves Us: They review all the running websites and come to this conclusion: "You Probably Should Start Your Web Surfing With LetsRun.com"
*We're such suckers for flattery, you should check out their website and subscribe to their magazine.

More MJ
*Seb Coe Priases Michael Johnson and Hopes It Marks Turning Of Tide in America
*Roger Blake Praises MJ As Well The member of the silver medal winning team says he didn't suspect Pettigrew to be on drugs.
More Bolt: Jamaica Has Never Had a 100m Olympic Sprint Champ GlobeRunner
*Usain Bolt Says 100 is His Best Chance for Gold in Olympics Yet the 200 is his favorite race.
*Usain Bolt: "I still think the 200m is my best race"
*Bolt and Powell to Race at Olympic Trials at End of June
*Asafa Powell Says He Knows He Can Run 9.6s .jamaica-gleaner.com
*Steve Cram Writes about Usain Bolt and Drugs We're surprised at how cynical everyone is with the record. We've been cynical about all records for a while, but still give the people the benefit of the doubt most of the time.
*NYC Reebok Grand Prix:USAIN BOLT 9.72 World Record!! *Meet Results *Video of Usain Bolt's 9.72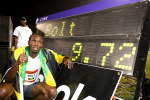 Bolt Runs 9.72.The Jamaican put on a show in the Big Apple to conclude a meet that showed exactly what track can be in this country- a large sold-out crowd, live tv and unreal performances. Tyson Gay ran a great race 9.85 but was soundly beaten. In other action (like anything else matters), Veronica Campbell Brown ran the fastest 100 of the year (10.91). In the distances, Paul Koech ran an all comers American record in the steeple, Lauren Fleshman went sub 15 for the first time, Lopez Lomong got his first big professional win, and Yusuf Kamel edged Khadevis Robinson in a very close men's 800. *Message Board Thread Here
*LRC Distance Recaps
*Photo Gallery
*Race Results Weekly Distance Recap With Athlete Quotes
*NY Daily News Recap (Only NY newspaper that delayed Sunday publication to include the Bolt article)
*Ato Boldon Wonders Whether Bolt Can Get 100, 200, and 400 World Records USA Today
*Usain Bolt Not Overly Excited about World Record USA Today
*Athlete Quotes from Reebok Grand Prix
Drug Talk: Hopefully Bolt can join some sort of baseline testing program like Tyson Gay to restore people's confidence.
*Drug Scandal Hangs Over Bolt's 9.72 Times of London
*Progression of 100m World Record
*NY Times: Is Bolt Clean? New York Times
Om the boards Please, Jesus, Let Bolt Be Clean We think he should voluntarily join a baseline testing program like Tyson Gay. And while we're at it we think that everyone's baselines should be published.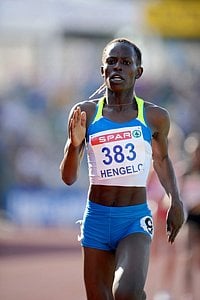 Last Weekends Action: *Results *Video Highlights
Hengelo: Pamela Jelimo 1:55.76, Geb Sub 27, Bekele Sub 13 It was expected to be an Ethiopian night in Hengelo, but 19 year old Pamela Jelimo emerged on the world scene in a big, big way with a stunning 1:55.76 800. Sileshi Sihine outkicked Haile G for the win in the 10k, and Kenenisa Bekele went sub 13 in the windy conditions. American Matt Tegenkamp ran 13:28.
*Free Video Highlights from the Meet
*Watch The Full Meet on Demand on WCSN.com ($4.95 a month)
*Irving Saladino Jumps Farther Than Anyone Else Has In the Last 14 Years Shows how week the long jump has been that 6 men have still jumped farther.
*Video of Saladino's Jump
Great Interview: Jos Hermens Talks About Saladino, Haile Gebrselassie He says Geb did NO speed work shorter than 2000m prior to the race.
On the boards: Jelimo's 1:55.76 possibly the fastest clean mark ever?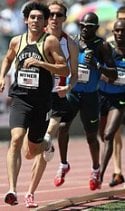 LRC: Week That Was: We go behind the scenes and recap the past week in the running world. On page 1, we look at all the collegiate action. We praise Mark Wetmore, John McDonnell, and tell you why CU would have dominated no matter where the Big 12s were. Plus praise for Leo Manzano, and Richard Thompson (9.93 100m) and we prove once and for all what is the best conference in America. On page 2, we recap all the pro action from the adidas meet and the roads, tell you why LA is not a sports town, talk about the NYRR possibly going overseas, talk about the London Marathon upping it's game even more, and give you the must read of the week.
Gouchers to Go for Olympic Qualifiers Next Weekend at High School Meet (Border Challenge)
Excellent Article in NY Times on Bernard Lagat's Family And Its Tradition of Running A really good read. His whole family is full of runners. Plus even a little controversy. Kip Keino calls him a "foreigner" and says, "He comes like a tourist".
2008 adidas Track Classic *Results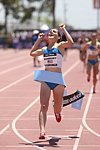 LRC Shannon Rowbury 4:01.61!!!!, Jenn Stuczynski 16' American Record
Tyson Gay Gets Double, Wariner Wins 400, Lagat Wins 1500
Rowbury's run and her rise the last few weeks has been incredible (4:12 to 4:01). Stuczynski improved her outdoor American record and took a good shot at the world record. Tyson Gay looked untouchable in the 200, but beatable in the 100. Jeremy Wariner won by .29 seconds, but that was closer than normal. Allyson Felix was only 4th in the 100. Lagat won the rough and tumble 1500 and Galen Rupp got the surprise win in the 3k. We give you the LetsRun.com analysis.
*Photo Gallery
Adidas Meet on the boards:
*@#$@! ROWBURY 4:01!!!! -
*Lagat 3:35.14
*STUCZYNSKI AMERICAM RECORD OVER 16 FEET!
*Nick Symmonds DNF
And there are now 1, 2, 3 threads on the letsrun.com singlet.
*USATF quotes from the meet
*NY Times on Bernard Lagat's Win in the 1500
*LA Times Recap of Adidas Meet With Focus on Allyson Felix
Saturday's Action: Ali Abdosh, Dejen Gebremeskel Run 13:08 4 people finished the race and 3 guys broke 13:10. Pretty sick for a US distance race. They came up short of the 13:04 US All-Comers record but we hear it was windy. Abdosh just got the bronze at the African champs. Brandon Shaw won the 800. The main events are today.
*Message Board Thread on 5k
*IAAF Preview of Meet
LRC: Preview of Action at 2008 adidas Track Classic
LetsRun.com Women's Recap New Ethiopian Star Dire Tune Wins Epic Duel A day after the women's US Olympic marathon trials, it was only fitting that the women put on a remarkable show on Monday. In the end, after the fastest 2nd half ever (70:36), Dire Tune edged Alevtina Biktimirova by 2 seconds in the closest women's race in Boston's legendary history. However, to defeat the tough Russian she had to run the last mile faster than the men's winner.
LetsRun.com! 2008 Boston Marathon Photos
*2008 Boston Marathon Photos from Victor Sailer 75 more photos added including good race action photos
*Message Board Thread On Race
*IAAF: Robert Cheruiyot Wins 4th Boston
*AP: Tune wins women's race at Boston Marathon in thriller
*Hanson's-Brooks Nicholas A. Arciniaga 1st American Male (10th - 2:16:13)
*Former Drake Runner and Current Med Student Ashley Anklam Is Firs American Female Finisher in 2:48.
*Lance Armstrong Lance Recaps His 2008 Boston Marathon (Video and text)
He had high praise for the Boston crowds: "Boston was a pleasant surprise. I expected the crowds to be great but they were about ten times what I expected"
*AP Article on Lance's Run Lance talks about the Boston hills.

Olympic Trials:

LetsRun.com: Deena Triumphs in Boisterous Boston It was an incredible day on the streets in Boston. The fans turned out in droves to cheer on America's finest and Magdalena Lewy Boulet made it interesting by opening up nearly a 2 minutes lead before Deena Kastor came from behind for the win. We give you all the analysis, talk about Deena's strategy (no miles over 5:25), and more (Joan Benoit's final competitive marathon)
*LetsRun.com! Boston Women's Olympic Trials Photos
*4 Minute Highlight Video of Post Race Comments (Deena, Magdalena, Blake Russell and Joan Benoit all give their take)
*Victor Sailor Photos link fixed. Photos rearragned. A few captions added.
More coverage:
*USAToday article by Dick Patrick
*Joan Benoit Article in NY Times
*Olympic Trials Coverage *Splits for Every Mile Here
*LestRun.com Message Board Thread Here
*Watch on Demand Here

LetsRun.com London Men: Lel Leads 3 Under 2:05:30!!!, Ryan Hall 2:06:17
Ryan Hall Goes Through Halfway on World Record Pace
The 2008 Flora London Marathon will be remembered for a long time. The lead pack of 9 went through 5k at 14:21 (2:01 pace). They continued together (yes, all 9) through halfway on world record pace (1:02:13). Ryan Hall then went to the front soon after and asked the pacemakers to go FASTER. Soon Hall was off the back, but he would catch the leaders briefly again and go on to run 2:06:17. (Until Sunday, only 7 guys had ever run under 2:06:15, now 11 have.). Up front, it came down to a 3-man battle over the final mile before Martin Lel got his 3rd straight World Marathon Major win over the final quarter mile as he led 6 guys under 2:07 and to $50,000 bonuses each. Recap, photos, video above
This Guy Has Totally Won Back Our Respect
Maasai Warriors Finish Marathon link fixed One of them went back to the course and finished the race a day after being forced to go the hospital after a ceremonial wrap cut off his circulation. He said, "It was very important for me to do this. This is what I came to England for."
LetsRun.com Ryan Hall Reflects On his Incredible Run We tell you (and let you watch) what Ryan, his dad, his grand-dad, his coach and even Martin Lel had to say about Ryan. Lel was full of praise for the American and shocked by Ryan's attempt to get the pacemakers to go even faster. If Hall didn't already have your respect, he does after reading this article as he pays homage to a throwback type of guy - Steve Jones. Text and Video.
LetsRun.com Video: Ryan Hall Talks About His 2:06:17 at the 2008 Flora London Marathon
*More LRC London Videos Here
*Photo Gallery
LetsRun.com Ryan Hall's Coach Terrence Mahon Assesses Ryan's Chances "I would not be surprised if he won the race on Sunday" We sat down and talked to Mahon about Ryan Hall's meteoric rise in the marathon, expectations for Sunday, the pressure Mahon feels in coaching Ryan and Deena, the mental side of coaching, the 1:02:30 half way pace, and much more. Text and video above.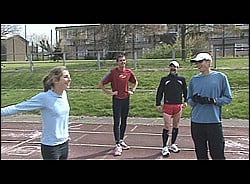 LetsRun.com! Wejo Speaks: Friday in London (With Ryan Hall) Wejo goes behind the scenes and tries to give you a little glimpse what's it's like marathon week in London. Ryan tried to keep himself entertained by watching a match race over 800m between his wife Sara and his coach, Terrence Mahon.
LetsRun.com! London Tidbits Bank of America Chicago Marathon inks with Nike, Paul Tergat's military commitment, Kenyan athletics taxes, Kenny B and of course Alan Webb.
LetsRun.com Ryan Hall:"The Future"(And Present?) Western Civilization's great hope received the compliment of a lifetime at Wednesday's press conference when reigning Olympic champ Stefano Baldini called him "the future" and said he could win "a lot of medals." Hall himself seemed full of optimism and certainly didn't try to downplay expectations for Sunday. "Last year I proved I can do it through 23 miles (37 kilometers). This year, my expectations have grown from that."
*Video Highlight of Press Conference at link above.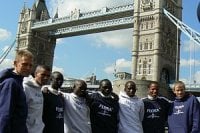 LetsRun.com Flora London Marathon Men's Press Conference The greatest marathon of the year is Sunday and we're there to bring you the action. Only in London is the field so loaded that the 2nd fastest marathoner from the year before (Emmanual Mutai) is not invited to the press conference. How can that be? Because London has Ryan Hall, Martin Lel, Luke Kibet, Stefano Baldini, Sammy Wanjiru, Abderrahim Goumri, Felix Limo, Hendrick Ramaala and others. The piece includes video from Lel and Wanjiru.
LRC: Photo Gallery from Wednesday
*Stefano Baldini's Marathon Show Rolls On
The 36-year-old doesn't think he can win in London but he's hoping to defend in Beijing.
*Paula Radcliffe Offers Training Tips and Gives Insight On Her Rebound From Injury Radcliffe missed 8 weeks due to her toe injury but has been back running for two weeks now and is feeling good.
*Nice IAAF Profile of America's Great Hope Ryan Hall The author points out that in less than a year, Hall has gone from a marathon virgin to being annointed as "the future" by the defending Olympic champ. Remarkable. Hall: "I certainly believe I can win."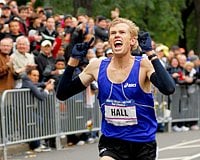 RYAN HALL 2:09:02 Ryan Hall put on one of the most impressive performances ever in American marathoning history, as he destroyed the field and coasted to victory in an incredible 2:09:04 (after a 1:06:17 1st half, yes that's a 1:02:47 2nd half on the hills of Central Park) on the very difficult NYC course. Dathan Ritzenhein ran a very impressive 2:11:07 to get 2nd while Brian Sell got the 3rd Olympic spot in 2:11:40. Former World Record holder Khalid Khannouchi ran a very gutsy race to finish 4th.
Ryan Hall is the real deal in case you didn't know. Here are his 5k splits on the very difficult NY course to prove how incredible he is at the marathon: 16:44, 15:41, 15:27, 15:12, 15:05, 14:48, 14:28. Yes that's right a 14:28 from 30 to 35k. Hall pumped his fist, pointed to the heavens, and waved to the crowd the final mile savoring the incredible run and still ran a 15 minute 5k pace for the final 7.2k (14.56 from 35 to 40k)
*Results
Race Recap From RunnersWorld's Amby Burfoot Amby did an excellent job covering the lead up to the Trials so it is fitting we link to his race article.
*NBCOlympics Recap of 2008 Olympic Marathon Trials: Triumph and Tragedy
*Quotes
*Video: Watch the on Demand (For Free, Skip to Any Crucial Point Instantaneously. Thank you NBC)
*Post Race Press Conference Videos Top 3, Meb, Culpepper, Khannouchi, Lehmkuhle
*Dathan Ritz Quotes
*Brian Sell Quotes
*Khalid Khannouchi 4th at Trials A great great run for Special K. He got 4th hobbling around the park.
*Photos Excellent ones from letsrun.com message boarders skylon
ExxonMobile Bislett Games Friday Nearly Live TV Coverage (30 minute delay) ESPN Classic (2:30-4:30pm eastern) *Live Webcast
*Start Lists
*Oslo Distance Preview from RRW
*Kaki vs Rudisha The Future is Here
*Distance Preview of Oslo
*Jeremy Wariner Says He's Already Past His Lost in Berlin
The highlight in our mind is the 800m matchup between teen prodigies Abubaker Kaki and David Rudisha. Jeremy Wariner is back in the 400 after his first loss in 3 years, but LaShawn Merritt is not going after the Golden League jackpot. There will be a world record attempt by Tirunesh Dibaba in the 5k, the greatest women's steeple field ever assembled and Pamela Jelimo in the 800 (she is so dominant now, we almost don't need to mention she's racing Janeth Jepkosgei).
*Dibaba to Run 10k Next Weekend in Ostrava after Going for 5k Record in Oslo on Friday
Some are Upset USOC Gets 13% of Olympic Rights US Television Fees We're shocked the US doesn't get more.
Pre Sunday: *Start lists Check back for a preview.
Live TV 4-6pm eastern NBC
A great meet. The meet features the farewell of Maria Mutola and one of the most amazing streaks in the sport (Rowbury is in the 800 now), a sick mile (even without Bernard Lagat (last year's champ Dan Komen, Alan Webb in his 2008 debut, double world champ Rachid Ramzi, world #3 Tarek Boukensa, world #4 Belal Mansour, not to mention Nick Willis, Kevin Sullivan, and Lopez Lomong (Asbel Kiprop is out)), the unusual early morning world record attempts by Bekele (10k) and Defar (5k), Lagat, Mottram, Koech, (and a subpar Shaheen) at 2 miles, plus Jamal at 1500
*Sean Hartnett Talks to Kenenisa Bekele About Pre 10k Record Attempt, His 5k in Hengelo
*A Look at Pre Record Attempts in Women's 5k and Men's 10k
*Kara Goucher Running 5k at Pre vs Meseret Defar
*Liux Xiang May Miss Pre Meet
*Luke Puskedra's Coach (A High School Kid) Says He Can Run Sub 8:30 for 2 Miles No way. We'd bet as much money as he wants $40 at 100-1 that it won't happen.
Drug News: Michael Johnson Says Jail Sentences May Fight in Doping Fight
*Antonio Pettigrew Giving Up His 4*400 Medal
IAAF & CAS Please Read
Science of Sport Exposes Lies Used To Get Oscar P Eligible By IAAF
This Will Clean Up The Sport (Not!!)
USADA Suspends 40 Yr Old Who Hasn't Competed in 6 Years His name, Antonio Pettigrew. *Science Sport Looks At Trevor Graham Case
EuroMeetings Meets Aren't Going to Pay Prize Money Until Athletes Pass Doping Tests
Sex Sells
Eurosport Catches Up With Norwegian Middle Distance Runner Kristine Engeset Who? We'd never heard of hear either but then realized why they caught up with her - she's a 19-year old Puma poster girl, who happens to be pretty fast (silver world jrs steeple). (Actually, Wejo has heard of her because if you type into google, "Kristine Engeset" guess where you end up? LetsRun.com)
Liu Xiang Mania
*Coach Tries To Quell Rumors After Xiang's Withdrawal From Reebok - Says Xiang Isn't Injured
*Jiang Featured In Cadillac Ads We're for communism too if there is enough wealth for everyone to have a Caddy.

News From Japan*Kenyan High Schooler Runs 27:51 in Japan
*Kayoko Fukushi Comes Up Short at Olympic "A" Qualifier in 10k in Japan
22 Yr Old British Heptathlete Jessica Ennis Out of Olympics With Broken Ankle Another blow for Britian as she was 4th at world's last year.

Interesting Read: World Leader in the Steeplechase Donna MacFarlane Hadn't Run for 6 Years in 2005 When She Took Up Running Again Pretty incredible. From fitness runner to world leader.
NYRR Head Mary Wittenberg Talks About Her Workouts with the WSJ The NYRR turns 50 this week.
ÅF Golden League
Berlin: LaShawn Merritt Takes Down Jeremy Wariner, Pamela Jelimo Sizzles, Saladino Loses for First Time in 24 Meets
*Results
Jeremy Wariner threw the greatest 400m coach ever Clyde Hart to the curb over a contract dispute before the season and he might want to give Clyde a call now. LaShawn Merritt battled stride for stride with Wariner and defeated him in the 400 running 44.03. It was Wariner's first 400m loss in a race he finished since 2005. In the women's 800, Pamela Jelimo continued her amazing emergence. Earlier this week it was reported the Kenyan Federation wouldn't let her run in this meet, but she showed up anyway and put on an exhibition. She absolutely destroyed the field that included the World Champ Janeth Jepkosgei. She's at a whole different level than everyone else in the world and the World Record looks like a real possibility. She went out in 56, 1:24. and held on to a 1:54.99. Sick.
*Berlin Distance Recap: Jelimo Goes Sub 1:55 in Berlin w
*LaShawn Merritt: "I won this one but the big show is in a couple of months"
*The Amazing Emergence of Jelimo iaaf.org
*Jeremy Wariner Does 2*1000 in the off season
Rock N Roll San Diego: Wangai, Gromova Win 11th Rock 'n' Roll Marathon and $35,000 Our apologies. Chicago champ Patrick Ivuti ran this race and dropped out (we thought he was running a Rock N Roll half-marathon).
*PreRace Article on Ivuti
*Article on Matt Turnbull Guy Who Replaced Mike Long at Elite Racing
NCAA Regionals
*East Regional *Results
*Walter Dix Is Back - Wins 200m He was 3rd in the fast 100 which was won in 10.09 by Padgett into a wind.
*Josh McDougal's College Career Comes To An End With A Whimper He's been battling an injury and didn't start the 5k as he wants to focus on the US trials.
*Mid-East Regional *Results
*Mid-West Regional *Results 1:45.8 for Jacob Hernandez
*West Regional *Results
Benita Johnson Wins Freihofer's Run for Women Then Finds Out Her Father Had Died

Drug News
*Trevor Graham Guilty On 1 of 3 Counts If you're surprised, you shouldn't be. Unless you were surprised that he got off on two counts (jurors were 10-2 and 11-1 for conviction on those counts). We're not sure how the jury foreman got picked. This is what he said after the trial , "The government was bound and determined to make an example of this defendant," and chose to "do a deal with a true devil, an untruthful drug dealer and illegal immigrant. I hope this verdict satisfies the Justice Department's lust for blood and there is no retrial."
*Read More About Crazed Jury Foreman Here We Hope They Retry Him Unfortunately due to the jury foreman, according to the Washington Post the govt. didn't convict Graham "on the two counts that went to the heart of whether Graham was involved in dealing performance-enhancing drugs to athletes." Idiotic. The juror wasn't sure if Graham lied when he said he'd never met Heredia even though there were photos of them together.
*Justin Gatlin Appeal Ends - He'll Learn His Fate On June 6th
Most Americans are Skipping Golden League but Jeremy Wariner Will Give it a Run Reebok and Berlin are this week, Oslo and Pre next week. Not the best schedule possible.
Road Action This Weekend: Chicago Champ Patrick Ivuti Running San Diego Rock N Roll Half This Weekend
Big HS Action: German Fernandez Going for First California 1600, 3200 Double Since Meb Keflezighi

Next Week:
*It's On: David Rudisha Vs Kaki at 800m in Oslo Next Weekend IAAF
*Top Women's 1500 Field Assembled for Pre
Also Next Week: US Women's Olympic Marathon Team to Run NY Mini 10k
Huge Article on HGH Precursors on Front Page of Sports in USAToday Just when you held out hope for an HGH test, athletes are on to new things.
*In Depth Analysis by ESPN.com on U.S. Pro Sports Leagues, Olympic Drug Testing We said we thought this article gave the Olympic testing too high a score because there aren't tests for a lot of drugs and the article above on HGH supports our point.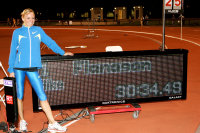 Photo by Andrew
McClanahan PhotoRun.net
LRC Stanford: Shalane Flanagan, Kim Smith Put On a Show, Flanagan Smashes American Record (30:34.49)!!!
Americans Bernard Lagat, Brent Vaughn, Scott Bauhs Impress
Shannon Rowbury Rising Fast, Kevin Sullivan Still Going Strong
*Results Shalane Flanagan and Kim Smith put on a show for 25 laps on Sunday night and in the final 200 Flanagan came out on top smashing the American record (30:34). Smith had to settle for a Kiwi record (30:35). Other highlights included Bernard Lagat running a 56 second last lap to win the men's 5000m (13:16.29) and being followed by Colorado senior Brent Vaughn in a stunning school record 13:18.46; Craig Mottram blowing away the field to win the men's 10,000m (27:34.48) as DII American star Scott Bauhs hit the Olympic "A" standard. The men's mid-d races were somewhat of a letdown as no Olympic "A" standards were hit in the two "equal" 1500m sections. (Although Kevin Sullivan continued to do what he was doing when Nick Symmonds was eight years old and new miling sensation Andrew Wheating did win the men's 800). Shannon Rowbury dominated the women's 1500 and showed she is a fast emerging American star.
*Results More Coverage: *Flotrack *Runnerspace *Photos
*Race Results Weekly Recap
2008 Boston Marathon Men
LRC Robert Cheruiyot Destroys Field And Joins Bill Rodgers As a 4-Time Winner After a slow opening two miles, Robert Cheruiyot put on quite a show as he wheeled off 17 straight miles at 4:53 or better including a 4:36 19th mile that mile that fnished his only reamining challenger, Abderrahime Bouramdane. His performance in the middle miles was incredible. Recap, photos, post-race comments.
*LetsRun.com! 2008 Boston Marathon Photos
*2008 Boston Marathon Photos from Victor Sailer 75 more photos added including good race action
*Message Board Thread On Race
*IAAF: Robert Cheruiyot Wins 4th Boston
*AP: Tune wins women's race at Boston Marathon in thriller
*Hanson's-Brooks Nicholas A. Arciniaga 1st American Male (10th - 2:16:13)
*Former Drake Runner and Current Med Student Ashley Anklam Is Firs American Female Finisher in 2:48.
*Lance Armstrong Lance Recaps His 2008 Boston Marathon (Video and text)
He had high praise for the Boston crowds: "Boston was a pleasant surprise. I expected the crowds to be great but they were about ten times what I expected"
*AP Article on Lance's Run Lance talks about the Boston hills.
Boston Video:
*Watch the Race on WCSN
*Post Race Press Conference: Robert Cheruiyot, Abderrahime Bouramdane, Khalid El Boumlili Share Their Thoughts
*Lance Gives His Take
LetsRun.com Boston 08 LetsRun.com Party Photos The party hosted by Puma was a smashing success. A packed house as those passionate about running (from ages 5 to 65+) came to celebrate a great weekend in Boston. LetsRun.com fans celebrated with Rojo, Wejo, Matt Taylor, and a few legends in the sport, including former marathon world record holder Steve Jones and Olympic Silver Medallist Sonia O'Sullivan. The Harpoon beer was flowing, DJ Inkognito kept things going and contrary to popular opinion there was a healthy mix of males and females. The reviews were excellent. "It's refreshing not to see the same 50 people (industry insiders) at a party." "Most favorable female to male ration I've seen in a long time."
You'll Be Hearing About This For a Long, Long Time
*Maurice Greene, HSI Linked to Steroids A few HSI athletes have been caught doping in the past (Larry Wade the most notable), but this NY Times article brings to print some of the rumors some of you may have heard. And it is a sad, sad day for American sprinting if true.*Times Of London Story on Maurice Greene Being Accused Of Doping
Maurice Greene Defends Himself He says he never used drugs but did pay for teammates bills without asking what it was for. Greene: "This is a bad situation for me. My name's come up in something and it's not true."
LetsRun.com London Women: Mikitenko Wins Crazy Women's Race The women's race went totally not according to form. German Irina Mikitenko was the surprise winner. The race went out slow, then picked up, then slowed back again. Then Gete Wami wiped out at a water stop, nearly knocking her own teeth out, fell back off the back, then battled back only to get dropped again as Mikitenko threw it down the final 5k. And a perfectly sunny day turned into a cold rainstorm at times. Text, Photos, and Video
Other London Coverage: *Yelling Makes GB Team: A great moment when she looked rival Hayley Haining in the eye at 19 miles,. Amazingly both ended up happy as both PRd.
*British Men Could Run 25 Miles, Everyone Else 26.2 Miles And They'd Still Lose in London
*World Marathon Majors Point Standing - Lel has a huge lead. Wami's is narrowed by Mikitenko s
*Dick Patrick of USAToday Writes About Ryan Hall
*American Ryan Hall mixes it with Kenyans
*AP Story on Ryan Hall: Hall Confident About Beijing Chances
*Quotes From The Top 3 In London
*Gas Leak Causes London Marathon to be Diverted
*Paula Radcliffe Talks About Her Beijing Preparations
*Jon Brown Blasts UK Performance Director Dave Collins The 4th placer in the marathon at the last two Olympics absolutely rips Collins - a man who somehow managed not to show up at world cross country last month when it was in Scotland..
101 Years Old, Still Smoking, Running, and Drinking: Buster Martin: "I'm not worried about the fags because I'll carry them with me. Everyone says smoking kills but it's taking a long time in my case" The 101 year old legend plans on smoking while running Sunday's London Marathon.
LetsRun.com 2007 World's Coverage:
*Sunday Homepage Ndereba marathon
*Saturday Homepage
*Friday Homepage Tyson Gay
*Thursday Homepage Lagat
*Wednesday's Homepage Lagat
*Tuesday's Homepage Bekele 10k
*Monday's Homepage Tyson Gay
*Sunday's Homepage Dibaba/Goucher 10k
*Saturday's Homepage Kibet Marathon