The Week That Was May 26- June 1, 2008
May 27, 2008
*Last week's week in review can be found here
By LetsRun.com This past week's homepages: Monday, Tuesday, Wednesday, Thursday, Friday, Saturday, Sunday, Monday

In case you missed it, last week saw the unveiling of the first ever LetsRun.com Rankings. In it, we rank at least the top 10 in the US in the middle-distance and distance events. We hope to do the ranking every week between now and the US Trials. And we hope to do it each week on a certain date (to be determined). But hey, the dates may vary each week as The Week That Was is supposed to be out on Tuesday but only got out Wednesday this week. Organization has never been our strong point.

Anyway, last week, we unveiled our rankings for the 800 and 1,500. Later in the week, we'll update those rankings as there was a lot of action last week, plus we'll give you our Steeple/5k Rankings. Next week, we'll give you our 10k rankings. In the meantime, keep emailing us your comments. The response to the rankings was amazing.

LRC US RANKINGS!!!
*LRC US Rankings: Women's 800 & 1,500
*LRC US Rankings: Men's 800 & 1,500
(Steeples, 5k, 10k coming next week)

We'll start with the Golden League meet in Berlin this week, as it got somewhat overlooked with Usain Bolt's 9.72 WR in New York.

ÅF Golden League Gets Under Way in Berlin
The Golden league got underway this year in Berlin, which saw it's traditional late date moved to June. The fans appreciated the move and turned out in a big-time way as 67,124 showed up. They certainly left home happy as the meet was full of great action. You can read a meet recap here, but for us, there were four big things at this meet.


1 ) Jelimo Impresses Us Even More
On the homepage last week, when we linked to "The Week That Was" we linked to it under the title "A Star Is Born" as the biggest news of the week was the arrival of Pamela Jelimo. We had it wrong. We should have said - A SUPERSTAR IS BORN. Last week, she very evenly split a 1:55. This week she went for history and was in the hunt for a world record, but ended up settling for her first 1:54. Her first 600 was so fast (1:24.59), that the idiotic American announcers on ESPN2 were convinced that she was doing something foolish - even though it was as clear as it was the week before that she was doing something special. 1:54.99.

Jelimo's rise has been amazing. Last year she was a sprinter who ran a best of 54.93 for 400. As far as we can tell, 2 months ago she had never run an 800. A month ago she had never broken 2 minutes, and now she's the best 800m runner on the planet by a long shot.

2) Jeremy Wariner Loses (LaShawn Merritt Wins).
Astute visitors to the website have noticed how all spring, we've been taking every chance we've had to rag reigning Olympic champ Jeremy Wariner for what in our mind was the ultimate act of greediness and stupidity - dumping the greatest coach in 400 meter history (Clyde Hart) in an Olympic year over a contract dispute. All spring, we've taken every chance we've had to promote the prospects of LaShawn Merritt - who we noted has run eerily similar times as Wariner at the same age as Wariner. As a result, we have to take some pride in telling you, "I told you so" this week as Jeremy Wariner was defeated for the first time since 2005 in a 400 meter race that he completed.

The race was fantastic as it featured a great stretch duel as Wariner and Merritt ran side by side for nearly the entire final 100 before Merritt prevailed in 44.03 to Wariner's 44.07. The race was the ultimate vindication for coaches across the globe. Coaching at times can be a depressing profession as the public at large often fails to recognize great coaching as superior genetics coupled with poor coaching often prevails over superior coaching with poor genetics.

But coaches can make a big difference at the highest level. A great coach can't normally have a 4:20 high school talent beat a 4:05 talent, but he can regularly have a 4:20 talent beat a 4:15 talent. At the Olympic level, he might take a guy who should have finished third and make him an Olympic champion. Same thing here. To say the least, a coach certainly might be worth .04 of a second. That being said, we'll never know if the coaching change resulted in Wariner's loss or not. But considering that the 400 is a Golden League event this year, Wariner's loss probably cost himself a minimum of $200,000. We doubt he saved that much from sacking Hart.

Certainly no time for Wariner to panic however. He ran 44.07. One needs to remember that he won the 2004 Olympics in 44.00. He's certainly capable of prevailing in Beijing but Merritt is the real deal and we have a real rivalry on our hands.
So a Big Thumbs Up to Merritt for getting the win, but in our minds the Biggest Thumbs Up associated with this performance should go to Berlin meet director, Gerhard Janetzky who actually predicted that Wariner would lose. How is that for a prediction? While we had hinted that him losing this year was a possibility, Janetzky predicted it would happen in Berlin. Amazing.

Check out his pre-race comments:
"It's great to have Jeremy Wariner here as well. He's been the star of 400m running for several years but if I was a betting man, I have the feeling that he might even be defeated. LaShawn Merritt is really going for it and Angelo Taylor is capable of doing it as well."

Saladino Jumps Over 9 Meters


3) Irving Saladino Loses - While this may be a site devoted to distance running, we are fans of the whole sport of track and field and Saladino's loss in Berlin was shocking. Heading into Berlin, he'd won 21 straight long jumps and hadn't lost since the Paris Meet in early July 2006. The week before Berlin in Hengelo, he put up one of the top 10 marks of all time with his a leap of 28'7.75". More impressively, in Hengelo, he also had a jump that appeared to be possibly the longest in history - over 9 meters - if not for a slight foul. See his amazing 'foul' jump of 9+ meters in the video to the right.

Saladino had finally arrived as a big-time star at the perfect time - an Olympic year. The long jump is also a Golden League event this year so motivation was high. And he goes out and loses - shocking. That's what makes sports great - predictions don't mean squat.


*Many thanks to 2007 NCAA Triple Jump Champion Rayon Taylor For The Heads Up On The Video

4) African Men Start To Run Really Fast in 1,500 & 5k (Webb & Lagat get ready)
The weather in Berlin was far from ideal for 5k running as it was hot.(85+, 30 C). That didn't stop 22 year old Kenyan Moses Masai from running a world leading 12:50 to win, defeating Tariku Bekele in the process as four broke 13:00. Masai is someone you might want to look out for in Beijing. His previous 5k pr was 13:08. Kenyans rising to the top out of relative obscurity in Olympic years isn't uncommon (anyone remember Dan Komen in 1996?). Hopefully Kenya is smart enough to put him on the Olympic team.

Need proof that it might be harder to win a Golden League 1,500 than The Olympics? Just look at the results in Berlin. It was unbelievable how many people ran fast there. The race had a ridiculous 17 starters (there shouldn't be more than 14) and six of them, including 5 Kenyans, ran 3:32.55 or better, led by race winner Augustine Choge of Kenya in 3:31.57.

Let's put the performances in Berlin in perspective. Remember double world champion Bernard Lagat's seasonal best last year was only 3:33.85. Guess how many times Alan Webb has only run faster than 3:32.55? Seven? Nope. Eight? Nope.

Try twice. Once in his very last 1,500 of the year in 2005 in Rieti and then last year in Paris when he won the Golden League meet in a world leading 3:30.54

Winning the Olympics isn't easy but the Olympic rules limiting each race to only three per country certainly helps the American cause greatly in the distance events.

LaShawn Merritt Takes Down Jeremy Wariner, Pamela Jelimo Sizzles, Saladino Loses for First Time in 24 Meets
*Results *Pamela Jelimo continued her amazing emergence. She absolutely destroyed the field that included the World Champ Janeth Jepkosgei. She's at a whole different level than everyone else in the world and the World Record looks like a real possibility. She went out in 56, 1:24. and held on to a 1:54.99. Sick.
*LaShawn Merritt: "I won this one but the big show is in a couple of months" *The Amazing Emergence of Jelimo iaaf.org *Jeremy Wariner Does 2*1000 in the off season
Pre-Race News

UNREAL CALIFORNIA HS ACTION
The Berlin results prove what we already know - that Africa is full of extremely talented young athletes. For Americans to compete with the best in the world is tough. One person who might be able to do it in the years to come is California high schooler German Fernandez. Last week, we told you about how German Fernandez pulled off a 4:07/8:45 double that a college coach said was "like a walk in the park". Apparently, the college coach wasn't joking. It really was a walk in the park for Fernandez as this week at the California state meet he ran all out in both the 1,600 an 3,200 and pulled off the greatest double in high school running history.

He started things off by running a 4:00.29 solo 1,600. A few hours later, he came back ran the fastest 3,200 in US HS history - 8:34.23. Yes 4:00 and 8:34. Frequent LetsRun.com message board poster George Malley, who also is a former American record holder in the steeple, came up with the following great stats. Converting Fernandez's double into mile and 2 mile times, it's clear that it's by far the greatest double ever.



(12:38.9) 4:01.7 & 8:37.2 Fernandez 2008
(12:53.1) 8:46.5 & 4:06.6 Kimball 1974
(12:53.6) 4:02.6 & 8:51.0 Kimball 1974
(12:54.8) 8:42.6 & 4:12.2 Virgin 1973
(12:55.1) 8:46.0 & 4:09.1 Sage 2000
(12:57.1) 8:48.6 & 4:08.5 Virgin 1973
(12:57.3) 8:48.2 & 4:09.1 Fernandez 2008
(12:58.4) 8:46.6 & 4:11.8 Virgin 1973
*From the Thread:: How Good Was Fernandez's double?

The best part about the race may have been Fernandez's post-race comments. It's great to see the innocence of high schoolers come out. Fernandez told reporters he was going to celebrate by working the evening shift at Applebee's. "My job is pretty important and I don't think they'd give me the day off even if they knew how well I did today. My boss always tells me to mention Applebee's when I'm talking to the newspapers, so I wanted to make sure to give my job a shout out.''

The other thing super impressive about Fernandez was his super consistent pacing and his desire to crush the competition. California is the toughest state meet to win, yet Fernandez ran hard by himself from the gun. Incredible.

Fernandez wasn't the only one to impress in California. Christine Babcock ran a 4:33.82 in the girls 1,600, which is a HS record. We've always been impressed by Babcock as she's not overly obsessed by the high school scene. Each year, she has skipped the Footlocker XC meet as she didn't want to over-race. We don't get why Fernandez at this point even cares about going to Nike Outdoor Nationals. He could easily run this weekend's Prefontaine 2 mile - get the national record - and then call it a season. But then again, the kids are in HS so they should probably do whatever they want, within reason.

Lastly, in the girls 3,200, two girls broke 10:00 in the same race for the first time as Jordan Hasay ran 9:52.13 to Laurynne Chetelat's 9:52.51.

Unreal California HS Action:
*German Fernandez Pulls Off Greatest HS Distance Double Ever 4:00 AND 8:34 *Message Board Thread Here
*How Will Fernandez Celebrate - By Working The Evening Shift At Applebee's:
*Christine Babcock - 4:33.82 1600m HS record!*Message Board Thread Here *More On Babcock Here
*Distance Races Steal Show At California State Meet in the girls 3,200, Jordan Hasay and Laurynne Chetelat battled to the wire in an 9:52 race
Pre-Race
German Fernandez Going for First California 1600, 3200 Double Since Meb Keflezighi
Other HS News
*High Schooler Chanelle Price Running the 800 Next Weekend at Pre New York Times

Two Who Won't Be In The Olympics (And One Who Will)
The Olympic year is a very exciting time of year for many athletes who have put their lives on hold to train for a once-every-four-years opportunity. But for each of the few potential Olympians who see their dreams realized, there are countless others who see their dreams denied. Two who have seen their dream denied in 2008 are 2000 US Olympian Michael Stember, who announced his retirement this week, as well as 2004 Olympian and American record holder in the steeplechase, Dan Lincoln.

Stember never was given much of a shot of making the team this year but Lincoln was someone who might actually have a remote chance at a medal, since after the Kenyans, no one is really dominant at the steeple (except for ex-Kenyans). Lincoln will miss the trials after having Achilles surgery. We aren't asking people to feel too sorry for them as they are previous Olympians but we know that doesn't make the disappointment of this year any easier for them. It's a real shame that Lincoln is out as speaking of ex-Kenyan steeplechasers, steeplechase world record holder Saif Saaeed Shaheen of Qatar raced for the first race in almost two years. He was soundly defeated when he ran 13:29 in the 5k to the winner's 13:24. That doesn't mean a whole lot in our books as he's got plenty of time for the Olympics and most American steeplers would really have to be totally on their game to even have a shot at 13:29. It should make the Kenyans feel a little better about themselves.

*Steeplechase World Record Holder Saif Saaeed Shaheen Defeated In 1st Race Since 2006.
*Michael Stember Hangs Them Up *John McDonnell Talks About Dan Lincoln Being Out of Olympic Trials (video)
*Shaheen Defeated

DRUG NEWS: Crazed Juror Blows Trevor Graham Case
As the Trevor Graham case went on and on, we wondered more and more each day as more and more evidence came out why did Graham even take this case to court? He's so obviously guilty it makes no sense. We even wondered last week if he simply did it to make sure everyone else went down with him in disgrace. Well, when the verdict came back this week and he was convicted only on one of the three counts, we realized why.

One can always hope that there is a crazed juror that lets you off. Convincing 12 Americans all at once of anything is a hard task. Heck, if you asked 12 people if 6 x 7 was 42, we bet one of them might say no. Clearly that's what happened in this case. The jury foreman certainly doesn't seem like the most calm and logical man ever created in history based on his post-trial quote of: "The government was bound and determined to make an example of this defendant," and chose to "do a deal with a true devil, an untruthful drug dealer and illegal immigrant. I hope this verdict satisfies the Justice Department's lust for blood and there is no retrial." Apparently, the juror wasn't sure if Graham lied when he said he'd never met Heredia even though there were photos of them together. Maybe they can use the threat of a retrial on the hung jury counts as leverage to make Graham spill the beans on everything he knows about doping in the sport. Nothing at the trial came out on HSI as was anticipated by some.
*Trevor Graham Guilty On 1 of 3 Counts *Read More About Crazed Jury Foreman Here*Justin Gatlin Appeal Ends - He'll Learn His Fate On June 6th


Drug Cheats, Shave Your Head Now
It also came out this week that scientists want to start testing people's hair samples for drugs instead of blood as signs of illegal drug use stay in the hair much longer. We are all for it.
Drug News: Scientists Want to Use Hair Testing to Detect Steroid Use Going Back a Year, but WADA Isn't as Certain

Reebok Grand Prix 2008 - What A Meet and What A World Record!
Usain Bolt's world record run of 9.72 seconds in the men's 100 is garnering all of the worldwide press for this meet and rightfully so. It was simply a thing of beauty.
We'd like to briefly focus on some other things (you can get a nice recap by looking at the links at the end of the section). The entire meet was a thing of beauty in our minds. It featured a sold-out crowd (Yes we know their maximum capacity is nowhere near the 70,000 plus in Berlin but a sell-out is a sell-out and it looks way better on tv), a world record in the biggest event in the sport, a live national cable television audience as well as a tape-delayed network broadcast. So a major thumbs up to Global Athletics for putting on the meet and for Reebok for sponsoring it and for the fans for coming out to support it. It doesn't get much better than a packed house for a track meet with the view of the NYC skyline (Truth be told, we're a bit embarrassed by how few non-Jamaican-loving fans showed up). (full disclosure: the meet advertised on our website).
Among the highlights - a 9.72 in the men's 100, a 50.04 in the women's 400 by Sanya Richards, a US all-comers record of 8:01.85 by Paul Koech in the steeplechase, a sub-15:00 clocking (14:58.48) by Lauren Fleshman in the 5k, as well as a 20.07 in the men's 200 (Wallace Spearmon), a 44.70 in the 400 by the X Man and a 10.91 in the ladies 100 (Veronica Campbell-Brown). The meet certainly had it all.
Enough for the praise, it's time to give out a few thumbs down this week- mainly to ourselves for our 5k predictions.

In our preview of the 2008 Reebok Grand Prix, we said the following of the women's 5k. "New Zealand's Kim Smith, who ran a sensational 30:35.54 10k in her last race at Stanford, will win on Saturday unless 22-year old Ethiopian Sentayehu Ejigu, returns to her old form."

Wrong. Lauren Fleshman ran the best race of her life and broke 15:00 for the first time, while Smith (who had run 14:49 last year) had an off night and ran 15:03. The Stanford 10k seems to have taken more out of Smith and Flanagan (who won the race in Stanford in 30:34) than one might have expected as Flanagan is apparently dealing with foot pain. All-out 10ks certainly take time to recover from. But mainly Fleshman won because she ran amazing, fast enough to be only the 9th American under 15:00. Well done.
In our predictions for the men's 5k, we said "Kenyan Shadrack Kosgei, who ran 13:01 in 2005, is in the race but he's been running a lot on the roads this spring and not dominating there so don't expect him to contend here." He didn't just contend. He won. Shows you how tough the road racing on the US circuit is as Kosgei was only 3rd in the Azalea 10k, 5th in the Crescent City 10k and 6th in the Carlsbad 5k. Maybe Alan Webb's DNF at Carlsbad wasn't so bad after all?
Our prediction in the men's steeplecahse didn't come true as to who would be the top American, but we don't take back what we said. We're actually pleased to have helped longtime friend of LetsRun.com, Steve Slattery, out. Apparently, our calling his 2008 season a "disaster so far" motivated him as he told a NJ paper he was motivated to prove us wrong, and he did as he went out and got 2nd in 8:28.
You're welcome Steve. When Rojo first started coaching at Cornell, the first advice his boss, Nathan Taylor, ever gave him was "Don't be afraid to have them dislike you. Anger is a powerful motivator." Slattery's season up until that point had been a disaster. Now he's in a good spot a month out from the Trials.

Before we move on, we'd like to give one more thumbs down. This time to Sam Luff and Will Seidel. Who? Seidel is a former Cornell middle distance runner who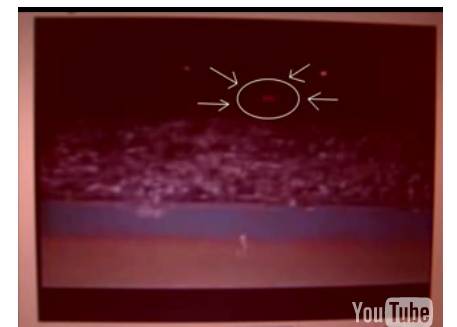 now runs for the Central Park Track Club who is probably best known for rabbitting the mile at the New Balance meet at the Armory this winter. Luff is the 2008 Cornell cross country captain. So why are we ripping them? Because they apparently left the Reebok meet early and missed the world record.
The 20-somethings are probably too young to remember Kirk Gibson's famous blast in the 1988 World Series but we aren't. Gibson came through with one of the most clutch performances in sports history to propel the Dodgers to victory with two outs in the ninth. A once-in-a-lifetime experience for the hometown fans - except for the one idiot who left early and could been seen driving off in the parking lot as the ball was hit. Seeing his headlights come on was priceless. This is very similar.

What possibly could be worth leaving early for? You tell us. These guys aren't exactly known for their amazing social lives.

*Meet Results *Bolt Runs 9.72..*Message Board Thread Here *LRC Distance Recaps Paul Koech Runs 8:01 In Steeple - US All-Comers Record!!!!!
*Ny Times Recap*IAAF recap of Meet *The Oregonian Looks at Lauren Fleshman's 14:58, Rupp's DNF and Goucher's Olympic A Standard *More on Fleshman From Eugene Register Guard
Pre-Race
*LRC Preview *Liu Xiang New York Times Profile*NY Times Profile of Usain Bolt: From 200 Specialist to 100 meter Favorite

We conclude our weekly recap by first looking ahead to what one can look forward to this weekend (Prefontaine Classic in the US, Oslo in Europe) as well as giving you links to the major road action from last week in the US.
Looking Ahead To This Weekend
Next Week:
*It's On: David Rudisha Vs Kaki at 800m in Oslo Next Weekend IAAF
*Top Women's 1500 Field Assembled for Pre (Plus a Great Men's 2 Mile, Men's 1500, WR Attempt by Bekele at 10k)
Also Next Week: US Women's Olympic Marathon Team to Run NY Mini 10k

Looking Back At Last Week's Road Action
Rock N Roll San Diego: Wangai, Gromova Win 11th Rock 'n' Roll Marathon and $35,000 Our apologies. Chicago champ Patrick Ivuti ran this race and dropped out (we thought he was running a Rock N Roll half-marathon).
*PreRace Article on Ivuti
*Article on Matt Turnbull Guy Who Replaced Mike Long at Elite Racing

Freihofers: Benita Johnson Wins Freihofer's Run for Women Then Finds Out Her Father Had Died

Memorial Day Races In Case You Missed Them
Bolder Boulder Turns 30: Ridouane Harroufi Defends Title, Millicent Gathoni Wins Women's Harrougi had to use his kick to get the win over 2 Ethiopians who were stuck in Heathrow for 36 hours without food (we're sorry but don't these guys or their agents know to travel with some cash). Gathoni Jorge Torres was the first American, Ryan Hall was 14th, Deena Kastor 7th
*Recap of Men's Race from Colorado Daily Jorge Torres had to back off the fast early pace and no one came back on him like last year.
*Hall and Kastor Focused on Beijing www.gazette.com
*Message Board Thread
More Memorial Day Action: Bupa London 10k: Micah Kogo, Irina Mikitenko Win Inaugural Race in Rain and Wind
*Results
Comments, suggestions? Email us at [email protected]

---
Runner's World &
Running Times



Combined Only $22
a Year
Save $87

---

Running & Track and Field Posters
---

Buy the Nike Lunar+ Glide Today at a Great Price
---