Men's Preview of 2008 adidas Track Classic
Hot Sprint/Distance Action Kick off 2008 Visa Championship Series
Free 5k/800 Added for Saturday Night
By LetsRun.com
TV: Live 4-6pm Eastern (1-3 pm West Coast)

May 12, 2008 - The people at Global Athletics have organized a stellar meet for the 2008 adidas Track Classic which takes place this Sunday out in Carson, CA at the Home Depot Center. Well, we say it takes place Sunday but there is a special treat that takes place Saturday night. They decided that running a 5k in the middle of the day in potentially 90-degree heat and wind would be pointless. Thus why not take advantage of the fine conditions that occur at night in Southern California? They are.
The organizers have added a 5k for Saturday night. It starts at 8 pm and it's going to feature some very fast guys. There's a belief that the US all-comers record of 13:04.05 might fall. And here's the best part - it's 100% completely free. Oh yeah, and they've also added an 800 to reward the hard-core junkies that go out to watch the 5k. They are hoping the 800 ends up being a 1:44-1:45 race. It will take place at 8:15 pm it also is included with your free admission.
On Sunday, the meet will feature a lot of fine action. We break down the distance events below but let us briefly tell you about the top notch sprint action.

On the men's side, you've got an attempted 100-200 by double world champ Tyson Gay. That certainly is worth the price of admission. Plus you have a totally loaded men's 400 that features Jeremy Wariner as well as 2007 400 hurdles champion Kerron Clement, 2007 world #4 Tyler Christopher and 4 x 400 Olympic gold medallist Darold Williamson.
Throw in a completely stacked women's 100 that features 7 of the top 10 in the world from 2007 including the top 4 from the world champs, led by the champion Veronica Campbell-Brown and 200 world champion Allyson Felix. If that doesn't make you pay attention, the fact that 400 meter star Sanya Richards is in the race (hoping to gain a spot on the US 4 x 100 team) should.
But this is a distance-focused site and thus we will break down the mid-d and distance action below.
Men first:
Men's Nutrilite 1,500 Highlights
For fans of the metric mile in the US, the men's Nutrilite1,500 is a must-watch race. Why?

Well for starters the race serves as the first 1,500 of the year for double world-champ Bernard Lagat, who opened his outdoor campaign a few weeks ago with an Olympic A standard and win at Stanford. More importantly, it features virtually every prominent US-based professional miler not named Alan Webb.
In many ways, the race is a mini-preview of the US Trials. It's sort of like Pre-NCAAs - you have at least half of the major players all in one big race. The only big names missing are Alan Webb and Leonel Manzano and Rob Myers (unless Andrew Wheating counts). In addition to Bernard Lagat, you have 2007 USA 4th placer Chris Lukezic as well as 2007 NCAA 1,500 champ Lopez Lomong. Throw in two-time USA 800 runner-up Nick Symmonds as well as Jon Rankin and you've got a race full of many interesting sub-plots.
After Sunday, we should know the answer to the following.
1. How fit is Bernard Lagat? We think very, very fit. He seems to be sharper this year than last year when he wasn't in top form until really the world champs.
2. Is our hyping of Lopez Lomong justified? We've been saying all year he, Lagat, Webb and Manzano have to be considered the big 4. We should find out on Sunday just how strong Lomong really is - at least early in the season.
3. How do Jon Rankin and Chris Lukezic look and stack up against Lomong? Might we have a big 6? People seem to forget that Lukezic was right there last year at USAs with 200 to go and only ended up 1.40 seconds behind the eventual double world champ Lagat. People also seem to forget that Rankin actually ended last year with a better seasonal best than Lukezic. Lukezic never ran better than the 3:36.95 he ran at USAs while Rankin, who was injured early in the year, ended up running 3:35.72 in September. Rankin clearly is in shape early in 2007 (he ran a 1:47.40 last week) so he's unlikely to be overlooked after Sunday.
4. Does Nick Symmonds have a future at 1,500? Believe it or not, Symmond's PR is only 3:40.91. That's hard to believe. Given the quality of the field and given the quality of the rabbits (Rojo coaches the rabbit) he'll have no excuses after Sunday.
Those story lines alone make the race a must-watch event and we haven't even got to the international story lines. The race also features the US-based former University of Michigan stars Nick Willis, Nate Brannen and the ageless wonder Kevin Sullivan. Plenty of questions about them as well.
1) How will Nick Willis look against the big boys and will he put himself in contention early? Nick Willis always looks amazing and effortless in destroying 3:36 type guys. Will he look good against some real studs and will he risk it or will he kick late for third? Willis is the defending champ as last year he won in 3:35.85.
2) Can Nate Brannen hit the Olympic A standard that he needs?
3) Can the 34-year-old ageless wonder Kevin Sullivan keep on doing it? The guy certainly doesn't get the props he deserves. In a day and age when spoiled millionaires are retiring at age 25 in women's tennis, Sullivan keeps grinding it out year after year. He's run at least 3:35 in the 1,500 for every year since 1995. Yes, 1995. To put that in perspective, realize that in 1995 Chris Lukezic was 11 years old.
Throw in a few Aussies including 3:33 man Mark Fountain and you've got a very, very good 1,500. Full field info appears below.
| | | | |
| --- | --- | --- | --- |
| Name | Country | 2007 best | PB |
| Bernard Lagat | USA | 3:26.34 | 3:33.85 |
| Kevin Sullivan | CAN | 3:34.16 | 3:31.71 |
| Nick Bromley | AUS | 3:41.90 | 3:39.12 (2008) |
| Chris Lukezic | USA | 3:36.95 | 3:33.28 |
| Mark Fountain | AUS | 3:37.42 | 3:33.68 |
| Nate Brannen | CAN | 3:38.41 | 3:34.88 |
| Nick Willis | NZL | 3:35.85 | 3:32.17 |
| Boaz Cheboiywo | KEN | 3:40.51 | 3:35.20 |
| Lopez Lomong | USA | 3:37.07 | 3:37.07 |
| Nick Symmonds | USA | 3:40.98 | 3:40.91 |
| Jim Wyner | USA | pacer | pacer |
| Brad Woods | AUS | 3:39.14 | 3:37.61 (2008) |
| Jon Rankin | USA | 3:35.72 | 3:35.26 |
LetsRun.com Prediction: Lagat, Lomong, Willis, Rankin. We should pick Sullivan higher but don't want to be accused of age bias since we know 34-year-old men are simply at the height of their physical prowess.
Men's 3k


Adam Goucher
The first event on Sunday is the men's 3k which will feature a ton of America's best 5k/10k guys, who all seemingly are smart enough to know they'd be in way over their heads in the 5k on Saturday night.. In the 3k, you have the guys under Alberto Salazar's coaching including Josh Rohatinsky, who races for the first time since his 44th place showing at world xc and the former wunderkind Galen Rupp who once again will seemingly bang his head against wall run a short event. Adam Goucher, who is also coached by Salazar, will also run. Goucher is looking to regain the form he showed in 2006 when he set prs and ran 13:10.00 for 5k and 27:59 for 10k. Last year, Goucher only ran 13:31 and 28:43, but he did get 3rd at USAs. His only race so far this year was a disappointing 3:45 1,500.
13:15 5ker Ian Dobson is another guy who, like Goucher, will be looking to rediscover some lost form. He will run after dropping out of the Stanford 5k earlier this month (he did run 28:16 at Stanford in early April). Anyone remember when he used to be the near equal of Ryan Hall?

2008 USA indoor 1,500 champ Rob Myers is also in the field. Myers rarely races major over-distance races as his 3k pr is only 8:08 and his 5k 14:04 but he was in good form early in the year and he ran well at adidas last year when he was 3rd in the 1,500 in 3:36.49.
The Torres twins are in the 3k as well. The seem to be in good shape as Jorge was a fantastic 19th at world xc and ran 13:30 at Stanford while brother Ed was 46th at world xc and ran 28:33 at Stanford, but 3k is very short for these two. 2008 USA 3rd placer in the indoor 3k, Jonathon Riley, will run as will Australia's Collis Birmingham. Birmingham hit the Olympic A at Mt. Sac in the 5k and he's run 7:46 in the past. He might be the favorite in our minds. Luke Watson who has already run an 8:37 steeple this year and has run 7:49 in the past, is more of a natural 3k guy than a lot of these people.
LRC Prediction: A very hard race to analyze as most guys are running way under distance. Rupp, Rohatinsky, and the Torres all are better at the marathon than the 3k. 1) Birmingham 2) Dobson 3) Myers

Rxpected full field is: Adam Goucher, Jonathon Riley, Galen Rupp, Jorge Torres, Edwardo Torres, Kyle King, Josh Rohatinsky, Ian Dobson, Rob Myers, Ryan Kirkpatrickm Luke Watson and Collis Birmingham (Australia).
Men's 5k
This race should be dominated most likely by Ethiopians. 13:01 5ker Ali Abdosh leads the field as he enters in fine form as he just finished 3rd in the African champs on May 4th. The non-African challenge will likely be led by former Arkansas star Alistair Cragg (13:07 last year) who races for the first time since dropping out of world xc. Markos Geneti, who has the best PR of anyone in the field (13:00 from 2005), will be making his outdoor opener after running 8:16 for 2 miles indoors. Looking for a star in the making? Bekana Daba may be your man. The 19-year-old ran 13:06 in his first season as a pro last year. This year he ran 7:40 for 3k indoors.
LRC Prediction: We'll go with youth - 1) Daba 2) Abdosh 3) Geneti

Expected full field is: Ali Abdosh (ETH), Dejene Gebremeskel (ETH), Markos Geneti (ETH), Bekana Daba (ETH), Alistair Cragg (IRL), Josphat Boit (KEN), Alejandro Suarez (MEX).

Khadevis Robinston
is not running
Men's 800
The race is led by one of the greatest interviews in track and field - Khadevis Robinson. The 7-time US champ (4 outdoors) at 800 is undefeated outdoors after a low-key 3:46 win in a slow heat at Mt. Sac and an 1:47 win in his 800 opener last weekend. He's the class of the field but it's full of a ton of 1:46-7 guys including his Santa Monica teammate Floyd Thompson who was 6th at USAs last year. (editor's note: We received an email from people close to Robinson saying that he is not running (nor has he been in the Santa Monica Track Club for a few years) at adidas and instead will run at the NYC Reebok Grand Prix in 2 weeks). Two former NCAA champs are in the field but based on recent form appear to be a bit overmatched. 2002 NCAA champ Sam Burley, who has a 1:45 pb, will run as will 2007 NCAA champ Andrew Ellerton. Ellerton lost to both Nick Willis and Nate Brannen last week in Michigan.
LRC Prediction: 1) Robinson 2) Your guess is as good as ours. Shaw? 3) Thompson Hopefully former Golden League champ David Krummenacker can right his career. Krummenacker did not make the Olympic team in 2004 and it would be nice to see him get on the team this year.

Expected field includes: David Krummenacker, Sam Burley, Andrew Ellerton (CAN), Khadevis Robinson, Kevin Elliott, Brandon Shaw, Elliott Blount, Nicholas Thornton, Raphael Asafo-Agyei, Floyd Thompson.
Women's 1500: Wide Open
The women's 1500m race is wide open. It predominantly features a bunch of women trying to hit the Olympic qualifying standard 4:07:00 (slower than the World Champs 4:06.6 standard), and another bunch of women trying to put their careers back on the upswing.
Kenia Sinclair doesn't fall into any of the categories above, and thus could be considered the favorite. She ran 4:05.56 last year for the win at this meet and has great 800m speed (she's run 1:57.8). The 800 is still her primary event but she showed last year that she can have some success at 1500m.
Shannon Rowbury is on the fastest trajectory of anyone in the field and seems likely to challenge for the win. She ran nearly a 5 second pr 4:07.59 at the Stanford meet to get a dominating win on the final lap. She has upped her training and performances to another level this year after training with Shalane Flanagan and going to altitude in Mexico. No doubt the Olympic "A" standard will be her number one priority on Sunday but the win isn't out of the question.
If Rowbury is at the head of the US ranks in 2008, Christin Wurth-Thomas is a close second. Wurth-Thomas turned a lot of heads with her indoor season. She got dominating wins at the Tyson meet and the US nationals. Wurth-Thomas may have been overlooked the last few years in the US ranks, but she has had some success. She ran 4:05 in 2006, and was second last year at outdoor nationals, so her success indoors perhaps shouldn't have been as much a surprise. The question is whether she can keep the trajectory going outdoors and become a force to challenge US #1 Treniere Clement (who was supposed to make her 2008 1500m debut here, but is no longer on the start list).
Jenelle Deatherage had a great indoor campaign (win at Reebok Boston Indoor Games and 2nd at US Nationals). She ran a pb of 4:07.87 back in the last Olympic year (2004) when she was a surprising 4th at the Trials, but she seems to be running even better this year.
The other US 1500m runners in the field have a few question marks. Sara Hall receives a lot of fanfare as she is Ryan's wife, but her PB of 4:08.99 is nearly a full 2 seconds off the Olympic "A" standard.. She ran 4:14 at the Stanford meet so she's got a way to go to get the Olympic qualifying standard this year.
Tiffany McWilliams dominated the NCAA ranks in 2003 and 2004, but has not really progressed much since then. This is a pivotal year for her. Can she fulfill the tremendous promise she once had or is she destined to be an also ran in the US ranks?
Canadians Carmen Douma-Hussar and Malindi Elmore are in very similar situations. Both are trying to return to their former glory. Elmore had a remarkable breakthrough in 2004. She dropped her pr from 4:10 to a super quick 4:02.64 her first year out of Stanford. She hasn't been able to break 4:05 since although she did run 4:05.65 last year. Douma-Hussar's fall hasn't been as great as she clocked 4:02.29 in 2005, 4:03.92 in 2006, and 4:05.91 last year. But is she slowly fading away or can she right her career in time for Beijing?
American Lindsay Gallo is in a similar spot to Elmore and Douma-Hussar. She ran 4:05.75 in 2005 after her senior year and has gotten slower every year since. Can she return to the promise she showed in 2005?
LRC Prediction: Rowbury's outstanding 2008 gets even better as she gets the upset win and the Olympic qualifying standard.
1) Rowbury2) Sinclair 3) Douma-Hussar
Women's 3k Child Labor Lawyers Look Out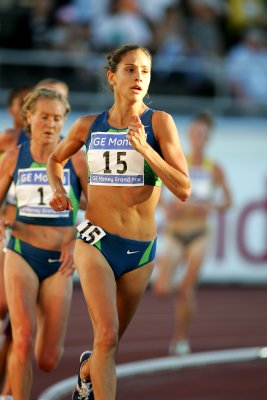 Kara Goucher
Most people's attention will be on American Kara Goucher. Goucher had an absolutely stunning 2007 season. She got the surprise bronze medal at the World Champs in the 10,000m (32:02) and then followed that up with an even more impressive run in our book a 66:57 half marathon where she crushed Paula Radcliffe at the BUPA Half Marathon. She also ran prs on the track of 8:34.99 for 3k and 14:55 for 5k. A truly incredible season.
2008 started out well for Goucher (4:36 mile win at Millrose) but two weeks ago she skipped the Stanford Cardinal Inite 10,000m despite not having an Olympic qualifying time. That (along with a 15:33 5k the week before) indicated that Goucher was not in top form. She returns to action in the 3k here. If she has continued to improved since her 15:33 could contend for the win.
Anytime there is a Dibaba in the race look out. Genzebe Dibaba is the third Dibaba sister to run professional and she is showing a lot of promise. Barely 17 years old, she won the recent world junior cross country race and considering her genetics, it seems like it is only a matter of when does she break through in the professional senior ranks. Her older sister Tirunesh has 8 World Championship gold medals and is one of the top distance runners in the world. Her oldest sister Ejegayehu may be in Tirunesh's shadow but she actually has the shiniest Olympic medal in the family (silver in the 10k, whereas Tirunesh only has a bronze).
As a 16 year-old, Genzebe ran the Reebok NY meet last year, but her 15:53 is a ways from being competitive professional. Her junior XC win however, indicates she has progressed to another level.
But we don't think Goucher or Genzebe are the favorites in the race. That tag falls to Jen Rhines or Megan Metcalfe.
Rhines ran 8:35 for 3k last year and 14:58 for 5k as she seems to be getting faster with age. She's got a great coach (her coach and husband is Terrence Mahon, Ryan Hall's coach) and is fit in 2008 as she ran 31:30 for 10,000 at the Cardinal Invite.
Megan Metcalfe ran great in the 3k indoors. She set a Canadian record (8:48) and made the World Champs final.
Aussie Eloise Wellings ran a stunning 14:54 in 2006 but then missed most of 2007 and only ran 15:59. If she can return to her 14:54 form, obviously she would be a factor here but she dropped out of the Oregon meet on the 25th of April.
LRC Prediction: 1) Metcalfe's 2) Goucher continues to improve 3) Rhines 4) Dibaba
Women's 800 Schmidt vs Cummins
Alice Schmidt and Diane Cummins are the class of the field, being the only sub 2 minute runners in the race. Both are making their 2008, 800 debuts. Cummins may not be in quite the same form as when she was a World Champs finalist in 2001 and 2003, but she did run 1:59.75 last year. The multiple time NCAA champ Schmidt broke into the sub 1:59 club last year, so that makes her the favorite in our book.
LRC Prediction: 1) Schmidt 2) Cummins
Comments, suggestions? Email us at [email protected]

---
Runner's World &
Running Times



Combined Only $22
a Year
Save $87

---

Running & Track and Field Posters
---

Running Shoe Savings: Nike Lunar Glide 20% Off Super popular shoe from Nike featuring Flywire and Lunar Foam
---