Payton Jordan Recap: Shalane Flanagan Smashes Deena Kastor's American 10,000m Record
Shannon Rowbury Rising Fast, Kevin Sullivan Still Going Strong
Americans Bernard Lagat, Brent Vaughn, Scott Bauhs Impress
by: LetsRun.com
May 4, 2008
*Results
Shalane Flanagan and Kim Smith stole the show in the women's Kim McDonald 10,000m at the Cardinal Invitational as Flanagan prevailed in a sprint finish running 30:34.49 smashing Deena Kastor's American record (30:50.32).
Other highlights from the evening included Bernard Lagat running a 56 second last lap to win the men's 5000m (13:16.29) and being followed by Colorado senior Brent Vaughn in a stunning school record 13:18.46; and Craig Mottram blowing away the field to win the men's 10,000m (27:34.48) as DII American star Scott Bauhs hit the Olympic "A" standard running 27:48.06. The men's mid-d races were somewhat of a letdown as no Olympic "A" standards were hit in the two "equal" 1500m sections. (Although new miling sensation Andrew Wheating did win the men's 800). Shannon Rowbury dominated the women's 1500 and showed she is a fast emerging American star.
But the main highlight was the women's 10,000m and Shalane Flanagan and Kim Smith (10 women hit the Olympic "A" standard in the race), so we'll recap that first.
Women's 10,000m: Flanagan American Record, Smith Kiwi Record
The pace from the get go was furious. The first k was in 3:03 (the splits for the women's 10k are from watching flotrack's live coverage of the meet. Thank you flotrack for letting us see the meet) as Flanagan and the rabbit, Rose Koskei (who David Monti reports ran a road race Sunday morning) put a little distance on Kim Smith. The 1600 was in 4:50 and the record assault was definitely on. Things settled down a bit the 2nd mile as 3k was in 9:08, 3200 in 9:45. Flanagan, Smith and the Koskei (who did an excellent job rabbiting) all went through 5k together and faster (15:17 for Flanagan) than the winning time of the women's 5000 (15:19.57).
The rabbit dropped out after the next lap and Smith and Flanagan would take turns sharing the lead until the very end. They went through 9k together with Smith in the lead in 27:35 and it was time to kiss Deena's record good bye.
Smith did her best to try and drop Flanagan over the final kilometer. Smith opened a small gap on Flanagan at times, but it was never enough to drop Flanagan. Smith led at the bell in 28:25, but Flanagan was right on her. Smith could not put any distance between herself and Shalane on the final lap. Flanagan made her move just after 200 to go. By 150 to go she had opened up a gap on Smith. Smith tried to close the gap the final 100m but she could not make up the difference as Flanagan got the win and the American record (30:34.49). Smith had to settle for 2nd, a huge pr (30:35.54) and a New Zealand record (Smith's previous best and the New Zealand national record was the 31:20.63 she ran last year for 2nd).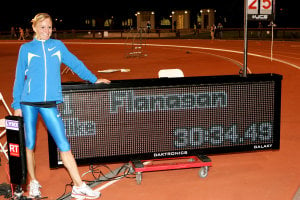 Photo by Andrew McClanahan PhotoRun.net
Showing how fast things were up front, NCAA star Sally Kipyego was 50 seconds back (31:25.45), but she still set an NCAA record. Germany's Sabrina Mockenhaupt was 4th and American Molly Huddle 5th (31:27.12) in a huge pr (previous best 32:37). Everyone in the field who wasn't lapped (the top 10) all-broke the Olympic "A" standard of 31:45. American and Pan Am Games champ Sara Slattery was lapped and dropped out.
Flanagan's run makes her the 22nd fastest of all time (42nd fastest time ever). We're still blown away that Ingrid Kristiansen ran 30:13.74 twenty-two years ago. 30:15 is hallowed territory (no one has run under 30:15 twice) and Flanagan is now within striking distance.
  F1 Shalane Flanagan             Nike                  30:34.49A
  2 Kim Smith                    Reebok                30:35.54A
  3 Sally Kipyego                Texas Tech            31:25.45A
  4 Sabrina Mockenhaupt          Koeln Marathon        31:27.05A
  5 Molly Huddle                 Saucony               31:27.12A
  6 Madai Perez Carrillo         Nike                  31:30.23A
  7 Jennifer Rhines              adidas                31:30.31A
  8 Xioaqin Dong                 China                 31:31.87A
  9 Kate Reed                    Bristol and West      31:35.77A
 10 Dulce Maria Rodriguez        adidas                31:39.20A
 11 Adriana Fernandez            Unattached            32:07.69A
 12 Amy Yoder-Begley             Nike                  32:07.84A
 13 Hiromi Ominami               Toyota Auto Body      32:17.48A
 14 Amy Hastings                 adidas                32:18.72A
 15 Andrea Grove                 Unattached            32:29.69A
 16 Elena Valencia               Unattached            32:36.98A
 17 Sharon Thompson              Unattached            32:49.39A
 18 Kathy Newberry               Nyac                  32:50.97A
 -- Adriana Pirtea               Boulder-Wave               DNF 
 -- Courtney Babcock             Unattached                 DNF 
 -- Melissa Cook                 New Balance                DNF 
 -- Sara Slattery                adidas                     DNF
Men's 5000 Lagat and Vaughn Impress
With the men's 1500's being split into equal section, the men's 5000m was the most interesting race on the docket on the men's side. Double World Champ, American Bernard Lagat was in the field, being forced to chase the Olympic "A" Standard of 13:21.50 if he wants to compete in the Olympics (even though he is the reigning world champ).

Final 500 of Men's 5000
Christian Hesch rabbited the field in his board shorts right at 13:20 pace. 4:16 for the first 1600. Things slowed a bit the 2nd mile as the 3k was reached in 8:03. At the bell (12:20) there still was a group of 5 up front that surprisingly included Brent Vaughn of the University of Colorado (Boaz Cheboiywo, Boniface Songok, and Abdi Abdirahman were the others).
Lagat has his customary huge final 400. He blasted clear of the field the final 200, but hanging surprisingly close and emerging from the rest of the field was Vaughn who ran 13:18.46 to smash Jorge Torres (13:24.56) school record. CU has a storied tradition with NCAA champs Adam Goucher (3000m, 5000, and XC NCAA titles), Jorge Torres (Cross), Alan Culpepper (5000), and Dathan Ritzenhein (Cross), but Vaughn now is at the top of the 5000m rankings. (Vaughn did run 13:30 last year, but only finished 15th at NCAAs).
On the boards: All-time top ten US American collegiate 5K list? (Vaughn is 4th)
Finals                                                          
  1 Bernard Lagat                Nike                  13:16.29R
  2 Brent Vaughn                 Colorado              13:18.46R
  3 Boaz Cheboiywo               Nike                  13:19.21R
  4 Boniface Songok              Nike                  13:21.46R
  5 Abdi Abdirahman              Nike                  13:23.79R
  6 Jacob Korir                  Eastern Kentucky      13:29.48R
  7 Jorge Torres                 Reebok                13:30.09R
  8 Ed Moran                     Nike                  13:30.75R
  9 James Carney                 Unattached            13:31.62R
 10 David McNeill                Northern Arizona      13:35.07R
 11 Jason Woolhouse              Unattached            13:36.39R
 12 Thomas Morgan                Zap Fitness           13:38.47R
 13 Tim Nelson                   Unattached            13:38.78R
 14 Patrick Tarpy                Reebok                13:38.89R
 15 Ryan Bak                     Otc Elite             13:39.27R
 16 Filmon Ghirmai               Germany               13:39.73R
 17 Kyle King                    Zap Fitness           13:40.60R
 18 Anthony Gallo                Run Flagstaff         13:45.79R
 19 Simon Bairu                  Nike                  13:46.75R
 20 Scott Overall                Brooks Team IN        13:47.79R
 21 James Strang                 Arkansas              13:52.00R
 22 Tyson David                  Alabama               13:53.67R
 23 Matthew Gabrielson           Reebok                13:57.17R
 24 Giliat Ghebray               Unattached            13:58.46R
Men's 10,000m Craig Mottram and Scott Bauhs Impress

Final Lap Men's 10,000
The Kim McDonald's 10,000m started out on a more cautious note (4:30 1600, 8:56 3200, 13:59 for 5k) as the goal for most was clearly just an Olympic "A" standard. 27:50.00. Anyone with a kick off the 13:59 pace would hit the standard and that is exactly what happened.
There was still a lot of guys in contention with 1000 to go 25:02 (27:49 pace), but Craig Mottram soon took care of business over the final 800. Mottram may have had a subpar run at World XCs (31st) but 27:50 pace is a walk in the park for a guy who has run 12:55. Mottram ran strongly the final 800 for an easy win (27:34.48) . Austria's Guenther Weidlinger closed well the final 200 to finish 2nd (27:36.46) but the real intrigue was in seventh and eighth where Americans Scott Bauhs and Fasil Bizuneh were battling to hit the Olympic "A" Standard. The Chico State star Bauhs made it with nearly 2 seconds to spare 27:48.06 (a day after winning the 1500 at his conference meet in 3:57.04), while Bizuneh came up an agonizing .48 seconds short. The Olympic Trials may be in two months, but for the 10,000m runners the Trials likely won't mean anything if they don't have the standard beforehand.
On the boards: *Scott Bauhs, is this guy tough or what? (Former American record holder in the steeple malmo praises Bauhs)
Finals                                                          
  1 Craig Mottram                Melbourne Tr          27:34.48A
  2 Guenther Weidlinger          Austria               27:36.46A
  3 Josphat Boit                 adidas                27:40.64A
  4 Takayuki Matsumiya           Konica-Minolta        27:41.75A
  5 Mo Farah                     adidas                27:44.54A
  6 Juan Carlos Romero           Unattached            27:47.46A
  7 Scott Bauhs                  Chico State           27:48.06A
  8 Fasil Bizuneh                New Balance           27:50.48A
  9 Satoshi Irifune              Kanebo                27:56.33A
 10 Jan Fitschen                 Nike                  28:02.55A
 11 Alejandro Suarez             Unattached            28:06.43A
 12 Eric Gillis                  Speed River           28:07.19A
 13 Collis Birmingham            Melbourne Tr          28:08.23A
 14 Yuuki Nakamura               Kanebo                28:30.99A
 15 Rod Koborsi                  Reebok                28:31.37A
 16 John Moore                   Portland              28:32.31A
 17 Pieter Desmet                Golazo Sports         28:33.44A
 18 Japtheth Ngo'joy             Utep                  28:33.68A
 19 Edwardo Torres               Reebok                28:33.89A
 20 Suehiro Ishikawa             Honda Motors Sayama   28:34.31A
 21 Michael Kilburg              Portland              28:34.51A
 22 Naoki Okamoto                Chuugoku Ele          28:48.24R
 23 Dan Browne                   Nike                  28:52.21R
 24 Hideaki Date                 Chuugoku Ele          29:03.98R
 25 Fernando Cabada              Reebok                29:10.67R
 -- Yuki Sato                    Tokai Univ.                DNF 
 -- Bolota Asmerom               Otc Elite                  DNF 
 -- Andrew Lemoncello            Adidas                     DNF 
 -- Bernard Lagat                Nike                       DNF 
 -- Chris Graff                  Asics                      DNF 
 -- Monder Rizki                 Unattached                 DNF                                
Men's 1500: Kevin Sullivan Still Doing What He Was Doing When Nick Symmonds Was Eight Years Old

Heat 1 With Kevin Sullivan and the Fall


Lomong Talks About the Fall

The men's 1500m were a disappointment before they even started with the top section being split into 2 "equal" sections so more people in theory could hit the Olympic "A" standard 3:36.60. The end result was no athletes hitting the "A" standard.
The first section had all the drama. The pack fell off of the rabbit and things got way, way too bunched up coming into 1200 (2:58.1 according to Scott Davis the track announcer). Just before 1200 Japan's Yasuhiro Tago, who was in 3rd place, fell and rolled outwards on the track and a ton of guys tried to get out of his way. Lopez Lomong twisted his ankle as a result and was not a factor the rest of the way.
Nick Symmonds had been in 2nd the entire race (the guy behind the rabbit) and Kevin Sullivan was on his shoulder. Sullivan easily dispatched the field in convincing fashion the final 200, winning by over a second in 3:39.75 as Symmonds held on for second but way back in 3:40.98.
Sullivan is super consistent on the circuit, but rarely wins races, so this was a nice win for him at age 34. Sullivan incredibly ran 3:39.11 in 1992 when Nick Symmonds was 8 years old.
Symmonds looked flat, but the sit and kicker told Runnerspace leading might have been his problem, "I love to sit and kick. I hate leading".
  1 Kevin Sullivan               Reebok                 3:39.75R
  2 Nick Symmonds                Otc Elite              3:40.98R
  3 Will Leer                    Otc Elite              3:41.12R
  4 Jack Bolas                   Wisconsin              3:41.21R
  5 Craig Miller                 Wisconsin              3:41.61R
  6 John Richardson              Kentucky               3:41.87R
  7 Brendan O'Keefe              Zap Fitness            3:42.04R
  8 Lee Emanuel                  New Mexico             3:42.42R
  9 Peter Van der Westhuizen     Nebraska               3:42.80R
 10 Chris Solinsky               Nike                   3:43.59R
 11 Nick Bromley                 Melbourne Tr           3:43.98R
 12 Don Sage                     Otc Elite              3:44.16R
 13 Jacob Evans                  Stanford               3:44.81R
 14 Lopez Lomong                 Nike                   3:46.10R
 15 Hunter Spencer               Kentucky Milers        3:48.89 
 -- Ian Cronin                   Team XO                    DNF 
 -- Yasuhiro Tago                Chuugoku Ele               DNF                                
Second Section:
Matt Tegenkamp who was 4th at World's in the 5000m showed he has pretty good speed as he won the second section in a modest 3:40.04. Former World's team member Chris Lukezic was third and AJ Acosta surprisingly was ahead of Russell Brown. (Lomong beat Tegenkamp last week at 1500)
Finals                                                          
  1 Matt Tegenkamp               Nike                   3:40.04R
  2 Chris Lukezic                Reebok                 3:40.29R
  3 Andrew Acosta                Oregon                 3:40.52R
  4 Russell Brown                Stanford               3:40.96R
  5 Garrett Heath                Stanford               3:41.08R
  6 Evan Jager                   Wisconsin              3:41.24R
  7 Sean O'Brien                 Otc Elite              3:41.30R
  8 Kyle Miller                  Texas                  3:41.67R
  9 Bradley Woods                Athletics Australia    3:41.71R
 10 Mark Matuzak                 California             3:42.69R
 11 Jonathon Riley               Nike                   3:43.64R
 12 Stephen Pifer                Colorado               3:43.90R
 13 Adam Davis                   Unattached             3:44.25R
 14 Erik Stanley                 Texas                  3:44.32R
 15 Brendon Mahoney              Unattached             3:44.95R

Shannon Rowbury's Dominating Win

Women's 1500 Shannon Rowbury Continues to Impress
Shannon Rowbury first garnered notice by surprising everyone and winning the 3000m indoor at USATF nationals. Here she absolutely obliterated the field (she won by 4.5 seconds) and ran a huge pr (4:07.59) (her previous best was 4:12). Clearly, her training with Shalane Flanagan is starting to pay off.

Looking at the results you'd never know it but four women were together at the bell (2:11.5 800, 3:03.9 1200) (Rowbury, Yuriko Kobayashi of Japan, and Americans Lindsey Gallo and Amy Mortimer). Rowbury just trounced them all the final lap. Super impressive.

Rowbury came up short of the Olympic "A" Standard (4:06.50) but clearly her career is heading in the right direction and fast.

High schooler Jordan Hasay was 10th in 4:17.46.
Finals                                                          
  1 Shannon Rowbury              Nike                   4:07.59R
  2 Yuriko Kobayashi             Toyota Wellness        4:12.11R
  3 Lindsey Gallo                Reebok                 4:13.03R
  4 Dacia Barr                   Arkansas               4:13.77R
  5 Sara Hall                    Asics                  4:14.15R
  6 Amy Mortimer                 Reebok                 4:15.21R
  7 Lauren Centrowitz            Stanford               4:16.13R
  8 Nicole Edwards               Mich                   4:17.06R
  9 Nanae Kuwashiro              Acom                   4:17.30R
 10 Jordan Hasay                 Unattached             4:17.46R
 11 Julia Howard                 Nike                   4:18.20R
 12 Alicia Follmar               Stanford               4:21.25R
 13 Mary Jayne Reeves            Otc Elite              4:22.76R
 -- Kelly Strong                 Asics                      DNF 
 -- Diane Cummins                Unattached                 DNF

Men's 800: Andre Wheating Does it Again
Get the bandwagon rolling. Andrew Wheating the guy we had never heard of until he went sub four in the mile last weekend for the first time went from last to first the final lap to win the 800 in 1:47.82 defeating former NCAA champ Kevin Hicks.

Wheating was coached by Nike farm team founder Jeff Johnson in high school and only did one season of track in high school. He's a big dude as you can see from this video.

Women's 5000m
Emily Brown was the US #1 at World XCs and she continues her fine 2008. Her run gets lost a bit this week as Flanagan came through 5000 in 15:17.
Finals                                                          
  1 Emily Brown                  Unattached            15:19.57R
  2 Arianna Lambie               Unattached            15:22.51R
  3 Julie Culley                 Nyac                  15:39.63R
  4 Katie McGregor               Reebok                15:46.87R
  5 Maureen McCandless           New Balance           15:58.02R
  6 Roisin McGettigan            New Balance           15:58.64R
  7 Diane Nukuri                 Iowa                  15:59.39R
  8 Katie Follett                Washington            16:01.16R
  9 Cack Ferrell                 Otc Elite             16:06.09R
 10 Megan Armstrong              Iowa                  16:08.83R
 11 Toni Lynn Salucci            Mich                  16:11.78R
 12 Erin Dromgoole               New Balance Boston    16:12.24R
 13 Maria Elena Calle            Unattached            16:16.69R
 14 Katrina Rundhaug             Wisconsin             16:18.99R
 15 Alisha Williams              adidas                16:19.28R
 16 Nora Rocha                   Unattached            16:21.93R
 17 Brooke Kish                  Unattached            16:22.28R
 18 Allison Grace                Zap Fitness           16:22.41R
 19 Rebecca Walter               Unattached            16:22.76R
 20 Amanda Trotter               Brooks Pdc            16:24.29R
 -- Georgie Clarke               Reebok                     DNF 
 -- Angelica Sanchez             Unattached                 DNF 
 -- Kathleen Trotter             Pdc-Brooks                 DNF                                
*Results
More Coverage: *Flotrack Did Live Video of The Meet (With Announcers) and Has Archives, Interviews as Well
*Runnerspace Has More Race Videos, Interviews and Photos in Addition to the Ones Above
*Photos
---
Runner's World &
Running Times



Combined Only $22
a Year
Save $87

---

Running & Track and Field Posters
---

Great Offer: Nike Lunar Glide Sale Multiple colors of this shoe available.

*Nike Air Max Moto 7 Get 2 Pairs for a Crazy $112
---