JOHNSON THREE-PEATS AT 30th ANNUAL FREIHOFER'S RUN FOR WOMEN IN ALBANY, N.Y.:
Australian Olympian Becomes Only Third Woman in Event's Storied History to Accomplish Hat-Trick; Claims $10,000 First Place Prize
by: Race Organizers

ALBANY, NY (May 31, 2008) — In winning the 30th edition of the Freihofer's Run for Women for the third consecutive time, Australia's Benita Johnson became only the third woman to accomplish that feat in the event's storied history. (Lynn Jennings, an eight-time winner, and Marla Runyan are the other two). In claiming this year's win in a time of 15:46, Johnson, 29, turned back the race-long challenge of a powerful Kenyan and Ethiopian contingent and claimed a prize purse in the amount of $10,000. Second place went to Amane Gobena (ETH) in a time of 15:52 ($5,000), with Azizza Aliyu (ETH) winning a very close battle for third in 16:02 ($3,000).
"I didn't have a plan," asserted Johnson. "You never know how the race is going to go. The early pace was very slow. And I got a cramp in my leg (at the end) because I had to run the last kilometer so hard. This win was the one that hurt the most. But I really wanted to win three in a row."

Johnson dedicated the race to her father, who was terminally ill in Australia. She was leaving Albany immediately after the race to return home to be at his side.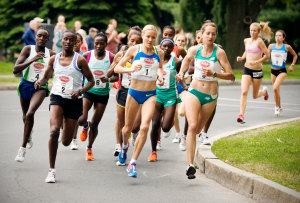 "My father is very sick," she said. "He's only got a few days. This race was for my Dad. But I can use things in my life as motivation to go forward and to have strength."

Tragically, moments after finishing the event and calling her family with news of her victory, Johnson learned that her father had died.

The strength that the Australian two-time Olympian and 2004 World Cross-Country champion brought to this race was evident from the outset. Always at the front of the pack, Johnson fronted a large pack through an opening mile of 5:14 with Gobena, Genoveva Kigen (KEN), Jane Gakunyi (KEN), Kathy Butler (GBR), Millicent Gathoni (KEN), Everlyne Lagat (KEN) and a knot of others all holding close.

Approaching two miles, things began to change as Johnson maintained relentless pressure and attrition began to take its toll. The two-mile marker was passed in 10:20, and while Johnson and Gobena raced shoulder to shoulder, daylight had begun to open on the rest of the field. With the contenders reduced to just two, it was clear that it would be only a matter of time before she made her move.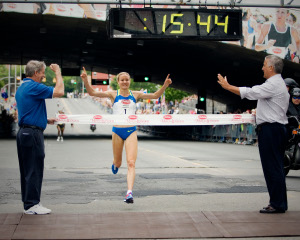 That point came at 4K. Johnson, concerned to avoid a sprint to the finish line, injected an increase in pace that was clearly intended to decide the outcome once and for all. Gobena fought hard to hang on; but Johnson's strength and tenacity, coupled with her knowledge of this hilly course, were insurmountable and, in the closing downhill half mile, allowed her to turn an inch of daylight into a 16- second advantage.

Freihofer's is Johnson's only US race of the season. Following this, her plan was to race a 10,000m on the track in Europe, and then decide if that distance or the marathon will be her focus for the Beijing Olympic Games in August. In Athens in 2004, Johnson placed a disappointing 24th in the 10,000m.

Gobena, 25, held on for an isolated second place, while Azizza Aliyu (ETH), 22, charged through in the closing mile to out-kick the more-favored Gakunyi, a 2004 Olympian at 5,000m, and Gathoni, winner of Monday's Bolder Boulder 10k. Aliyu and Gakunyi were both timed at 16:02, with Gathoni at 16:03. Respectively, they earned $3,000, $2,000 and $1,000.

The masters' competition, for women over 40 years of age, went to Paula Wiltse from Brockville, Ontario, who raced to a 17:29 victory. Wiltse's win — which earned her $750 — defeated Marissa Hanson (17:45), who as Marissa Sutera won this race in 1986. The over-50 division victory went to Joan Samuelson, who as Joan Benoit, won the Olympic Games marathon in 1984. Samuelson's time of 17:50, was shy of her objective, the 17:28 US record of Shirley Matson, set in 1991.

"Though we were saddened by Benita's family tragedy, it's quite plain to see what a tremendous champion and great athlete she is," commented Freihofer's Run for Women Event Director George Regan. "Because of her, and because of the 3,385 women who followed her, this was a great day for Albany."

This year's 30th edition also included the USATF National Race Walk 10k Open and Junior Championships featuring some of the nation's top race walkers, several of whom will be Olympic team contenders. Teresa Vaill, 45, of Gainesville, FL, formerly of Pine Plains, N.Y., won the event in a time of 47:50 and took home the $500 first place check. Rounding out the top three were Solomiya Login, 28, of Philadelphia, PA, (51:58; $400) and Lauren Forgues, 20, of Boothbay, ME (52:42; $300).

Complete Freihofer's Run for Women race results can be found at www.freihofersun.com after 5 p.m. (EST). Photographs of this year's race are also at: http://www.freihofersrun.com/race_photos.htm.

Event sponsors include the Charles Freihofer Baking Company (a division of George Weston Bakeries Inc.), Price Chopper Supermarkets, The City of Albany, Fox 23 News, B95.5, and host hotel 74 State.


Freihofer's, a leading baker of wholesome products, is committed to fostering the growth and recognition of women in sports and inspiring all generations of women to experience the benefits of exercise and good nutrition. Freihofer's continues to set the pace by sponsoring the annual Freihofer's Run for Women 5K. Now in its 30th year, the event, which is home to the Master's World & U.S. All-Comers record, features thousands of women of all ages and abilities from Olympians to recreational joggers, who challenge themselves on the picturesque 3.1-mile course. For more information, visit freihofers.gwbakeries.com.

Photos courtesy of Jeff Foley/www.JeffFoley.com
---
Runner's World &
Running Times



Combined Only $22
a Year
Save $87

---

Running & Track and Field Posters
---


More Nice Offers: Nike Lunar Glide Savings Super popular shoe from Nike featuring Flywire and Lunar Foam

*Nike Air Max Moto Sale $69.99 for this shoe from our partner.
---