Get Ready For Another Great Weekend of Marathoning
US Women's Olympic Marathon Trials Are Sunday-
(They've got a pretty slick website, but need to take Colleen de Reuck off the homepage)
*Kate O'Neill Q&A in USA Today
*Ryan Hall to Be In Boston This WeekendUSA Today He told us he's going to the Red Sox game. We told him he should be throwing out the first pitch.
Boston Monday (the Race will be live on tv (Versus) and the internet (WCSN)
*Michael Wardian Gets a Profile in the Boston Globe He's the guy who has already run 13 marathons this year and sometimes does 2 in one weekend (and fast)
Previous:
A Must Read 50 Yr. Old Joan Benoit Running Her Last Trials -Major props to The Boston Globe for doing an extensive profile of the inspirational 50-year-old former Olympic champ. Can anyone imagine a 50-year-old man making the Trials? *Maine Paper's Profile Of Their Hero*NY Times Profile Of Benoit
*Samuelson To Be Inducted Into US Olympic Hall of Fame

Runnerville Podcast Matt Taylor is the only guy good enough to make it as a letsrun consultant, so you should listen to the show. Amby Burfoot talks about winning Boston in 1968, plus Toni Reavis has audio interviews from the 70s with some Boston legends.

Boston Is Monday
Great News: Boston Marathon To Put Sponsors Ads At Start & Finish and Increase Prize Money By 38% Giving the sponsors more exposure has enabled Boston to increase its prize money from $575,000 to $796,000 - making it the 'richest' of the world marathon majors. The fact that Boston has finally become PR-savvy enough to brag about it being the richest of the world marathon majors (when in reality it's one of the poorest) may finally show that Boston has joined the modern era of professional marathons. All we can say is, it's about time.
*Boston Race Director Guy Morse Still Calling The Shots Despite Rupturing Both Quadriceps and Having Prostrate Cancer
*A Look Back At Last Year's Race - Just How Close Was it To Being Cancelled?

London More Than Lived Up To Its Hype
*Ryan Hall Wins USA Today Weekly Olympic Athlete Of The Week Award We sure hope a 2:06 would win it.
*Wejo Points Out Lel May Have Not Been Youngest To Win 5 Majors Frank Shorter won 5 majors by the age of 27, assuming you count Fukuoka as a major (which it certainly was in the 1970s), as well as the Olympics. Really it's a moot point as it's a totally different era.
Post-Race Recap : After Sunday's Win, Martin Lel is Now Convinced he Can Get World Record In the day after the press conference for the men's and women's champions, Lel says he thought midway through the race on Sunday that they were going to run under 2:04 before the conditions turned bad. He is now convinced he can get the world record and get it in London (which prior to yesterday he thought was impossible).
*Lel and Wanjiru Will Have To Wait Until After Boston To See If They Make Olympics
*An Interesting Look at What Wanjiru Was Saying To The Kenyan Press Prior to London He said he was fit and wanted to run 2:05. He did that - and lost.
*101 Year Old Buster Martin May Only Be 94
*A Look At How Record Holders Prove Their Age
This Guy Has Totally Won Back Our Respect
Maasai Warriors Finish Marathon link fixed One of them went back to the course and finished the race a day after being forced to go the hospital after a ceremonial wrap cut off his circulation. He said, "It was very important for me to do this. This is what I came to England for."
LetsRun.com London Men: Lel Leads 3 Under 2:05:30!!!, Ryan Hall 2:06:17
Ryan Hall Goes Through Halfway on World Record Pace
The 2008 Flora London Marathon will be remembered for a long time. The lead pack of 9 went through 5k at 14:21 (2:01 pace). They continued together (yes, all 9) through halfway on world record pace (1:02:13). Ryan Hall then went to the front soon after and asked the pacemakers to go FASTER. Soon Hall was off the back, but he would catch the leaders briefly again and go on to run 2:06:17. (Until Sunday, only 7 guys had ever run under 2:06:15, now 11 have.). Up front, it came down to a 3-man battle over the final mile before Martin Lel got his 3rd straight World Marathon Major win over the final quarter mile as he led 6 guys under 2:07 and to $50,000 bonuses each. Recap, photos, video above
LetsRun.com Ryan Hall Reflects On his Incredible Run We tell you (and let you watch) what Ryan, his dad, his grand-dad, his coach and even Martin Lel had to say about Ryan. Lel was full of praise for the American and shocked by Ryan's attempt to get the pacemakers to go even faster. If Hall didn't already have your respect, he does after reading this article as he pays homage to a throwback type of guy - Steve Jones. Text and Video.
LetsRun.com Video: Ryan Hall Talks About His 2:06:17 at the 2008 Flora London Marathon
*More LRC London Videos Here
*Photo Gallery

LetsRun.com Ryan Hall's Coach Terrence Mahon Assesses Ryan's Chances "I would not be surprised if he won the race on Sunday" We sat down and talked to Mahon about Ryan Hall's meteoric rise in the marathon, expectations for Sunday, the pressure Mahon feels in coaching Ryan and Deena, the mental side of coaching, the 1:02:30 half way pace, and much more. Text and video above.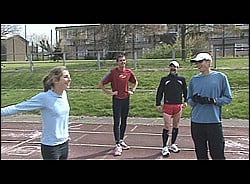 LetsRun.com! Wejo Speaks: Friday in London (With Ryan Hall) Wejo goes behind the scenes and tries to give you a little glimpse what's it's like marathon week in London. Ryan tried to keep himself entertained by watching a match race over 800m between his wife Sara and his coach, Terrence Mahon.
LetsRun.com! London Tidbits Bank of America Chicago Marathon inks with Nike, Paul Tergat's military commitment, Kenyan athletics taxes, Kenny B and of course Alan Webb.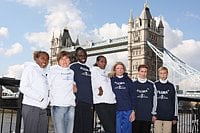 Previous:
LetsRun.com 2008 Flora London Marathon Women's Press Conference: The $250,000 and $500,000 Ethiopians Adere and Wami Set to Battle Huge paydays don't seem to have killed the desire of the two Ethiopian stars. They'll have a slew of challengers including Kenyan Salina Kosgei who was unable to leave her house for three weeks due to the violence.
*Friday: Ryan Hall Update: 34:25 Video Interview. We'll have more on Ryan, and our 2008 Flora London Marathon Predictions by Saturday but are putting this up now.
Thursday:
*London Times Profile Of Ryan Hall We missed this one yesterday.
LetsRun.com Ryan Hall:"The Future"(And Present?) Western Civilization's great hope received the compliment of a lifetime at Wednesday's press conference when reigning Olympic champ Stefano Baldini called him "the future" and said he could win "a lot of medals." Hall himself seemed full of optimism and certainly didn't try to downplay expectations for Sunday. "Last year I proved I can do it through 23 miles (37 kilometers). This year, my expectations have grown from that."
*Video Highlight of Press Conference at link above.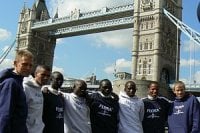 LetsRun.com Flora London Marathon Men's Press Conference The greatest marathon of the year is Sunday and we're there to bring you the action. Only in London is the field so loaded that the 2nd fastest marathoner from the year before (Emmanual Mutai) is not invited to the press conference. How can that be? Because London has Ryan Hall, Martin Lel, Luke Kibet, Stefano Baldini, Sammy Wanjiru, Abderrahim Goumri, Felix Limo, Hendrick Ramaala and others. The piece includes video from Lel and Wanjiru.
LRC: Photo Gallery from Wednesday
*Stefano Baldini's Marathon Show Rolls On
The 36-year-old doesn't think he can win in London but he's hoping to defend in Beijing.
*Paula Radcliffe Offers Training Tips and Gives Insight On Her Rebound From Injury Radcliffe missed 8 weeks due to her toe injury but has been back running for two weeks now and is feeling good.
*Nice IAAF Profile of America's Great Hope Ryan Hall The author points out that in less than a year, Hall has gone from a marathon virgin to being annointed as "the future" by the defending Olympic champ. Remarkable. Hall: "I certainly believe I can win."
World XC
Men *Results *Race Reports
Bekele Amazes Again
Wins 6th Long Course Title Despite Losing His Shoe
Bekele tried to give the rest of the runners in the world a chance. He lost a shoe 2km in to the race, stopped, and put it back on (losing 15 seconds or so). He then wasted no time and zoomed back to the front, pretended to be tired for a little while, then crushed the field over the final loop. Unheralded Leonard Patrick Komon (4th last year in juniors) was 2nd and Tadese 3rd. As we predicted Jorge Torres finished 19th place and no non-African finished in the top 10 as Craig Mottram finished 31st. *Men's Results
*Message board blow by blow here
*Leonard Patrick Komon Barely Made Kenyan Team for Worlds, But Leaves Worlds With Silver Medal At the Kenyan Trials, he got a stitch, faded back to the 40s, and then battled back to finish 7th.
*Race Results Weekly Recap of 2008 World Cross Country Champs
On the boards: What would the US have finished in World CC team results w/ best lineup racing?
*Photo of Bekele Looking Like a 70 Year Old Scottish Man
*Bekele's Wife Almost Feinted When His Shoe Fell Off Times of London
*Recap of World XCs from the Scotsman
*Photos
*More World XC Photos
Junior Boys: Ethiopia's Ibrahim Jeilan Wins Junior Race at World XCs IAAF
*On the boards: GERMAN FERNANDEZ #1 US finisher!! Take that all you non believers!! -
2008 NCAA Indoors: Complete Results
D2 & D3 Info Here
*Kyle Who?
Arizona State Wins Men's & Women's Team Titles as Kyle Alcorn Shocks Field & Wins 3k To Lead Sun Devils To Team Title Over FSU On Friday, Alcorn led ASU to a surprise 2nd in the DMR. On Saturday, he shocked everyone once again and blew away the 3k field with a big kick in the next to last event to put his team into a tie with FSU. It came down to the 4 x 400 and ASU edged FSU by a second to win. Alcorn's never been a real big collegiate name before today, but he apparently had a gnarly 55 second last lap in HS in the 3200.
*3k Thread Here
In other action, Texas' Leonel Manzano completed the DMR/Mile sweep as was expected by winning the mile with the big surprise being that his teammate Jake Morse was 2nd. The other big surprise was how average the field looked considering you had to run 4:00 to get in. In the ladies' distance races, it was all FSU as Hannah England won the mile and Susan Kuikjen won the 3k.
*Baylor Wins 3rd Straight 4*400
2008 World Indoors : *Results
*Event by Event Recaps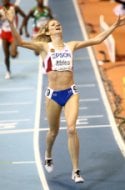 Sunday: Recap Soboleva 3:57.71 WR in 1500, 18 Year Old Kaki Wire to Wire 1:44.81 in 800, Bekele JR Wins 3k, Bryan Clay Wins Heptathlon
*Race Results Weekly Distance Recap Here
The performers at worlds saved the best for last. Most impressive was the women's 1500 where Yelena Soboleva broke her own wold record and picked up $90,000 as she led 4 women under the 4 minute barrier as the top 5 all set PBs. 18 year old Abubaker Kaki was almost as impresive in the men's 800, as the 18 year old led wire to wire to win in a 1:44.81 personal best as the entire field set personal bests including Nick Symmonds who finished last (6th). Tariku Bekele was nearly as impressive as his older brother as he went 3:56 the last 1600 to get the win in the 3000m as Craig Mottram finished out of the medals. Lastly, Australia's Tasmyn Lewis shocked the field to win the women's 800
Video: *Tamsyn Lewis Wins 800 at Worlds
Video: *Defar Wins 3k at Worlds
Video: *Liu Xiang Gets Gold over Allen Johnson in Hurdles
*On the boards: *Kaki=Awesome (Nick Symmonds= Runnersworld Model)
*Soboloeva wins $90k
*Women's 1500 WR, 4 Sub 4:00, 5 PBs
*T Bekele averages 29.1 sec's for the last 7 laps of World Ind. 3k! (3:56 last 1600, 3:54 pace last 1400)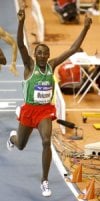 Saturday: Is there anything left for the Kenyans? Deresse Mekonnen Dan Komen Deresse Mekonnen Wins 1500 Mekonnen originally won the race but was DQd along with Nick Willis (for stepping on the infield.). In other action Meseret Defar blew away the field in the women's 3000m with a 28.8 last lap. Nick Symmonds looked incredible in his 800m semifinal. Liu Xiang got his first indoor gold and all that is left is gold in Beijing. American veteran Allen Johnson got the silver.
High Jump: Stefan Holm Wins 4th World Indor High Jump Title
Hurdles:*Lolo Jones Gets World Indoor Gold
*Liu Xiang Gets His First World Indoor Gold
Long Jump: Britain's Chris Tomlinson Gets Silver in World Long Jump
Photos: *Saturday PM *Saturday AM (Qualifying)
*Friday
Video on Demand and Highlights: Entire meet on demand on WCSN
*Day 2 Highlight Video: 2 Minutes
*Dayron Robles Thinks There is a False Start and Stops in 60m Hurdles
*Cantwell Wins Shot
*Fasuba Wins Men's 60
*Angela Williams Wins 60
*Photos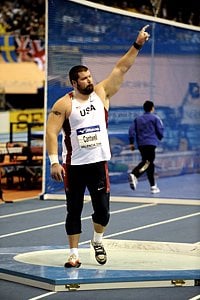 *Friday Recap: Christian Cantwell Wins Shot, Angela Williams and Olusoji Fasuba Win 60 Olusoji Fasuba got Africa's first gold in the indoor 60 as Britain's Dwain Chambers ran a pb to get silver in what may be his final race as everyone is trying to blackball the ex drug cheat from the sport.
*Day 1 Evening Distance Recap: Maria Mutola Takes First Step Towards Eighth World Indoor Title
Shot: Cantwell Wins Shot Gold, Says Critics Can Kiss His Ass IAAF
60: *Dwain Chambers Gets Silver at World Indoors Guardian
Heptathlon:Tia Hellebaut Wins Heptathlon IAAF
*Kelly Sotherton Comes Close But Settle for Silver in Heptathlon
IAAF Previews: Men *Women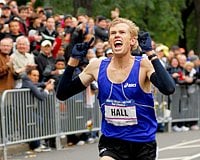 RYAN HALL 2:09:02 Ryan Hall put on one of the most impressive performances ever in American marathoning history, as he destroyed the field and coasted to victory in an incredible 2:09:04 (after a 1:06:17 1st half, yes that's a 1:02:47 2nd half on the hills of Central Park) on the very difficult NYC course. Dathan Ritzenhein ran a very impressive 2:11:07 to get 2nd while Brian Sell got the 3rd Olympic spot in 2:11:40. Former World Record holder Khalid Khannouchi ran a very gutsy race to finish 4th.
Ryan Hall is the real deal in case you didn't know. Here are his 5k splits on the very difficult NY course to prove how incredible he is at the marathon: 16:44, 15:41, 15:27, 15:12, 15:05, 14:48, 14:28. Yes that's right a 14:28 from 30 to 35k. Hall pumped his fist, pointed to the heavens, and waved to the crowd the final mile savoring the incredible run and still ran a 15 minute 5k pace for the final 7.2k (14.56 from 35 to 40k)
*Results
Race Recap From RunnersWorld's Amby Burfoot Amby did an excellent job covering the lead up to the Trials so it is fitting we link to his race article.
*NBCOlympics Recap of 2008 Olympic Marathon Trials: Triumph and Tragedy
*Quotes
*Video: Watch the on Demand (For Free, Skip to Any Crucial Point Instantaneously. Thank you NBC)
*Post Race Press Conference Videos Top 3, Meb, Culpepper, Khannouchi, Lehmkuhle
*Dathan Ritz Quotes
*Brian Sell Quotes
*Khalid Khannouchi 4th at Trials A great great run for Special K. He got 4th hobbling around the park.
*Photos Excellent ones from letsrun.com message boarders skylon
Worth the Wait (Wejo Was Impressed When he Read it): LetsRun.com Week That Was We give our exclusive analysis of the last week in the running world and the incredible Flora London Marathon. We put London in perspective, debate where Ryan Hall's run ranks in the history of American running, point out he was on 2:05:49 pace at the 25 mile mark, and rip into the LA Times. In non-London action, we praise Lopez Lomong (and wonder if Lopez had run the 1500 last year at the US champs, if Bernard Lagat would have even made the US team (he was 3rd at the US Champs),Chris Derrick, and others. Plus, we may finally end the American love affair with Gabe Jennings.
Olympic Marathon News: *Baldini is in China and Says Heat and Humidity Not Pollution Will Be Major Problem for Olympics
*Mizuchi Noguchi Ready to Train to Defend Her Olympic Marathon Title
Bizarre: Phillips Idowu Dumps His Coach of 10 Years This is after he won world indoors and set a GB record.
Oregon, UCLA Having a Dual Meet This Weekend
Track and Field Slowly Dying in Europe? Helsinki After Hosting 2005 World Champs No Longer Has a Major Grand Prix
Matt Tegenkamp Reflects On His 3:40 Outdoor Opener He is "satisfied" with the race and impressed with AS's crowd, which is a way bigger crowd than at Stanford.

Scott Bauhs Gets Praise for His Sub 4 We're glad to see him get praise although the article isn't very good. The sub 4 is far from his most impressive thing to date.
Mo Greene - Day 3 -
*Our Favorite TV Announcer, Ato Boldon, Speaks Out: Not sure if he's talking about Mo Greene or Heredia, but either way this is a great quote. "One thing is clear, that the evidence and the facts will show someone to be a fraud and someone will be vindicated. I will make no further comment regarding this case until such time." Ato's website's Motto is "Drug Free Since 1973"
More Jump On Denial Bandwagon
43 Yr. Old Jamaican Sprinter Raymond Stewart Denies Heredia's Accusations Stewart says he didn't do any of the things Heredia told him to do in an email.

Jo Pavey To Try To Defend Great Manchester Run Title
Namibia's Star 800/1,500 Runner Agnes Samaria Not Happy She's Told She Has To Hit Olympic Times Again This Year You'd think a 1:59 and 4:05 from last year would be god enough to guarantee a spot in tiny Namibia.

Mo Greene -Day 2
IAAF Comes In To Defend Greene - The world governing body said that before they made Greene an ambassador for the sport they did look into whether he was a doper and didn't find anything. Isn't this a tacit admission that they know the doping tests aren't effective? *IAAF: 'None of this is new"
*Victor Conte Says Trevor Graham and John Smith Blew Lid on Balco To Get Rid of Dwain Chambers As A Threat To Their Sprint Stars
*Sue Mott Column: Maurice Greene Is Just Latest Sprinter To React To Drug Accusations With Outrage Anyone remember Marion Jones' reaction?
Rotterdam:William Kipsang sets 2:05:49 course record in Rotterdam
You'll Be Hearing About This For a Long, Long Time
*Maurice Greene, HSI Linked to Steroids A few HSI athletes have been caught doping in the past (Larry Wade the most notable), but this NY Times article brings to print some of the rumors some of you may have heard. And it is a sad, sad day for American sprinting if true.*Times Of London Story on Maurice Greene Being Accused Of Doping
Maurice Greene Defends Himself He says he never used drugs but did pay for teammates bills without asking what it was for. Greene: "This is a bad situation for me. My name's come up in something and it's not true."
LetsRun.com London Women: Mikitenko Wins Crazy Women's Race The women's race went totally not according to form. German Irina Mikitenko was the surprise winner. The race went out slow, then picked up, then slowed back again. Then Gete Wami wiped out at a water stop, nearly knocking her own teeth out, fell back off the back, then battled back only to get dropped again as Mikitenko threw it down the final 5k. And a perfectly sunny day turned into a cold rainstorm at times. Text, Photos, and Video
Other London Coverage: *Yelling Makes GB Team: A great moment when she looked rival Hayley Haining in the eye at 19 miles,. Amazingly both ended up happy as both PRd.
*British Men Could Run 25 Miles, Everyone Else 26.2 Miles And They'd Still Lose in London
*World Marathon Majors Point Standing - Lel has a huge lead. Wami's is narrowed by Mikitenko s
*Dick Patrick of USAToday Writes About Ryan Hall
*American Ryan Hall mixes it with Kenyans
*AP Story on Ryan Hall: Hall Confident About Beijing Chances
*Quotes From The Top 3 In London
*Gas Leak Causes London Marathon to be Diverted
*Paula Radcliffe Talks About Her Beijing Preparations
*Jon Brown Blasts UK Performance Director Dave Collins The 4th placer in the marathon at the last two Olympics absolutely rips Collins - a man who somehow managed not to show up at world cross country last month when it was in Scotland..
101 Years Old, Still Smoking, Running, and Drinking: Buster Martin: "I'm not worried about the fags because I'll carry them with me. Everyone says smoking kills but it's taking a long time in my case" The 101 year old legend plans on smoking while running Sunday's London Marathon.
US 100k is Saturday - Greg Crowther To Defend Title
*Nice Profile Of Greg Crowther The microbiologist thinks of how to cure malaria while racing
Marion Jones' 8 Relay Teammates Told To Return Medals The IAAF told Jerome Young's teammates to do the same thing but lawyers stopped the IAAF from making them do it.

The mysterious flash banner explained
LetsRun.com Party in Boston hosted by Puma
Next Saturday April 19
Free beer, tshirts, and more. If you want to come click above.
Hot Early Season 1,500 Chris Lukezic, Kevin Sullivan, Gareth Turnbull, Liam Reale To Sqaure Off At 1,500 On Friday at Sea Ray Relays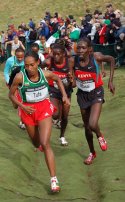 World XC Women: Tirunesh Dibaba Back on Top link fixed Ethiopia swept all the individual titles as Tirunesh Dibaba used her strong finishing kick to regain her individual crown after she battled back from being dropped by the leaders. Former Minnesota star Emily Brown led the US women to a fourth place finish.
*Benita Johnson Leads Sonia O'Sullivan Coached Australian Team to Bronze Team Medal IAAF
*Race Results Weekly Recap of 2008 World Cross Country Champs
*Women's Results
*All Results
*Message board blow by blow here
*Photos
*More World XC Photos
Junior Girls: Genzebe Dibaba, Tirunesh's Little Sister, Gets World Junior XC Win The genetic lottery of life some times isn't fair. IAAF
LetsRun.com Jorge Torres, Shalane Flanagan Win in Central Park (link fixed)
Food Poisoning Does Webb In
*Recap, analysis, interviews and photos above *Results
Torres is probably the only guy in American who can say this: every time he has raced Alan Webb, he has beaten Webb. Torres, now training under the legendary Steve Jones, got the win in the final 800m over the very impressive of late Andrew Carlson. Alan Webb had some food poisoning on Thursday and despite leading at 5k faded to finish 16th. Shalane Flanagan had some stomach problems of her own on Thursday but they only seemed to limit her margin of victory as she won over Katie McGregor.
*Photos, video, analysis
*NY Times Article on US 8k Champs
Former 100m Olympic Champ Donovan Bailey Wants Lifetime Bans for Drug Cheats
High School Indoors: Puskedra 8:49 2 mile/ Lowe 8:50
*Photos More coverage here and here
On the boards: *Why did Kastor pull out of Lisbon?
*Fallujah, Iraq Holds Its First 5K Road Race
*How good was Shalane Flanagan in high school?
And only on LetsRun: Is NY Gov David Paterson a Marathon Cheater? The guy is blind and likely ran without a chip or before they were turned on but nonetheless clearly the sleuths on the message boards do not discriminate on physical disability. In other news, Eliot Spitzer went for a long run in the Park once he knew the news of his prostitution ring was going to break.
*LetsRun.com NCAA Basketball Pool
Pre-Race Coverage Of New York City 8ks


LetsRun.com Alan Webb, Carrie Tollefson, Shalane Flanagan on the Road to Beijing America's finest addressed the media and letsrun.com was on hand to cover it. From, Shalane Flanagan's praise of Mary W. "What Phil Knight (chairman of the board of Nike) is to Nike, Mary (Wittenberg) is to distance running.", to our 50 minute audio/video interview with Alan Webb on page 2, we've got it all. Text, photos, and video and even and mp3 you can download.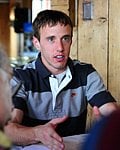 Page 2: More Relaxed, Confident Zen-Like Webb Ready for 2008 We sat and talked to Webb for 50 minutes and have a recap plus video and audio. Webb talks about his 2007 season, his goals for 2008, his desire to win races and how in high school he "did not know what he was doing".
*Shalane Flanagan in NYTimes
*Race Website
Above photos courtesy of Steve Starr.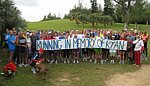 Ryan Shay Run in Bermuda a Huge Success
Organizers Ashley Couper Estwanik and Chris Estwanik were expecting a handful of people, but instead hundreds showed up.
LaSalle Bank Chicago Marathon Women
Unbelievable
Adriana Pirtea Blows It
Just watch the video above. Shorter video here if you're impatient
*Chicago Tribune Recap of Ivuti's Narrow Win
Adriana Pirtrea, a runner basically no one has heard of (including ourselves) (she did finish 2nd at an NCAA indoors once), was on her way to winning the Chicago Marathon. She had been clear of Berhane Adere for miles. Pirtrea, as she took the final turn, was high fiving the crowd. She had a 15 second lead with 58 seconds of runing left. Little did she know that Adere had overcome whatever problems she had had and was quickly making up ground. Pirtrea never looked back and was strolling into the finish thinking about her career changing win. Meanwhile, Adere was in an all out sprint on the other side of the road. She flew by Pirtrea and Pirtrea had no chance to respond. A truly incredible turn of events as Adere made up a 15 second deficent in 47 seconds. Watch it to believe it.
*Former Yalie Kate O'Neill 3rd in Her Debut
*Wheelchair Race Decided by 1 Second All the races in Chicago were close.
LaSalle Bank Chicago Marathon Men
Unvelievable:
Invuti Wins Unbelievable Finish in Chicago Words don't do it justice just watch the video above.
*Chicago Tribune Recap of Ivuti's Narrow Win
It's hard for words to describe the greatest finish in (Chicago) marathon history. It came down to two time world champ Jaouad Gharib and former track/xc star Patrick Ivuti, fresh off his 59:27 half marathon. Gharib surged ahead going up a slight incline down the finishing straight. Ivuti then battled back and took the lead on the downhill. Gharib dug back and retoook the lead as they barreled towards the finish and the two guys still standing there with the finish tape which is only about 5 feet wide. Ivuti surged back right at the finish and it was too close to tell but Ivuti got the win. Hot weather took its toll on everyone.
*Video: Patrick Ivuti Talks About His Narrow Win In Chicago
Millrose
*Results

LetsRun.com! 2008 Millrose Games Recap: Lagat Gets #6, Nelson Entertains, and Goucher Gets It Done Track and field's biggest indoor event saw Bernard Lagat capture his 6th Wanamaker mile, Kara Goucher get an exciting woen's mile win, and our hero Adam Nelson throws some bombs and entertains the crowd. Plus, upsets in the women's pole vault, women's hurdles and more.
*NY Times: Lagat Outduels Mottram
*LetsRun.com! Recap of 2008 Millrose Games High School Miles The boys mile is always the loudest event at Millrose.
*On the boards: Congrats to LetsRun.com Poster Crazystreaker on Winning the Boys' High School Mile
*Distance Photos

LetsRun.com 2007 World's Coverage:
*Sunday Homepage Ndereba marathon
*Saturday Homepage
*Friday Homepage Tyson Gay
*Thursday Homepage Lagat
*Wednesday's Homepage Lagat
*Tuesday's Homepage Bekele 10k
*Monday's Homepage Tyson Gay
*Sunday's Homepage Dibaba/Goucher 10k
*Saturday's Homepage Kibet Marathon