2022 USAs Women's Distance Previews: Can Katelyn Tuohy Join Fellow 20-Year-Old Athing Mu On A World Championship Team?
By Robert Johnson
June 22, 2022
Below I preview the women's distance action at the 2022 USATF Outdoor Championships, which start Thursday in Eugene. Our preview of the men's action is here: LRC 2022 USAs Men's Distance Previews: Hocker vs Teare, Fisher vs Chelimo, & Can Jager Make One More Team? 
Check back later for a sprint preview.
But before you read that, please make sure you fill out your picks in the $200,022 LetsRun.com USA Outdoor Track and Field Prediction Contest. Then get your friends to enter. It's totally free to enter, you can play in your own group and the winners receive a free pair of On shoes plus a LetsRun.com Supporters Club membership.
Article continues below player.
*Schedule/entries/results *TV/streaming information *All LRC coverage of 2022 USAs
If you'd rather listen to our previews as a podcast, you can do that here as we had a blow-out 2 hour podcast previewing USAs (with extensive show notes if you want to jump around to your favorite event).

Women's 800: Can anyone knock off the Big 3 of Mu, Rogers and Wilson?
Round 1 –  7:25 p.m. ET Thursday, Semis 11:02 p.m. ET Friday, Final 4:54 pm ET Sunday – Athletes in Bold have 1:59.50 standard, those in italics have the world ranking good enough to get in
Top Entrants 
Women 800m
Name
Affiliation
Entry Mark
SB
Declaration
Athing Mu
NIKE
1:55.04
1:57.01
Olympic champ and American record holder is heavy favorite
Ajee' Wilson
adidas
1:58.06
1:58.06
Was the US's best for a decade until Mu
Allie Wilson
Atlanta Track Club
1:58.18
1:58.18
Running great but can she break up Mu, Ajee' and Raevyn?
Raevyn Rogers
NIKE / Nike Union Athletics Club
1:56.81
1:58.44

Olympic bronze and Worlds silver

Nia Akins
Brooks / BROOKS Beasts TC
1:58.82
1:58.82
Former NCAA runner-up
Sage Hurta
On Athletics Club
1:59.59
1:59.59
Running well but event is stacked
Sabrina Southerland
NIKE / NIKE OTCE
1:58.77
1:59.69
2018 NCAA indoor champ
Olivia Baker
Atlanta Track Club
1:59.80
1:59.80
Made Worlds indoors
Brenna Detra
1:59.94
1:59.94
1 of 11 US women who have gone sub-2:00 outdoors this year
Sadi Henderson
Atlanta Track Club
1:58.62
2:00.00
declared
Hanna Green
NIKE / NIKE OTCE
1:59.55
2:00.55
Made Worlds in 2019
Michaela Meyer
NIKE
1:58.55
2:01:31
2021 NCAA champ
This is a very hard US team to make.
Last year at the Olympics, Athing Mu won gold and Raevyn Rogers won the bronze. The third member of the US team, Ajee' Wilson, won World Indoors earlier this year. The Big 3 are all back and in good form but so are a lot of other Americans. Eleven different Americans have broken 2:00 this year and America has four of the eight fastest women in the world.
That doesn't compare to, say, the men's 200 where the US also had two Olympic medallists last year and where the US has 8 of the top 10 performers in the world in 2022, but hey, we get four entrants there. The US actually gets four entrants in all of the events where we had two Olympic medallists last year except for the women's 800 (men's shot and women's 400 hurdles are the other two events) as Mu shut down her season last year after Prefontaine and didn't capture the DL title. It's a bummer that World Athletics doesn't give the bye to the reigning Olympic champ instead of the reigning world champ.
So this team will be super hard to make, but if you make it, you've got a good shot at taking home a medal. A US medal sweep isn't out of the realm of possibility.
So who besides the Big 3 has a shot?
Unheralded Allie Wilson of the Atlanta Track Club is currently the 5th fastest woman in the world at 1:58.18 — that's actually faster than what Raevyn Rogers has run this year. Up until 2018, her 4th year in college, Wilson had never even made NCAAs for Monmouth. Now she's #5 in the world. What a cool story.
But Allie raced Rogers and Ajee' Wilson at Prefontaine and it wasn't particularly close. Ajee' Wilson was second in 1:58.06, Rogers third in 1:58.44, while Allie Wilson was 7th in 2:00.15. For her career, Allie Wilson is 0-4 against Rogers and 0-6 against Ajee' Wilson. According to Tilastopaja, Allie Wilson, 26, has broken 2:00 five times in her career. Raevyn Rogers, 25, has done it 23. Ajee' Wilson, 27, has done it 49.
Yes, the Pre Classic was Allie Wilson's first Diamond League event so maybe she was a bit nervous and it wasn't her best showing. But the two Wilsons raced again at the USATF meet in NY, and while Allie got closer to Ajee' (2:00.62 vs 2:00.80), if you watched the race not once did you think that Ajee' Wilson was in danger of losing to Allie.
Former Penn star Nia Akins, now of the Brooks Beasts, also deserves mention. When Brooks coach Danny Mackey was on the LRC Track Talk podcast earlier this year, he raved about Akins and said he thought she'd have been 3rd or 4th at the Trials last year if she hadn't been tripped. Wilson backed that talk up as she was fantastic in her outdoor 800 opener on May 6, running 1:58.82, the first sub-2 of her career. But then she didn't race for five weeks and only was 7th (2:01.54) in the Portland Track Festival last week.
Reached on Tuesday via text message, Mackey said that he almost didn't let Akins run that race as she's been battling back spasms which have resulted in them adjusting her training. But he was optimistic, writing, "She was just flat from treatment and body work. Her workouts indicated better fitness than her opening 800 of 1:58."
2021 NCAA indoor mile champ Sage Hurta has also joined the sub-2 club this year and she's broken 2:00 twice but she was also soundly beaten at Pre (5th 1:59.59) and USATF NYC (3rd 2:01.41).
The only good news for people trying to make this team is the field could even be more loaded. Remember, last year, an American that didn't make the Olympics was winning Diamond League races, but Kate Grace isn't racing as she's out with long COVID. And 2021 NCAA champ Michaela Meyer, who ran 1:58 last year, hasn't broken 2:01 in 2022. Additionally, 2019 Paris Diamond League champ Hanna Green hasn't broken 2:00 this year. That being said, Green has improved each time she's raced. She ran 2:03.16 on May 19, 2:01.38 on June 5, and 2:00.55 on June 11.
My Prediction:  This isn't really a very hard event to break down.
Athing Mu is the best in the world. She's the world leader. She hasn't lost an 800 since before the US shut down for COVID.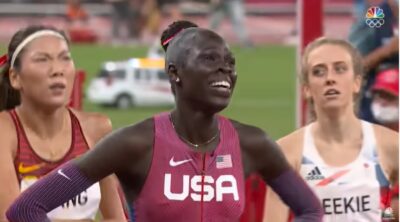 She is going to win this event. And given how good she is, it's almost certain that we know how the final will be run: fast. And that takes a lot of the variability out of the event.
The next two across the line likely will be the same two that were second and third last year – Raevyn Rogers and Ajee' Wilson.
Even if it's not a time trial, in addition to being really fast, one thing that makes Ajee' Wilson and Rogers tough to beat is that they both are comfortable running from behind. Rogers has developed a monster kick at the end of her 800s and the former front-running Ajee' Wilson has a good sense of pace and has worked on running in the middle of the pack recently. At the Olympic Trials last year, Rogers went from 6th to 2nd in the final 200 while Ajee' went from 6th to 3rd in the final 100.
Roll it back from last year. 1) Mu 2) Rogers 3) Wilson. It's still a big deal for anyone not in the Big 3 to break 2:00, for them it's totally ho-hum. I picked Rogers over Wilson even though Wilson beat her at Pre because Rogers is in a much better spot now than last year. Last year, Rogers went into the Trials not having run faster than 1:59.66. In her last pre-Trials race, she was just 6th at the Portland Track Festival. And she ran 1:57.66 at the Trials. This year, Rogers has run 1:58 in all three of her 800s.
Women's 1500: Can Elle St. Pierre Repeat or Will Sinclaire Johnson Arrive As a US Champion?
1st Round Thursday June 23, 9:53 p.m. ET, Final Saturday June 25, 4:40 p.m. ET – Bolded athletes have standard of 4:04.20, italics means they have a good enough world ranking
Top Entrants
| | | | | |
| --- | --- | --- | --- | --- |
| Name | Team | Entry Mark | SB | Note |
| Sinclaire Johnson | NIKE | 3:58.85 | 3:58.85 | 2019 NCAA champ had never been sub-4 until this year but running well for Pete Julian |
| Elle St. Pierre | New Balance / New Balance Boston | 3:58.03 | 3:59.68 | Won the Trials last year |
| Cory McGee | New Balance | 4:00.34 | 4:00.34 | Made Olympic final. PB at Pre but behind 2 Americans |
| Karissa Schweizer | NIKE / Bowerman Track Club | 4:00.75 | 4:00.75 | Won the US 10k trials so doesn't have to do this |
| Eleanor Fulton | | 4:04.26 | 4:04.26 | Running well but big gap in front of her |
| Danielle Aragon | EMPIRE ELITE TC | 4:04.50 | 4:04.50 | Running well but big gap in front of her |
| Josette Norris | Reebok Boston Track Club | 3:59.72 | 4:04.72 | Ran 3:59 last year but 4:04.72 in last race is her SB |
| Helen Schlachtenhaufen | NIKE | 4:01.09 | 4:05.68 | Ran 4:01.09 last year |
| Heather MacLean | New Balance / New Balance Boston | 4:02.09 | 4:06:09 | US indoor champ, made Olympic team |
| Nikki Hiltz | | 4:02.94 | 4:07:36 | Made Worlds team in 2019 |
2019 NCAA champ Sinclaire Johnson leads the US list this year in her first year under the tutelage of Pete Julian as she ran a big pb of 3:58.85 at Prefontaine (previous pb of 4:03.33). That previous pb of hers also came this year when she finished second to Canada's Gabriela DeBues-Stafford in her outdoor 1500 opener. She's also run 2:01 in two 800s this year so there's a lot of reasons to think she'll be on the team.
At Pre, Johnson beat defending US champ Elle St. Pierre, but St. Pierre is still my favorite as that was her first outdoor race of 2022. Yes, St. Pierre was stunned at the US Indoor champs where she finished third, losing to her New Balance Boston teammate Heather MacLean and Josette Norris of the Reebok Boston Track Club*, but she rebounded to grab World Indoor silver in the 3000, beating Ejgayehu Taye of Ethiopia who recently ran 14:12 for 5000 at Pre.
The fact that St. Pierre can open up at 3:59 shows you why she's the defending champ. Her openers are as good or better than other people in this field's lifetime best.
Norris was the US's breakout sensation last year when she lowered her pb from 4:10.82 to 3:59.72. After running 4:20.81 at Millrose, it looked like she might even be better in 2022 than 2021. But then Norris didn't contend for a medal at World Indoors and outdoors hasn't been nearly as good this year, failing to break 4:04. Last year, she was 3rd in the DL final. This year, she was 13th at Pre, but her coach Chris Fox said she's ready to go. "We took a nice break after indoor Worlds and did a slow build. She is very fit and ready to go now."
Shannon Osika is another runner trying to find last year's form as she ran 4:00.73 last year but hasn't broken 4:06 this year.
MacLean surprisingly made the Olympics last year, and then surprisingly beat St. Pierre at US Indoors this year to win the US title. It was clear when we talked to New Balance Boston coach Mark Coogan in February that he didn't see a big talent divide between the two, he viewed MacLean as just being a year or so behind. Like St. Pierre, MacLean has also only raced once outdoors, but it was a result many people didn't see as she ran 2:00.90 at a local twilight race in Boston on June 5.
While MacLean and St. Pierre, the two New Balance Boston teammates, have only raced once each as they both got a bad case of COVID after World Indoors, Coogan is feeling good about their prospects now, texting.
Covid got Elle and Heather both badly this April and May but they seem pretty good to go now.  That's why we couldn't race not a good idea to race right off COVID.
If they run well I believe they will both make 1500 team. Obviously, you can't control other people but I feel good.
As for MacLean and how she is doing post-COVID, Coogan texted, "I think Heather is 100% back. Her workouts have been tremendous and we are hoping for big things. Hopefully, things go well for both of them."
There are two other names that need to be mentioned in terms of most likely to finish top 3 — one name that you'd expect to see here and one that is a surprise, Cory McGee and Karissa Schweizer.
McGee came up totally clutch to make the Olympic team last year. Heading into the US Olympic Trials final, her pb was 4:03.64 and her sb was just 4:05.00 but when the Trials were over, her pb was 4:00.67 and she was an Olympian.
This year, she's PR'd again at 4:00.34 at Pre, where she was 9th. She also deserves props for running two other Diamond League 1500s — 7th in Birmingham in 4:08.26 and 5th in Rome in 4:05.69. Fellow American Helen Schlachtenhaufen also was in Rome and ran a seasonal best of 4:05.68, well off her 4:01.09 pb.
As for Schweizer, she is already guaranteed to be on the US team at Worlds as the Olympian in the 5,000 and 10,000 last year already won the US 10,000 Trials a few weeks ago. But she's running the 1500 and 5000 at USAs this week and hasn't ruled out running the 1500 at Worlds as it comes after the 10,000.
As a long-distance runner, Schweizer might be vulnerable if the race was slow as her change of gears may not be the quickest but it needs to be remembered that she ran 4:10 in the 1500 in college. And if it's a pure fitness test, Schweizer could make the top 3 more easily.
The winning time at USAs the last 5 years, starting in 2022 and going back? 3:58.03, 4:03.18, 4:05.48, 4:06.33, and 4:04.74.
Prediction: 1) St. Pierre 2) Johnson 3) MacLean
Johnson's run at Pre was amazing but her track record isn't as solid as St. Pierre's. MacLean was better than McGee indoors so I think she gets third spot. As for Schweizer, it would be cool to see her get top 3 as people that finish top 3 at USA in both the 1,500 and 10,000 don't come around too often. From the best I can tell, the only other person to do it was Francie Larrieu-Smith.
MB: Karissa Schweizer is trying to make US team at both 1500 and 10,000. What other Americans have EVER done this?
*Norris is entered as a member of the Reebok Boston Track Club but the team's website no longer exists as Reebok recently was sold off by adidas to ABG. However, LetsRun has learned coach Chris Fox, star Justyn Knight, and four or five other athletes have contracts that run through 2024.
****
Women's Steeple: Does The Emma Coburn/Courtney Frerichs 1-2 Streak Finally End?
Prelims Friday, June 24 9:05 p.m. ET, Final Sunday, June 26, 5:23 p.m. ET – Athletes in Bold have 9:30.00 standard, those in italics have the world ranking
| | | | | |
| --- | --- | --- | --- | --- |
| Name | Affiliation | Entry Mark | SB | Notes |
| Courtney Wayment | Brigham Young University | 9:16.00 | 9:16.00 | NCAA champ looks ready to make team |
| Emma Coburn | New Balance | 9:09.02 | 9:18.19 | 9:18 at Pre, but 4:04 1500 in last race makes her favorite in our book |
| Courtney Frerichs | NIKE / Bowerman Track Club | 8:57.77 | 9:20.96 | American record holder, nearly won Olympic gold but now struggling with Celiac disease |
| Kayley DeLay | Yale University | 9:25.08 | 9:25.08 | Had 15-second PR at NCAAs to get 2nd. Cinderella story |
| Annie Rodenfels | Boston Athletic Association | 9:25.48 | 9:25.48 | Also run 15:08 this year |
| Valerie Constien | | 9:18.34 | 9:31.20 | Made Olympic team last year but hasn't raced since April |
| Katie Rainsberger | New Balance | 9:30.18 | 9:32.13 | 10th at Trials last year |
| Logan Jolly | University of Arkansas | 9:34.76 | 9:34.76 | 7th at NCAAs |
| Colleen Quigley | lululemon | 9:39.27 | 9:39.27 | Has run 9:10 steeple before and 8:28 3000 but returning from injury |
| Alexina Teubel | Tracksmith | 9:32.81 | | 12th in Trials last year |
| Madison Boreman | University of Colorado | 9:33.02 | | Pac-12 champ was 4th at NCAAs. |
| Carmen Graves | Garden State Track Club | 9:37.73 | | 31 years young |
| Gabrielle Jennings | adidas | 9:38.24 | | 7th at NCAAs in 2021 |
For the last five years, predicting the US steeplechase top 3 wasn't too difficult.
Put Emma Coburn down for first and Country Frerichs down for second. That's been the 1-2 in each of the last five USAs and in 3 of the 5, Colleen Quigley was your third placer.
In 2022, it's not so easy.
For starters, there are major question marks surrounding Olympic silver medalist Country Frerichs, who after running 9:20.96 at Pre opened up and told us she'd been battling low iron and Celiac disease this year.
Then at the Portland Track Festival on June 10, she ran every worse — 9:35.92 — after falling on the final water jump.
As for Coburn, yes she has won seven straight US steeple titles and all 9 US steeple finals she's ever run (Nicole Bush won in 2013 when Coburn didn't race) but she was horrific in the Olympic final. Then she opened up at just 4:09 in the 1500 and then only ran 9:18.19 at Pre — well off the 9:08 she opened up with in each of her previous three steeple openers.
But write off Coburn at your own peril. She's only 31 years old and at the Portland Track Festival, she ran 4:04 for 1500. Plus prior to the Pre Classic, she told us she's been enjoying some of the best training of her career.
The dominance of Coburn and Frerichs at the US level could be threatened by NCAA champ Courtney Wayment of BYU. A year after not living up the favorite billing at NCAAs, she absolutely did this year and then some as she destroyed the NCAA record by 8+ seconds. running 9:16.00 to win the title. She has a seasonal best that is 9+ seconds better than anyone else in the field not named Coburn/Frerichs.
Wayment is going to make the team.
But I think Coburn and Frerichs are as well. To be honest, I have almost zero concerns about Coburn. Even when she opened at 4:09, I pointed out that her last bad 1500 like that — a 4:10 in 2017 — came 54 days before she won the world title. The fact of the matter is a mediocre run for Coburn or Frerichs is 9:20. 9:25 is great day for almost anyone else in the field. At NCAAs, Yale's Kayley DeLay went from time qualifier to NCAA #2 at 9:25.02 so she can't be discounted and former DIII star Annie Rodenfels of the BAA has also run 9:25 in her lone steeple this year with her 9:25.48 being a 21.50-second pb. Rodenfels' PB at the flat track event distances are actually slightly better than Wayment's (4:10 vs 4:12/15:08 vs 15:15; DeLay has run 4:12/15:36).
The only other person I can realistically see making the team is the woman who made the Olympic team at #3 last year — Valerie Constien. She opened up nicely this year at 4:09.97 for 1500 and then 9:31.20 for the steeple in April but hasn't raced since, so I'm assuming she's hurt but if she's not, watch out.
Rojo's Prediction: 1) Coburn 2) Wayment 3) Frerichs
Women's 5000: Can Katelyn Tuohy Step Up In Class?
(Sunday 4:18 p.m. ET – Athletes in Bold have 15:10 standard, those in italics have the world ranking)
Top Entrants
| | | | | |
| --- | --- | --- | --- | --- |
| Name | Affiliation | PB | SB | Notes |
| Elise Cranny | NIKE / Bowerman Track Club | 14:33.17 | 14:33.17i | Set indoor AR but missed 10k champs and hasn't raced since April |
| Weini Kelati | Under Armour / Dark Sky Distance | 14:57.07 | 14:57.07 | Got nice win in Portland in last race. Former NCAA star |
| Karissa Schweizer | NIKE / Bowerman Track Club | 14:51.34 | 15:02.77 | Undefeated in 2022. Won 10k champs, ran 4:00.75 in a 1500 |
| Elly Henes | adidas | 15:03.27 | 15:03.27i | 4:07.76 1500 pb last race |
| Vanessa Fraser | NIKE / Bowerman Track Club | 15:05.04 | 15:05.04 | Ran 14:48i in 2020 |
| Natosha Rogers | Hansons-Brooks Distance Project | 15:05.22 | 15:05.22 | Made 10k team, running great |
| Fiona O'Keeffe | PUMA | 15:05.56 | 15:05.56 | Had never run under 15:30 until this year. Ran 1:07:42 half marathon |
| Emily Infeld | NIKE | 14:54.09 | 15:05.80 | Just missed 10k team. Has run 14:51 before |
| Whittni Morgan | adidas | 15:09.47 | 15:09.47i | 2021 NCAA XC champ as Whittni Orton. Ran 4:04 in 1500 last time out |
| Katelyn Tuohy | North Carolina State University | 15:14.61 | 15:14.61 | NCAA champ will have to go to another level to make team |
| Josette Norris | Reebok Boston Track Club | 14:51.32 | NM | 1500 is 1st so only expect her to run this if doesn't make 1500 team |
| Elle St. Pierre | New Balance / New Balance Boston | NM | NM | 1500 is 1st. Made Worlds in 2019 |
The women's 5000 is a little bit hard to break down mainly because the status of two heavy hitters is pretty much unknown — Elise Cranny and Elle St. Pierre.
St. Pierre is running the 1500. After that coach Mark Coogan says she will "make her mind up about the 5k."
If St. Pierre opts into the 5000, I expect her to finish in the top 3. While she hasn't run a 5000 since February 2021, her pb is 14:58 and she won silver in the 3000 at World Indoors earlier this year, beating Ejgayehu Taye in the process. Taye is the 2022 world leader in the 5000 at 14:12 thanks to her Pre Classic win. St. Pierre made the 2019 US team for Worlds in the 5000 and made the final but Coogan texted "she is twice as good as that now."
If St. Pierre does show here, one issue is she doesn't have the standard or even a world ranking in the 5,000. Running 15:10 wouldn't be very hard for St. Pierre under good conditions, but it's expected to be in the low 80s at race time. So unless USATF moves it up (like they have done in the past), keep an eye on the clock.
Last year's champ Elise Cranny would be the favorite if all was well with her, but not all is well. After nearly breaking the American 10,000 record earlier this year when she ran 30:14, she was struggling so much in practice that the pulled out of the US 10,000 Trials four weeks ago. If she recovered? We have no idea.
In terms of who we know is fit, the leader is Karissa Schweizer. Schweizer won the 10,000 Trials four weeks ago and is feeling so good that she's entered in both the 1500 and 5,000 here. Even if she's top 3 in the 1500, I imagine she'd rather do the 10,000/5,000 double at Worlds so expect her to run here and be top 3. Another woman that may come back from the 1500 is Josette Norris. Norris ran 14:51 last year and we expected her to make the Olympic team in the 5,000 but she ended up just 8th in 15:48.70.
The three women who battled it out for the final spot on the 10,000 team a month ago are also all in this one — Natosha Rogers (who made the team), Emily Infeld (4th), and Weini Kelati (5th). Infeld has a great kick and a little bit more motivation than Rogers so I'd normally like her the best of those three as Kelati doesn't have a great kick. But Kelati just joined the sub-15 club when she ran 14:57 at the Portland Track Festival. Hot weather might help her as it could make it a war of attrition.
And after a slow build, I finally find time to mention the woman many will be watching very closely — NCAA champ Katelyn Tuohy of NC State. A star since 8th grade, is the 20-year-old the future of US women's distance running? Tuohy certainly lived up to the hype in Eugene two weeks ago when she took down her first individual NCAA crown in the 5,000. With 4:06 1500 speed, she's got some good wheels but you need to be in about 15:00 shape to make this team and Tuohy's pb is 15:14 (though she won that race). Can she handle a step up in class? In the last six years, only one collegian has finished in the top 3 at USAs in this event: Schweizer in 2018.
Tuohy's former college teammate Elly Henes, the 2021 NCAA 5,000 champion for NC State, can't be ruled out. She just ran a 4:07 1500 pb and has lowered her pb from 15:18 to 15:03 this year.
I'm also very interested in seeing what Fiona O'Keeffe does in this one. The former Stanford runner, who now trains in Alistair Cragg's PUMA group, may be the most improved pro with a shot here. She started the year with a 15:30 5000 pb but just ran 15:05 at the Portland Track Festival. I'm surprised she didn't go for the team in the 10,000 as she blitzed a 67:42 half marathon in January. 67:42 is very fast for a US woman — #4 all-time. With only a 4:20 1500 pb, making the team may be tough though.
Vanessa Fraser, who ran 14:48 indoors in 2020, comes into this one after running an outdoor pb at the Portland Track Festival two weeks ago (15:05). She also has set PBs at 3000 (8:53) and 10,000 (31:52) this year.
LRC Prediction: I'm assuming St. Pierre doesn't show. Initially, Cranny was too much of a wild card for me to pick in the top 3 as if you are overtrained or anemic, it's hard to get it back within the span of a month. So I had my picks at Schweizer, Kelati, Tuohy but I didn't feel good about them as Kelati's kick isn't good. But then I saw this post of her training with Schweizer and I changed my mind after my colleague Jonathan Gault said my picks were ridiculous. But it's hard to fake it over 5000 so if Cranny doesn't make the team, I'll be kicking myself for not trusting my gut instinct.
1) Schweizer 2) Cranny 3) Tuohy
More: 2022 USAs Men's Distance Previews: Hocker vs Teare, Fisher vs Chelimo, & Can Jager Make One More Team?
*$200,022 LetsRun.com USA Outdoor Track and Field Prediction Contest.
*Schedule/entries/results *TV/streaming information *All LRC coverage of 2022 USAs
If you'd rather listen to our previews as a podcast, you can do that here as we had a blow-out 2 hour podcast previewing USAs (with extensive show notes if you want to jump around to your favorite event).