2022 USATF Distance Classic: Australia's Abbey Caldwell (4:04.18) Punches Her Ticket to Worlds, But No One Else Does
By Jonathan Gault and Robert Johnson
May 19, 2022
A number of top US-based distance pros headed to Mt. SAC on Thursday night for the USATF Distance Classic (formerly known as the Oxy meet) to chase fast times, but nearly all hoping for a World Championship qualifier came up short as only one runner the entire night earned a Worlds standard: 20-year-old Australian Abbey Caldwell, who ran 4:04.18 – just .02 under the standard – to win the women's 1500. The main word we'd use to describe this meet was underwhelming.
Brit Neil Gourley continued his fine 2022 form by winning the marquee event, the men's 1500, in 3:35.43, edging Sam Tanner (3:35.61) as US champ Cole Hocker was third in 3:36.24. In the men's steeple, John Gay prevailed against a deep field by running 8:24.27 in a race where Evan Jager faded to fifth (8:27.88) over the final 200 after a poor final water jump. Perhhaps the most interesting action in the 800 came in the B heat, which was won by Cooper Teare in dominant fashion in 1:47.90 with high schooler Colin Sahlman running a 1:48.80 pb for second.
Article continues below player
On the women's side, Sinclaire Johnson ran another strong race to win the 800 in 2:01.06 and Amy Cashin made it two wins for Australia on the night by taking the steeple in 9:31.28.
Recap and analysis of all of Thursday night's action below.*Full results
Women's 800: Sinclaire Johnson wins the battle of the last two NCAA 1500 champs
Two weeks after running a 1500 pb of 4:03.33 at the Track Meet on May 6, Sinclaire Johnson continued her strong start to the 2022 season by winning the women's 800 in 2:01.06 in a battle of the last two NCAA 1500 champions.
Johnson was content to sit behind Mexican record holder Mariela Real until 200 to go when she took the lead entering the final turn. Johnson had a gap coming off the final turn and was almost run down by 2021 NCAA 1500 champ Anna Camp-Bennett, but she couldn't quite get by Johnson and ran 2:01.20 for second. Hanna Green, a 2019 Worlds team member and 2021 Olympic Trials finalist, struggled and was just 7th in her first 800 of the year in 2:03.16.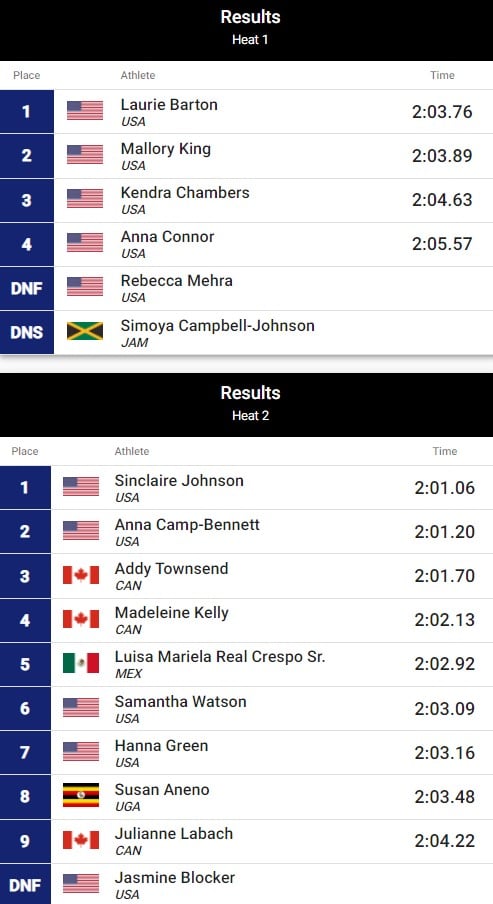 Men's 800
Heat 1 – Teare dominates, Sahlman was full of run
Cooper Teare was the class of the first heat as he won going away in 1:47.90 with high schooler Colin Sahlman closing well to get second in a pb of 1:48.80. Teare is rightfully viewed as one of the favorites for the US 1500 title this year but his 800 pb isn't super fast for a 1500 stud (1:47.48). He didn't improve that time tonight, but he looked fantastic once he finally found room to run with 150 to go. We really wish he was in heat 1 as he was way better than everyone else as he recorded splits of 53.38 and 54.52.
As for Sahlman, one of our favorite mottos about the 800 is, "You only have one move, use it wisely," but Sahlman made two moves and still had a big close. He got out in last and made a big move up between 300 and 400 (53.40) but then had to run the turn out in lane 2 and ended up not moving up much at all. But in the last 100, he was way better than everyone else in the field save for Teare. A promising tuneup for the Bowerman Mile nine days from now.
MB: Sahlman finishes second place behind Cooper Teare over 800 m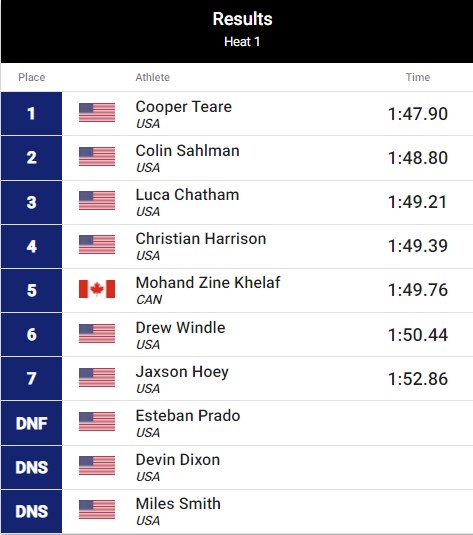 Heat 2 – McBride wins an underwhelming race
Pacemaker Charlie Hunter went through 400 meters in 52.01 – a pretty manageable pace for most of the guys in the field given their PBs – yet the first racer, Jamaica's Rajay Hamilton, was almost a second back at the bell (52.97). That made it difficult for anyone to run particularly fast and as a result, no one broke 1:47 on the night.
The win ultimately went to two-time Canadian Olympian Brandon McBride, who took the lead entering the final turn and held everyone off in the home straight to win his first race for the Oregon Track Club in 1:47.39. Isaiah Harris of the Brooks Beasts, racing for the first time since suffering a torn hamstring in the 4×400 at World Indoors on March 20, was 4th in 1:47.96, while 2021 Olympian Isaiah Jewett struggled and only finished 8th in 1:48.86. Jewett is off to a slow start in 2022 as he's run four 800s this year but none faster than 1:47.39. At this point in 2021, he had broken 1:47 three times and twice run in the 1:45s.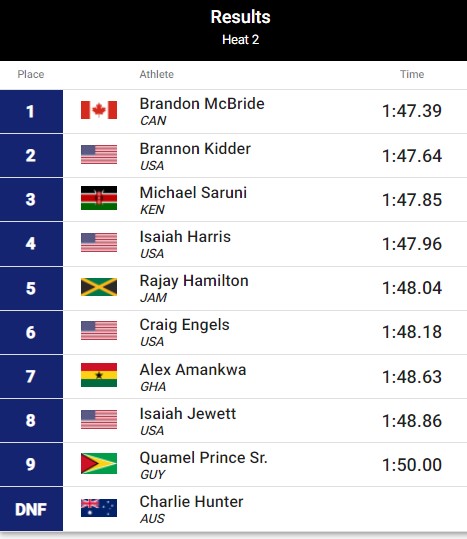 Quick Take: If before the 800s you'd told us the weather would be good but that no woman would break 2:01 and no man would break 1:47, we would have laughed you off the internet
We have no idea why the times were so slow. For most of the athletes, this is a meet where the only point is to run fast. We'd have bet A LOT of money that a woman would run at least 2:00 and a man at least 1:46, if not sub-2:00 and 1:45 or faster.
Women's steeple: Australia picks up win #1 on the night as Amy Cashin wins
West Virginia alum Amy Cashin, a 2021 Olympian for Australia, separated herself on the final lap by closing in 69.25 to win in 9:31.28. Katie Rainsberger of Team Boss was the top American in second in 9:33.23 as no one hit the World Championship standard of 9:30.00.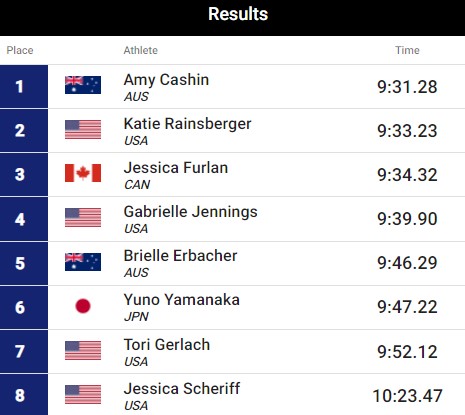 Men's steeple: John Gay wins race and top Canadian honors as Evan Jager improves to 8:27
Entering the final lap, four men had separated themselves in this one: Canadian Olympic finalists Matt Hughes and John Gay, plus American record holder Evan Jager and 2021 US Olympian Mason Ferlic. Gay would pull away to win in 8:24.27 thanks to a 62.91 last lap, while Ferlic wound up second as the clear top American in 8:25.41. Jager was in third with 200 to go and looked strong, but he ran out of gas late, losing a lot of time and momentum with a poor final water jump and ultimately fading to 5th in 8:27.88.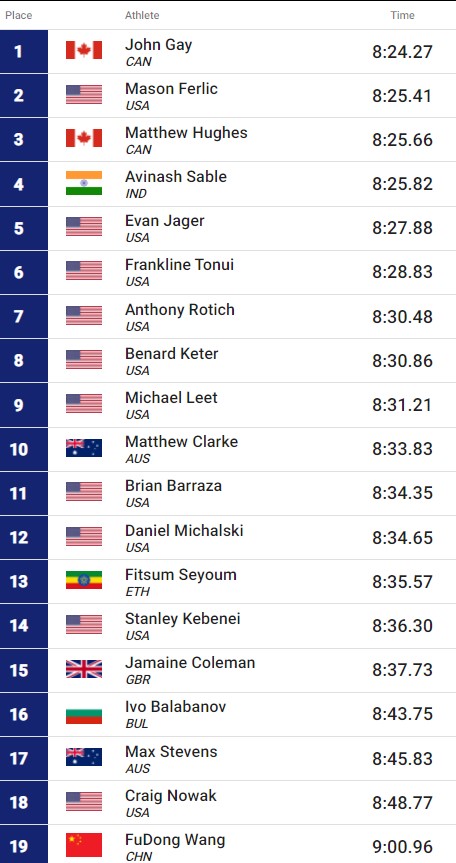 Quick Take: Evan Jager's may make Team USA in 2022, but he is not a medal threat, at least for 2022
Jager's race tonight was a step in the right direction but it was far from impressive if you are judging him by his old lofty standards of medal contender. 
On April 14, Jager debuted at 8:34.89. So he's come down 7 seconds in a little more than a month. But the Worlds finals are less than two months away (July 18). He needs to improve at least 20 seconds from where he is now to have a realistic shot at a medal.
One should remember, however, that Jager went from August 2018 – April 2022 without finishing a steeple at all. The fact that he was able to beat almost every top US steepler save Ferlic and Hillary Bor (who did not race tonight) was a promising sign for his chances to at least make it back onto the World Championship team – though Jager still needs the Worlds standard of 8:22.00.
Women's 1500: Abbey Caldwell hits TURBO and DESTROYS the field
Through the first four events of the night, not a single runner hit the Worlds standard and with 100 meters to go in the women's 1500 it looked like it would be 5 for 5. But then 20-year-old Australian champion Abbey Caldwell burst to the lead and DESTROYED the field over the last 75 meters, putting 1.50 seconds on the field and just dipping under the 4:04.20 standard with a 4:04.18 clocking that guaranteed her a spot at Worlds.
Behind Caldwell's impressive close, former Dartmouth runner Helen Schlachtenhaufen, the Olympic Trials 5th placer last year, took second (4:05.68) with Dani Jones third (4:06.06). Some of the bigger names were farther back as Japanese record holder Nozomi Tanaka was 5th (4:06.25), German 5000 WC medallist Konstanze Klosterhalfen was 7th (4:07.41) and American steeple star Emma Coburn was just 11th (4:09.47) in her first race since bombing the Olympic final in Tokyo.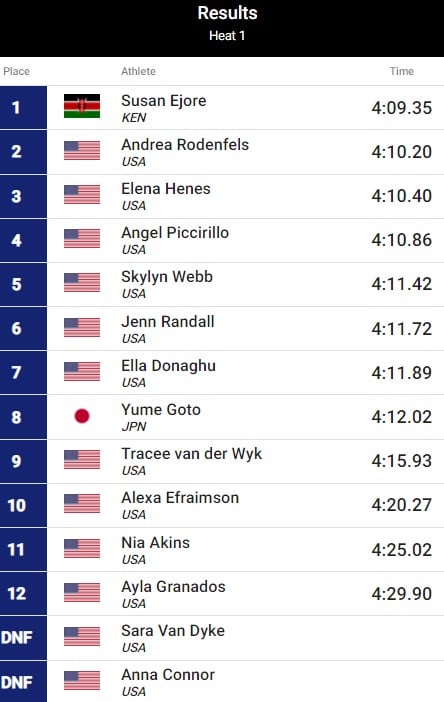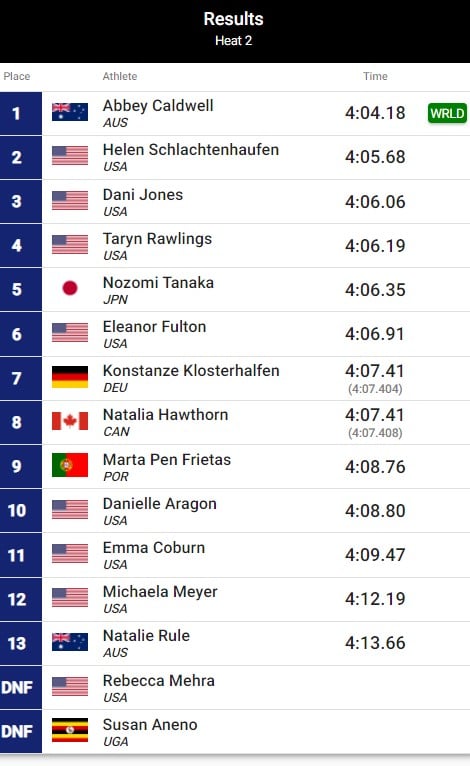 Quick Take: Caldwell has the performance of the night 
As mentioned above, the meet was certainly underwhelming on the whole but Caldwell was the biggest bright spot as she sparkled over the last 75. 
Quick Take: Emma Coburn wasn't as bad as her time showed
4:09.67 isn't a good time for Coburn, who has a 4:03.82 pb, but it's far from a total disaster. First, she looked better than that as she ran up near the front for much of the race but struggled on the last lap (67.85). Second, the last time that Emma Coburn failed to break 4:10 in a 1500 outdoors was way back on July 6, 2017, when she ran 4:11.89 in a 4:05 race. 54 days later, she was the world steeplechase champion.
Men's 1500: Neil Gourley edges Sam Tanner as Cole Hocker is third
A number of men were aiming for the World Championship standard of 3:35.00 in this race but their efforts came up short as Brit Neil Gourley took the win in 3:35.43 thanks to a 55.12 last lap, outsprinting Sam Tanner (3:35.61) and US champ Cole Hocker (3:36.24) over the final 100 meters as those three were well clear of everyone else. 19-year-old Hobbs Kessler was 9th in 3:38.98 and never a factor in the race.
After the race, Gourley was clearly a bit frustrated not to have hit the World Championship standard – this was his third near-miss of 2022 after running 3:35.32 indoors in February and 3:35.87 to finish 6th at World Indoors in March. But he has been in good form this year, also winning the 1500 at the Track Meet on May 6, and is confident that he'll eventually be able to hit the time and make it back to Worlds after missing out on last year's Olympic team.
"Winning's good, unfortunately World Athletics want me to run .3 something faster but we'll have to do that soon enough," Gourley said. "If I keep winning, that will take care of itself. And it's just a case of staying consistent. Things are going well. I'll be patient and it'll come."
We imagine that once Gourley shows up on the World Athletics rankings he'll be able to get in via ranking as he's run 3:35 three times already this year.
In the first of 3 heats, Newbury Park's Lex Young ran 3:46.93 for 6th and in the 2nd heat, Olympic medallist Moh Ahmed was tripped at the bell and ended up a DNF. If anyone knows why Ahmed was in the second heat, please post it in our forum.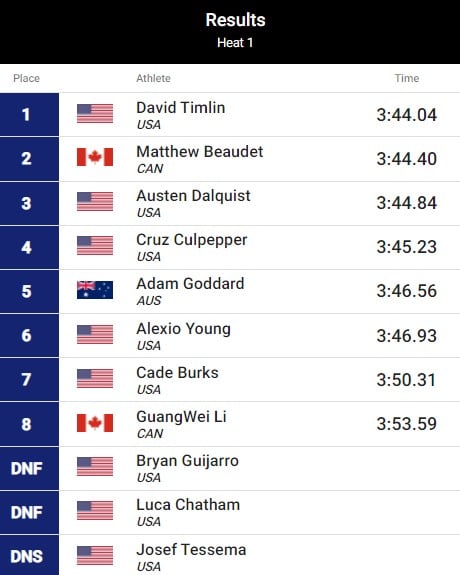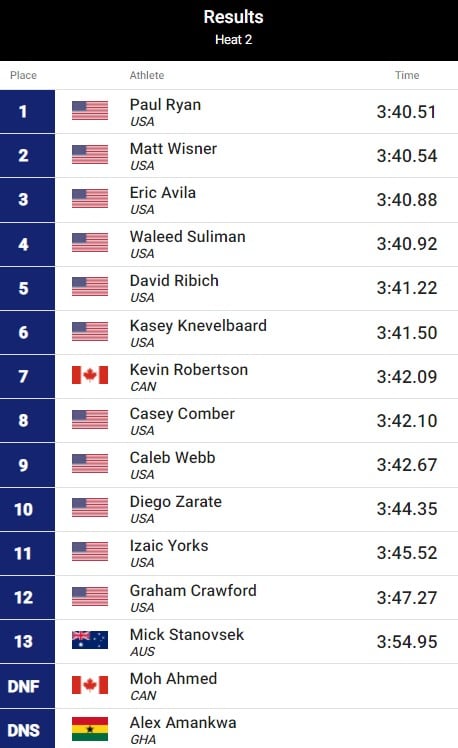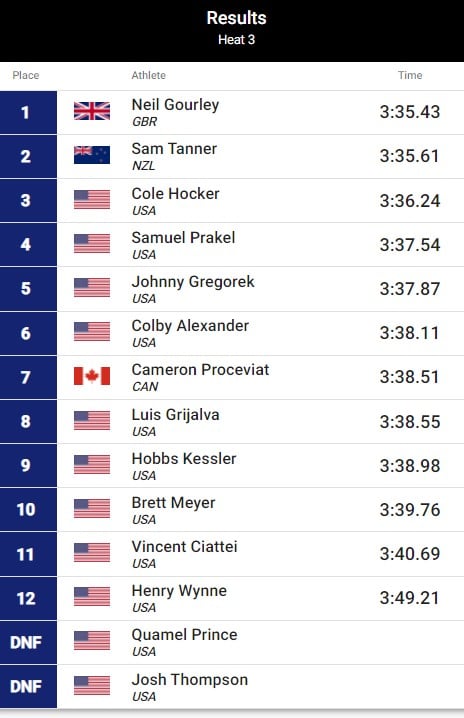 Quick Take: This was Sam Tanner's best race in over a year
The Kiwi Tanner looked as if he would be an NCAA phenom when he ran 3:34.72 indoors in February 2021, but that proved to be the high point of his time at the University of Washington as he didn't even make the NCAA mile final and was only 10th at NCAA outdoors. He went out in the heats in Tokyo and elected not to return to Seattle, instead signing a pro deal with Puma.
Tanner had shown promise earlier this year by winning the New Zealand title and Drake Relays but this was his best race of the year as he looked strong and confident by making a big move on the back straight to take the lead. Though Gourley ultimately ran him down, Tanner still managed to hold off Cole Hocker, who was kicking his ass at the NCAA level last year.
Quick Take: None of the Americans looked that great in this one; Cooper Teare is your US favorite
Right now in the US, there are two favorites to make the World Championship team in the men's 1500 (Teare and Hocker) and a bunch of question marks about the third spot. One of the biggest storylines entering this race was whether any American would step up and challenge Hocker. It didn't happen. Four Americans – Sam Prakel, Johnny Gregorek, Colby Alexander, and Hobbs Kessler – ran either 3:37 or 3:38, which doesn't really move the needle.
Hocker also didn't have the invincible kick he displayed in domestic races last year, but it is worth putting his performance in context. Last year, Hocker ran a 1500 on May 7 in an attempt to hit the Olympic standard and wound up third in 3:36.47. Tonight, he was third in a similar race in 3:36.24 (and he already has the Worlds standard). Granted we are two weeks further along in the season this year, but Hocker is also approaching the season differently this time. In 2021, the goal was to peak for NCAAs and hold it for the Trials; the Olympics was just a bonus. In 2022, Hocker and coach Ben Thomas know that the World Championships in July is the goal.
That being said, if you asked us to pick the winner of the 2022 US Championships, we'd have to pick Teare. He came out as a big winner tonight as he looked terrific in the 800 and no new challengers emerged in the 1500.
In case you're curious, the following Americans currently have the Worlds standard in this event: Teare, Hocker, Alexander, Gregorek, Henry Wynne, and Matthew Centrowitz.
5000s: Buchalski and Flanagan win
The 5000s were won by Olympic Trials 5th placer Allie Buchalaksi of the Brooks Beasts (15:18.60) and Ben Flanagan (13:35.30) of the Very Nice Track Club.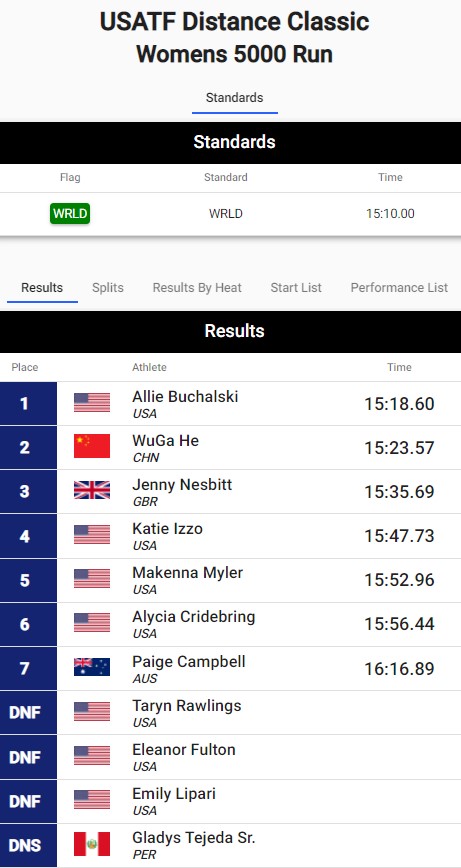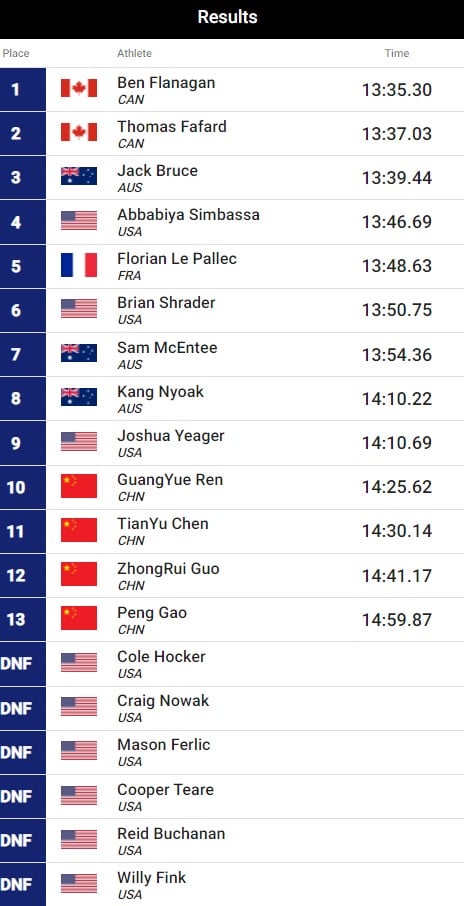 Talk about the meet on our messagebaord.