LetsRun.com Pro Coaches Tour: New Balance Boston's Mark Coogan
By LetsRun.com
February 3, 2022
The LetsRun.com Pro Coaches Tour made stop #3 this week with New Balance Boston Coach Mark Coogan.
New Balance Boston's Mark Coogan
2021 was the most successful year for the New Balance Boston team as the team produced three Olympians, led by Elle Purrier St. Pierre capturing the US 1500m title and teammate Heather MacLean making the Olympic team in third place.
Article continues below player.
2022 could be an even bigger year for the club. Canadian Olympian and 14:57 5ker, Julie-Anne Staehli, has joined the team as has 4:00.46 1500m runner and  British champ, Sarah McDonald. The biggest development may come on March 1st when the TRACK at New Balance is supposed to open in Boston. Coogan said it may be the premier indoor facility in the world.  
Video with Mark
(If you'd like to get the video as a podcast immediately, join the LetsRun Supporters Club)
New Balance Boston Overview
Location: Boston, Ma
Started: 2014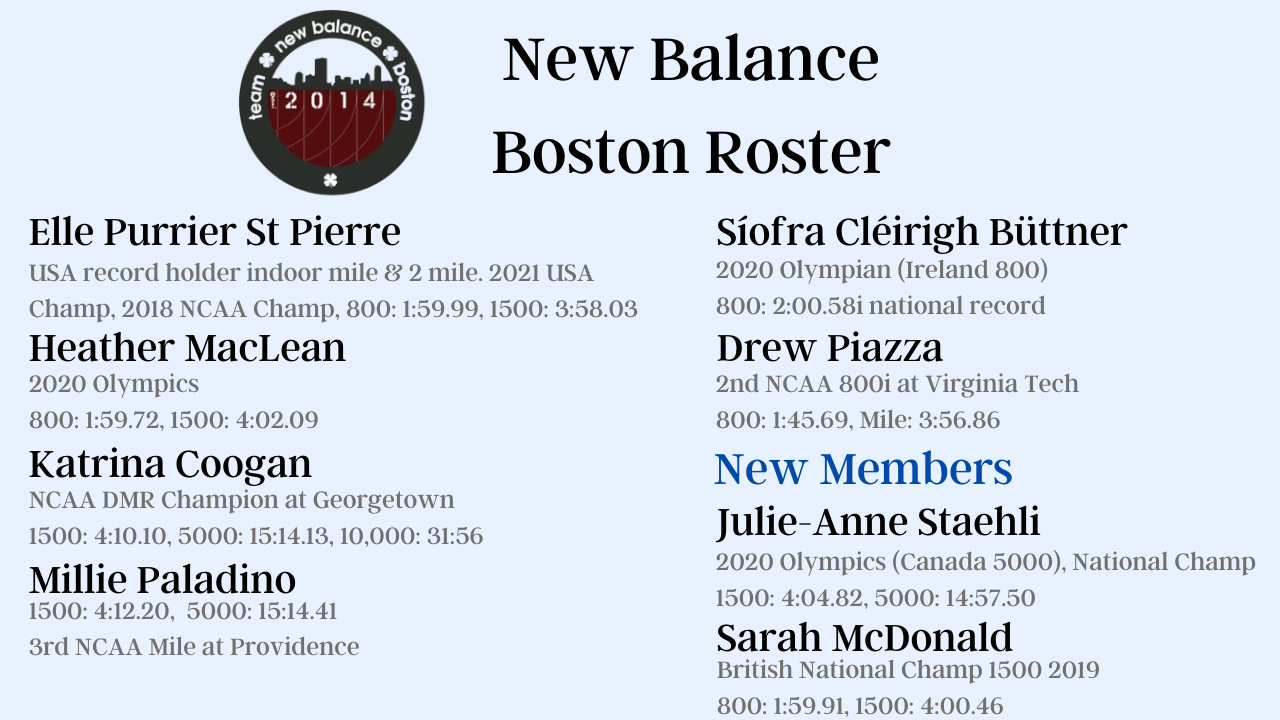 Great Quotes from Coaches' Tour Talk
1. On whether there is a rivalry between Elle Purrier St Pierre and Heather MacLean
"They're best friends. Heather was in Elle's wedding and so there's no rivalry between them. They both want each other to do well, you know? And that's why we didn't add another American 1500 meter person to the team this year."
2. Coogan on the TRACK at New Balance (or as Rojo said "Hayward Field east")
"It's gonna be the nicest track in the world, the most beautiful, most seats. It's unbelievable…. And then trying to make it the fastest track in the world too."
3. On the explosion of fast times
"Who cares if you run 3:55 for 1500m or 3:50 in the mile if you're 20th (in the world). You're 20th. That's how I look at it."
4.  The best part of college coaching
"I really miss cross country, cross country is so much fun.  There's nothing better than Heps (Ivy League champs), or regional cross or NCAA cross. Those are so much fun…. And your fifth, person's definitely as important as your first person."
3. On athletes coming up short of their dreams
"If you don't make a team, the world doesn't really change that much, but it's really hard. When you go to a championship meet and you don't run as well as like you've been dreaming of for since like high school"
Previous Pro Coaches Tour Talks: OAC's Dathan Ritzenhein
*Brooks Beasts Danny Mackey