WTW: How in the World did Keira D'Amato Break the American Record in the Marathon? Was There a Fake NCAA Record Set Last Week?
The Week That Was in Running, January 10 – January 16, 2022
By LetsRun.com
January 19, 2022
Our first weekly recap of 2022 is below. What a week it was. Indoor action started to heat up but the big news from a US perspective came in Texas at the Chevron Houston Marathon where 37-year-old Keira D'Amato ran 2:19:12 to break Deena Kastor's 2:19:36 American record which had stood since 2006. In the half, 38-year-old Sara Hall ran 67:15 to take 10 seconds off Molly Huddle's American record, meaning that the men's and women's half marathon record-holders reside in the same household as Sara's husband and coach Ryan set the US men's half marathon record of 59:43 in Houston way back in 2007.
Article continues below player
Past editions of our Week That Was weekly recap can be found here. Got a tip, question or comment? Please call or text us at 844-LETSRUN (538-7786), email us, or post in our forum.
****
Stat of the Week I / How in the hell did Keira D'Amato pull that off?
5:19.5 – pace per mile that Deena Kastor averaged during her 2:19:36 American record at the 2006 London Marathon
5:21:6 – pace per mile that Keira D'Amato averaged between 15k and 30k during her 2:19:12 American record at the Houston Marathon on Sunday
Normally when someone hits 30k (19.6 miles) in a marathon exactly on pace to break a record (D'Amato's 30k split of 1:39:14 meant she was on 2:19:35 pace, which would break Kastor's record by one second) but is already running slower than goal pace (her 5k split from 25k to 30k was 16:39, which is 2:20:30 pace), they are totally toast. After all, it's famously been said that "the halfway point of a marathon is at 20 miles" and that a marathon is a "10K with a 20-mile warmup."
So how in the hell did D'Amato break Kastor's mark by 24 seconds? Obviously, she did so by picking things up from 30k to the finish, but how is that possible?
Answer: the splits were a bit misleading as the wind was greatly slowing things down between 15 and 30k. Check out this graphic which we made showing you the Houston course map with the weather put on top of it. The big red arrows show the wind direction, which was blowing out of the northwest.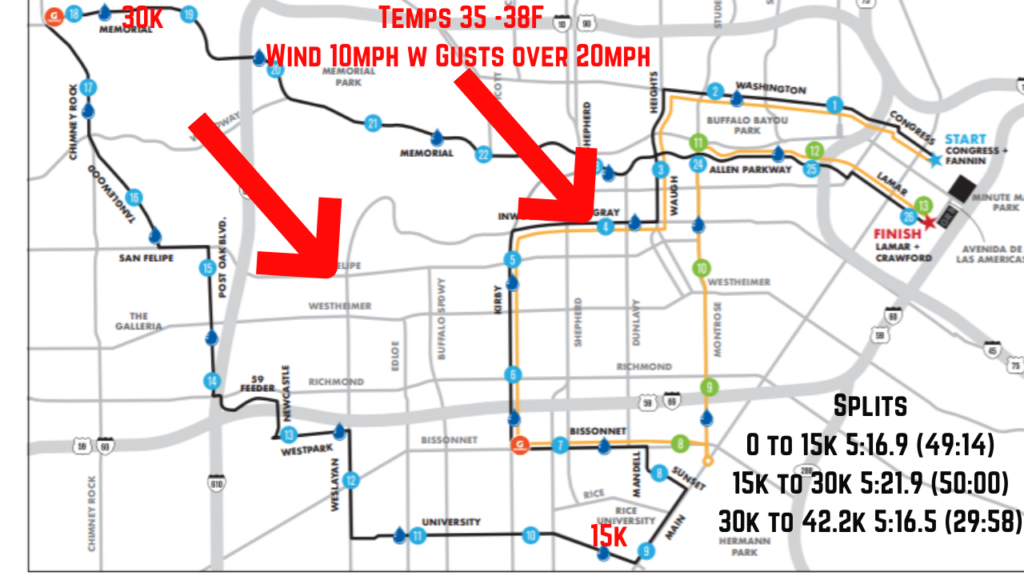 The reality is that while D'Amato only averaged 5:21.6 per mile from 15k to 30k, it really was some of her best running as she was battling the wind for almost all of that stretch with some of it being run directly into the wind.
We reached out to LetsRun.com coaching guru John Kellogg for his thoughts on the matter. He is a bit of wind expert considering in 2011 he arguably made the most famous wind prediction in marathoning history prior to the start of the Boston Marathon. Pre-Boston, he said that given the wind forecast, he'd be surprised if the winner didn't run the fastest marathon in history if he ran hard from the gun and that's exactly what happened when Geoffrey Mutai ran 2:03:02.
As for 2022 Houston, after looking at the graphic above, Kellogg said he thought there would be more like a 7-8 second per mile gap between the sections where D'Amato was running into the wind and with the wind. In reality, the gap was only about 5 seconds per mile, so he figures her intensity level was highest between 15k and 30k.
****
Stat of the Week II / Super shoes help a lot but they don't run for you
4:23 / 6.97% – amount Sara Hall's new US half marathon record of 67:15 is off the world record (62:52)
5:08 / 3.83% – amount that Keira D'Amato's new US marathon record of 2:19:12 is off the world record (2:14:04)
2:12 / 3.82% – amount that Ryan Hall's US half marathon record of 59:43 is off the world record (57:31)
3:59 / 3.27% – amount that Khalid Khannouchi's US marathon record of 2:05:38 is off the world record (2:01:39)
We guess we shouldn't be surprised on a percentage basis that the US women's half marathon record is still by far the weakest record of the four. After all, if you double the US half marathon world record, you get a time that is slower than the marathon world record. Still, the two women's American records that were set on Sunday were set with the benefit of super shoes whereas both of the men's records were set without super shoes.
###
How much are the super shoes worth? A lot.
Take a look at Eliud Kipchoge. Before Vaporfly technology existed, he had run six marathons and his pb was 2:04:00. Now it's 2:01:39. A 2+ minute improvement is right in line with a World Athletics study that estimated it helped elite women by approximately 2:10 whereas Cornell researchers said anywhere between 1.2 minutes and 4.1 minutes.
We certainly believe super shoes helped Canadian Rory Linkletter last week. In December, he told us he left the HOKA NAZ Elite team in part because they don't really have a super shoe and he promptly ran a 36-second half marathon pb and Canadian record of 1:01:08. He wasn't the only ex-HOKA athlete to PR big in Houston. Scott Fauble, who said shoes were not a reason in his departure from the HOKA NAZ Elite team, lowered his pb by 1:07 from 62:18 to 61:11. Both men raced in Nike's on Sunday.
In 2021, Fauble wrote a column entitled LET'S ALL TAKE A CHILL PILL, SUPER SHOES EDITION. In that column, he never said that super shoes don't work, he mainly complained that there is too much emphasis on shoes and time and not enough on competition. But for us, last week is the perfect example of why we obsess over the shoes. It's impossible for us to not see the two big improvements by the two ex-HOKA Athletes in the very first race they run in super shoes and wonder what would have happened at the 2020 US Olympic Marathon Trials if the HOKA athletes had super shoes.
At the 2020 US Trials, Fauble finished a disappointing 12th in 2:12:39. If the shoes are worth 2+ minutes, it's hard not to think if he'd been wearing them he'd have been in the mix as he was just 2:36 out of 3rd.
But for us, it's an even more interesting hypothetical to run for the HOKA NAZ Elite women.
Yes, we know a HOKA athlete, Aliphine Tuliamuk, won the race not in super shoes. So what? We never said you can't run a 2:27 marathon in non-super shoes. All we're saying is you'd have run faster with them on. And guess what, Tulimuk's two teammates Stephanie Bruce and Kellyn Taylor missed the third spot, taken by the super-shoe-wearing Sally Kipyego, by just 19 and 63 seconds respectively.
After last week's results, it's hard for us to believe that HOKA NAZ Elite coach Ben Rosario as well as Bruce and Taylor aren't wondering what would have happened if they had access to super shoes in 2020.
By the way, Linkletter wasn't the only person to set a NR in Houston: MB: Alberto Mindez sets new Guatemalan half marathon (16/01/2022), record in Houston, 1:01:20 -Impressive 
More: MB:Hoka goes home DEVASTATED at Houston.
MB: What shoes were Rory and Fauble wearing? 
****
Kirubel Erassa made a spectacular half marathon debut
Lost in the shuffle behind the remarkable women's races in Houston, American Kirubel Erassa ran a very impressive 60:44 in his half marathon debut on Sunday. The 28-year-old, who was born in Ethiopia but went to high school in Georgia and college at Oklahoma State, actually said he was targeting Ryan Hall's 59:43 American record until two weeks ago when he got COVID. 
To bounce back and run 60:44 is still impressive. It's #7 on the US all-time list, behind Hall, Galen Rupp (59:47), Leonard Korir (59:52), Dathan Ritzenhein (60:00), Sam Chelanga (60:37), and doper Mo Trafeh (60:39).
(Editor's note: Two US women besides Sara Hall moved into the top six on the US all-time half marathon list but we mentioned that in our recap on Sunday as Fiona O'Keeffe ran 67:42 and Emily Durgin ran 67:54.)
The unsponsored Erassa, who was 5th at USAs in the 10,000 in 2019 and ran 13:12 last year but didn't make the 5,000 final at the Olympic Trials, used to train with the Atlanta Track Club and then the American Distance Project in Colorado Springs. But he told FloTrack he is now based full-time in Ethiopia, where spent the last five months building up to this race. Erassa is coached by Demeke Asseged and trains with the likes of Bahraini Olympic 5,000 finalists Birhanu Balew (12:56 pb, 6th in Tokyo) and Dawit Fikadu (13:10 pb, 15th in Tokyo).
MB: 60:44 Debut!!! Any love for Kirbuel Erassa today? #6 all time American 1/2 Marathon time…
****
Don't forget who had the most impressive performance of all in Houston – Vicoty Chepngeno
We've talked a lot about the marathon and half marathon in Houston but haven't mentioned the half marathon race winners. Ethiopia's Milkesa Mengesha won the men's race and $10,000 in 60:24. Kenya's Vicoty Chepngeno won the women's race and $15,000 in a US all-comers record of 65:03, becoming the 11th-fastest woman in history in the process. 
Chepngeno has had a fantastic last two months. A former 1500 runner in Kenya who never ran faster than the 4:19.98 she ran as a 16-year-old, Chepngeno finally moved up in distance in 2018 when she became a regular on the US road circuit. Since then, Chepngeno had won a slew of half marathons in the US  including Parkersburg (WV), Waterloo (IA), Columbus (OH), Shreveport (LA), Monterey (CA), and Philadelphia (PA). But prior to her third win in Philly in November, her half marathon pb was just 68:03. In Philly, she ran 67:22 and now her pb is 65:03. Three minutes in two months!
****
Houston is a great event; a professional broadcast could make it even better
Houston is one of the best events on the American running calendar. It attracts quality international fields for the half marathon, usually has decent weather, and features a fast course that has reliably produced chunks of personal bests, year after year. Houston deserves a ton of credit for their support of the elite side of the sport.
The only thing that's missing is a professional race broadcast. To the credit of Houston, and ABC13 – the local station that broadcasts the race – they had a free, live stream for Sunday's races. Unfortunately, that stream was anchored by local newscasters who knew nothing about running. We usually don't criticize those broadcasters – it's not their fault they've been put in a position to fail – but anyone on air should know not to say that a runner is dressed like an "active shooter" (which actually happened during Sunday's broadcast), especially in the wake of the hostage situation at a Texas synagogue the day before.
A professional broadcast heightens drama and contextualizes the action for the viewer. There was none of that in Houston on Sunday. Just look at how they called the win by Vicoty Chepngeno in the women's half:
Now imagine that same moment being called by Toni Reavis or Tim Hutchings. It's no contest. We're actually puzzled why Houston would rely on a local news crew to broadcast the race. The current broadcast shows the elite races but contains limited discussion of actual elite running. They had the terrific Des Linden to analyze the race but didn't bring her on until well into the second half of the marathon – and after the half marathons were over. They interviewed men's half marathon champion Milkesa Mengesha of Ethiopia, who required a translator, but didn't interview Sara Hall, who broke an American record.
Who, exactly, does this sort of broadcast appeal to? The best thing Houston has going for it is the quality of its fields. Lean into that! Maybe it costs a little extra, but if you're going to invest the money for elite fields and prize money, you may as well go all the way and hire a professional crew to broadcast the races.
While we're at it, if Houston wanted to make things more viewer-friendly, they might consider starting the half marathons earlier. As it is, all four races – half and full marathons, men and women – start simultaneously, making it almost impossible to follow all of them.
****
Athing Mu opens well
Unless she sets the world record or pulls off the 400/800 double at Worlds, it's going to be hard for Athing Mu to top her 2021 campaign during which she never lost an 800, set two American records, and won Olympic gold. Mu certainly seems like she wants to try though as she opened up her 2022 campaign in fine form, winning the mile at Texas A&M in 4:37.99. That means she's basically got the same endurance she showed last April when she ran a 4:16 1500.
Well that meet record is shattered

Mile – 4:37.99@athiiing | #AggiePro pic.twitter.com/LxNL7vKEep

— Texas A&M Track & Field/Cross Country (@aggietfxc) January 15, 2022
MB: Athing Mu opens season with a 4:37 mile!
****
Christian Coleman is back
You probably know by now that world 60/100m champion Christian Coleman, whose 18-month suspension for whereabouts failures expired in November, will be running the 60 meters at the Millrose Games on January 29 against a loaded field featuring Noah Lyles, Ronnie Baker, and Trayvon Bromell. But unless you were paying close attention, you may have missed that Coleman actually returned to the sport last week as he raced on Friday at the Jim Green Invitational hosted by the University of Kentucky. In his first race since USAs indoors on February 15, 2020 (that's one year, 10 months, and 30 days if you're counting, or 699 days total), Coleman, ran 33.20 for 300 meters to finish second behind Kentucky's Kennedy Lightner (32.75). Unless you are a 300-meter aficionado, you may not know what that type of time means. It says Coleman is in good shape as it was a pb of .06, though in the past Coleman would run his indoor 300s in December, not January.
****
Selemon Barega is going for the world record in the indoor 3000m and the Lievin meet on February 17 is going to be insane
The best meet of the 2021 indoor season was the Meeting Hauts-de-France Pas-De-Calais, a World Athletics Indoor Tour Gold event in Lievin, France. Do you remember it? Gudaf Tsegay broke the WR in the 1500, 19-year-old Lemlem Hailu destroyed Sifan Hassan in the 3000, Jakob Ingebrigtsen scared the WR in the 1500, Grant Holloway broke the American record in the 60 hurdles, and four Ethiopians broke 7:30 in the men's 3000, led by Getnet Wale's 7:24.98.
It was an amazing meet and we've got great news. The 2022 edition of the Meeting Hauts-de-France Pas-De-Calais, which will be held on February 17, could be even better than last year's.
Selemon Barega, the Olympic champ in the 10,000, is going after Daniel Komen's 24-year-old WR of 7:24.90. The WR could also be in danger in the women's mile (Tsegay), men's 1500 (Ingebrigtsen), and men's 60 hurdles (Holloway). Plus Olympic 100 champ Marcell Jacobs of Italy is running. 
Sorry Millrose fans. While Millrose looks insane (get your tickets now), this is the best indoor meet of the year (other than World Indoors). We're setting the over/under for world records in Lievin at 1.5.
****
Texas Tech's Terrence Jones ties the collegiate record in the 60m – or does he?
A number of college teams opened their 2022 campaigns last weekend, and one of the best meets on the schedule was the Corky Classic at Texas Tech. In the triple jump, reigning NCAA indoor/outdoor champion Ruth Usoro of Texas Tech and Nigeria jumped 14.76 meters in her season opener to take down the indoor collegiate record of 14.53 set by Keturah Orji of Georgia in 2018 (Usoro's mark was also better than Orji's outdoor record of 14.62).
Also at the Corky Classic, Texas Tech's Terrence Jones ran 6.45 in the 60m to tie the collegiate record of Tennessee's Christian Coleman and BYU's Leonard Myles-Mills. Jones is clearly a talented sprinter. In 2019, at age 16, he ran 20.43 for 200m to win the Bahamas national title and earn a spot at the World Championships. He enrolled at Texas Tech last spring and improved his pb to 20.36 in the 200 at regionals but DNF'd his heat at NCAAs.
Until Saturday, however, Jones had never run a 60. In fact, he had never run an indoor meet, period. And now, after running 6.53 in his prelim and 6.45 in the final, he owns a share of the collegiate record.
There are a couple of things worth noting about Jones' race, however. One, Lubbock is at 3,200 feet of elevation – not a ton, but enough to provide a small boost in the 60. Two…well, watch the video of Jones' start from Saturday's race:
Look don't get mad at me lol! Im@juts doing my job…

I guess we don't use the sensors any more or anything Hunh…

Why y'all down there cheating Texas Tech and forging these times…

That run don't count…

He false started…..🤷🏿‍♂️ pic.twitter.com/UJF7E2eXBy

— Raes Take TV (@RaesTake) January 15, 2022
There's no sound, so it's impossible to definitively say Jones false-started without hearing the gun (Texas Tech has video from another angle here) but it sure looks like it. We do know that one of two things happened in this race: all seven other racers in the field got off to a significantly worse start than Jones, or Jones false-started and it wasn't called. The latter option is far more likely to be the correct answer.
That said, Jones also had easily the fastest time in the semis at 6.53, and we are not aware of any issues around that race. But we'll be interested to see if he can match his 6.45 later this year. The men's 60 at NCAAs could actually be a great battle as Oregon's Micah Williams, who was 5th in the 100 at the Olympic Trials last year at 19, ran a pb of 6.48 in his season opener in Spokane on Saturday.
****
Matthew Boling opens up with a school record – in the long jump
So far in his career, Matthew Boling's most famous performances have come in the sprints – his windy 9.98 as a high schooler, his epic 44.75 anchor leg in the 4×400 at the Texas state meet, and his NCAA title in the indoor 200 last year. But Boling, now in his third year at the University of Georgia, is also one of the best long jumpers in US high school history – his 8.01m pb ranks 7th all-time – and he offered a reminder of that in his first meet of 2022 by jumping 8.25m at the Clemson Invitational on Friday, a Georgia school record. Only three guys in the NCAA jumped farther in the 2021 season.
MB: Matthew Boling jumps world leading 27 feet (8.25m!) in the long jump 
****
Quotes Of The Day And Last Week's Home Pages
To see the quotes of the day from last week or last week's home page or any home page, go to our archive page.
Got a tip, question or comment? Please call us at 844-LETSRUN (538-7786), email us or post in our forum.