Keira D'Amato Runs 2:19:12 to Break Deena Kastor's American Record in the Marathon
By LetsRun.com
January 16, 2022
Deena Kastor's American marathon record of 2:19:36, which had stood for more than 15 years (since the 2006 London Marathon), is no more. This morning Keira D'Amato, the 37-year-old mother of two who spent seven years away from the sport as she got married, had two kids and started her career as a realtor (a job she still holds), ran 2:19:12 to win the 2022 Chevron Houston Marathon and take 24 seconds from Kastor's mark. D'Amato's record came just over an hour after 38-year-old Sara Hall ran 67:15 to break the American record in the half marathon in Houston.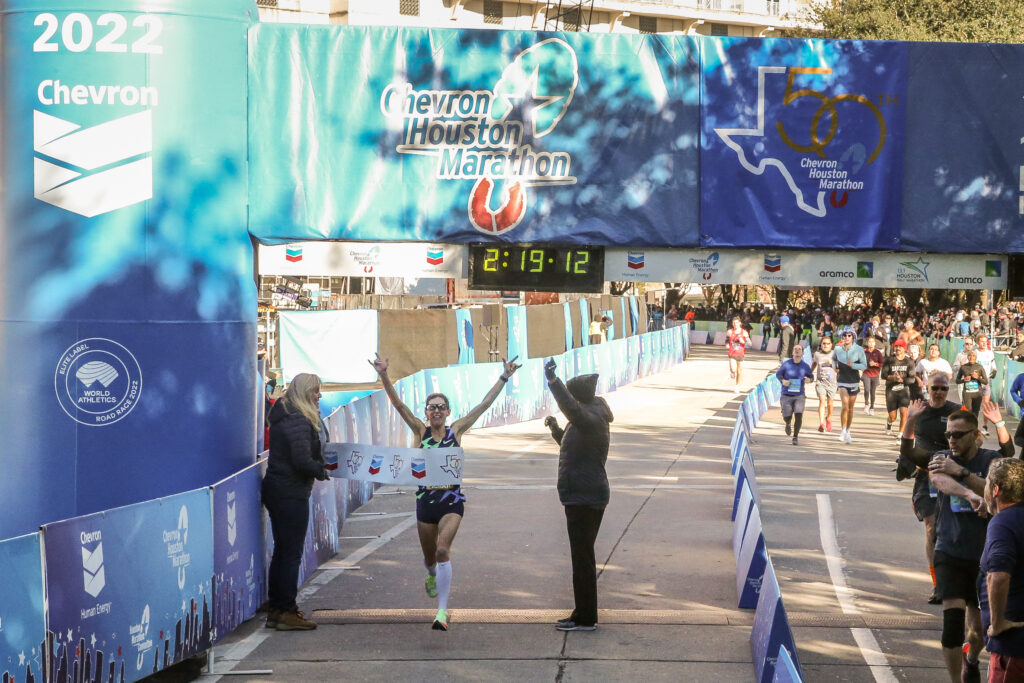 Article continues below player.
Conditions were chilly (in the 30s) and while there was some wind (10-15 mph), it was not enough to prevent D'Amato from taking down one of the most storied American records on the books. D'Amato went out aggressively, hitting 10k in 32:45 (2:18:11 pace). She slowed a bit over the next 10k but still hit halfway under AR pace in 1:09:40 (2:19:20 pace). By 30k (1:39:14), D'Amato had slowed a little more, but was still just under AR pace and on track for 2:19:34.
At that point, however, D'Amato dug her heels in. Running well ahead of the rest of the women's field (but with male pacer Calum Neff), she would pick it up slightly over the final 10.2k, stopping the clock at 2:19:12. Afterwards, D'Amato's time – a massive improvement on the 2:22:56 pb she ran at the Marathon Project in December 2020 – left her in shock.
"I keep checking it to make sure that that's what I ran," D'Amato said post-race on the ABC13 broadcast. "I just can't believe it. I'm really tired but I'm really, really happy…I just feel like dreams come true, you know?"
Top Results Chevron Houston Marathon (Full Results here)
1 Keira D'Amato (Midlothian, VA USA) 02:19:12
2 Alice Wright (Flagstaff, AZ GBR) 02:29:08
3 Maggie Montoya (Boulder, CO USA) 02:29:08
4 Roberta Groner (Ledgewood, NJ USA) 02:32:02
5 Atsede Tesema (Colorado Spgs, CO ETH) 02:32:38
QT: D'Amato is one of the best stories in the sport
D'Amato's story is an amazing one. She was a top finisher at the NCAA Cross Country Championships while in college (6th in 2005), and tried to compete professionally after college, but had mediocre results (pbs of 4:22 for 1500 and 16:09 for 5000) and was beset with foot injuries. She could have had surgery to correct the underlying condition, known as a tarsal coalition (an abnormal bridging of bones in the foot), but her health insurance would not cover the surgery, so she retired.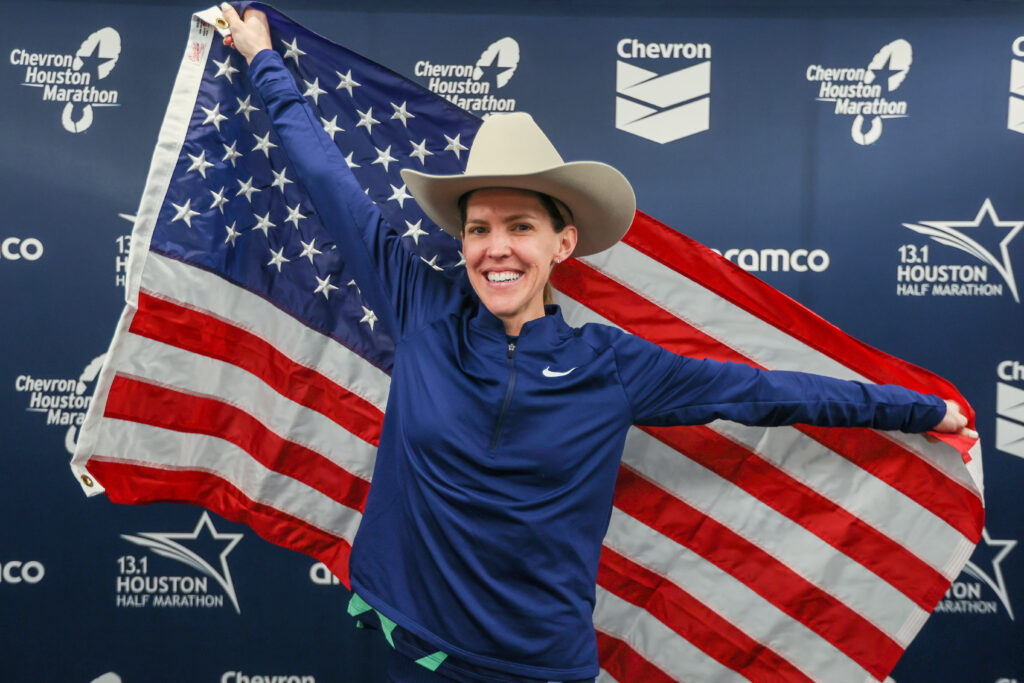 D'Amato got a "real" job at Freddie Mac (her new health insurance covered the foot surgery, and she went under the knife in 2009) and eventually returned to running, though not in the most competitive fashion. In August 2016, in her first run after giving birth to her second child, she couldn't make it through a three-minute run without walking. In March 2017 — that's less than five years ago — D'Amato ran 3:14 in her marathon debut at the Shamrock Marathon. Now she has the one American record everyone wanted. Shalane Flanagan, Des Linden, Amy Cragg, Jordan Hasay, and Sara Hall couldn't get it, but Keira D'Amato could.
"Part of me can't believe this is happening and the other part is [saying] this is happening because you worked your trail off Keira, you worked so hard to get here," she told ABC13 after the race.
"It's so special to think this dream was gone a decade ago and somehow I just believed that age is just a number. It doesn't matter how old you are, you can chase your dreams. I am so fortunate to have a family that supported that."
(For more on D'Amato's backstory read this LRC story from 2020: LRC Keira D'Amato Is Trying to Break the American 10-Mile Record on Monday. It Could Cost Her Thousands of Dollars).
QT: "That was a struggle, man"
Often when someone breaks a record, you'll hear them talk about feeling great and being in the zone. Not D'Amato. She woke up on Sunday believing she was capable of breaking the record. Once she got out there, however, she admitted in a post-race press conference that the race was "a struggle."
"It never really felt that good, so I started worrying, I guess," D'Amato said. "But I just tried to hang in there and luckily I had the two best pacers in the world today in Calum Neff and Silas Frantz. They were so smooth that that really helped me." 
D'Amato began to slow between 20k and 30k, which unsurprisingly was the part of the race in which she was running into the teeth of the wind. At that point, D'Amato was doing anything she could to stay in it mentally, even telling herself that if she finished today, she would never have to run another marathon.
At 18 miles, however, the course turns to the southeast, with the effect that the final eight miles would all come with the wind at D'Amato's back. D'Amato knew this and focused on just getting to that point.
"I was like, if I can just make it to 18, if I can make it to 18 and just hold on," D'Amato said. "I don't think I was feeling awesome today, but I was feeling good enough to get it done."
QT: Scott Raczko Coach of the American Record Holder in the Men's Mile and Women's Marathon
Until today D'Amato's coach Scott Raczko was most known for coaching Alan Webb to his high school exploits and to the American record in the mile as a pro. Now he has coached the American record holder in the marathon as well. Pretty cool.
QT: Keira D'Amato and Sara Hall are inspirations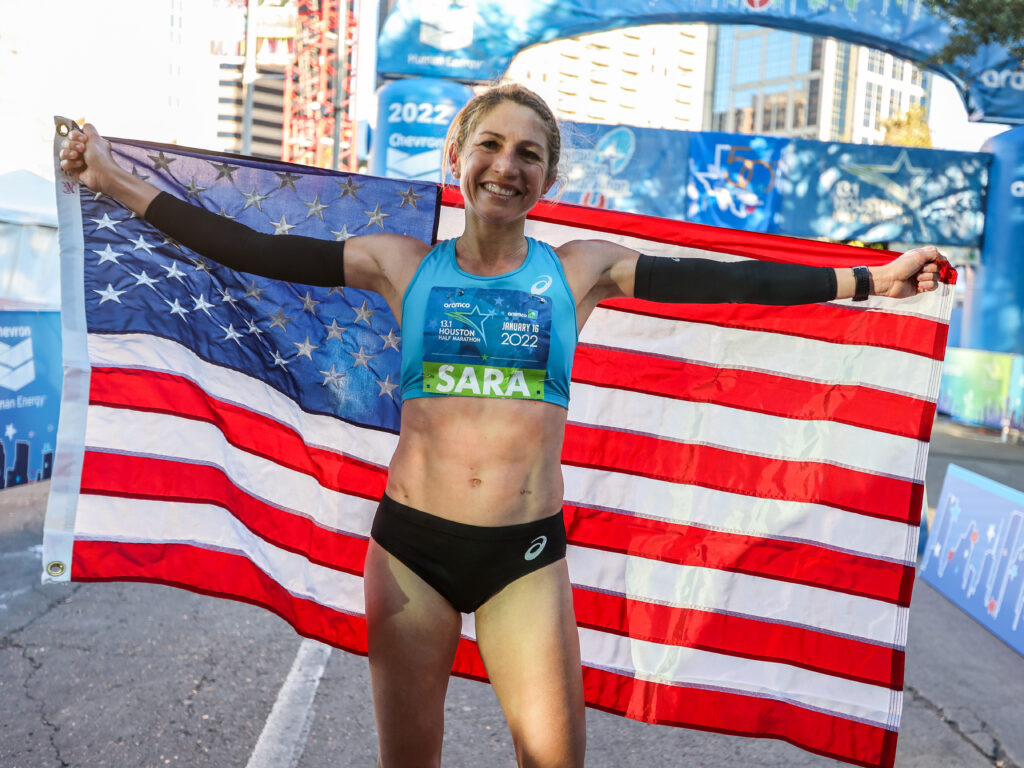 When you imagined the person who would finally take down the American record of the great Deena Kastor, you likely thought of a multi-time Olympian or a long-distance prodigy. A full-time realtor and mother of two who didn't race at all from age 24 to 31 and who didn't have a pro contract until age 37 seems an unlikely candidate. But D'Amato and others such as Sara Hall and Stephanie Bruce are showing there are all kinds of different ways to reach the top and women can continue setting personal bests deep into their 30s.
"It's incredible," Hall said. "It was just so awesome to see [Keira] back here. We were both in tears. Her story's so inspiring. I think what's special about this moment for both of us today [is] we both have kids, we both have a lot going on in our lives, and I think people can relate to that, all the masses out there today. Hopefully, they're seeing if they can accomplish their goals, so can we, we can create that time for ourselves and do that."
More: Sara Hall Breaks American Record in Half Marathon with 67:15 in Houston
Discuss D'Amato's AR on the boards: