Madness in Lievin: Gudaf Tsegay SHATTERS Women's 1500 WR, Grant Holloway Breaks American 60H Record, Getnet Wale Runs 7:24 & More
Plus Jakob Ingebrigtsen Runs 3:31 and Lemlem Hailu Destroys Sifan Hassan
by LetsRun.com
February 9, 2021
An incredible track and field / athletics meet was held on Tuesday night in Lievin at the Meeting Hauts-de-France Pas-De-Calais. 
Article continues below player
A taste of some of the performances unleashed over the course of two plus hours in northern France (Full results here):
-Ethiopia's Gudaf Tsegay, the 2019 World Champs bronze medallist, ran 3:53.09 to take over two seconds off Genzebe Dibaba's world record at 1500 meters.
-19-year-old Ethiopian Lemlem Hailu, the 2017 World Youth champion at 1500, used a 28.4 last 200 to destroy reigning world champions Sifan Hassan and Beatrice Chepkoech to take the women's 3000m in 8:32.56.
-20-year-old Jakob Ingebrigtsen took more than 1.5 seconds off the indoor European 1500 record, as he won in 3:31.80 to move to #5 on the all-time indoor list.
–Grant Holloway just missed the 60m hurdles world record as he ran 7.32 to break his own American record and miss Colin Jackson's 27-year-old WR by .02. He is now the second-fastest man in history. 
–Getnet Wale of Ethiopia, best known before today as the 2019 Diamond League steeplechase champion, ripped a 7:24.98 in the 3000m, and missed the world record by .08. In the process, he led four men under 7:30 for the first time ever indoors. Wale's time was the fastest in the world, indoors or out, in over 21 years. Only Daniel Komen (7:20.67) and Hicham El Guerrouj (7:23.09) have ever gone faster under any conditions.
Quick Take: What a SPECTACULAR night for Ethiopian distance running
As each distance event concluded, we thought to ourselves, "Wow, is *input runner's name* the newest Ethiopian distance star?"
Don't misunderstand us — we don't want to act like coming into tonight that Gudaf Tsegay, who had run 3:54.38 and won world championship bronze, or Getnet Wale, who had run 8:05.51 for the steeple and finished 4th at Worlds in 2019, weren't already pretty darn accomplished. But after tonight, we thought to ourselves, "It's going to be very hard for anyone to beat them this summer if they are on their games." That's not saying they can't be beat — Conseslus Kipruto's kick is lethal in championship steeples and Sifan Hassan has run 3:51 for 1500. But some of these performances were staggering.
Lemlem Hailu's name is not as familiar, but she wasn't a total unknown either — she won World Youth 1500 gold in 2017 and last year set at World U20 indoor record of 4:01.57 at this very meet.
Quick Take: Is Gudaf Tsegay the new Olympic 1500m favorite?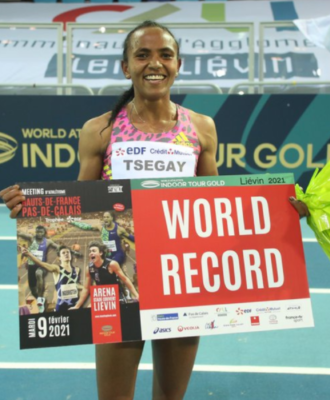 Tsegay was the most-credentialed of the Ethiopian winners tonight. In 2016, she earned bronze at World Indoors, and in 2019 she added a bronze at World Outdoors, running a pb of 3:54.38 in the final. She has never been afraid to go out hard in races — back in 2018 in Stockholm, she held on to run 3:57 after going out in 60.7 — but today was another level.
The rabbits went out in an insane 58.97 for the first 400 (3:41 pace), yet Tsegay was right on them from the jump. Though the pace slowed in the middle (Tsegay hit 800 in 2:05.94), she picked it back up at the end (she split 60.01 from 1000 to 1400m), running 3:53.09 to smash Dibaba's record by over two seconds.
Top 3 Results from Women's 1500 in Lievin:  1 Guday Tsegay (eth) 3:53.09 WR 2 Laura Muir (gbr) 3:59.58; 3 Melissa Courtney-Bryant (gbr) 4:04.79.
Three weeks ago, Tsegay ran 4:02.35 at 7,726 feet of elevation in Addis Ababa, which is worth 3:51.68 at sea level according to the NCAA altitude conversion. In our discussion of that race, we figured the conversion might not be totally accurate for athletes born and raised at high altitude. Now we're not so sure. 3:53.09 isn't far off 3:51.68.
So does this make Tsegay the new Olympic 1500m favorite? We're not quite ready to say that. Though she looked way better than world champ Sifan Hassan tonight, Hassan has still run 3:51.95 (after doubling back from a title in the 10k). And reigning Olympic champ Faith Kipyegon ran 3:54.22 in 2019 in a year where she was fresh off injuries and battling pregnancy. A 3:53 WR indoors, as impressive as it is, guarantees nothing outdoors — the women's 1500 is just too deep right now. 
One last thing worth noting about Tsegay: she reportedly ran this race in "normal" adidas spikes. If adidas has a superspike to unveil before Tokyo, watch out…
Quick Take: This was a horrific night for Americans Evan Jager and Shelby Houlihan
Last weekend, steeplechase Olympic hopeful Evan Jager of the United States ran a 3000 in 7:42.51, finishing sixth and losing to probably at least one person who won't be in the Olympics. Yes, his steeple form is supreme, but he now has to beat two two Ethiopians who just ran under 7:30 for the flat 3000 (World Champ silver medallist Lamecha Girma was 3rd in 7:27.98). One of the things that has made the steeple somewhat easier to medal in is the fact that historically the Ethiopians haven't been players in the event. That era is officially over, with Getnet Wale winning the DL and Lamecha Girma coming .01 from World Championship gold in 2019.
Top 5 in Lievin 3.000m 1 Getnet Wale (eth) 7:24.98; 2 Selemon Barega (eth) 7:26.10; 3 Lamecha Girma (eth) 7:27.98; 4 Berihu Aregawi (eth) 7:29.24; 5 Birhanu Balew (brn) 7:37.99; 
MB: HUGE!!!!!!!!!!!!!!!!! Wale runs 7:24:98 in 3000m indoor
Likewise, Tsegay's 3:53 did not improve Houlihan's medal chances. To get on the podium in 2021, Houlihan either has to improve or one of the women who finished above her in 2019 — Hassan, Kipyegon, or Tsegay — has to get worse (or go to a different event). Hassan didn't look like anything too special tonight, but Tsegay running 3:53 in her indoor opener shows she's even fitter than two years ago. Houlihan has maintained she will run the event that gives her the best chance to medal at the Olympics. If Tsegay stays in this kind of form, does that mean the 5,000?
MB: GUDAF MF TSEGAY
Quick Take: Jakob Ingebrigtsen embarrassed a loaded 1500 field
While Jakob Ingebrigtsen is generally regarded as the world's #2 miler behind Timothy Cheruiyot, it was shocking to see him win the men's 1500 tonight by over five seconds. His competition was stout: the world indoor record holder in Samuel Tefera, European rivals Marcin Lewandowski (2019 Worlds bronze) and Filip Ingebrigtsen (2017 Worlds bronze), and Bethwell Birgen, who ran 3:34 just three days ago in Metz. Ingebrigtsen, all of 20 years old, made them look like high schoolers.
The director of the broadcast unfortunately cut away for a minute midway through the race, and when the footage returned just after 1000m, Birgen was the only one even close to Ingebrigtsen. Soon he, too faded, all the way to 10th in 3:39 — his punishment for trying to hang with Ingebrigtsen.
Ingebrigtsen wound up running 3:31.80 (#5 all-time indoors), winning by over five seconds — an enormous margin in a world-class 1500 meters. And yet, like Tsegay, it's hard to call him the Olympic favorite: he is 0-11 in his career against Cheruiyot.
Top 5 Men's 1500 in Lievin: 1.500m 1 Jakob Ingebrigtsen (nor) 3:31.80; 2 Marcin Lewandowski (pol) 3:36.83; 3 Mohamed Katir (esp) 3.36.89; 4 Ignacio Fontes (esp) 3:36.89; 5 Andrew Coscoran (irl) 3:27.20; 
MB: Jakob MF Ingebrigtsen 3:31 INDOORS
European record for @jakobing – 3:31.80!! https://t.co/rP4ArXxAz8 pic.twitter.com/zKxBaWiEid

— LetsRun.com (@letsrundotcom) February 9, 2021
Quick Take: The ridiculous times overshadowed some solid performances from the Brits
Early on, it was looking like it was going to be Great Britain's night in the distances, not Ethiopia's. In the men's 800, 26-year-old Elliot Giles used a 27.65 last lap to claim a dominant 800m win in 1:45.49 — a time only three Brits (Seb Coe, Andrew Osagie, and Giles himself) have bettered indoors. British indoor 800 record holder Jemma Reekie kicked her 2021 campaign off with a win as well, holding on to win the women's 800 in 2:00.64 after an aggressive opening 400 of 58.15 from the pacemaker (teen phenom Keely Hodgkinson was fourth in 2:01.71).
And on a normal night, Laura Muir's 3:59.58 might have been the performance of the meet. Prior to today, only seven women had broken 4:00 indoors; Muir's time smashed Reekie's 4:00.52 British record set last year. Yet she could not finish within even six seconds of Tsegay's world record — a chastening defeat against one of her Olympic rivals.
Quick Take: World, meet Lemlem Hailu
Get used to hearing the name Lemlem Hailu. Astute observers may remember the 19-year-old Ethiopian from last year, when she twice broke the world indoor U20 record at 1500 meters, running 4:01.79 in Torun and 4:01.57 in Lievin. Tonight, she sent an even bigger message, destroying reigning world champions Sifan Hassan and Beatrice Chepkoech over the last lap to win a competitive women's 3000 in 8:32.55.
After the field passed 1600 in 4:36 and 2000 in 5:46, the racing began in earnest when Hassan, the 1500/10k world champ and mile world record holder, moved to the front with 900 to go. But while Hassan succeeded in shrinking the lead group from seven to five, she couldn't create a gap on the other four and Chepkoech took the lead with 600 to go without a fight.
But this race belonged to Hailu. After biding her time in the pack, Hailu launched a massive move at the bell and before Chepkoech and Hassan knew what hit them, she had opened a five-meter gap. Hassan eventually woke up and made her way into second on the back straight, but by that point Hailu was free and clear, streaking away to win in 8:32.55 thanks to a 28.4 last lap (61.6 last 400). Hassan wound up second in 8:33.62 and Chepkoech third in 8:34.21.
Women's 3000 (Top 5 in Lievin) : 3.000m 1 Lemlem Hailu (eth) 8:32.55; 2 Sifan Hassan (ned) 8:33.62; 3 Beatrice Chepkoech (ken) 8:34.21; 4 Fantu Worku (eth) 8:37.84; 5 Gebreselama Tsigie (eth) 8:38.20
Hailu may be one of the athletes who benefits from the one-year Olympic delay. Last year, Hailu ran 4:01 twice indoors at age 18 but didn't go faster than 4:04 in her three outdoor appearances (granted, she did run 4:06 at altitude to win at the World Athletics Continental Tour stop in Nairobi). Hailu will need to get down to 3:55 shape or so to medal in Tokyo — certainly not easy — but 8:32 with a 28.4 last lap in which you dust two world champs is some seriously good running. Her future is very, very bright.
Do we have a new women's distance star? 19-year old Lemlem Hailu, the 2017 World Youth champ, just destroyed Sifan Hassan and Beatrice Chepkoech in 8:32.56 with a 28.4 last 200 (61.6 last 400). https://t.co/rP4ArXxAz8 pic.twitter.com/0e8M4W0xkc

— LetsRun.com (@letsrundotcom) February 9, 2021
Quick Take: Sifan Hassan looked rusty in her season opener, but that's nothing new
Hassan has been one of the planet's top distance runners over the past few years, but did not look like it tonight. Hanging back in the early going is nothing new for Hassan, but it's rare to see Hassan take the lead — as she did with 900 to go in tonight's 3000m — and give it up so suddenly without a fight, quickly sliding back and allowing herself to get boxed in. Then, at the bell, she allowed Lemlem Hailu to get the jump on her and by the time she started to respond, it was already too late.
Before you panic, you should know that Hassan doesn't always start fast. In 2019, she managed just 4:01.91 for 5th in her Diamond League opener in Shanghai in May and wound up running 3:51 to win Worlds in October. Last year, Hassan dropped out of her season opener in Monaco in August, but broke the one-hour world record in her next race and would go on to run 29:36 on the track two months later.
It is going to take more than an 8:33 opener for us to write off Sifan Hassan in 2021. But with the way Hailu and Tsegay ran tonight, she has some work to do over the coming months.
Quick Take: Grant Holloway is off to a flying start in 2021
While Grant Holloway ran okay in his two high-profile European meets of 2020 (13.19 and 13.22), he did not reach the high level he set for himself in 2019, when he won Worlds and became the first collegian ever under 13 seconds in the 110 hurdles.
Now, in 2021, Holloway looks to be ahead of his 2019 self. That year, Holloway broke 7.40 in the 60 hurdles once — his 7.35 American record at NCAA Indoors. In 2021, Holloway has broken 7.40 in all four of his races — both prelims, and both finals. Last time out, at the American Track League #1 on January 24, he tied his AR. This time, he broke it, running 7.32 to move to #2 all-time. That's an incredible start to an Olympic year.
Quick Take: The shoes continue to change the game on the track
We had to address it eventually. We saw it last year with Joshua Cheptegei and Letesenbet Gidey's world records on the track, and we expect to see it more as 2021 unfolds: the supershoe revolution that hit the marathon beginning in 2017 has come to the track. We said in our opening that this was the greatest meet of 2021 so far. But if the impact of the shoes is to be believed, these results may not look too crazy when all is said and done this year.
Obviously, there are plenty of potential causes for the fast times in Lievin tonight — a fast track, stacked fields, fearless athletes who have been itching for competition opportunities. But when you see so many fast times in so many events, one has to wonder if something has changed in the sport. The shoes — Nike's Dragonfly technology and its imitators — are the most obvious answer. Alternatively, we know of others who will cite less frequent drug testing during the pandemic as a possibility and others who will push back against our shoe narrative and point out that the women's 800 was quite slow and the women's 1500 world record was set in normal spikes.
Talk about the action on our messageboard / fan forum:
HOLY CRAP WHAT A MEET in Lievin today (2 p.m. ET) — Ingebrigtsens, Hassan, Barega, Muir, & tons more