Sara Hall Breaks American Record in Half Marathon with 67:15 in Houston
By Jonathan Gault
January 16, 2022
Running on the same course in Houston where her husband Ryan Hall set the American half marathon record 15 years ago, Sara Hall ran 67:15 at the Houston Half Marathon on Sunday to take 10 seconds off Molly Huddle's American record (also set in Houston in 2018). On a sunny, chilly (35 degrees) and slightly windy (11 mph) day in Houston, Hall ran fairly even 5k splits of 16:03-15:51-15:57 to hit 15k in 47:51.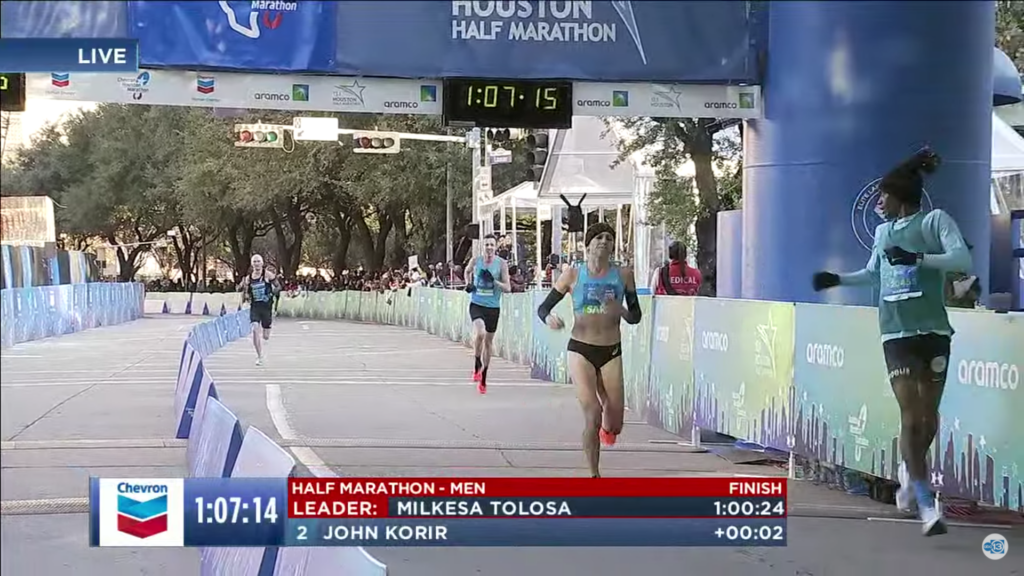 At that point, Hall was a distant 1:47 behind Kenya's Vicoty Chepngeno, who would go on to win in an American all-comers record of 65:03 to become the 11th-fastest woman in history. Surprisingly, Hall was not alone in the second pack. In addition to Hall, three other women hit 15k in 47:51 (67:18 pace): two-time South African Olympian Dominique Scott and Americans Emily Durgin (4th at the USA XC champs last week) and Fiona O'Keeffe, a 23-year-old Stanford alum making her half marathon debut for Puma's North Carolina-based pro team.
While Scott, Durgin, and O'Keeffe would fade slightly over the final 6.1k, Hall kept the unrelenting pace up, splitting 16:01 from 15k to 20k before closing hard over the last 1.1k to take second in 67:15 and take down Huddle's AR. Scott slashed over three minutes off her pb to finish third in 67:32 (#2 all-time by a South African), while O'Keeffe ran the fastest debut half marathon ever by an American (record-eligible course), 67:42, to finish fourth with Durgin clocking 67:54 for sixth. O'Keeffe and Durgin both moved into the top six on the all-time US list, meaning half of the top six performances in US history were set on Sunday in Houston.
Article continues below player.
Top 10 Houston Half Marathon Women (Full results here). Stream of race here.
1. Vicoty Chepngeno KEN 65:03
2. Sara Hall USA 67:15
3. Dominique Scott RSA 67:32
4. Fiona O'Keeffe USA 67:42
5. Jessica Judd GBR 67:52
6. Emily Durgin USA 67:54
7. Caren Maiyo GBR 68:41
8. Dakotah Lindwurm USA 69:36
9. Nell Rojas USA 69:42
10 Annie Frisbie USA 70:27
Fastest half marathons by American women (record-eligible courses)
1 67:15 Sara Hall 2022 Houston
2 67:25 Molly Huddle 2018 Houston
3 67:26 Emily Sisson 2020 Valencia
4 67:34 Deena Kastor 2006 Berlin
5 67:42 Fiona O'Keeffe 2022 Houston
6 67:54 Emily Durgin 2022 Houston
7 67:55 Jordan Hasay 2017 Prague
8 68:05 Kara Goucher 2009 Chicago
9 68:27 Amy Cragg 2017 Marugame
10 68:31 Shalane Flanagan 2013 New Orleans
*Kara Goucher has the fastest half ever by an American woman, 66:57 at the 2007 Great North Run, but the mark is not record-eligible because the course is point-to-point
article updated at 1pm eastern with quick takes below
Quick Take: The Sara Hall story just keeps getting better
When Hall ran 2:20:32 at the Marathon Project in 2020 to become the second-fastest female marathoner in US history, our first quick take was about just how unlikely it was that Hall reached that point. It's worth repeating now. Back in 2009, Hall was contemplating retirement. The main reason she chose to stick around was that she didn't really have a choice: her husband, Ryan, was one of the country's best runners, so she couldn't exactly escape the pro runner lifestyle.
Ryan burned bright and hot, running the fastest half and full marathons ever by an American, but was essentially done before his 30th birthday in 2012. Sara continued to grind out decent results on the track and road but never stood out in any one discipline. That seemed to be the case even after she turned to the marathon in 2015: through nine career marathons, her pb stood at 2:26:20.
Then in 2019, at age 36, Hall ran 2:22:16 in Berlin. Since then, she's been one of America's top distance runners, putting up one of the greatest stretches of road running in US history. In 2020, she was second in London, the world's best marathon, then ran that 2:20:32 at the Marathon Project. Unseasonably warm weather derailed her American record attempt in the marathon last year in Chicago, but she rebounded in fine fashion and now, at age 38, she is the American record holder in the half marathon.
Just a few years ago, it would have been lunacy to imagine a 38-year-old Hall atop a list that included names like Huddle, Sisson, and Kastor. And while the supershoe revolution certainly helped Hall, she deserves an immense amount of credit for reinventing herself as an ace road runner late in her career.
LRC from 2019: For Sara Hall, A Dream Deferred Led to a Passion Realized
Quick Take: If you keep improving, you may eventually break the American record;)
As fit as Hall is right now, she said after the race she thinks she has actually been in better shape at other points in her career but everything didn't come together like it did today. And it's not like everything was perfect in Houston, either, but Hall was strong enough today that the wind didn't prevent her from breaking the AR.
While Hall had the AR in her sights on Sunday before the race, this was not the culmination of a long-term goal. 
"I didn't really dream of being able to do something like this five years ago," Hall said. "It was just chipping away, chipping away, getting a little stronger, a little faster each year. And then that's just the natural next step for you, to go for [the American record]."
Quick Take: How cool is it that Ryan and Sara Hall both set American records in the same event at the same race?
Fifteen years and two days ago, a 24-year-old Ryan Hall shocked American distance running by running 59:43 in Houston to smash the American record in the half. Ryan's record still stands, and now Sara has joined him as an American record holder – on the same course, with Ryan, now Sara's coach, looking on.
Sara was on the lead car watching Ryan in Houston 15 years ago and said his performance that day was probably the best of his career. And today, Sara said, was the best performance of her career.
"I thought it would be really special to do it today with it being 15 years since Ryan set the AR here," Sara said. "That day changed our lives forever. It launched his career…That kind of shows the story of our careers. For him, he knocked it right out of the park from the beginning and then for me, it's taken 15 years of just grinding and persevering and overcoming so many disappointments along the way to get to this point. It's really special. Ryan's been the #1 supporter, the reason I'm still doing this."
Who are Fiona O'Keeffe and Emily Durgin?
Hall's journey to the American record is remarkable, but if you told us this morning Hall would run 67:15, we wouldn't have been stunned as her performances in recent years indicated such a time was within the realm of possibility. But we don't know of anyone who expected Fiona O'Keeffe and Emily Durgin to follow her under 68:00 – a barrier only four Americans had cracked prior to today.
O'Keeffe, 23, was a four-time All-American in cross country at Stanford from 2016-19, where she ran track pbs of 15:31 and 33:36 (her best finish at NCAAs was 3rd in the indoor 5k in 2019). After graduating from Stanford, O'Keeffe had eligibility remaining and signed with the University of New Mexico, but she never wound up competing for the Lobos, instead turning pro with Puma in early 2021 and joining Alistair Cragg's nascent pro team in North Carolina.
Though O'Keeffe did run a 10k pb of 32:12 in 2020, nothing she did last year suggested a breakout performance like this was coming. She was only 20th at the Olympic Trials in the 10k. Most recently, she finished 5th at the Manchester Road Race on Thanksgiving.
Durgin, 27, ran collegiately at UConn, graduating in 2017 after never qualifying for NCAAs on the track (she made NCAAs once in XC, in 2014, finishing 115th). As a pro, Durgin has bounced around from New Balance Boston to Under Armour's Dark Sky Distance team in Flagstaff and is now sponsored by adidas and training under Hall's former coach Terrence Mahon.
Durgin showed more than O'Keeffe in 2021 – she was 9th at the Olympic Trials in the 10k and 3rd in the US 15k and 20k champs last year – and just last week finished 4th at the USA XC champs in San Diego. But for her to run 67:54 here still qualifies as a shock.
Quick Take: We wouldn't be shocked if this record is broken again soon
Considering world record in the women's half marathon is 62:52, it's actually a bit surprising that no American has ever run under 67:00 on a record-eligible course – Ryan Hall's men's AR of 59:43 is significantly closer to the men's WR of 57:31, even though Hall's time is 15 years old.
O'Keeffe is still only 23 years old. So is Alicia Monson. Weini Kelati is 25. We'd bet good money that one of those three women will own this record in a year or two.
Quick Take: The non-American times were fast as well
With two national records on Sunday, the attention was on the Americans in Houston, but the times by the international athletes were fast as well. Vicoty Chepngeno's 65:03 means she sits just outside the all-time top 10, while Dominique Scott (67:32, #2 all-time South Africa) and Jessica Judd (67:52, #3 all-time Great Britain) also skyrocketed up their countries' all-time lists. Chepngeno also stayed incredibly hot in the half as she has now won 11 of her last 12 races at that distance.
Quick Take: Some interesting results in the men's half marathon
The women's race was far more compelling than the men's half in Houston, but there were a few noteworthy results, which we'll hit quickly:
Ethiopia's Milkesa Tolosa got the win in 60:24.
Kirubel Erassa was the top American, running 60:44 for 4th in his half marathon debut. Erassa said he had been targeting Ryan Hall's AR after five months of good training in Ethiopia, but he got COVID two weeks before the race. For him to still run 60:44 in his debut after that is super impressive.
Former NCAA XC champ Patrick Tiernan of Australia, who recently announced he had left the Nike Oregon Track Club, finished 6th in a pb of 60:55 sporting a Puma pro kit.
Rory Linkletter finished 8th and ran 61:08 to take 20 seconds off Jeff Schiebler's 23-year-old Canadian record. In fact, Linkletter and Scott Fauble, who finished 10th in 61:11 (previous pb: 62:18), both ran huge pbs in their first race since leaving HOKA NAZ Elite. When we spoke last month, both told LetsRun that stagnating performances had contributed to their decision to leave the team. So far, so good for Linkletter and Fauble, who are now coached by Ryan Hall and Joe Bosshard, respectively.
Of course, the coach wasn't the only thing that changed for Linkletter and Fauble. Both notably raced in Nike Vaporflys today.
More: Keira D'Amato Runs 2:19:12 to Break Deena Kastor's American Record in the Marathon
Discuss: Sara Hall 67:15 American Record!