Ingebrigtsen Dethrones Cheruiyot in Olympic Record 3:28.32 to Win 1500 Gold
Kerr Takes Bronze
By LetsRun.com
August 7, 2021
TOKYO — The king of the men's 1500 has been dethroned.
In a race that offered shades of Noah Ngeny's defeat of Hicham El Guerrouj in Sydney in 2000, the young gun took down the champ. For the first time in 13 races, Jakob Ingebrigtsen defeated Timothy Cheruiyot, and he did it on the world's biggest stage, getting Olympic gold.
Embed from Getty Images
The 20-year-old Norwegian passed the Kenyan with 110 meters to run and did not look back, pulling away to win in an Olympic record and personal best 3:28.32. Ingebrigtsen closed in 54.76 off of a fast pace.
Cheruiyot, the reigning World champion, suffered just his fourth loss in his last 25 1500 finals, and settled for the silver in 3:29.01. British champion Josh Kerr nearly caught Cheruiyot in the home straight and ran a personal-best 3:29.05 to grab the bronze, his first global medal.
20-year-old American Cole Hocker ran a personal-best 3:31.40 for sixth place, capping an excellent breakout season.
The race
Cheruiyot went directly to the back when the gun went off, and no one wanted to take the lead immediately. Ingebrigtsen took it after 150 meters and Cheruiyot followed on the home straight, slotting into third behind Oliver Hoare of Australia.
Article continues below player.
Ingebrigtsen went through 400 meters in 56.14, a fast pace but not suicidal, and then Cheruiyot took over, hitting the front on the back straight. Aussie Stewart McSweyn moved up into third and Abel Kipsang of Kenya (who set the Olympic record in the semifinal) moved into fourth on the second lap.
Embed from Getty Images
Cheruiyot, Ingebrigtsen, and McSweyn put a slight gap on the rest of the field by 800 meters, with Cheruiyot pushing the pace, running 55.62 to get through 800 in 1:51.76. At this stage, Brit Jake Wightman and Kipsang were a few meters back, while Hocker was third from the back.
Cheruiyot kept pushing the pace and the field was completely strung out behind him. At the bell, it was the same top three, but Cheruiyot and Ingebrigtsen had a gap on McSweyn and Kipsang was in fourth with Kerr on his shoulder as Wightman began to fade. Cheruiyot completed the third circuit in 55.48 and McSweyn had cracked but Ingebrigtsen did not, glued to Cheruiyot's shoulder.
On the back straight, Kipsang passed McSweyn, flanked by Kerr. The two leaders entered the final turn up two meters on Kipsang and Kerr. Ingebrigtsen was biding his time.
With 120 to go, Ingebrigtsen pulled up onto Cheruiyot's shoulder, a move which he had attempted many times, only to be held off by Cheruiyot on each occasion. This time, he made a strong pass and Cheruiyot had no response. By 50 to go, Ingebrigtsen's lead was five meters and the outcome was not in doubt.
Kerr made his move entering the final straight as well, going past Kipsang and kicking hard toward Cheruiyot. He closed so well that it looked as if he might steal the silver, but he came up barely short, four hundredths behind Cheruiyot.
Jakob Ingebrigtsen fulfills his destiny…and he's only 20 years old
After this race, we couldn't help thinking about Sydney McLaughlin. Like Ingebrigtsen, she was an age-group phenom and has been in the spotlight for years, so when they won gold this year, there was a tendency to add the word "finally" to the accomplishment because it seems as if they have been around forever.
In reality, they're both still very young: Ingebrigtsen is 20, and McLaughlin turned 22 today. When you become the youngest sub-4:00 miler in history — as Ingebrigtsen did at age 16 at the 2017 Pre Classic — the expectations are set sky-high. Many fizzle out before getting there, but Ingebrigtsen fulfilled his destiny. No matter what he does from here on out, he'll always be an Olympic champion — the youngest to ever win the 1500, in fact.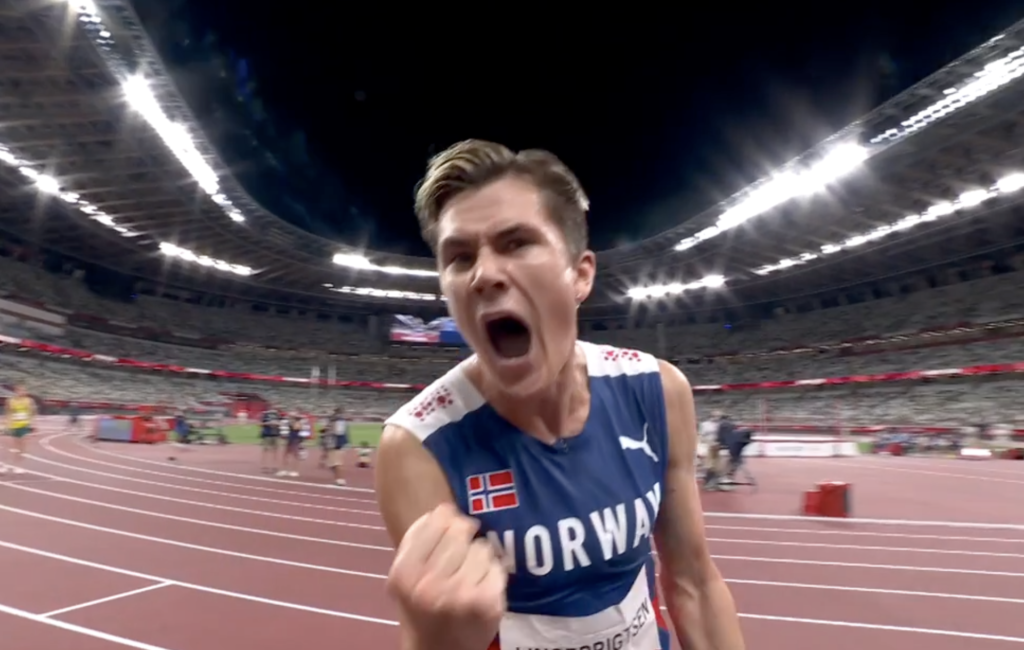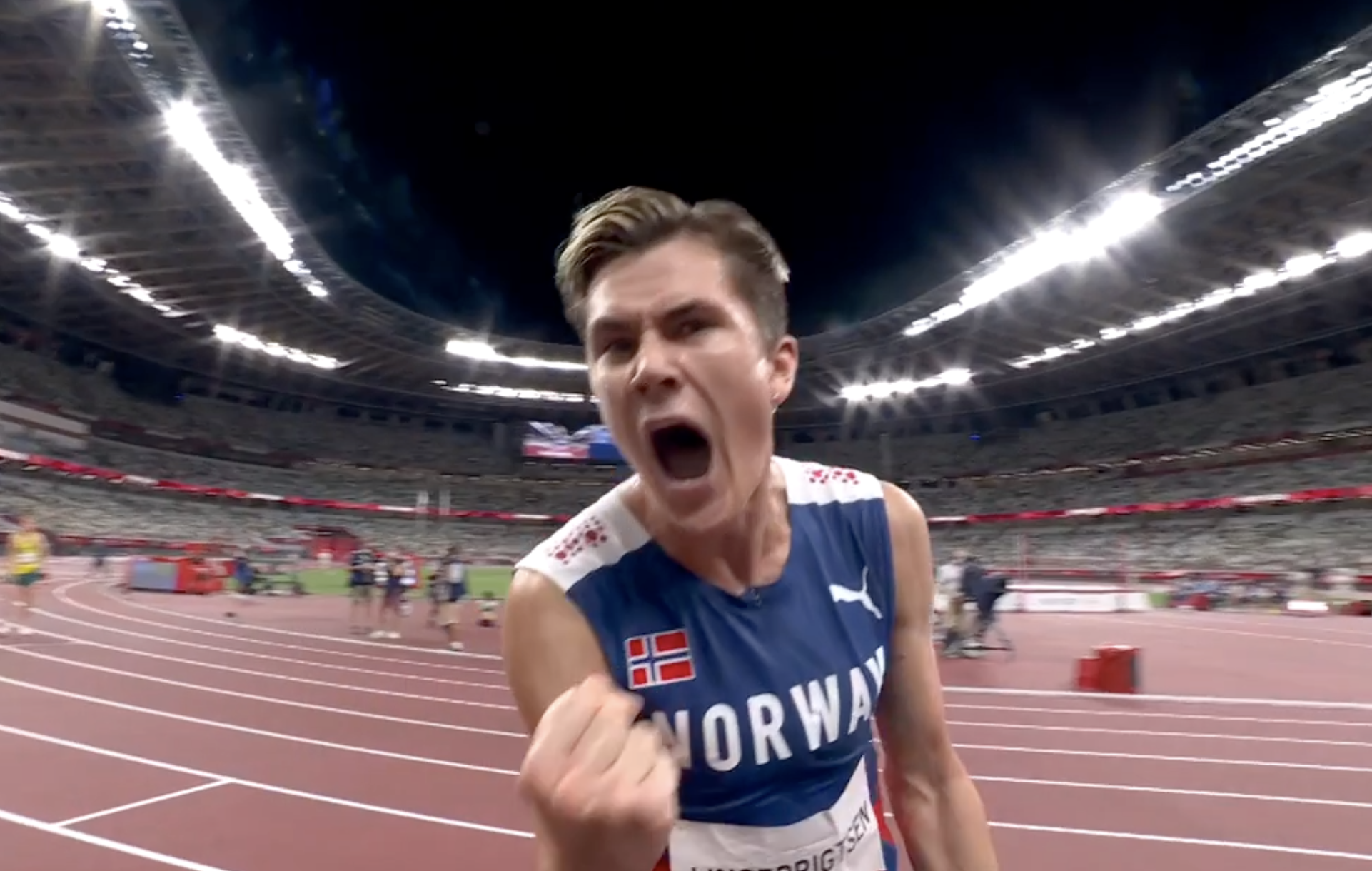 It's also worth noting that McLaughlin and Ingebrigtsen didn't just win gold in Tokyo — they also ran the best races of their career on the biggest stage, with a world record for McLaughlin, a European/Olympic record for Ingebrigtsen.
As for what's next, Ingebrigtsen when asked if he wants to set world records and go down in history as the world's greatest miler, he replied, "Yes."
His father Gjert also talked about Jakob going for the WR in future years and said that Ingebrigtsen would like to attempt the 1500/5k double in Eugene next year, just as he did in Doha in 2019.
Ingebrigtsen's father/coach Gjert: "I am not allowed to talk with Jakob about tactics"
Just like Peter Coe, who coached his son Sebastian to Olympic 1500 gold in 1980 and 1984, Gjert Ingebrigtsen coached his son Jakob to the top of the Olympic podium tonight. And just like Peter Coe, Gjert Ingebrigtsen did not have a running background before he began coaching his son.
After the race, Gjert said that he does not believe Jakob is any more talented than his two elder sons, Henrik (5th at the 2012 Olympics) and Filip (3rd at the 2017 Worlds). Rather, Jakob's training was the result of perfecting a process that began with Henrik over a decade ago.
"When we started with Henrik, we didn't know how to do things," Gjert said. "So he had a lot of injuries, because we did a lot of wrong things. So Jakob is a product of accumulated knowledge over time…Henrik says, 'I wish I was Jakob, because then I would have won the Olympics.'"
Gjert also revealed that he did not have a strategy for Jakob for the final.
"I am not allowed to talk with Jakob about tactics," Gjert said. "He said, 'This is my race. And I don't want you to interfere to mix up my head.' So he decides for himself."
Cheruiyot and Ingebrigtsen both independently wanted it fast and both led at various points
The 2016 Olympic final was won in 3:50, the slowest winning time since 1932. Cheruiyot and Ingebrigtsen did not want a repeat of that — as the only men in this field to have run under 3:29, both had an incentive to push the pace. The best description we heard of what played out came from Ingebrigtsen (translated by a Norwegian journalist), as Ingebrigtsen said he tried "to make an unpredictable race predictable."
Ingegbrigtsen wanted it fast as he said he figured if it was fast the worst he'd get was silver and Cheruiyot wanted it fast as that's how he won gold in 2019.
After Ingebrigtsen signalled his intent early, Cheruiyot took over at 400 meters, and the race wound up playing out almost identically to the 2017 Worlds in London, with Ingebrigtsen playing the role of Cheruiyot's training partner Elijah Manangoi, who ultimately took down Cheruiyot in the final 200. The only difference was the first lap, which was much faster tonight (56.15 vs. 61.59 in 2017).
The result was a string of fast times, easily the fastest ever in an Olympic final: four men under 3:30, and six under the previous Olympic record of 3:31.65, set just two days ago by Abel Kipsang in the semifinals. Ingebrigtsen's time of 3:28.32 was also a European record and ranks him as the #8 performer on the all-time list (which is the spot he occupied prior to the race).
After the race, two-time Olympic medallist Nick Willis called it the "best 1500 race of all time."
While a fast pace was the best strategy for Ingebrigtsen and Cheruiyot, the Kenyans have shown and stated at the championships starting in 2017 that they think a fast race is more entertaining. Bernard Ouma, Cheruiyot's coach said after tonight in a text to LetsRun.com, "Both athletes run well in fast and defined paces. We wanted to entertain too. Not the boring and tactically slow approaches. Of course that's how we train."
Josh Kerr backs up big talk with a medal
Kerr had been enjoying a fantastic season entering the Olympics but then had a shocker in the first round as he got passed by multiple athletes in the home straight and needed a time qualifier just to advance to the semifinals. After that, a medal looked unlikely, but Kerr chalked it up to a bad race and used it as a "kick up the ass" to perform better in the last two rounds.
Embed from Getty Images
"It's kind of annoying having [my] one off day in the last two years being the first round the Olympic Games, but I snuck through and and made sure that I didn't take any step out there for granted," Kerr said.
Kerr had spoken before the Games of going with Cheruiyot if he pushed the pace, and that didn't quite happen as he hung back a bit early and was in 11th place at 400 and 7th at 800. But Kerr also recognized early that the pace was going to be quick and adjusted accordingly. And in a race like that, the goal is to get to the finish line as fast as possible — which doesn't always mean going with the leaders at the outset.
"I know how to run even splits, I have a really good internal clock," Kerr said. "I wanted to go out to make sure that I was moving up slowly, I had enough for that last 200. Because I knew that's where I was gonna win a medal."
Kerr, at 3:29.05, is now the second-fastest Brit of all-time, behind only Mo Farah (3:28.81). But despite being ahead of athletics legends like Seb Coe, Steve Ovett, and Steve Cram, Kerr was more focused on being behind someone else.
"Dammit," Kerr said when informed of the fact by LetsRun. "Really? That's annoying. Tell you what: yeah, that's great. No, it is great, but, you know, I want to be the best, and so it's a step, but I want to be the best." 
Kerr wins the Brooks Beasts' first Olympic medal in their first Olympic final
The Brooks Beasts have not been able to match the accomplishments of their Northwest rivals the Bowerman Track Club or the Nike Oregon Project (RIP), but comparing the groups has always been unfair. Nike has deeper pockets, and BTC and NOP have a significant talent advantage compared to the Beasts.
All of that made it intriguing when Josh Kerr signed with the Beasts in 2018. An NCAA mile/1500 champion at age 19, Kerr was a big-time talent. What could coach Danny Mackey do with him? Quite a lot, it turns out.
"Danny, I think I was his first Olympic finalist, was his first Olympic medalist and he's a bloody good coach, man," Kerr said. "I tell you, he knows exactly what he's doing and I can stand on that sideline and take a deep breath and know that I'm in the best position that I could possibly be. And I chose so well in 2018 because he's just a trustworthy man, he's an honest man, and we work hard together, and he just believes in me and I believe in him so it's a very, very good relationship."
Hocker happy with result, quiet on future
American star Cole Hocker ran a controlled race, hanging near the back for the first half and then steadily moving up, passing three men in the final 300 meters to get sixth.
Hocker was proud of his 3:31.40 personal best and his overall performance.
Embed from Getty Images
"I'm stoked with that result," Hocker said. "The expectation just kept getting greater and greater into the season, and just knowing that I was able to not just get into the final, but really mix it up with the greatest in the sport, it's just an incredible feeling. And along with it, that time that I'm really happy with."
Hocker said he thought he was capable of "right around 3:30" entering the final, and he tried not to make too many big moves in the race.
"You can only rely on a huge finish so often, especially at that pace it is so much harder, but I still think I had really good closing speed for how I was going," Hocker said.
The sixth-place finish capped what has been a long breakout season for Hocker, the 2018 Foot Locker national cross country champion who was a relative unknown on the collegiate scene entering 2021, due in part to the pandemic. 
The Oregon Duck spent the last seven months collecting accolades and records: a 3:50 mile indoors, two NCAA titles indoors, an NCAA title outdoors (and 4th place finish in the 5k to boot), a US title, and now an appearance in the Olympic final. Asked about his future plans, Hocker kept his lips sealed, refraining from disclosing whether he will return to Oregon for another year or sign a professional contract (or both):
"I think everyone will know here in a couple of weeks," Hocker said.
Our guess: Hocker turns pro but stays in Eugene to train with Ben Thomas at least through the 2022 Worlds. Though we would love to see him run a cross country season this fall and then turn pro for the track season.
4th placer Abel Kipsang was happy after this one
Despite narrowly missing out on a medal, 4th placer Abel Kipsang of Kenya was not disappointed after the race. He's had an amazing year. The 24-year old started the year with a 3:35.43 and started the Games with a 3:32.68 pb but he ran an Olympic record 3:31.65 in the semis and a 3:29.56 in the final.
A Kenyan journalist told us that Kipsang told him in Swahili that he was proud of his big pb, particularly because he pulled a muscle in the semifinal, and that he looks forward to bringing home the gold for Kenya in the years to come.
Spain's Adel Mechaal had a great Olympics and had said Mohamed Katir's improvement is "crazy"
The 30-year old Spaniard entered the Olympics with a 3:33.91 pb but left with a 3:30.77 pb and 5th place showing after PRing in both the semi (3:32.19) and final (3:30.77) where he finished 5th.
"I think I did a really good race. I improved my personal best in this championship by about four seconds," said Mechaal who was 4th at Worlds behind Filip Ingebrigtsen in 2017 but went out in the heats in his other globals championships in 2015, 2016 and 2019. 
Mechaal raved about how Jakob Ingebrigtsen ran full of confidence, not caring if the field drafted off of him. "He really is amazing about the confidence that he has. He broke the European record, and I [am] just happy [to] be inside the race – the fastest race in the history of Olympics, happy about my place, happy about my PB."
We asked Mechaal what he'd say to those who doubt his countryman's Katir's improvement. Katir has improved from 3:36 to 3:28 in the 1500 this year and from 7:44 to 7:27 in the 3k and from 13:50 to 12:50 in the 5000.
"I don't know. I don't know what he's doing. He changed the coach. He changed the manager. The improvement is what's crazy. Of course, all the people was expecting a medal [from him] here, after this crazy 34 days he had in the in the season, [where] he broke three Spanish records," said Mechaal. "It is just crazy. I don't know. He is a clean athlete until World Athletics or the Athletics Integrity Unit says [otherwise]."
Mechaal understood why we asked the question as it's certainly not every year that someone who before this year had never won a medal at the Spanish championships was picked by most to medal, if not outright win the 5000 at the Olympics. "Of course, people are surprised but we are innocent until someone or some institution proves we are guilty," Mechaal said. "I think all people [are] surprised, because it's a big change, of course, but we trust in the Athletics Integrity Unit."
Aussie Stewart McSweyn wanted a fast race and got a fast race but he just didn't have it over the last lap. Compatriot Ollie Hoare said he found the mental side of the Olympics took a "big toll" on him
McSweyn, the Aussie record holder, was in the top 3 entering the bell and was proud that he put himself in the right spot but said "unfortunately the legs weren't there" over the last 400 as he ended up 7th in 3:31.
Hoare ended up 11th in 3:35, and said he thought he learned a lot at the Olympics. He said mental aspect of the Games was more intense than he expected as he found it hard to switch his mind off.
"It was a week of just thinking about [the race] every day, every hour, every minute. You can't really go anywhere. You're in your room [just] thinking about it. I know a lot of athletes probably dealing with that too [but] I just didn't handle it well. I couldn't rest. I couldn't switch on and off, no matter what I did. And I think that for me, affected me…so it's a learning curve."
Luxembourg's Charles Grethen dream ends with a 12th place showing. 
The 29-year old who ran collegiately at Texas State and Georgia and was an 800 runner with a modest 1:47.22 pb, who was 7th at SECs in 2015, has come a long way since his NCAA days. As a pro, he's moved up to the 1500 and now he's an 12th in the Olympics. He started the year with a 3:39.02 pb, lowered that to 3:36.75 in Ostrava before going crazy here in the semifinals in Tokyo where he ran 3:32.86. Tonight, he ran 3:36.80.
Grethen said the Olympics was "beyond anything I could dream of" and said he was proud to be Luxembourg's second Olympic 1500 finalist. Their other finalist? 1952 Olympic 1500 champ Josy Barthel – still to this day, the only person from Luxembourg to win Olympic gold.
Be a fan and talk about the final day of the Olympic track action on our world famous fan forum / messageboard.
Like this article? Become a LetsRun.com Supporters Club member and get all the insights from Tokyo and the world of professional distance running. We are having daily video shows/podcasts from Tokyo, plus get exclusive LetsRun.com content throughout the year, big savings on running shoes (if you buy one shoe that will more than pay for a month of your membership), and a free LetsRun.com or 1:59:40 shirt if you join for a year. Join here.