Training partners Elijah Manangoi and Timothy Cheruiyot of Kenya go 1-2 in men's 1500 as Norway's Filip Ingebristen snags bronze
by LetsRun.com
August 11, 2017
LONDON —   Kenya owns the 1500 once again.
Though this was a record-breaking meet for the Americans, no country has dominated an event as thoroughly in 2017 as the Kenyan men have dominated the 1500. So it was fitting that on the final night of the 2017 IAAF World Championships, Kenyan teammates and training partners Elijah Manangoi and Timothy Cheruiyot brought the meet to a close by claiming 1500 gold and silver for their homeland, Manangoi winning in 3:33.61 with Cheruiyot finishing .38 behind. Though Kenya failed to earn a medal in this event at last year's Olympics, a Kenyan man has now won this title four times on the trot — six if you include Kenyan-born Bernard Lagat and Yusuf Saad Kamel. Tonight also marked the third time in the last four World Championships that Kenyan men had gone 1-2.
Article continues below player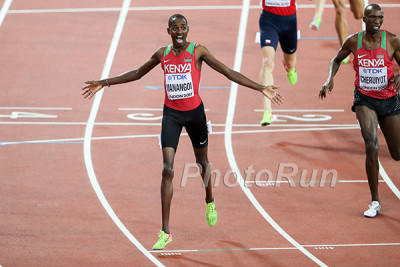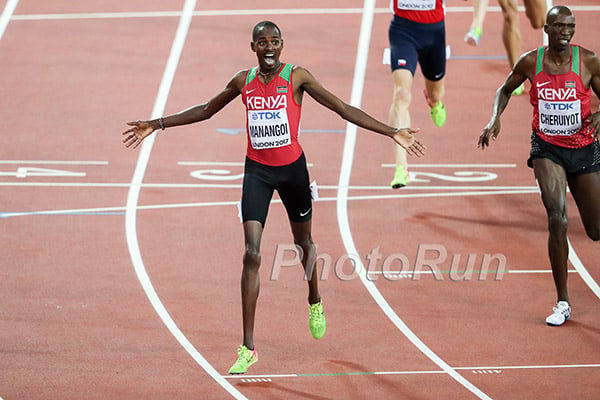 Manangoi and Cheruiyot, who rank 1-2 in the world this year in both the 1500 and the mile, have found tremendous success in fast races and as a result, they and coach Bernard Ouma hatched a plan for Cheruiyot to push the pace and string out the field. The result was a pair of medals and the fastest winning time in a World Championship final since Hicham El Guerrouj's final title in 2003.
Norway's Filip Ingebrigtsen earned the bronze in 3:34.53, the first medal by a European in this event at Worlds since 2005, just edging out Adel Mechaal of Spain (3:34.71) and Jakub Holusa  of the Czech Republic (3:34.89). Johnny Gregorek, the lone American in the final, was 10th in 3:37.56 while three-time defending champion Asbel Kiprop, who was in third at the bell, didn't have it on the final lap and faded to ninth place.
The Race
Manangoi and Cheruiyot wasted no time getting to the front as they were running 1-2 by 300 meters and would stay there for the remainder of the race. Their countryman Kiprop was at the back of the pack in last, just as he had been in the prelims and semis in London.
The pace at 400 was not particularly quick (61.59) but at that point Cheruiyot took the lead with a hard move and began to string out the field behind him. Manangoi and Kiprop (moving up from last) were the only one to respond to the move. By 800 the Kenyans were running 1-2-3 with a five-meter lead on the field after Cheruiyot's 55.96 second lap.
The gap had been even larger 100 meters earlier, but Ingebrigtsen, who had been boxed in when the move was made, was working to close it up and by the bell he had joined the Kenyans in fourth place with Mechaal close behind him. Bahrain's Sadik Mikhou was struggling to hang in sixth place, with a gap of eight meters to the rest of the field. Cheruiyot's relentless front-running was starting to break the field, and they hit 1200 in 2:53.65 after a 56.10 third lap.
Cheruiyot upped the ante on the back stretch and as they entered the final turn, he and Manangoi, who remained right behind him as he had for almost the entire race, created a couple strides' worth of separation. Most importantly, Kiprop, who has not been himself all year, was beginning to struggle. Instead of preparing for his traditional winning move, he was moving backwards, with Ingebrigtsen passing him just before 200 and Mechaal and Mikhou going by on the turn as both men tried desperately to maintain contact with the Kenyans.
Ingebrigtsen was only a couple of meters down coming off the final turn, but the Kenyans had an extra gear that he did not possess. Manangoi and Cheruiyot were going to go 1-2; the only question was, which order?
Manangoi answered that quickly by moving by Cheruiyot midway down the home straight, his kick too strong for his friend on this night as he moved up one spot on the podium from 2015 thanks to a sub-54 final lap. Cheruiyot earned his first-ever global medal in second as Ingebrigtsen won a famous medal for Norway in third, stumbling across the line as he barely held off Mechaal behind him.
Results
1 Elijah Manangoi Kenya (KEN) 3:33.61
2 Timothy Cheruiyot Kenya (KEN) 3:33.99
3 Filip Ingebrigtsen Norway (NOR) 3:34.53
4 Adel Mechaal Spain (ESP) 3:34.71
5 Jakub Holuša Czech Republic (CZE) 3:34.89
6 Sadik Mikhou Bahrain (BHR) 3:35.81
7 Marcin Lewandowski Poland (POL) 3:36.02
8 Nick Willis New Zealand (NZL) 3:36.82
9 Asbel Kiprop Kenya (KEN) 3:37.24
10 John Gregorek United States (USA) 3:37.56
11 Fouad Elkaam Morocco (MAR) 3:37.72
12 Chris O'Hare Great Britain & N.I. (GBR) 3:38.28
Quick Take: Manangoi and Cheruiyot were the class of the field and they ran like it
The two Kenyans deserve a ton of credit for coming up with a great plan, executing it perfectly and dominating this race. 1500 finals often end up with unpredictable results as positioning can play a huge role if its tactical, but Manangoi and Cheruiyot decided to take positioning out of the equation by making it an honest race – a smart plan considering they came into the final having run more two seconds faster than anyone else in it (Cheruiyot's 3:29.10 is 2.24 seconds faster than Sadik Mikhou's 3:31.34; Manangoi has run 3:28.80).
And they way they did it was exquisite: by going hard after a lap and catching people a bit off guard.

Quick Take: Manangoi may be world champion, but we're more impressed by Cheruiyot
Manangoi will always have the gold medal but it was Cheruiyot who made the race and Manangoi should be forever grateful to his training partner for leading him out perfectly for the final three laps. And though championships are all about winning, Manangoi certainly had the easier path to a medal by sitting on Cheruiyot the entire way; we were more impressed that Cheruiyot was able to hold off everyone else and run 3:33 for silver despite leading almost the entire race. As Nike's sub-2 marathon showed us, drafting is a big deal.
Manangoi, of course, has been exceptional all year (he won the DL opener in Doha and his 3:28.80 in Monaco was #9 all-time) and the fact that he was able to hang onto Cheruiyot throughout the race when no one else could was proof of his strength. But it's possible he's not the world champ tonight without his training partner.
Quick Take: It was a big day for coach Bernard Ouma, the Rongai Athletic Club and a big year for the Manangoi family
For a coach to have two World Championship finalists is impressive. For a coach to have the gold and silver medalists in the same training group is almost unheard of (though Alberto Salazar had it in the 10,000 in 2012) but that was the case in today's men's 1500 final as both Manangoi and Cheruiyot train under coach Bernard Ouma at the Rongai Athletic Club in Nairobi.
In the mixed zone, both men confirmed that the plan was to have Cheruiyot take the pace and Manangoi follow and it worked to perfection.
It's been a great year for the Manangoi family as well as Manangoi's brother George won the 1500 at the World U18 Champs last month. Manangoi was asked whether George could be as good as he is one day and he had no doubt: "Yeah. 100%."
Now it's celebration time. When Manangoi took silver two years ago in Beijing, he said he would celebrate by slaying a goat and drinking its blood. What will he do now that he's the world champion?
QT: Asbel Kiprop may not have had the fitness to contend here but he made a mistake for going out in last place
Kiprop said after the race he knew his compatriots were going to make it fast so he's got no excuse to have gone out in last. That's just stupid.
Sure Kiprop's the best miler of this generation but that doesn't mean he can spot the leaders a second and a half at 400 and make it up. That's next to impossible for anyone to do not named Kiprop and even for Kiprop he has to be in supreme shape to pull something like that off – and he's not been in supreme shape this year.
We went back and watched the race replay and timed Kiprop's second 400. While Cheruiyot and Manangoi ran 55-high, he split a ridiculous 54.8 to catch up and some of that was while running wide as he had to pass a bunch of people.
In our minds, Kiprop a) should not have gone out in the back if he knew they were going to make it honest and b) caught up a bit more gradually than he did once he did go out in the back.
Had Kiprop gone out with the Kenyans from the start, he probably wouldn't have battled for the win but he very well could have been in the battle for bronze.
QT: Asbel Kiprop says he's going  to move up to the 5000 meters for championship races
After the race, Kiprop agreed with our assessment that he went too hard in the middle of the race saying, "I think I used a lot of energy to close the gap from the second lap to the top 3."
He then said his plan is to move up to the 5,000 at championships in the future with Mo Farah leaving the track, and said he'll start with the Commonwealth Games next year. Kiprop wouldn't rule out taking a shot at the 1500 world record because he said he'd see how the endurance of the 5000 affected him in the 1500. "I'm not saying [this is] the end of 1500, I still have a lot to do in 1500. Mostly in championship now in 1500, I will consider doing 5k," Kiprop said.
QT: Ingebrigtsen gets the first world medal for his running family and moves out of his brothers' shadows
Until tonight, Filip Ingebrigtsen was the third most popular brother in the Ingebrigtsen running family. His older brother Henrik, now 26, has a faster PR (3:31.46) and finished 5th at the London Olympics as 21-year-old. His younger brother, Jakob, ran a 3:56 mile as a 16-year-old this year and has received a ton of media attention.
Tonight, the 24-year-old Filip, who like his brothers is coached by his father, Gjert Ingebrigtsen, got on the podium for his family and Norway.
Filip was boxed in when the Kenyans made their move so he was delayed in responding, but the result was still a good one, "Before the race I thought that the Kenyans would work together and make it a fast race to get rid of the 800m guys on the home stretch. Unfortunately I was boxed in when the Kenyans increased the pace and the other guys didn't follow, so I had to break free from the other guys to catch them. I caught up with them but I couldn't go past them. It was kind of hard to try and catch them, but I won a bronze so I'm pretty happy," Filip said.
Down the homestretch Spain's Adel Mechaal was closing in on Ingebrigtsen and gave Ingebrigtsen a shove at the finish line. Ingebrigtsen said, "I was focusing on the finish line, and didn't expect someone to come on the inside. I didn't even notice him."
Henrik is serving on the Norwegian team as support staff and coach at these championships after suffering an injury after Pre this year. Filip saw him after the race and said, "I gave my brother (Henrik) a hug and I think he cried some tears. It's really competitive but we're also very close. Family means everything (for us)."
Filip can't rest on his laurels too much. He said he has to worry about his younger brother. When asked when he'll need to start worrying about his younger brother, Filip responded, "Everyday," in as he thinks it's a huge advantage that Jakob has been training like a pro years.
Quick Take: This race played out very similarly to the Monaco 1500
The 1500 in Monaco on July 21 featured many of the world's top 1500 men and we couldn't help but notice several similarities between that race and this one. First, the order up top was nearly identical. Tonight, Manangoi, Cheruiyot and Ingebrigtsen went 1-2-3 while in Monaco they went 1-2-4 (third placer Ronald Kwemoi, who has been battling injuries, did not make the final in London).
The style of race was also very similar. In Monaco, Manangoi and Kwemoi led the entire race and they opened up a gap on the field, just as they did tonight (though this time, Kiprop went with them). The difference was Ingebrigtsen. In Monaco, he did not make an effort to close the gap until it was too late, after which he provided a candid assessment of his failures and those of his opponents.
"I went too late [in the race]," Ingebrigtsen said. "I had a bunch of idiots in front of me who failed to keep up [with the pace]. I had to jog for three-and-a-half laps and then had to go around them in the outside lane when the pace climbed. If this is the best they [the rest of the world] can do, it will be fun during the world championships."
Ingebrigtsen was not going to make the same mistake tonight, and after working hard to close the gap, he was rewarded with the bronze medal.
But we have to give full credit to the Kenyans in this one. The Monaco 1500 showed that Manangoi and Cheruiyot are the two fittest guys on Earth right now (Manangoi won in a world-leading 3:28.80 with Cheruiyot second in a world #2 3:29.10) and rather than take their chances with a tactical final in London, they turned this into a time trial over the final three laps. It takes a lot of guts to do that in a championship final (more so for Cheruiyot, who led almost all of it, than for Manangoi) but if you truly are the best guys in the field, the payoffs can be big as it eliminates any positioning worries and requires someone to run an exceptional final 1100 meters to beat you, not just a great final 400. Manangoi and Cheruiyot have been the best guys all season long (aside from Kwemoi, who is not 100% healthy) and tonight's race was the final proof of that fact. They are deserving gold and silver medalists.
Quick Take: Nick Willis pleased with 8th considering he did it off of 7 weeks of workouts
Willis had a bad case of shin splints in March and tried to train through them, but he could not log consistent training and eventually it showed in his races. He ran a 4:11 road mile on May 11 and that was the final straw; he took 10 days completely off to heal up and then began slowly building up again, getting back to workouts by the end of June. Since then, Willis has progressed incredibly quickly, but not quickly enough to get a medal tonight, something he's at peace with.
"I was surprisingly pleased and happy. 8th in the world off of 10 weeks' training? can't really complain with that."
At 34, Willis is definitely closer to the end of his career than his beginning, but if he can stay healthy (definitely a concern at his age), we could see him at Doha 2019. Remember, he ran his PR of 3:29.66 at age 32 and won Olympic bronze at age 32 and may have another medal to show for it tonight had he had an extra month of training.
QT: Johnny Gregorek pleased with making final, but wanted more
Gregorek in the interview below said if you told him before Worlds started he'd make the final, he'd take it. But once he made the final he wanted move. And he told USATF he even wanted a medal, "I'm pretty disappointed. I definitely wanted to come out and medal, at least get in the top group. I couldn't get it going, I didn't have a whole lot in my legs. I wanted to be in a better position, I just couldn't quite move up. Definitely a huge lesson for the future. I have to get stronger for these rounds. It's just motivation. I think that it's important to have moments like this. I was feeling a little invincible coming into this final."
Gregorek will return back to the US for a couple of races there including the 5th Avenue Mile.
Chris O'Hare after finishing disappointing last before home fans