Women's Steeple: Emma Coburn, Courtney Frerichs Go 1-2 as Val Constien & Leah Falland Show the Beauty & Agony of the Olympic Trials
By Jonathan Gault
June 24, 2021
EUGENE, Ore. — What you saw, over the course of 10 minutes in the women's steeplechase final on a warm Oregon night on Thursday, was nothing less than absolutely everything the US Olympic Trials has to offer. It is the reason why family, friends, and track nerds across the country make the pilgrimage to the holy site of Hayward Field every four (or five) years. Because there is no other track meet in America quite like this one, and at its inspiring, gut-wrenching best, it makes you feel things no other meet can.
You want greatness? How about Emma Coburn, who has won every US steeplechase final she has ever entered — all nine of them — and set a meet record of 9:09.41 tonight.
You want inspiration? That would be third-placer Val Constien, a 25-year-old University of Colorado graduate who suffered a broken foot and battled an eating disorder and depression while in college. Unsponsored and working a 40-hour-a-week job, Constien paid her own way to the Trials and entered the year with a personal best of 9:44 — 14 seconds off the Olympic standard. Tonight, she ran a pb of 9:18.34 to finish third, make her first Olympic team, and become the fifth-fastest American in history.
You want heartbreak? There's Leah Falland, who has endured more than any athlete should. After resurrecting her career in Boulder under coach Dathan Ritzenhein, Falland came to this meet in the shape of her life and was 800 meters from an Olympic berth, only to clip her toe on a barrier and fall with just under two laps to go. Undeterred, Falland rose and was still in contention to make the team at the final water jump, only to land with thud — not a fall this time, but a momentum-stopper — allowing Constien to speed away to realize her dreams.
But that is the Olympic Trials. There can be no joy without agony.
There were 14 women in tonight's race, 14 stories to be told. Six personal bests. One of them belonged to Courtney Wayment, just fourth in the NCAA meet 12 days ago, who ran 9:23.09 for fourth in the country. There was, incredibly, a personal best for Allie Ostrander, who spent the last two months partially hospitalized for an eating disorder and ran 9:26.96 for eighth place. It is a testament to the depth in this event right now that a woman who made the US World Championship team in 2019 could PR and only finish eighth.
The story up front was the one you saw if you watched the NBCSN broadcast. It was the same story you have seen play out year after year in the women's steeplechase, Emma Coburn being just too good for Courtney Frerichs. After a slow (by their standards) opening kilometer of 3:09.86, Frerichs took the lead with just under a mile to go and hit 2k in 6:13.74. At that point, Frerichs, Coburn, and Falland pulled away, eventually reduced to just Frerichs and Coburn after Falland's fall and, finally, just Coburn, who used a 68.87 last lap to cap a spectacular 2:55 final kilometer and drop Frerichs for good. The first sub-9:00 by an American woman beckons (Coburn will take a shot on July 9 in Monaco).
Agony for Falland in Eugene Again
The more compelling story was playing out behind the leaders. And it is one Leah Falland was intimately familiar with. This was the third time Falland had been in contention to make a US team at Hayward Field. In 2015, fresh out of Michigan State, Falland was locked in a battle with Colleen Quigley for the third spot on the World Championship team only to slip and fall on the final water jump. A year later, Falland was again third heading into the penultimate water jump but, racing on a torn plantar fascia, landed awkwardly and faded to last place.
That plantar fascia was the beginning of two years of injury hell and a journey that sent Falland out to the NorCal Distance Project in Sacramento and then back to college coach Walt Drenth in Michigan. Finally, in 2018 Falland began working with Dathan Ritzenhein, whom she followed to Boulder as a member of the On Athletics Club when it launched last year. Ritzenhein has slowly built Falland up over the last three years, and when she ran 9:23.36 in Sunday's prelims — her fastest time since 2016 — Falland was back to her best.
But what if your best isn't good enough? When Frerichs pushed with a mile to go, Falland chose to go with Frerichs and Coburn rather than play it safe and battle for third. She chose to chase greatness. And for a lap, it worked.
Article continues below player.
"I could feel us peeling away from the rest of the pack, and that's what I had envisioned," Falland said.
With just under two laps left, whether due to fatigue or a momentary lapse of concentration, Falland clipped a toe on the barrier and went down. She picked herself up and latched on to the chase pack of Constien, Wayment, and Marisa Howard; incredibly Falland had moved up to third at the bell, in position to become an Olympian at last.
It would not last. Constien quickly moved by her on the inside, and by the back straight, Constien led by half a stride — more after a superior clearance of the barrier just before 200m to go. Falland could not summon a move to match her rival, and after the deciding final water jump (perfect for Constien, horrific for Falland), Falland's Olympic dreams lay shattered again.
The Trials' zero-sum nature should not negate the remarkable voyage Falland has traveled to get to this point. She had family and friends from college in Eugene to watch, and after the race spoke tearfully of hoping to find them and share a beer while celebrating all the good things that have happened over the last five years. Falland hoped that would help her realize that there are things beyond the Olympic Trials. But again, that's the beauty of this meet: in the moment, there isn't anything beyond the Trials.
"Right now, it sucks," Falland said. "It sucks bad."
 "I feel like I have the heart of an Olympian," said Falland, but as she wrote on Instagram before the Trials on June 15, that's not how it works, "A good chunk of us have already proven that we have the heart and talent to be an Olympian this year. But in the U.S.—you have to be top 3 on that one day at the Olympic trials."
Elation for Constien
Where for Falland there was devastation, there was pure elation for Constien. When Falland had gone with Frerichs' move, Constien had chosen to back off, knowing she could not handle Frerichs' acceleration — and hoping that Falland couldn't either.
 "I knew I couldn't keep that pace with three laps to go, so I decided I would sit in fourth in case anything happened," said Constien. When Falland fell, Constien knew: "that was my shot."
She did not miss. And so it came to pass that Val Constien, who had never finished higher than 5th at NCAAs, who had never run at a US championships until this week, who works 40 hours a week as a customer support agent for Stryd, a running tech company, earned her spot at the Olympic Games. Constien is coached by her college coaches Mark Wetmore and Heather Burroughs.
"I would not be here without this full-time job," Constien said. "I think that a lot of runners have great contracts and can afford to not have to work. But beyond Tracksmith giving me clothing, I buy everything myself. I funded every single trip, including this one. Being a blue-collar runner is really cool, and I think that anyone that works a full-time job can still have Olympic aspirations."
Sometimes, they even achieve them.
Top 10 results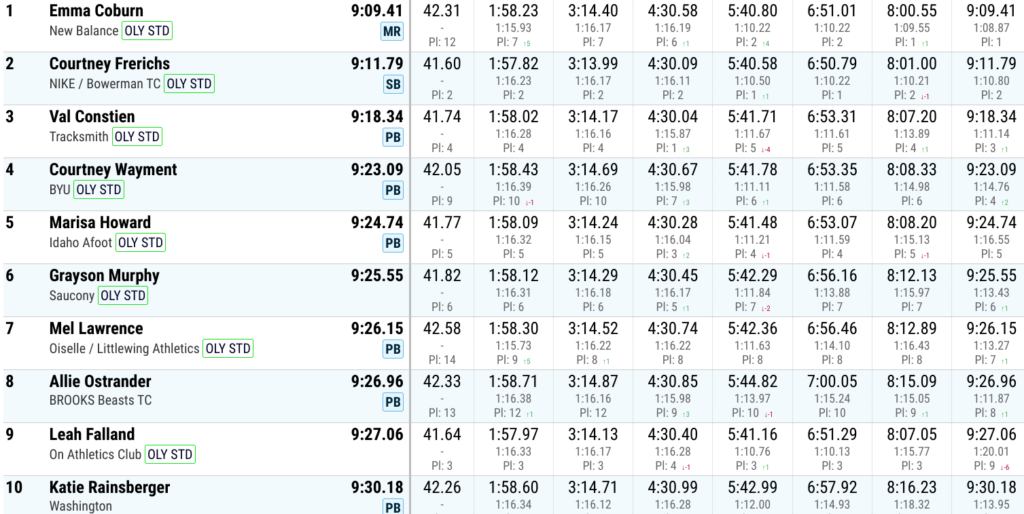 Quick Take: Emma Coburn is the definition of consistency
Coburn almost never has a bad steeple race, and always shows up at USAs. Peruse her Tilastopaja profile and you'd have to go back to the 2015 Diamond League final in Zurich — where she was 8th in 9:32 — for her last awful steeple.
The fact that Coburn won tonight was not unexpected, but this type of consistency is uncommon in the sport. Evan Jager won seven straight US steeple titles on the men's side from 2012-18, but he has struggled with injuries as he has aged and hasn't run a steeple in three years. Coburn, who at 30 is two years younger than Jager, may one day face the same issue. But so far she has shown no signs of weakness.
To achieve her next goal, however, Coburn will need more than consistency. To finally break 9:00 in the steeple, she needs the breakout performance she has been waiting four years for.
"Every year since 2017 I have felt fit enough to break 9:00," Coburn said. "I feel like racing in July [in Monaco], we won't know until we do it."
Quick Take: A bright moment for the Coburn family
In December 2019, Coburn's mother, Annie, was diagnosed with stage four colon cancer. It has been tough for the family to deal with, but Emma got to spend a lot of time with Annie waiting out the pandemic in 2020 and was grateful for it, even as Annie continued to battle the disease. Annie's situation is still serious, but she was in the stadium tonight to see her daughter make her third Olympic team.
"She's still actively getting chemotherapy," Coburn said. "She's completed 22 rounds since January 2020. Her prognosis was really grim. It's stage 4 colon cancer, had spread to her liver and lungs, inoperable. Really grim. She has surpassed all of her doctor's expectations. She's a little miracle, a little Energizer bunny."
Quick Take: Courtney Frerichs stands up for Shelby Houlihan
This is Courtney Frerichs' fourth US team on the track, but the first time she'll be going to a global championships without her banned Bowerman TC teammate Shelby Houlihan. Frerichs had known about Houlihan's case since February, but when the Court of Arbitration for Sport upheld her four-year ban two weeks ago, it hit Frerichs hard.
"That was probably one of the hardest weeks of my life," Frerichs said. "Shelby is somebody who I've basically walked alongside my entire career. We've made every team together. For her not to be here, honestly, is just absolutely devastating. I know her as a person, I know her character, I know what she stands for, and I know she didn't do this."
Quick Take: The depth was incredible tonight
Much was made of the absence of Colleen Quigley, the third-fastest steepler in US history, from this field. Quigley finished third in four of the last five USA meets and was favored to take third again here tonight had she been healthy enough to run. But even a healthy Quigley would have had to have brought her A game tonight, as this was the hardest US team to make in the history of the women's steeple. Third place was 9:18 — the fastest ever in a US championship, and a time Quigley has run just three times in her life.
When (if?) Quigley returns in 2022, she will have her hands full fending off young talent such as Constien (25) and Wayment (22).
Quick Take: Colorado is officially Steeple U
The women's steeple became an Olympic event in 2008. Since then, half of the women to represent the US at the Olympics in this event were coached by Mark Wetmore and Heather Burroughs in college at the University of Colorado: Jenny Simpson in 2008, Coburn in 2012, 2016, and 2021, Shalaya Kipp in 2012, and Constien in 2021 (all but Coburn in 2021 were still coached by Wetmore/Burroughs when they made the team). Add in current CU assistant Billy Nelson, a 2008 Olympian on the men's side, and the Buffaloes' steeple dominance is clear.
Talk about the aciton on our world famous fan forum / messageboard.