Men's 1500 Semifinals: The Epic Final Everyone Wanted Is All Set (Minus Hobbs Kessler)
By Karl Winter
June 25, 2021
If the final 200 meters of heat 2 was any indication, we're in for a treat in Sunday's men's 1500-meter final at the 2020 US Olympic Track and Field Trials in Eugene, Oregon.
Former Oregon star and Olympic champion Matthew Centrowitz ran side-by-side with current Oregon star and NCAA champion Cole Hocker for the final curve and straight, with Centrowitz not giving an inch. Both men closed in 52.0 seconds for their final lap according to Kara Goucher on the NBC broadcast, and they made it look easy, going 1-2 in the heat in 3:42.96 for Centro and 3:43.00 for Hocker. Centro said something to Hocker before both crossed the finish line and both smiled. Both skipped the post-race virtual media mixed zone, so we will have to wait until at least Sunday for one or the other to recount the exchange.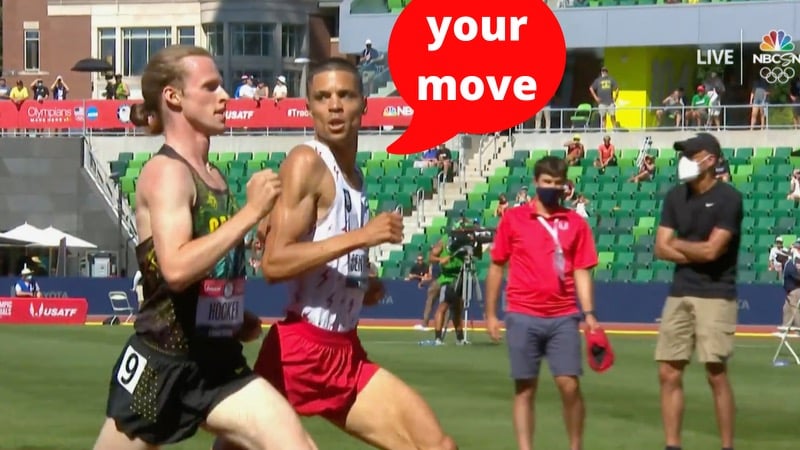 Article continues below player
In heat 1, reigning US champion Craig Engels and collegiate record holder Yared Nuguse had the best kicks in the final 100, also going 1-2 in 3:38.56 and 3:38.60. We expect these four men to decide the US Tokyo team members on Sunday, but the other eight men to make the final also kicked well today and may have something to say about it.
Recent high school grad and new adidas pro Hobbs Kessler will not be one of them. Kessler finally looked like an 18-year-old in heat 1, running in last place for the entire third lap and was unable to muster a miraculous kick. He closed well (39.39 final 300) to finish eighth but his inexperience betrayed him as his mid-race tactics put him in a poor position.
"I thought it was going to take off hot so I went to the back but it went out slow," Kessler said. "…It's been a lot recently. I think I'm a little bit emotionally tired."
Kessler will be back, as in one year he improved from a 4:18 1600 pb to a 3:34.36 1500. That type of talent doesn't go away.
The heats
Brooks Beast Izaic Yorks led the majority of heat 1 at a tactical pace of 59-second laps. Yorks would not advance, as he was passed by nine men in the final 400, but his teammates David Ribich and Waleed Suliman closed well to get qualifying spots. The field was bunched with 200 to go but Engels and Nuguse maneuvered through, Nuguse on the outside and Engels sliding between Ribich and Eric Holt. Nike OTC's Vincent Ciattei also had a good final 100 to finish fourth.
In heat 2, Centrowitz controlled things from the front like he did in Rio. After an opening 60.48 first 400, things slowed down a great deal (2:05.28) but the pack was content to run orderly behind him as things picked up a little bit on lap 3 (3:04.72) before Centro closed in 38.24.
Behind Centro and Hocker, Nike Bowerman's Josh Thompson, Brooks Beast Henry Wynne, and adidas' Sam Prakel also closed very well (38-second final 300s) to make the final with the other three auto Q spots in heat 2. Perhaps the most notable of those is Thompson, who finished 3rd at USAs in 2019 but hasn't looked great this year, finishing only 11th in a 1500 at the Portland Track Festival a month ago. Wynne and Prakel have been in good form all year and are seeking their first US teams.
Quick Takes by Rojo: Coming into the meet, we thought on paper this looked like a battle between 4 guys for 3 spots and it still looks like that
If you didn't watch the races and just looked at the results, you may be thinking, "Wow only .22 separated first and sixth in heat #1, a ton of guys are going to be in it for the team."
Don't go down that route. Engels and Nuguse were in control. I know they didn't win by much but it certainly looked like they could have if they needed too. And then in heat #2, Centrowitz and Hocker did separate from everyone else.
Actually, the way I see it, I really feel strongly that Centrowitz and Hocker will make the team. Centrowitz is the reigning Olympic champion and has looked supreme this year and Hocker was right with him. Perhaps the top guys in heat 1 are in the same form, but we don't know that as Hocker beat Nuguse at NCAAs. 
Quick Take: Will someone without the standard take out the final?
The question we have is who will lead the final. Nuguse led NCAAs but hasn't led at all here. I don't think he wants to lead. He's not running to win. He's going to run for third. Under normal circumstances, it wouldn't surprise me if Centro and Hocker try to control things from the front at a modest pace.
But there are a number of guys in the final without the standard and without a world ranking high enough to get into the Olympics – Colby Alexander, David Ribich, Waleed Suliman, and Eric Avila. Will one of them or perhaps a group of them agree to go for a fast one?
Under normal circumstances, I would assume yes, but it's going to be 110 degrees. For a race less than 4 minutes long, heat normally doesn't impact things at all. But that hot? We're pretty much in uncharted territory here. So maybe they don't try, which gets us to the next point…
Quick Take: Cole Hocker is right on the bubble for the world rankings
If you look at the updated World Athletics "Road To Olympic Games 2020" where they list those with the standard and world rankings for the Olympics, Cole Hocker actually is the 46th person in line to get to the Olympics in the 1500 once you limit things to 3 per country and they take 45. But since 3 of the 45 people ahead of him are American, he'd be the last guy in assuming no one goes ahead of him this weekend (the qualifying ends Tuesday). And that includes World Athletics letting in a guy from Equatorial Guinea with a 3:46 pb.
Now, Hocker's ranking could improve on Sunday. If he finishes top 3, he will get at least 80 bonus points. The problem is that won't improve his ranking unless the race is somewhat honest as if the race is tactical the bonus points won't matter at all as the points you get for running a certain time will be too low.
If Hocker gets third in at least 3:40.00, his world ranking should jump up at least two spots. The problem is if it's slower than that, his ranking may not improve. And the winning time at USAs each of the last 3 times it's been held has been over 3:43.
So if we were Oregon coach Ben Thomas, would we tell Hocker to worry about the pace?
Honestly, we'd tell him to race for top 3. If he gets top 3 and somehow isn't in line for the Games and Seb Coe won't use common sense and let him in (after all, America is going to send 3 anyway. The rules should be if you have 5 entrants in line to go, you can send any 3 you want), we think he's talented enough to go hit the standard in a last chance meet on Tuesday. Maybe if we were Thomas, we might tell him make sure you hit 800 in at least 2:02.
We know one thing, it would be a travesty that a guy who ran 3:50 in the mile, 3:35 for 1500 and won the NCAA title wouldn't be in the Olympics while someone like Amos Bartelsmeyer is just ahead of him.
MB: Hocker needs a 3:40 race to guarantee selection 
Talk about today's action on the world famous fan forum / messageboard.