PTF Day 1: Osako Beats Rupp, Ferlic Beats McGorty, Frerichs Rules the Steeple
By Jonathan Gault
May 28, 2021
A number of America's top distance runners have descended upon Portland, Ore., this weekend for one last Olympic Trials tuneup at the Portland Track Festival. Friday was the first night of the two-night meet and featured the steeplechases and 10ks, with Portland-based stars Galen Rupp, Sean McGorty, and Courtney Frerichs all racing. The night was a successful one for Frerichs, who powered to a steeple victory in 9:21.13, but less so for Rupp and McGorty, who were beaten in the men's 10k and steeple, respectively. 
One of the more interesting developments may have come away from the track: on the meet's timing site, Shelby Houlihan, who was supposed to make her 2021 debut tomorrow, is not listed on the 1500m start list. LetsRun reached out to Houlihan's agent Stephen Haas to confirm whether Houlihan has indeed scratched but did not hear back as of publication.
Here are the biggest things we learned after the first night of racing in Portland.
Mason Ferlic wins the steeple, Sean McGorty 3rd; the Trials is going to be a lot of fun
The big move in tonight's men's steeplechase came with three laps to go, when the US Army's Benard Keter dropped the pace from 69's to a 64. He gapped and strung out the field, and in the end only one man was able to respond as Mason Ferlic clawed his way back and then passed Keter coming off the final turn to power away to an 8:18.79 victory. Keter wound up second in 8:20.40 with the Bowerman Track Club's Sean McGorty in third in 8:22.75.
The win was big for Ferlic for a couple of reasons. For one, it was his first win in any steeple since he claimed the NCAA title for the University of Michigan in June 2016. And two, he beat fellow Olympic contender McGorty (and Keter). Most impressive was the way Ferlic won this race. Keter's hard push with three laps to go is the sort of move you'll see in an Olympic Trials final, and how one responds to such a move — particularly in the steeple, with barriers to navigate as one tires — is key. Ferlic made the right decision holding back and measured his effort perfectly; when Keter began to slow, Ferlic was there to run him down late as he still had an extra gear to use.
Keter still ran very well for second — his 8:20.40 was a six-second pb and added his name to the growing list of Olympic contenders. The other notable result was one spot behind him. McGorty has such impressive flat pbs (3:36/7:37/13:06) and looked so good in his 8:20 steeple debut — the fastest in American history — that he seemed well on his way to an Olympic berth in the steeple. 
Tonight was a reminder that it's not that easy. In his debut at Mt. SAC, McGorty had teammate/pacer Evan Jager to lead the way and was able to run with the leaders the whole way and kick late for the win. This time, Keter put the field to the sword with a 64-second lap late in the race, and McGorty did not respond well to the sudden acceleration, giving up several places before fighting back over the final lap to take third.
Tonight wasn't a total disaster for McGorty. But it was definitely not a step forward. He ran slower than he did in his debut and got beaten by two guys he'll have to face with an Olympic berth on the line in Ferlic and Keter. The one benefit is experience: he has now raced twice as many steeples as he did going into tonight, and he faced a scenario similar to what might unfold in a championship race such as the Trials. It's up to McGorty and coach Jerry Schumacher to make the necessary adjustments between now and then.
Article continues below player.
Speaking of the Trials, the men's steeple is going to be a lot of fun. Track has a tendency to be predictable (see: the women's steeple in the US right now), but with Jager yet to finish a steeple since 2018, there is plenty of uncertainty in the men's steeple heading into the Trials. Which makes for a very entertaining race.
Courtney Frerichs dominates women's steeple
Speaking of certainty and uncertainty, it is virtually certain that Courtney Frerichs, who looked great in pulling away late to win the women's steeple tonight in 9:21.13, and Emma Coburn, who ran 9:08.22 today in Doha, will be on the US Olympic team again this year. The only question is Colleen Quigley's health. If the 28-year-old Quigley, who hasn't run a steeple since July 2019, is healthy, she will be the third member of the team. If not (and we don't think she's been healthy as she hasn't raced recently), the third spot is wide open, as shown by the results tonight.
Outside of Quigley, Frerichs, and Coburn, no American had run faster than 9:28 during the Olympic qualifying window. That changed tonight as Colorado alum Valerie Constien ran a 10-second pb of 9:25.53 for second and Mel Lawrence (3rd at USAs in 2018) ran a two-second pb of 9:27.34 for fourth. Both are now serious Olympic contenders if Quigley isn't right.
The fourth member of Team USA in 2019, Allie Ostrander, was also in action tonight, but could only manage sixth in 9:38.72 in her first steeple since the 2019 Worlds.
Suguru Osako prevails in 10k battle of former NOP teammates as Galen Rupp is 4th in 28:00
The main storyline heading into this one was the return of Galen Rupp, who had not raced on the track since January 2018. If Rupp had run a 10k at this point during the last two Olympic cycles, no one in America would have been able to touch him. But tonight's effort showed that he is truly in a different phase of his career, focused solely on the marathon. Though Rupp was still around on the final lap when the kicking began, he could manage no faster than a 65-second last lap to run 28:00.37 as his former Nike Oregon Project teammate Suguru Osako sprinted away to win in 27:56.44. Amazingly, Osako doubled back immediately and ran the second heat, almost winning that as well (he was second in 29:04.28 to Acer Iverson's 29:04.00).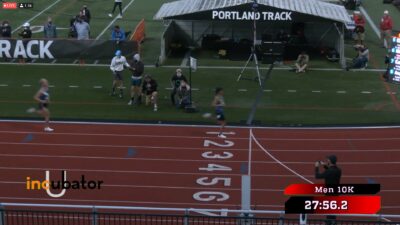 Rupp was not even the top American as Jacob Thomson blew by him with 200 to go and wound up second in a 12-second pb of 27:57 to hit the Olympic Trials standard of 28:00.00. Thomson joins a select group of Americans to have beaten Rupp over 10,000 meters. Since the 2010 Payton Jordan 10,000, where Chris Solinsky beat Rupp to claim the American record, there have been only two 10ks in which Rupp lost to an American: the 2017 US champs, where Rupp finished 5th, and tonight.
There has been some speculation about whether Rupp was running this race to get an Olympic Trials qualifier so that he could race on his home track at the rebuilt Hayward Field. Rupp told Runner's World's Sarah Lorge Butler after the race that he plans on running the Trials if he gets accepted to the meet, but he could have some trouble getting in. He missed the auto standard by .37, and there are currently 25 Americans with the standard for a target field size of 24 (Rupp is #26 on the list). Frankly, we'll be shocked if USATF doesn't find a way to get Rupp in the field — though he may make it anyway with scratches.
Caroline Kipkirui wins women's 10,000
We're not sure what the Kenyan Kipkirui, a 14:27 5,000m performer, was doing running the Portland Track Festival other than picking up the guaranteed $1000 in prize money (more will be added based on how many viewers watch the races as explained here). She did not seem keen on chasing the Olympic standard of 31:25. In a 15k road race a few weeks ago in Texas, Kipkirui split 31:08 for her first 10k en route to a $3,000 payday. Whatever Kipkirui was doing here, she was the class of the field, leading the whole thing and winning in 31:44.06. 2020 US marathon Olympian Molly Seidel was the top American, running a pb of 32:02.19 for third.
Kipkirui is also entered in tomorrow's 5000 where she'll face Karissa Schweizer and others.
Talk about tonight's action on our messgaeboard.