2021 Doha DL Recap: Faith Kipyegon Kicks to Glory in 800, Tim Cheruiyot > Steph Curry, & More
By LetsRun.com
May 28, 2021
With much warmer conditions than the season-opening Diamond League meet in Gateshead last week, there were plenty of world-leading times as the DL season continued with meet #2 in Doha tonight. Michael Norman (400, 44.27), Timothy Cheruiyot (1500, 3:30.48), and Norah Jeruto (steeple, 9:00.67) were among the athletes to post world leaders, but one of the most impressive performances of the night was not a world leader: the 1:58.26 victory in the 800 by Kenya's Faith Kipyegon, who ran a huge negative split of 60.8/57.4.
There also  a world leader by a Kenyan in the men's 800, as Wyclife Kinyamal became the first man to break 1:44 outdoors in 2021 (1:43.91), while there were also victories for Kenny Bednarek (narrowly over Andre De Grasse in the 200) and Shelly-Ann Fraser-Pryce (10.84 in the 100.
Article continues below player
Full recap and analysis below. *Full results
Talk about the meet on our fan forum / messageboard.
Men's 1500: Potato Tim has still got it
Move over, Steph Curry.
Since the start of the 2018 Diamond League season, Timothy Cheruiyot had won 1500/mile races (19/21, 90.5%) at slightly under the rate Curry, the Golden State Warriors superstar, makes free throws (90.7%).
Cheruiyot extended his dominance into 2021 in Doha and surpassed Curry's free throw rate as he made it 20 wins in his last 22 races (90.9%) as he outkicked Stewart McSweyn, Soufiane El Bakkali, and world indoor champ Samuel Tefera over the final lap to get the win in 3:30.48.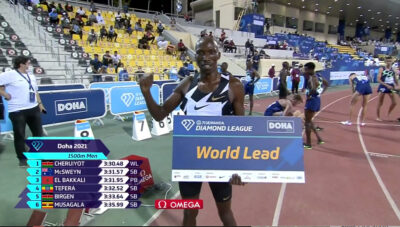 Early season meets, late seasons meets, it doesn't matter — Cheruiyot keeps winning.
The field brought a stern challenge to Cheruiyot as they were willing to go with rabbit Erik Sowinski and the early sub-3:30 pace. Sowinski took the field through 800 in 1:50.77 as indoor 1500 world record holder Tefera was right behind the rabbits ahead of McSweyn, Cheruiyot, and steeplechaser El Bakkali in that order.
Tefera had the lead at the bell as those four were all together. Cheruiyot took the lead on the backstretch, but could not shake Tefera as they entered the homestretch. Before one had time to ponder if Cheruiyot was not race-sharp in his first race of 2021, he pulled away from Tefera over the final 100m to get the comfortable win in 3:30.48 as Tefera faded to 4th. McSweyn closed best to get second in 3:31.57.
   Results
1 CHERUIYOT Timothy                KEN   3:30.48
2 MCSWEYN Stewart                  AUS   3:31.57
3 EL BAKKALI Soufiane              MAR   3:31.95
4 TEFERA Samuel                    ETH   3:32.52
5 BIRGEN Bethwell                  KEN   3:33.64
6 MUSAGALA Ronald                  UGA   3:35.99
7 KIBET Vincent                    KEN   3:36.15
8 AL GARNI Mohamed                 QAT   3:36.75
9 MUSAB Adam Ali                   QAT   3:36.96
10 BERGLUND Kalle                   SWE   3:37.92
11 DRIOUCH Hamza                    QAT   3:39.89
12 RAMSDEN Matthew                  AUS   3:40.89
13 GREGSON Ryan                     AUS   3:42.93
SEIN Timothy                     KEN       DNF
SOWINSKI Erik                    USA       DNF
QT: Cheruiyot still has got it
People may want to wonder when Father Time (see Why does Timothy Cheruyiot look so old?) will catch up to Cheruiyot, but he is only 25 years of age and the class of the 1500m ranks. Jakob Ingebrigtsen was not in this field, but one would be foolish to bet against Cheruiyot in any 1500m race (he has never lost to Ingebrigtsen).
If one wants to try to find flaws in this race where Cheruiyot dispatched the best in the world, the final lap was only 56.5 seconds.
Women's 800: Kipyegon destroys the field
Just before 600 meters, Olympic 1500-meter champion Faith Kipyegon used an inside move to grab the lead in what up until that point had been a tactical 800. The last 200 was a thing of beauty as Kipyegon blasted the field with a 27.7 to get a DOMINANT win in 1:58.26 after a 60.8 opening 400.
Natoya Goule of Jamaica, the three-time NCAA champ, was second in 1:59.70 with Rababe Arafi, of Morocco, the 4th placer at Worlds in 2015, the only other woman under 2:00 in third in 1:59.83. Ethiopian record holder Habitam Alemu was fourth in 2:00.02.
British teenager Keely Hodgkinson, who came in ranked 5th in the world at 1:58.89, was sixth in 2:00.63 while American Hanna Green was last in 2:02.71.
It was Kipyegon's second strong 800 in Doha as she ran her pb of 1:57.68 at the end of September in last year's delayed DL meet.
Results
1 KIPYEGON Faith                   KEN   1:58.26
2 GOULE Natoya                     JAM   1:59.70
3 ARAFI Rababe                     MAR   1:59.83
4 ALEMU Habitam                    ETH   2:00.02
5 HODGKINSON Keely                 GBR   2:00.63
6 NANYONDO Winnie                  UGA   2:01.76
7 HYNNE Hedda                      NOR   2:02.47
8 GREEN Hanna                      USA   2:02.71
YARIGO Noélie                    BEN       DNF
Quick Take: Is there any chance Kipyegon goes for the 800/1500 double in the Olympics?
The double at the Olympics is pretty doable with the three rounds of the 800 taking place on days 1, 2, and 5 and the 1500 on days 4, 6, and 8.
In a tactical 800, she is fantastic. Her final 400 today was 57.5. When Athing Mu ran her world leading 1:57.73, she split 60.0-57.7.
MB: Hand her the 800 & 1500 gold?Faith Kipyegon DESTROYS Doha 800. 
Men's 800: Kinyamal wins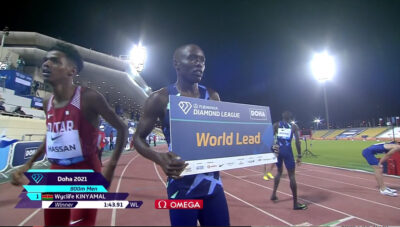 Kenya's Wycliffe Kinyamal went from third to first on the final turn and then never looked back as he got the win in a world-leading 1:43.91 as compatriot Ferguson Cheruiyot Rotich, the bronze medallist at Worlds in 2019, was second in 1:44.45 — just ahead of Britain's Daniel Rowden, who ran 1:44.60 in his 2021 debut. 2019 Worlds silver medallist Amel Tuka took nearly two seconds off his previous seasonal best (1:46.64) to finish 4th in 1:44.76.
Rowden ran aggressively in his season debut as he went with the rabbit and covered the first 400 in 50.7. The pace slowed over the next 600 (1:17.11) before Kinyamal went out in lane 2 and closed in 26.4 to get the win.
Kinyamal admitted after the race he was surprised to get the win, which surprised us as this was the 4th DL win of the 23-year-old's career.
"I feel good about this race. It didn't cross my mind to be the first and to win, my next focus is the Olympics, and win any medal. I'm not gonna say that I'll win the gold but I'll try to do my best."
Results
1 KINYAMAL Wyclife                 KEN   1:43.91
2 ROTICH Ferguson Cheruiyot        KEN   1:44.45
3 ROWDEN Daniel                    GBR   1:44.60
4 TUKA Amel                        BIH   1:44.76
5 BEN Adrián                       ESP   1:45.10
6 TSHITE Tshepo                    RSA   1:45.54
7 HAIRANE Jamal                    QAT   1:45.87
8 HASSAN Abdirahman Saeed          QAT   1:45.99
9 WEBB Jamie                       GBR   1:48.60
TUWEI Cornelius                  KEN       DNF
Women's 3000: Beatrice Chebet arrives as Obiri fades
They may one day look back at the women's 3000 in Doha as a changing-of-the-guard moment in Kenyan distance running. Or it may just be a hiccup in an otherwise outstanding career for Hellen Obiri. But on this night, it was not Obiri, the two-time defending world champ at 5k, who kicked to victory but 21-year-old Beatrice Chebet, the world U20 5k and XC champ who sprinted to the win over the final 200 and clocked a 22-second pb of 8:27.49 to earn her first Diamond League victory.
Entering the final lap, five women were still in contention, all of them Kenyan: Obiri, Chebet, world silver medalist Margaret Kipkemboi, Lilian Rengeruk, and Sheila Chelangat. Obiri held the lead, and given her pedigree and track record (she won the 3k in Doha in 2019 and 2020), seemed headed to another victory. At the bell, Chebet and Rengeruk flanked Obiri, running on the inside, but she refused to yield and held them off around the first turn. They renewed their efforts on the back straight, but Obiri once again dug deep and maintained the lead.
Too deep, it turned out. Chebet attacked again just before 200 to go, and this time Obiri had no answer. Chebet flew past her, followed by Kipkemboi and Rengeruk as a spent Obiri could only manage fourth place in 8:33.98, Chebet putting over six seconds on her over the final 200.
Results
1 CHEBET Beatrice                  KEN   8:27.49
2 KIPKEMBOI Margaret Chelimo       KEN   8:28.27
3 RENGERUK Lilian Kasait           KEN   8:28.96
4 OBIRI Hellen                     KEN   8:33.98
5 CHELANGAT Sheila                 KEN   8:36.20
6 CAN Yasemin                      TUR   8:39.47
7 FEYSA Hawi                       ETH   8:39.88
8 CHERONO Eva                      KEN   8:43.67
9 SCOTT Dominique                  RSA   8:51.39
10 BUSCOMB Camille                  NZL   8:58.10
11 HILALI Siham                     MAR   9:03.87
CHEBET Winny                     KEN       DNF
Quick Take: World, meet Beatrice Chebet
Beatrice Chebet is not a name that may not be familiar to you if you only follow the top level of track and field. Like Obiri, she raced the 3k here in Doha in both 2019 and 2020, but could only manage 16th and 13th, with a best time of 8:49. But Chebet also has some seriously impressive junior accomplishments, as she won the world U20 5k title back in 2018 and followed that up with the world U20 XC title in 2019 (she also ran 14:46 at the London Diamond League back in 2019). Today, Chebet took a massive step forward with her biggest win at the senior level, and based on her close, she will be a medal threat in the 5k in Tokyo, should she make the competitive Kenyan team.
Women's steeplechase: Norah Jeruto goes out hard and holds on to win a thriller
With world record holder Beatrice Chepkoech a pre-race scratch, this was a wide-open race on paper, and that's how it played out, with three women in contention at the bell. Ultimately, it was Kenya's Norah Jeruto who took the win in a quick 9:00.67, but there was plenty of drama over the final lap.
Early on, Jeruto was the only woman to go with pacemaker Fancy Cherono, who hit 1k well under 9:00 pace in 2:55.99. But once Cherono dropped out, Jeruto could not keep the pace up, and by 2k (6:02.16), she had been joined by 2015 world champ Hyvin Kiyeng and 19-year-old Ethiopian Mekides Abebe, who entered the race with a pb of just 9:25. Three meters back, Bahrain's Winfred Yavi was trying to close the gap, with American Emma Coburn further back in fifth place.
The top three of Jeruto, Kiyeng, and Abebe would run together until the bell, at which point Jeruto seized the lead and Yavi began to fall off for good. It was still close heading into the final water jump, with Kiyeng just behind Jeruto, but Kiyeng could not stick the landing. That gave Jeruto the gap she needed, and she would sprint it in to the finish to win in 9:00.67, her fastest time since 2018.
Behind her, Abebe closed well to run a massive 23-second pb to take second, clocking 9:02.52 and breaking the Ethiopian record in the process. Coburn could never quite get into the race and came up just short of catching Kiyeng, who was fourth in 9:07.58 to Coburn's 9:08.22.
Results
1 JERUTO Norah                     KEN   9:00.67
2 ABEBE Mekides                    ETH   9:02.52
3 YAVI Winfred Mutile              BRN   9:02.64
4 KIYENG Hyvin                     KEN   9:07.58
5 COBURN Emma                      USA   9:08.22
6 MIŠMAŠ-ZRIMŠEK Maruša            SLO   9:16.82
7 KRAUSE Gesa Felicitas            GER   9:16.89
8 CHEMUTAI Peruth                  UGA   9:22.09
9 CHEPNGETICH Rosefline            KEN   9:30.80
10 BOUZAYANI Marwa                  TUN   9:32.74
11 GEGA Luiza                       ALB   9:34.20
12 GREGSON Genevieve                AUS   9:35.27
13 TÓTH Lili Anna                   HUN   9:47.48
CHERONO Fancy                    KEN       DNF
Quick Take: Great run for Jeruto, but will she even be at the Olympics?
Norah Jeruto has quietly been one of the best steeplers in the world in recent years. But despite sitting #6 on the 2017 world list, #2 on the 2018 world list, and #4 on the 2019 world list, Jeruto has not competed for Kenya at a global championship. That is because, while Jeruto is still listed as representing Kenya on her World Athletics profile, she runs for a club in Kazakhstan and competes at the Kazakh championships, not the Kenyan champs. Unless something changes (either WA approving a change of allegiance or Jeruto deciding to run the Kenyan champs), it appears unlikely she will be at the Olympics.
Quick Take: The Ethiopian steeple revolution has come to the women's side
Ethiopia emerged as a serious power in the men's steeple in 2019, with Getnet Wale winning the Diamond League and Lamecha Girma coming .01 shy of the world title in Doha. Now it appears Ethiopia has a serious talent in the women's steeple to go with its men's stars.
Mekides Abebe entered tonight as a virtual unknown but leaves it as the Ethiopian record holder, taking over four seconds off Sofia Assefa's 9:07.06 from 2017. Just 19 years old, Abebe clearly has a very bright future.
Quick Take: A very solid run for Emma Coburn in her first steeple in 20 months
A newbie track fan might watch Emma Coburn's run tonight and grow worried about her medal chances in Tokyo. After all, she was never close to the lead and the best steepler in the world, Beatrice Chepkoech, was not even here.
But we have learned better than to doubt Coburn, who has always done a masterful job of timing her peak. Two years ago, Coburn posted a similar result in her DL opener (9:08 in Oslo), finishing five seconds off the win. In 2017, she ran 9:14 in Doha, 14 seconds back of the win. She ended those years with silver and gold medals at Worlds. 9:08 in her first steeple since the 2019 World Championship final is a good result for Coburn, and if she can make her usual improvements between now and the Olympics, she will be in the medal mix again.
Sprints
Women's 100: Shelly-Ann Fraser-Pryce lays down a marker
34-year-old Shelly-Ann Fraser-Pryce hadn't shown much yet in 2021, winning a couple of low-key 200's in Jamaica before opening up her 100m campaign with an 11.51 fourth-place run in horrible conditions in Gateshead last week. Tonight's run was a sign that Fraser-Pryce very much remains in the medal mix, as she looked terrific in bolting out to an early lead en route to a 10.84 clocking, holding off runner-up Blessing Okagbare of Nigeria (10.90). It will take faster than that to win a third Olympic gold in Tokyo, but this was a good result for the GOAT of the women's 100.
Results – Wind: +1.1 m/s
1 FRASER-PRYCE Shelly-Ann          JAM     10.84
2 OKAGBARE Blessing                NGR     10.90
3 OLIVER Javianne                  USA     11.03
4 TA LOU Marie-Josée               CIV     11.12
5 CUNLIFFE Hannah                  USA     11.22
6 PARKER Kiara                     USA     11.26
7 DEL PONTE Ajla                   SUI     11.36
8 AL SHAMMARI Mudhawi              KUW     11.88
Men's 200: Bednarek edges De Grasse in a great finish
Five days ago, Kenny Bednarek raced Andre De Grasse in the Diamond League opener in Gateshead. It was not close. Running into a hefty 3.0 headwind, Bednarek smoked De Grasse, running 20.33 to De Grasse's 20.85.
But De Grasse is the reigning world and Olympic silver medalist, and he sent a message tonight that he remains a force to be reckoned with. Bednarek got out well, leading off the turn, and looked headed toward another comfortable victory, but De Grasse had other plans, running a spectacular final 50 to close the gap and force a photo finish. Bednarek, ultimately, got the win in 19.88, but De Grasse should be happy with his 19.89, the fourth-fastest time of his career and his best time since September 2019.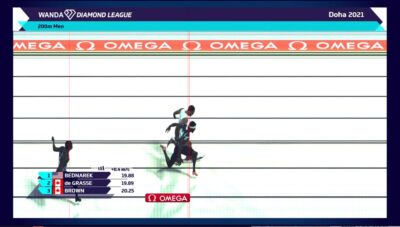 Results – Wind: +0.4 m/s
1 BEDNAREK Kenneth                 USA     19.88
2 DE GRASSE André                  CAN     19.89
3 BROWN Aaron                      CAN     20.25
4 MATADI Emmanuel                  LBR     20.45
5 GATLIN Justin                    USA     20.49
6 GEMILI Adam                      GBR     20.58
7 CISSÉ Arthur                     CIV     20.91
8 GULIYEV Ramil                    TUR     21.09
Men's 400: Michael Norman wins marquee matchup of the night
This was the premier matchup of the night featuring Michael Norman, the 4th fastest of all-time, versus Fred Kerley, the 8th fastest of all-time, plus Anthony Zambrano, the 2019 Worlds silver medallist, and World and Olympic champ Kirani James.
Norman got out fastest and quickly made up the stagger on James. Kerley started to close the gap on Norman a little bit on the final turn but down the homestretch it was clear Norman wasn't getting caught. He got the win in a world-leading 44.27 as Kerley tightened up and was passed by Zambrano. James was a close 4th.
Results
1 NORMAN Michael                   USA     44.27
2 ZAMBRANO Anthony José            COL     44.57
3 KERLEY Fred                      USA     44.60
4 JAMES Kirani                     GRN     44.61
5 NORWOOD Vernon                   USA     44.87
6 AL YASSIN Mazen Moutan           KSA     45.78
7 YAHIA IBRAHIM Ammar Ismail       QAT     46.10
8 BORLÉE Kevin                     BEL     46.29
QT: The 400 is still wide open
With the quality of this field and the heat in Doha, many expected a sub-44 race, but it didn't happen. Norman was pleased to get the win here, but in 2019 he was crushing everyone in April and a non-factor come Worlds. However, Worlds were in October in 2019 and the Olympics are less than two months away.
QT: Fred Kerley still a 400m runner?
Kerley has turned heads by running 9.91 for 100m this year, which is #2 in the world. This performance tonight was not that impressive but Kerley looked to get out of rhythm down the homestretch. The most likely bet is Kerley keeps running the 400m this year.
Men's 400 hurdles: Rai Benjamin makes it two-for-two in 2021
Rai Benjamin has been killing it in 2021: two races, two wins, the two fastest times in the world. The second of those victories came tonight in Doha, but Benjamin had to work for it. Surprisingly, his biggest threat came not from Abderrahman Samba on his inside — whose 46.98 pb is tied with Benjamin for #3 all-time — but from 20-year-old Brazilian Alison dos Santos on his outside, who took the race out hard and led through 200 meters.
Dos Santos ultimately ran out of gas as Benjamin won the race in 47.38 — his eighth sub-48 clocking in eight finals as a professional. Samba could only manage fourth in 48.26, as dos Santos was second in a South American record of 47.57.
Results
1 BENJAMIN Rai                     USA     47.38
2 DOS SANTOS Alison                BRA     47.57
3 MCMASTER Kyron                   IVB     47.82
4 SAMBA Abderrahman                QAT     48.26
5 SELMON Kenneth                   USA     49.03
6 COPELLO Yasmani                  TUR     49.11
7 BARR Thomas                      IRL     49.91
8 KENDZIERA David                  USA     50.39
Quick Take: Is the Big Three now Warholm, Benjamin, dos Santos?
The 400 hurdles has been one of the best events to watch in recent years thanks to a golden generation of hurdlers in Benjamin, Samba, and Karsten Warholm. Samba, however, battled injuries in 2019, didn't race at all last year, and was only fourth today. Might it be time to promote Alison dos Santos in his place?
Dos Santos entered 2021 with a pb of 48.28, which he ran to finish 7th at the 2019 Worlds as a 19-year-old. So far in 2021, he's lowered his pb three times, going 48.15 at Drake, 47.68 at Mt. SAC, and now 47.57 today. Here's how that compares to the Big Three at the same age:
PB at age 20
Rai Benjamin: 47.02
Alison dos Santos: 47.57
Karsten Warholm: 48.49
Abderrahman Samba: N/A (had not run event yet)
Men's Shot Put: Sinancevic breaks national record but finishes 3rd
Armin Sinancevic set a Serbian record of 21.88 in round 5, but this meet had the new Diamond League format where the winner was determined by who had the best final throw and that was unsponsored Tomas Walsh and his 21.63 after Sinancevic fouled. That foul cost him $6,500 in prize money as Croatia's Filip Mihaljevic was second with a 20.89 (21.57 earlier).
1 WALSH Tomas                      NZL     21.63
2 MIHALJEVIĆ Filip                 CRO     21.57
3 SINANČEVIĆ Armin                 SRB     21.88
4 HASSAN Mostafa Amr               EGY     21.12
5 WEIR Zane                        ITA     20.26
6 PEZER Mesud                      BIH     20.01
7 BUKOWIECKI Konrad                POL     19.92
8 ELEMBA Franck                    CGO     18.80
Women's Triple Jump: Rojas goes 15+ meters twice
Venezuelan world champ Yulimar Rojas, who last week jumped 15.43 meters in Andujar (#2 all-time) wasted no time showing everyone who was boss, going 15.15 meters in the first round. That would normally have been easily enough to win, but under the new Diamond League format, Rojas had to back it up in the final showdown between the top three jumpers of the night. She did just that, going 15.11 on her sixth jump to clinch the win.
1 ROJAS Yulimar                    VEN     15.15                +2.0
2 WILLIAMS Kimberly                JAM     14.69                +1.6
3 RICKETTS Shanieka                JAM     14.98                +1.2
4 LAFOND Thea                      DMA     14.57                +2.4
5 ORJI Keturah                     USA     14.37                +1.9
6 SALADUKHA Olha                   UKR     14.04                +2.2
7 CHUAIMAROENG Parinya             THA     13.98                +1.8
8 IBARGUEN Caterine                COL     13.86                +1.3
9 PAPACHRISTOU Paraskevi           GRE     13.83                +1.6
10 RYPAKOVA Olga                    KAZ     13.58                +0.9
Women's Pole Vault: Nageotte wins on countback
There was a tight battle between Americans Katie Nageotte and Sandi Morris in the pole vault, with both women clearing 4.84 meters and missing all three attempts at 4.90. That meant it went to countback, and Nageotte, who cleared 4.84 on her first attempt, prevailed over Morris, who needed two attempts.
1 NAGEOTTE Katie                   USA      4.84
2 MORRIS Sandi                     USA      4.84
3 BRADSHAW Holly                   GBR      4.74
4 STEFANIDI Katerina               GRE      4.74
4 ŠUTEJ Tina                       SLO      4.74
6 ZHUK Iryna                       BLR      4.74
7 SIDOROVA Anzhelika               ANA      4.64
8 BENGTSSON Angelica               SWE      4.50
NEWMAN Alysha                    CAN        NM
Women's Discus: Pérez wins with one of her worst throws of the night
2019 world champ Yaimé Pérez of Cuba got the win in the women's discus thanks to the format where only the top 3 throwers get to throw in the sixth round and the winner is the one with the best throw in that round. Her sixth-round throw of 61.35 was only her 4th-best throw of the night but it was better than the 58.58 that American record holder Valarie Allman put up. That sixth-round throw was Allman's worst of the night. Allman had the two best throws of anyone in the competition, led by a 65.57 in round 4. 2012 and 2016 Olympic champ Sandra Perkovic was third. Her best throw on the night was 63.60 but she fouled in the sixth round.
1 PÉREZ Yaimé                      CUB     63.75
2 ALLMAN Valarie                   USA     65.57
3 PERKOVIĆ Sandra                  CRO     63.60
4 VITA Claudine                    GER     63.06
5 CABALLERO Denia                  CUB     63.00
6 TOLJ Marija                      CRO     60.76
7 INSAENG Subenrat                 THA     58.33
8 MÜLLER Nadine                    GER     57.83
9 ASHLEY Whitney                   USA     53.21
Men's high jump: Ivanyuk beats Barshim

Russia's Ilya Ivanyuk, the 2021 world leader at 2.37m, got the win with a 2.33 clearance as Qatar's Mutaz Essa Barshim was second at 2.30. No spectators were allowed so Barshim didn't enjoy his normal hometown advantage tonight.
Results
1 IVANYUK Ilya                     ANA      2.33
2 BARSHIM Mutaz Essa               QAT      2.30
3 PROTSENKO Andriy                 UKR      2.27
4 STARC Brandon                    AUS      2.27
5 DROUIN Derek                     CAN      2.24
5 WILSON Jamal                     BAH      2.24
7 NEDASEKAU Maksim                 BLR      2.24
8 THOMAS Donald                    BAH      2.20
9 ALAMIN Hamdi                     QAT      2.15
9 CULVER Trey                      USA      2.15
B Heat /National Level Events
100 Metres – Men  – National Event           Wind: +0.9 m/s
1 OGUNODE Femi                     QAT     10.00
2 YOUSSOUF Mahamat Goubaye         CHA     10.26
3 BARROW Owaab                     QAT     10.46
4 IBRAHIM Mahmoud Hafiz            KSA     10.48
5 ÖZER Kayhan                      TUR     10.48
6 KHALID Mahamat Zakaria           QAT     10.59
7 ZAMZOUN AL-ABSI Saeed Othman     QAT     10.60
8 OGUNODE Tosin                    QAT     10.72
400 Metres Hurdles – Men  – Diamond Discipline
400 Metres – Men  – National Event – Final B
1 LUCHEMBE Kennedy                 ZAM     46.29
2 JLASSI Mohamed Fares             TUN     46.73
3 BALTI Rami                       TUN     47.03
4 IBRAHIM ISSAKA Hussein           QAT     48.10
5 FUTAYNI Ibrahim Mohammed         KSA     48.33
6 ABDULRAHMAN Mohamed Moussa       QAT     48.84
7 MOHADJIR Abdel Madjid            QAT     48.91
400 Metres Hurdles – Men  – National Event – Final B
1 OSMAN Ashraf Hussen              QAT     49.58
2 SHAIB Mohamed                    SUD     51.16
3 ABDALMUJIED Amor Ebed            QAT     51.40
4 TOUATI Mohamed                   TUN     52.11
5 SAIFELDIN Muhand Khamis          QAT     53.06
PIRJAHAN Mahdi                   IRI       DNF
ABAKAR Doudai Ismail             QAT       DNS
Men's 800 –
Results B Heat
1 GOUANED Mohamed Ali              ALG   1:45.47
2 ZAHAFI Mouad                     MAR   1:46.65
3 BALLA Musaeb Abdulrahman         QAT   1:47.09
4 AYOUNI Abdessalem                TUN   1:47.18
5 OLMEDO Manuel                    ESP   1:47.34
6 SOWINSKI Erik                    USA   1:47.40
7 MUBARAK Rabi Mohamoud            QAT   1:47.56
8 ALZOFAIRI Ebrahim                KUW   1:47.57
9 MAHDI El Hafez                   QAT   1:50.73
10 AL HARBI Khaled Mohamed Jaman    KUW   1:53.80
BENMAHDI Khaled                  ALG       DNF
CHENINI Riadh                    TUN       DNF
SMAILI Mostafa                   MAR       DNF
3000 Metres Steeplechase – Men  – National Event
1 KIPSANG Moses Kibet              KEN   8:30.01
2 BAGHARAB Yaser Salem             QAT   8:35.36
3 CHEMUTAI Albert                  UGA   8:41.42
4 SIGUENI Hicham                   MAR   8:55.12
BEN ZAHRA Abdelkarim             MAR       DNF
MERZOUGUI Abdelaziz              ESP       DNF
TAKELE Bikila Tadese             ETH       DNS
TINDOUFT Mohamed                 MAR       DNS
Talk about the meet on our fan forum / messageboard.