I Was Bored, So I Watched Eliud Kipchoge & Kenenisa Bekele's Duel at 2005 World XC
By Jonathan Gault
June 11, 2020
Welcome back to Throwback Thursday. I began this series nine weeks ago because there were no races and I needed to watch something. This week, that's not the case — there's actual track & field action this afternoon at the Impossible Games (if you haven't read LRC's meet preview, check it out here: LRC Track Is Back! Duplantis, Warholm, Cheruiyot & More Will Battle at 2020 Impossible Games). But I've enjoyed digging up old races, and considering there are still very few meets on the calendar, I'm going to try to keep this series going for at least another few weeks (if you missed any of the first nine installments, click here).
This week's choice was inspired by an event we didn't get to see this spring: Eliud Kipchoge vs. Kenenisa Bekele at the London Marathon. Having already covered their famous 5000 battle at the 2003 World Championships, I sought out another Kipchoge-Bekele duel and settled for the 2005 World Cross Country Championships in Saint-Galmier, France, which came down to the two legends on the final two-kilometer lap.
Article continues below player
While Kipchoge and Bekele have raced plenty of times in the past (Bekele owns a commanding 16-9 edge) and Kipchoge has won all four of their marathon meetings in blowout fashion, their matchups still drive the hype machine like nothing else in distance running (a concept I explored back in January). Tentatively, they're still scheduled to race each other in London on October 4. But given the uncertainty surrounding the fate of that race, their showdown at World XC below might be the closest you'll get to Kipchoge vs. Bekele until next year.
While Kipchoge-Bekele was the headliner, there was plenty of other interesting stuff going on at 2005 World XC, including an impressive double from Tirunesh Dibaba, an appearance from 15-year-old Aliphine Tuliamuk, and Galen Rupp's first (and last) World XC.
Let's head back to the weekend of March 19-20, 2005, (yes, World XC was a multi-day affair back then) and hit play on World Athletics' hour-long highlight video, which starts with the women's junior race…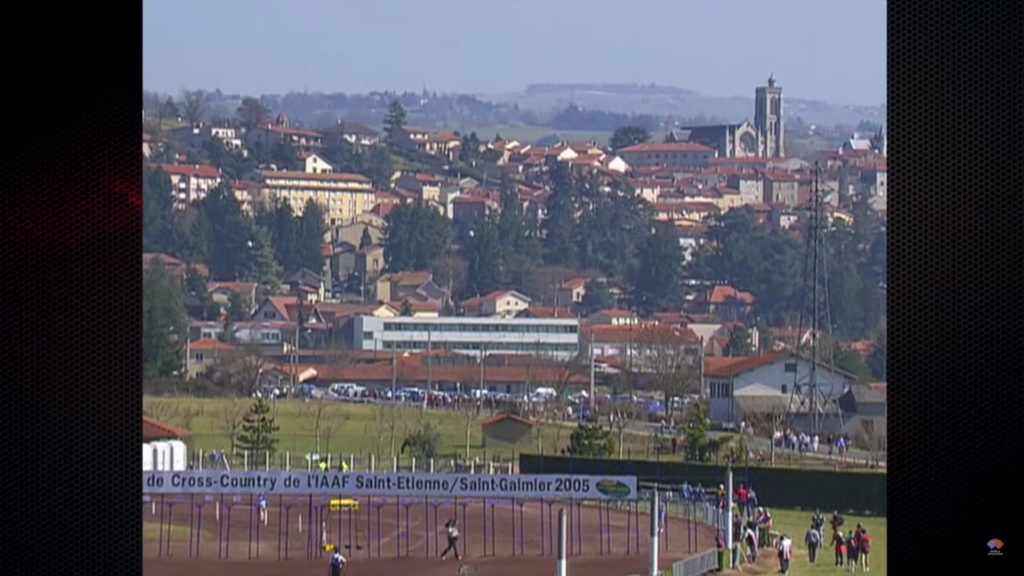 0:10 The announcer tells us 18,000 people have showed up at the Hippodrome Joseph Desjoyaux (a horse racing track) — not a bad crowd at all. It's also unseasonably warm: 27 degrees Celsius (80 Fahrenheit). World XC has been staged in the heat before (2007 in Kenya, 2017 in Uganda), but when it's in Europe, I expect muddy courses and brisk temperatures. France, you have let me down.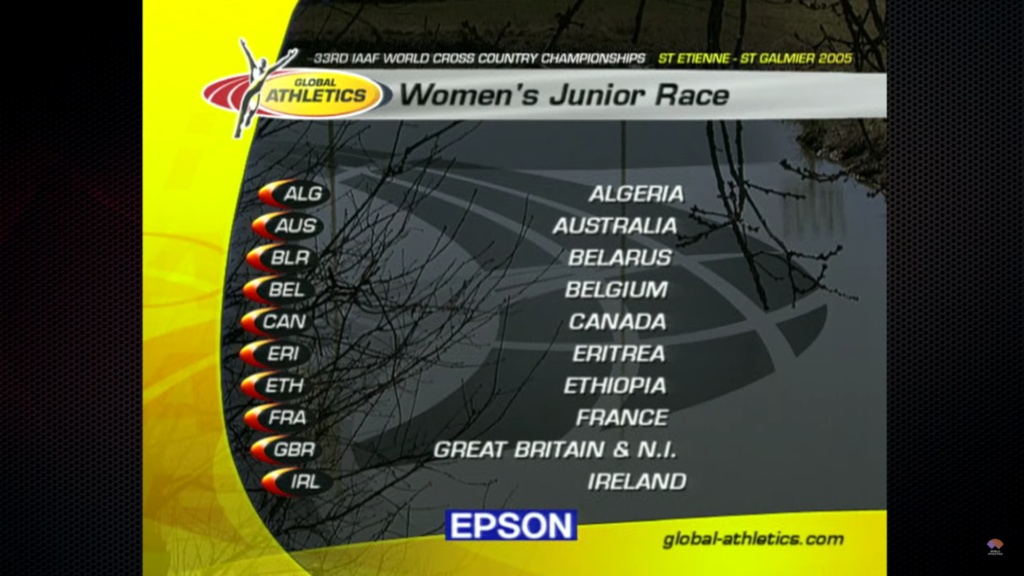 0:32 We're told there are six races in all — men's and women's short, long, and junior races. Yes, this was back during the days when the IAAF added a short race in an attempt to reduce Africa's dominance. And while Ireland's Sonia O'Sullivan did win the inaugural women's race in 1998, it actually had the opposite affect: it only reaffirmed the Africans' greatness. African men claimed all 27 individual medals on offer, and after Bekele won it for the fifth year in a row in 2006, the IAAF scrapped the short race.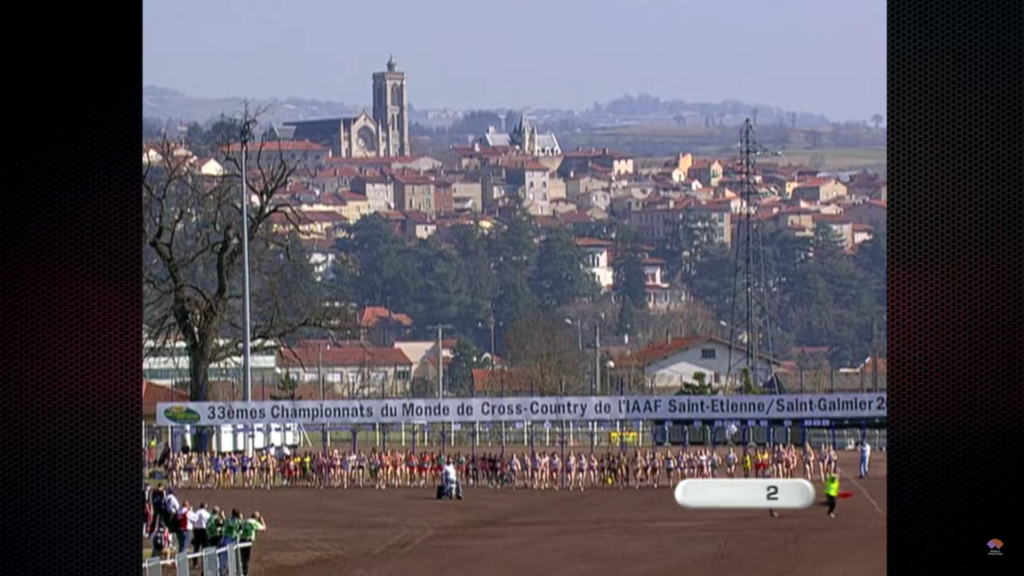 0:57 As the junior women's race begins, we see immediately why sunny, 80-degree temps are a bad thing at World XC. See all that brown stuff? That should be muddy slop. Instead, it's harmless dirt.
Also: pretty cool backdrop for a start.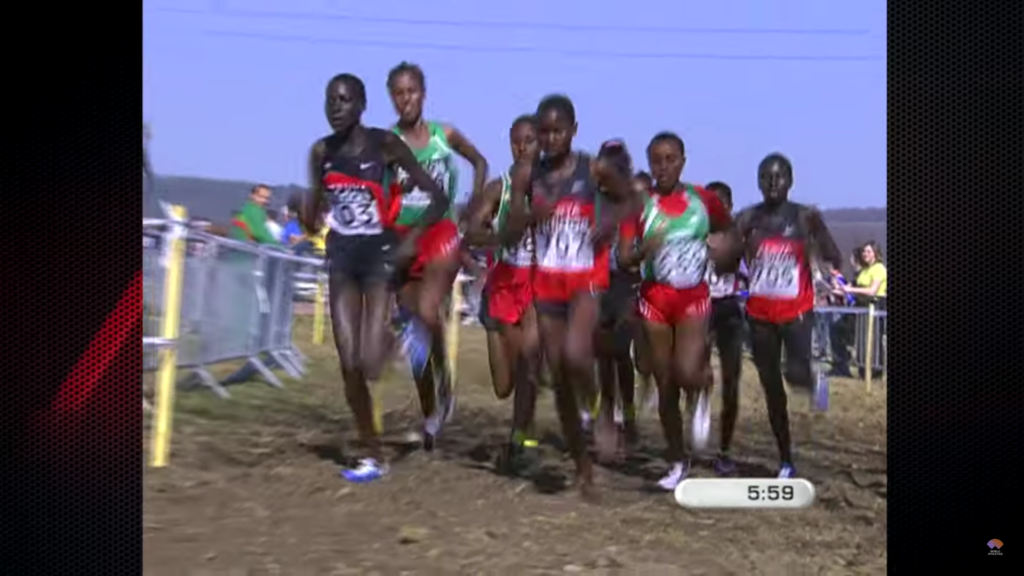 2:04 Recognize #705 on the far right? That's 2020 US Olympic Marathon Trials champ Aliphine Tuliamuk, who was only 15 at the time of this race, running for Kenya. Tuliamuk making this team and finishing 9th at such a young age was one of the reasons her coach Ben Rosario told me not to overlook her as a medal threat at next summer's Olympics — she's always been very talented.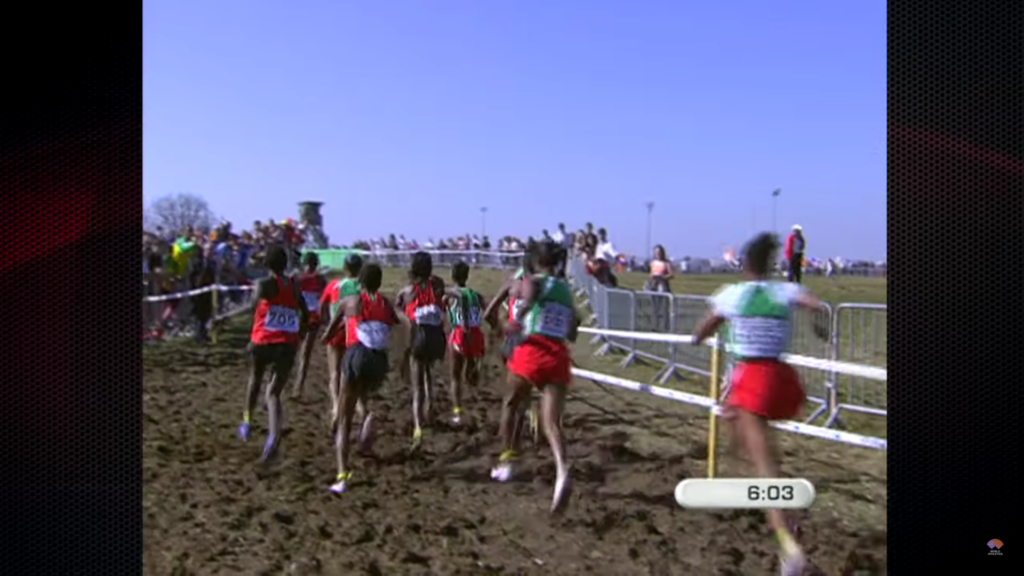 2:09 Okay, at least there's some mud on the course.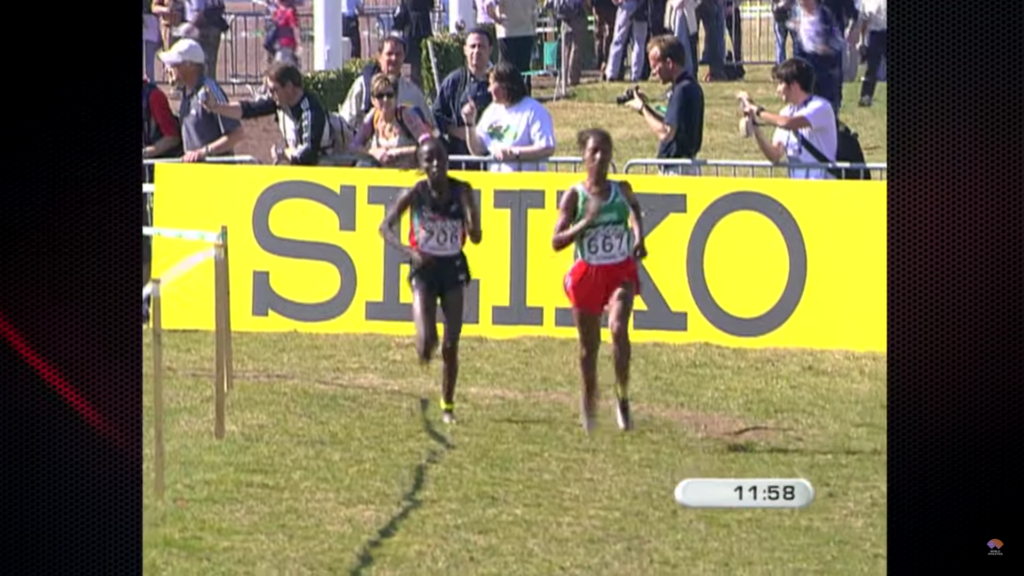 2:28 Ethiopia's Gelete Burka, who would go on to become one of the world's most versatile distance runners (she's won a World Indoor 1500 title, earned 10k silver at Worlds, and run a 2:20 marathon) takes a comfortable 27-second victory over runner-up Veronica Wanjiru of Kenya, who is running barefoot.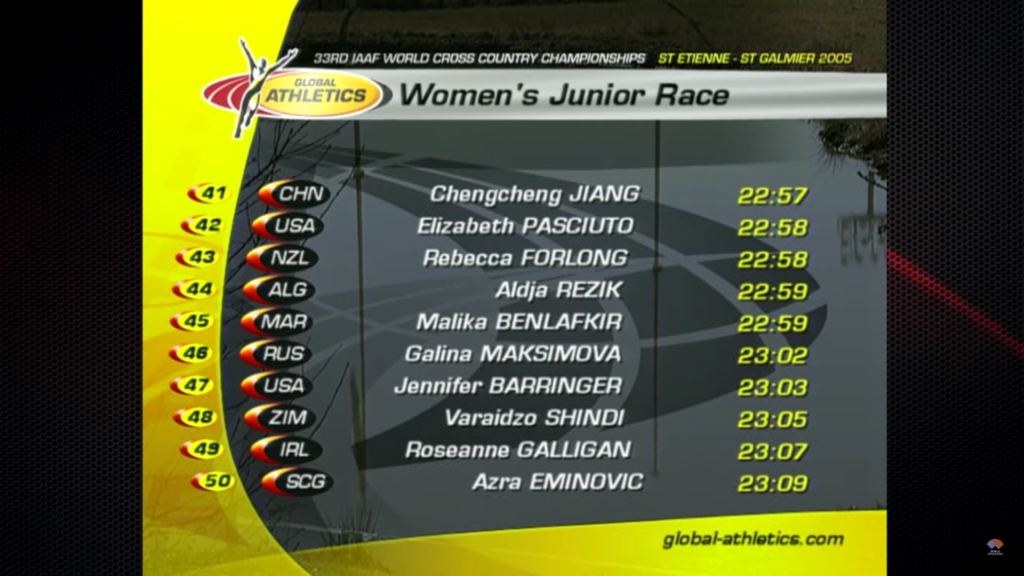 4:12 Some interesting names further down the results: future Japanese half-marathon record holder Hitomi Niiya (13th, 21:39), future NCAA champ Susan Kuijken of the Netherlands (now Krumins, 58th, 23:21), and Great Britain's Steph Twell (60th, 23:23). And of course, the 47th placer in the screenshot above, who would go on to become 1500m world champion six years later despite finishing almost three minutes behind the winner in this race.
Ok. Enough with the women's junior race. The senior men's short race is next.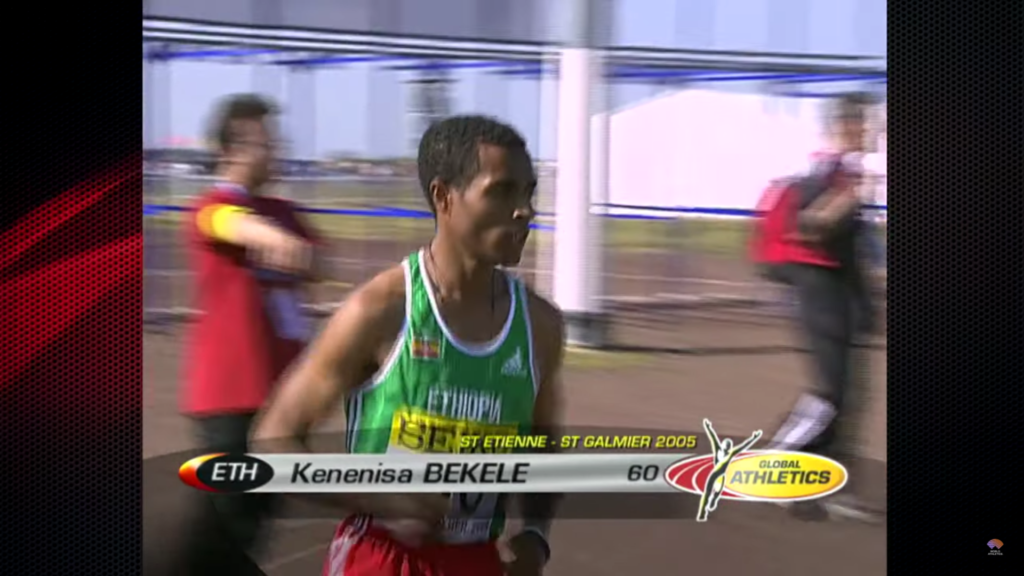 4:36 There are a things to know about Bekele, circa March 2005, as he prepares for the short race on day 1:
-Still only 22, Bekele was already among distance running's all time greats. Bekele entered this race as the defending world and Olympic 10,000 champ, fresh off a 2004 campaign that saw him set world records at 5,000 (12:37) and 10,000 meters (26:20).
-Bekele was going for his 20th straight XC victory and fourth straight short/long sweep at World XC. At the time, the only time he'd beeen defeated at World XC had come in the short race as an 18-year-old in 2001.
-He was running with a heavy heart. In January, his fiancee Alem Techale, the 2003 World Youth 1500 champ, had died of what was believed to be a heart attack while on a training run with Bekele. After that tragedy, he took some time off and lost his first two races back after Techale's death. In the first of those two, at the Boston Indoor Games, Bekele kicked a lap early and was beaten by reigning NCAA champ Alistair Cragg — Cragg's only win over Bekele in 10 attempts.
LRC's recap of that meet is interesting as Bekele said he would only run one race at World XC but ultimately wound up doubling. This wasn't uncommon as Bekele also said he wouldn't run World XC in 2007 before eventually deciding to enter.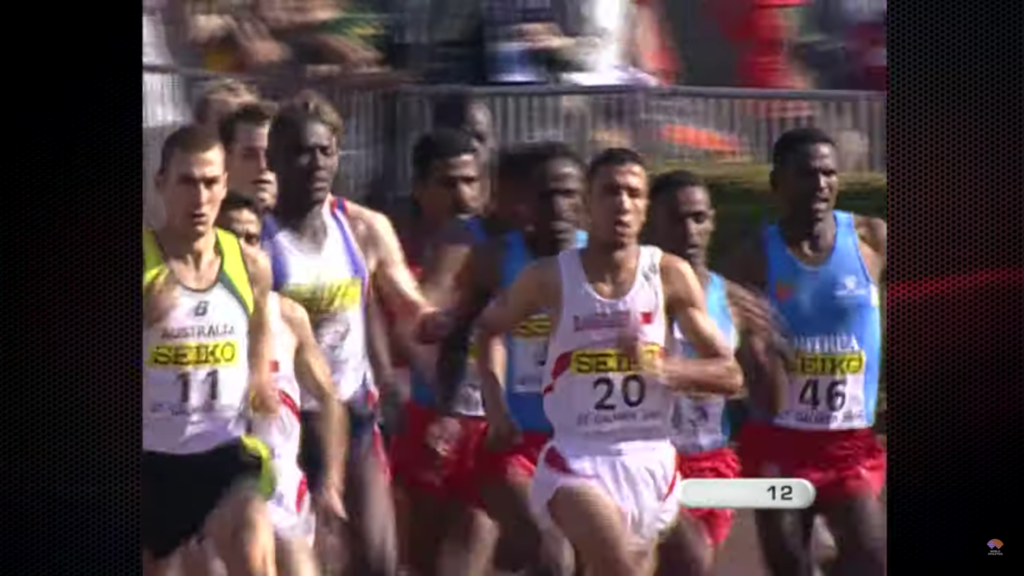 4:53 There was a lot of talent in the short race at 2005 World XC, including the men who would win the 800, 1500, steeple, and 10,000 at Worlds in August. Unfortunately, the man responsible for two of those titles is notorious doper Rashid Ramzi (#20 above), who would get popped after winning the 2008 Olympic 1500.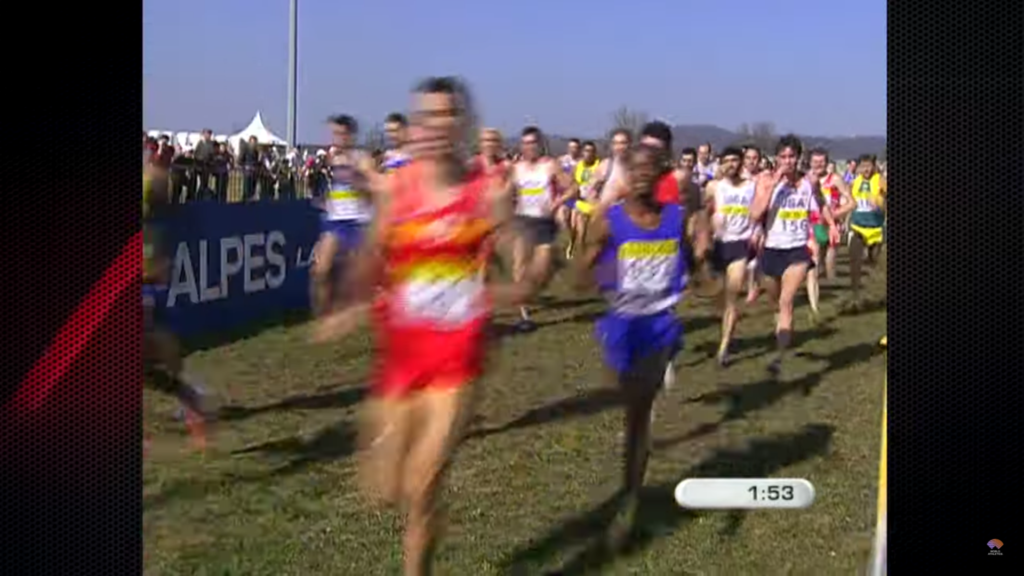 6:36 Up front, Bekele looks smooth and powerful, but has yet to separate. Farther back, the Americans come by, including future NCAA XC champ Josh McDougal (#156), who had finished 5th in the NCAA indoor 5k final just seven days earlier. He was one of two true freshman to line up for the US senior team in this meet, as 2003 Foot Locker champ Matt Withrow finished 60th in the long race. Another true frosh, some guy named Galen Rupp, finished 20th in the junior race — the first and only time Rupp would run World XC.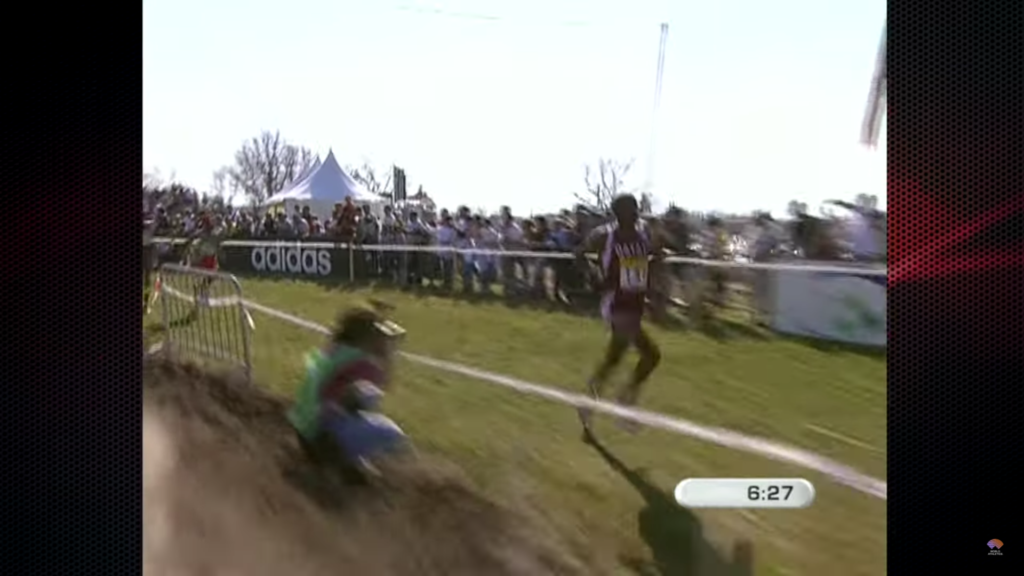 10:22 Saif Saaeed Shaheen — who, like Bekele, was coming off a world record (in the steeple) in 2004 — makes a vicious move and gaps Bekele up front with just a mile to go in the 4.196k race. I'm a believer that there should be only one senior race at World XC, but I have to admit, this is pretty fun. They're flying now.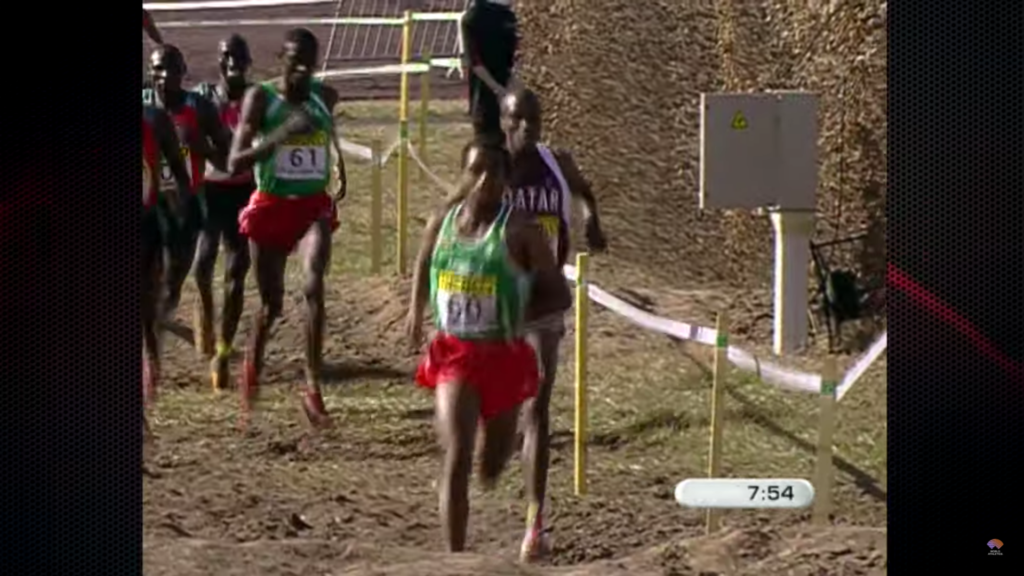 11:48 Watching Bekele in this race is like watching a Ferrari against a bunch of beat-up clunkers. Shaheen had to dig deep to open up a gap, which Bekele methodically erased. Once he catches Shaheen, he sits behind him for a second before taking a glance back at his pursuers and deciding, Hey, actually, I'd like to take a turn leading. His move to the front — ultimately, the winning move — looks effortless.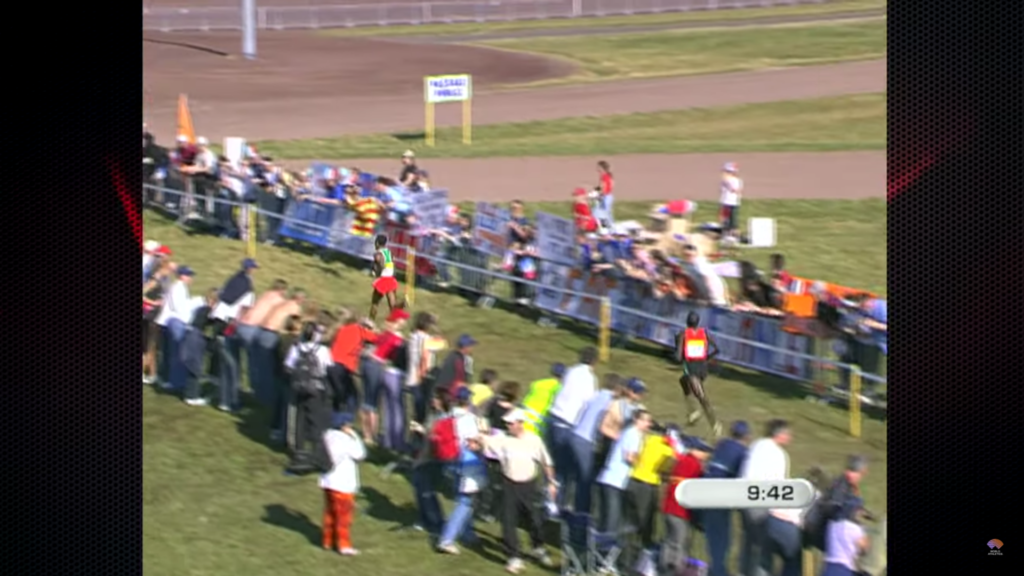 13:29 Fan support in Saint-Galmier has been great. Even though the biggest race of all — the men's senior race — is not until tomorrow, fans are out lining the course.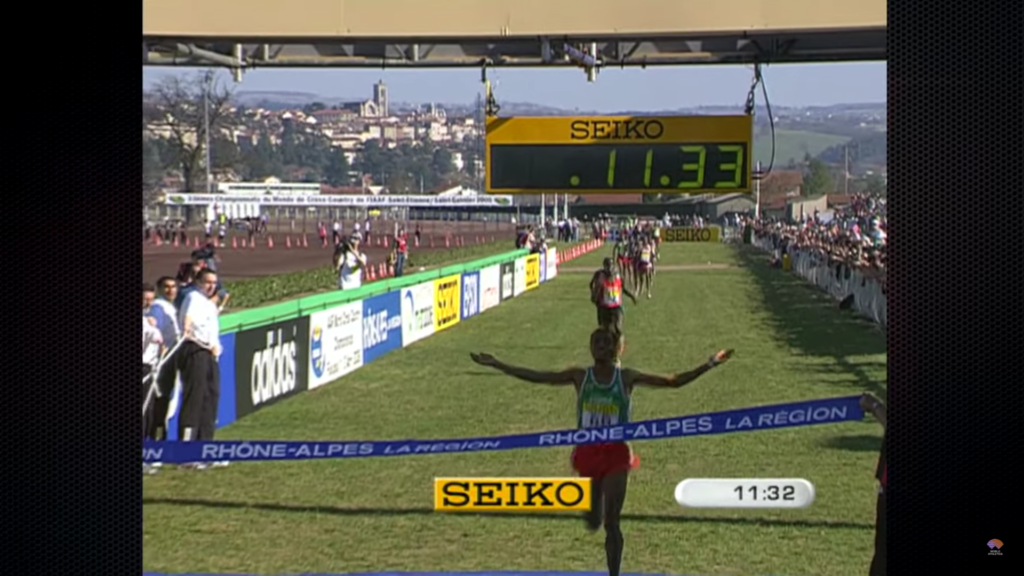 15:21 Bekele wins comfortably and barely looks tired. After blowing a kiss to the crowd, he grabs his jacket and motors quickly through the finish area. He's got another race to win tomorrow.
It's impressive how easily he handled such a strong field. The runner-up, Kenya's Abraham Chebii, owns pbs of 12:52/27:04. Bronze medalist Isaac Songok is a 3:30 guy (and would run 7:28/12:48 in 2006).
Anyone with the temerity to challenge Bekele is punished: Shaheen, the steeple WR holder and a 12:48 guy in his own right, tried to drop the Ethiopian, and as a result, he slips off the podium into fourth place (keep that in mind when we get to the men's senior race). Ok, time for the women's long race.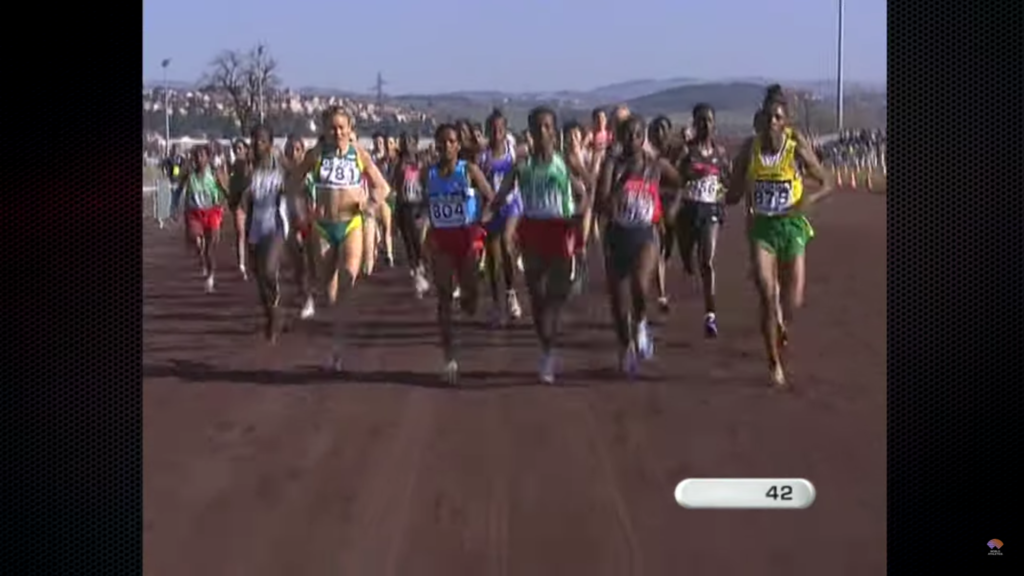 17:17 The announcer introduces the women's long race (8.108k) field, including "Benita Johnson (#781), the Australian. She's already shown pretty prominently, the winner of this title 12 months ago."
Yes, an Australian really did win World XC in 2004. Sixteen years later, Johnson (now Benita Willis) remains the last non-African-born world cross country champion.
Your favorite: a 19-year-old Tirunesh Dibaba (middle), the reigning 5,000m world champ who had run an indoor WR at that distance (14:32) in January.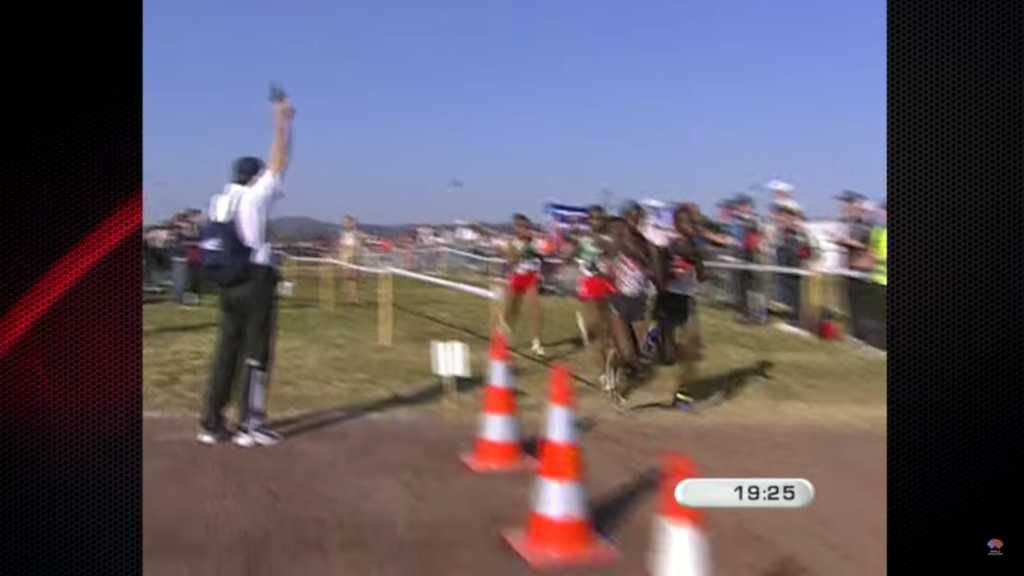 21:03 This is a throwback: instead of a bell to mark the last lap, there's an official to fire a gun. And yes, "gun lap" is a thing.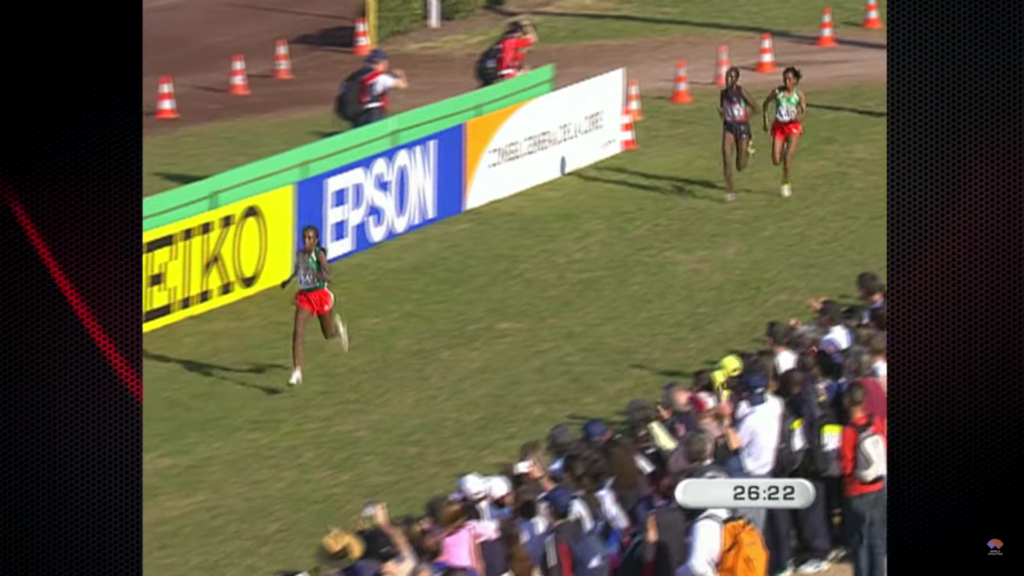 22:28 In a classic sit-and-kick effort, Dibaba makes one hard move with just under 400m to go, and it's game over. Like Bekele, she'll be doubling back the next day (though she'll be in the short race).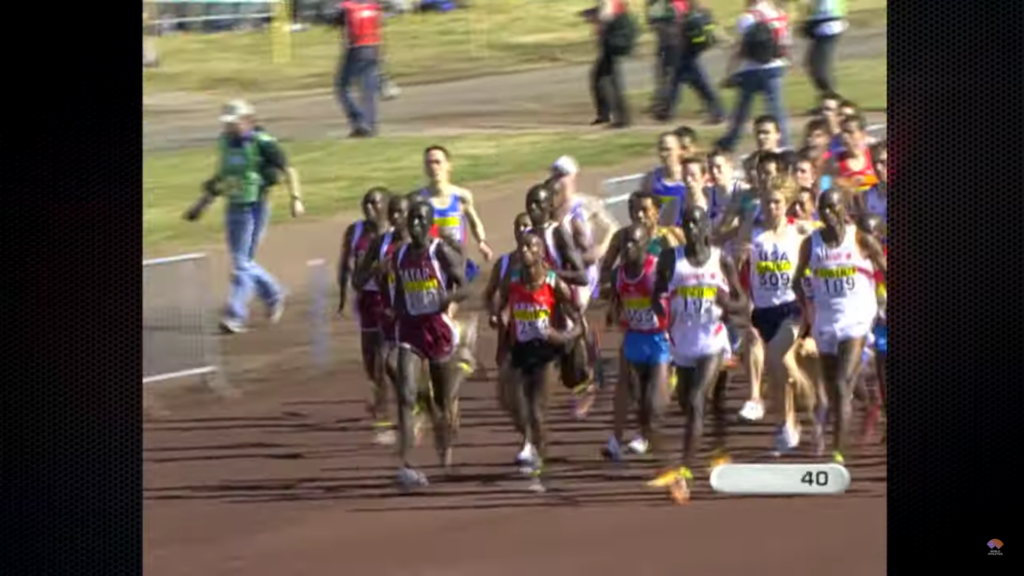 25:31 We're on to day 2, leading off with the men's junior race and proof that Galen Rupp (#309) did once run World XC. While Rupp would go on to future greatness, he only appears on this highlight video for a matter of seconds as he'd finish 20th, 1:06 behind the winner — despite owning a 13:37 5000 pb at the time and despite the fact he'd go on to get second in the NCAA 10,000 a few months later.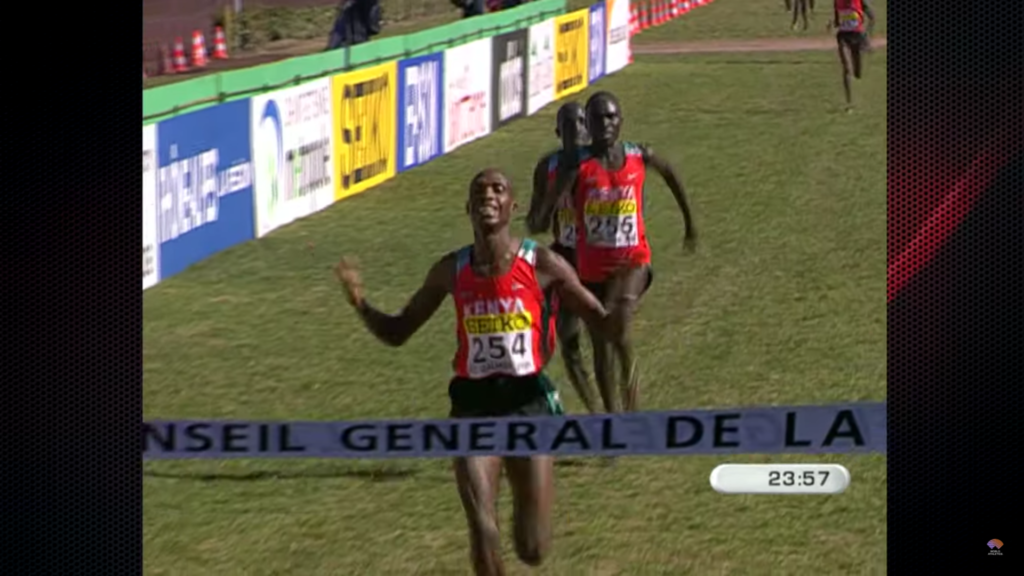 29:00 Ethiopia mostly dominated this meet, winning five of the six individual races. The exception was this one – the junior boys as Augustine Choge led a Kenyan 1-2-3-4-5. Like the winner of the women's junior race, Choge's range is among the greatest in history: he's run 1:44 for 800 and 59:26 for the half marathon and owns one of the most famous Commonwealth Games victories of all time, his 12:56 win over Aussie Craig Mottram in Melbourne in 2006.
Also: Choge doesn't look as if he's aged a day since 2005.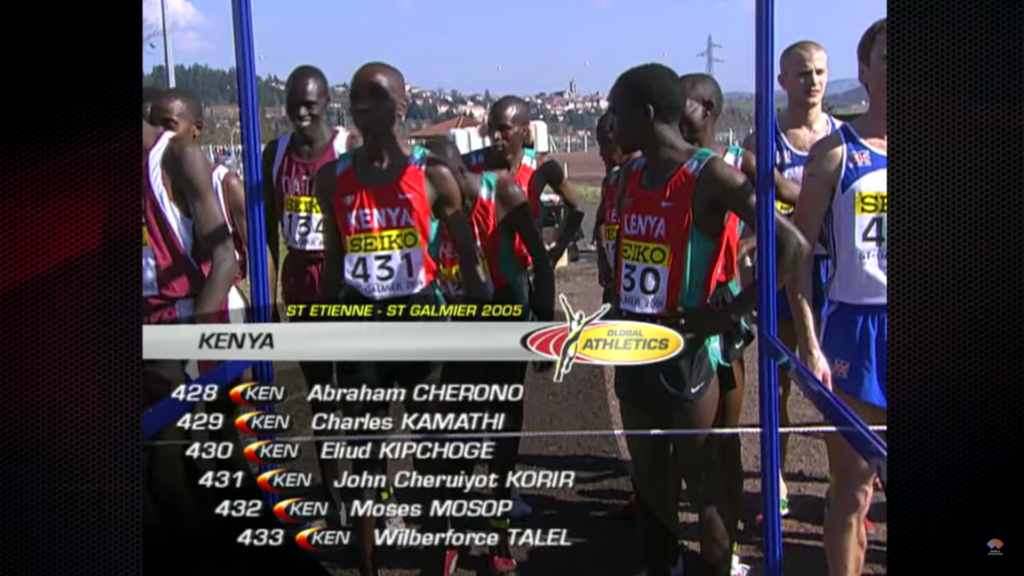 30:09 Thank you for your patience. It's now time for the main event: the men's long race (12.02k). Here's Kenya, featuring Eliud Kipchoge (with hair!) on the right.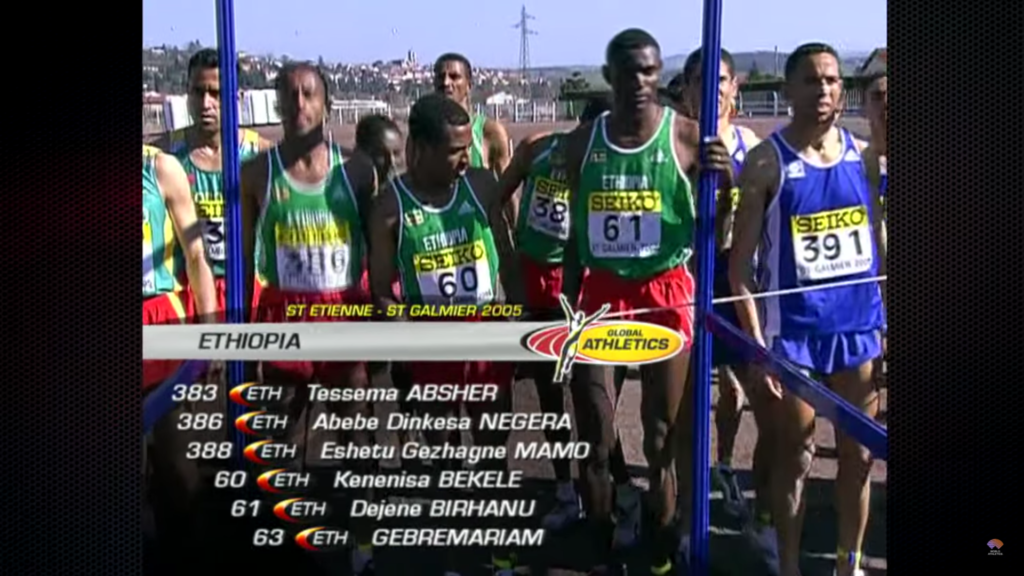 30:15 And here's Ethiopia, led by Bekele.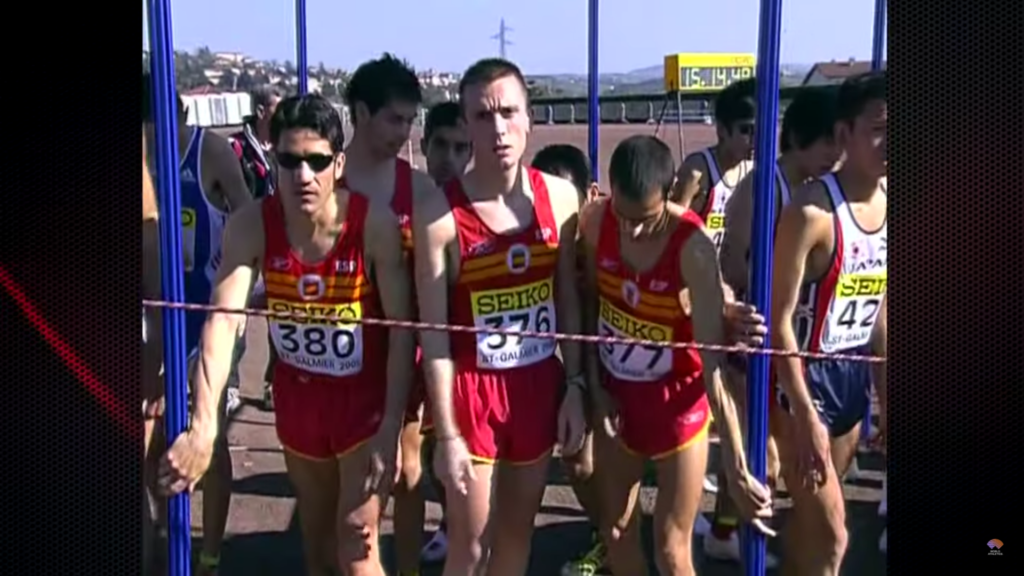 30:32 Between the cramped starting gates and the rope literally penning the athletes in, it's appropriate this meet is being held at a horse track.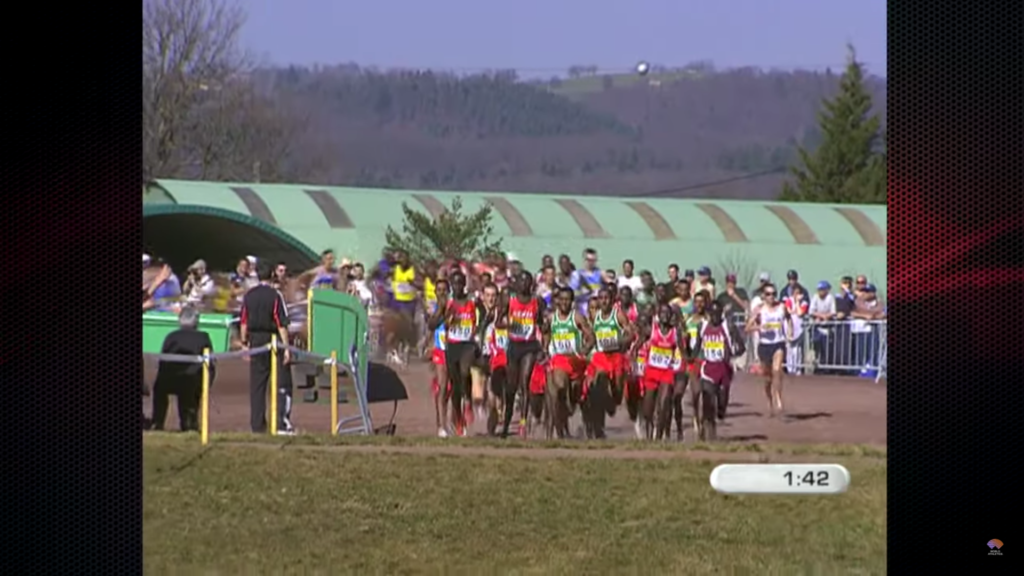 32:15 Watching these races, I've been struck by the number of stars who turned up to compete. Was there some agreement that 2005 World XC would be the last huzzah? This was the last World XC appearance for Rupp, Kipchoge, Jenny Simpson, and Dathan Ritzenhein (in the white on the far left above); none were older than 22 at the time.
That decision worked out okay for Rupp, Kipchoge, and Simpson, but I wonder why Ritz didn't run more World XCs (I should have asked him when we got the Big 3 together for a video chat last month). Ritz was an incredible XC runner — the best the US ever produced at the HS level — and the 12k distance suited him.
Other stars in this race: Shaheen, Craig Mottram, Zersenay Tadese, Mo Farah (still six years from stardom), 2001 10k world champ Charles Kamathi, and future 2:03 marathoner Moses Mosop.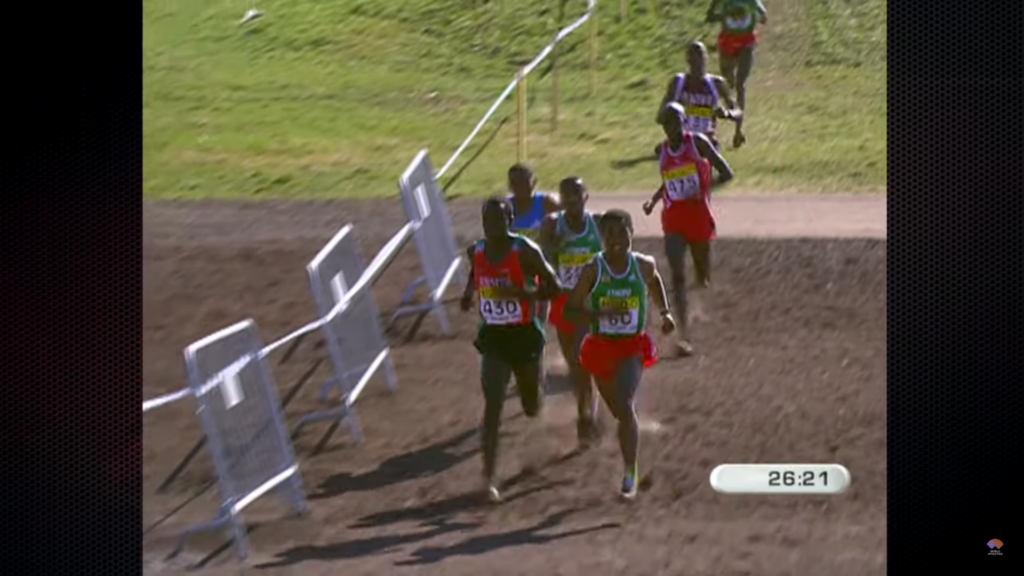 35:03 The race jumps ahead to the 26-minute mark (lap five of six), and the lead pack is down to four: Kipchoge, Bekele, Tadese, and Ethiopia's Abebe Dinkessa, with Uganda's Boniface Kiprop (in the red) struggling to hold on just behind them.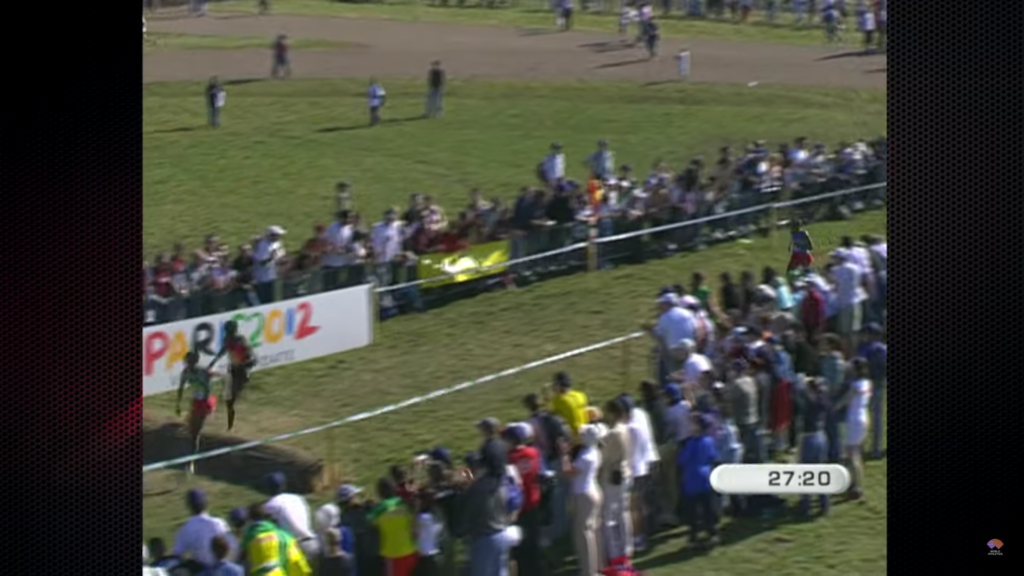 36:04 Reminder of Paris' 2012 Olympic bid on the sign to the left; they narrowly missed out to London, but wound up winning the bid for the 2024 Games.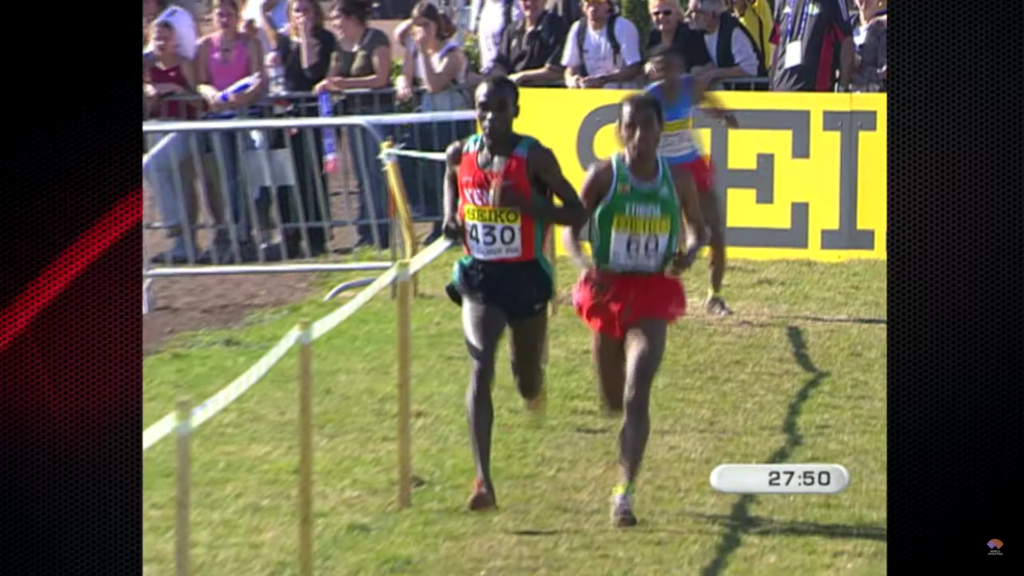 36:34 There are other athletes in the race, but it doesn't feel like that right now. After a little bumping on an earlier turn, Bekele and Kipchoge are running shoulder-to-shoulder, and as they push the pace approaching the final lap, the rest of the field begins to drop behind them.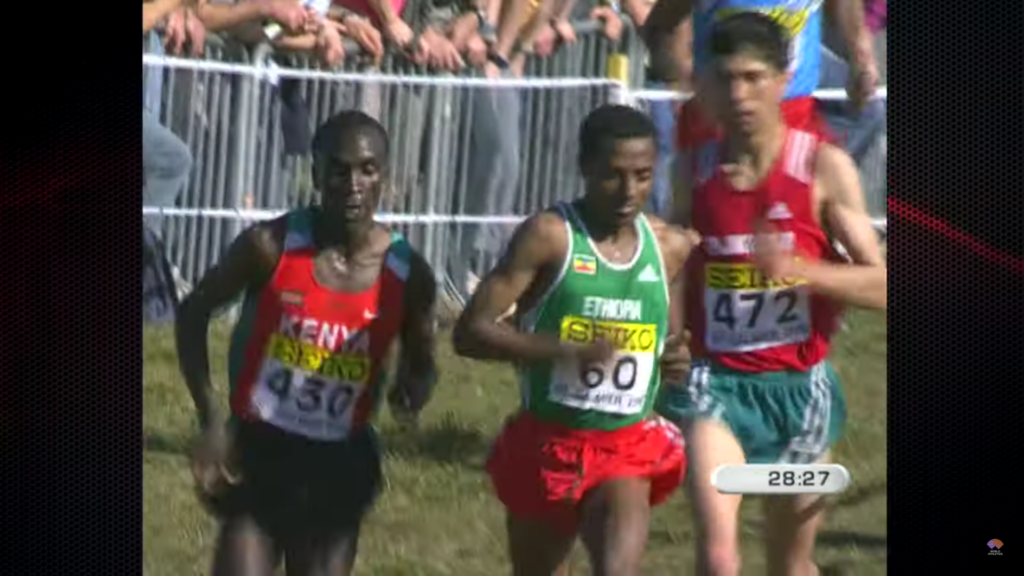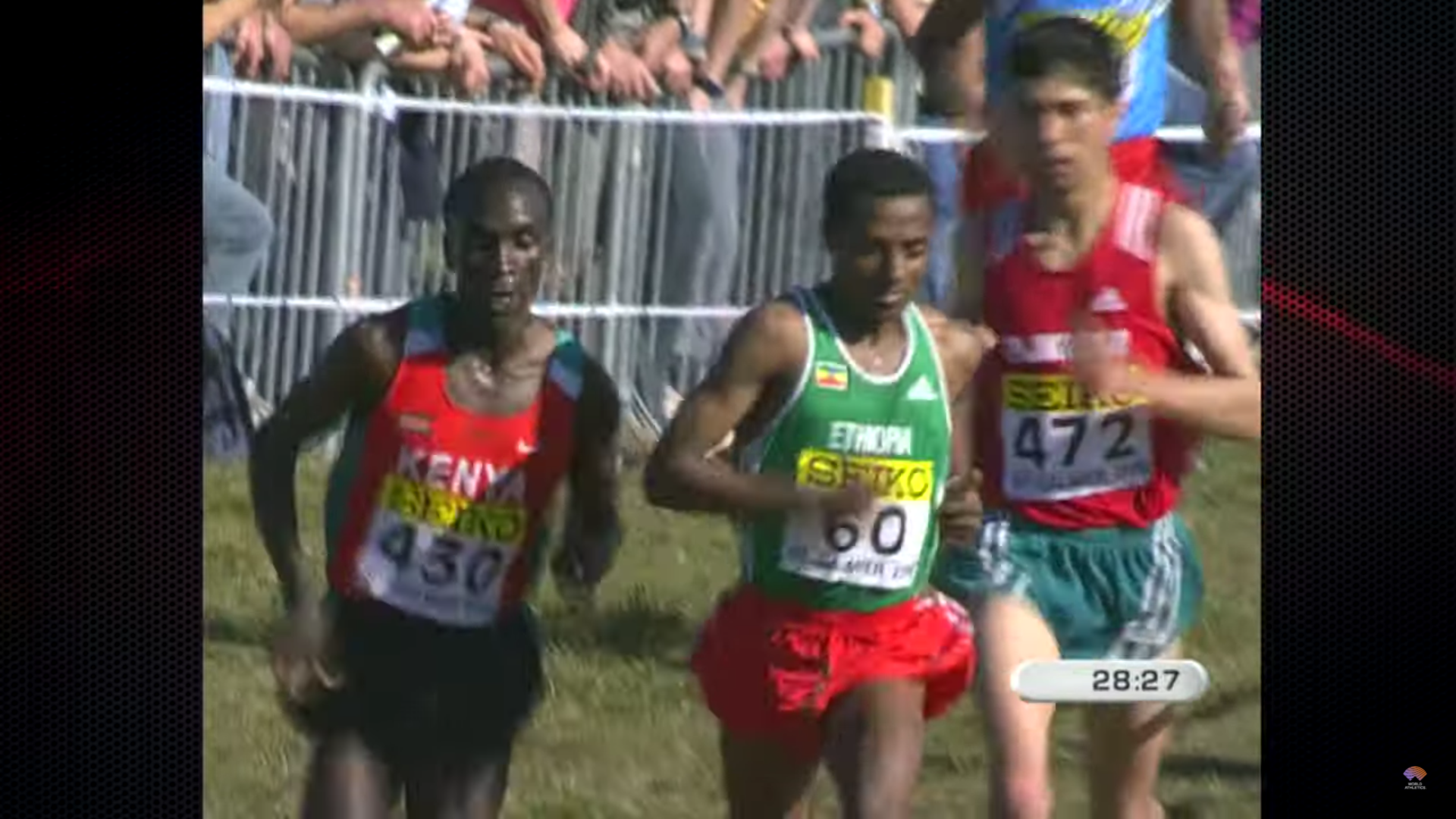 37:10 I feel bad for the lapped runners at World XC. We're only on the fifth 2k lap, which means if you're getting lapped at this point, it's the equivalent of being lapped five times in a track 10,000. But I'm also bringing up this fact in an article 15 years later rather than ignoring it, so apparently I don't feel that bad for this poor guy.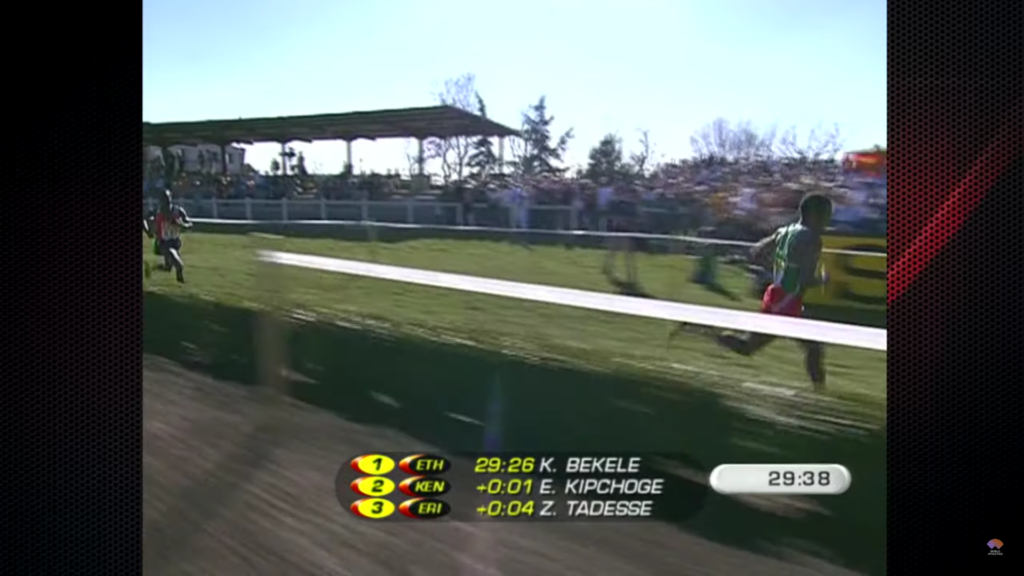 38:28 Here's something you don't see every day: Eliud Kipchoge getting dropped in a footrace. It doesn't seem like a particularly vicious move, but it is; Bekele was there one second, and before you can blink, he has 10 meters on Kipchoge.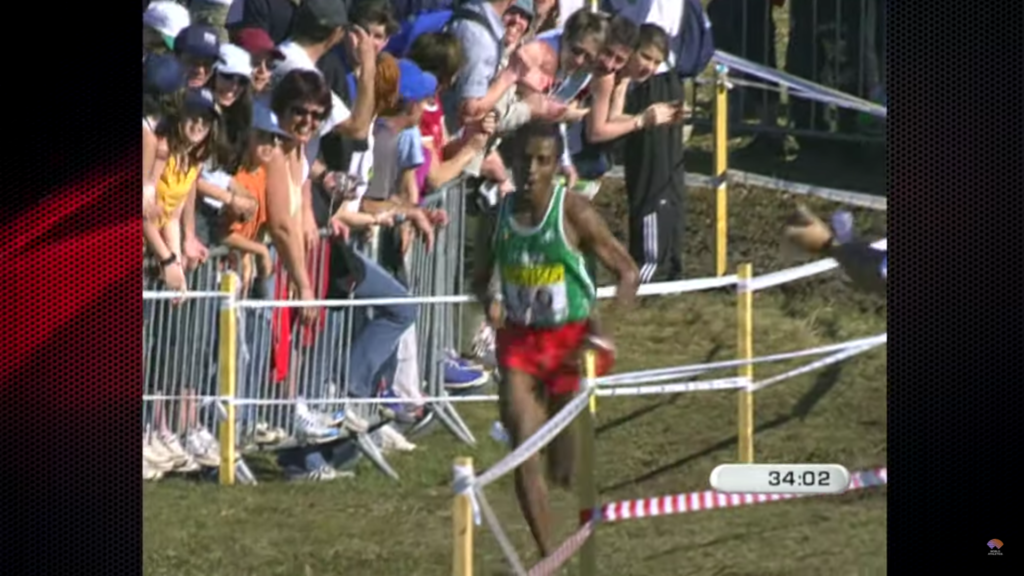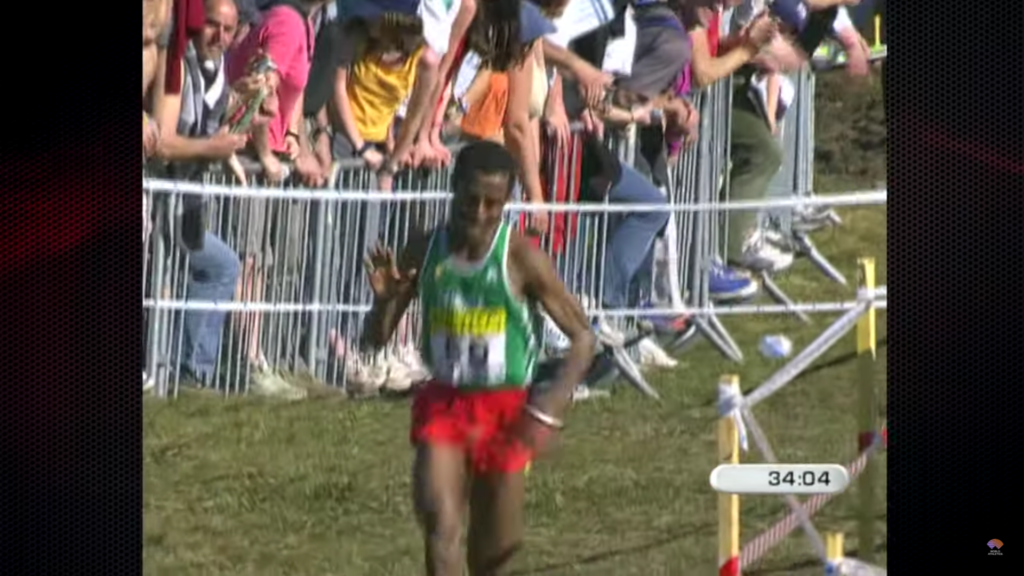 38:38 I know the title of this article promised a duel, but it's time to come clean and admit that was a little sensationalized. Yes, they ran together for the first 29 minutes of the race. But when Bekele decided he didn't want to run with Kipchoge anymore, that was that; he has run almost the entire final lap alone, granting himself enough of a cushion that he can begin clowning around for the crowd — tilting his head, opening his mouth wide, acknowledging the crowd. He's basically doing the Bill Murray GIF from Kingpin.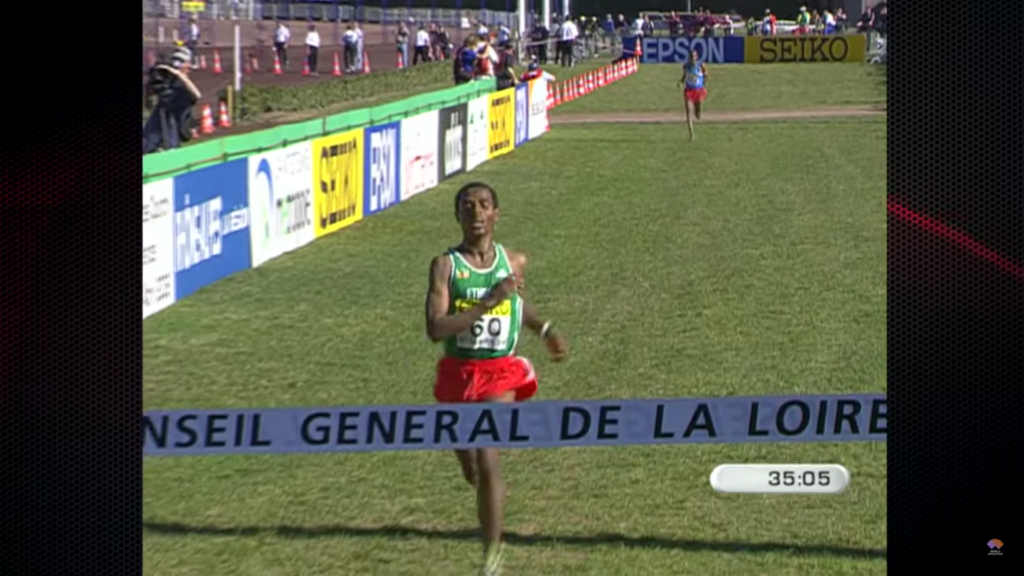 39:39 Bekele wins by 14 seconds, his fourth straight long/short double at World XC. Tadese finishes second, though he'd have his revenge two years later.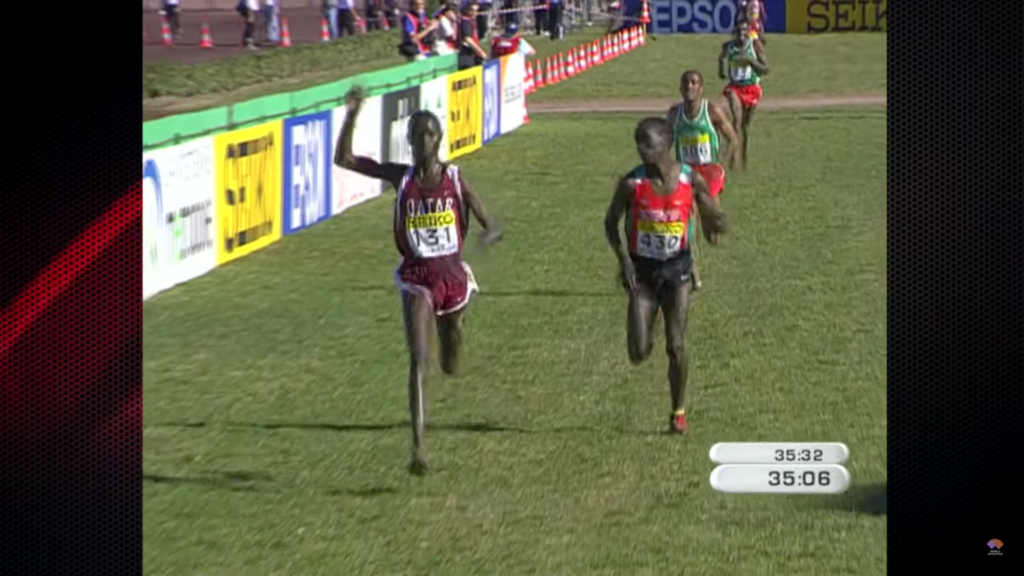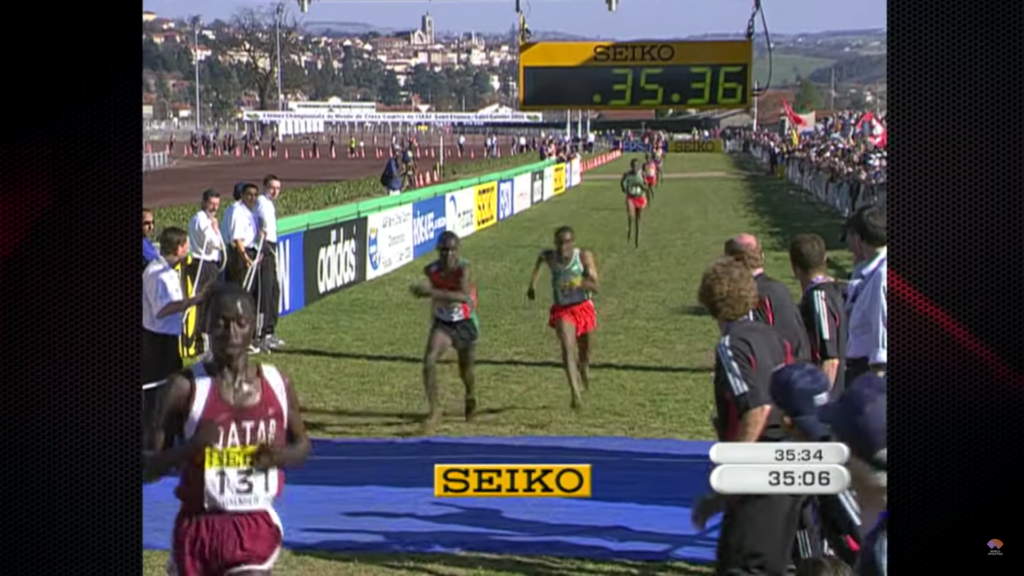 40:00 If you want to see something really unusual, go to the 40:00 mark. Kipchoge is kicking for the bronze medal with Ahmad Hassan Abdullah, and for anyone used to seeing him race the marathon, it's jarring. Gone is the smoothness, the ease, the hint of a smile as Kipchoge embraces the pain. Instead, his form is all over the place, and as Abdullah draws level, Kipchoge stops looking forward and simply stares at Abdullah, waiting for him to pass. Once Abdullah does, he gives up and slows to a walk before he realizes he's in danger of getting passed for fourth and quickly lunges across the finish line
But he's too late — Kipchoge winds up fifth. Yes that's right: the greatest marathoner in history made the mistake of letting up before the finish line.
This is why Bekele is the greatest XC runner the world has ever seen. Not only did he win a ton; he destroyed his competitors, who were studs in their own right. Shaheen tried to put a move on Bekele in the short race and wound up torpedoing his own race. Now Kipchoge — a world champ at the time and modern-day distance running god — has been totally humbled after trying to hang with Bekele in the long race (and unlike Bekele, he was running fresh).
40:21 I'm puzzled by the logo in the middle of the screen. It says "Global Athletics," but it's not this Global Athletics (which is not to be confused with Global Sports). Instead, it's paired with the IAAF logo — 14 years before the IAAF would change its name to World Athletics. My conclusion: the next person launching a track-related venture needs to avoid the word Global. We have reached global Global saturation.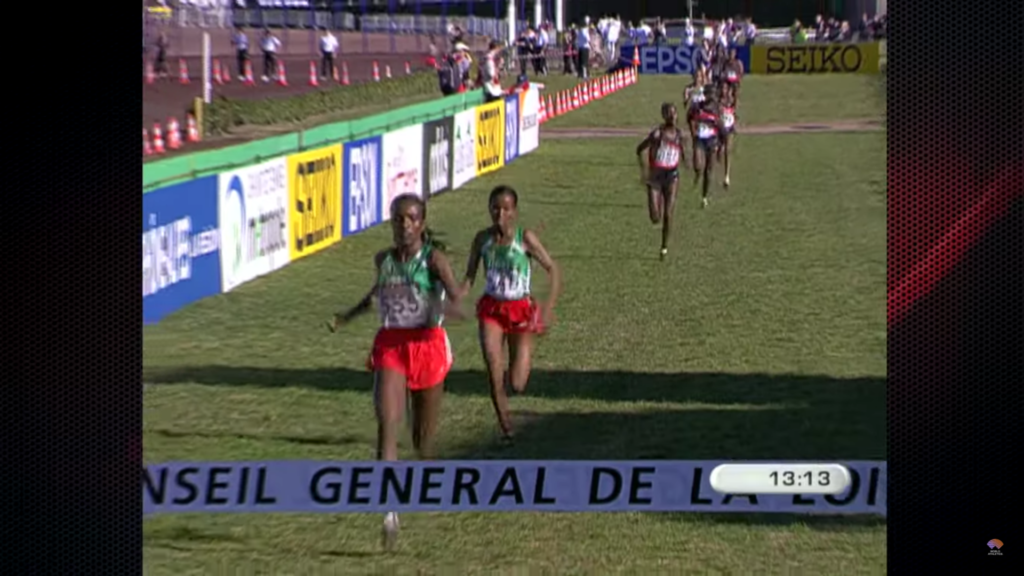 49:23 The best finish of the meet comes in the final event, as Tirunesh Dibaba completes the short/long sweep by holding off countrywoman Worknesh Kidane over the final 400m. This was part of an epic year for Dibaba, who would go on to win the 5,000 and 10,000 at Worlds on the track.
Teamwise, the Ethiopians and Kenyans dominate this race, taking the top nine spots, but bronze goes to the Americans, led by Lauren Fleshman (11th), Blake Russell (15th), and a young Shalane Flanagan (20th).
***
That's it for this week. Check back next Thursday for the next installment.
Previous:
*TBT #9: I Was Bored, So I Watched Joan Benoit Samuelson Win the 1984 Olympic Marathon
*TBT #8: I Was Bored, So I Watched Alan Webb Run 3:53 as a High Schooler at the 2001 Prefontaine Classic
*TBT #7: I Was Bored, So I Watched the 2008 NCAA Cross Country Championships
*TBT #6: I Was Bored, So I Watched the Men's Steeple at the 2003 World Championships
*TBT #5: I Was Bored, So I Watched the 1983 World Cross Country Championships
*TBT #4: I Was Bored, So I Watched Galen Rupp, Matt Withrow, & Jenny Simpson at the 2003 Foot Locker Championships
*TBT #3: I Was Bored, So I Watched the Insane 2007 World Cross Country Championships in Kenya
*TBT #2: I Was Bored, So I Went Back and Watched Ritz, Webb, & Hall Battle at the 2000 Foot Locker Cross Country Championships
*TBT #1: I Was Bored, So I Went Back and Watched the 1998 NCAA Cross Country Championships