I Was Bored, So I Watched Alan Webb Run 3:53 as a High Schooler at the 2001 Prefontaine Classic
Throwback Thursday #8
By Jonathan Gault
May 28, 2020
Welcome back to Throwback Thursday. With no live sports during the coronavirus quarantine, I'm plumbing the depths of YouTube and watching/sharing my thoughts about one classic race per week. If you missed any of the first seven installments, click here.
This week, I'm rewatching the Bowerman Mile at the 2001 Prefontaine Classic, highlighted by Alan Webb's mesmerizing 3:53.43, which broke Jim Ryun's 36-year old US high school record.
At this point, you might be tired of all the Big 3 nostalgia that's been floating around LetsRun.com the last few weeks. To which I say: too bad!
I write this column, so I'll be picking the subjects. Yesterday was the race's 19-year anniversary, so it's timely. Plus, when was the last time you actually sat down and watched this race? It's awesome. There are runners in college now who weren't even born at the time. If that's you, and you haven't seen it yet, you're forgiven. But I'm mandating that you scroll down and watch it right now.
Article continues below player.
To set the scene: it's May 27, 2001. Webb, a senior at South Lakes High School in Reston, Va., had already made mile history that year — back in January, he became the first US high schooler to break 4:00 in 34 years, and the first to ever do it indoors, finishing just ahead of the LetsRun.com singlet as shown on the right. But Webb was capable of more, which became clear after the Concorde District Championships on May 17, where he pulled off an audacious 400-800-1600 triple of 49.29, 1:49.53, 4:06.74 (run in a big negative split of 2:14-1:52). More details on that in this post by Alan's wife Julia, which also reveals he was nicknamed "The Webbmaster." Good thing that never caught on. I can't think of a less intimidating nickname than a profession in which you sit in a chair all day and guzzle Doritos and Mountain Dew.
(Actually, LetsRun's webmaster Erik is the most active runner on the entire LetsRun staff — but I think even he'd agree "The Webbmaster" is a lame nickname).
MB: Let's talk about Alan Webb's incredible 80 minute triple 10 days before his 3:53. 4:06(2:14/1:52)/49/1:49
With mile world record holder Hicham El Guerrouj in the field chasing the US all-comers record of 3:50.86, the pace would be fast up front. The question wasn't whether Webb would break 4:00; it was how far under 4:00 he would go. Let's head back to Eugene, Ore., 19 years ago and see…
(Hat tip to reader Adam Kessel, who emailed with this suggestion)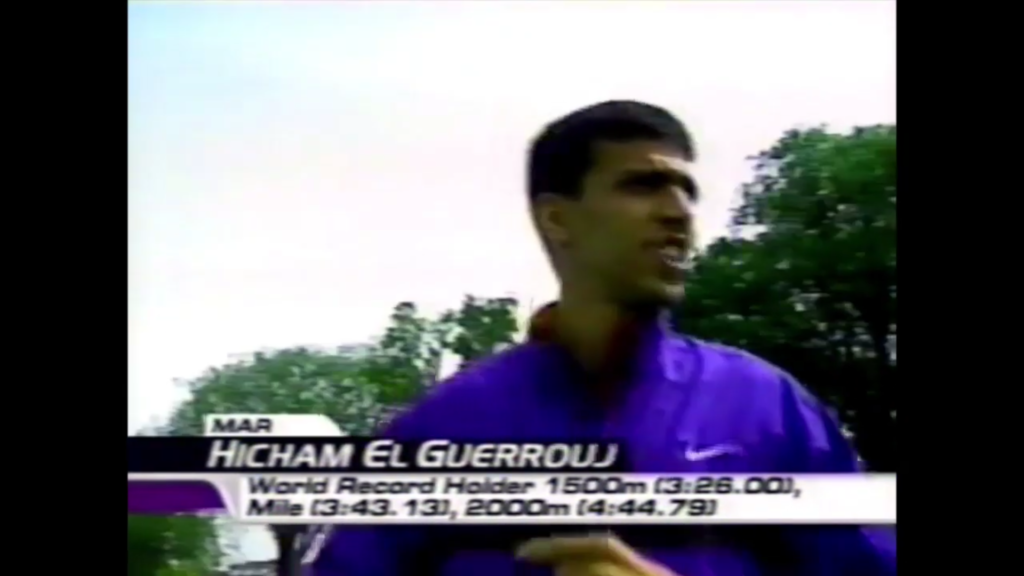 0:18 On the Fox Sports Net broadcast, Dwight Stones sets the scene by reminding us that El Guerrouj — running his 2001 outdoor opener — was beaten in the previous year's Olympic 1500 final by Noah Ngeny. It's hard to appreciate how big of an upset that was at the time.
Stones: "He was undefeated at the mile/1500 for three years."
Oh. That actually contextualizes El Guerrouj's defeat perfectly. Nice job, Dwight Stones.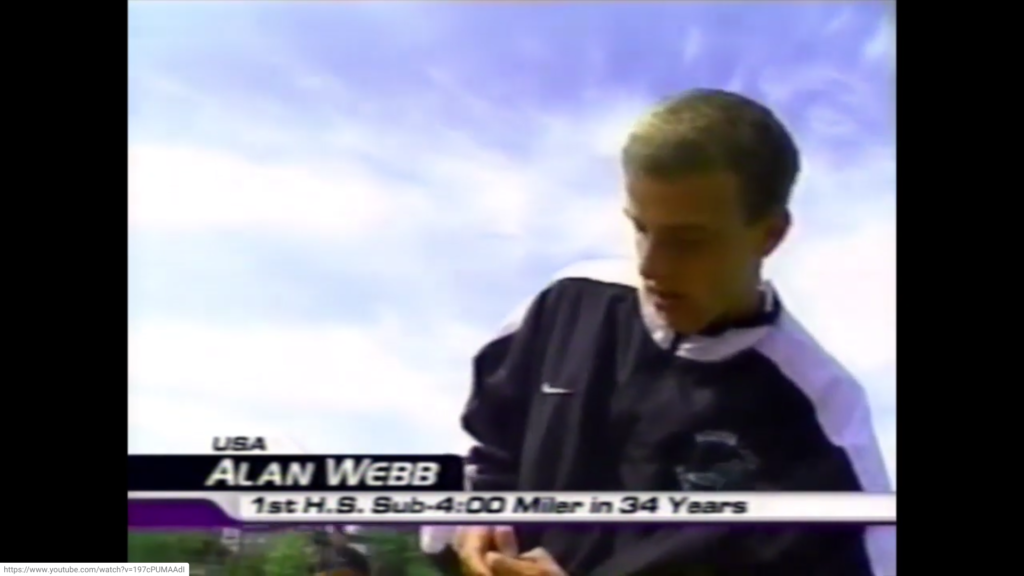 0:33 Proof that, at one point in his life, Alan Webb did have hair.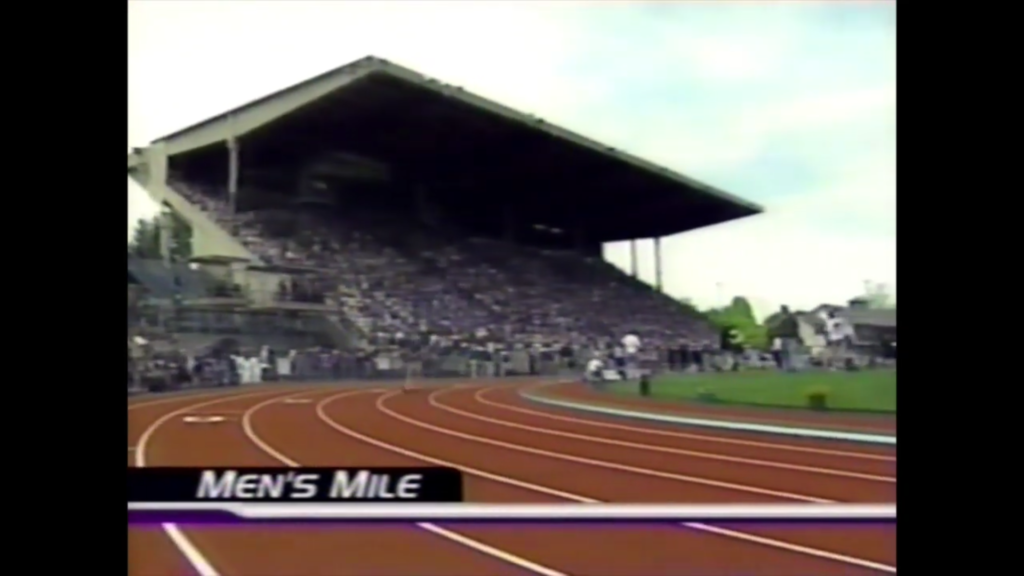 1:04 The West Grandstand. Man, this hits hard. The new Hayward Field looks incredible, and I can't wait to go there, but knowing that the West Grandstand no longer exists is tough. I know the East Grandstand is the one everyone cares about, and I understand why (it's older). But the West Grandstand is where I always sat as media, and it's the image I always associated with Hayward Field, even before I started attending meets there.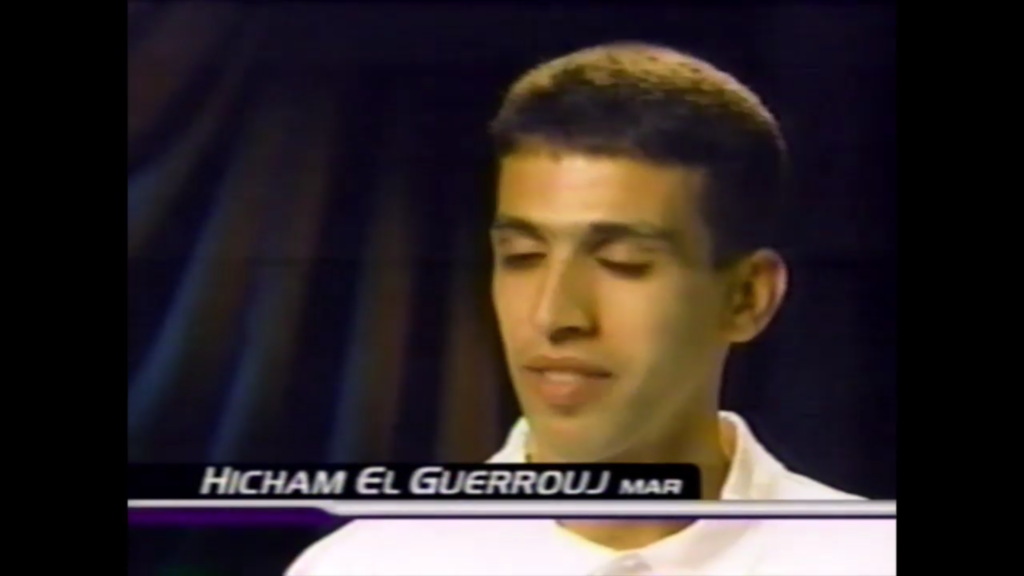 2:09 El Guerrouj: "I need that gold medal. Without it, something will be missing."
We're barely two minutes into the broadcast and about 70% of it has focused on how El Guerrouj is the best miler in the world but doesn't have an Olympic gold. We are over three years away from the next Olympics. It must have been really annoying to be El G from 2000 until August 2004 and constantly be reminded of the one thing you haven't done in the sport.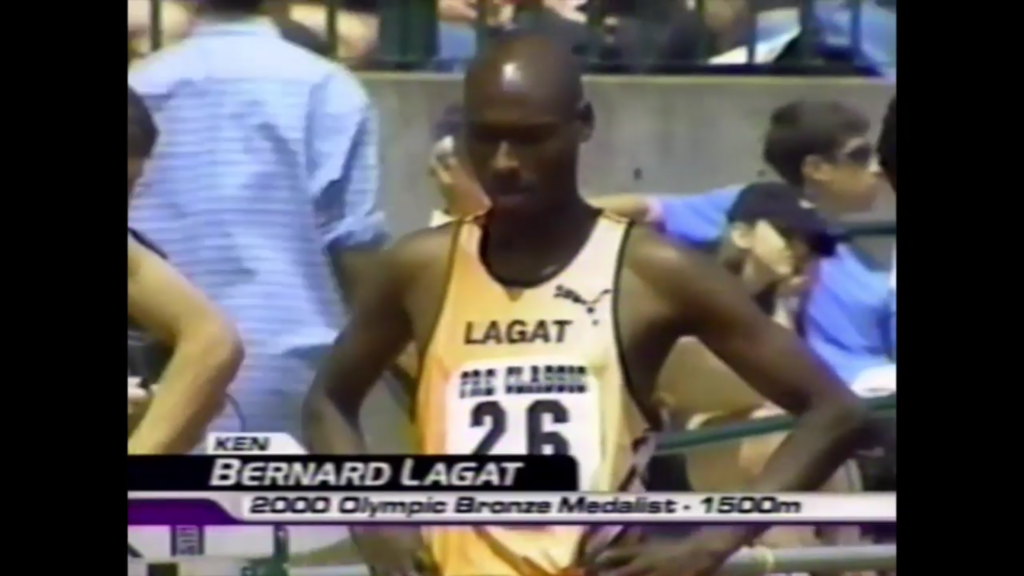 2:36 Bernard Lagat with the rare personalized jersey, which was apparently a thing Puma did in 2001 (I prefer the name on the back instead of the name on the front). Why can't we get that in the year 2020? Instead, Nike likes to put nearly all of their athletes in nearly identical jerseys.
This reminds me: why doesn't track have replica jerseys like other sports? I can buy a Tom Brady Buccaneers jersey, but I can't order a Bowerman Track Club replica kit? Or an Eliud Kipchoge NN Running Team singlet? This makes no sense.
Yeah, maybe someone shows up wearing a BTC kit to a road race where actual BTC athletes are competing. So what? No one is going to be confused about who is who by the finish. Selling replica jerseys is an easy way to create a deeper connection with fans, yet for some reason, everyone in our sport ignores it.
Update: Apparently, you actually can buy some pro singlets.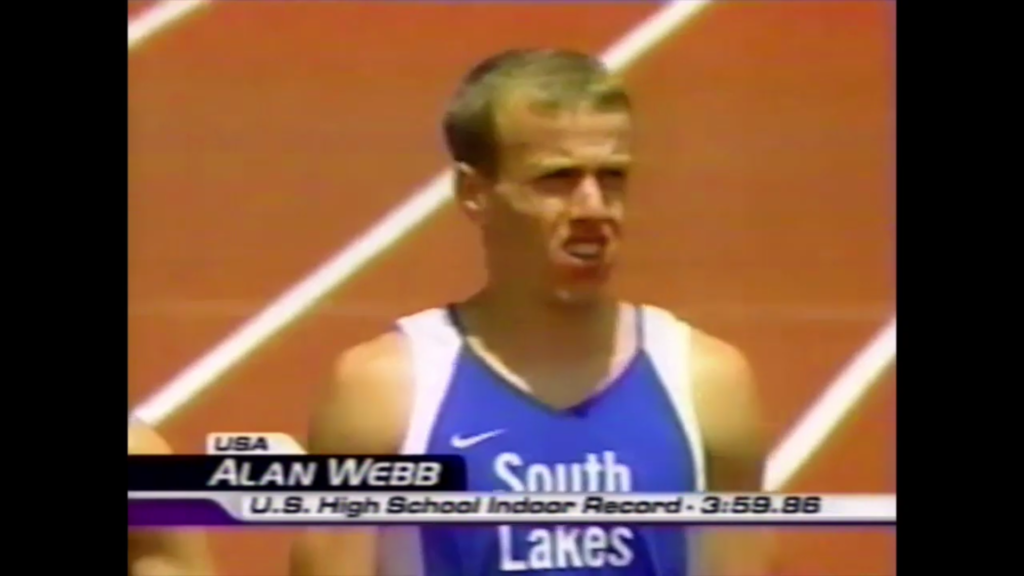 2:49 Boy wonder.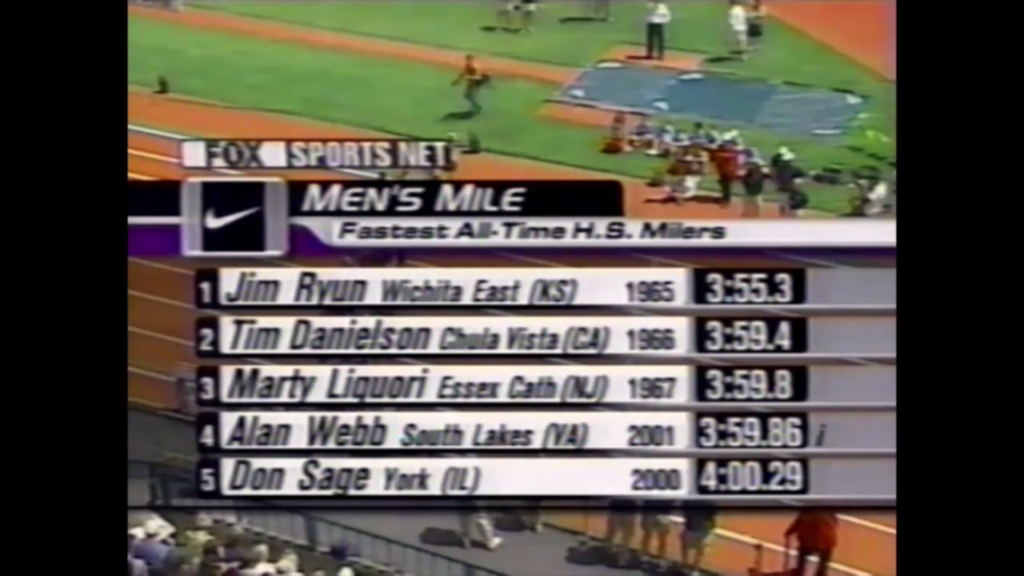 3:00 A reminder of where the all-time high school boys' mile list stands entering the race.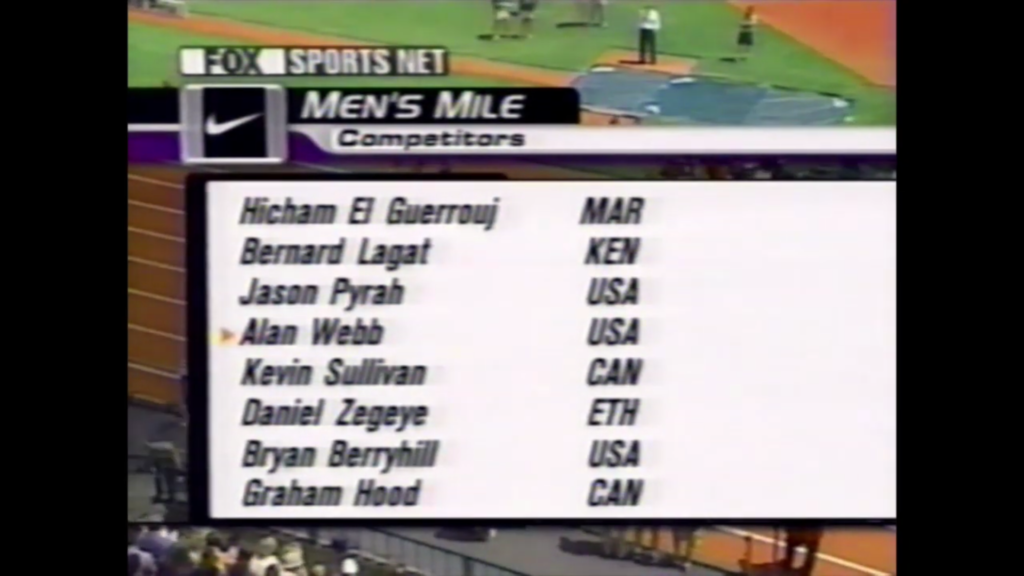 3:07 Stones says 3:57-3:58 would be a realistic time for Webb, pointing out that he'd like to come through in 1:58 — which could still put him in last place considering the pacemaker has been tasked with hitting 800 in 1:52.
Also note the presence of Colorado State's Bryan Berryhill. It's pretty cool that Berryhill is even in this race, considering the 1500 prelims at NCAAs (also in Eugene) were held just four days later. It couldn't have worked out better: Berryhill ran a pb at Pre (3:55.01) and still won NCAAs.
And yes, this means a high schooler beat the NCAA champion at Pre. That was no fluke — Webb was a total stud and beat Berryhill again at USAs.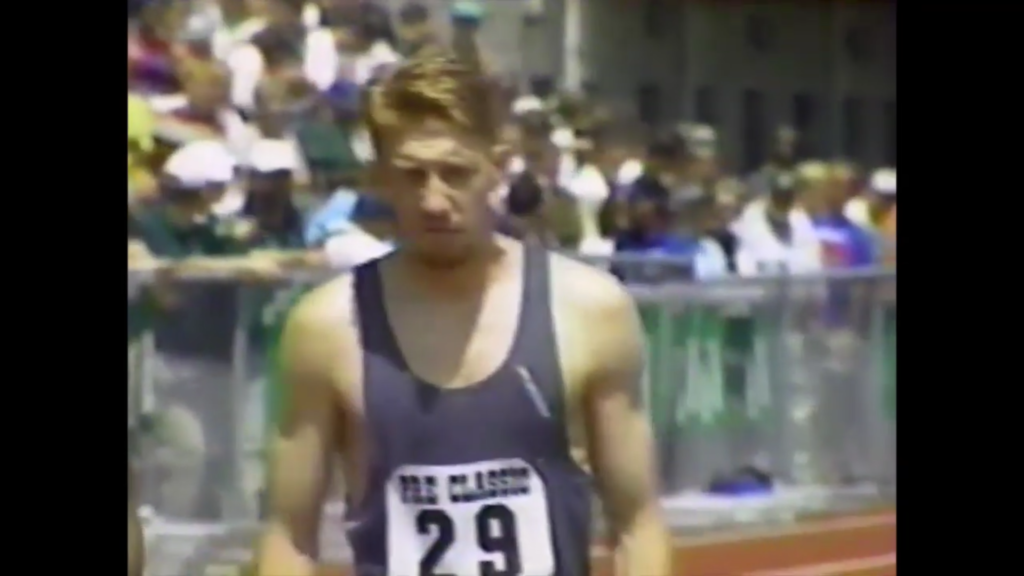 3:59 There's current Michigan coach Kevin Sullivan, who was 5th at the 2000 Olympics for Canada. Between Sullivan, Jim Harbaugh, and Juwan Howard, Michigan must easily have the best athlete credentials among their men's cross country, football, and men's basketball coaches. Is anyone else even close?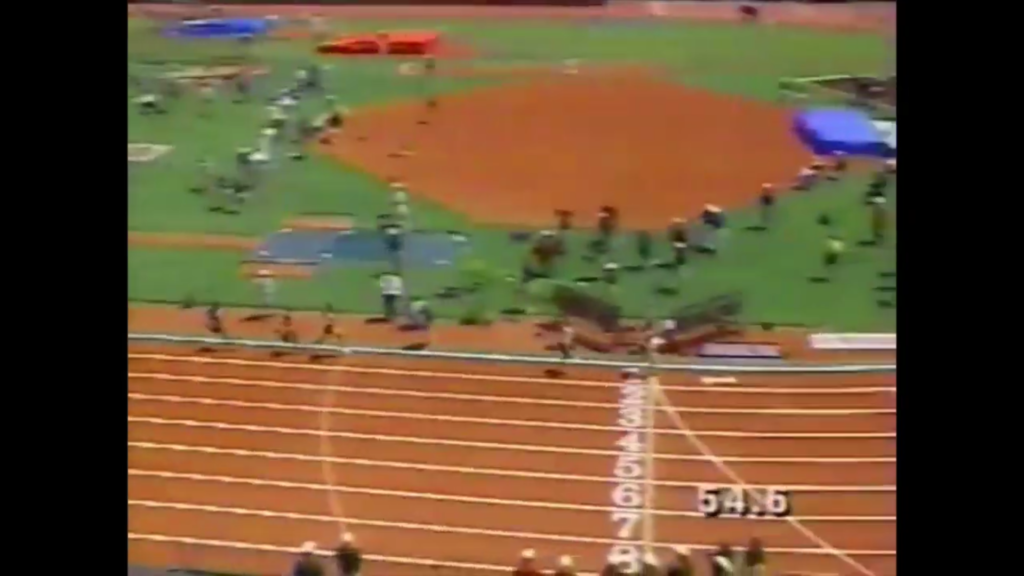 5:16 The pacemaker clocks 54.6 for the opening 409 meters. Can we stop and appreciate how bad that is for a moment? That means he ran his first 400 in 53.4 and the first 409 meters at 3:34.8 mile pace. No wonder the field is already strung out.
Todd Harris chimes in on the broadcast: "The name of Steve Prefontaine comes to mind. And how ironic that Alan Webb has a poster of Steve Prefontaine on his wall at home."
Three things:
1. Smart decision by Harris. Broadcast law says the network is legally allowed to kill you if you fail to mention Pre while broadcasting a distance race at Hayward Field.
2. How many runners had a poster of Pre on their wall in high school or college? 50%? 70%? 90%?
3. Contrary to Harris' assertion, the fact that Webb has a poster of Pre is not ironic in any way.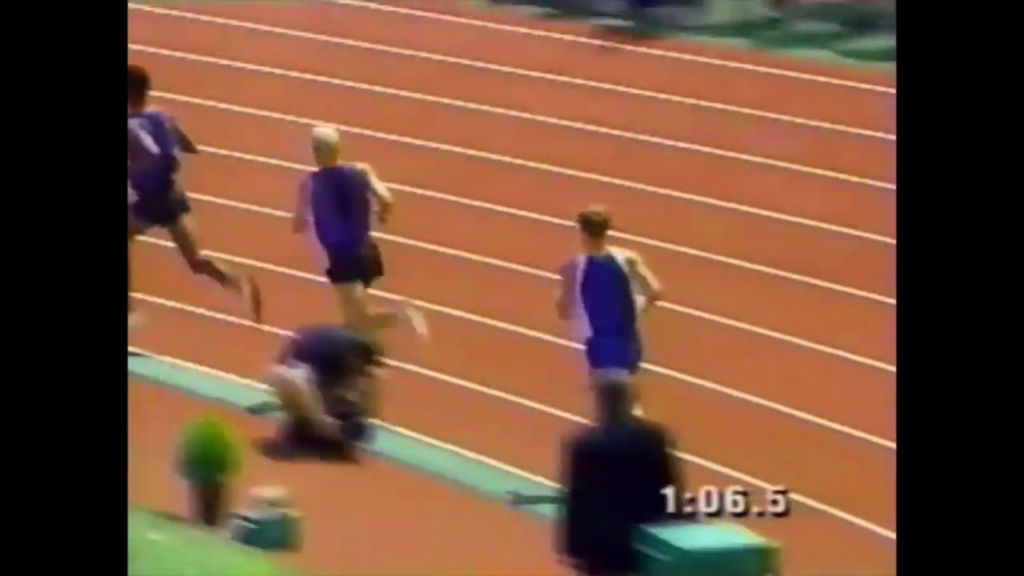 5:26 Up front, the rabbit may have been running like an idiot but Alan Webb is staying calm and running a brilliant tactical race behind him. In fact, the race is setting up perfectly for Webb. He comes through one lap in 58.5 in last place. He's pacing himself smartly and will have people to chase when the guys in front of him inevitably start to slow.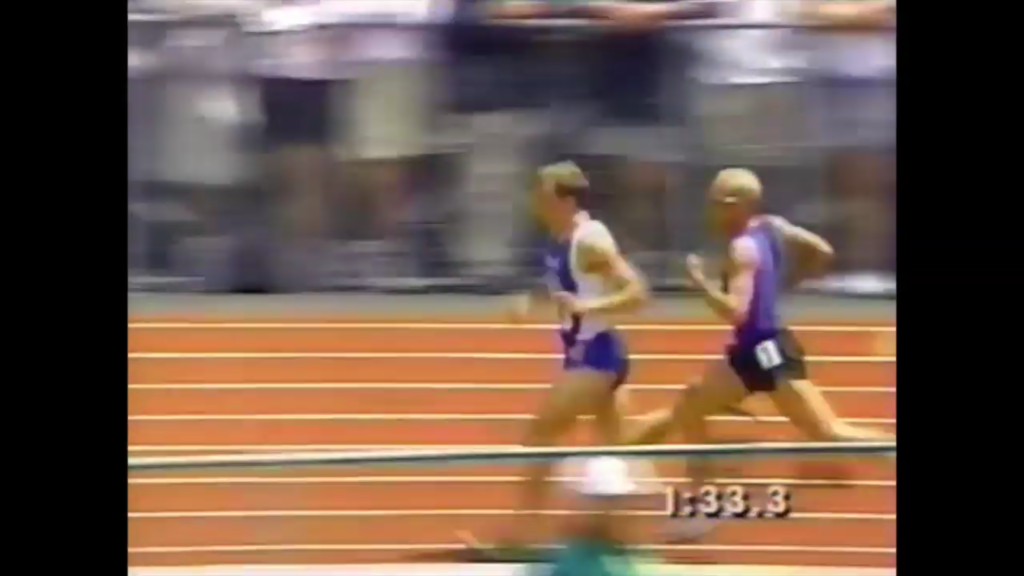 5:58 Just after 600, Webb moves out of last place, passing Jason Pyrah — an Olympic finalist just eight months earlier. Something special is in the works…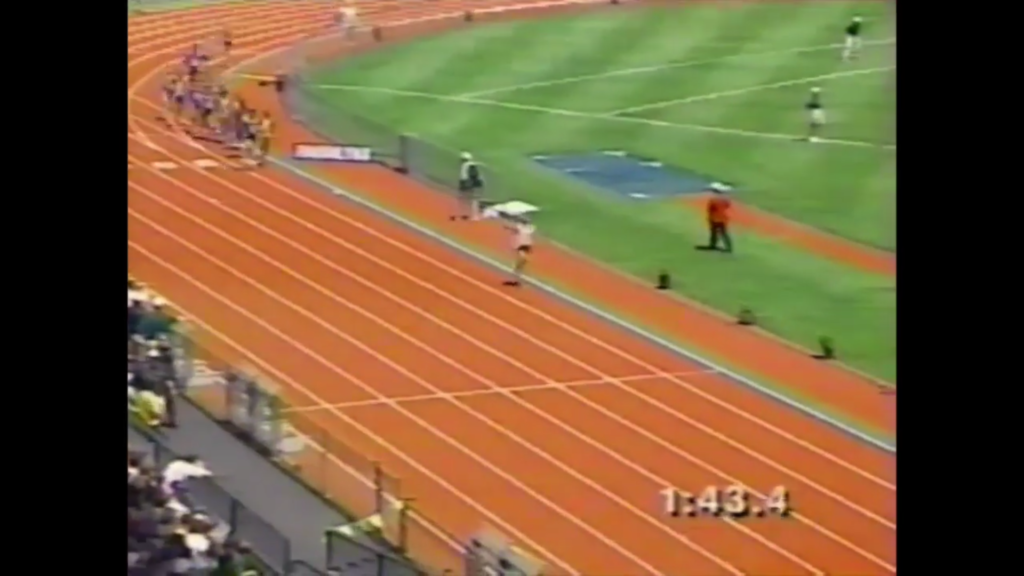 6:05 Hayward Field may have been knocked down, and everyone in this field may be retired (except for Lagat), but some things never change — like the main pack refusing to go with the pacemaker in a top international mile race. In this case, at least, there is an excuse: the first lap was too fast. So even though the second pacer hits his assigned halfway split of 1:52, no one is there with him because the pace went 53 point – 58 point.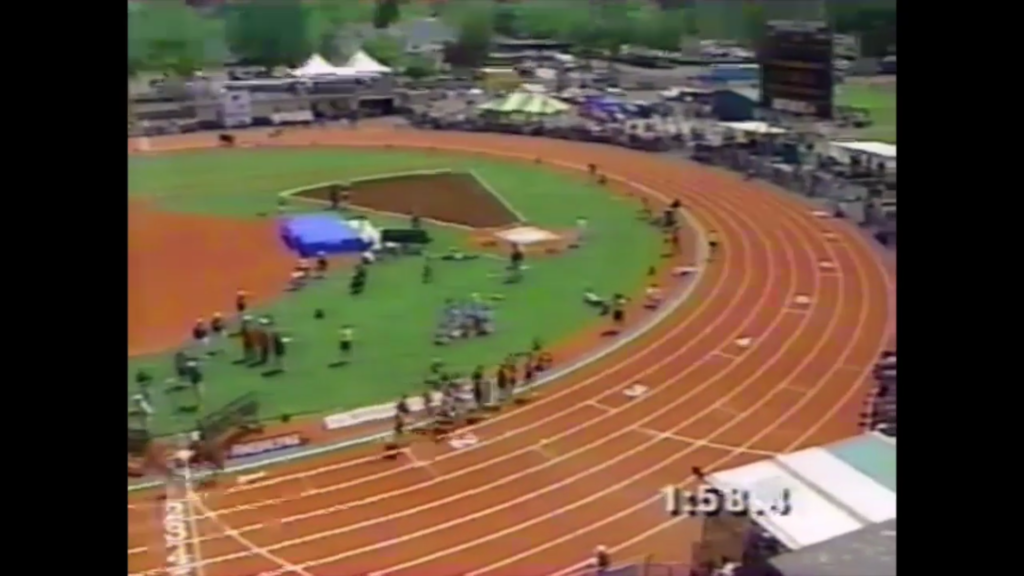 6:21 Webb hits 809 in 13th in 1:58.4. That is PERFECT for Webb. Since Ryun's US HS record was 3:55.3, it may seem like Webb is behind, but remember that's his 809 split. After 809 meters, Webb is on 3:55.5 mile pace.
Harris notes Webb has passed Pyrah and wonders: "Is he another guy who's maybe rooting for the kid?"
I can't speak for Pyrah, but if I were in his shoes, I wouldn't be rooting for Webb.
In general? Yes. In this race? No way. I can't imagine many things a 32-year-old pro would want to do less than get beat by a high schooler. Of course, there's no shame when that high schooler is running 3:53. But you still don't want to lose to him.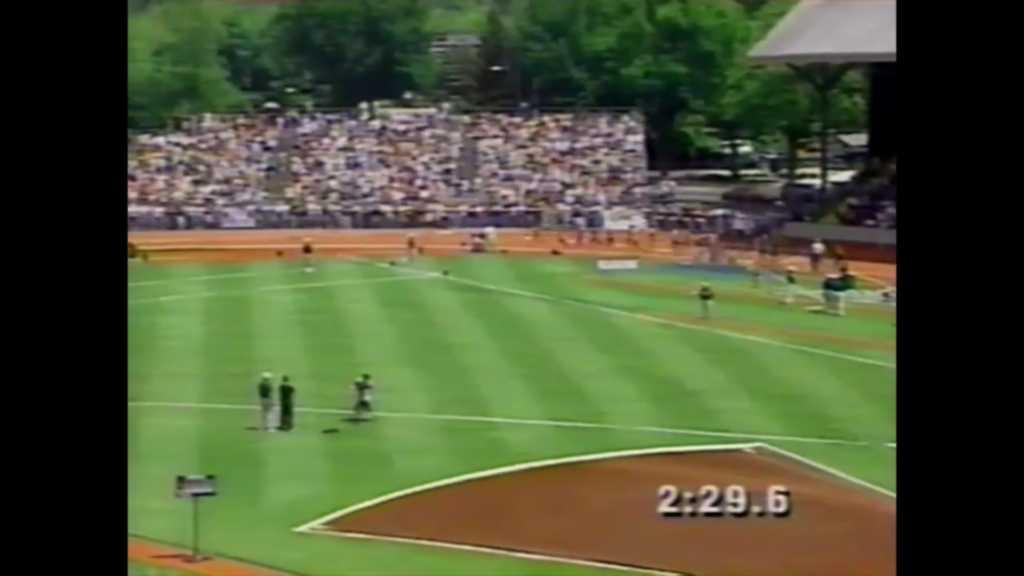 6:54 By 1000m, Webb has latched on to the back of the main pack — and he's spent less energy to get there than everyone else.
Harris rightfully praises him:"He just seems so poised and he is handling this so well."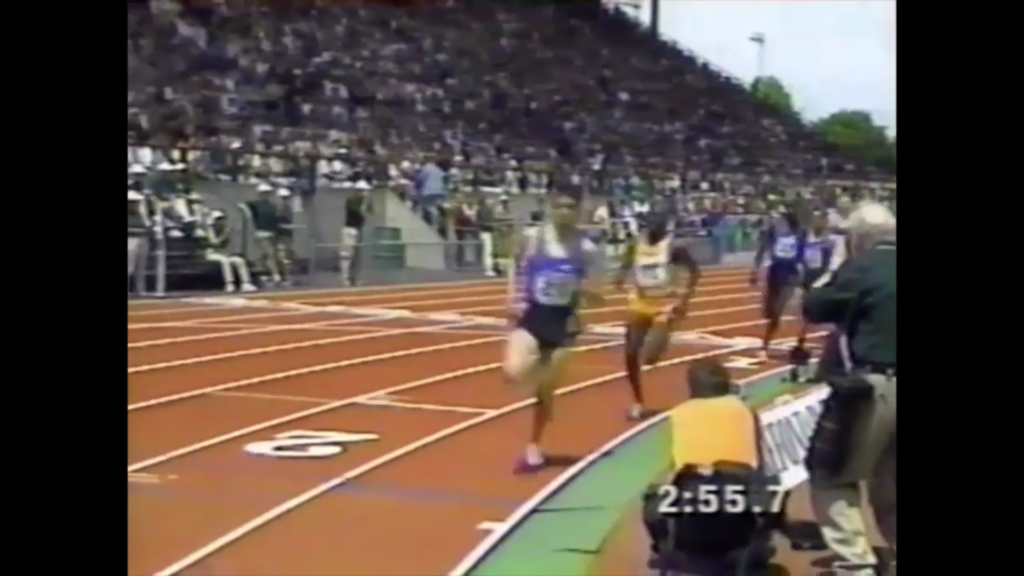 7:19 El Guerrouj started pushing with 600 to go, and he's starting to gain some separation from the pack at the bell, with only Lagat trying to come with him. Webb is still in 12th place, but he's starting to move.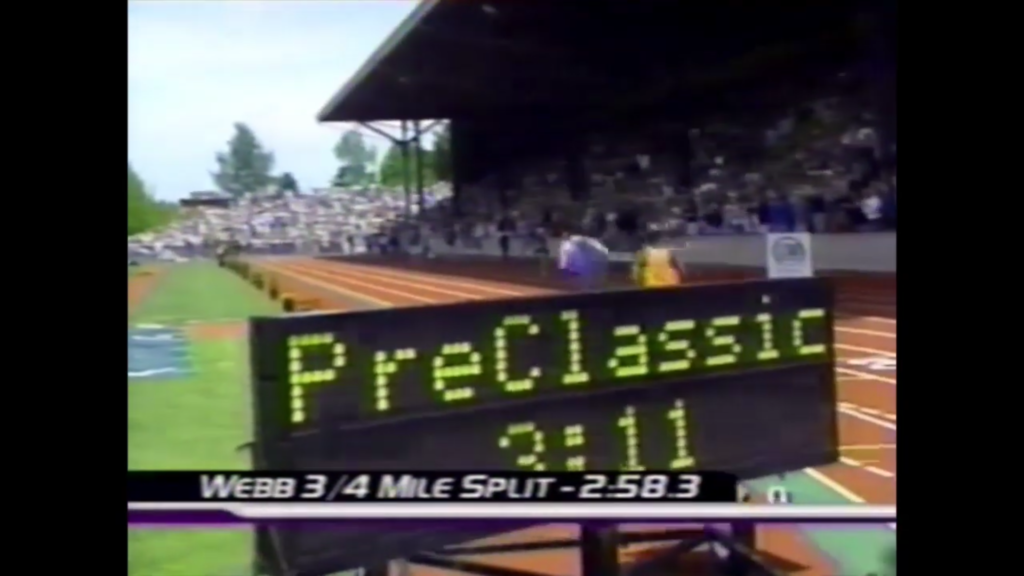 7:33 The broadcast team did a really nice job with this one. They knew the two big stories in this race were El Guerrouj and Webb, and they've done an excellent job keeping us informed of Webb's progress.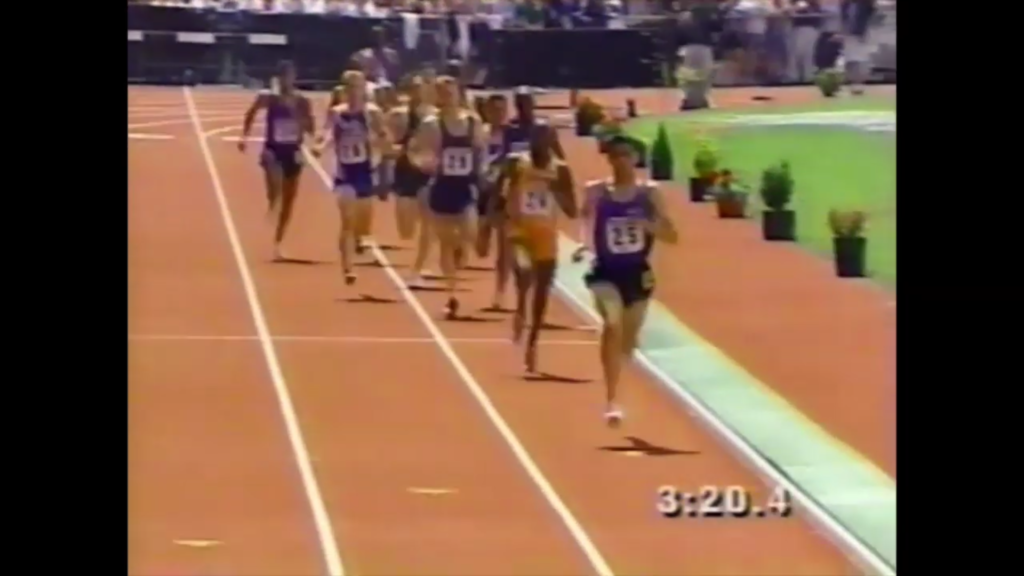 7:41 As El G pulls away up front, Webb swings out to lane 2 on the back straight and starts mowing guys down. With 200 to go, he's moved all the way up to 6th. This is getting good!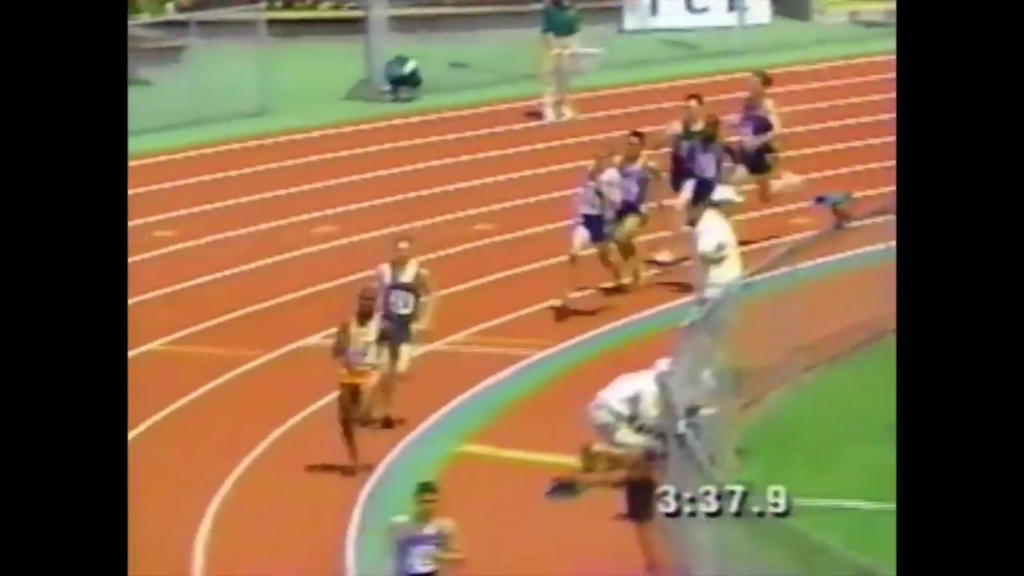 8:00 Webb is now up to 4th with 100 to go. Holy crap!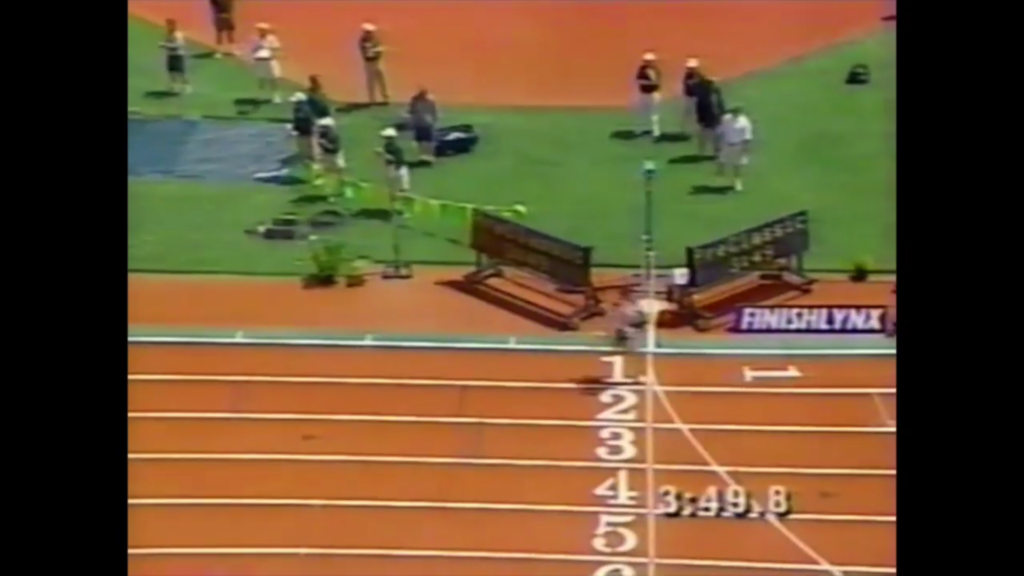 8:12 El Guerrouj wins it in 3:49.92, the first outdoor sub-3:50 mile on U.S. soil. But the real story is a few seconds away…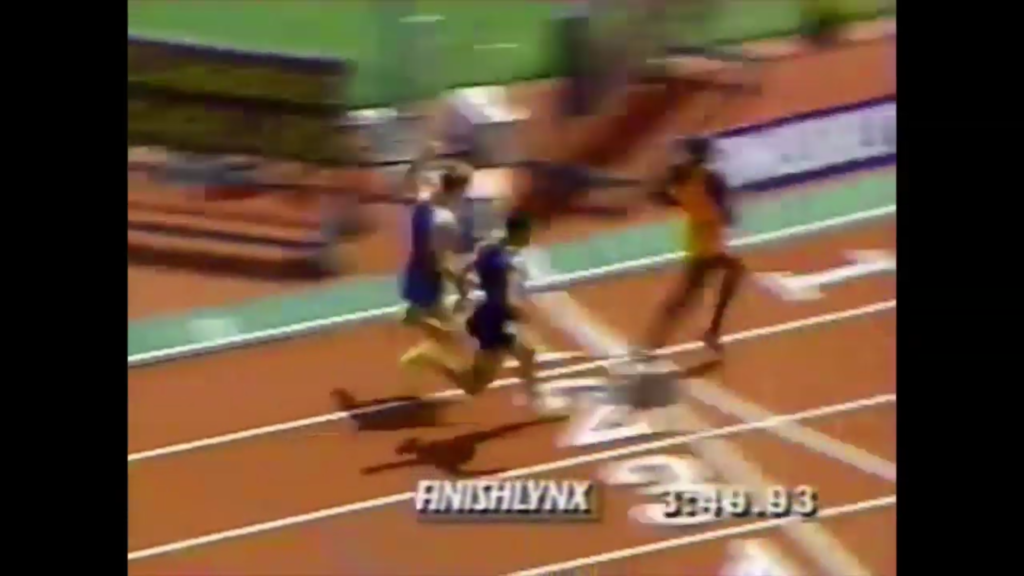 8:15 Webb is just outkicked by 1998 world junior champ and future EPO cheat Morocco's Adil Kaouch for 4th, but that barely matters. And look how close he came to Lagat, who later that summer would run 3:26.34 to become the second-fastest 1500 man in history.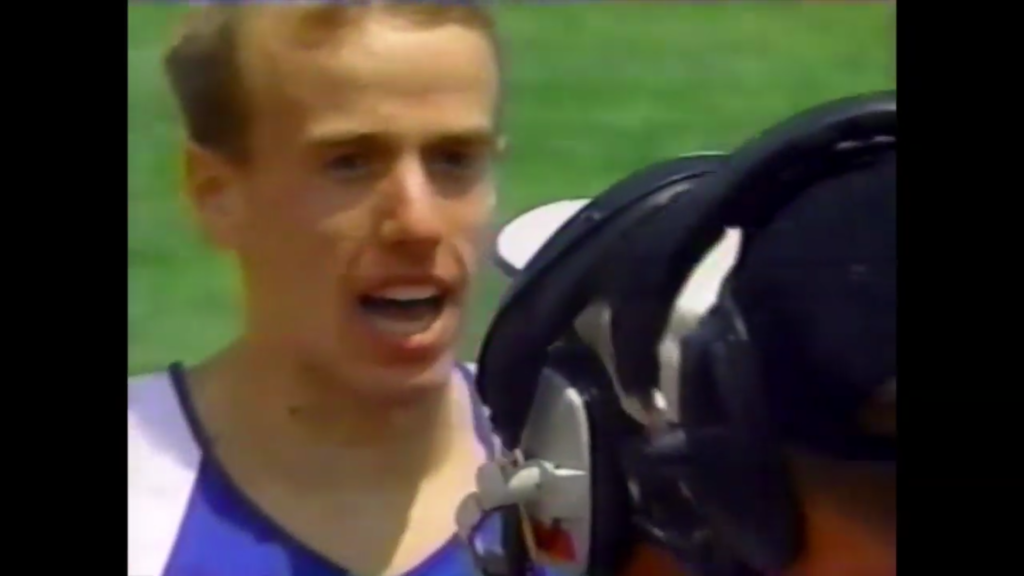 8:28 Webb knows he's run well, but doesn't know how well. "What's the time?" he asks the cameraman.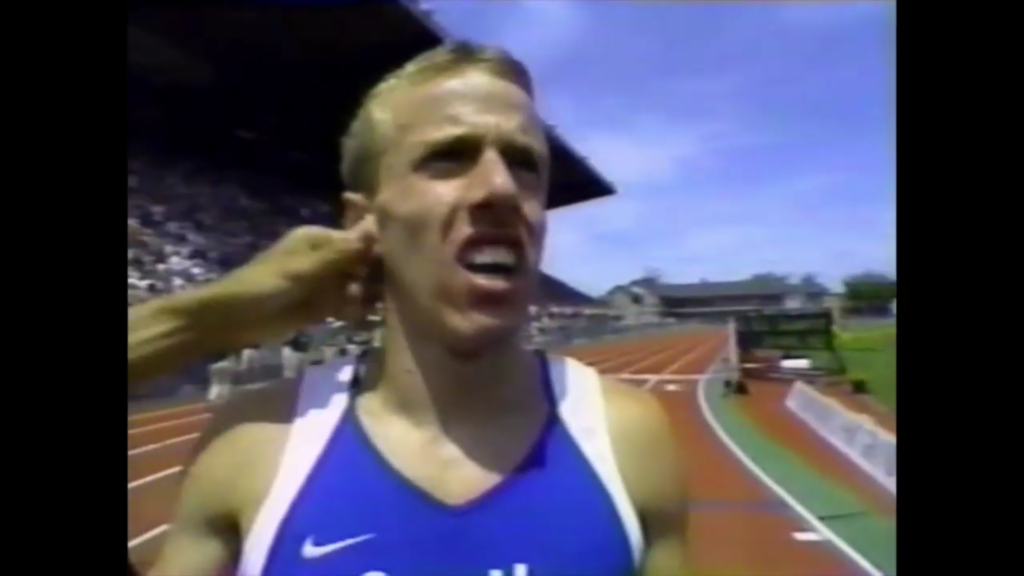 8:35 As Webb looks at the scoreboard for his result, a hand grabs his ear. It's El Guerrouj, who embraces Webb in a hug.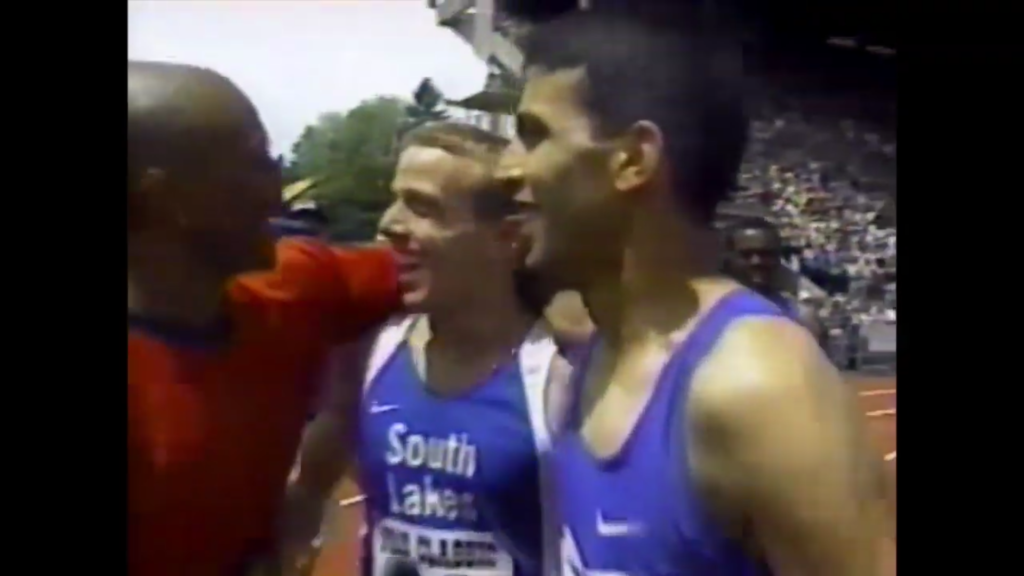 8:51 Credit to El Guerrouj here. He knows how special Webb's run is, and grabs his hand to make sure Webb celebrates with him. Who is the first person they bump into? Maurice Greene — at the time, the 100-meter world record holder and Olympic champion. All this is pretty cool for Webb…but he still doesn't know how fast he ran.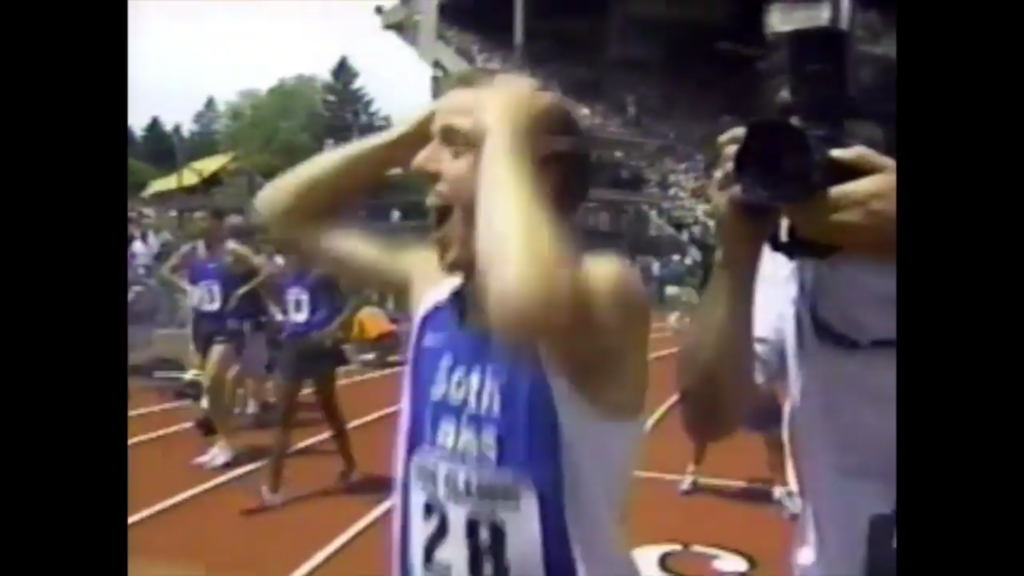 9:01 Finally, Webb sees his time: 3:53.43, taking almost two seconds off Ryun's legendary 3:55.3 high school record. His last lap was covered in 55.1. Yeah, I think we'd all react the same way.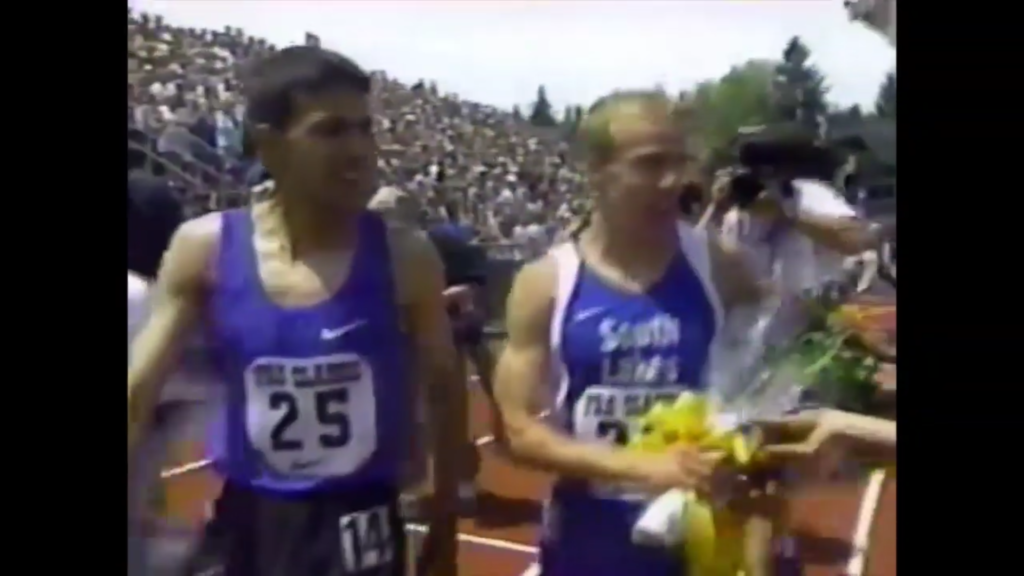 9:12 Normally flowers only go to the winner. Not this time.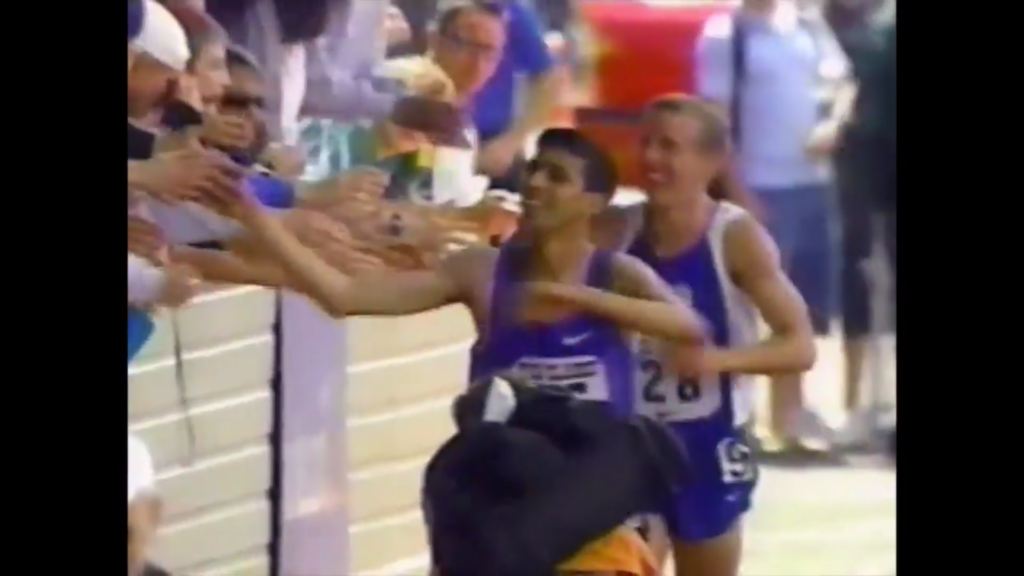 10:42 I can't think of many things cooler than running 3:53 as a high schooler and then getting to go on a victory lap at Hayward Field.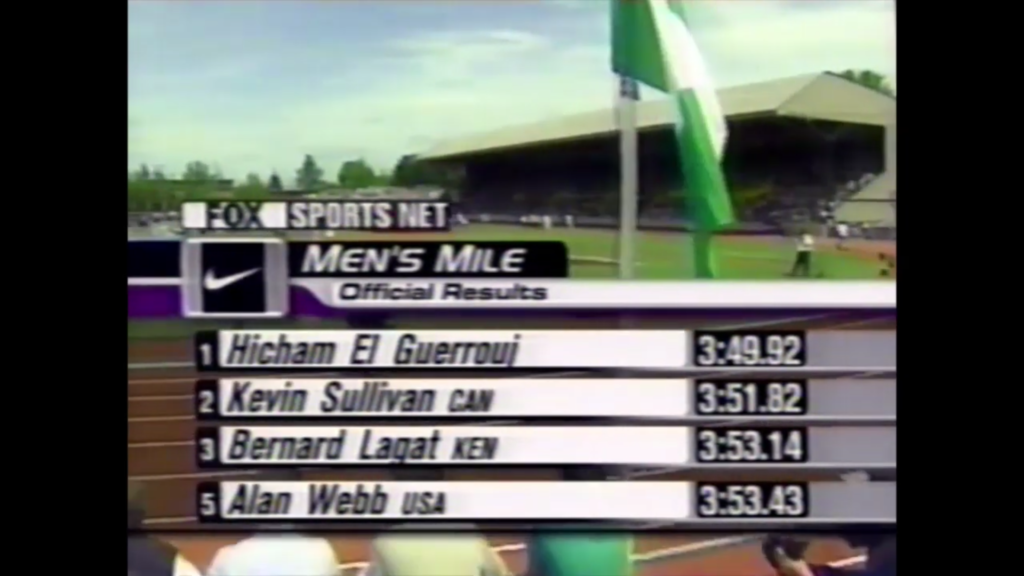 11:02 Final results. Only four guys beat Webb: the two fastest 1500 runners in history, a Moroccan who was later busted for EPO (Kaouch), and Kevin Sullivan.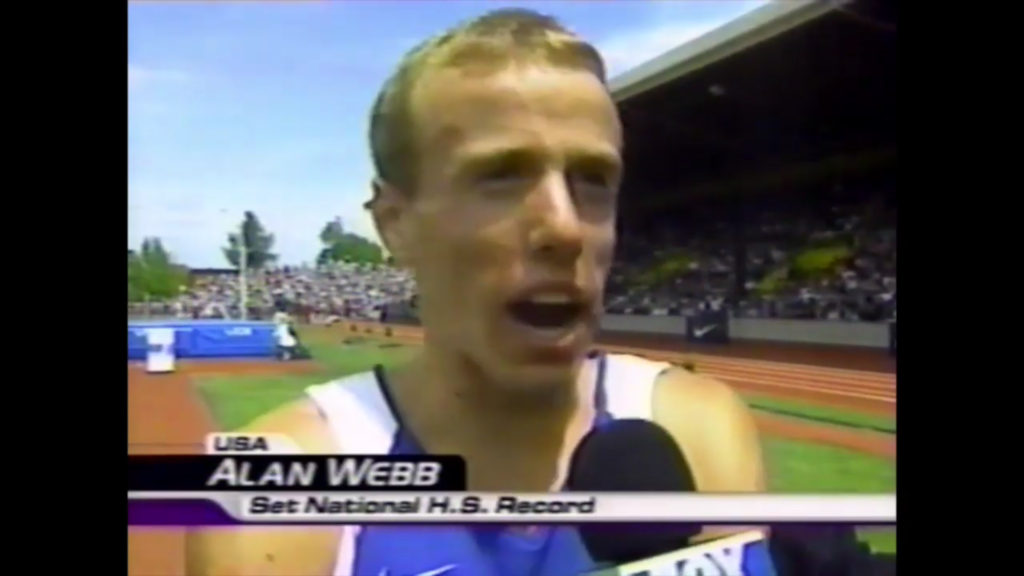 11:18 "I knew I had something [that last lap]. I knew I was going to catch a bunch of people. I felt great the whole race…I've been just waiting for a chance to prove myself at a level such as this."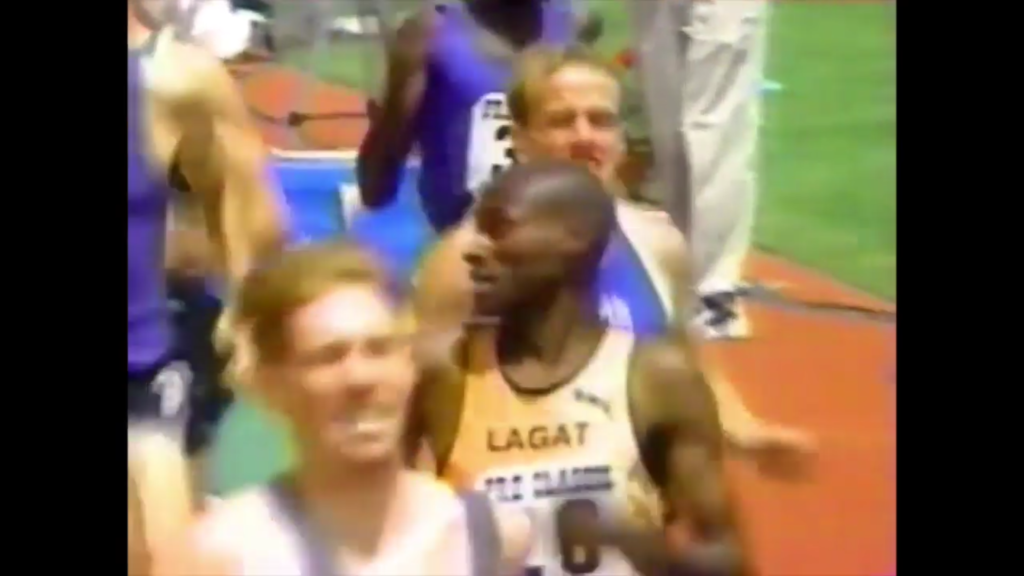 11:41 They replay the finish and show Lagat looking back just before the end. Don't get beat by the high schooler. Don't get beat by the high schooler.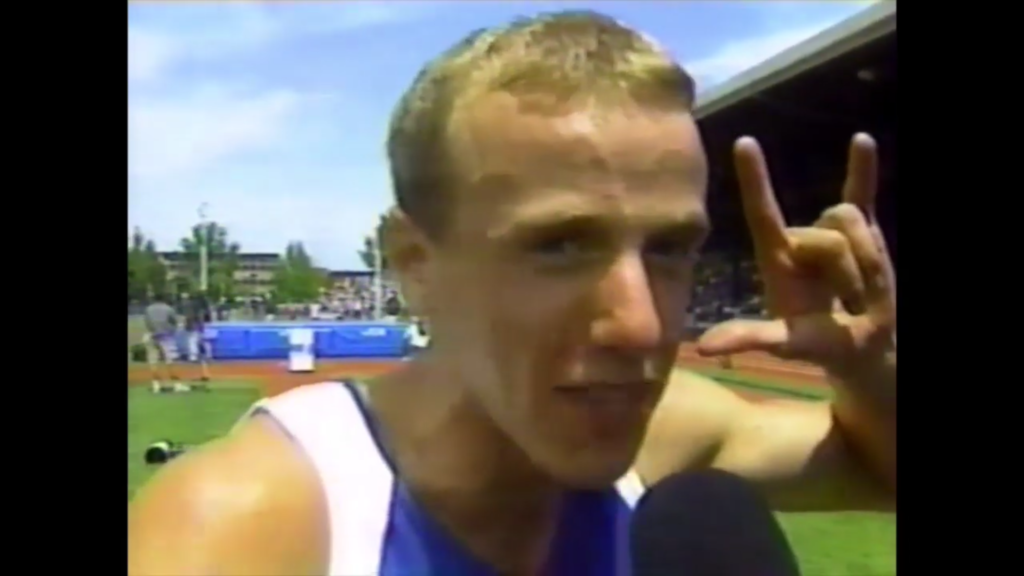 12:15 Webb handles the interview incredibly well. Between his time and media skills, it's easy to forget he's only 18.
"I'd just like to make a shoutout to everybody at South Lakes. I love you guys. Woo! I'll be home on Monday! All right!"
Never mind.
***
That's it for this week. Check back next Thursday for the next installment.
Previous:
*TBT #7: I Was Bored, So I Watched the 2008 NCAA Cross Country Championships
*TBT #6: I Was Bored, So I Watched the Men's Steeple at the 2003 World Championships
*TBT #5: I Was Bored, So I Watched the 1983 World Cross Country Championships
*TBT #4: I Was Bored, So I Watched Galen Rupp, Matt Withrow, & Jenny Simpson at the 2003 Foot Locker Championships
*TBT #3: I Was Bored, So I Watched the Insane 2007 World Cross Country Championships in Kenya
*TBT #2: I Was Bored, So I Went Back and Watched Ritz, Webb, & Hall Battle at the 2000 Foot Locker Cross Country Championships
*TBT #1: I Was Bored, So I Went Back and Watched the 1998 NCAA Cross Country Championships