Even After Four Blowouts, Why We Still Care About Eliud Kipchoge vs. Kenenisa Bekele in London
By Jonathan Gault
January 17, 2020
So it's happening.
London. April 26, 2020. Kipchoge-Bekele V.
Article continues below player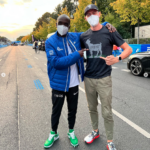 Kipchoge loves the 1:59:40 Shirt Get Yours Today
What a legend!
The running world started salivating as soon the news broke Thursday that Kenenisa Bekele, the second-fastest marathoner of all time, will race Eliud Kipchoge, the world record holder, at the London Marathon on April 26. And that's sort of a weird reaction for a matchup we've already seen four times in the marathon, right? Especially since none of those races were particularly close.
A quick refresher: after a decade of battling on the track and cross country (Bekele owns a commanding 16-5 advantage on those surfaces), the duo squared off for the first time over 26.2 miles in Chicago in 2014. Bekele, coming off a stellar 2:05:04 debut win in Paris, was viewed as a slight favorite over Kipchoge, who had transitioned well to the marathon but had yet to win a World Marathon Major.
There was still a lot we didn't know back then. Bekele was asked, in a time before Vaporflys and pacing lasers, whether anyone could break two hours in the marathon.
"In the future maybe, if scientists create some different human beings… a human being cannot do that," Bekele said.
Kipchoge clobbered Bekele in Chicago, winning in 2:04:11 to Bekele's 2:05:51, and did it again in their three subsequent encounters 2016 London (Kipchoge won in 2:03:05, Bekele finished 3:31 back), 2017 Berlin (Kipchoge won in 2:03:32, Bekele DNF'd), and 2018 London (Kipchoge won in 2:04:17, Bekele finished 4:36 back).
So why, exactly, is everyone so excited about 2020 London? Haven't we seen this before?
I have a few theories.
First: running, more than most sports, is about what's next (And yes, as part of the track media, sometimes I'm guilty of this as well). Being anointed "the next Usain Bolt" is as much a part of life for a sprint phenom as drug tests and block starts. Anytime someone runs a fast half marathon, we automatically start wondering what they could do in the full. So when Bekele ran 2:01:41 in Berlin last fall, the conversation shifted quickly from, Wow, what a race! to When is he racing Kipchoge? 
While we've technically seen Kipchoge vs. Bekele four times before, we've never actually seen it the way we imagine it in our minds: the two men both in supreme shape, both clear of the field in the final miles, trading surges and chasing the world record. We may never see that version (and what would we wish for afterward if we did?), but every time Bekele rips off a race like 2019 Berlin, it gives us hope.
Like Muhammad Ali and Tiger Woods, Bekele is his sport's greatest talent. Ali and Woods were glorified for their early-career success. They were deified for what came after the fall. The only thing we love more than a winner is a winner brought low who climbs the mountaintop once again. Ali had the Rumble in the Jungle, ten years after first winning the heavyweight title. Woods had the 2019 Masters, 22 years after his first major. If that moment is to come for Bekele, it will happen in 2020.
Bekele, 37, has mounted comebacks before. After going 18 months without finishing a race, Bekele returned in 2016 to finish third in London and win Berlin, his first major victory, in a personal best of 2:03:03 (faster than Kipchoge's PR at the time). In 2018, Bekele hit the canvas again, the nadir an embarrassing DNF in Amsterdam in October, when he walked off the course with barely a mile remaining. Less than a year after that, he was back, overcoming a 13-second deficit at 35 kilometers to earn a stunning 2:01:41 victory in Berlin.
You could argue that Berlin represented the peak of Bekele's comeback, and maybe that's true. Maybe it won't get any better for him. While Bekele's win in Berlin was pretty spectacular – 10 years after winning his last global medal, the guy dropped a 2:01:41 marathon – 2019 Berlin was not the Rumble in the Jungle, and it wasn't the 2019 Masters. Both of those events placed their victors firmly atop their sport. In the marathon, only a victory over Kipchoge can do that (Bekele couldn't even beat Kipchoge's ghost in Berlin, missing the latter's world record by two seconds). Bekele will get his chance to summit the mountain in London.
The problem, of course, is Bekele's consistency. More specifically, his lack of it. He has started 11 marathons in his career. He has finished just seven, and of those, he has produced a performance capable of challenging Kipchoge just twice (2016 & 2019 Berlin); Kipchoge wasn't in either race. The odds of Kipchoge-Bekele V living up to the hype are better than most marathon mega showdowns — usually, you need to hope that both competitors are fit and ready to go, but with Kipchoge, that's essentially a guarantee — but the fact that the first four have fizzled suggests maybe we shouldn't get our hopes up just yet.
So what does Kipchoge have to gain from this? He's dispatched all comers for six years and counting, winning 10 straight marathons and an Olympic gold medal, breaking the world record, and becoming the first human to cover the marathon distance in under two hours. He's run out of things to accomplish (Editor's note: At least on flat, fast courses. Some would argue he should try to win all the majors — including the hilly Boston and New York City Marathons). Even if Bekele beats him in London with a world record, Kipchoge is the unassailable marathon GOAT.
No, the more interesting question to ask with Kipchoge is how does it end? One of two ways: Kipchoge will retire, or Kipchoge will lose. It could happen in London. In addition to Bekele, Mosinet Geremew (2:02:55 pb) and Mule Wasihun (2:03:16 pb) are both in the field, plus six more sub-2:06 men dreaming of a breakthrough. Could one of them beat him? How would it happen? What would it take?
We don't know. Which, more than anything, explains why we still care about Kipchoge vs. Bekele. You can compare all their results and reach a conclusion about the outcome, but we never know what's going to happen. All we know is that the greatest marathoner of all time is racing the greatest overall distance runner of all time in history's first matchup of 2:01 marathoners. It's not hard to get excited about that.