Track Is Back! Duplantis, Warholm, Cheruiyot & More Will Battle at 2020 Impossible Games
By Jonathan Gault
June 10, 2020
Well this sure feels weird. One of the primary duties of my job is to write meet previews for this website. In the last 13 weeks, I have written a grand total of zero. That's what a global pandemic will do.
The last time I wrote one, I wrote about Dani Jones' decision to double in the 800/mile at the NCAA Indoor Championships and how she'd deal with four races in the span of 25 hours (reason to hate the coronavirus #5876: we never got the answer to that question). But here I am today, June 10, writing an actual preview about an actual — well, okay, Thursday's Impossible Games is only kind of an actual track meet. The men's 2000m is a team race that will be staged in two different countries, there will be a 200m hurdles and a 300m hurdles, and multiple events feature only one athlete, all of which will play out at an empty Bislett Stadium. But this meet also contains Mondo Duplantis, Karsten Warholm, the Ingebrigtsen brothers, Timothy Cheruiyot, and Elijah Manangoi, all of whom will be going out there on Thursday and competing.
Article continues below player
It's not perfect. And it's certainly not what we're used to. But it's also the best track meet so far of the 2020 outdoor season. And for US fans, it will be shown live on NBC Sports Network (Thursday, 2-3 p.m. ET) , so you have no excuse not to watch.
For a closer look at some of the best events, keep reading.
What: 2020 Impossible Games
Where: Bislett Stadium, Oslo, Norway, and various remote sites
When: Thursday, June 11
Schedule/entries/results * TV/streaming information *2019 LRC coverage
You can watch the pre-meet press conference live here at 11 a.m. ET on Wednesday (or tape-delayed once it's over):
Men's pole vault (1:35 p.m. ET): Duplantis vs. Lavillenie in a quarantine grudge match
Mondo Duplantis and Renaud Lavillenie have only competed against each other on the same runway once this year. Yet the young phenom and the 2012 Olympic champ have still managed to develop a nice rivalry. It began on February 8 in Torun, Poland, where Duplantis cleared 6.17m to erase Lavillenie's six-year-old world record (Duplantis would add a centimeter to the record the following weekend). And it intensified on May 3, when, competing remotely from their respective training bases, Duplantis and Lavillenie tied at 36 clearances apiece at the Ultimate Garden Clash; the 20-year-old Duplantis wanted to break the tie and keep vaulting, while the 33-year-old Lavillenie opted to call it quits. (In between those events, Duplantis won their only in-person showdown of 2020 on February 23, clearing a best of 6.01m at the indoor meet Lavillenie hosts every year in France).
When the two compete on Thursday, they will once again be separated — Duplantis and Norwegian Pål Haugen Lillefosse will jump in Oslo, with Lavillenie competing virtually from his home in France. At least this time around, there won't be a tie.
It will be interesting to see what kind of form Duplantis is in. When the world stopped, he was riding an incredible hot streak: he had cleared 6.00m+ in each of his five meets this year, including the two aforementioned world records. Losing the chance to see Duplantis continue his remarkable breakout season is one of the more notable athletic casualties of the coronavirus.
Men's 1000 (2:05 p.m. ET): Filip Ingebrigtsen targets Norwegian record
It's hard to believe, but there is a Norwegian middle-distance record that doesn't belong to the Ingebrigtsen family. Naturally, 2017 World Championship bronze medalist Filip will try to set that right on Thursday by trying to break the 1000m mark (he'll double back 45 minutes later for the team 2000m race).
The record is attainable, but far from easy: it's 2:16.78, set by Vebjørn Rodal less than two weeks after he won the 1996 Olympic 800m title in Atlanta (Rodal also holds the Norwegian 800 record at 1:42.58 from that Olympic final). Ingebrigtsen has come close before — he ran 2:16.95 in Lausanne in 2016 in his only competitive 1k race — but he won't have the luxury of top competition in this race, with three little-known Norwegians the only other entrants.
Men's discus (2:08 p.m. ET): World champ Daniel Stahl in action
Sweden's Stahl, who threw 67.59m to win in Doha last year, takes on countryman Simon Pettersson (9th at Worlds) and Norway's Ola Stunes Isene (10th).
Men's 300 hurdles (2:43 p.m. ET): Karsten Warholm chases world record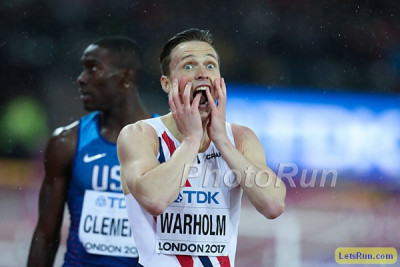 Between his pre- and post-race celebrations and his times (doesn't it feel like Warholm runs a PR every time he steps on the track?), it's pretty exciting to watch Karsten Warholm run. But given the training interruptions of the pandemic and the absence of his hurdle rivals Rai Benjamin and Abderrahman Samba, it was going to be pretty difficult — one might even say Impossible — for this meet to hold a 400 hurdles race with any kind of stakes. So instead, Warholm will attempt a solo run at the 300 hurdles world record (the outdoor record stands at 34.48 from Great Britain's Chris Rawlinson from 2002, though Warholm has actually run faster indoors, 34.26).
Athletes dodging competition to chase low-hanging records is one of my biggest pet peeves, but given the circumstances, you can't accuse Warholm of that here. In fact, I give the organizers credit; it's a win that Warholm is even competing, and I'd rather see him try a weird event than run a meaningless 48 or 49 against no competition in the 400 hurdles.
Maurie Plant Memorial men's 2000 (2:50 p.m. ET): Team Ingebrigtsen and Team Cheruiyot battle for national pride
Team Ingebrigtsen: Jakob Ingebrigtsen, Filip Ingebrigtsen, Henrik Ingebrigtsen, Narve Gilje Nordas, Per Svela
Team Cheruiyot: Timothy Cheruiyot, Elijah Manangoi, Edwin Melly, Vincent Keter (pacer), Timothy Sein (pacer)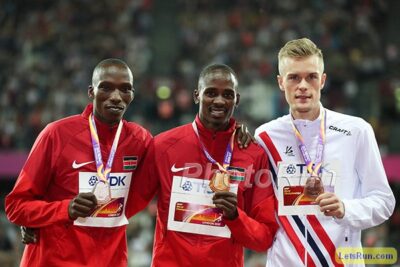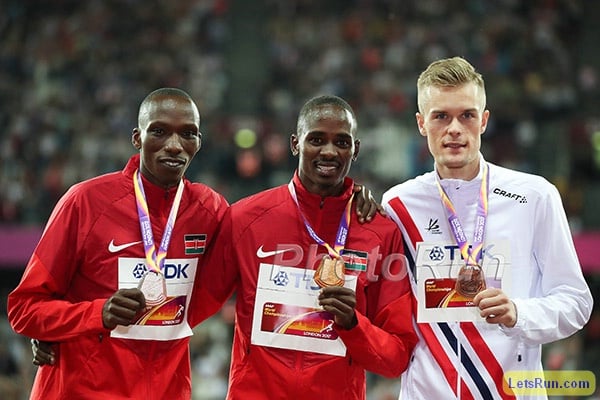 It's ludicrous to suggest this race — a team affair in which the times of each squad's top three athletes are added together — will determine which is the best 1500m training group in the world. We have the World Championships for that, and Cheruiyot's Rongai Athletics Club has dominated, going 1-2 in 2017 and claiming top honors again in 2019 through Cheruiyot (Jakob Ingebrigtsen was 4th in that race).
With Cheruiyot, Manangoi, and the Ingebrigtsens, this is the most star-heavy event of the evening, but like the rest of the night, this is more about entertainment than determining the best of the best.
"We want to bring some competition to your online channels, to a TV station, just to entertain you," RAC coach Bernard Ouma told LetsRun on Monday
(Check out this article for a full update on Cheruiyot, Manangoi, and the rest of the RAC camp: LRC Coach Bernard Ouma Talks As The World's Fastest Milers Timothy Cheruiyot & Elijah Manangoi Prepare For Return To Competition).
The two teams will compete separately, Team Ingebrigtsen in Oslo and Team Cheruiyot at Nyayo Stadium in Nairobi. That's a natural advantage for Team Ingebrigtsen, considering Nairobi sits at 5,800 feet of elevation, though that could be countered by the fact Filip will have to bounce back from his 1000m record attempt earlier in the night.
As for times, we know Jakob (13:28 5k on the roads on May 20) and Henrik (13:32 in the same race) are decently fit (aerobically, at least). Ouma's athletes only returned to serious training four weeks ago, but he believes sub-4:50 is attainable, which would be some super impressive running at altitude — there aren't many athletes who could run a 3:50 1600 and proceed to rip off another 60-second 400. Cheruiyot has said RAC wants to go even faster, throwing out 4:44 — which would be truly shocking if it came to pass (the WR is 4:44.79 by Hicham El Guerrouj, which came in the same summer he ran 3:27/3:43).
Frankly, even a sub-4:50 would be very surprising, especially given the group's limited training, as only six men in history have ever done that, most recently Kenenisa Bekele indoors in 2007 (granted, barely anyone races the 2000 these days). But Cheruiyot is so good that we can't totally count it out.
Another interesting storyline: who wins between Cheruiyot and Manangoi? Cheruiyot has dominated the Diamond League over the last two years, but remember: Manangoi beat him at the Commonwealth Games and African champs in 2018, as well as the 2019 Diamond League opener in Doha before injuries derailed his season. A fully-fit Manangoi may be the only person in the world right now able to give Cheruiyot a run for his money.
Though the stakes aren't particularly high, if any team is feeling pressure, it's Team Ingebrigtsen. If Team Cheruiyot loses, they can always blame the altitude; Team Ingebrigtsen has no such excuse.
Note from Rojo: What's also ludicrous is that this race is named the Maurie Plant Memorial 2000m. Death is almost always sad and all humans are flawed and societal norms including those around doping are always changing but I don't think the first major track event during Covid-19 should be named for a man who once asked an athlete to submit her clean urine so he could swap it out for a doper according to the Australian Parliament. Yes, Plant was loved by many but pick someone else to name this event after.
MB: Official 2020 Impossible Games Discussion Thread – Team Cheruiyot vs Ingebrigtsen
MB: Why is World Athletics naming an event after a convicted drug cheat?
Maurie Plant dodges question on drug test corruption
Men's 25,000m (2:58 p.m. ET): Sondre Nordstad Moen vs. the European record
You know how I said above I liked that Warholm was going for a record at an odd distance? Well the same doesn't apply here. No disrespect for Moen, who is a fine runner, but watching someone chase a European (not world) record for 62.5 laps isn't my idea of a good time. Moen, who owns pbs of 59:48/2:05:48, was slated to run the London Marathon in April; instead, he'll chase the Euro 25,000m record of 1:13:57.6, set in 1999 by the late Stéphane Franke of Germany. Franke's 13:03 pb is quick, but considering Moen has significantly faster pbs at all longer distances, I'd give Moen a good shot at this if he's in decent shape.
The record comes out to 62:24.9 half marathon pace but you have to run almost an extra 4 km.
MB: Sondre Moen 25,000 meters at Bislet
Women's 10,000 (3:30 p.m. ET) and 3,000 (4:15 p.m. ET): Norway's best run solo
The final two track events of the night are both solo women's efforts: Therese Johaug in the 10,000 and Karoline Bjerkli Grøvdal in the 3,000. Johaug won't be setting any records (Ingrid Kristiansen's 30:13 NR has stood for 33 years and counting), but she's an intriguing prospect. After winning three Olympic medals in cross-country skiing, she ran the Norwegian 10,000 champs last year and won it in 32:20.
Grøvdal, meanwhile, will be using wavelight pacing technology to go target Grete Waitz's Norwegian 3,000 record of 8:31.75, which dates back to 1979. Considering Grøvdal's best is 8:37 and she'll be running solo, the record seems unlikely to fall.
---
LRC Coach Bernard Ouma Talks As The World's Fastest Milers Timothy Cheruiyot & Elijah Manangoi Prepare For Return To Competition).
Discuss this meet on our world-famous messageboard:
MB: Official 2020 Impossible Games Discussion Thread – Team Cheruiyot vs Ingebrigtsen
MB: Sondre Moen 25,000 meters at Bislet
MB: Why is World Athletics naming an event after a convicted drug cheat?