The Big 3, Reunited: Alan Webb, Ryan Hall & Dathan Ritzenhein Discuss Their Greatest Performances, Biggest Lessons, & Much More
By Jonathan Gault
May 22, 2020
Listen to our talk with Alan Webb, Ryan Hall, and Dathan Ritzenhein as a podcast here.
Watch as a video below: 
Alan Webb, Ryan Hall, and Dathan Ritzenhein rose to prominence in the early 2000s as members of the high school class of 2001. For their accomplishments as teens — which included two Foot Locker Cross Country titles for Ritzenhein and a 3:53 high school mile record for Webb — they were christened the "Big 3." Ever since, their careers have been linked, with each going on to break American records as professionals — Webb in the mile (3:46.91), Ritzenhein in the 5,000 meters (12:56.27, since broken), and Hall in the half marathon (59:43). Hall also is still the fastest American ever at the marathon (2:04:58) from 2011 Boston.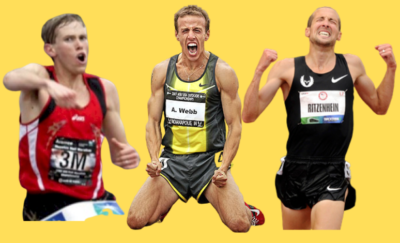 Ritzenhein joined Webb and Hall in retirement earlier this month, marking the end of an era in American distance running. The Big 3 bridged the gap between the low point of American distance running in the 1990s and the success of the late 2000s and 2010s, where it has become common for Americans to bring home medals from global championships. After Ritzenhein's retirement, I took a stab at comparing each of their careers, one of track & field's most famous parlor games. The conclusion: all three men were responsible for some indelible moments in the history of American distance running — and for pushing the sport forward in the United States in an era of African dominance.
Article continues below player.
Amazingly, until Ritzenhein's retirement, Ritz, Webb, and Hall had never before gathered for a three-way conversation. I thought I had generated an incredible idea for LetsRun — until Hall revealed he had had the same idea for his own podcast, which was published Wednesday! But the three of them had such a good time talking that they agreed to gather on Zoom for a second interview with LetsRun this week.
Below, you can watch the video of our wide-ranging conversation. Find out why Ritz had Webb's face on his dartboard as a high schooler, how Webb was able to beat Ritzenhein in their famous 10k showdown in 2006, which performances each believes was the best from their careers, their biggest lessons from the sport, Webb and Ritz's thoughts on their time with the Nike Oregon Project and Alberto Salazar's ban, and much more. And when you're done, be sure to check out Hall's podcast, where the Big 3 talk about their first encounters and what it was like racing each other as high schoolers.
If you don't have time to watch the entire interview, you are in luck. We've typed up some of the highlights from our conversation and share them below and plus we've also released it in podcast form so you can listen while on a run or in the car.
Ritz and Webb on having pictures of each other in their houses growing up (Ritz had Webb's face on a dartboard)
Ritzenhein: "That was adolescent meanness. It was like Mean Girls, kind of…the dartboard thing, that was just me getting my anger and frustration out since Alan came and one-upped me [by running a 3:53 mile after I won Foot Lockers]."
Webb: "I had a picture of [Dathan] on my wall, too. I didn't throw darts at it. When you won Foot Locker our junior year, your picture was on the little pamphlet to sign up for the following year. And so I took that pamphlet and I just took the first page of it and I taped it not even in my room — before I went in my room, because I wanted to make sure I saw that picture every time I went past the doorway."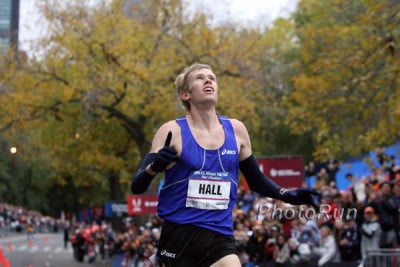 Hall on their rivalry as high schoolers
"I was so upset after [losing to Webb at the 2001 Arcadia Invitational], I ripped my spikes off, threw them down on the infield and I went and ran like 10 miles on the streets of Arcadia, like on cement, barefoot and hurt my foot after that.
"There was lots of moments like that with those guys where they were inspiring me. But being adolescent and not super secure in who I was, they were also kind of challenging how I saw myself. And so it was good for me. It made me grow athletically and then it also made me kind of grow as a person as well."
Webb told the story of a tempo run he ran with Hall in Leuven, Belgium, eight days before he broke the American record in the mile. Hall ran two four-mile tempos, while Webb ran one followed by a set of eight hard 200s.
"It was a 'tempo run.' It was at the beginning of Garmin. So we were running 4:45-4:50 pace for four miles. So 19:15 for four miles or something. And we did it in trainers on that dirt trail in Leuven. Back in college, that would win a lot of cross country races."
Ritz on his duel with Hall at the 2003 NCAA XC champs and how the race helped shape Hall's identity as a marathoner
"[Ryan] always wanted to be this kicker, this miler, and in reality, he would go on to become this great half marathoner and marathoner. And that's just part of finding your way though, at that time.
"That race at the time, it felt like the biggest thing in the world. You just felt like that was the only thing that mattered. And then you look back and there were so many other moments that they just become one blur, kind of."
Hall on beating Webb twice (he was 2-3 in his career against Webb)
"Here's the thing: I don't even count it as a W if I know the other guys didn't run well. So when I beat Alan [twice in 2006], I don't really feel like I beat Alan unless I beat him when he's at his best. And that's the thing about Alan. I talked about on the podcast, Dathan could hurt more than any other runner I've ever seen before. And Alan, when he's on fire, he's unstoppable. You don't want to race Alan when he's on fire."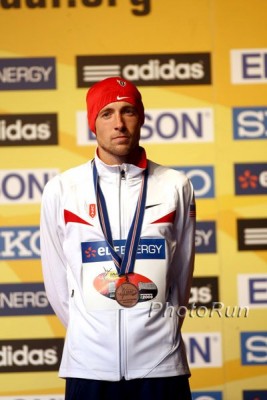 Ritz and Webb on their duel at the 2006 Payton Jordan 10,000, which Webb won, 27:34.72 to 27:35.65
Ritz: "Never underestimate anybody. Because I went in thinking that, well, this will be good, I'll use Alan to trade leads for a while and then he'll fall off at the end…I thought there's no way that he could really run 27:30 pace."
Webb: "I was in the sufferfest for the majority of that race. Like no kidding. It took a monumental effort for that to happen. I was so messed up from that race and my body was so beat up. I tweaked my hamstring like a week later and that's why I ran horribly the rest of the season, because I was so beat up from that one race. I left my whole season in that last lap."
Ritz and Hall on whether it bothered them that they never broke 4:00 in the mile. (Ritz ran a 1500 pb of 3:42.99 as a college freshman; Tilastopaja lists no mile pb for him. Hall ran his 1500 pb, 3:42.70, as a high school senior, and his mile best of 4:05.50 the summer after graduating college.)
Ritz: "I think there's a few times in practice where I ran 4:02 or I ran 4:02 in a 3k at one point, and I'm like, I should have just done it. But I never wanted to waste the fitness either. I was like, if I'm that fit, I want to run a fast 5k. I would never even think to go below 3k. It probably wouldn't have taken anything out of me to go and try to do that, but I guess I squandered all those opportunities."
Hall: "I feel like I couldn't [break 4:00]. I could never get myself that fit. I tried — there was times where I was just focused on 1500 training."
On Hall's stunning 59:43 American half marathon record in Houston in January 2007
Webb: "I remember when you did that, just being blown away by that and talking to Ray, because both of us were represented by Ray Flynn at that point, and saying, oh my gosh, that is incredible. I'm getting my calculator out and I'm like, what mile pace is that?"
Ritz: "I told everybody that it must have been short. I was like, there's no way he could have run that fast."
Hall: "I wasn't planning on running that fast. I just got out that first mile and my first mile was 4:37, which was on pace to break the American record, but it felt too easy. And so I just kept picking up until I got scared. My third mile, I got down to 4:28 for that mile and it still felt easy, felt good, but I was scared to run faster than that.
"…That race, it bothers me in some ways, because I would loved to see what would have happened if I was in a pair of Alphaflys and in a paced race."
Ritz: "58-something, I think."
Hall says he has already conceded that his 59:43 American record and his 2:04:58 marathon — the fastest ever by an American — are "gone" because of the recent advances in shoe technology
"I've already conceded they're gone. They're not gone, but they are gone. It's just a matter of time, right?"
"…The game has completely changed now. You won't be able to compare performances. Someone goes and runs 58-something — that's amazing, that's great, but I don't know that's worth in normal shoes. So personally, what I would love to see is someone do it in a non-carbon-plated shoe, unpaced. Like the same way I did it. Because then you can compare it across the board, right?"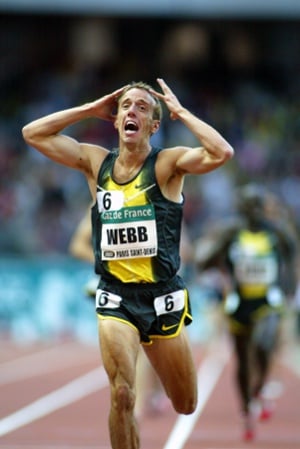 Which distance would have been the fairest for all three of them to race against each other in their primes…and who would win?
Ritz: "Well it's not 10k, because we already know the outcome there."
Webb: "Maybe 12k cross country I guess?"
Ritz: "Well if it's cross country, we know you guys aren't gonna win it. Come on."
Hall: "I thought we already settled if Alan is on, he's unbeatable?"
Webb: "But you guys know how to beat me though. Dathan's just gotta go at a certain point and then I can't do it. He did that at Foot Locker. He crushed me. When he drops the hammer in cross country, you're done."
Hall: "This is [an] impossible one because there's too much range between us. Because there's no way I'm beating Alan at 10k or probably even 15k. I'm not beating Dathan at 15k. So if I match up against Dathan, it's gotta be at least a half [marathon], maybe further. And Alan, that's probably a little bit too far outside his wheelhouse. So I don't know. There's no situation in which I'm winning unless we go a half or longer."
After the video, Webb thought about it some more and texted his best guess:
Webb: "Eight miles on a flat road course with carbon plate shoes. I think I still get third in this race but it's less than 40 minutes and carbon plate likely saves my legs enough so I could hang around so it would be interesting. I think I could hang until about about  two miles left (hopefully) and be able to finish strong but I wouldn't be able to move off of the really fast pace they could set. I did get fourth at USA XC over 12k when Bob [Kennedy] won [in 2004], but 10k was my absolute limit to be really competitive.
"[Eight miles] takes the XC advantage away from Dathan but it's shorter than Ryan's super half marathon strength. I'd still bet Dathan wins because he could use the his non-kicker's kick against Ryan even on the road. But the road would keep Ryan in just a little longer so you need FAT photo finish to separate them. I'd see it as NCAA XC 2003 repeat but Dathan has to catch a gap Ryan could create and have an even closer photo finish. There would be a lean at the line like miler trying to separate gold from silver! I'm glad we are retired because as fun as it sounds it would be really hard."
The biggest lessons/regrets from their careers
Hall: "I kind of bought into this lie of lighter is better for distance running. And I just kept getting lighter and lighter and lighter. I'm 5'10″ and I knew I raced best at 137 pounds, but I just kept experimenting, seeing how low I can get. And I got all the way down to 127 pounds and I was losing half marathons to women in the race at that weight. And that I think just really crushed my body, being that much below what is a healthy weight for me."
Webb: "I tried to diet my way to fitness. After I hurt my hamstring after that 10k that me and Dathan ran, I kind of panicked. I was like, oh my gosh, what do I do? What can I do? I just got this thing in my head that if I got lighter, then I'd be better. And that was just a very, very poor choice.
"…My biggest regret was not recognizing who I was. I tried to be somebody that I wasn't. I feel like my best event was the middle distance events. If you look at my PRs, which everybody loves to say that oh, I had great range. Sort of. I wasn't world-class in the 5k and 10k. I'm not saying I wasn't good or I don't have times that I'm proud of, because they're my best times. But the mile and the 1500 were the events that I could compete [in] on the international level.
"And I think that I got distracted later in my career thinking that I could be the guy that could move up and do something. But ultimately I think if I had stuck to the 1500 and the mile and been consistent in those events…I would have been better off."
Ritz: "We're always searching for I gotta be able to find a way to do more. That's part of what makes you good, right? You always want to find your limit. But I guess I was never coachable in that way. It's not that I thought I knew more, but at the same time, I thought I could get more out of myself.
"I just always needed to be held back, and I didn't listen very well when I was young. Truthfully, when I was in high school, I was a reckless trainer. I ran so much. Eventually something has to break, and then I spent a lot of time trying to fix the things that were broken. I think having the patience early on is not natural for someone who's really wanting to be good. But having that situation where you have the support to hold you to account is important."
Ritz and Webb on Alberto Salazar, who coached both as members of the Nike Oregon Project and was banned from the sport last year for anti-doping violations
Ritz: "Alberto is a complex person. He did a lot of good things for me but also a lot of things that were tough too. I won't say that he's a horrible person or anything. He just has some character flaws too."
Webb: "There's part of Alberto that really does genuinely care about his athletes. But then ….you did get a feeling that maybe ….there's something that you don't know about that's happening. I would just say it was really disappointing to see all this happening.
"I'll say that you can't really judge somebody just based on an association. Because I personally know Dathan and I know there's a lot of people that have gone through that program that I know are just awesome and did things the right way…I pray for Alberto and I'll leave it at that."
On whether they are at peace with their careers
Ritz: "I mean, three Olympic teams, three World Championship teams, American records. All those things, I'm proud of those moments. And I guess I'm proud of the period of time that I did it for. I know that competing for those years, there was a lot of hard moments too. I can't look and say I wish I could have done those other things. That chapter's closed. It's okay."
Hall: "Gratitude and thankfulness makes those what-if moments kind of disappear. Instead of seeing what wasn't, you see what was. And you're able to really celebrate what was. I think for all of us — Dathan's 12:56, my half marathon, Alan's 3:46 — we pretty much maximized our potential. Yeah, maybe in different scenarios and different shoes, different things could have happened. But at the end of the day, we set out what we started the sport to do, which was to see how good we could get at this thing and to push each other along and inspire each other and inspire other people."
Webb: "Gratitude. It's just the perfect word for it. I know that if you had told me at the beginning of this running journey that I would have made it this far, I would have been pretty pumped about that…Starting off my first mile at 7:03 to end up at the end getting a lot better, that's pretty awesome if you ask me."
---
More from LetsRun.com on the Big 3:
LRC Ritz vs. Webb vs. Hall – Who Was Better? A Pseudo-Scientific Breakdown
LRC Podcast: Who Had The Better Career – Ritz, Webb Or Hall?
MB: Now that they are all retired, who had the better career – Dathan Ritz, Alan Webb or Ryan Hall?