I Was Bored, So I Went Back and Watched Ritz, Webb, & Hall Battle at the 2000 Foot Locker Cross Country Championships
Throwback Thursday #2: Ritz, Webb, Hall & More at the 2000 Foot Locker Cross Country Championships
By Jonathan Gault
April 16, 2020
With no races to analyze for the foreseeable future, last week I decided to recap the 1998 NCAA Cross Country Championships after stumbling upon the race video in a LetsRun messageboard thread. I had a lot of fun doing it — analyzing Jeff Atkinson's hair and Bernard Lagat's warmup attire was a nice departure from studying personal bests — and the reception was positive, so we're doing it again this week.
The aim will be to pump out one of these per week until professional running comes back or my jokes stop landing. We'll call this feature something wholly original: "Throwback Thursday."
This week's race is one of the most famous in the history of high school cross country: the 2000 Foot Locker Cross Country Championships, headlined by a showdown between future American record holders Dathan Ritzenhein, Alan Webb, and Ryan Hall. So click play on the video below and hop in the time machine with me to December 9, 2000, in Lake Buena Vista, Florida. Below the video, I'll share with you what I was thinking as I watched it.
Article continues below player.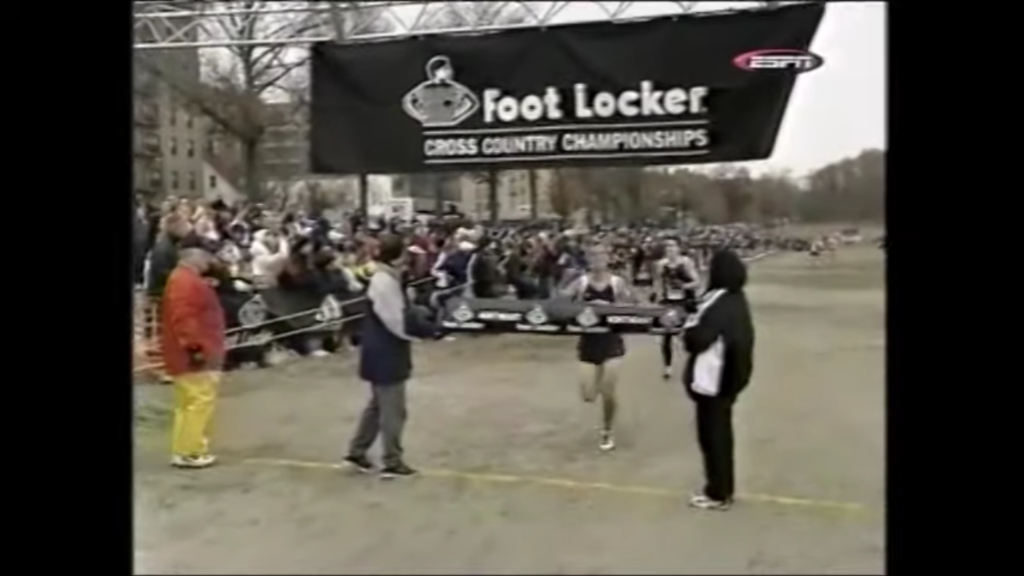 0:18 Toni Reavis begins his voiceover by telling us "the best 32 boys and 32 girls" qualified for Foot Locker in 2000, which reminded me how much harder it was to qualify for Foot Locker 20 years ago. These days, it's 40 boys and 40 girls, and the talent pool is split between FL and NXN (which was introduced in 2004). In 2000, it really was the best 32 boys and girls.
0:35 They show footage of the four regional races. Most of the winners make it look easy, throwing their hands up in celebration or powering through the line. Not West Region champ Seth Watkins. He went to the well.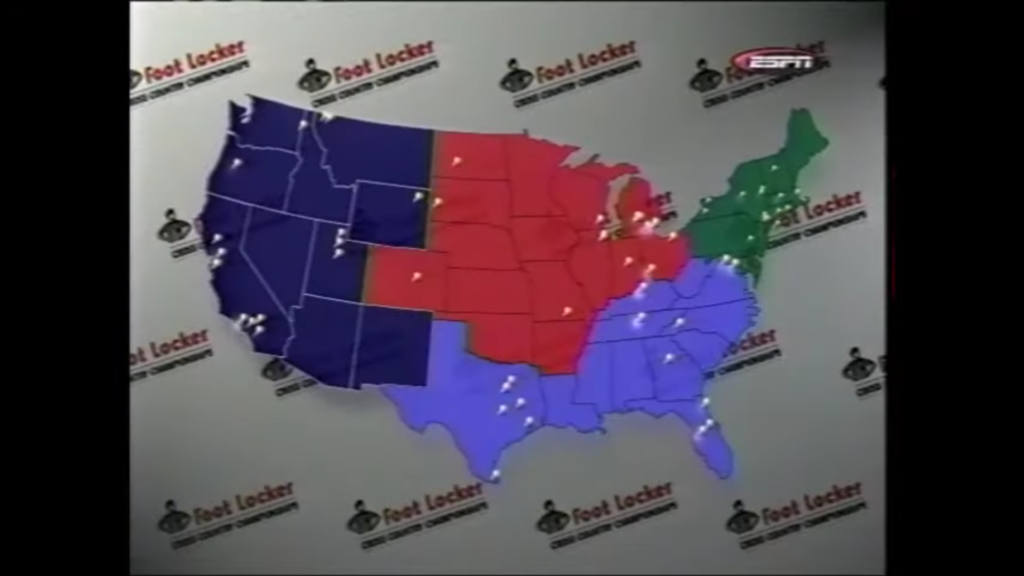 0:40 Neat graphic here showing the hometowns of all 64 finalists.
Before I show you the next image, a disclaimer: the opening to the broadcast is so hilariously dated that I could spend an entire article breaking it down. It looks as if whoever produced it had just received a video editing program and tried to use as many effects as possible within 20 seconds. I've chosen to limit myself to three images: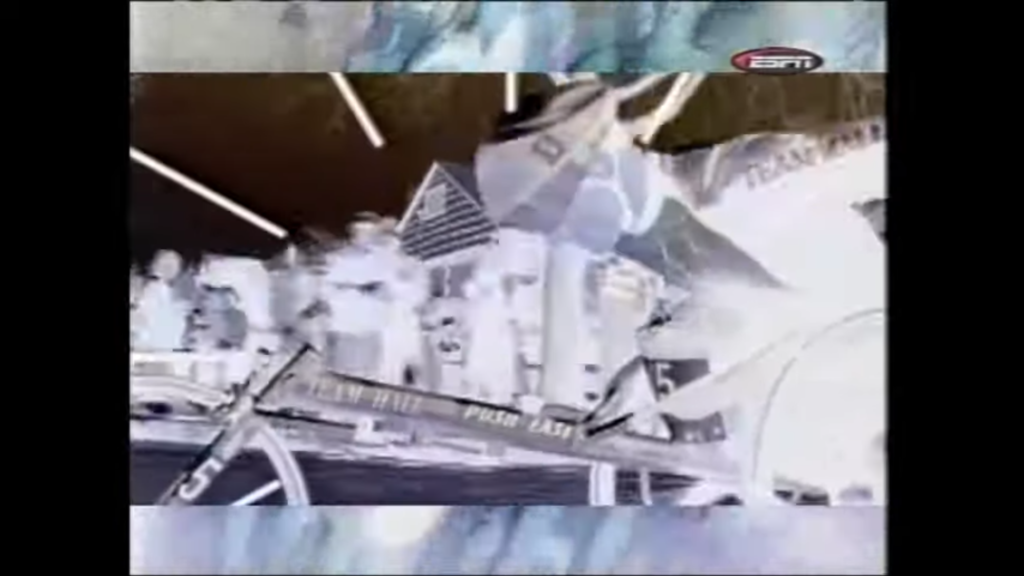 0:43 X-RAY!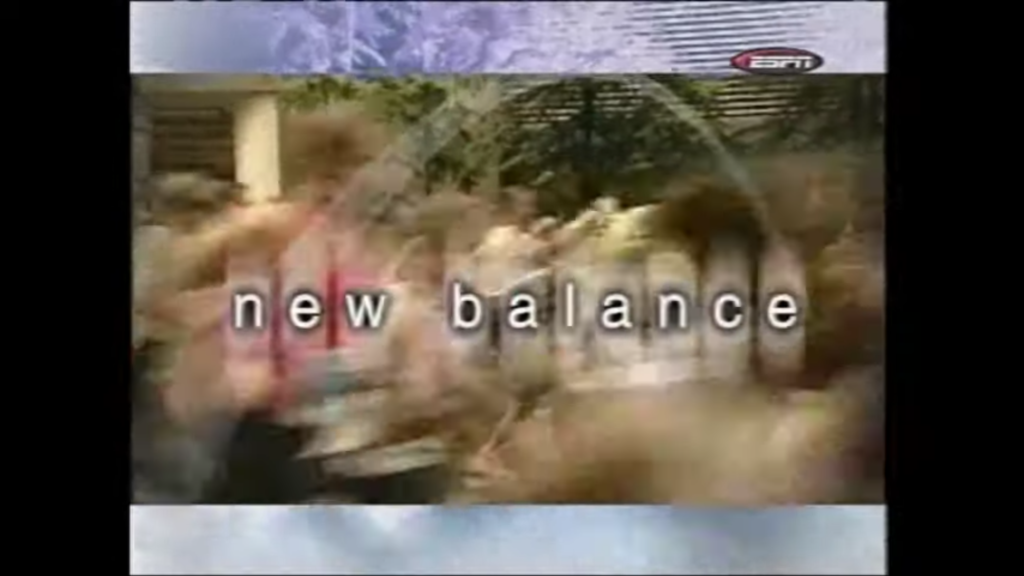 0:46 This font. It was everywhere 20 years ago.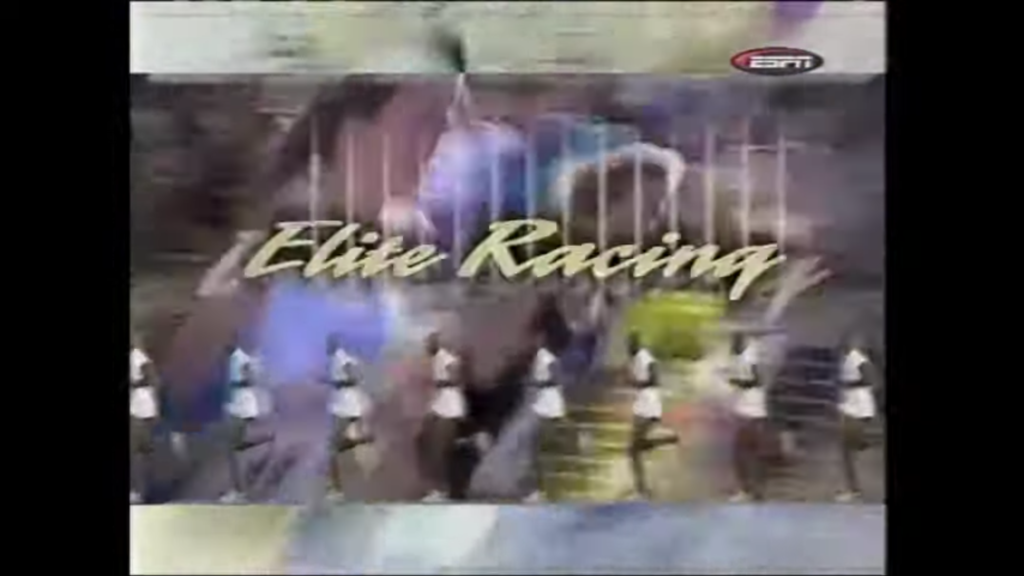 0:53 I'm getting serious early-internet vibes from the image of the same runner repeated eight times on the bottom of the screen.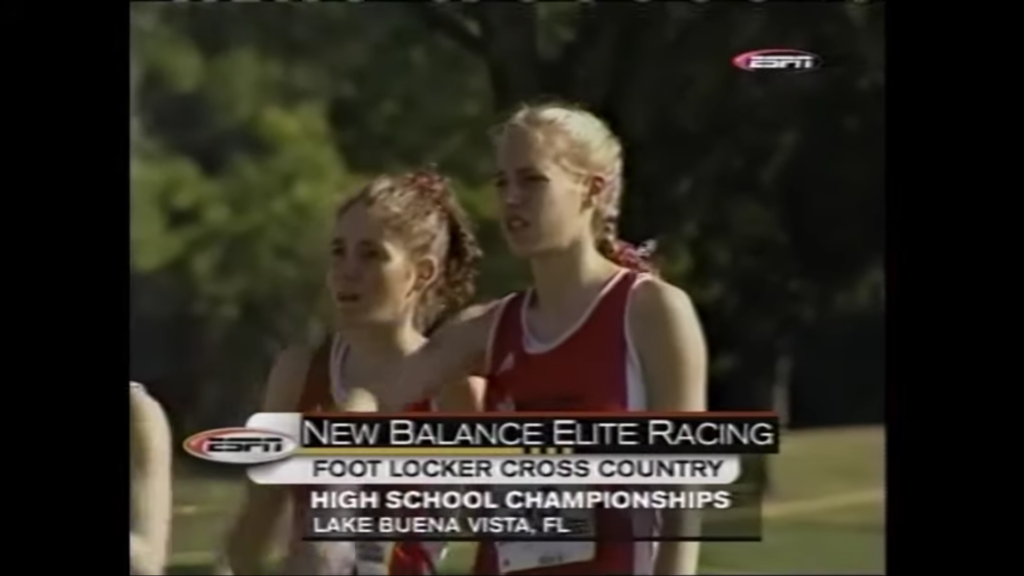 1:12 Reminder that, for two brief periods (1981-82 and 1997-2001), Foot Locker was held in the Orlando area rather than its traditional home in San Diego. Today we're at the Oak Trails Golf Course in Lake Buena Vista. Your commentators: Toni Reavis and Deena Drossin (you may know her as Deena Kastor). The women's race is first.
P.S. I miss the old ESPN graphics.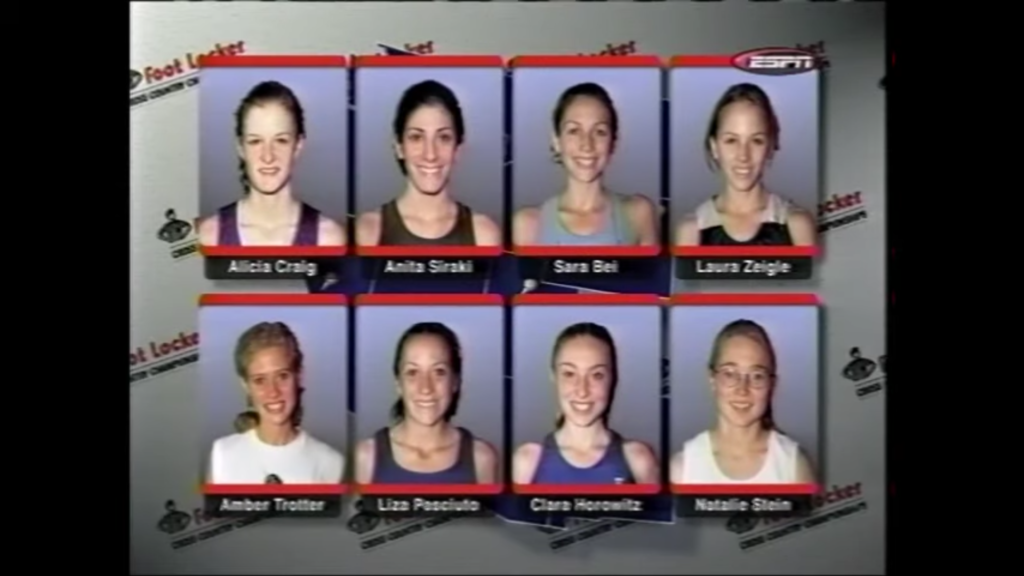 2:17 Here's your West team. Fun fact: not only would Alicia Craig and Sara Bei both go on to become professional runners, both would also marry pro runners. Craig married the late Ryan Shay, while Bei married Ryan Hall.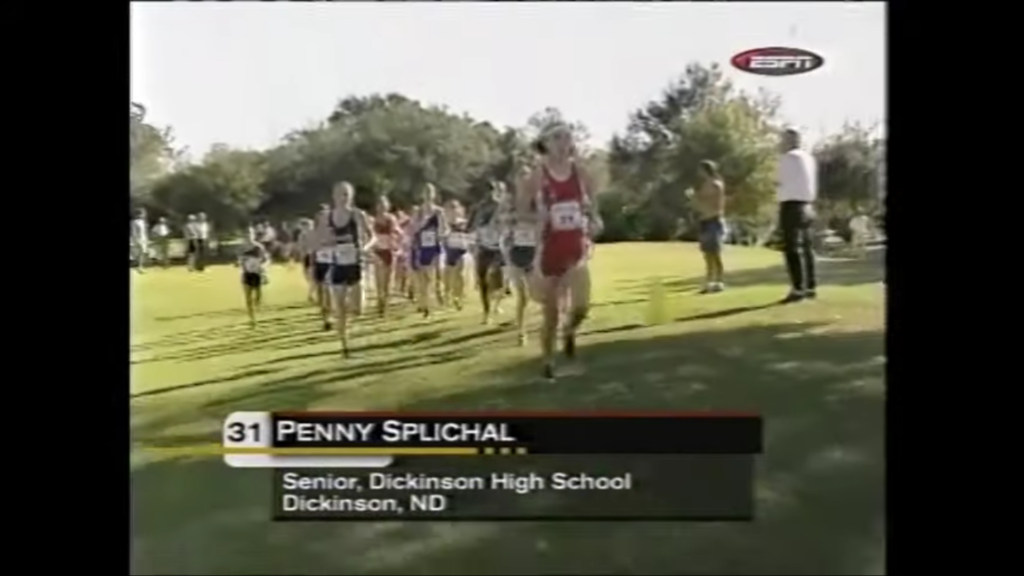 2:35 "Penny Splichal in the lead from North Dakota, the Midwest champion. North Dakota, yeah, that's a Midwestern state."
I'd make fun of Toni Reavis here, but honestly that's about all I know about North Dakota as well.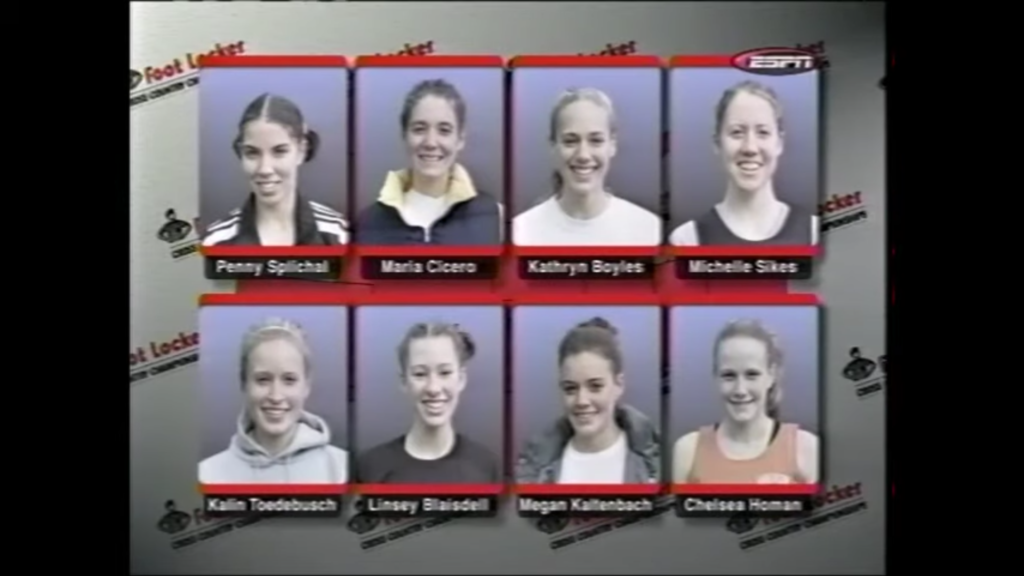 3:11 The Midwest team. Kalin Toedebusch is from the same high school, Rockford in Michigan, as Dathan Ritzenhein. They are now married. Did every woman in this field end up marrying a professional runner?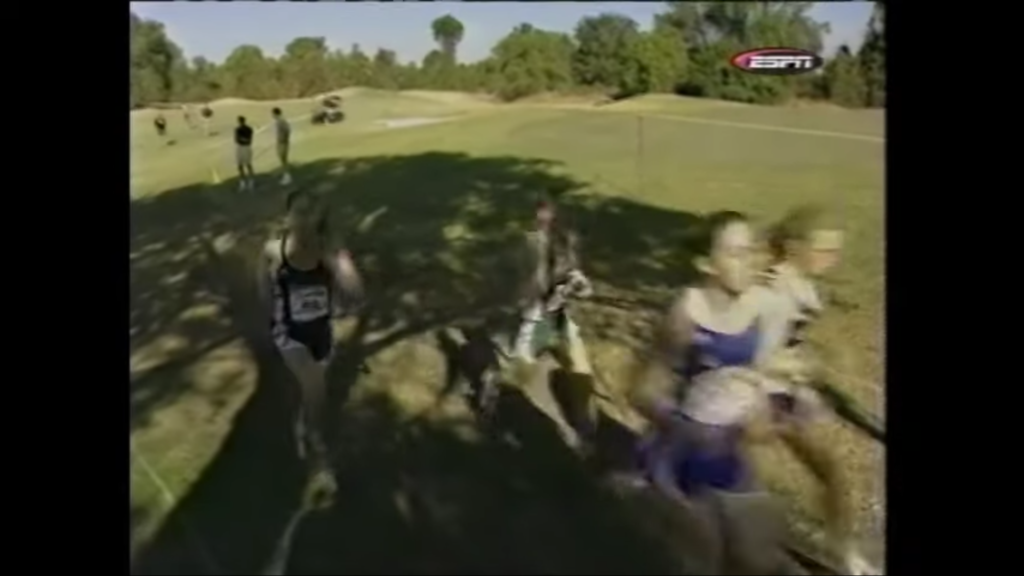 5:03 Just before the mile, they show the entire field. It's a little hard to make out from the image above, but the girl in the dark blue on the far left is Sara Bei. I was pretty sure she wins this race, but that can't be right — she's dead last, over 10 seconds behind the leaders. Let's consult Wikipedia…
Holy crap, she does win this race!
I know the men's race this year was an all-timer, but the fact that we don't talk more about Sara Bei going from last-to-first to win Foot Lockers is a travesty. When was the last time you heard about anyone going from last to first to win any XC race, let alone the national championship? This is totally epic.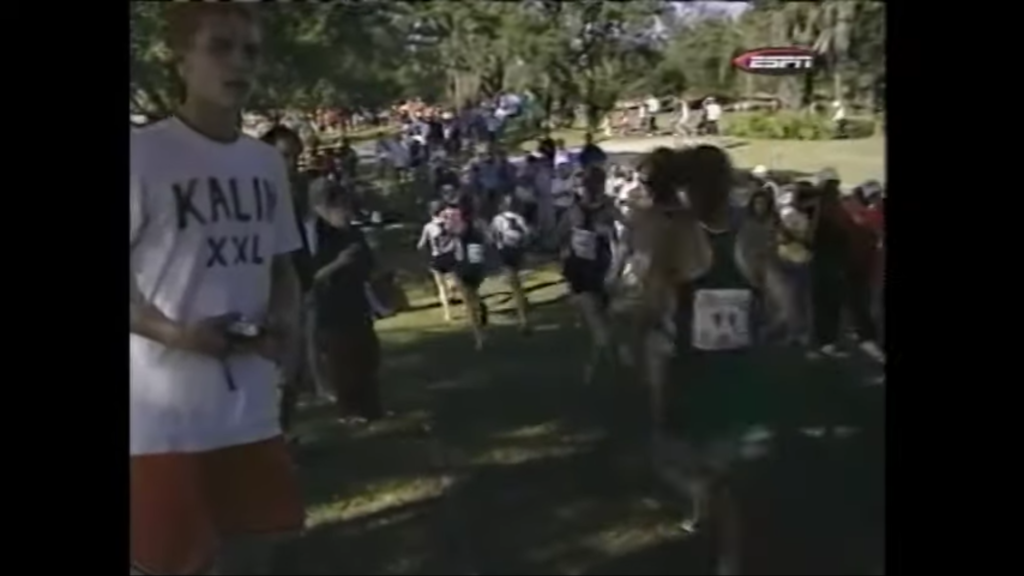 6:24 Loving the personalized "KALIN XXL" t-shirt, but I have some questions. I get that Kalin is for Kalin Toedebusch, but what does the XXL stand for? Is it a nickname? It can't be the shirt size. For one, wouldn't it already be on the tag? And two, that's an XL shirt, tops.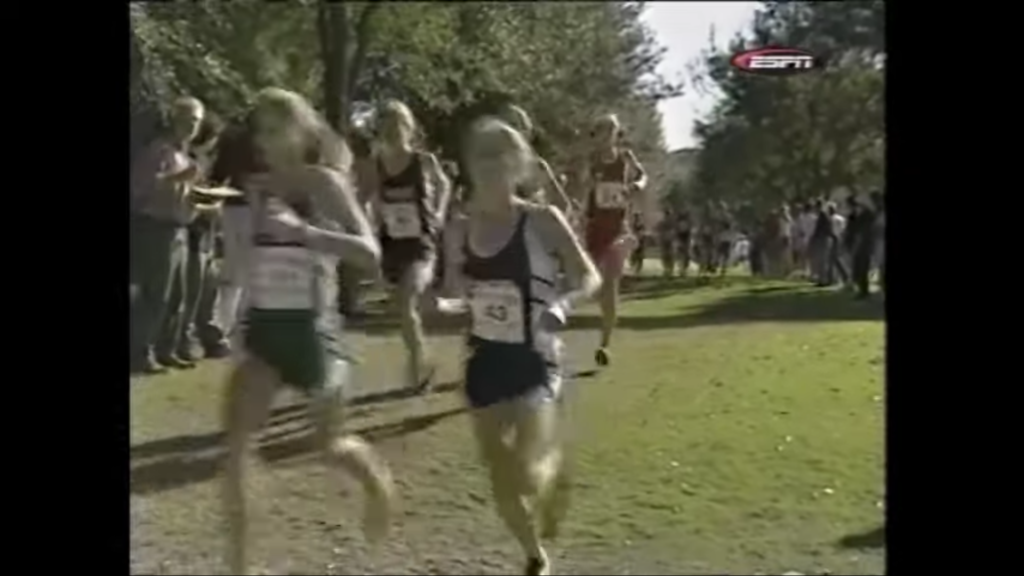 8:08 Bei has climbed all the way to 5th at two miles, but she's still six seconds back of the two leaders, Alicia Craig and Anita Siraki.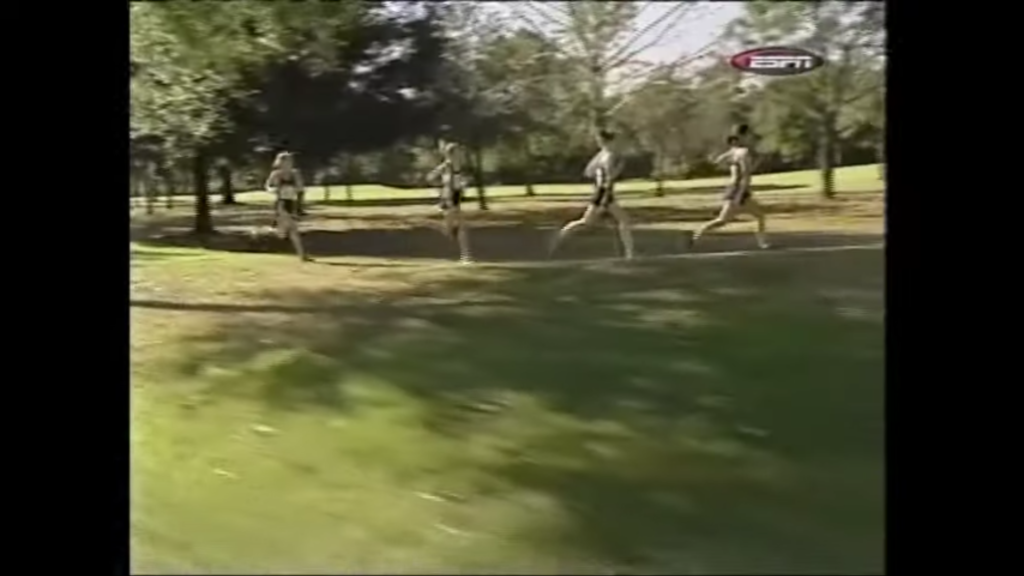 9:14 When there are four athletes left in a race, usually at least one of them is on someone else's shoulder. An even-spaced formation like this is something you'd expect to see during mile repeats on the golf course, not the final mile of a national championship. This is very odd, which means something is about to happen…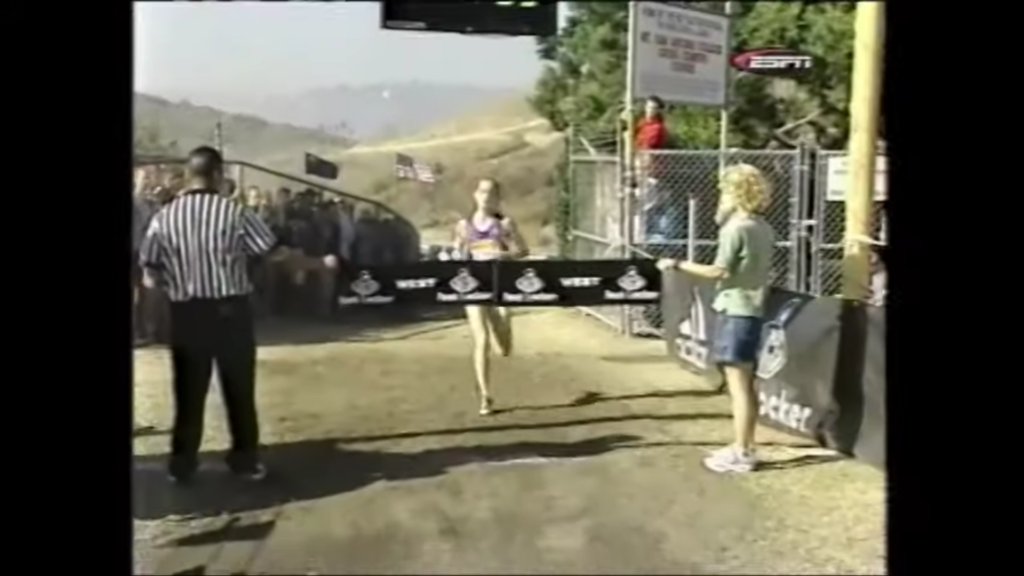 9:33 …and for some reason, the producer decides now would be a good time to cut away and show us highlights of the West Regional, as opposed to the very exciting race currently unfolding. Huh?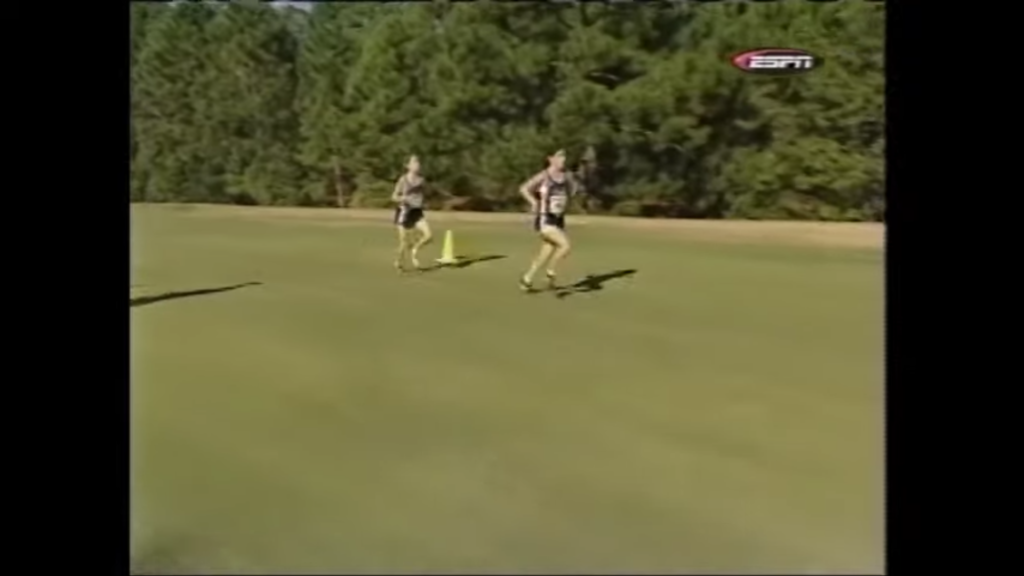 9:56 Of course, by the time we return from that highlights package, Bei and Siraki have dropped Craig and Laura Zeigle. Before producers were missing the break in marathons, they were missing the break in high school cross country.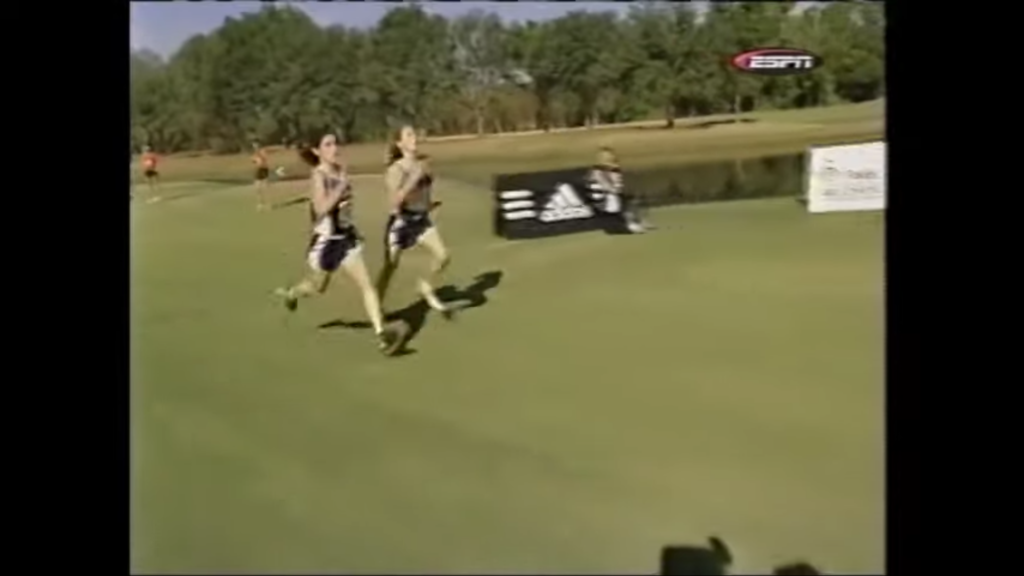 10:45 Reavis tells us Siraki is the California Division I state champ and Bei is the California Division II state champ. Now they're running stride for stride in the home straight for the national title. What a duel!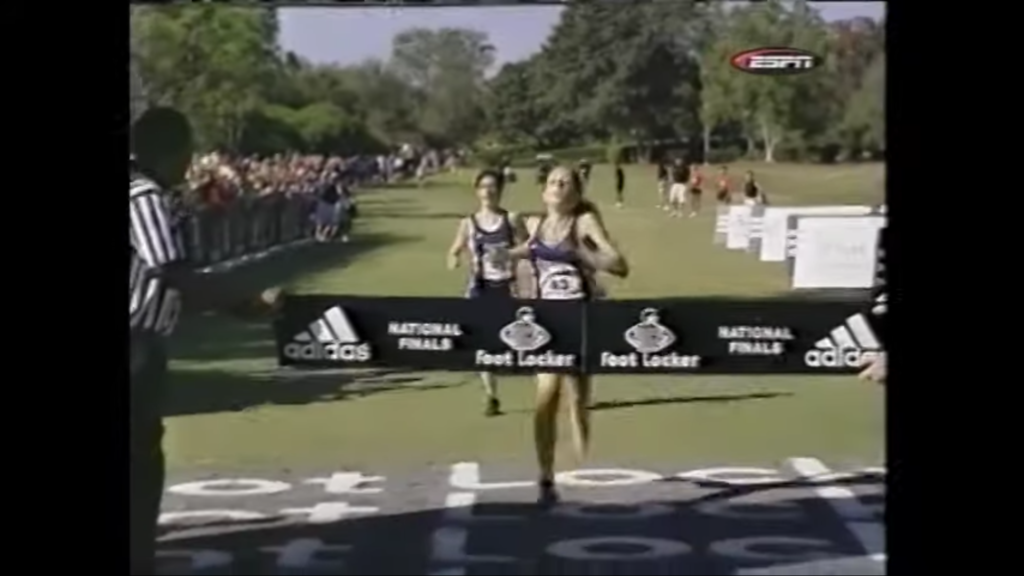 10:55 Bei pulls it out in the end, 16:55 to 16:58, though in reality it was closer than that as Siraki jogged the final few strides once she knew she was beaten. So Bei went from last to first, prevailed in a terrific duel in the finishing straight, and ran fast (a course record of 16:55, though Amber Trotter would smash that mark the following year). I'm calling it: this was one of the great Foot Locker wins ever.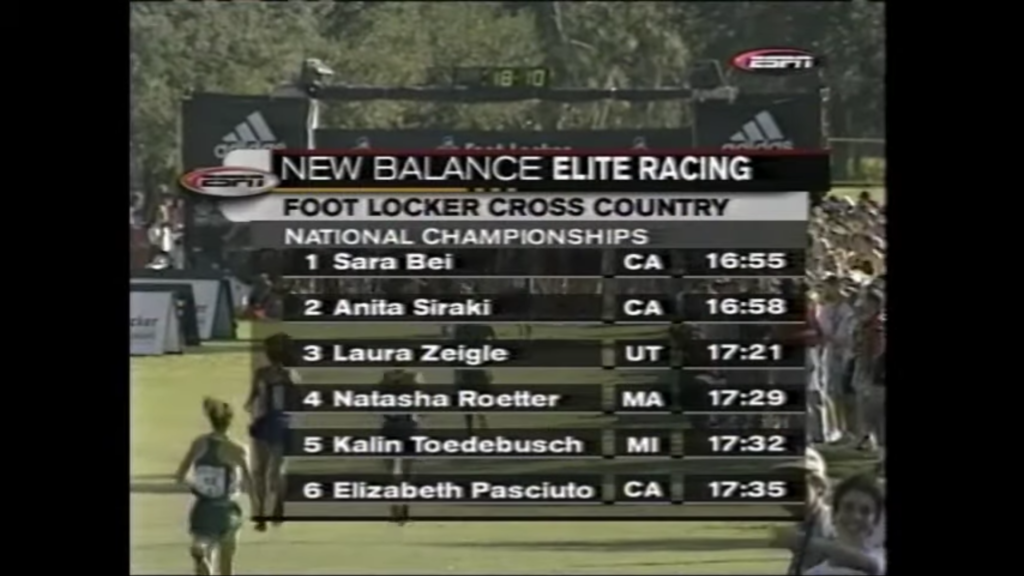 13:10 Final results. In retrospect, this was a big day for the Hall and Ritzenhein families. Both Sara and Ryan (1st and 3rd) and Dathan and Kalin (1st and 5th) ran great. Now it's time for the men's race!!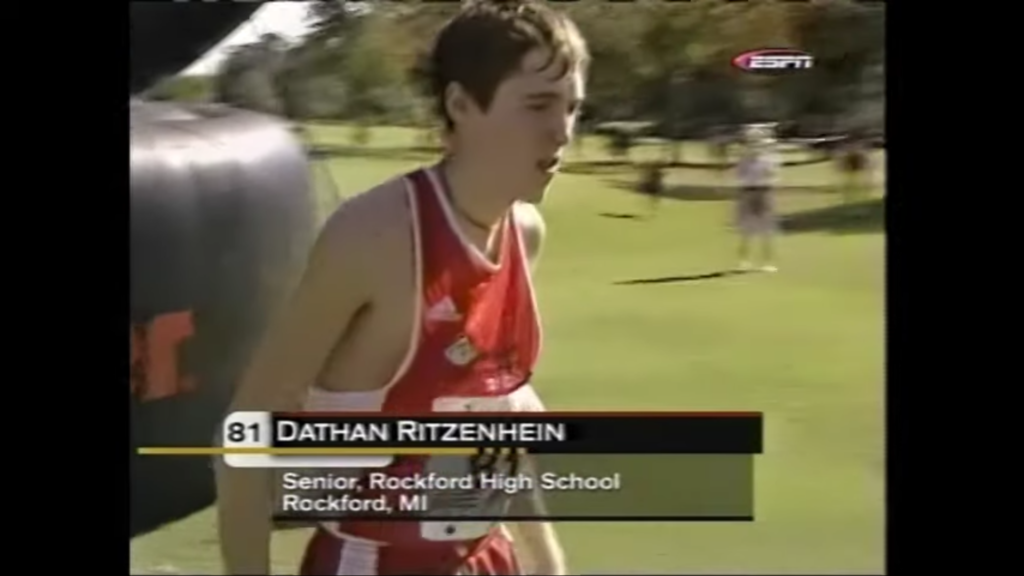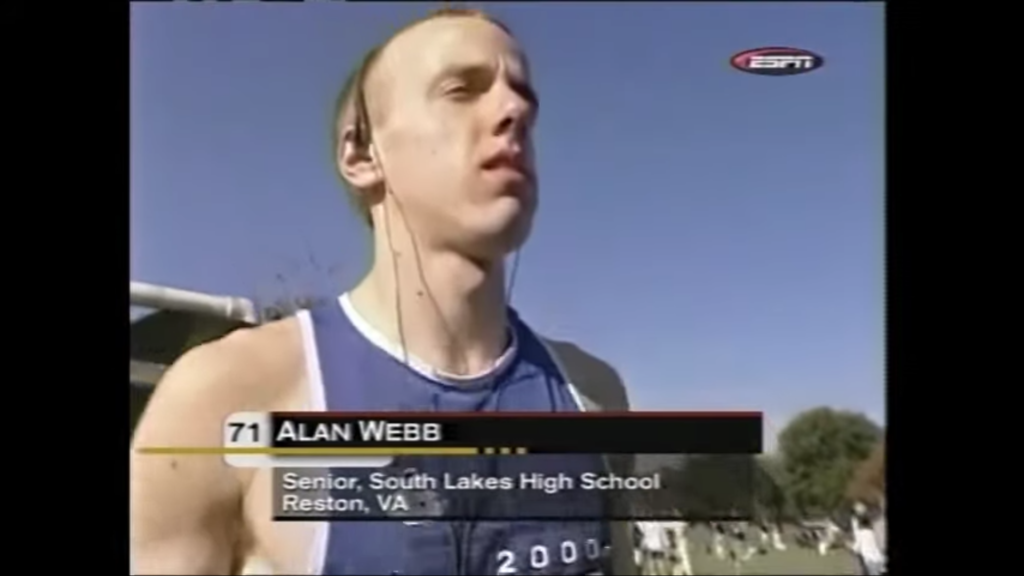 13:39 It's pretty crazy that Ritz and Webb were stars in the same sport. Ritz's singlet hangs off his gaunt body; he can't weigh much more than 110 lbs. soaking wet. Meanwhile, Webb, barrel-chested and built like a defensive back, is introduced with a dramatic pan from the ground, like some sort of supervillain. Yet they're the two best cross country runners in America.
Also peep Webb's headphones, attached to a clunky Discman he's holding in his right hand. Kids, this is how we got psyched up before the iPod and Beats were invented.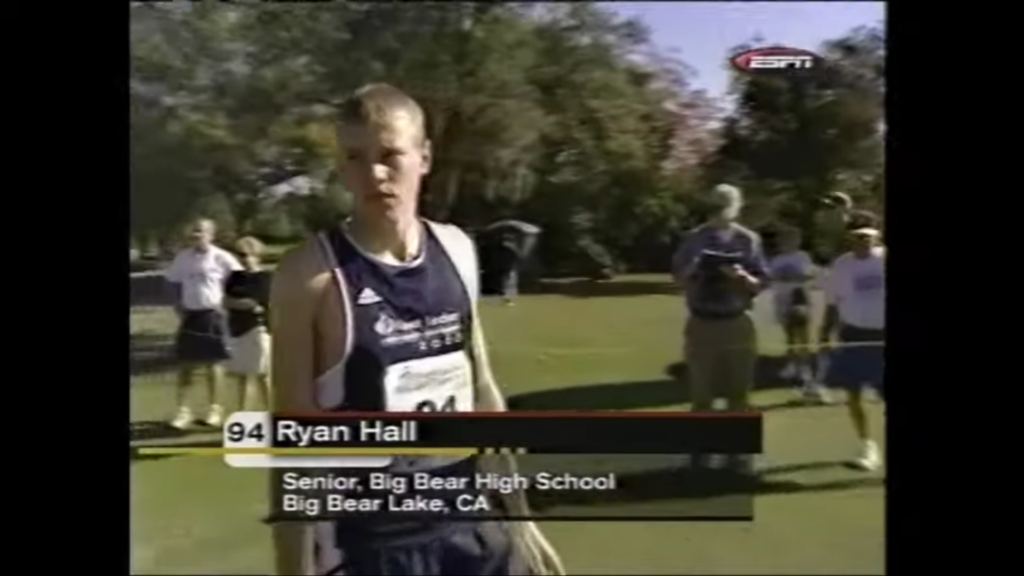 13:44 Can we just pause to appreciate how incredible it is that Ritz, Webb, and Hall all turned into top-tier pros? It's rare enough for one high school phenom to go on to serious senior success. But in 2000, we had three of them in the same class. All three were studs in high school — they were referred to as the Big Three and (spoiler alert) went 1-2-3 in this race. And all three of them broke major American records — the mile for Webb, the 5,000 for Ritz, and the half marathon for Hall (plus he ran the fastest marathon ever by an American).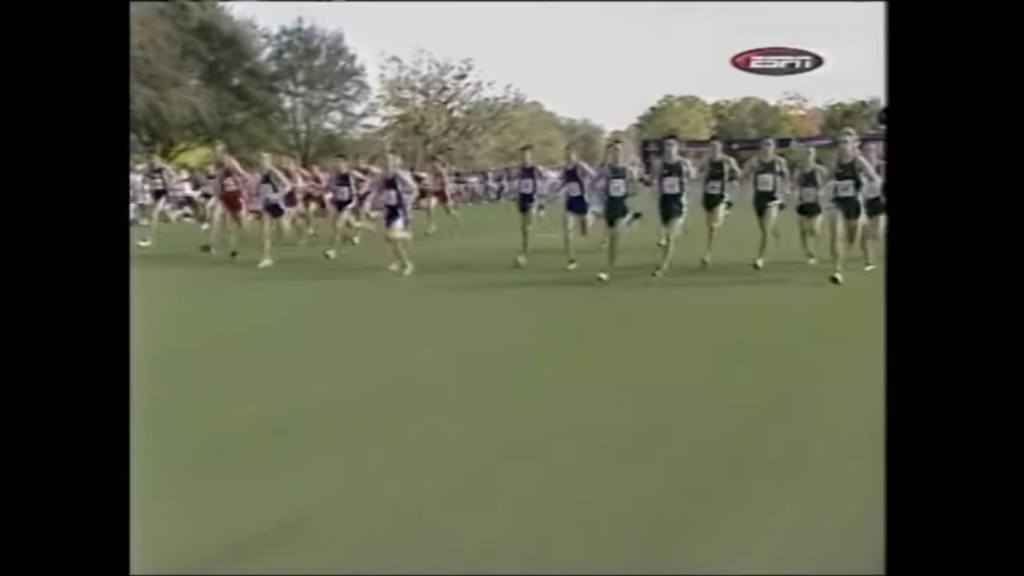 14:38 Moments after the gun is fired to begin the boys' race, Deena tells us their first mile is "predicted at 4:25, which is a blistering pace." Wait, I'm confused. Predicted by who? Is she making this prediction right now? And if so, why?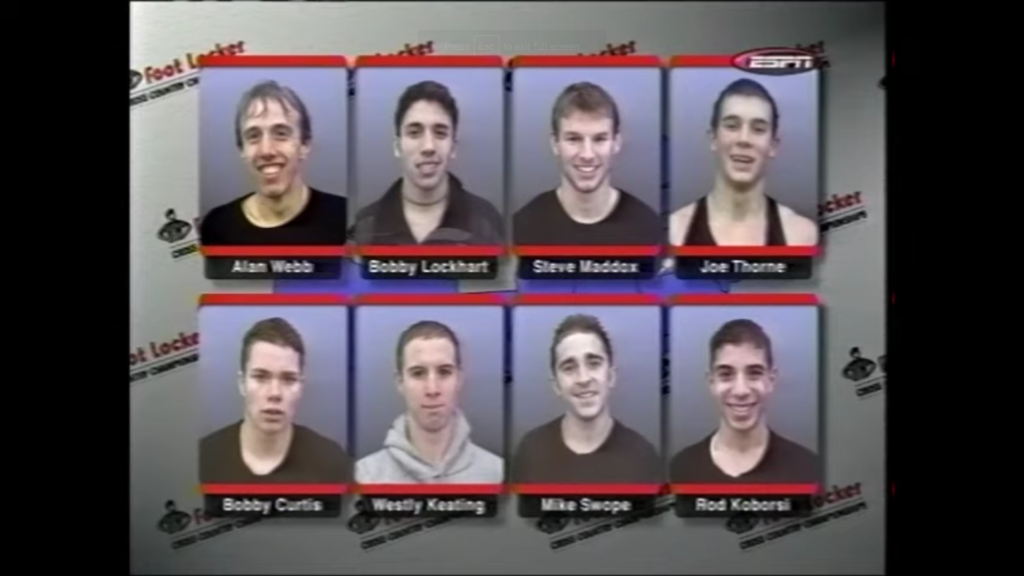 15:38 This field contained more than just three studs. In addition to Webb, the guys listed above include an eventual NCAA 5000 champ (Bobby Curtis) and a 13:26 guy (Rod Koborsi).
Editor's note: There was also a guy many suspected of being an EPO cheat while in college. We don't want a lawsuit so we won't name him, but it's not hard to figure out with some googling.
Reavis also tells us people are anticipating Alan Webb will break 4:00 in the mile the following summer. That was a pretty good prediction, especially considering it had been 33 years since the last American high schooler did it (Webb broke 4:00 for the first time on January 20, 2001, before his 3:53 on May 27).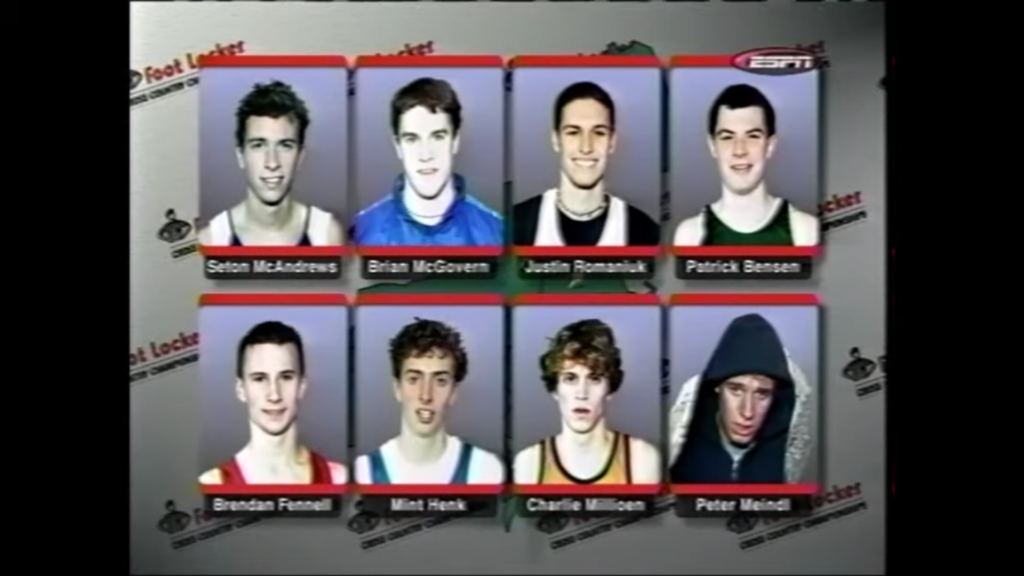 16:14 This is the Northeast team. When is Peter Meindl's rap album dropping?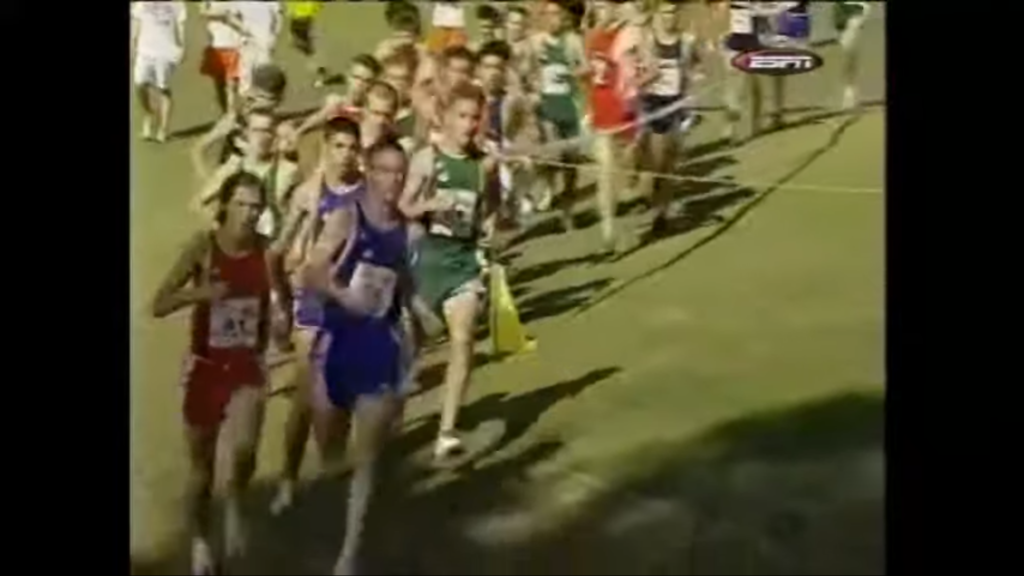 16:37 We're not even a mile in and Ritz (far left, in red) is beginning to assert himself up front. Reavis tells us he's looking to join Abdirizak Mohamud (1996-97) as the only men to win two Foot Locker titles. Whatever happened to that guy? That seems to be a question lots of people have pondered over the years on LetsRun. If you know where he is, email me.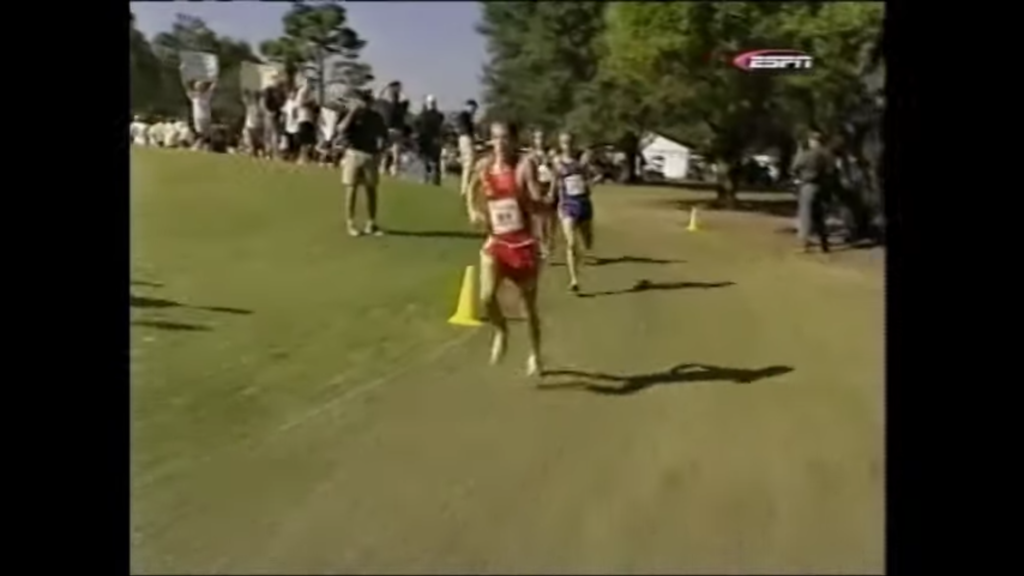 17:10 The leaders hit the mile in 4:47 — Deena was way off! Ritz is starting to take off now, stringing out the field, and Deena approves, noting Ritz can't allow Webb to hang around in a kick. She's definitely right about that.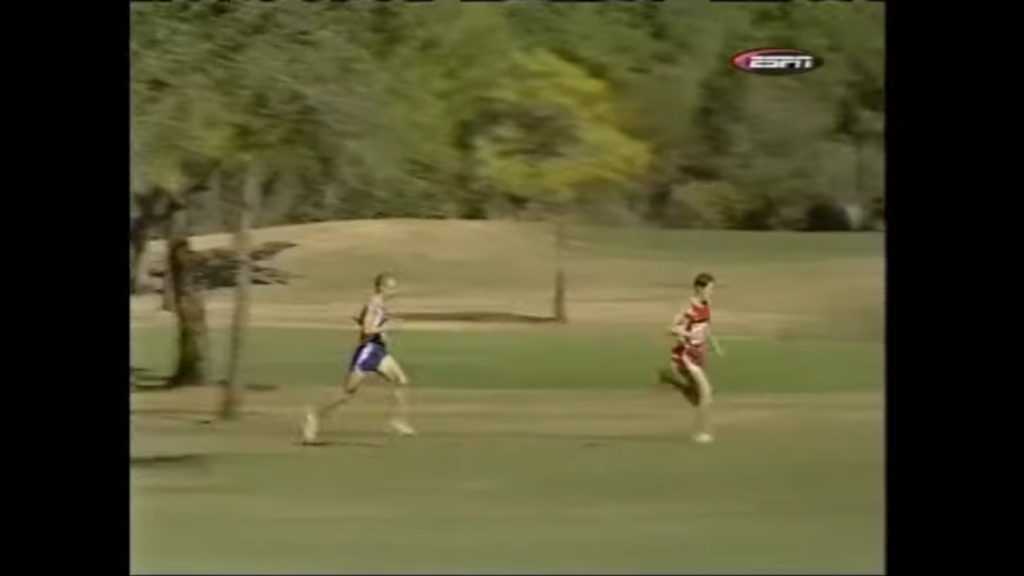 17:28 Deena notes that Webb is hanging on for the moment.
"He's like a Florida hanging chad at this point," Reavis says.
Remember, this was December 2000, so this was a timely reference.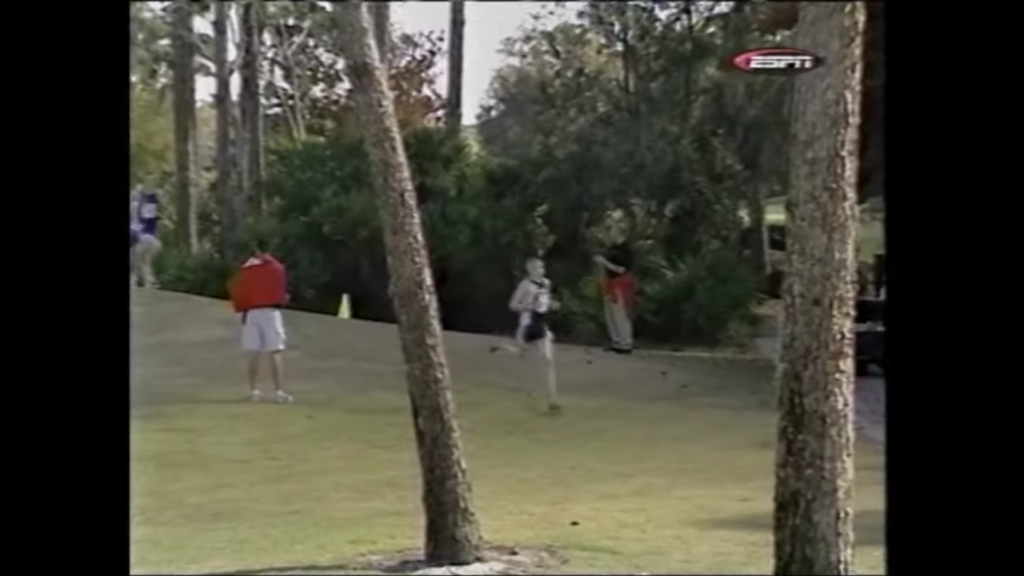 18:00 "There's Ryan Hall moving up into 4th place," Reavis says. "He's more of a mile type."
It sounds kind of crazy given what Hall became, but at the time this was totally accurate; he had run a 4:06 mile as a junior and would run 3:42 for 1500 that spring.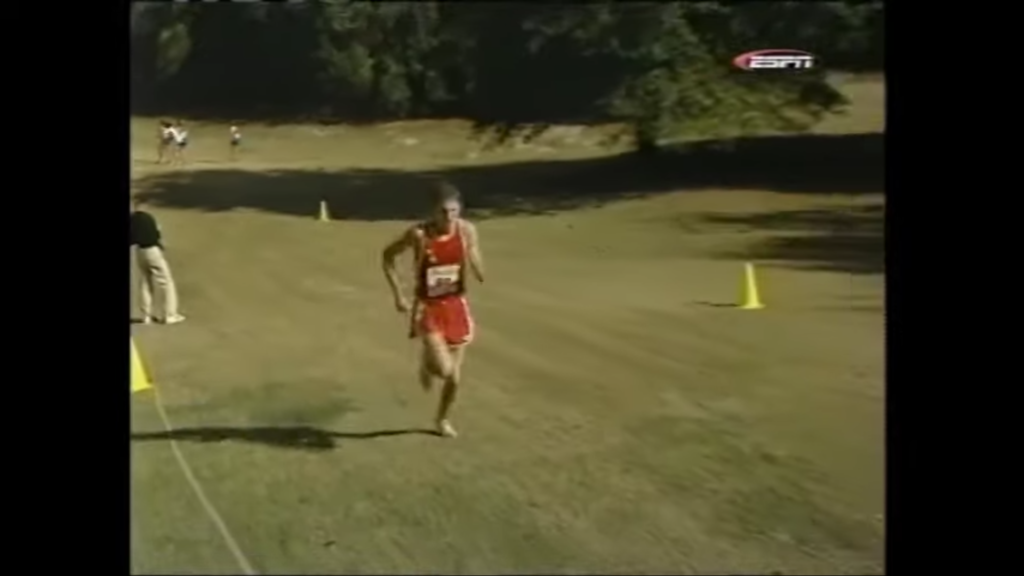 20:40 We're into the final mile and Ritz has broken it open. Ritz is crushing a guy who will run a 3:53 mile five months from now. What a stud.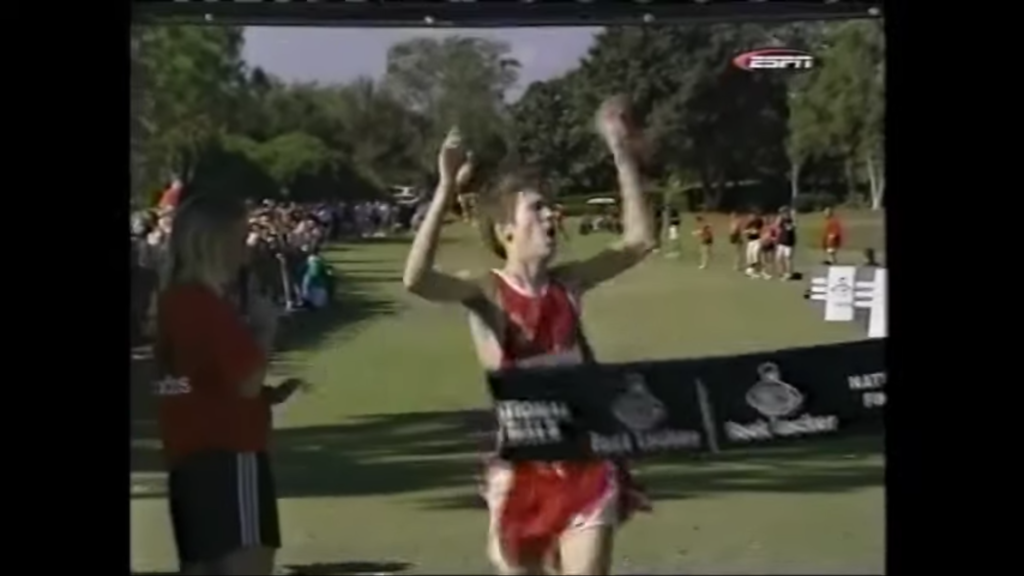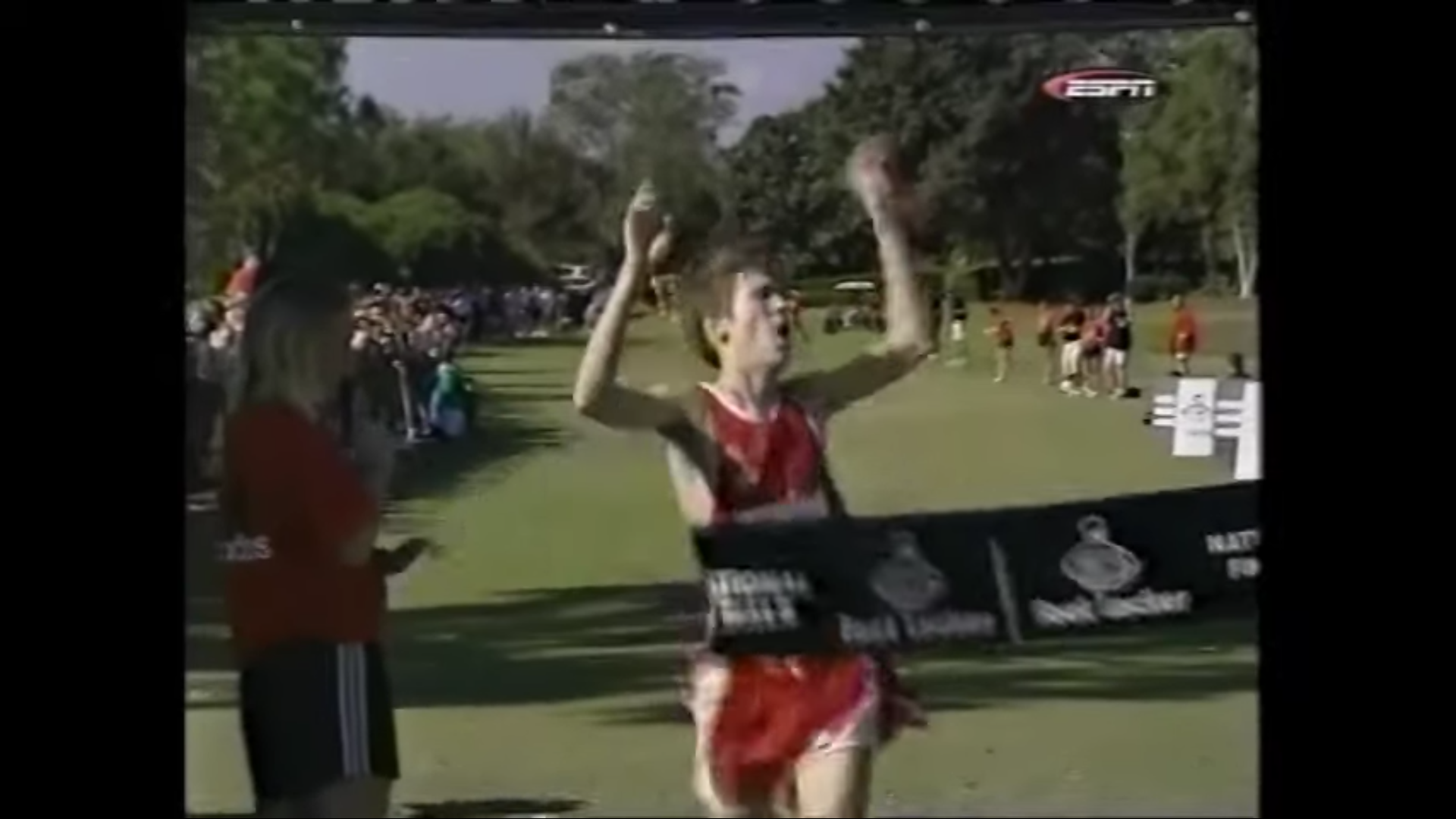 21:40 Ritz wins it in 14:35, a full 20 seconds ahead of runner-up Webb (Hall is 3rd in 14:59). An all-time legendary performance — it remains the highest speed rating (213.7) that Tully Runners' Bill Meylan has ever awarded for a high school performance. With two FL titles (the latter in dominant fashion) and a bronze at World XC, Ritz is, for my money, the greatest US high school cross country runner in history.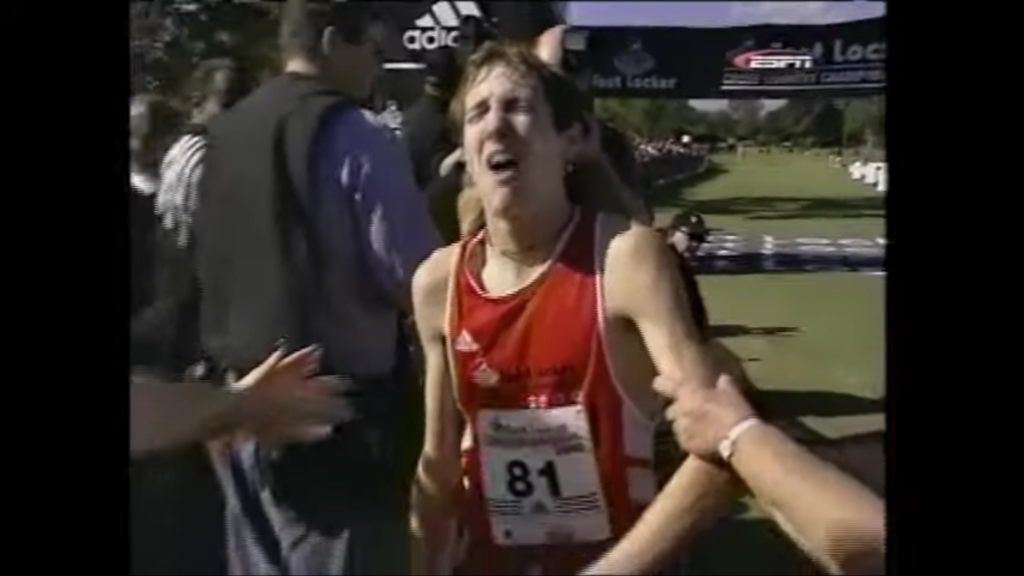 21:49 Ritz's ability to push his body to its limits is remarkable. You want to see a pain face? That is a pain face.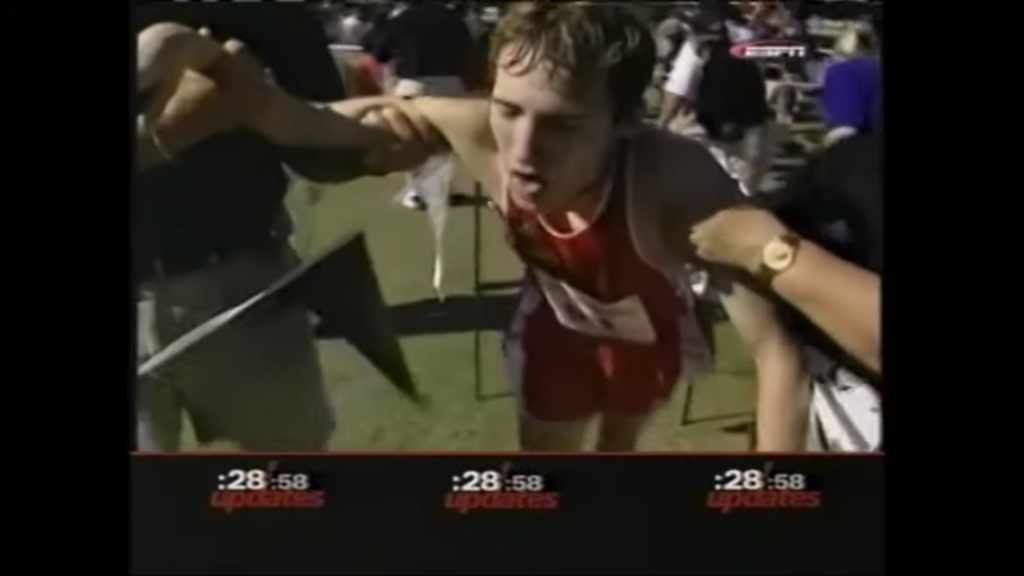 22:00 Hey! :28/:58 updates! I remember those!
Back before smartphone alerts, getting sports updates used to be a big deal. So every thirty minutes — 28 minutes after the hour and 58 minutes after the hour — ESPN would give you the latest scores/news on the bottom of the screen.
Also Ritzenhein legitimately looks as if he is dying in this image. Glad all turned out okay. Thank goodness they moved this meet back to San Diego and away from the heat and humidity of Orlando.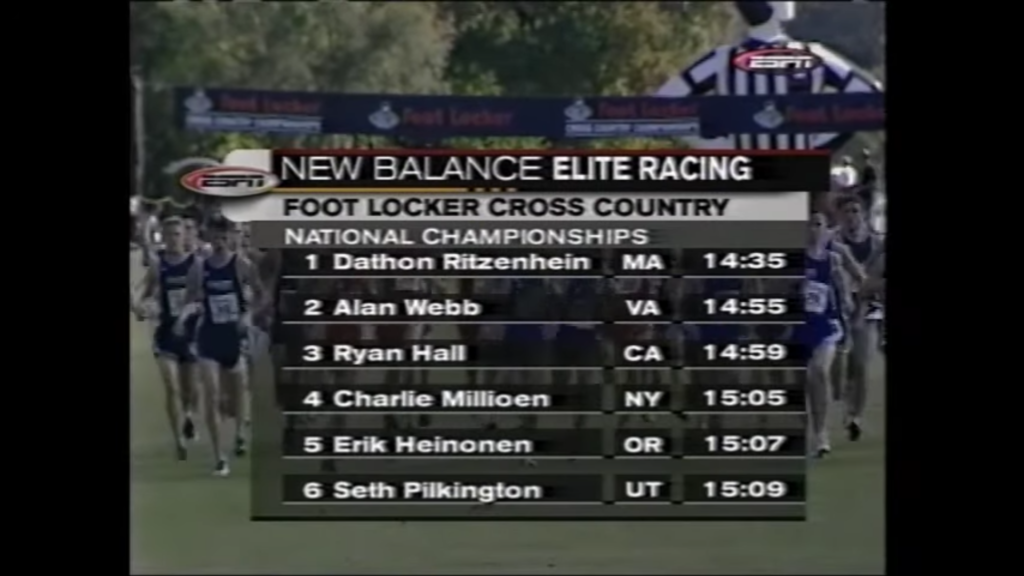 22:47 I know "Dathan Ritzenhein" isn't the easiest name to spell, but come on ESPN, the dude won the race last year too! Not only did they butcher his first name, but they didn't even get his home state right!
Give me your thoughts on the race on the messageboard. MB: I Was Bored, So I Went Back and Watched Ritz, Webb, & Hall Battle at the 2000 Foot Locker Cross Country Championships
***
That's it for this week. Have a suggestion for a race I should rewatch? Let me know on Twitter or in an email.