I Was Bored, So I Watched the 2008 NCAA Cross Country Championships
Throwback Thursday #7
By Jonathan Gault
May 21, 2020
Welcome back to Throwback Thursday. With no live sports during the coronavirus quarantine, I'm plumbing the depths of YouTube and watching/sharing my thoughts about one classic race per week. If you missed any of the first six installments, click here.
This week, I'm revisiting the 2008 NCAA Cross Country Championships. This was a big year for many reasons — Texas Tech's Sally Kipyego established herself as the GOAT of NCAA women's cross country, Galen Rupp won his long-awaited first NCAA title in a thrilling duel with Sam Chelanga, and a historically loaded Oregon squad won the men's team title. Keep reading for a deep dive into Rupp's fashion choices and to find out why the 2008 Washington women were the 1985 Chicago Bears of women's cross country.
I'm not going to post the video and timestamps like usual since this race was spread across seven different YouTube clips. If you want to watch them, they're all on this channel. Now let's head back to Terre Haute, Ind., on November 24, 2008…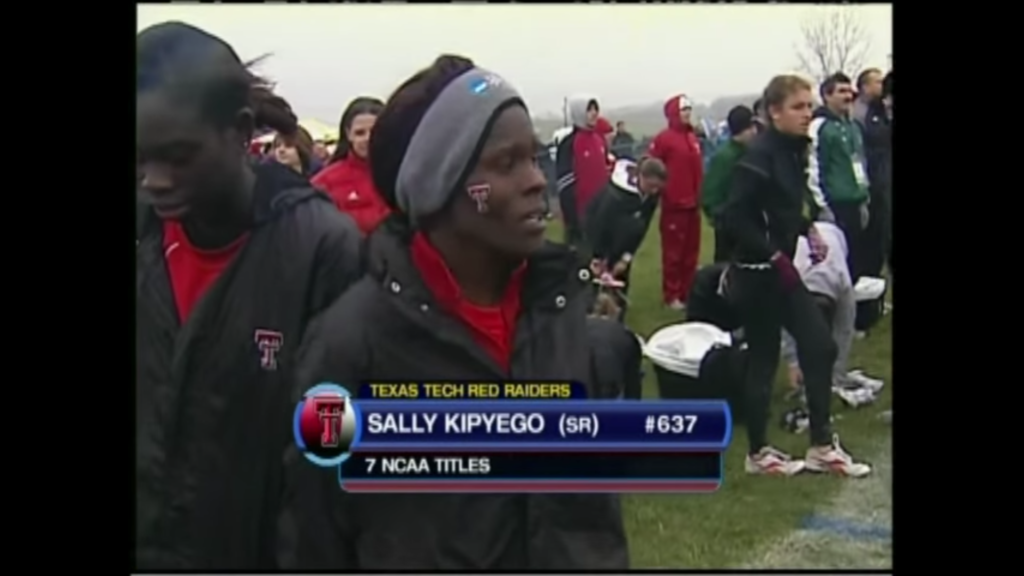 Article continues below player.
Your favorite. Not only is Kipyego the two-time defending champ; she's never lost an NCAA cross country race. That's even more impressive considering Kipyego shared a conference and a region with Jenny Simpson (then Barringer), another all-time NCAA legend and eventual collegiate record holder in the 1500, mile, 3,000 and 5,000.
Simpson redshirted the 2008 XC season, so she's not in this race. But surely Kipyego and Simpson had at least one epic cross country battle during their careers?
Nope. Kipyego was just too good. Her winning margins, in seconds, at Big 12s, the NCAA Mountain Regional, and NCAAs in 2006 and 2007 (Simpson was second in all of them): 45, 44, 26, 6, 14, 17.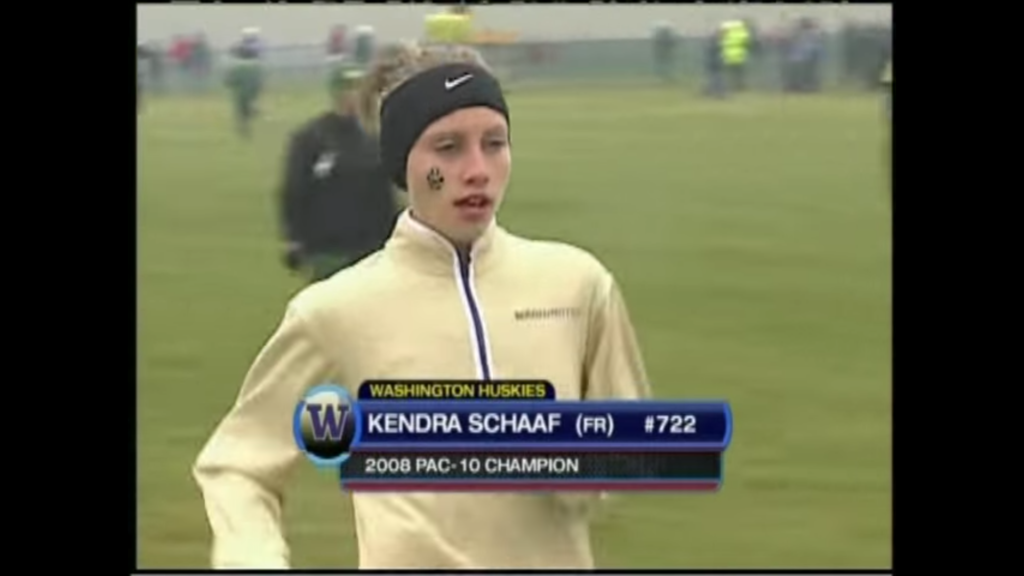 Washington is the favorite for the team title, led by Canadian freshman Kendra Schaaf. How good is Washington? The Huskies went 1-2-3-4-5-6 at Pac-10s against #2 Oregon — on Oregon's home course. It remains one of the most dominant performances in NCAA history.
As Schaaf is introduced, we hear a school band playing Good Charlotte's "The Anthem" in the background. (How do I know it's "The Anthem"? Approximately 1,000 hours of Madden 2003). School bands are one of the great things about college sports, yet I've been to the last six NCAA XC championships and can't remember hearing one. We need to bring this back!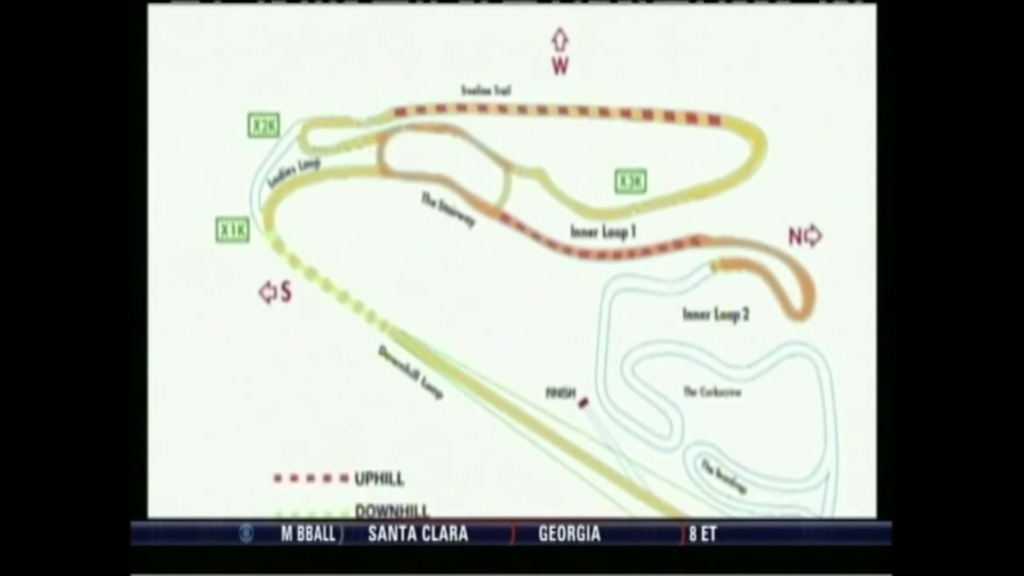 The LaVern Gibson Course is familiar to any NCAA XC fan. But I've never seen this version of the course map. I never knew the course's features had names. The Stairway? The Corkscrew? How have I never heard about this?
I'm all for naming cool parts of courses — Heps XC at Van Cortlandt Park wouldn't be the same if athletes were just climbing "a hill" instead of Cemetery Hill. But none of the portions of the LaVern Gibson Course are cool enough to deserve their own moniker. So perhaps it's better no one's heard of them.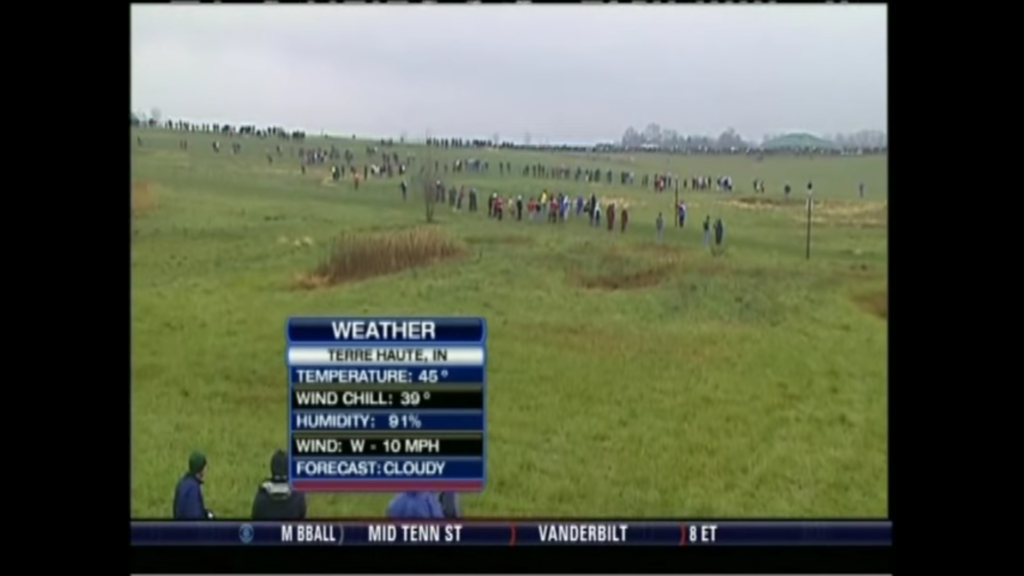 Weather at NCAAs in Terre Haute doesn't change much. It's always windy and ranges from cold and wet to very cold and very wet. I've seen the sun in Terre Haute, but never on NCAA race day.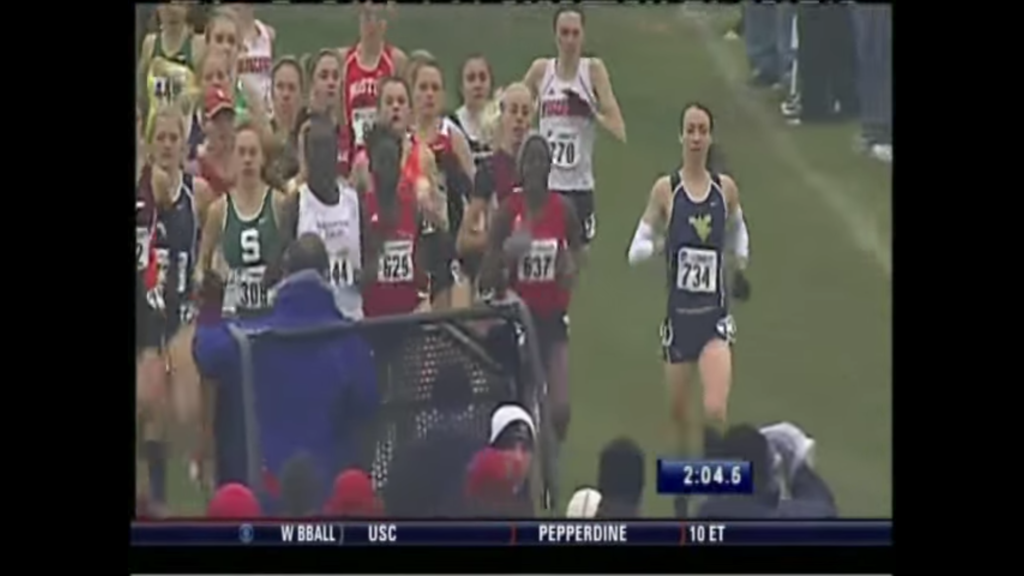 Can you spot the Olympic gold medalist?
Yup, that's Gwen Jorgensen (triathlon in 2016) in the red and white of Wisconsin, #770. She would finish 19th.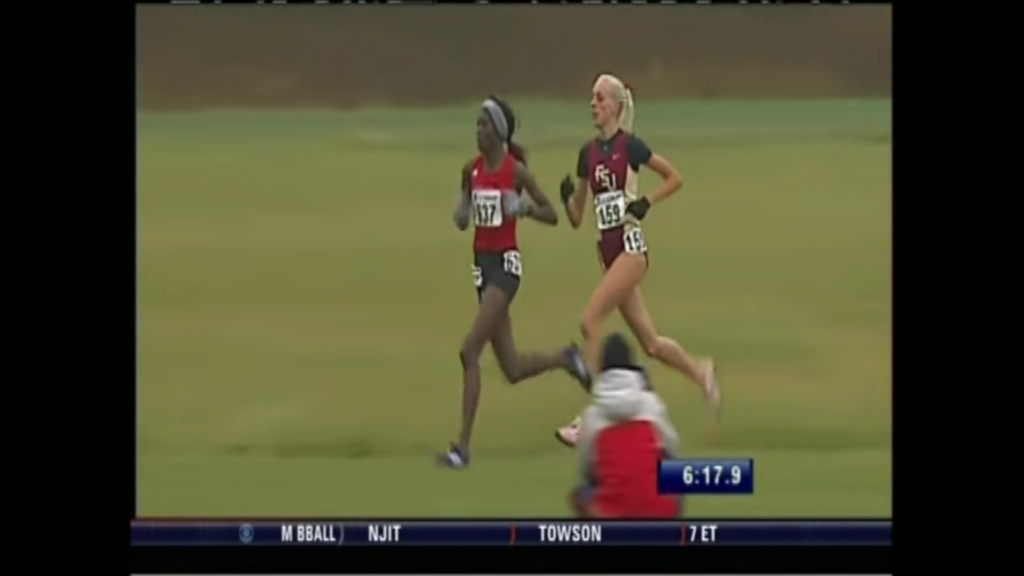 After a sizzling 4:59 first mile, Kipyego has dropped everyone except Florida State's Susan Kuijken.
This is my chance to remind you that Susan Kuijken (now Krumins) and Lynsey Sharp are the Omar Epps/Mike Tomlin of the running world: two celebs who look so similar that it is genuinely hard to distinguish between them, as shown by this image on tumblr.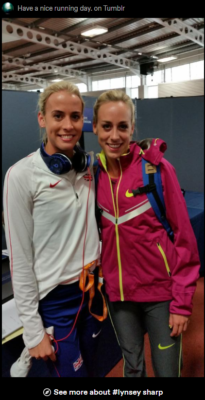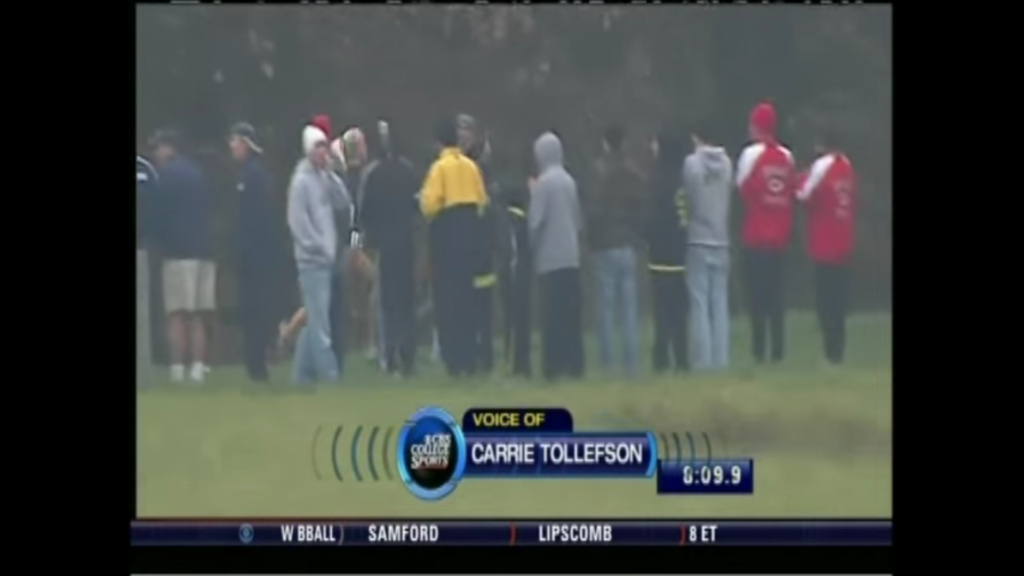 This is our view of the leaders. Whoever came up with the idea to eventually put the camera on the lead Gator is a genius.
Wait. No they're not. That was a completely obvious idea that was being used at least 10 years earlier. Explain yourself, CBS College Sports.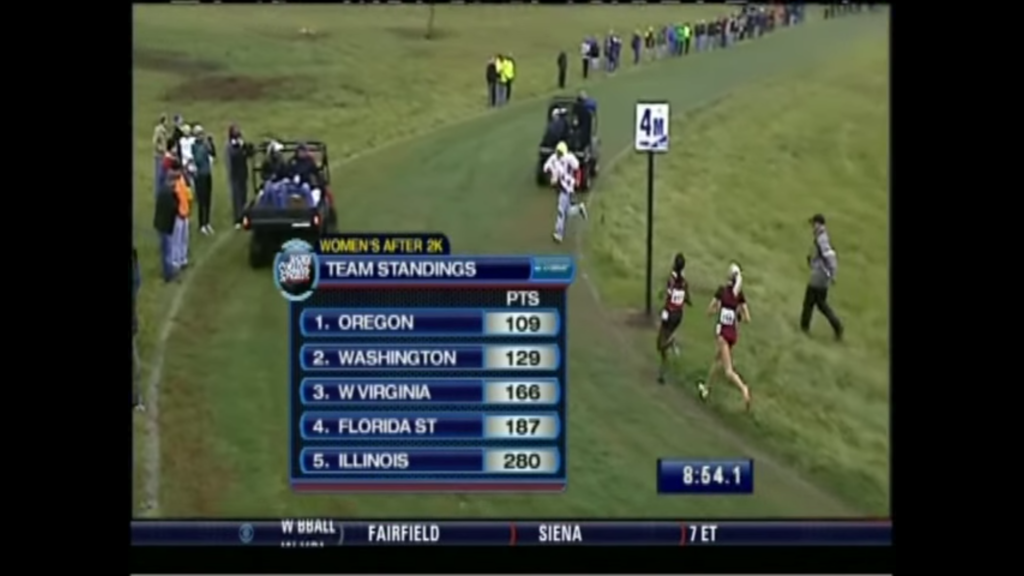 This individual, who appears to be wearing some sort of shredded towel, decided it would be a good idea to cross sides in the narrow window between the lead Gator coming by and and the two leaders. Turned out okay, luckily.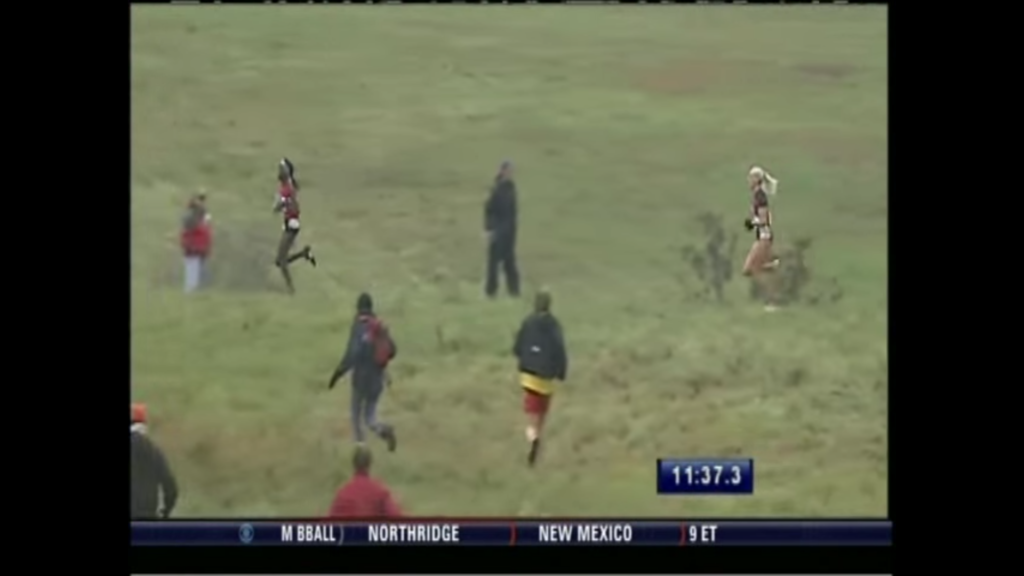 Just after two miles, Kipyego is gapping Kuijken. This could be game over.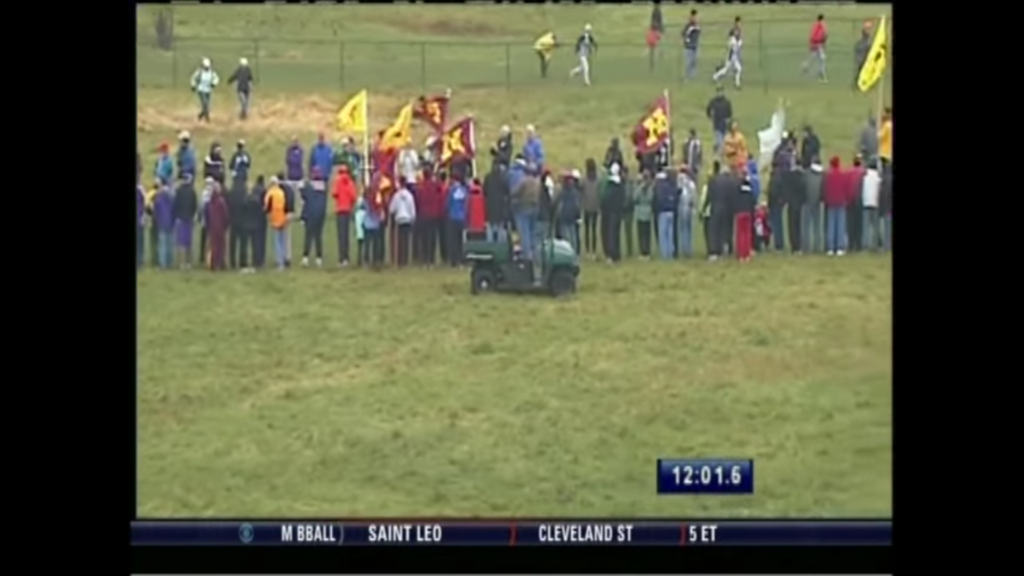 Whenever I go to NCAAs or watch an old one on YouTube, I always see a Minnesota flag. Good job, Minnesota.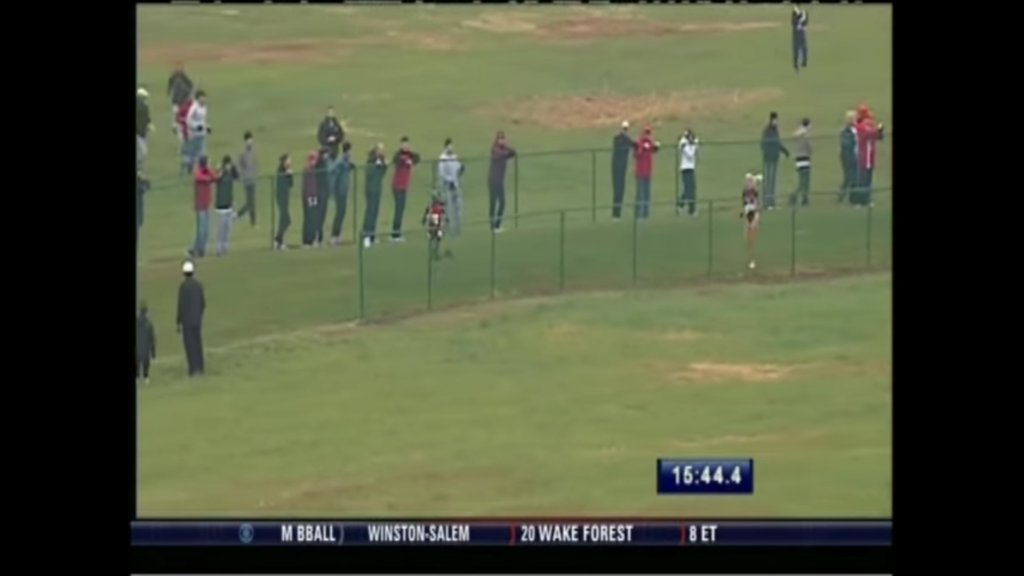 With about a kilometer to go, Kuijken is keeping it impressively close.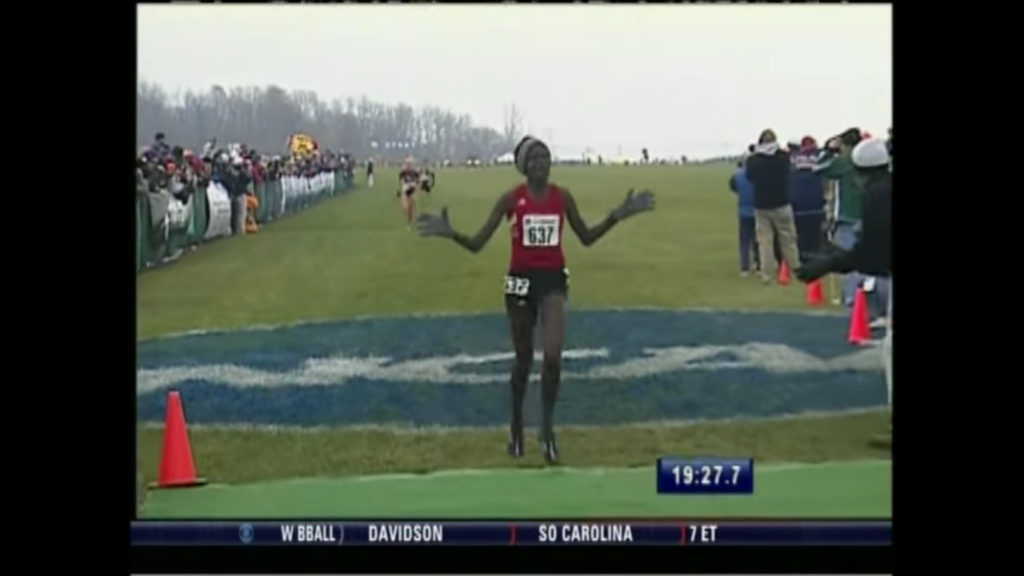 Kipyego wins it in 19:28.1 to become the first woman to win three NCAA XC titles and close out a perfect cross country career. Kuijken holds on for second in 19:34.9.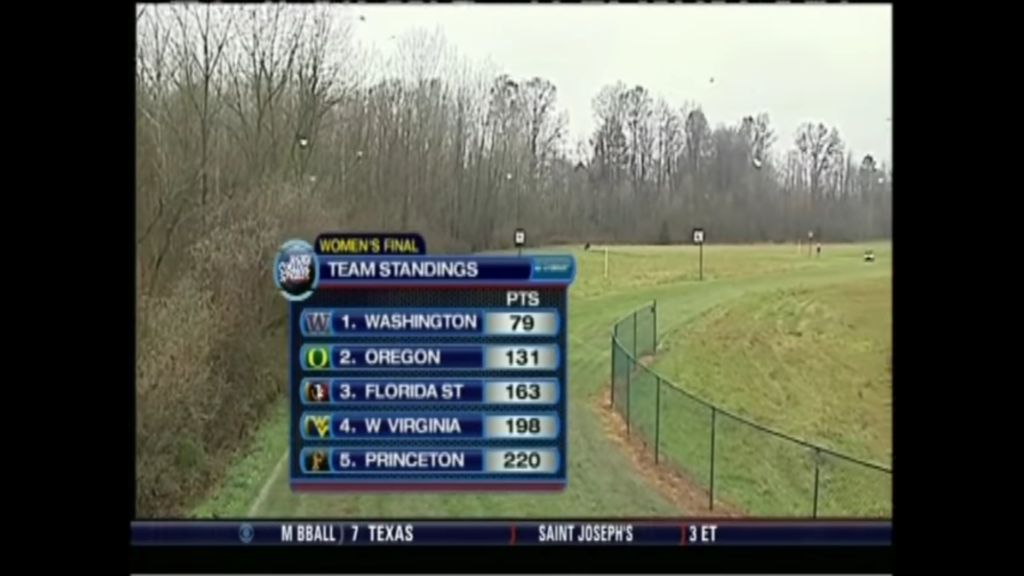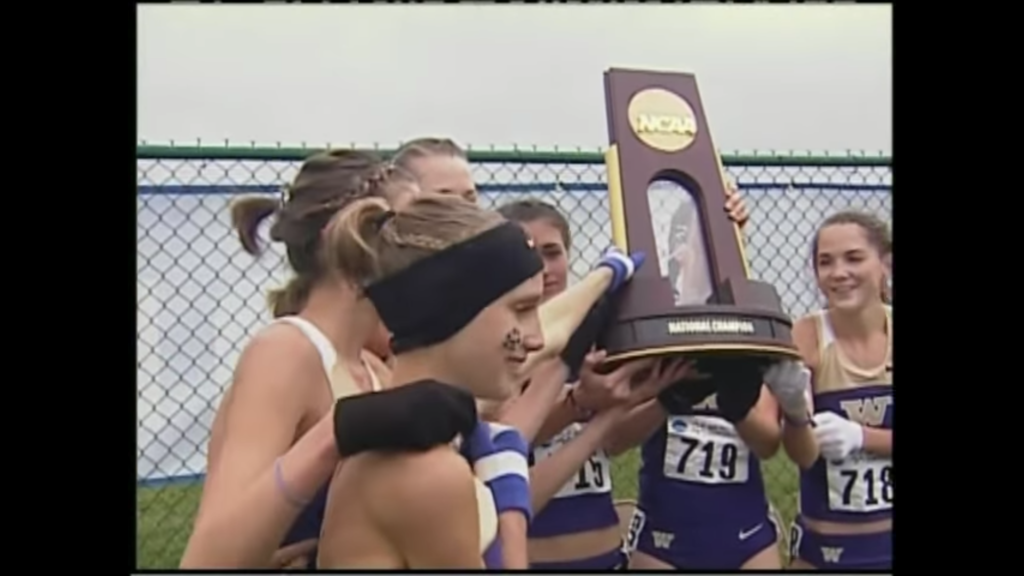 Washington wins its first and only NCAA XC title handily with 79 points to close out a season for the ages. West Virginia edges out Princeton for the final podium spot — more proof that you never know which schools will be good when you turn on one of these old races. Call it the James Madison Corollary.
2008 Washington reminds me of the 1985 Chicago Bears — a team so good that you wonder how they only won one title. The '08 squad only had one senior in its top six and had freshmen at the #1 and #2 spots yet they finished just third a year later and 16th the year after that (they bounced back to 2nd in 2011).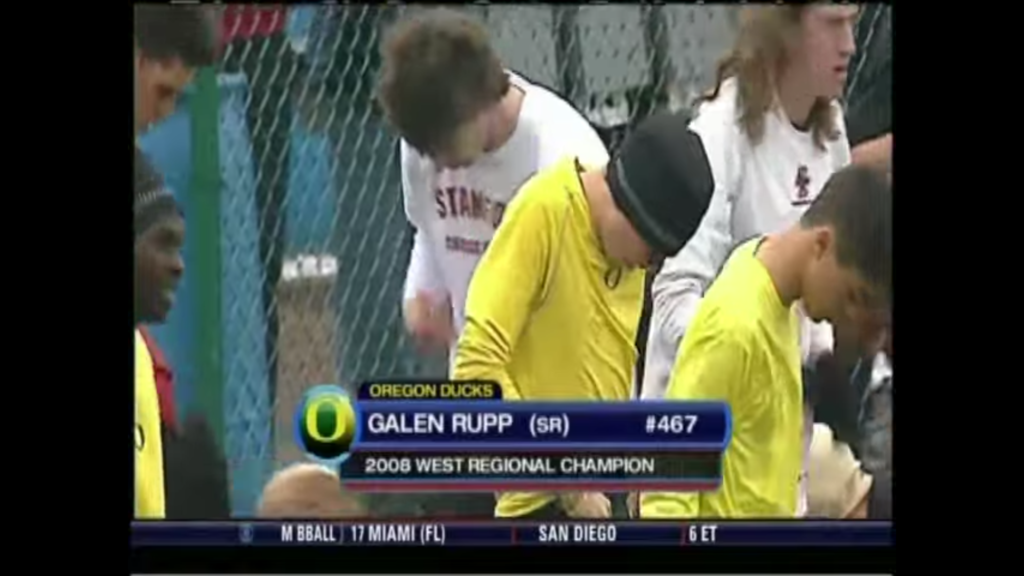 Larry Rawson predicts that the men's race will come down to Liberty's Sam Chelanga pushing the pace and Oregon's Galen Rupp trying to respond (a good prediction).
I didn't take this screenshot to talk about Rupp though. I took it because of the magnificent mane Boston College's Tim Ritchie is sporting in the background.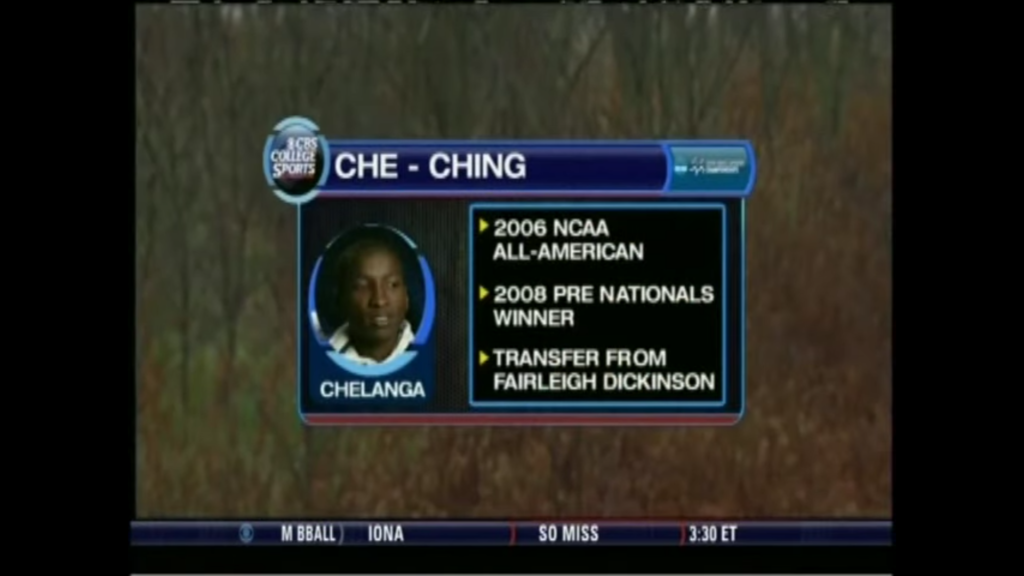 "I think the alpha male among the two is Sam Chelanga. And he likes to set a very hard pace."
Woah Larry, them's fighting words!
Rawson also mentions that when Chelanga transferred to Liberty, his old school, Fairleigh Dickinson, would not grant his release, forcing Chelanga to sit out the 2007 XC season. He went to NCAAs to watch, where his teammate, Josh McDougal, took down Rupp in a classic duel. One year later, Chelanga is trying to replicate the feat of the graduated McDougal.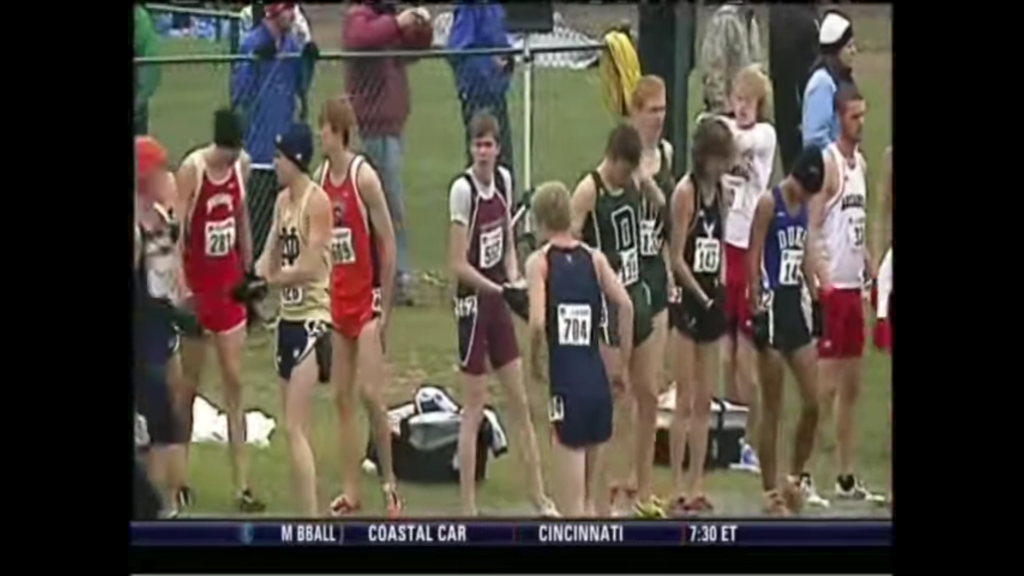 As a Big Green alum, it's a rule that I've gotta shout out Dartmouth in this series when I get a chance, so here we go: that's Glenn Randall and Heps champ Ben True, an eventual 13:02 5000 runner, on the start line.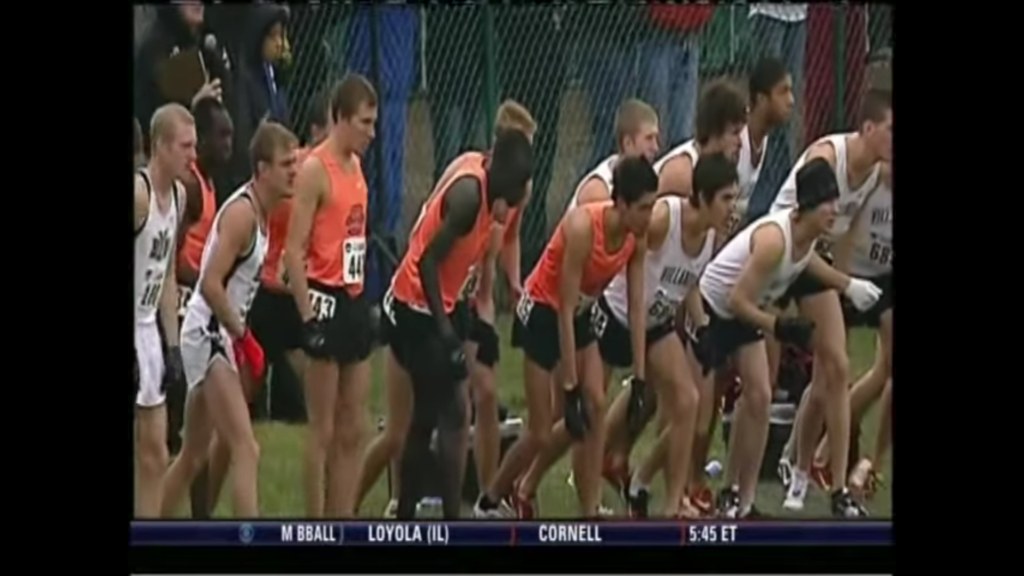 Lewis Johnson says on the broadcast there should be a "tremendous" battle in the team race but doesn't go into specifics. Here's a refresher: defending champs Oregon were trying to hold off Oklahoma State, who finished 3rd in 2007 and were shooting for their first national title since 1954. OK State was led by freshman phenom German Fernandez, the best US distance recruit since Dathan Ritzenhein.
To get a full perspective on the men's race, read LetsRun's great race preview. Rojo (LetsRun.com co-founder Robert Johnson) wrote 2,500 words and made predictions for the top 10 teams and top 40 individuals? And he did it while coaching a college team (he even had an athlete competing at this meet)? I'm impressed.
Of course, he picked OK State and Chelanga to win…so I'm not that impressed.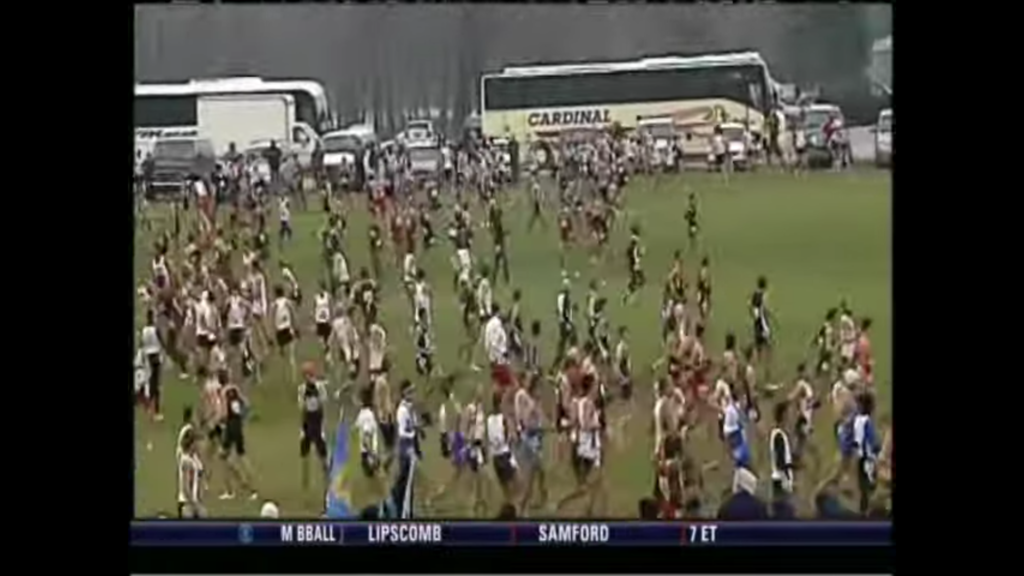 "Are you kidding me? We've got a false start in cross country? Unbelievable."
Yup.
If you know who was responsible for the false start at 2008 NCAA XC, I want to know.
On start attempt #2 (success!) Chelanga, as expected, goes right to the front.
Rawson: "I'm watching the leg turnover here folks, and he is easily running 60-second pace here through the first 600 meters."
Look, I know Chelanga takes races out hard, but I find it difficult to believe that he ran the first 600 at NCAAs — which is uphill — in 1:30 or faster. And even if he did do that, how can Larry Rawson be so confident in his pace just by watching his turnover from an observation tower?
Is there any chance that technology advances enough that we can automatically have YouTube remove the phrase "watching the leg turnover" from all Larry Rawson broadcasts?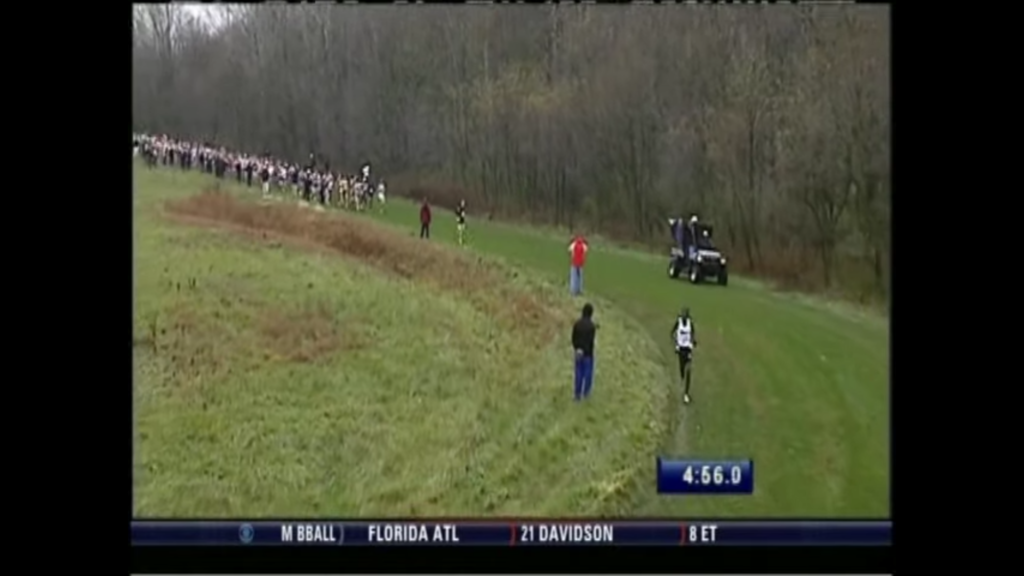 Chelanga covers the opening mile in 4:21 — which, believe it or not, is only the second-fastest opening mile he's run on this course in 2008. A month earlier at Pre-Nats, he came through in 4:18 en route to setting the 8k course record of 22:51 (which spawned this famous picture at the 5k mark).
I have to give a ton of credit to Rupp, who played this perfectly. He knew 4:21 pace was unsustainable, so he hung back early. But he also knew Chelanga was for real. Even though they were barely a mile into the race, Rupp knew he had to leave the main pack behind lest Chelanga's lead grow insurmountable.
Also, not to keep ragging on Rojo, but in his Pre-Nats recap, he was so taken with Chelanga's performance that he wrote: "Mr. Chelanga is the 2008 NCAA champion." Oops.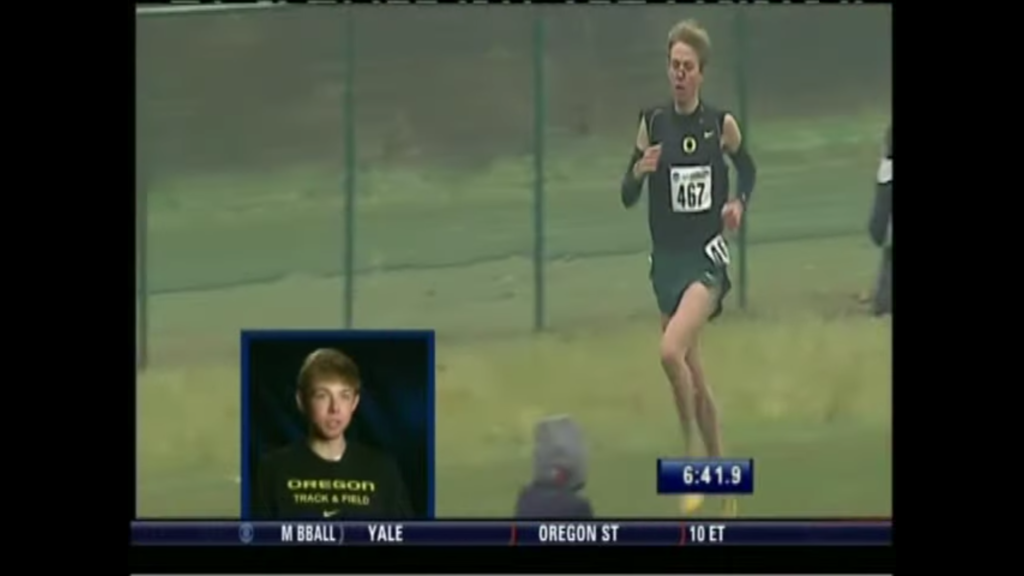 Let's talk about Rupp's uniform situation.
First of all, Oregon breaking out the black singlets for NCAAs is a power move. The Texas women did it in 1986 and won it all, and it worked again for Oregon in 2008. I also, not so fondly, remember Columbia pulling the same trick at the 2011 Northeast Regional and catching my Dartmouth squad by surprise. Alas…
I reached out to Vin Lananna, the Oregon coach at the time, who confirmed there was some gamesmanship in their choice of uniform.
"We decided that all of the teams that were keying off us would be thrown off if we did not wear our usual colors. We warmed up in our bright yellow T's but wore black Oregon singlets. Not sure if it made a difference, but I think that we won the meet. The guys were very excited about the plan. I believe that Galen had the idea but I am not sure about the process. I remember at the 1k, I overheard an opposing coach yell, 'They're in black.'"
So the black makes sense. But what is the deal with Rupp's undergarments? I've never seen another runner rock this same look. Rupp is wearing a base layer/T-shirt with the sleeves torn off. But he's also wearing arm warmers? Was it critical that his upper arms not overheat? Did he want the flexibility to toss his arm warmers if he overheated?
It took almost another mile, but Rupp has caught Chelanga.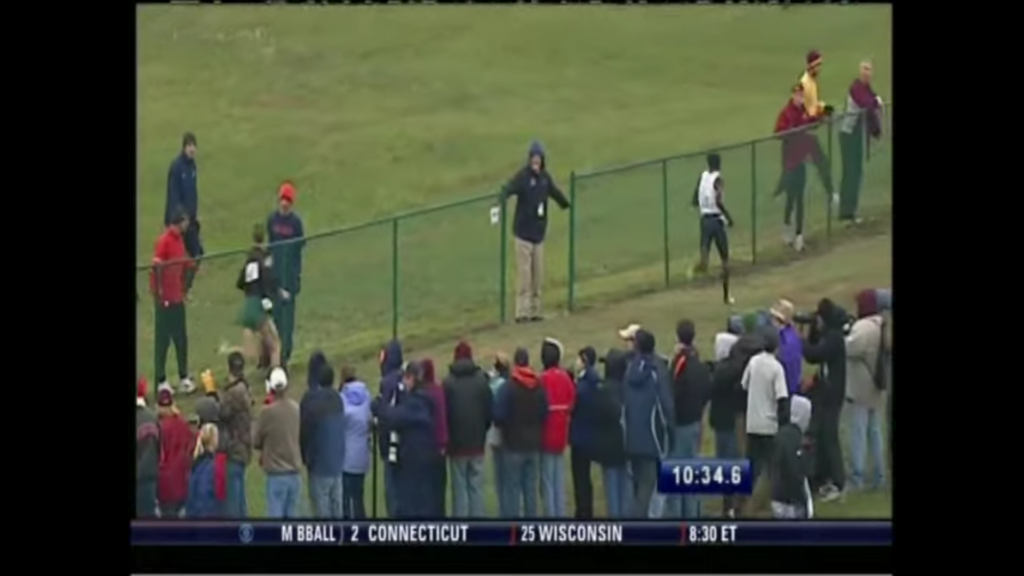 Never mind. As soon as Rupp catches Chelanga, the two start bumping and Chelanga takes off again.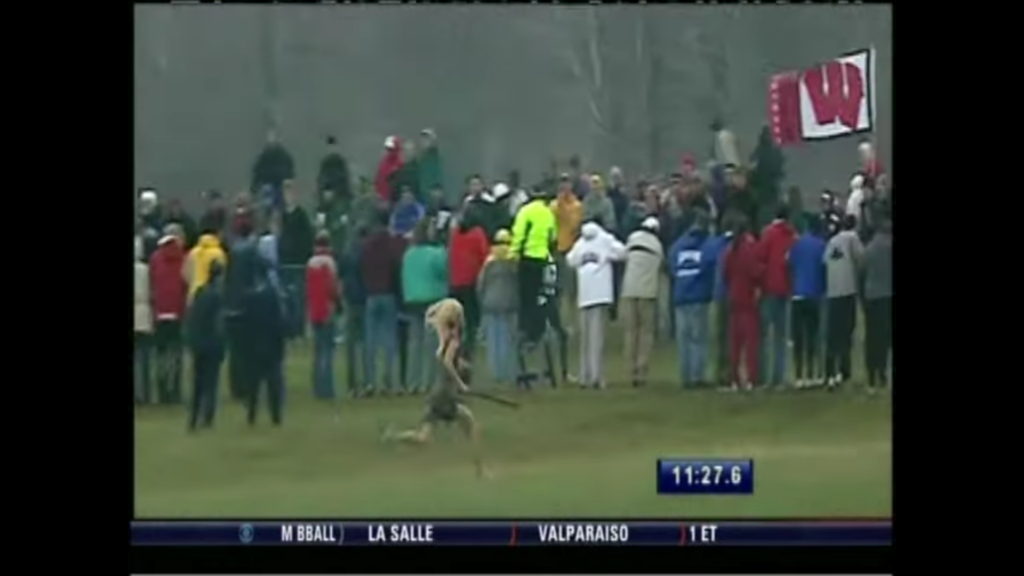 At the bottom of the screen, there is an individual dressed as a caveman carrying what appears to be a small axe. At this moment, he is running faster than Chelanga.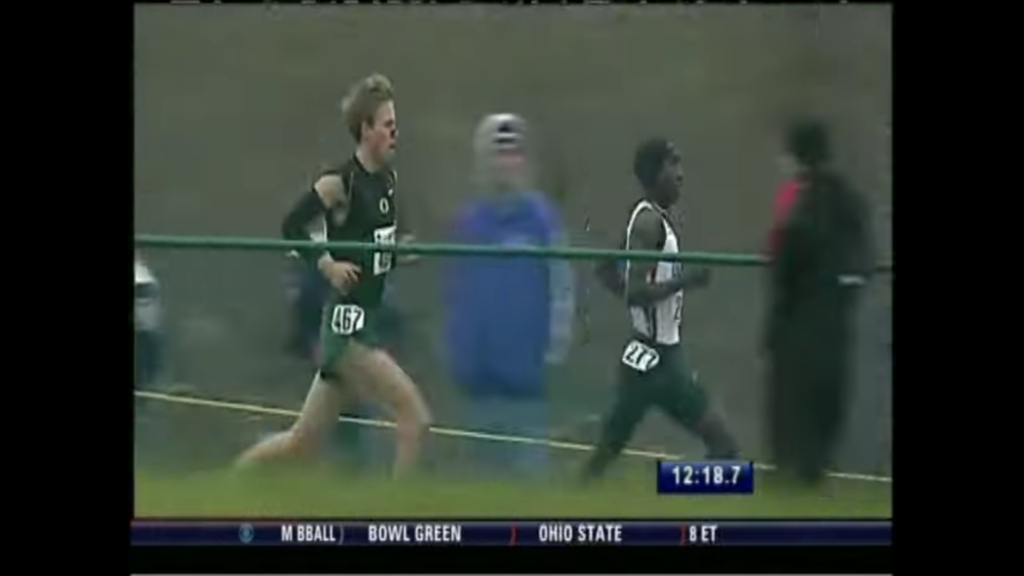 Rupp has caught Chelanga (again). Thankfully, they are no longer being chased by the caveman.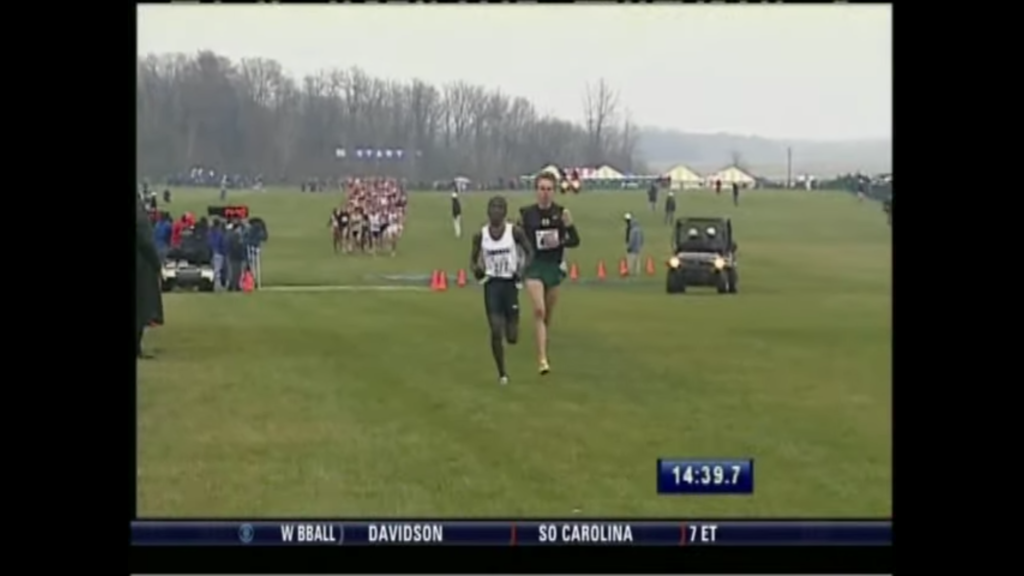 Big lead for Chelanga and Rupp at the halfway point.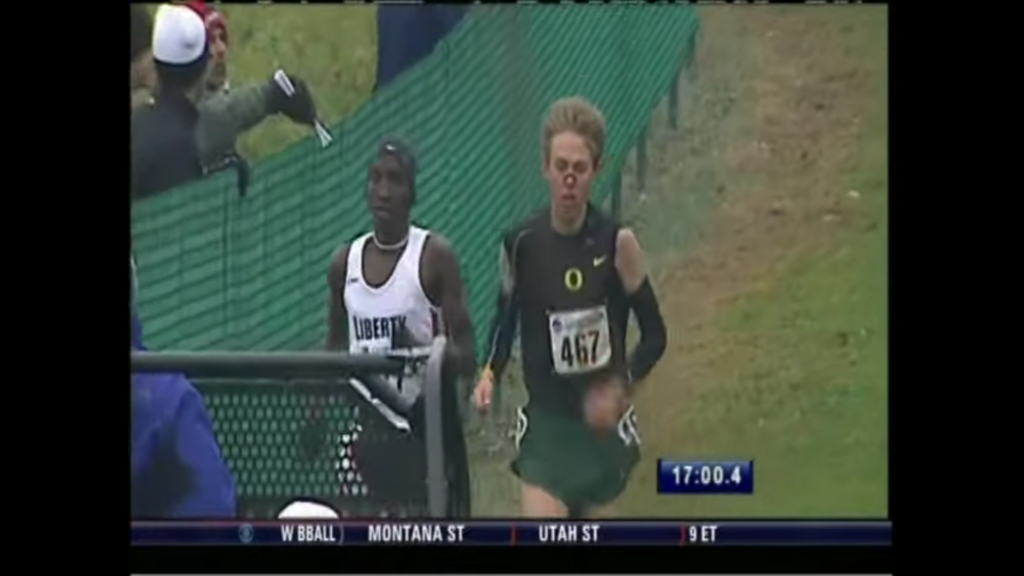 "Check out that O on Galen Rupp's chest. See the yellow O? This is what he's running for, because right now Rupp is ohfer in terms of individual NCAA titles."
Savage from Lewis Johnson. But he's right. If you're under 25, it may seem hard to believe, but there was a time when Rupp was viewed as the guy who couldn't win a big race.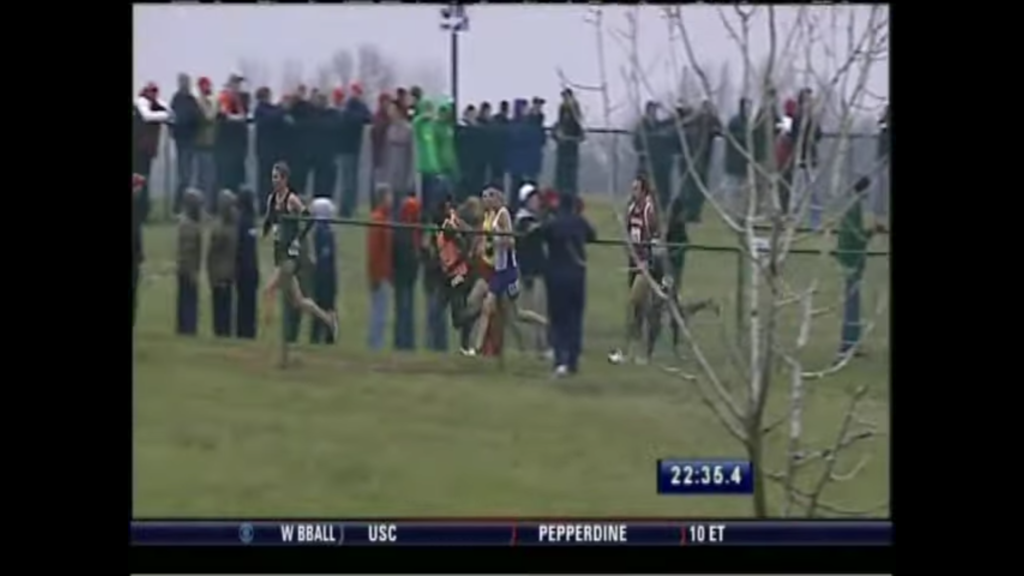 Just a reminder that there are more than two athletes in the race — true freshman Luke Puskedra of Oregon is leading the chase pack.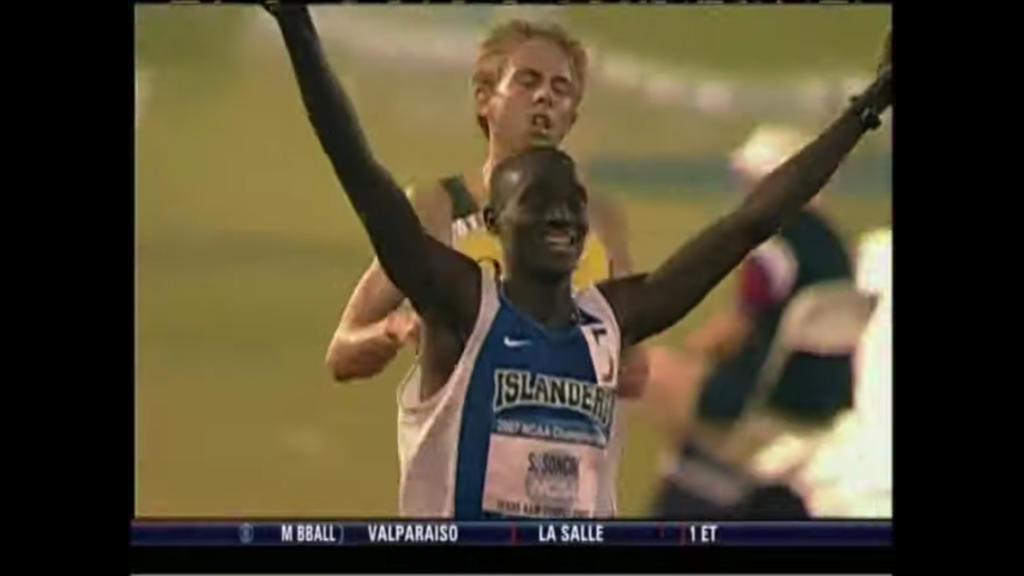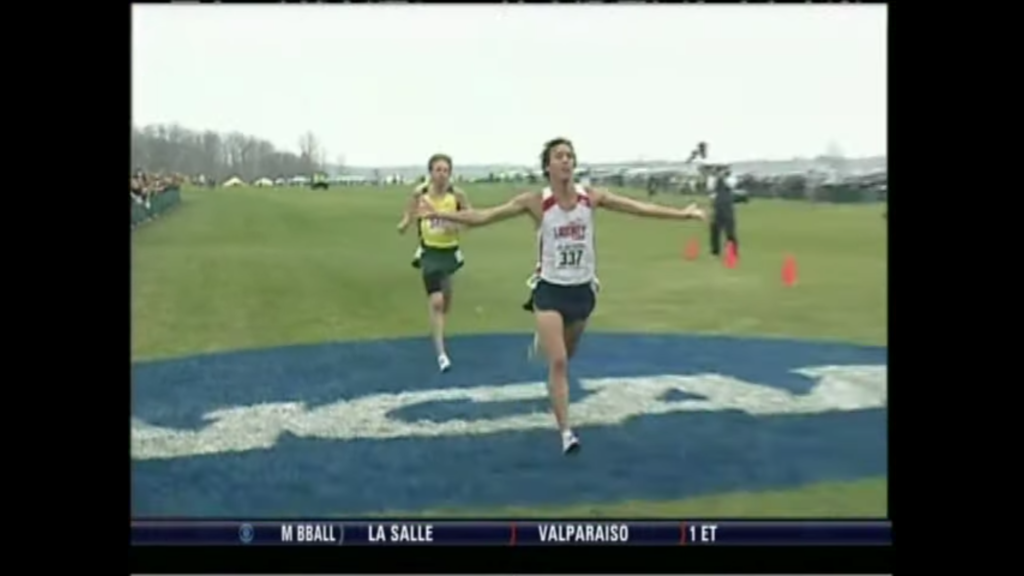 The broadcast is really selling the "Rupp has never won a big race" narrative. First, they show him getting outkicked by Shadrack Songok in the 2007 NCAA 10k final. Then — for the second time in 10 minutes — they show Rupp getting outkicked by McDougal at NCAA XC last year. And of course there was Johnson's comment about the O on his chest. At this point, I'm surprised they haven't shown the ending of 2003 Foot Lockers as well.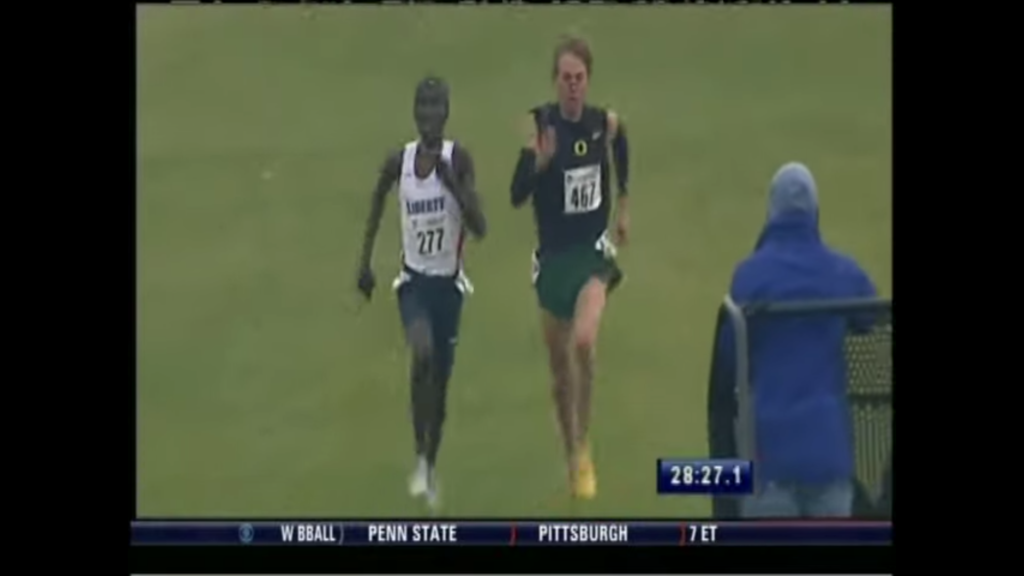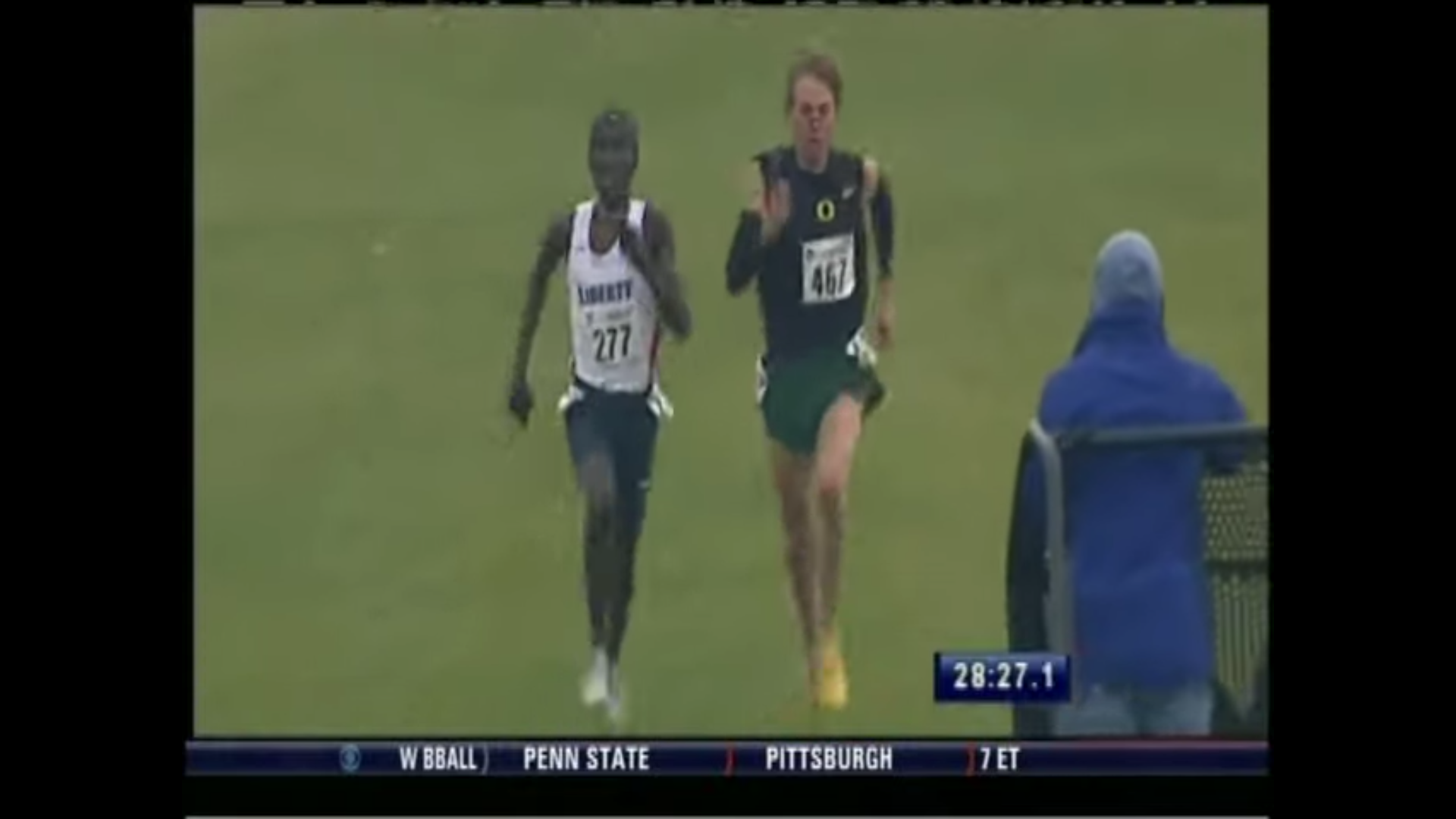 200 to go in the national championship and Chelanga and Rupp are neck and neck. It doesn't get much better than this.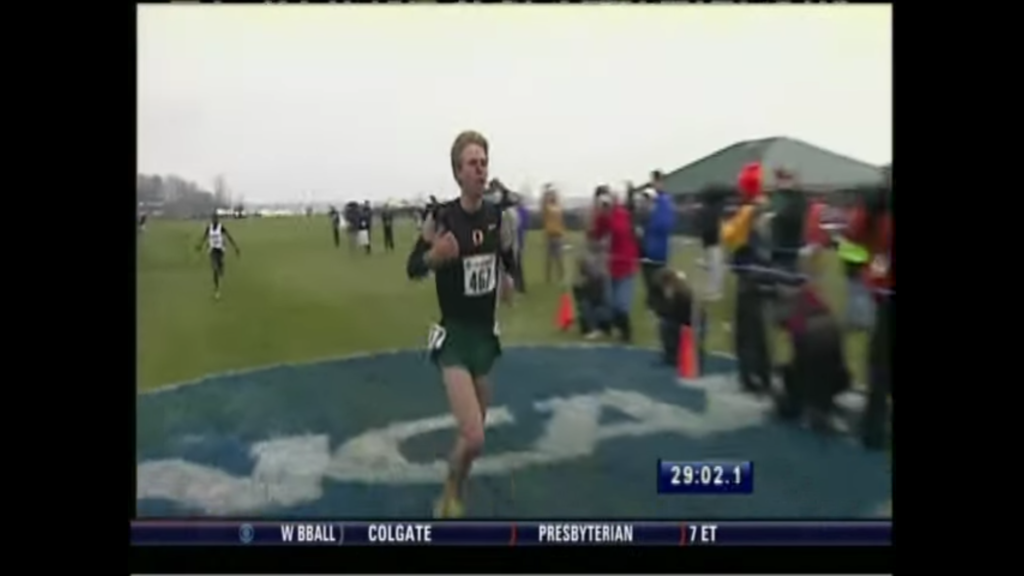 Rupp takes it — his first of five NCAA individual titles. Rupp's gameplan wasn't elaborate — basically just sit and kick — but he executed beautifully. He made a move to test to Chelanga with 350 to go, which Chelanga matched. But when Rupp kicked again with 200 to go, Chelanga could no longer hang, and that was that.
This was, of course, the last time an American man won the NCAA XC title. At the time, it wasn't unusual — Rupp was the third straight American champ and the fifth in the last seven years. In the 11 years since, we've had eight Kenyan champs, two Australians, and one Canadian, but no Americans.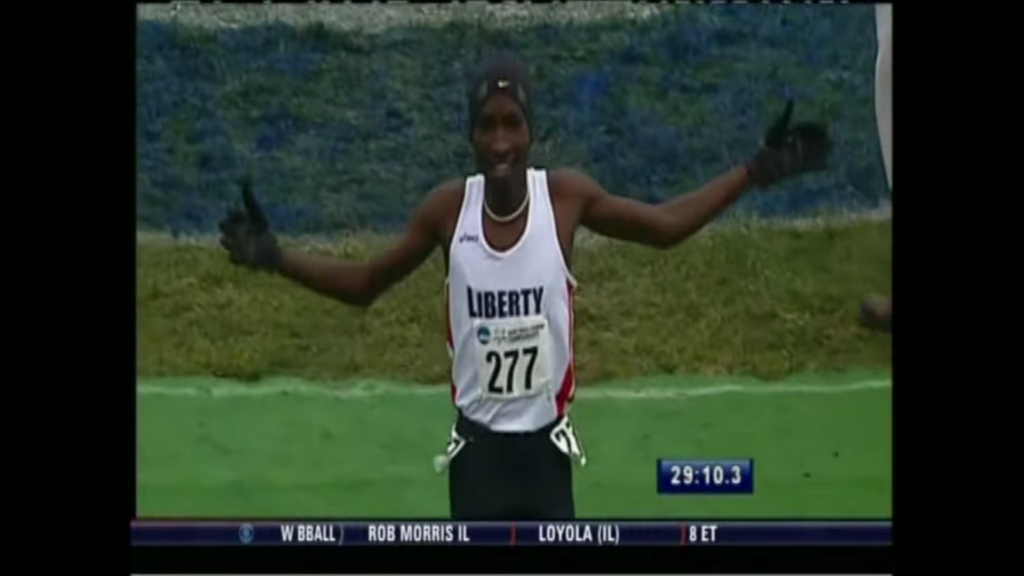 Chelanga, who ran 29:08.0 to Rupp's 29:03.2, wonders what more he could have done to win the title. Not much. 2008 Galen Rupp was a stud — just three months earlier, he had run 27:36 in the heat of Beijing to finish 13th in the Olympic 10k final. It took a course record from him to beat Chelanga on this day.
Hard to feel too sorry for Chelanga though. He'd obliterate the course record in 2009 and successfully defend his crown in 2010.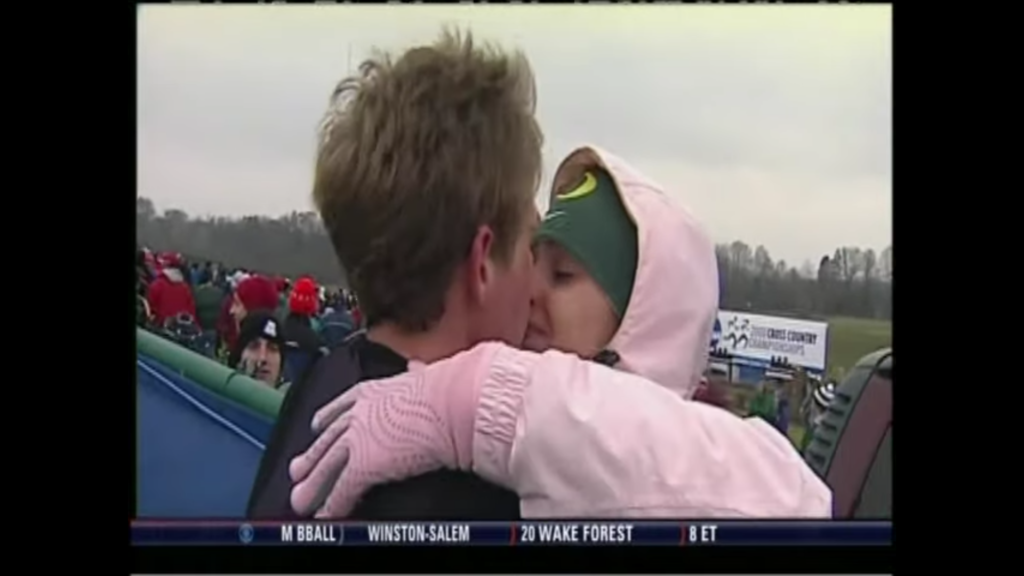 Rupp kisses his girlfriend (now wife) Keara after the race, which Johnson thinks Rupp has to explain for some reason?
"Everyone's seen that Galen, including everyone at Hayward Field — the national championship and the kiss. You'll have to explain that when you get back home."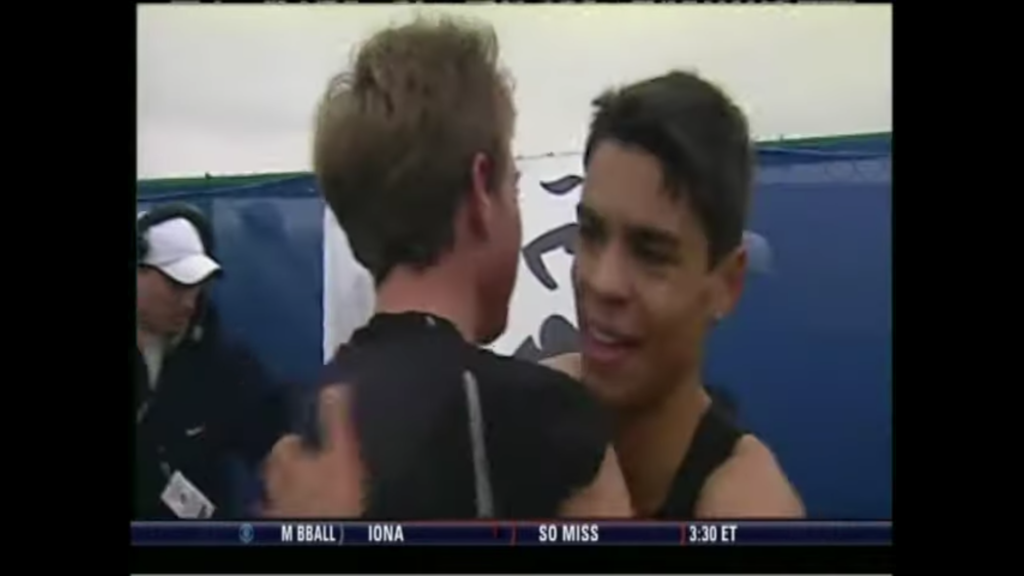 Rupp's Oregon teammate Matthew Centrowitz asks him, "You won, dude?" Rupp simply nods his head, as if Centro is stupid for even asking. For the record, Centrowitz finished 45th as a sophomore in this one.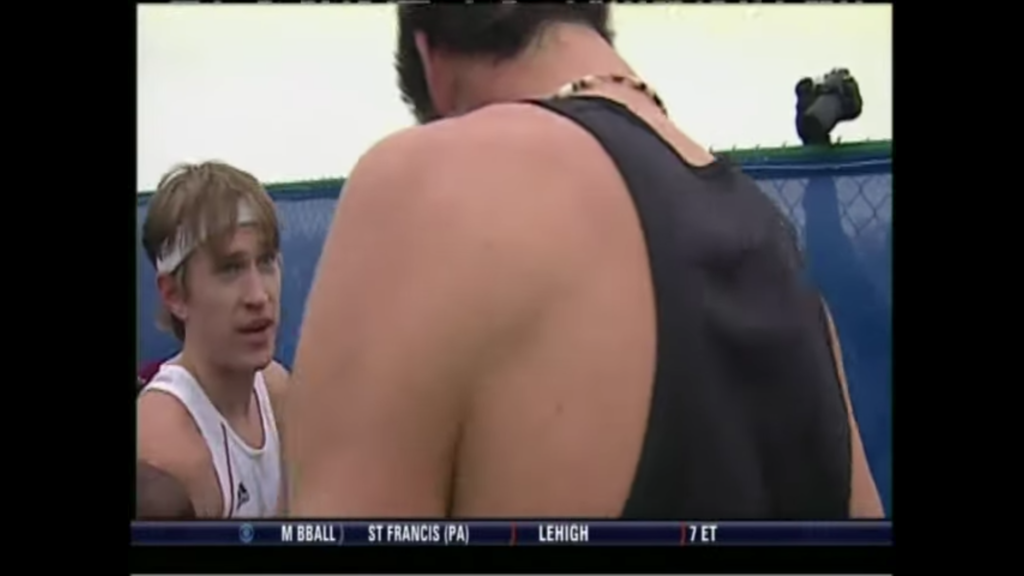 This is pretty cool — Matthew Withrow (39th), who vanquished Rupp at Foot Lockers five years earlier, comes to wish him congrats on the NCAA title. (Rupp is obscured by Wheating in this picture, but he's there to talk to Rupp)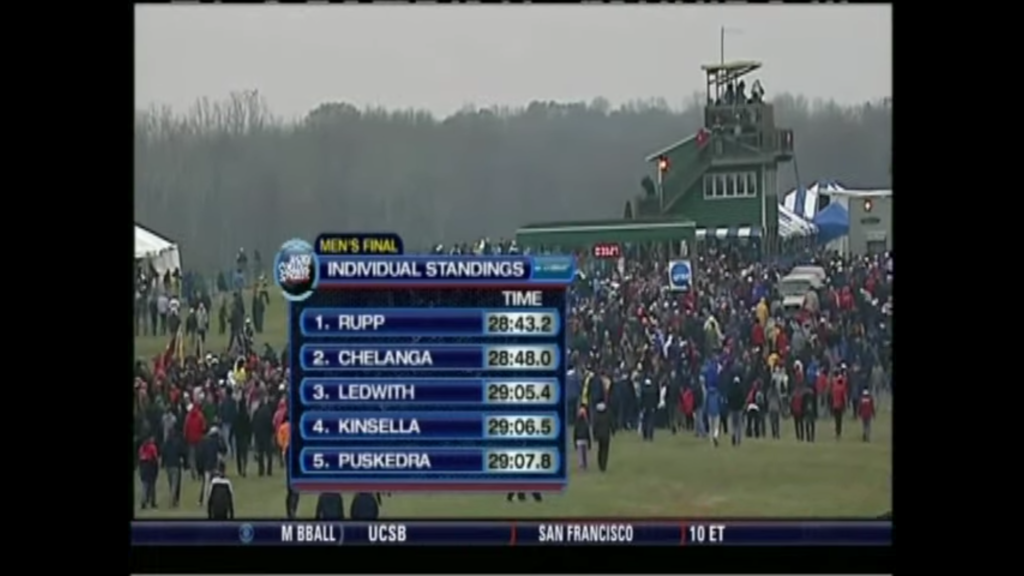 Individually, Puskedra finished 5th and Stanford's Chris Derrick was 7th — two American true freshmen in the top seven.
How rare is that? This century, Dathan Ritzenhein is the only other American man to finish in the top seven as a true freshman. And there could have been another freshman in the top 10 in 2008 — German Fernandez was with the front group in the chase pack but had to drop out due to injury.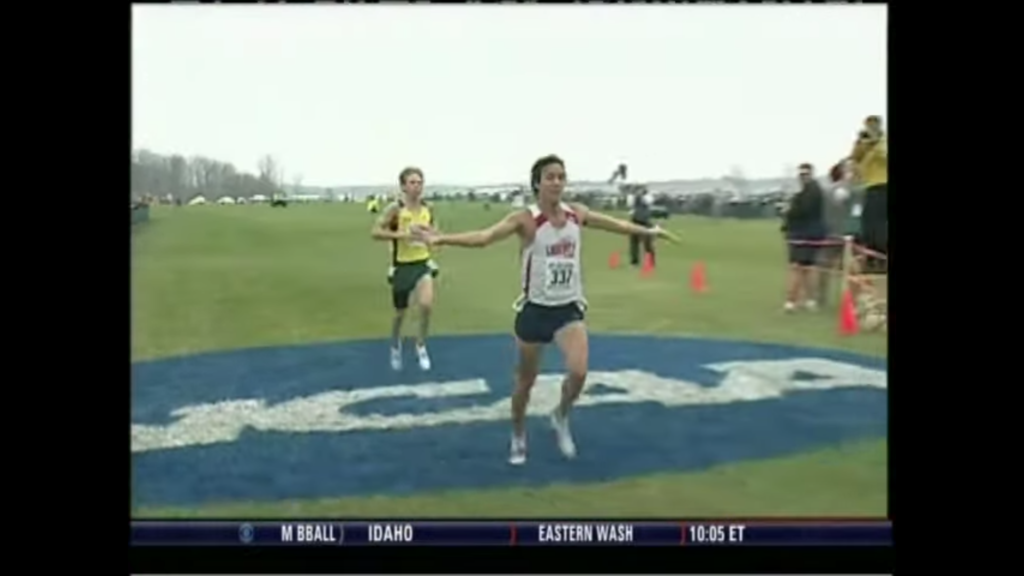 They just showed this clip for the third time. WE GET IT.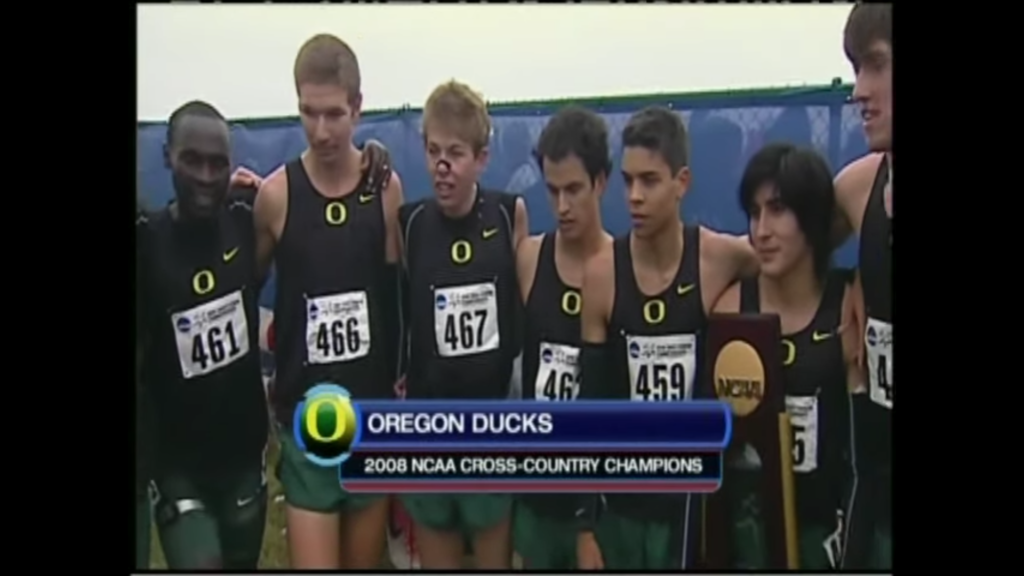 With three in the top 10, Oregon wins the team title handily, 93-147 over Iona (OK State wound up 8th — Fernandez' injury killed them, but they'd end up winning the team title in three of the next four years).
Given what this group went on to accomplish as pros, the 2008 Oregon Ducks have to be regarded as one of the most talented NCAA XC teams of all time.
Their #1 guy (Rupp) is a two-time Olympic medalist and one of the greatest US distance runners ever.
Their #2 guy (Puskedra) ran 2:10 for the marathon.
Their #3 guy (Shadrack Biwott) ran 2:12 for the marathon and has three top-5 finishes at World Marathon Majors.
Their #4 guy (Centrowitz) is the Olympic 1500 champion.
And their #7 guy (Andrew Wheating) is a two-time Olympian who ran 3:30 for 1500.
Was that the most loaded team in NCAA history? MB: What's the most loaded NCAA men's xc team in history? Was 2008 Oregon with Rupp, Puskedra, Biwott, Centro and Wheating?
I know Rupp came back from the Olympics to win this race three months later, but I'm almost more impressed by Wheating. Wheating ran at those Olympics as well, but in the 800. For an 800 specialist who barely ran XC to finish 75th at NCAA XC coming off an Olympics is pretty impressive stuff (sub him in as Oregon's fifth man and they still win the team title).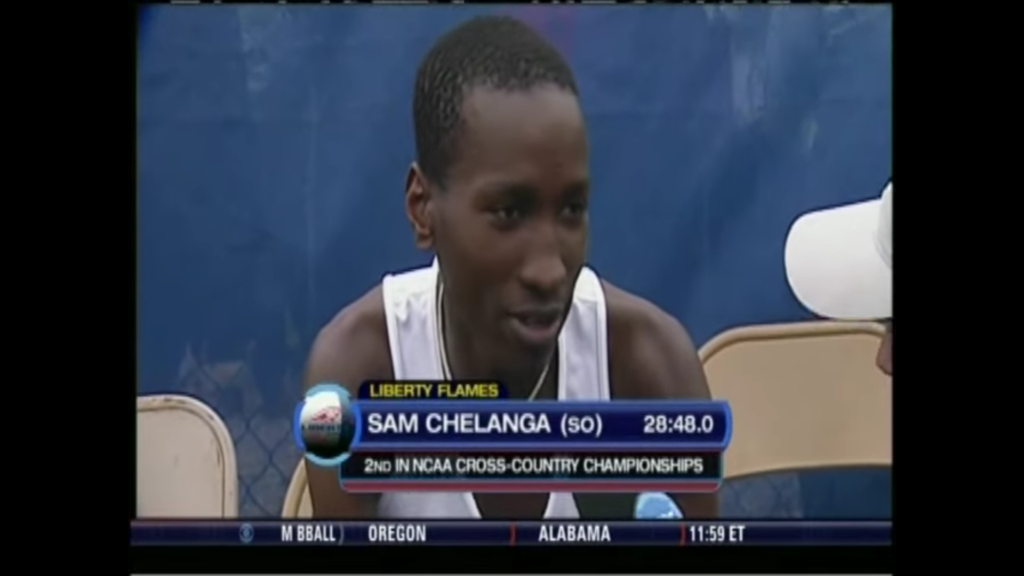 Chelanga was pleased with his run — and glad to finally get some competition.
"That was really exciting. I got second, but I think that was a really awesome race. That was my first time I felt like I'm racing."
***
That's it for this week. Check back next Thursday for the next installment.
MB: What's the most loaded NCAA men's xc team in history? Was 2008 Oregon with Rupp, Puskedra, Biwott, Centro and Wheating?
Previous:
*TBT #6: I Was Bored, So I Watched the Men's Steeple at the 2003 World Championships
*TBT #5: I Was Bored, So I Watched the 1983 World Cross Country Championships
*TBT #4: I Was Bored, So I Watched Galen Rupp, Matt Withrow, & Jenny Simpson at the 2003 Foot Locker Championships
*TBT #3: I Was Bored, So I Watched the Insane 2007 World Cross Country Championships in Kenya
*TBT #2: I Was Bored, So I Went Back and Watched Ritz, Webb, & Hall Battle at the 2000 Foot Locker Cross Country Championships
*TBT #1: I Was Bored, So I Went Back and Watched the 1998 NCAA Cross Country Championships