I Was Bored, So I Watched Joan Benoit Samuelson Win the 1984 Olympic Marathon
Throwback Thursday #9
By Jonathan Gault
June 4, 2020
Welcome back to Throwback Thursday. With no live sports during the coronavirus quarantine, I'm plumbing the depths of YouTube and watching/sharing my thoughts about one classic race per week. If you missed any of the first eight installments, click here.
Article continues below player
This week, I'm rewatching the 1984 women's Olympic marathon, won by American Joan Benoit Samuelson (then known as simply Joan Benoit; she would marry Scott Samuelson a month later). The race is famous because it was the first time women had ever run the marathon at the Olympic Games. But it was legendary because of Benoit's incredible performance and the ridiculously talented field she beat on that day in Los Angeles.
Favorites often crumble in the heat of the Olympic marathon, but not in 1984. The top four finishers — Benoit, Norway's Grete Waitz, Portugal's Rosa Mota, and Norway's Ingrid Kristiansen are all among the greatest women's marathoners in history. Their career accomplishments:
Benoit: WR holder, 2-time Boston champ, '84 Olympic champ, '85 Chicago champ
Waitz: WR holder, 9-time NYC champ, 2-time London champ, '83 world marathon champ
Kristiansen: WR holder (5,000, 10,000 & marathon), '87 world 10k champ, '88 World XC champ, 4-time London champ, 2-time Boston champ, '86 Chicago champ, '89 NYC champ
Mota: 3-time Boston champ, 2-time Chicago champ, '87 world marathon champ, '88 Olympic champ, '91 London champ
What made the race even more special was that these women didn't often race against each other (which in part explains why each of them piled up so many wins; the talent pool was smaller back then, which allowed the very best athletes to hog all the victories). The '84 Olympics was the first time Benoit raced Waitz, Kristiansen, or Mota in a marathon. Waitz, in fact, had never lost a marathon before this race. So the fact that all four of these women were in this race battling it out for the medals over the final miles was pretty incredible.
I wasn't able to find a full race video, so I had to draw on a few sources for the screenshots, linked below. Now let's get to it. We're headed back to Los Angeles, Calif., on August 5, 1984…
Source 1 (start) *Source 2 *Source 3 *Source 4 (finish)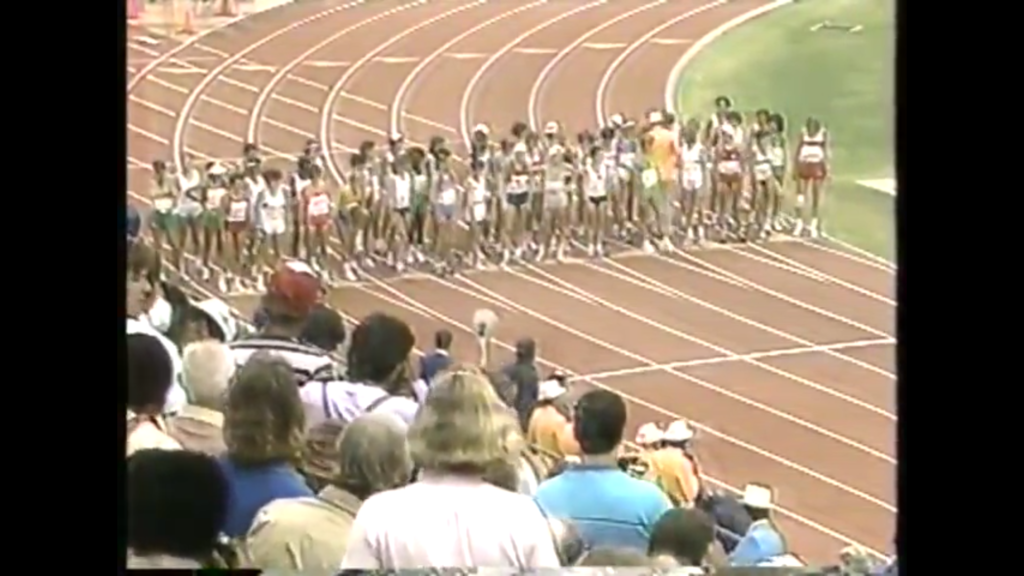 It's always a little odd to see the start of an Olympic marathon. That's the entire field, right there, 50 athletes. This isn't a wave start. There are no plodding masses still to come.
Interesting to see them start in the stadium. That practice has fallen out of favor in recent years — an Olympic marathon hasn't started in the stadium since 1996.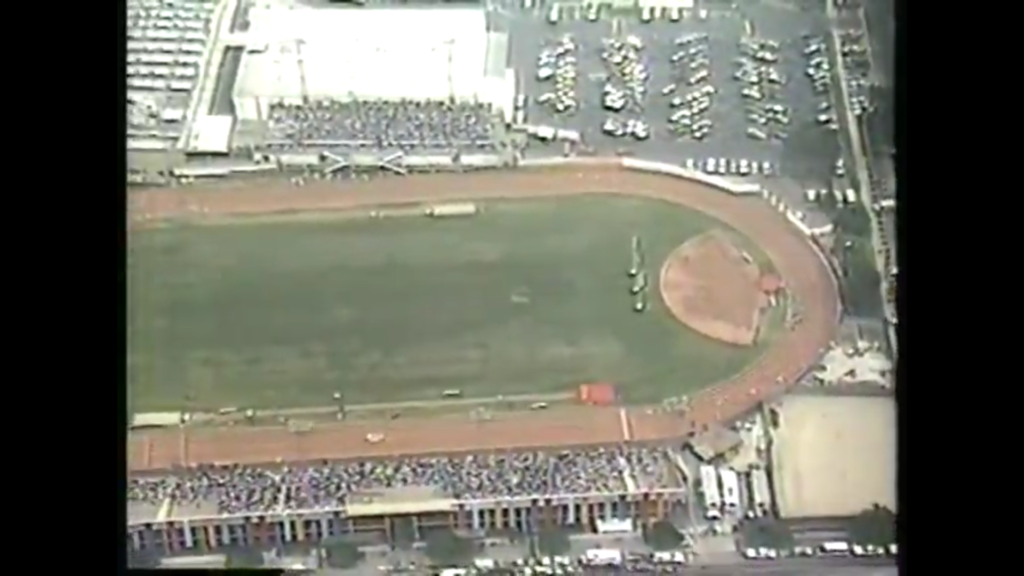 Wait, what the hell? That's not the LA Coliseum!
Al Michaels (yes, that Al Michaels) on the call tells us there are track events going on in the Coliseum this morning, so they're starting the race at Santa Monica College and finishing at the Coliseum.
That still doesn't explain why the race is starting on a track. A track is actually the worst place you can start a marathon, because you're forcing a bunch of people to run extra distance.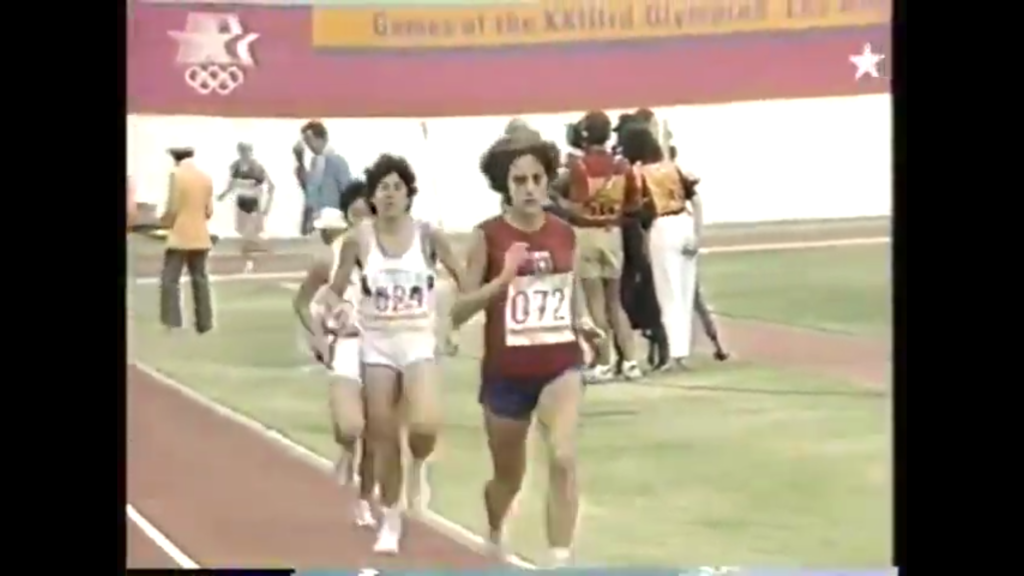 Chile's Monica Regonesi sports a bib with the number 072. I can't ever recall seeing an Olympic bib start with the number zero. Seems redundant, no?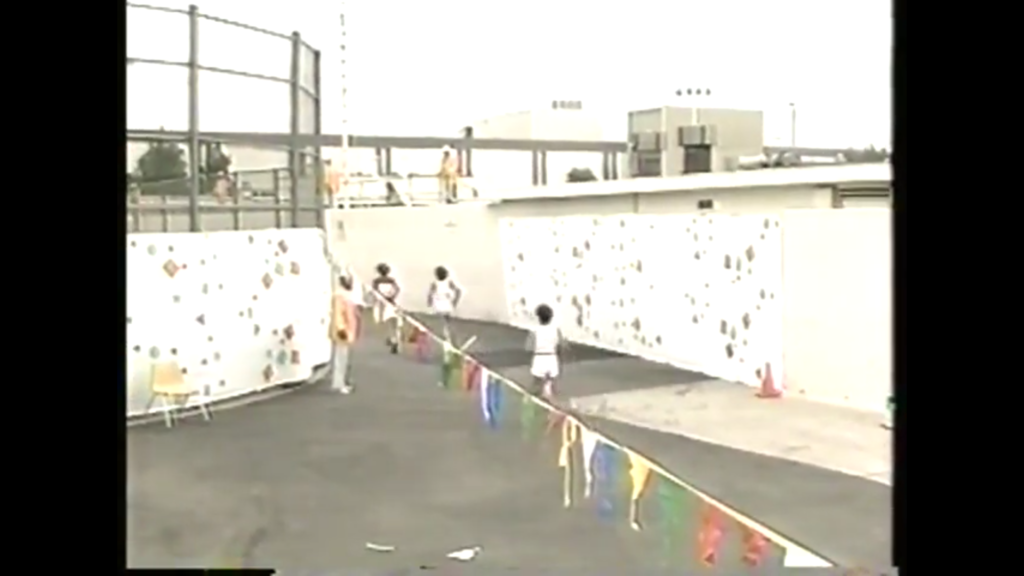 You may recognize that bunting from every single high school invitational of the last 40 years.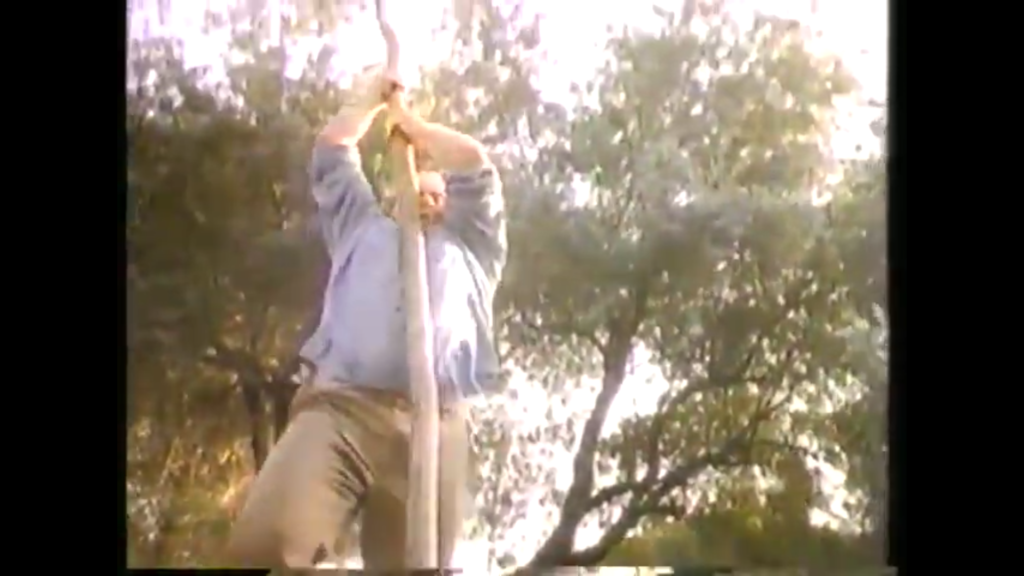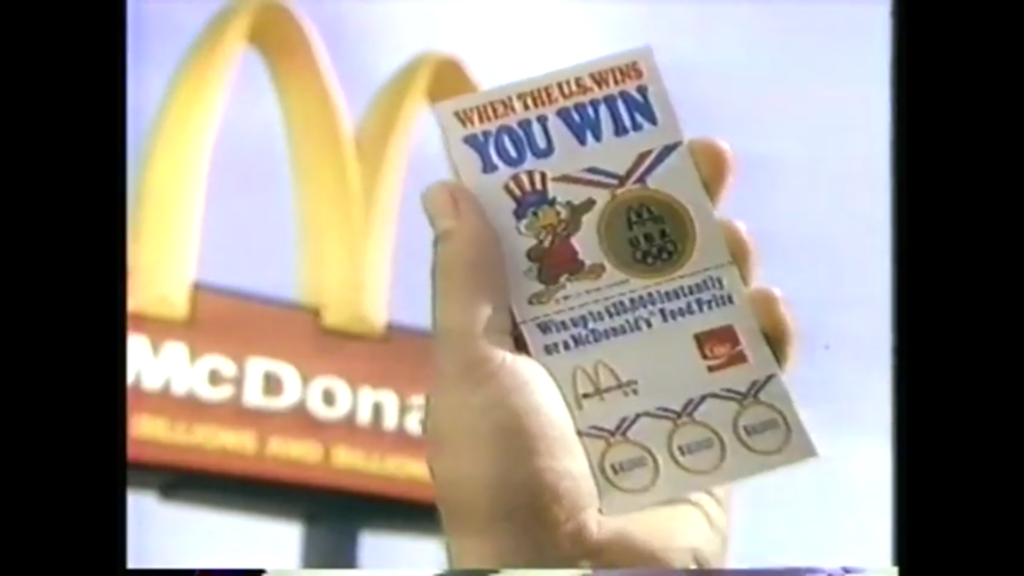 A home Olympics means every commercial is Olympic-themed, from a home-made pole vault to McDonald's disastrous Olympic promotion. In case you're not familiar, here's what happened: McDonald's ran a promotion where it handed out scratch cards with every purchase. If the US won a medal in that event, you could trade it in for free food.
The problem? The Soviet Union led an Eastern Bloc boycott of the '84 Games, paving the way for a US gold rush. The US won 174 medals, including a record 83 golds, which led to a lot of free Big Macs. (The Simpsons spoofed this brilliantly, by the way)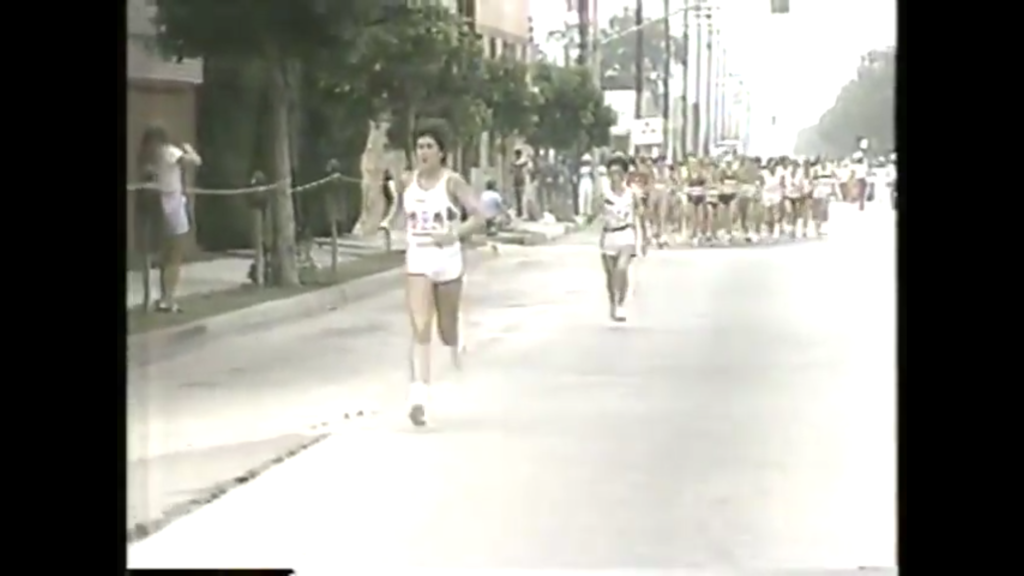 Belgium's Marie-Christine Deurbroeck has opened up a slight gap on the field just over 2k into the race. Michaels tells us that she ran the first mile in 6:27, which seems shockingly slow, and he's immediately corrected by Marty Liquori, who says it was in fact run in 5:25 — 2:21:55 pace at a time when the world record was Benoit's 2:22:43.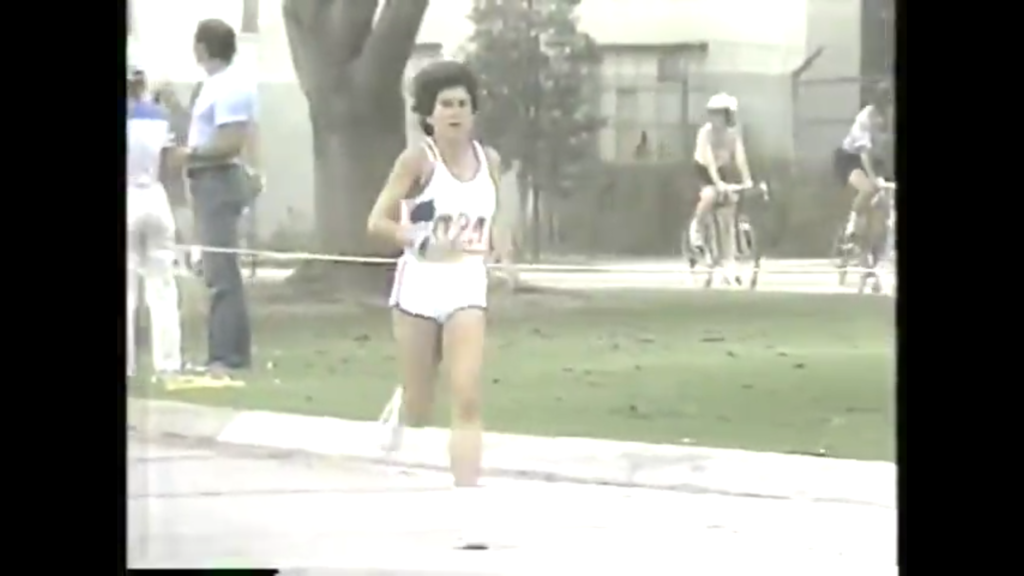 The Belgian is faltering already a little bit. She's considerably heavier than the other marathoners.
Am I an asshole for saying that?
If you answered yes, I have a surprise for you. Those aren't my words, but the words of legendary women's running pioneer Kathrine Switzer, who just uttered them on the broadcast.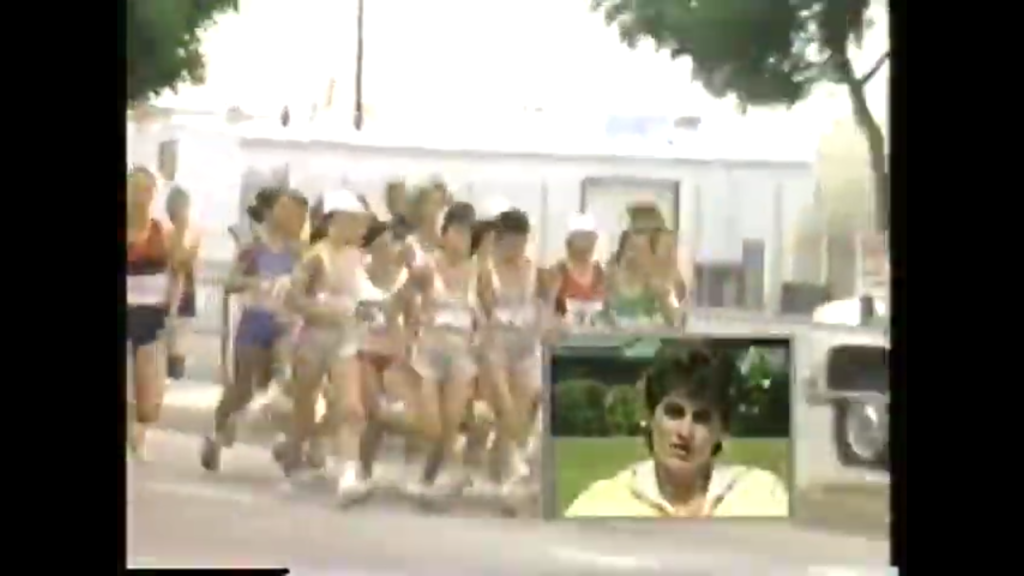 The broadcast cuts to a pre-recorded interview with Julie Brown, who is running in the lead pack right now. Brown says she qualified for the 1980 US Olympic team in the 800 and 1500.
WHAT?
Yes, Brown ran 2:00.96 and 4:07.13 to finish 2nd in each race at the 1980 US Olympic Trials (though the US would not send a team to Moscow). Four years later, she owned a 2:26 personal best and was running the Olympic marathon.
That's the equivalent of Ajee' Wilson deciding to take up the marathon after the '16 Trials and making this year's team. It's astonishing.
The fact is, Brown had no choice but to run the 800 and 1500: until 1984, 1500m was the longest distance offered for women at the Olympics. Had Brown, the 1975 World XC champ and former 10,000m world record holder, been able to compete in longer distances in her prime, she would have had a great shot at a medal.
Just after two miles, Deurbroeck has been caught (she'd end up 24th in 2:38:01), and now it's the Americans Benoit, Brown, and Julie Isphording (left to right) leading the race.
The silver US uniform has become iconic because it's what Benoit wore when she won Olympic gold. But that doesn't excuse the fact that it's a horrible choice for a jersey. First, silver is not a color you want to wear at the Olympics. You're automatically associating yourself with second-best. Plus, silver isn't even one of the USA's colors.
Thankfully, only the marathoners wore silver. The rest of the track & field athletes rocked the far superior red version of this jersey. I imagine the marathoners wore a different color as a darker color would attract more heat.
Unfortunately, I couldn't find the full race anywhere, which means we've skipped ahead to the 20-mile mark. To recap quickly: at three miles — just after we left off above — Benoit surged and no one responded. Since then, she's been on her own and has opened a lead of 1:40 on the rest of the field. Now she's 10k away from glory but it would have been a lot of fun to see the commentary of the whole race.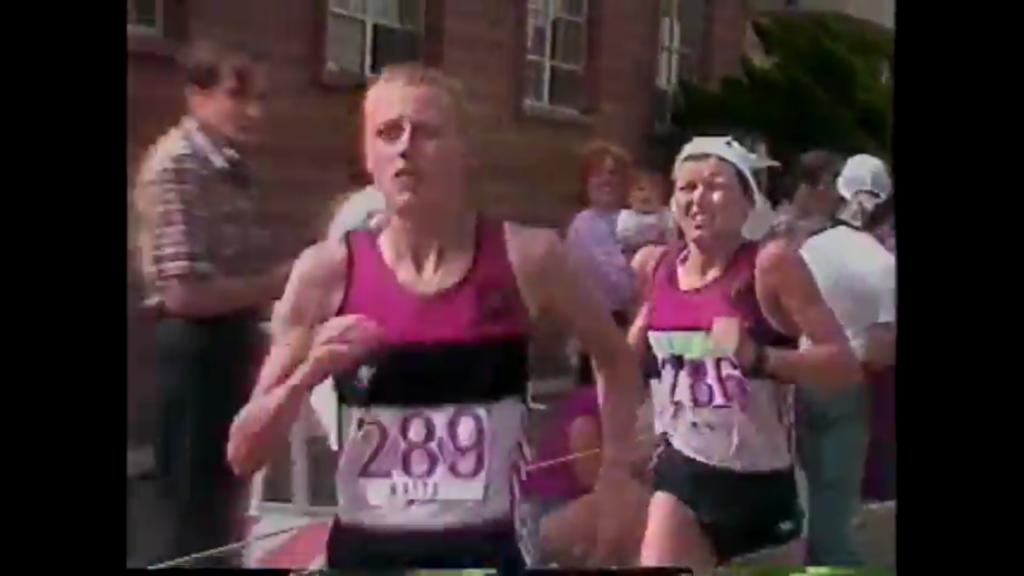 Grete Waitz (289) and Ingrid Kristiansen (286) are the closest women to Benoit at the moment, with Rosa Mota giving chase in 4th. But unless one of them steps on the gas now, they have no chance at catching the indomitable Benoit.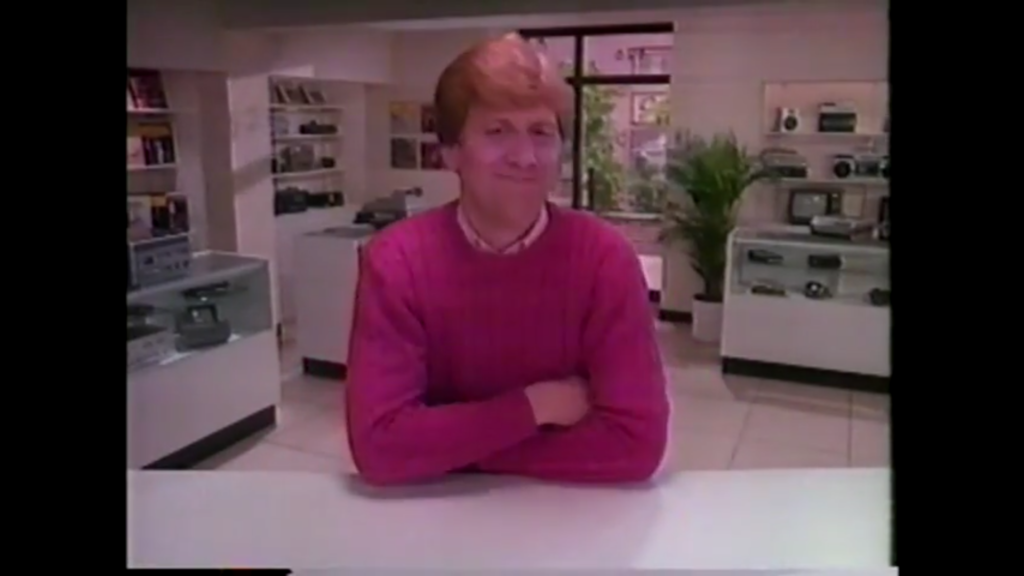 Another commercial break. Hey, it's Hoover from Animal House! President of Delta House! 1.6 GPA, four C's and an F. He set a fine example.
After sitting through several commercial breaks, one thing has become clear: there was a lot of singing in commercials in the '80s. Half the ads end in some sort of sung slogan.
We've got what it takes, Truuuue Value!
Carquest, the right place to buy auto parts!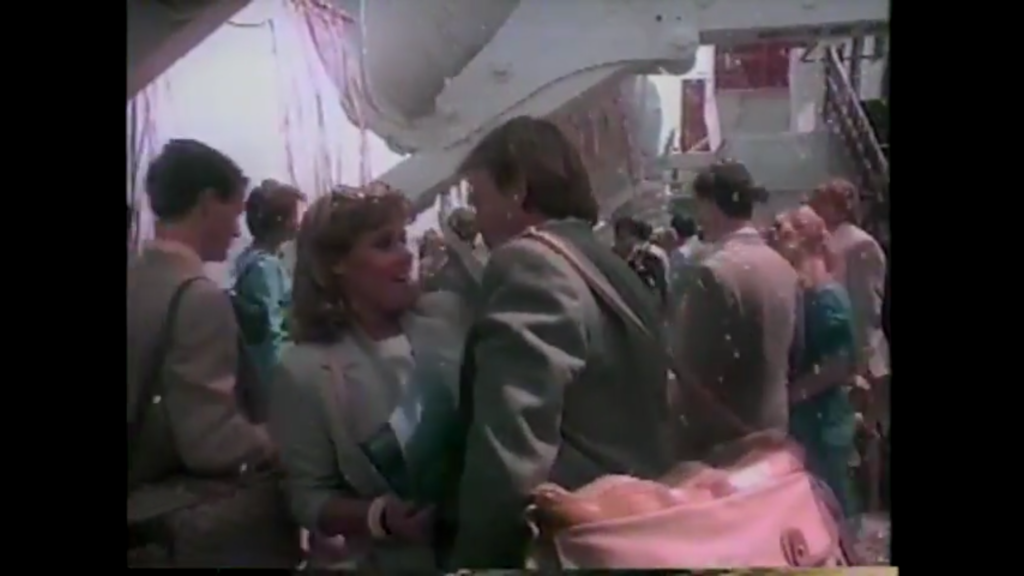 Sorry, last commercial. I had to include it, because I'm pretty sure James Cameron got the plot for Titanic from this Love Boat commercial.
"They come to her as strangers. Some are young. Some are starting over. And through the magic that she alone possesses, somehow, she brings them together. And out of strangers, she makes lovers. The Love Boat."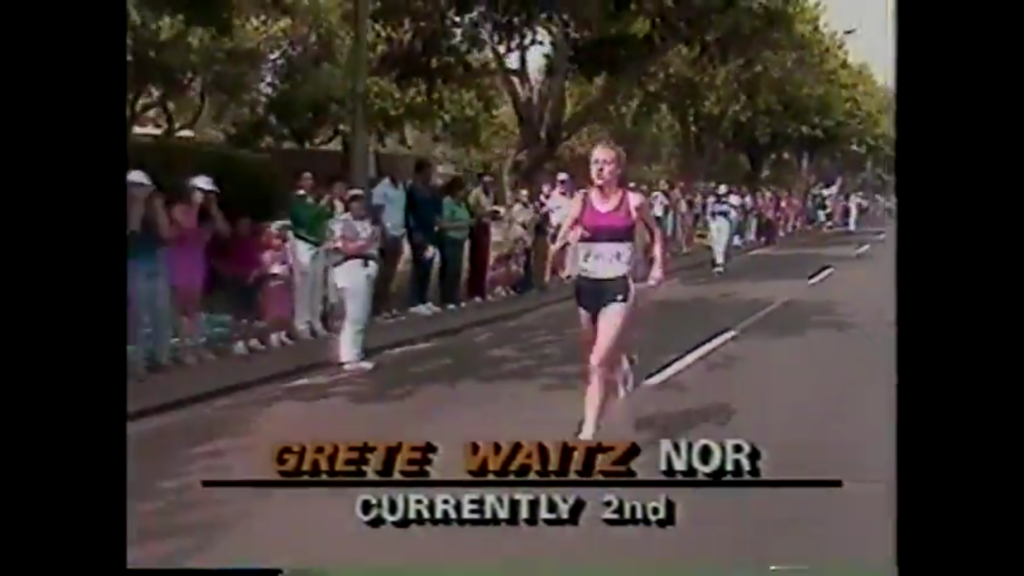 We're in mile 22 now, and Waitz has dropped Kristiansen. She's slowly making up ground on Benoit, but not quickly enough: the gap is still 1:34 with less than five miles to go.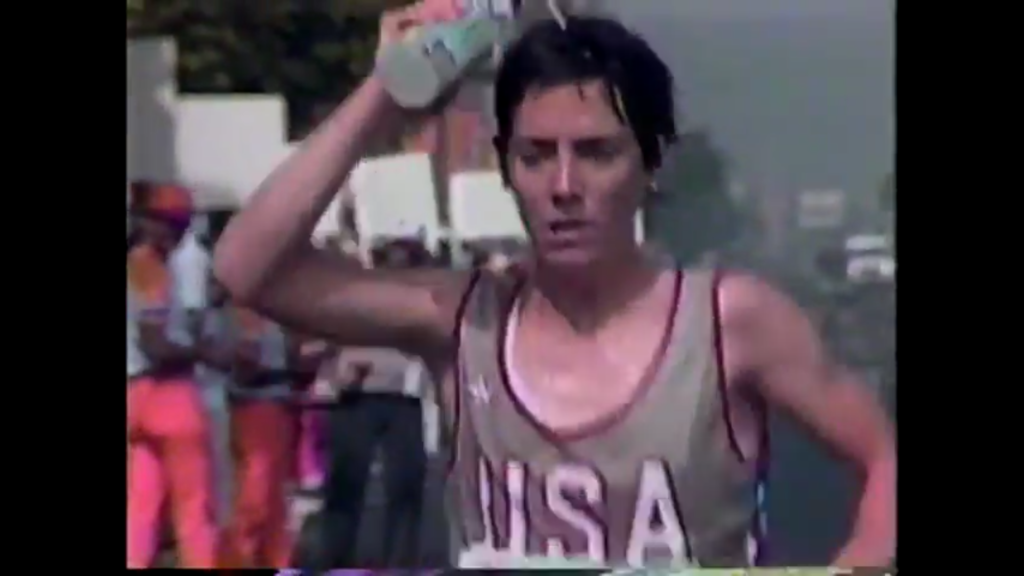 As Benoit cools herself off, Michaels mentions how she won the US Olympic Trials just 17 days after undergoing knee surgery. Which I already knew but bears repeating because it's insane.
Liquori adds that many thought the American women would be at a disadvantage at the Olympics because the Trials were held just 12 weeks before the Games. That's a tight turnaround, but back then it was not uncommon. When Frank Shorter won gold in 1972, the marathon trials were held on July 9 as part of the track trials; the Olympic marathon was just nine weeks later.
Obviously Benoit ran incredibly in 1984, but the other Americans fared poorly — Brown was 36th out of 44 finishers and Isphording DNF'd. The quick turnaround may have had something to do with it.
Los Angeles. Slow-moving vehicles. Helicopter shots. Sorry, but this whole race has been giving me flashbacks to O.J. Simpson and the white Bronco.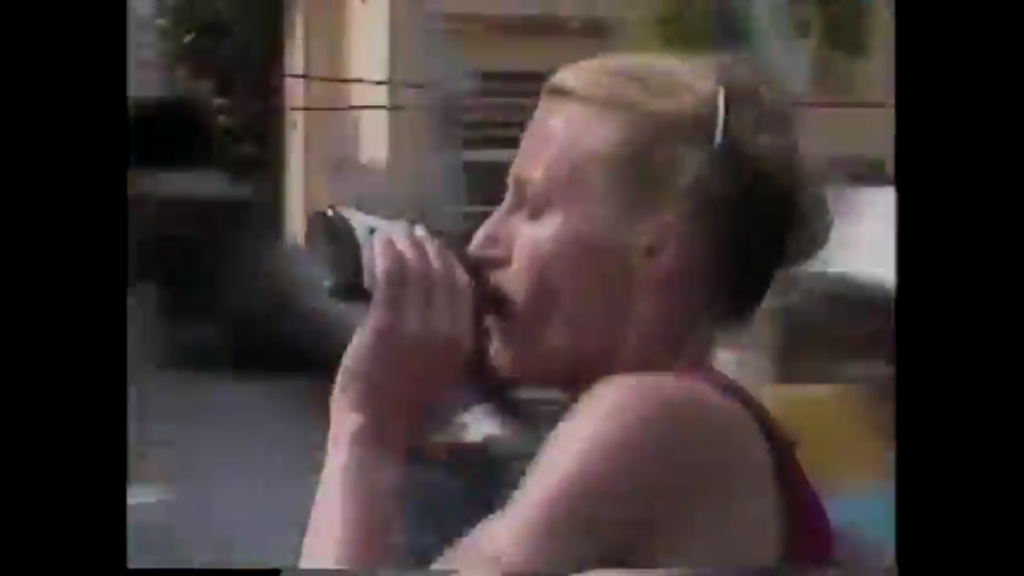 I know this isn't whiskey. But the shape of this bottle really makes it look like Grete Waitz is drinking whiskey during the Olympic marathon.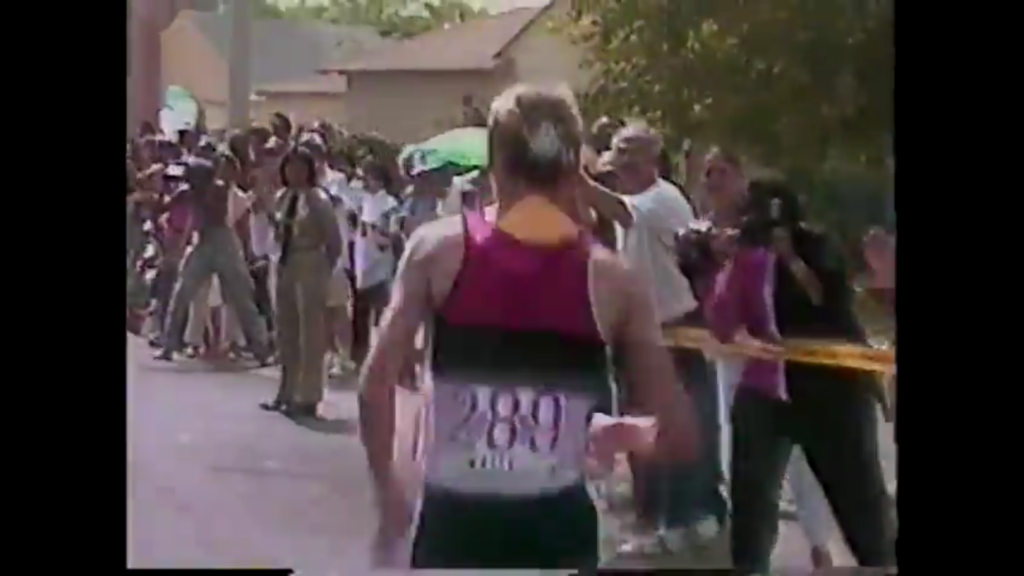 The temperature was far from ideal for a marathon, and two hours into the race, the athletes are starting to feel it. Volunteers have been handing out yellow sponges, and rather than squeeze and discard, Waitz decides to stick hers under her jersey just below her neck.
(Editor's note: What's interesting to us now 35+ years later is we're wondering how hot was it really during the race. The NY Times recap said that the temperature "ranged from the high 60's to near 90 degrees with high humidity" but the stats don't back that up. Here are the temperatures as reported by Dark Sky for various cities in LA that the course ran through on August 5, 1984 (race started at 8 am)
| | | | | |
| --- | --- | --- | --- | --- |
| | Santa Monica | Venice | Culver City | LA |
| 8 AM | 67 | 67 | 67 | 67 |
| 10 AM | 67 | 72 | 72 | 71 |
| 12 Noon | 72 | 76 | 76 | 76 |
Maybe those NY Times temps were the temps in the sun? If you know, please post on our messageboard: How hot was it really during the 1984 Olympic women's marathon?)
Benoit continues to grind away up front. She is slowing slightly, but Waitz is not moving fast enough for it to make a difference. Aside from the moment where she doffed her cap to dump water on it, the clips of Benoit may as well be running on a loop, a look of steely determination and focus plastered to her face. Michaels puts it perfectly: "She is just absolutely machine-like."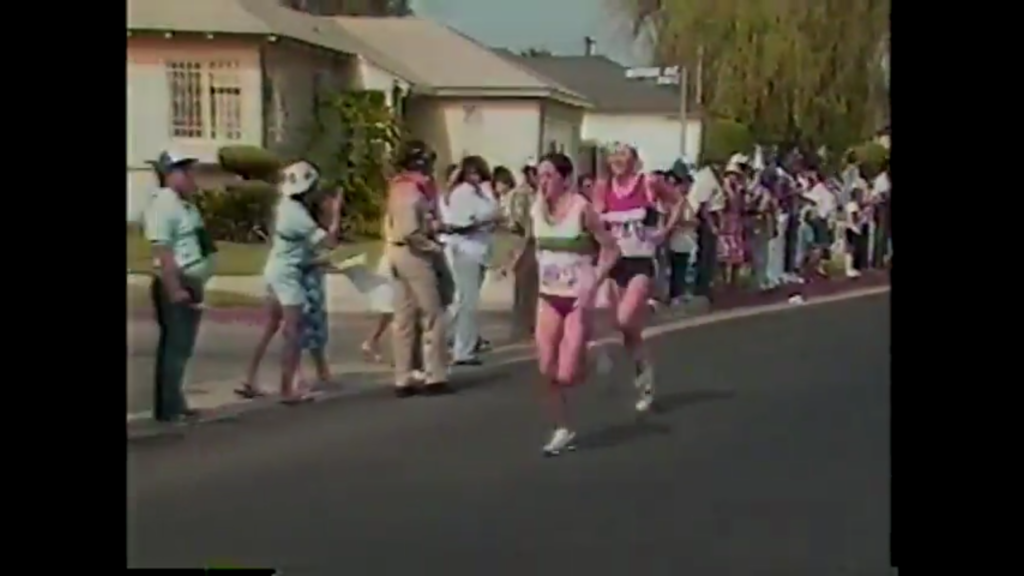 Mota passes Kristiansen for third. This is the only medal battle that's remotely close right now, as Benoit and Waitz seem locked into gold and silver.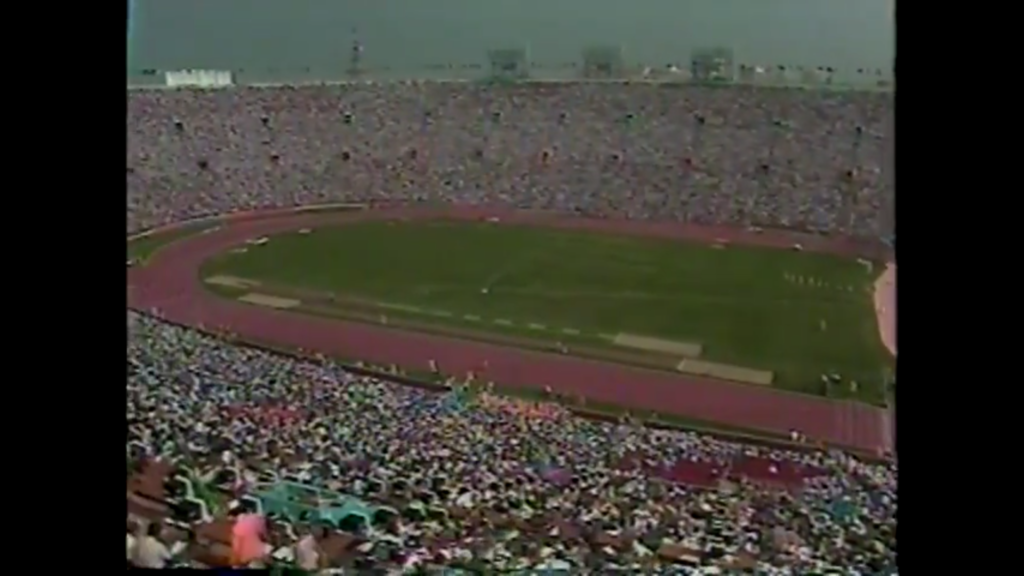 This is what's waiting for Benoit at the finish in the LA Coliseum. Proof that yes, tens of thousands of people will come to watch a track meet in the USA, as long as it's the Olympics.
Switzer mentions that this race has been relatively unaffected by the boycott, since there aren't many great Eastern bloc marathoners. Switzer, one of the women's marathon activists who made this race possible, also mentions that the Soviet Union was the only country which opposed the addition of the women's marathon to the Olympic program.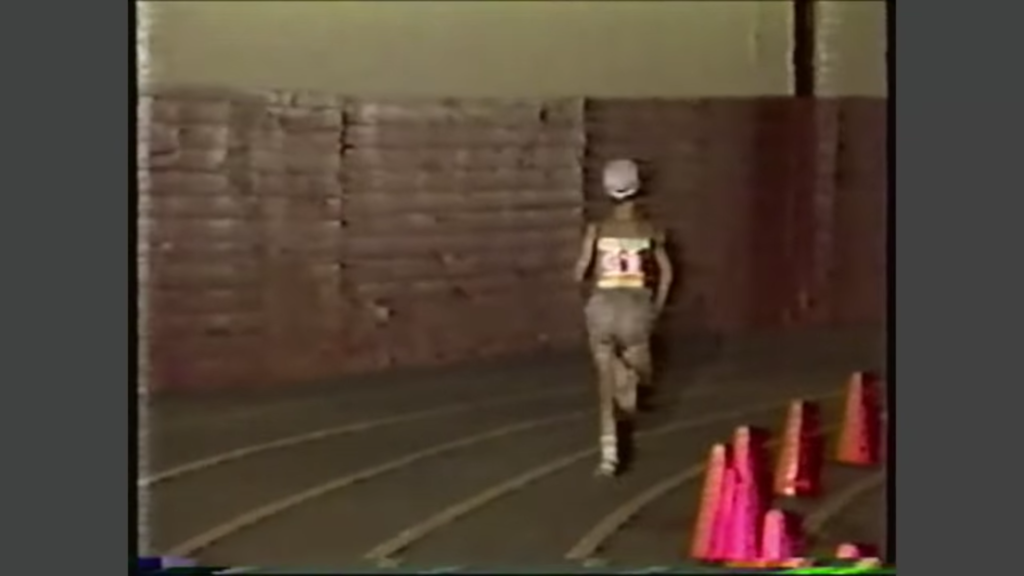 We've jumped ahead again in the broadcast. Benoit is headed through the tunnel now onto the track, and once she emerges into the daylight of the LA Coliseum, the crowd erupts in a sustained roar.
These moments, right here, is what I miss about the old Olympic marathon, which hasn't finished in the Olympic stadium since 2008. The contrast between those last few moments of darkness in the tunnel and that explosion of noise and emotion once the leader emerges onto the track is something that cannot be replicated outside of the stadium setting (though finishing the 2016 Olympic marathon at the Sambadrome in Rio was pretty cool).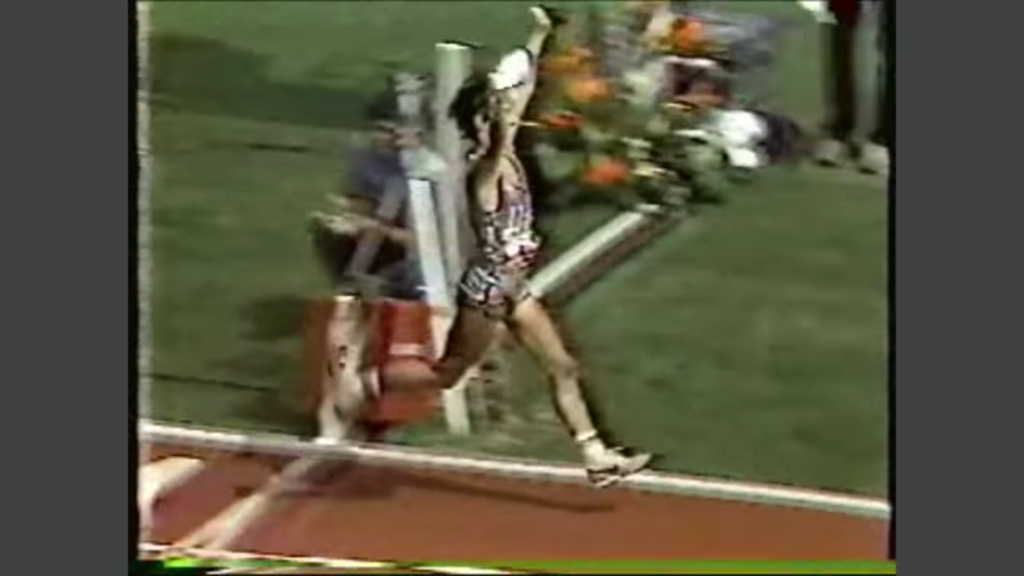 Waitz enters the stadium just as Benoit is finishing up, but there's no doubt about the winner on this day. It's Joanie.
Obviously Benoit's win is historic because this was the first women's Olympic marathon. And it remains historic because it's the last time an American woman won a distance event at the Olympics. But because of that, it can be forgotten just how impressive her run was. At the time, it was probably greatest performance in women's marathoning history.
Consider: at the time, the world record belonged to Benoit at 2:22:43 from the 1983 Boston Marathon (you could set the WR at Boston back then). Kristiansen's 2:24:26 at 1984 London was #2 on the all-time list. This race, in which Benoit ran 2:24:52, was #3.
So in the heat of LA, Benoit ran the third-fastest time ever to defeat the greatest field ever assembled (at the time), and she did it by breaking away three miles into the race and winning by 1:26. And she did it in the Olympics. For everyone obsessed with Sammy Wanjiru's 2:06 win at the 2008 Olympics, Joanie did the same thing on the women's side 24 years earlier (2:24:52 would stand as the Olympic record for 16 years).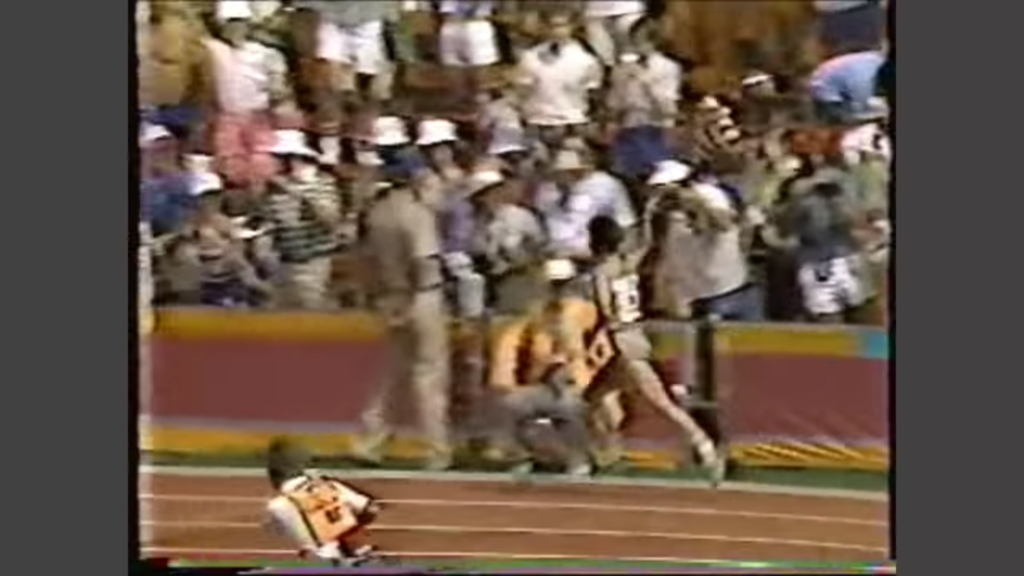 Benoit's victory lap wasn't much slower than her race pace. She doesn't look that tired.
Waitz earns the silver in 2:26:18, with Mota taking bronze in 2:26:57 — very strong performances (and a big PR for Mota, who had never before broken 2:30), but not enough to overcome the otherworldly Benoit. What a race.
I generally try to keep it light with these TBTs, so I'm going to end this one here rather than try to break down Switzerland's Gabriela Andersen-Schiess and her struggle to finish while battling the effects of heat exhaustion. Viewed one way, it's inspirational. But it's also difficult to watch someone so clearly struggling. If you want to learn more about it, check out this video.
***
That's it for this week. Check back next Thursday for the next installment.
MB: How hot was it really during the 1984 Olympic women's marathon?
Previous:
*TBT #8: I Was Bored, So I Watched Alan Webb Run 3:53 as a High Schooler at the 2001 Prefontaine Classic
*TBT #7: I Was Bored, So I Watched the 2008 NCAA Cross Country Championships
*TBT #6: I Was Bored, So I Watched the Men's Steeple at the 2003 World Championships
*TBT #5: I Was Bored, So I Watched the 1983 World Cross Country Championships
*TBT #4: I Was Bored, So I Watched Galen Rupp, Matt Withrow, & Jenny Simpson at the 2003 Foot Locker Championships
*TBT #3: I Was Bored, So I Watched the Insane 2007 World Cross Country Championships in Kenya
*TBT #2: I Was Bored, So I Went Back and Watched Ritz, Webb, & Hall Battle at the 2000 Foot Locker Cross Country Championships
*TBT #1: I Was Bored, So I Went Back and Watched the 1998 NCAA Cross Country Championships