I Was Bored, So I Watched Craig Mottram Battle Augustine Choge In Melbourne at the 2006 Commonwealth Games
Throwback Thursday #11
By Jonathan Gault
June 18, 2020
Welcome back to Throwback Thursday. With limited live events during the coronavirus quarantine, I'm plumbing the depths of YouTube and watching/sharing my thoughts about one classic race per week. If you missed any of the first ten installments, click here. This week's race: the men's 5,000-meter final at the 2006 Commonwealth Games.
A little backstory: I started following running semi-seriously as a teenager in the summer of 2007. My usual routine was to head into our study, slide up to our computer, and head to the "Cool Running Pics" thread on the DyeStat messageboard. That's how I started to learn about the legends and characters of our great sport.
And back then, few characters were bigger than Craig Mottram. I mean, how could you not love a 6'2″ Australian with two killer nicknames ("Buster" and "The Big Mazungo") who said things like "it comes down to the size of your balls" after winning big races and could mix it up with — and sometimes beat — the best East Africans? He was a genuine cult hero.
MB: The Big Mazungo (Mottram) – best nickname ever?
Back in 2006, Mottram was 25 years old and in his prime. He was coming off a year in which he had run an Oceania record of 3:48.98 in the mile, 12:56.13 in the 5,000 (just off his Oceania record of 12:55.76 from 2004) and had earned a historic bronze medal in the 5,000 meters at Worlds — he remains the only non-African-born man to medal in that event at Worlds since 1987.
With no Olympics or Worlds in 2006, the biggest event on Mottram's calendar was the Commonwealth Games — which just so happened to be in Melbourne, where Mottram lived and trained (he grew up 50 miles southwest in Geelong). Kenyans had swept the medals at the previous two Commonwealth Games, but with their fastest-ever 5,000 man competing on home soil, the Aussies had a chance at not just a medal, but gold. And with reigning world champion Benjamin Limo in the field, a gold medal would truly mean something.
Article continues below player.
The result was one of the greatest races of the 2000s — just the second championship 5,000 in history to feature a winning time under 13:00. And the winner was neither Mottram nor Limo, but a 19-year-old Kenyan who had bombed out in the heats at the 2005 Worlds: Augustine Choge.
Mottram told the Melbourne Herald Sun, "It was bar none the greatest race I have ever done in my life." And yet it wasn't enough. Mottram ran 12:58.19 in a championship final and it was only good for silver. He could not believe it. More from the Herald Sun:
On the walk home (LRC note: yes, Mottram lived close enough to the stadium that he could walk home) where he had lasagne with his parents, Mottram summed up his frustration to his coach Nic Bideau: "What do you have to do to win one of these things? I beat the world champion, I ran under 13 minutes, I do all of that and still this guy no one has heard of comes out and hammers me."
So in honor of Craig Mottram's 40th birthday today (happy birthday, Buster!), let's head back to the Melbourne Cricket Ground on March 20, 2006…
| | |
| --- | --- |
| Overall | |
| Comfort | |
| Cushioning | |
| Durability | |
| Appearance | |
| Value | |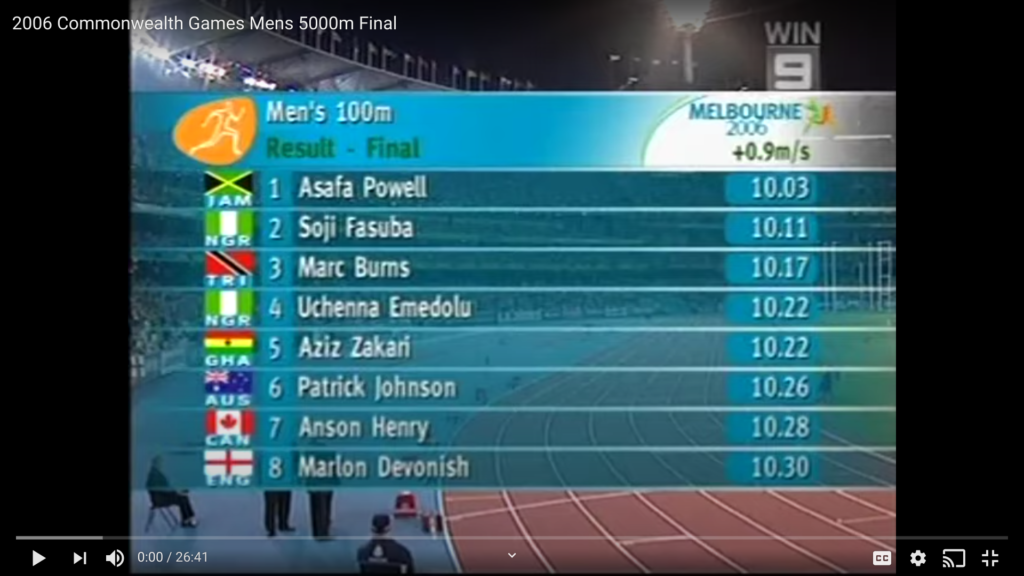 0:00 As we get started, we see the results from the men's 100m final — proof that Asafa Powell did once win a major championship! Well, as long as you're willing to consider the Commonwealth Games "major." And as long as you're willing to overlook second place only running 10.11. Okay, so maybe it's not proof of anything…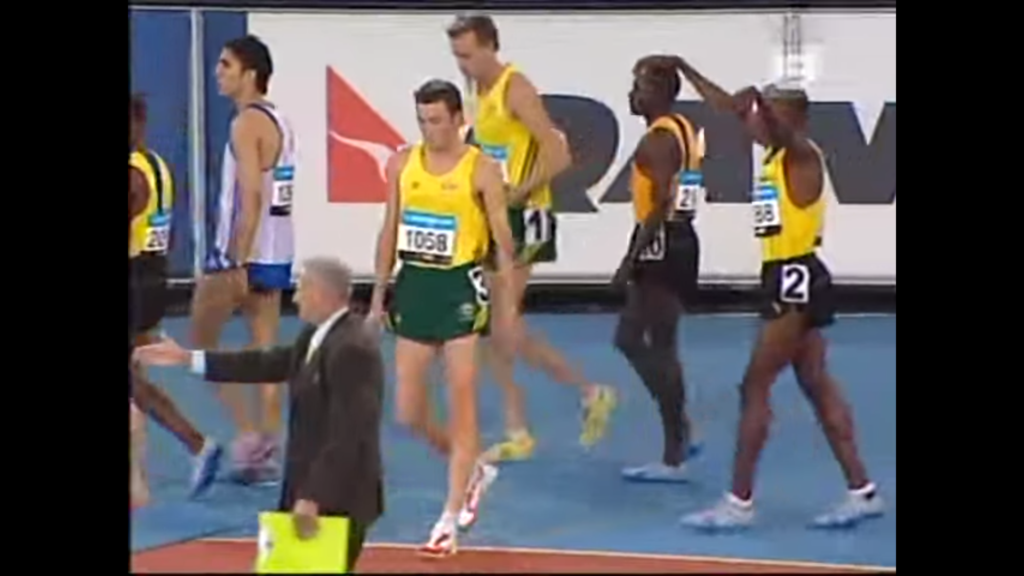 0:13 The guy in the yellow appears to be stretching out his…wrists? I'm confused.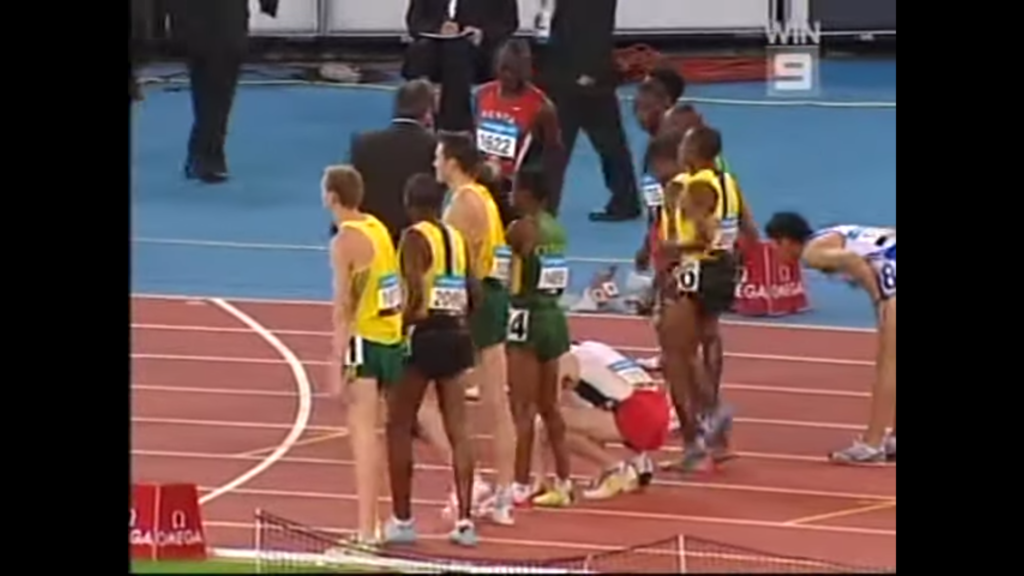 0:50 Mottram said above that no one had heard of Choge entering the race. But while he wasn't as famous as world champ Limo, serious fans knew to pay attention. In 2004, at the age of 17 (officially), Choge ran 12:57 for 5,000 and won the world junior title. The following year, he won the junior race at World XC and ran 7:28 (a world U20 record) and 12:53 — both of which were faster than Mottram's PRs — though for some reason decided to run the 1500 at Worlds, where he finished just 10th in his heat. And in February 2006, he won the Kenyan Commonwealth Games trials by over six seconds.
Steve Ovett on the broadcast: "It's mostly Craig against the nation of Kenya, really…As we know, Benjamin Limo, the world champion. But the one I think to watch is the little Augustine Choge from Kenya. Just 19 years of age, but is a big threat."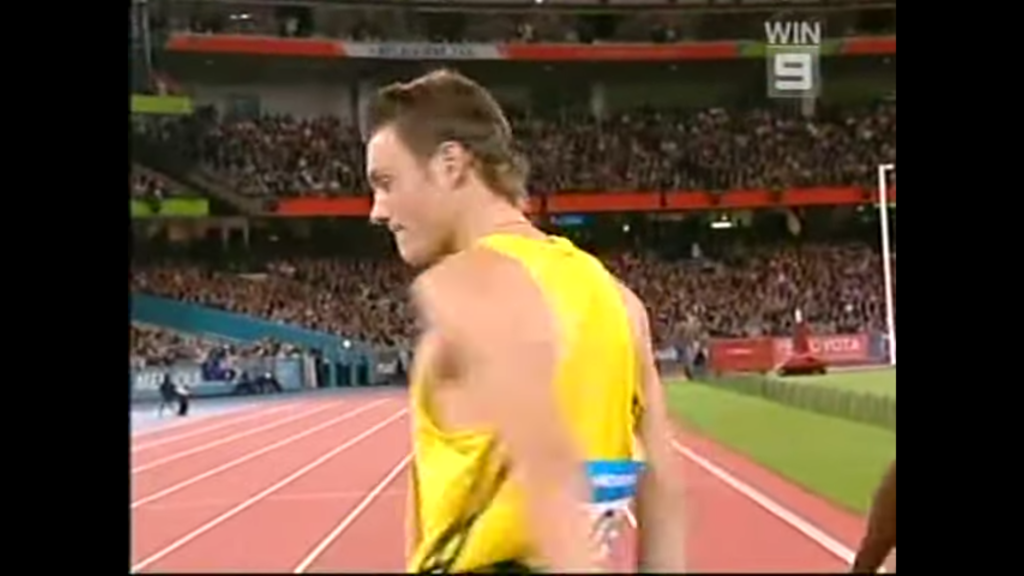 3:10 It's not much now, but eventually, this would blossom into a magnificent mullet.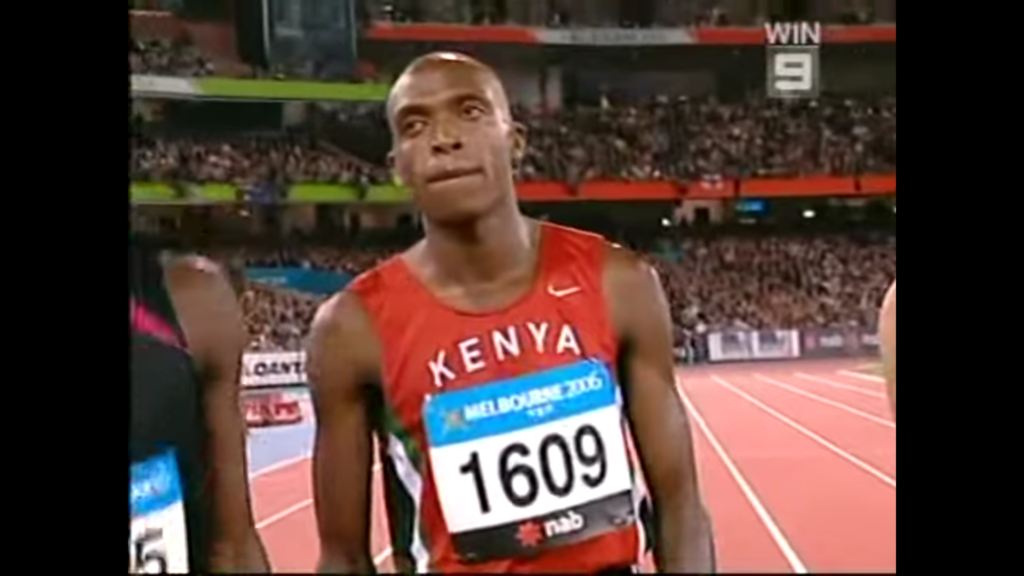 3:39 Choge's introduction raises a question: did Athletics Kenya lose their uniforms or something? Why are the Kenyans wearing the jerseys from the 2000 Olympics when they debuted a superior version at the 2004 Olympics? I didn't know any country still wore singlets from six years ago. Though I will admit, I kind of dig the two-tone look.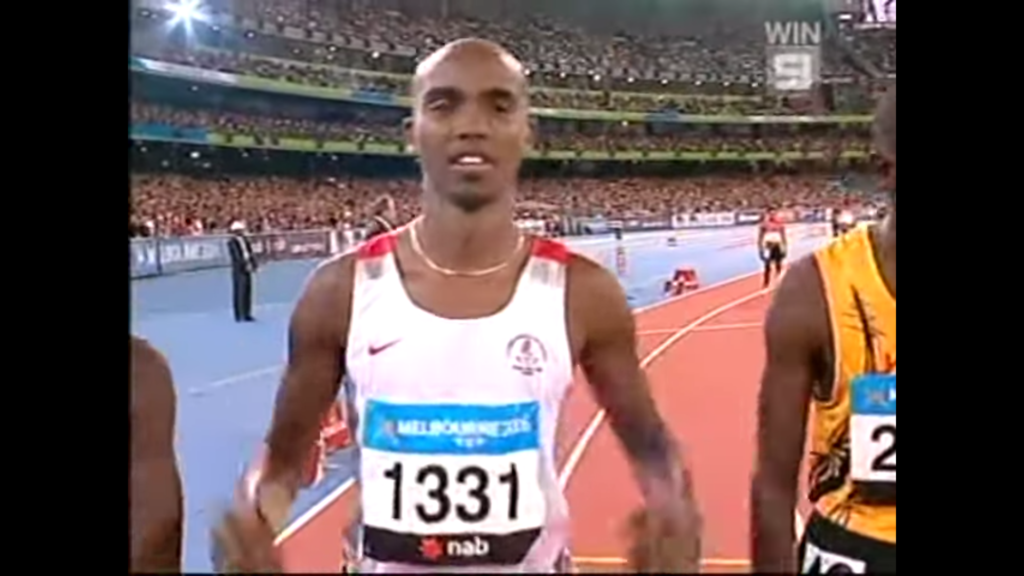 4:38 Mo Farah of England, the future four-time Olympic champion, barely gets a mention. And why would he? Farah was three days away from his 23rd birthday — the equivalent of a fifth-year senior if he was at a US college — and owned a personal best of 13:30. For an NCAA fifth-year senior, that's pretty fast. But BYU's Conner Mantz ran 13:29 at the same age last year and I don't have him pegged as a future Olympic champ.
Farah would finish just 9th in this race, but would run 13:09 later in the summer of 2006. It would be another five years until he'd start winning major races, following a switch to coach Alberto Salazar.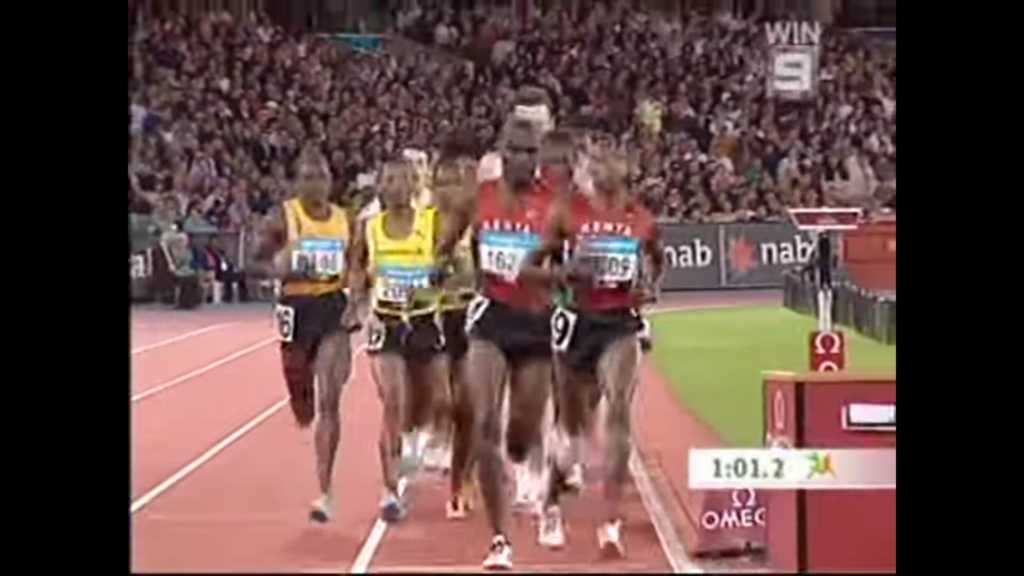 6:17 A quick 60.x for the first lap, and already the battle lines have been drawn. Choge leads a Kenyan 1-2-3, with Mottram fourth.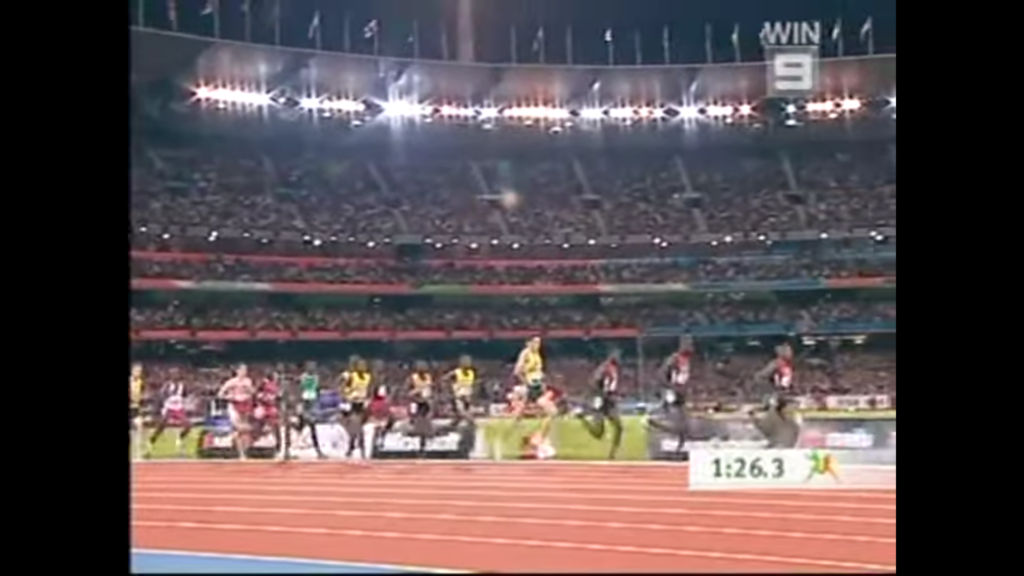 6:43 The Aussies love their sport and have packed out the stadium to cheer on Mottram — a reminder of how awesome it is when track is run in front of a huge crowd. And the Melbourne Cricket Ground, one of the world's iconic stadiums, is a fitting venue. As you might guess, it's best-known as a cricket ground, but with a huge pitch and a capacity of 100,000, it's hosted all sorts of iconic events since it opened in 1853 — two Cricket World Cup finals and the first-ever Test match (a big deal in cricket), the 1956 Olympics, and the annual Australian Football League Grand Final (the Aussie Super Bowl). It's unclear exactly how many were on hand for this race — Ovett says 80,000, the Herald Sun says 100,000 — but it sure feels like the place is full.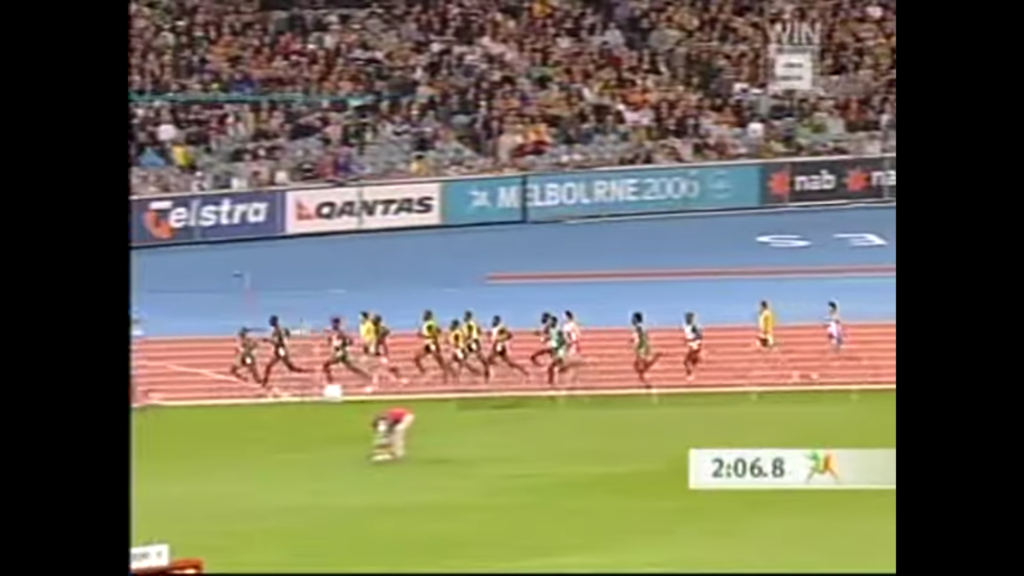 7:27 Choge backs off the pace on lap 2, coming through in 2:06.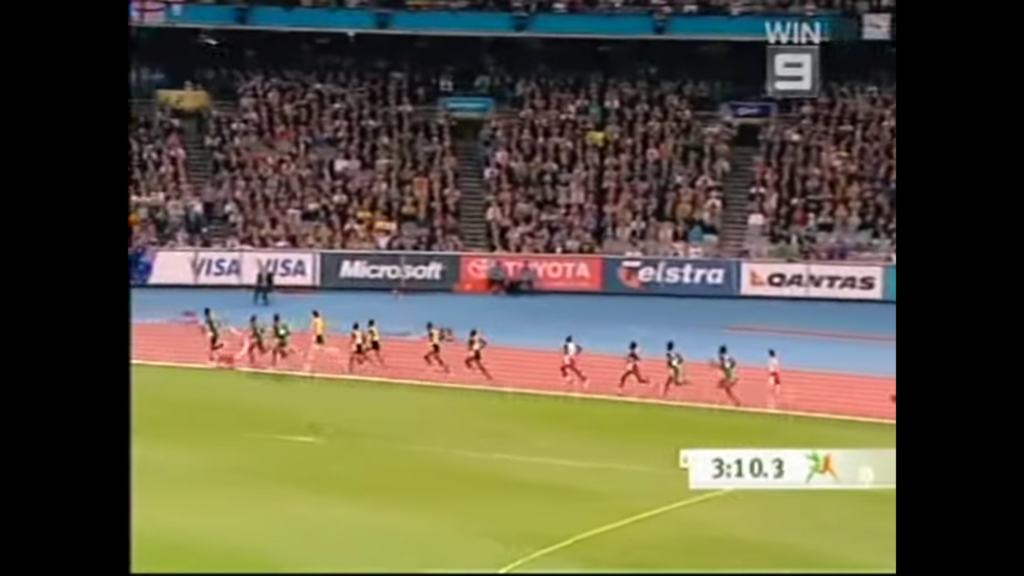 8:28 After Choge tows them through 1k in 2:39.54 (13:16 pace), Limo hits the front and picks it up. We're 1200m in and the pack is already stringing out. Farah is struggling to hold on, while Mottram finds himself in an African sandwich — three Kenyans in front of him, three Tanzanians behind.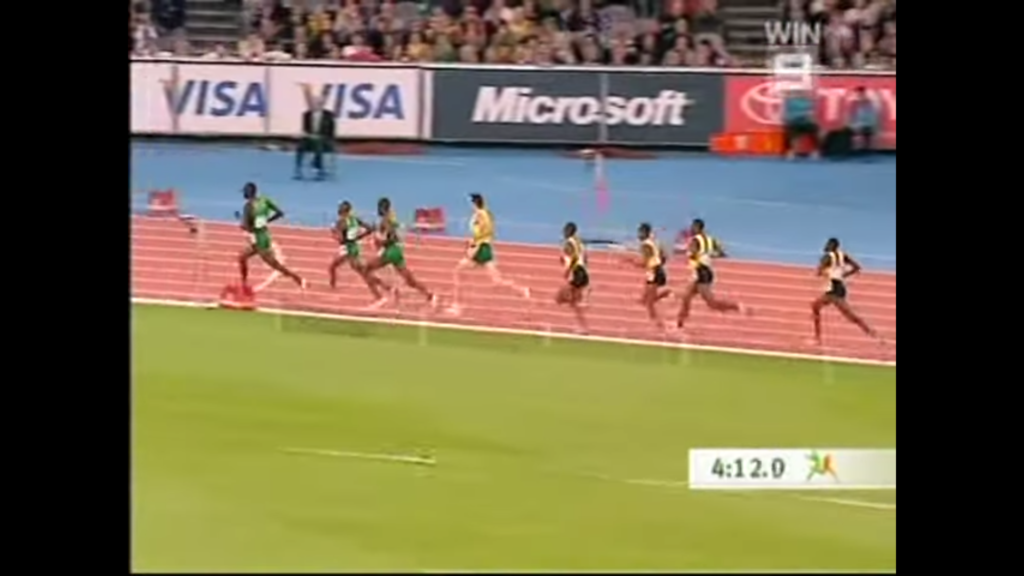 9:29 After a 62, Limo hits 1600 in 4:12 and the crowd can start to sense we may have something special going on.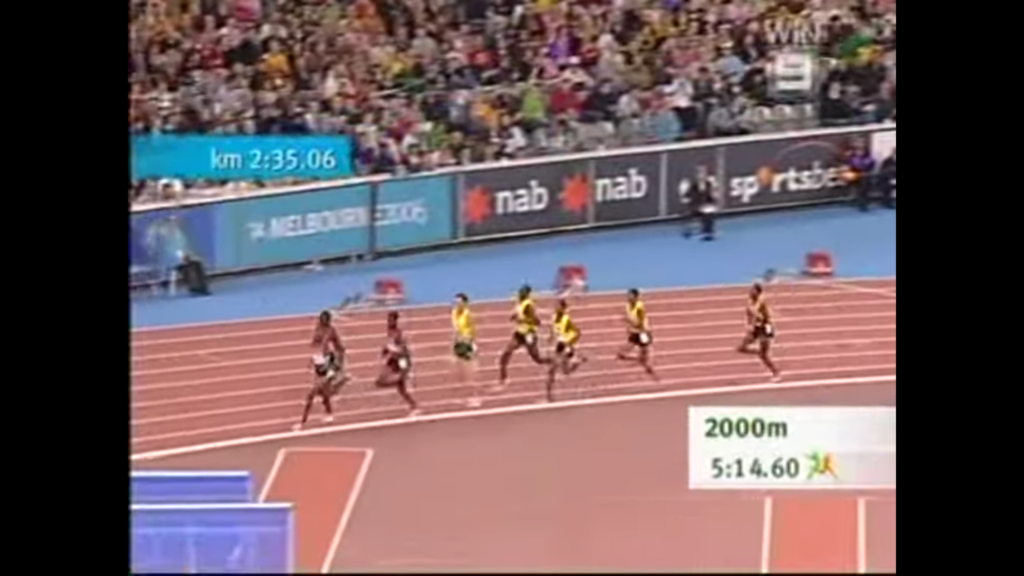 10:35 As they hit 2k in 5:14.60 (after a faster 2nd k of 2:35.06), Limo slides out to allow Choge to pass him — it's obvious now they're employing team tactics. Clearly, the Kenyans think a fast race suits them — even though Choge has a faster 1500 pb than Mottram (3:33 vs 3:35) and Limo beat Mottram at Worlds the previous year in a 13:32 race. Granted, Choge and Limo both have faster 5,000 pbs than Mottram as well — but not by much (12:53 for Choge, 12:54 for Limo, 12:55 for Mottram).
Mottram, for his part, is in a great spot, content to chill in fourth place and let the Kenyans worry about who is going to lead.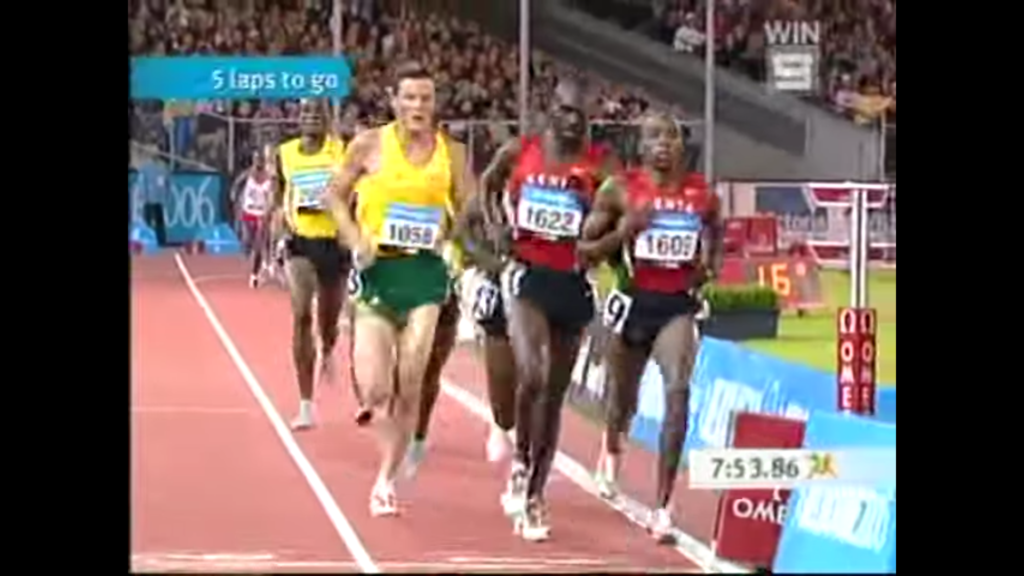 13:15 7:53.86 at 3k, and it's down to five up front: the Kenyans Choge, Limo, and future World XC champ Joseph Ebuya, Mottram, and Tanzania's Fabiano Joseph Naasi. Limo makes no effort to take the lead back; he's hurting. Choge, meanwhile, looks silky smooth up front.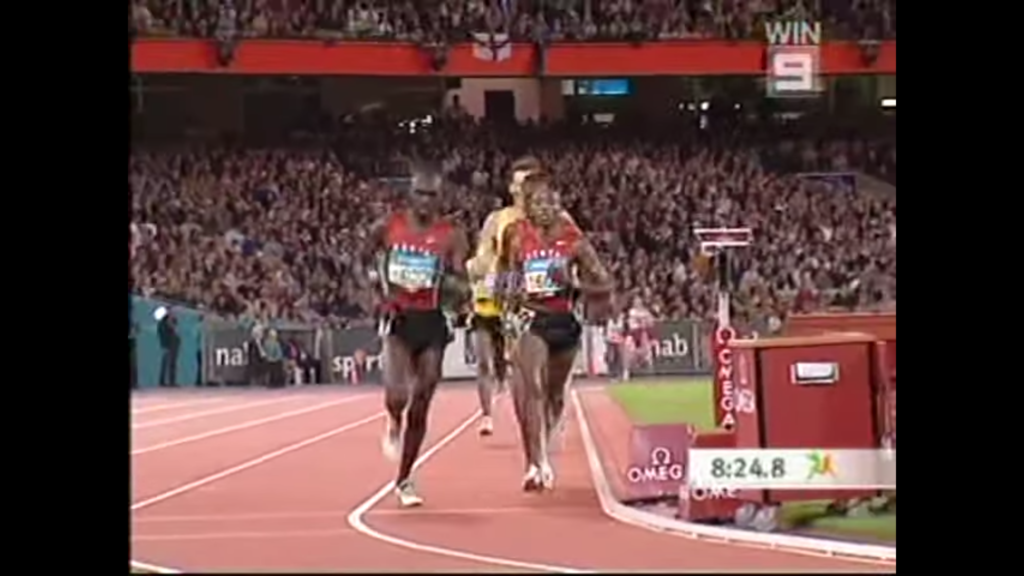 13:41 Wait a second, Limo's not dead yet! As they hit 3200 in 8:25, he pulls into the lead. I think he's worried that the Big Mazungo is still with them and doesn't appear to be hurting.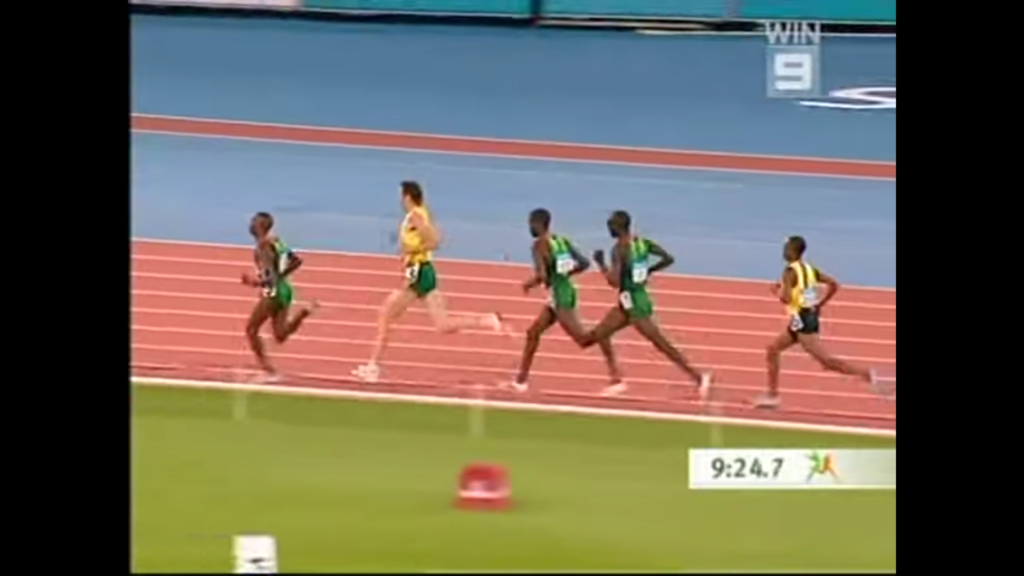 14:40 Limo's lead barely lasts 200 meters as first Choge, then Mottram and Ebuya pass him. With 1400 to go, we're entering the endgame: Choge and Mottram running 1-2, both looking full of run.
Ovett: "Choge's moving ahead. This is the danger man, and Craig knows it."
Side note: I want to hand out some praise to commentators Ovett and Terry McAuliffe. They did a fantastic job setting the scene during the introduction and have been brilliant calling the action and explaining the significance of each move.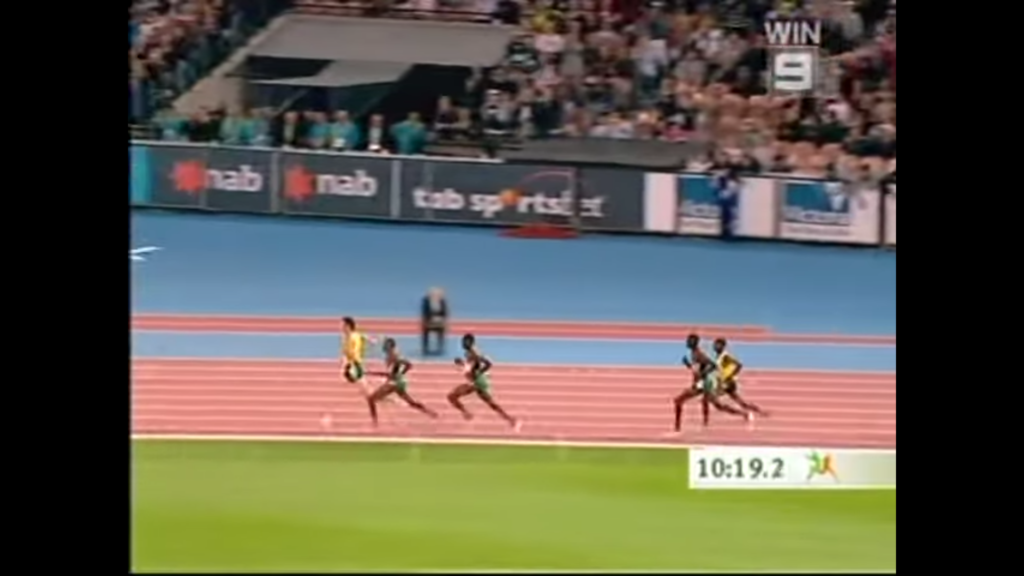 15:37 Oh boy! Mottram to the front with 1100 to go. The crowd, which was already loud, goes bonkers.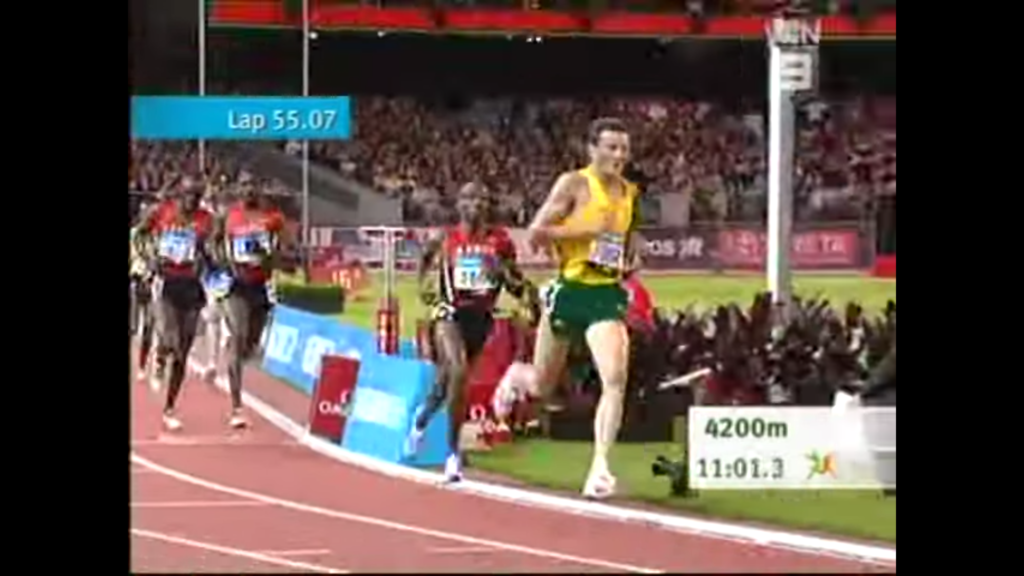 16:16 Mottram drops a 60 (ignore the split above, it's wrong) for his third-to-last lap, and he and Choge are starting to separate now. Mottram later told the Herald Sun:
"The plan was to go to the front four laps to go if it was slow, three laps if it was a strong pace and two if it was really quick."
You might argue that a race in which Mottram wound up running 12:58 qualifies as a "really quick" pace as opposed to "strong." Regardless, Mottram always intended to go from a ways out.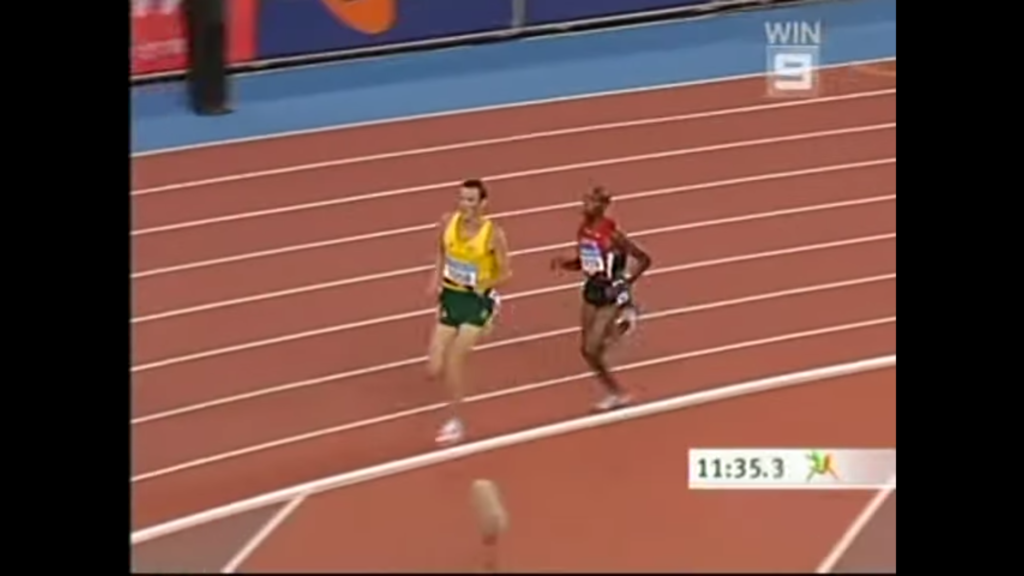 16:54 450 to go. Mottram doesn't look bad. But Choge, with his low arm carriage, still looks so comfortable, his looping stride opening up as the pace quickens.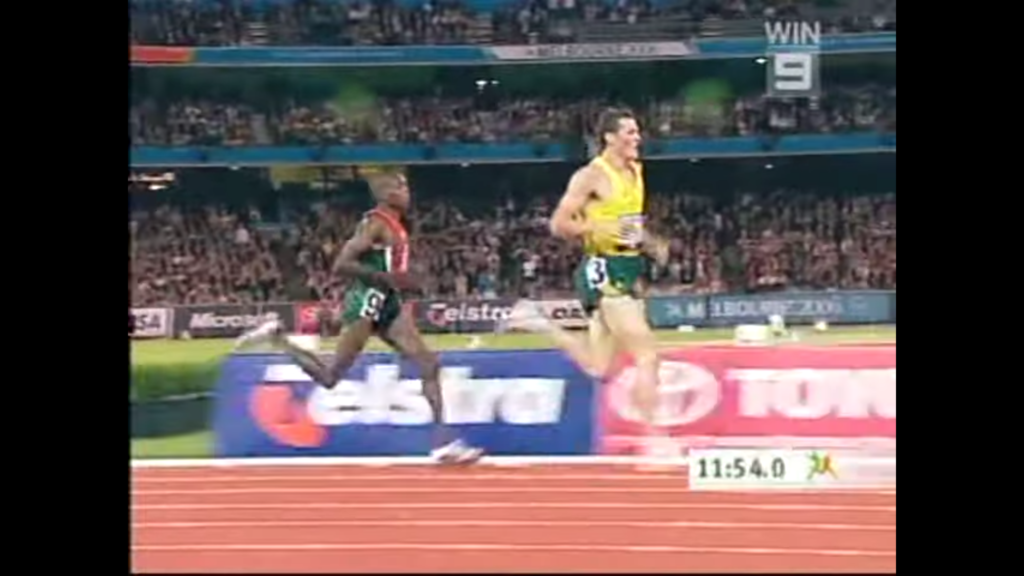 17:14 A 59 takes us to the bell to set up a final-lap duel. Mottram starts to shows a hint of discomfort. Choge does not.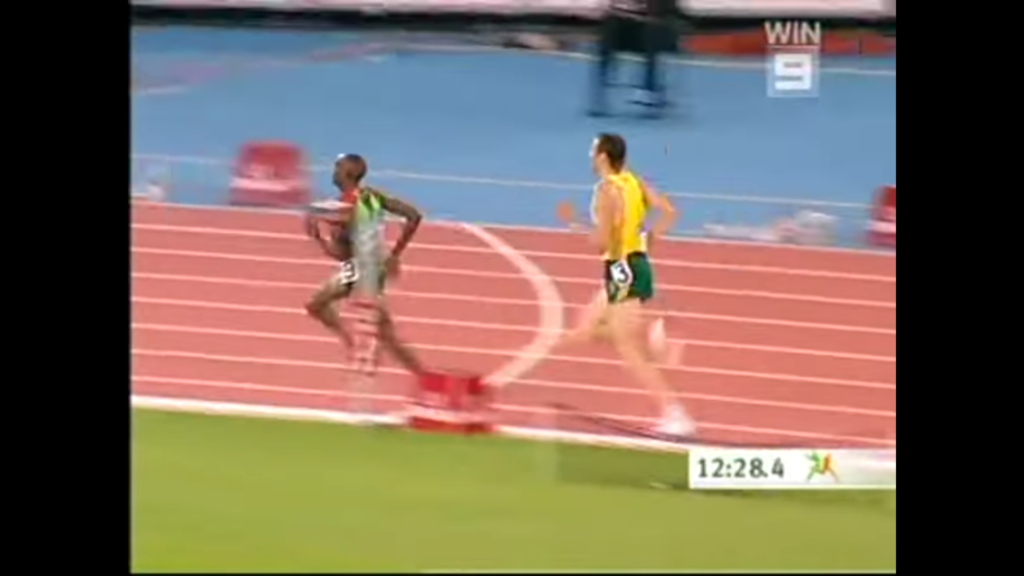 17:46 Choge passes Mottram with 250 to go — his stride is enormously long now. Mottram is all-out, doing everything he can to prevent the gap from growing.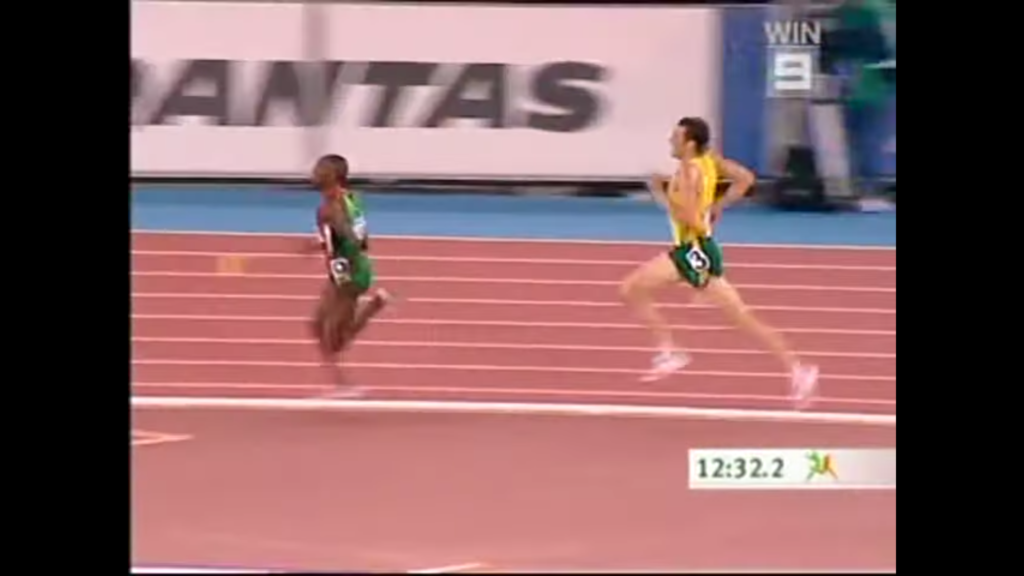 17:51 Choge steals another meter. But it's still not over yet…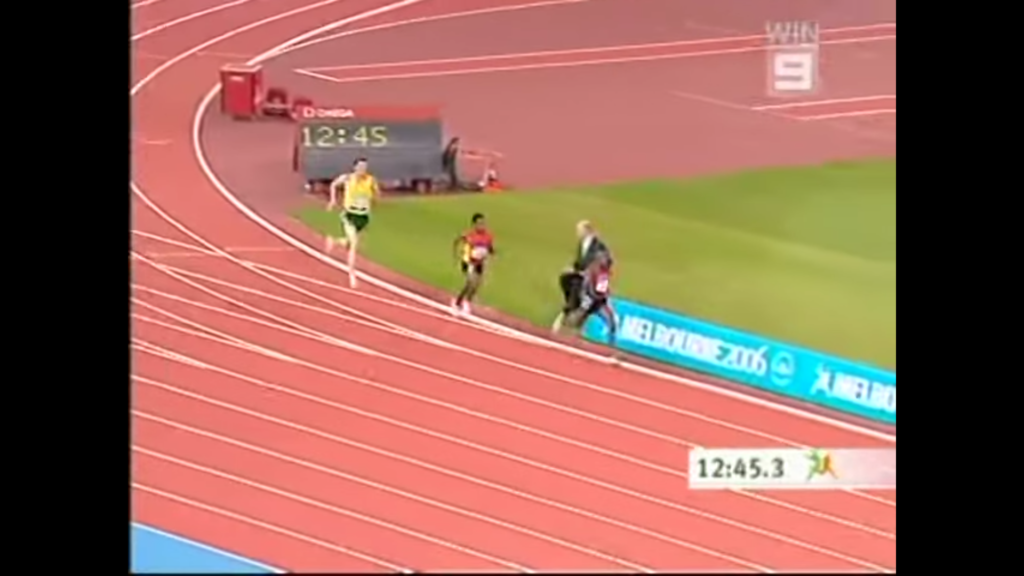 17:55 Okay, now it's over.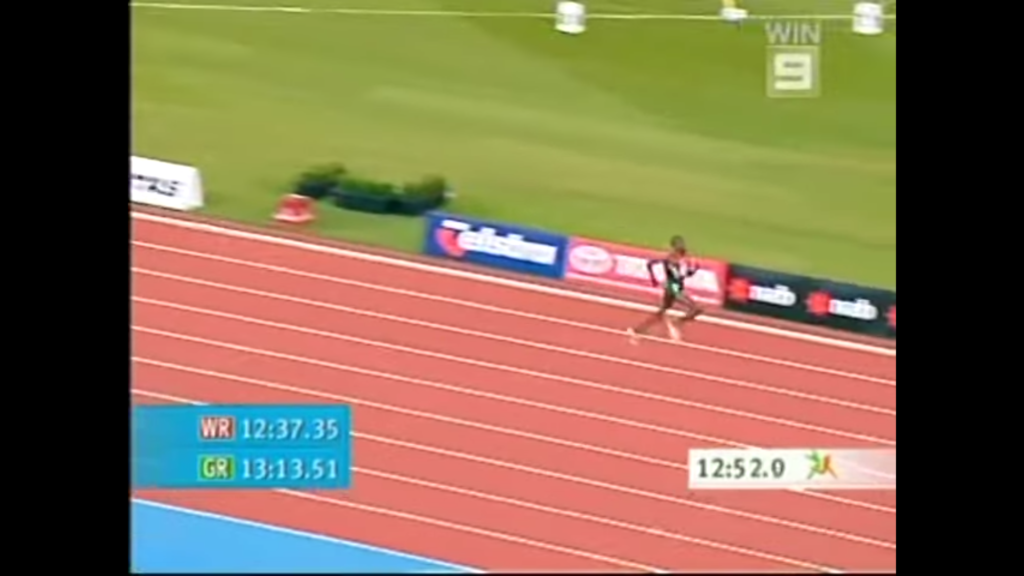 18:09 It's really not fair to Mottram that he doesn't even get to finish in the same frame as Choge, who wins in 12:56.41 to Mottram's 12:58.19. But damn, Choge turned it on over the last 100. A magnificent run, with a 57.25 last lap (actually slightly faster since Mottram was leading at the time) capping a 3:59.71 final 1600.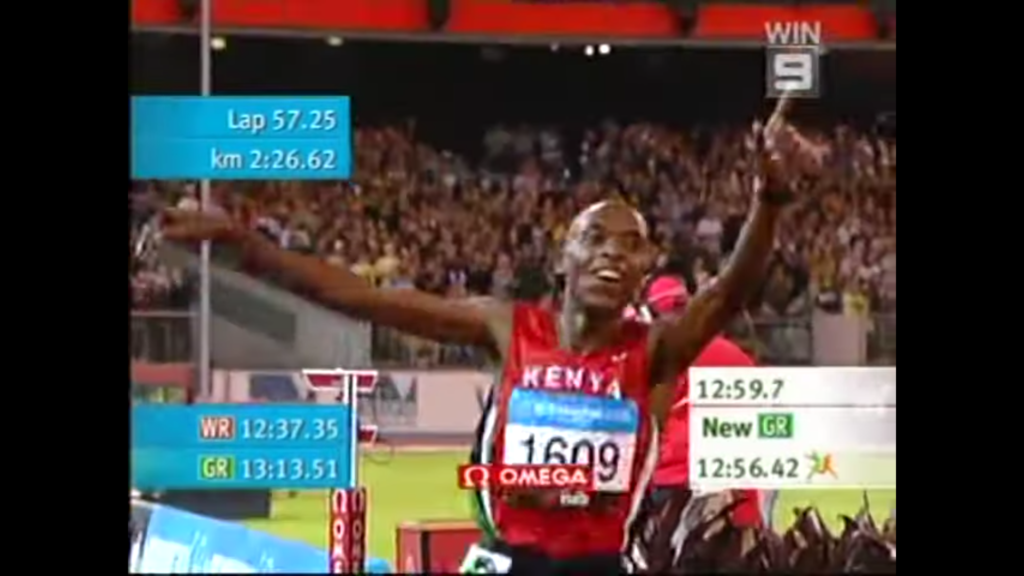 18:19 Choge in dreamland.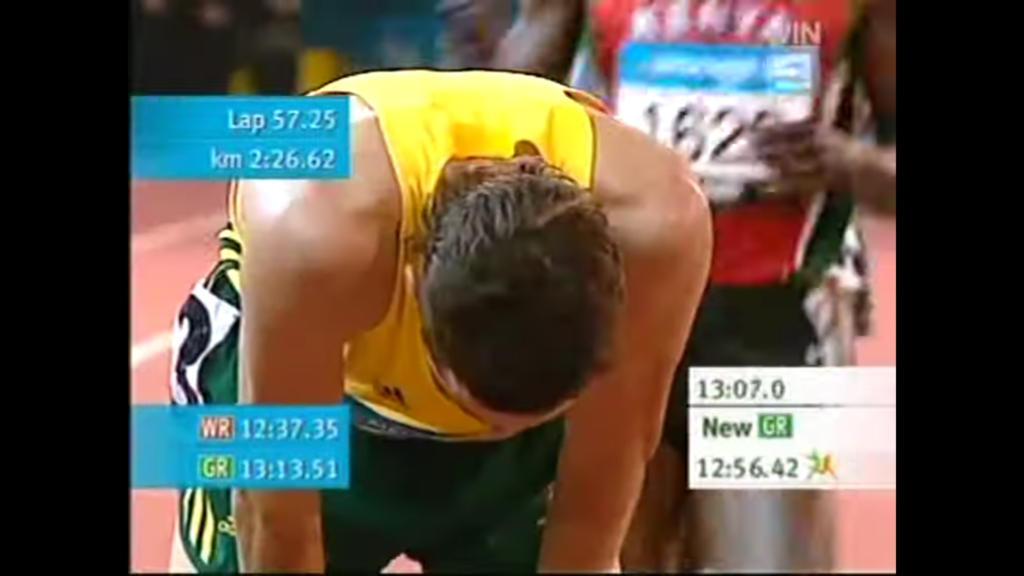 18:23 Mottram, exhausted.
Ovett: "That was one of the greatest 5,000-meter races I've ever seen, not only in a championship, but anywhere."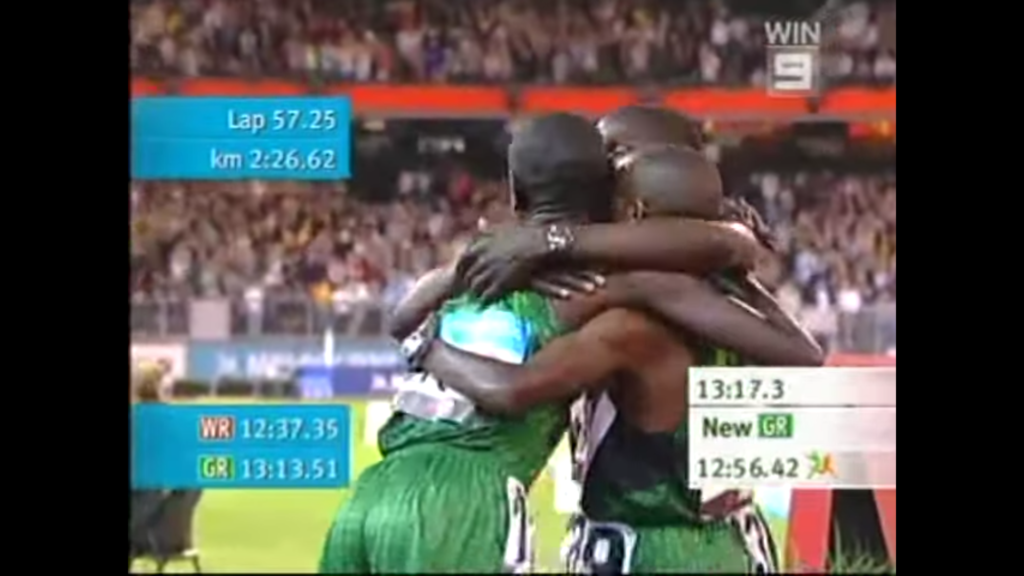 18:35 The Kenyans celebrate Choge's gold…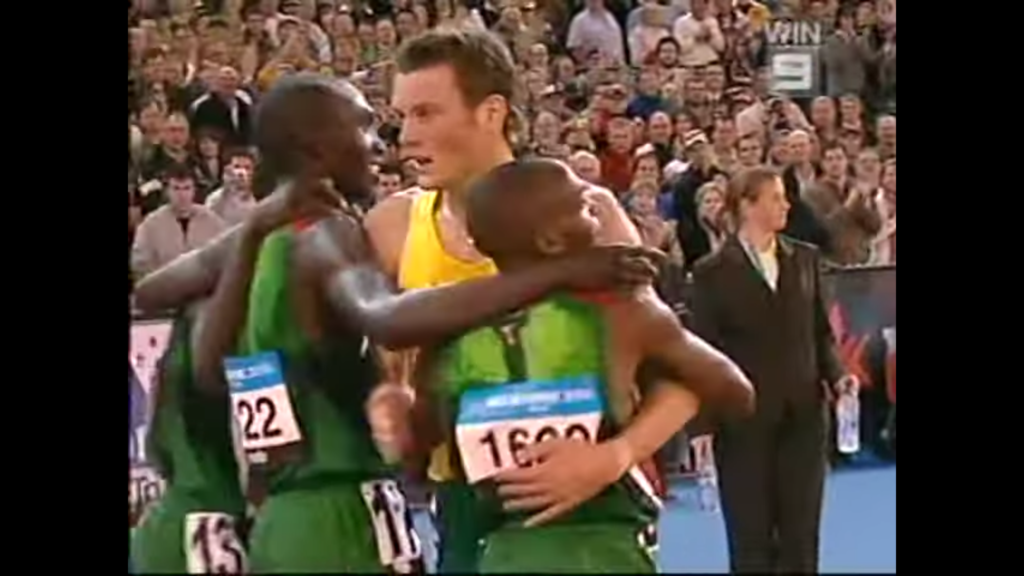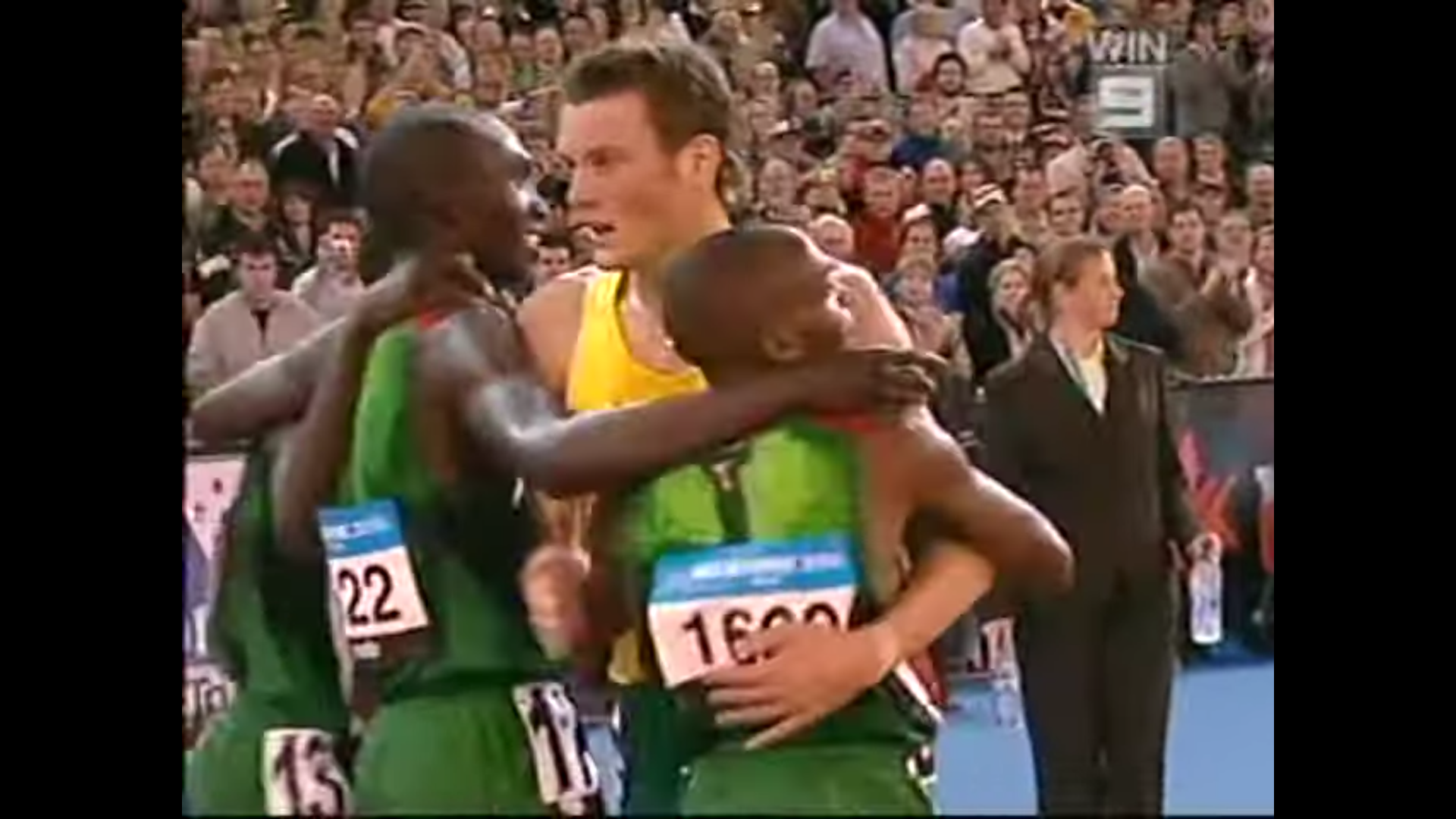 18:40 …before congratulating Mottram on a spectacular silver. Terrific sportsmanship.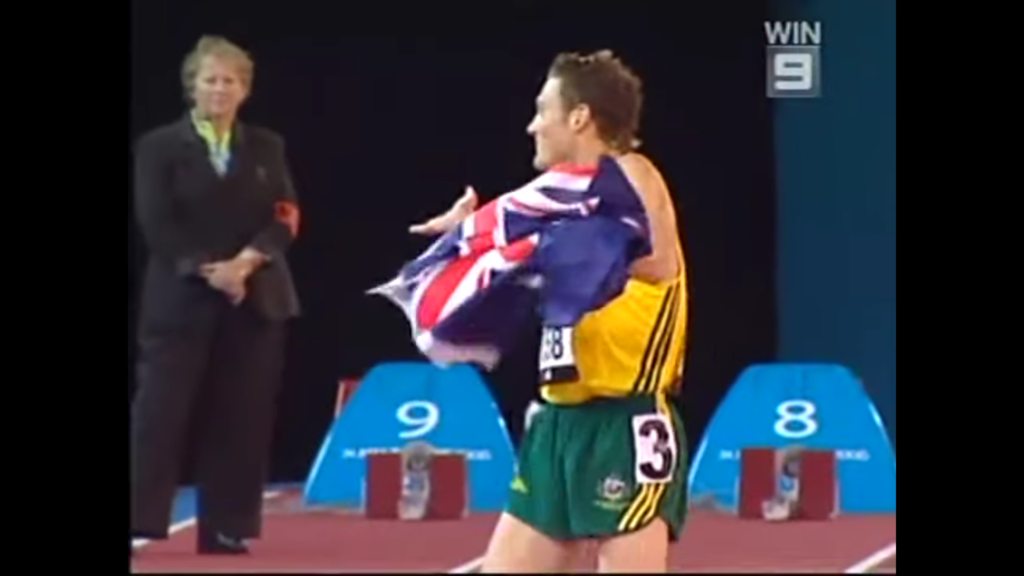 23:20 Mottram, finishing up his victory lap, bows to the fans, then shrugs. I'm with him. He couldn't have done anything more to win this race.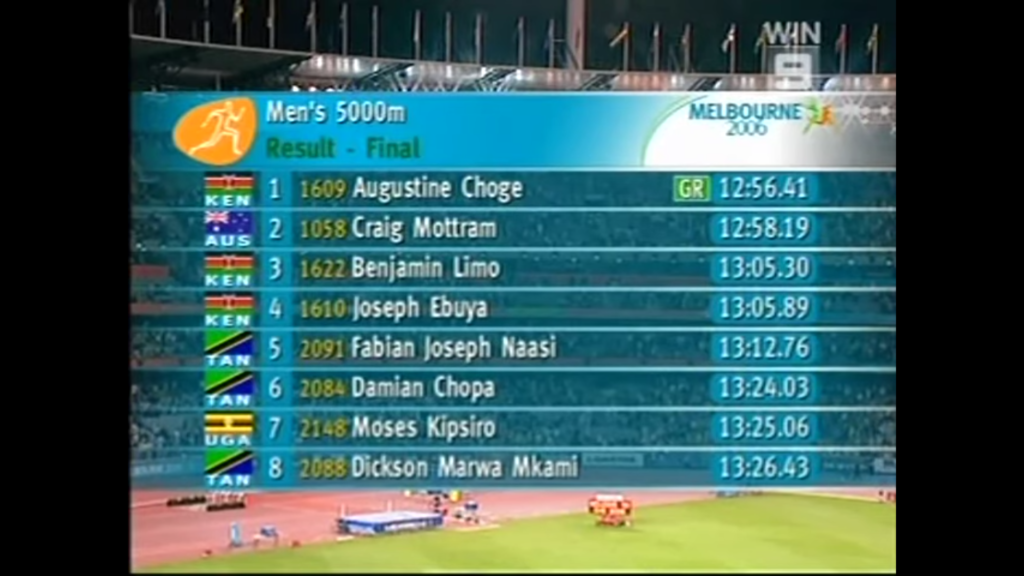 26:31 Final results. Choge's 12:56.41 remains the second-fastest winning time in a championship race — only Eliud Kipchoge's 12:52.79 at the 2003 Worlds tops it. The two men are now training partners.
One final note: Mottram bounced back and made the final of the 1500, which was run five days later. But, through no fault of his own, Mottram was clipped from behind, fell, and wound up 9th, well back of the winner, a young Kiwi by the name of Nick Willis.
Talk about the race on our world famous fan forum/messageboard. MB: Time flies. Happy 40th birthday Craig Mottram. We celebrate by featuring your 2006 CG silver on Throwback Thursday
***
That's it for this week. Check back next Thursday for the next installment.
Previous:
*TBT #10: I Was Bored, So I Watched Eliud Kipchoge & Kenenisa Bekele's Duel at 2005 World XC
*TBT #9: I Was Bored, So I Watched Joan Benoit Samuelson Win the 1984 Olympic Marathon
*TBT #8: I Was Bored, So I Watched Alan Webb Run 3:53 as a High Schooler at the 2001 Prefontaine Classic
*TBT #7: I Was Bored, So I Watched the 2008 NCAA Cross Country Championships
*TBT #6: I Was Bored, So I Watched the Men's Steeple at the 2003 World Championships
*TBT #5: I Was Bored, So I Watched the 1983 World Cross Country Championships
*TBT #4: I Was Bored, So I Watched Galen Rupp, Matt Withrow, & Jenny Simpson at the 2003 Foot Locker Championships
*TBT #3: I Was Bored, So I Watched the Insane 2007 World Cross Country Championships in Kenya
*TBT #2: I Was Bored, So I Went Back and Watched Ritz, Webb, & Hall Battle at the 2000 Foot Locker Cross Country Championships
*TBT #1: I Was Bored, So I Went Back and Watched the 1998 NCAA Cross Country Championships