Joyciline Jepkosgei Dazzles in Marathon Debut, Just Misses Course Record to Win 2019 NYC Marathon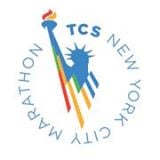 November 03, 2019
By LetsRun.com
November 3, 2019
NEW YORK — There is a new queen in New York City.
Half-marathon world record holder Joyciline Jepkosgei of Kenya had a very successful marathon debut as she ran away from four-time New York City champion Mary Keitany over the final five miles to win the 2019 TCS NYC Marathon in 2:22:38, coming up just short of Margaret Okayo's course record of 2:22:31 from 2003. Keitany held on for second in 2:23:32 as Ruti Aga of Ethiopia was third, Nancy Kiprop of Kenya fourth, and masters runner Sinead Diver of Australia rounded out the top 5.
Article continues below player
American Des Linden, who led the race from mile 9 to mile 13, was the first American in sixth in 2:26:46, just ahead of Kellyn Taylor in seventh in 2:26:52. Sara Hall, running just five weeks after her 2:22 in Berlin, dropped out just before 30k with stomach issues.
The race

A pack ran together in this one until Linden started to push the pace during the 9th mile. Linden opened up a gap on the field, and by mile 12 her lead was 12 seconds. But the chasers closed the gap the next mile and caught Des by mile 13 as a lead pack of 5 (Jepkosgei, Keitany, Aga, Kiprop, and Linden) went through halfway in 1:11:39.
Des had stirred the beast and during the 5:16 14th mile Aga, Keitany, and Jepkosgei pulled away from Linden and Kiprop. Aga, Keitany, and Jepkosgei would run together over the Queensboro Bridge and up 1st Avenue through Manhattan. After they entered the Bronx, Aga began to fade, and by mile 21 when Keitany and Jepkosgei re-entered Manhattan it was a two-woman race.
Keitany and Jepkosgei ran side by side through Harlem approaching Central Park, but then during mile 23, Jepkosgei pushed the pace a little, running a 5:23 mile. Keitany could not respond and Jepkosgei opened up a five-second gap.
The hills of Central Park awaited the marathon novice Jepkosgei, but she handled the uphill 24th mile with aplomb (5:33), lengthening her lead to 15 seconds. Now it was a matter of seeing if Jepkosgei could survive the net downhill, rolling final two miles of New York.
Jepkosgei did much better than survive as she ran her fastest mile of the race for mile 25, 5:17 and opened up a 27-second gap with a mile and a quarter to go. Unless she fell apart the final mile, victory was hers. She kept up the strong running with a 5:20 26th mile to get the win, and get close to the course record. A super successful marathon debut.
Quick take: Joyciline Jepkosgei more than impresses in her marathon debut
With the world record in the half marathon, Jepkosgei had better credentials on paper than anyone to be a successful marathoner, but today's big success was far from guaranteed. After all, she had postponed her marathon debut twice and since she tore apart the road record books in 2017, setting seven world road records and earning LetsRun.com Runner of the Year, she had not run nearly as fast on the roads. In 2018, she won no races on the roads and barely came within two minutes of her half marathon PB. In 2019, she did win the NYC Half and the Beach to Beacon road race, but there were a lot of question marks surrounding her as she made her marathon debut.
She handled them with ease and dispatched the second-most successful runner in New York history over the difficult final miles. Afterwards, Jepkosgei said her management team wanted her to make her debut in New York because she had success here in the half marathon. Despite her success at flat road races, her team also clearly thought she could handle a difficult course, as she was previously slated to make her marathon debut last year in Honolulu.
Instead of feeling a lot of pressure with her debut, Jepkosgei said she had none. "I didn't have any pressure at all," she said. "I didn't actually know I could win."
Running with a clean mind, she got it done.
Quick Take: Des Linden went for it and had no regrets
After the race, Linden was asked about her aggressive early running and she explained she decided to go for it as she's got nothing to lose.
"I'd say today that I probably went out in a little different fashion than I normally do, which was aggressively. I felt like we had great conditions and there was a little bit of a tailwind in those early miles — so just use it while you can. I'm a the point in my career where coming in, the mantra was, 'Swing away.' Just see what happens, take some chances," said Linden, who added she was shooting for Kara Goucher's American course record of 2:25:53.
"You don't know if you have anything left or if you're ready for one last breakthrough unless you swing away. It was fun to just go and try that today. About mile 19 or 20, I was cursing on the inside but I held it together."
We asked Linden to grade herself and she proved to be a tough grader.
"B-. I would have loved to close that down better. I think I could have raced a little more strategically but extending myself was fantastic and then not really folding when it got hard late [was good]. I really fought the whole time. I just wish I was a little stronger during those late miles," said Linden.
As for the February 29 Olympic Marathon Trials, Linden was non-committal. "I extended a lot right there so I'm going to see how I recover and then make that decision, although I know you guys want an answer."

When we asked Linden if she was aware of the fact that Kellyn Taylor was only seconds behind her entering the final mile and if that provided extra motivation, Linden replied with a classic, "I don't want anyone beating me," but then added that top American honors are meaningful and have monetary ramifications. She said given how competitive Taylor is and how great a year she's been having she considers beating Taylor to be a nice scalp.
Quick take: What's next for Mary Keitany? For the first time since 2011 she has run a marathon and not won a Major
Mary Keitany made her marathon debut in 2010 finishing third in New York. In every year since where she competed (she took off the 2013 season), she has won a World Marathon Major until this year. She has been one of the world's best marathoner, but now one has to wonder at age 37, ifKeitany's best years are behind her.
Des Linden addressed this at the post-race press conference. "Mary is what 37 so at some point it's going to be a changing of the guard. Joyciline has been fantastic in the half and to step into her first marathon, her debut and knock it out of tge park and beat one of the greats sets her sets her up really well," Des said.
The only thing really missing from Keitany's resume at this point is an Olympic medal, and to get that she'll have to get on the Kenyan Olympic team which is no sure thing, especially considering she somehow was left off the 2016 Kenyan Olympic team.
Leading results and mile by mile leader splits appear below.
Top 50 Results
Women's leader's splits
Mile 1: 5:50 (uphill)
Mile 2: 5:20 (downhill)
Mile 3: 5:17
Mile 4: 5:33 (22:11)
Mile 5: 5:22
Mile 6: 5:24
Mile 7: 5:34
Mile 8: 5:35
Mile 9: 5:25 Linden has the lead.
15K: 51:10 for Linden, she has a six-second lead on the pack.
Mile 10: 5:17 (54:46 – 2:23:35 pace)
Mile 11: 5:28 Des has an 11 second lead on Keitany
Mile 12: 5:15 – 12-second lead for Des
Mile 13: 5:22 Des has now been caught by jepkosgei, aga, keitany, and kiprop as they ran like 5:11
HALF: 1:11:39. Keitany now pushing, it's a five-woman pack of her, aga, kiprop and linden. Now shortly after the half, keitany, aga, and Jepkosgei have dropped kiprop and linden.
Mile 14: 5:16
Mile 15: 5:32
Mile 16: 5:39 (1:27:26 – 2:23:15 pace)
Mile 17: 5:26
Mile 18: 5:27 37 second lead for top 3 over 4th and 5th.
Mile 19: 5:27 Aga falling back now approaching 20 miles
Mile 20: 5:20 – 1:49:05
Mile 21: 5:26
Mile 22: 5:27 Jepkosgei opening slight lead on Keitany.
Mile 23: 5:23 5 second lead for Jepkosgei
Mile 24: 5:33
Mile 25: 5:17
Mile 26: 5:20 (2:21:28)
26.2: 2:22:38
Talk about the race on our messageboard.