WTW: The Winners And Losers From USAs + Ronald Kwemoi Breaks the 1500 WR* and Mo Farah Breathes Easy
The Week That Was In Running – June 19 – June 25, 2017
by LetsRun.com
June 28, 2017
Past editions of the Week That Was can be found here. Got a tip, question or comment? Please email us or post in our forum.
Article continues below player
If you missed our on-site coverage of the 2017 USATF Outdoor Championships from Sacramento, catch up now:
LRC 2017 USA Outdoor T&F Coverage.
*****
Performance of the Week / Ronald Kwemoi Breaks The 1500 World Record*
Really Good News For Mo Farah / Bad News For US 1500 Runners
Most of this recap is going to take one last look at the USA Outdoor champs but we've got to start with an amazing performance at the Kenyan Trials. In the men's 1500, 2017 Pre Classic winner Ronald Kwemoi ran the fastest 1500 ever on Kenyan soil to win in 3:30.89. Timothy Cheruiyot wasn't too far behind (3:31.05) as Elijah Mananogi was third in 3:32.03.
3:30.89 is fast no matter where it's run – at the time, it was the 2nd best time in the world in 2017 – but remember, the Kenyan Trials were held in Nairobi, which is at 5,889 feet of altitude.
If one applied the NCAA conversion to the performance, Kwemoi's time converts to…. Are you ready?
3:24.90.
Does that mean we think Kwemoi is in world-record shape? No. The NCAA's altitude conversion is too generous for people born at altitude, but it does mean he's in monster shape.
However, the result should make Mo Farah feel REALLY good. Since coach Renato Canova has already guaranteed that Kwemoi will win 2020 gold at 5000, we viewed Kwemoi as the guy with the best chance of beating Farah in London 2017 at 5000 and for good reason – Kwemoi and Farah have identical 1500 pbs of 3:28.81. With Kwemoi in the 1500, Kenya's 5000 team is very weak. The winner of the Kenyan Trials – 25-year-old Cyrus Rutto – has a 13:03 pb and was smoked by two seconds at the adidas Boston meet by Muktar Edris.
Conversely, with Kwemoi in the 1500, the odds of a US medal in that event took a big hit. The worst Kenyan miler on the team right now might be Asbel Kiprop as the top 3 at the Kenyan Trials all ran under 3:50 at Pre.
###
In the men's 10,000 at the Kenyan Trials, Geoffrey Kamworor ran 27:35.9 to win, over four seconds ahead of Bedan Karoki. Running 27:35 at altitude may seem unfathomable to a Westerner but it's nothing for Kamworor. In 2015, he ran 27:11.89 in Kenya.
Here are the top 3 in each of the distance events at the Kenyan Trials, as well as World Championship team. Everyone in the top 3 is on the team except for UTEP freshman Michael Saruni as Kenya went with 2016 Diamond League winner Ferguson Rotich instead.
Men's 800
1. Emmanuel KORIR 1:43.86
2. Kipyegon BETT 1:44.04
3. Michael SARUNI* 1:44.61
4. Ferguson ROTICH 1:44.86 DL Champ
DNC – David Rudisha – WChamp
Women's 800
1. Margaret WAMBUI 1:59.68
2. Eunice SUM 2:00.03
3. Emily CHEROTICH 2:00.18
Men's 1500
1. Ronald KWEMOI 3:30.89 ACR
2. Timothy CHERUIYOT 3:31.05
3. Elijah MANANGOI 3:32.03
DNC – Asbel Kiprop – WChamp
Women's 1500
1. Faith KIPYEGON 4:05.71
2. Winny CHEBET 4:06.74
3. Selah JEPLETING 4:09.45
Men's Steeple
1. Conseslus KIPRUTO 8:19.75
2. Brimin KIPRUTO 8:19.87
3. Jairus BIRECH 8:20.01
DNC – Ezekiel Kemboi – WChamp
Women's Steeple
1. Celliphine Chepteek CHESPOL 9:34.03
2. Beatrice CHEPKOECH 9:34.04
3. Purity KIRUI 9:38.47
DNC – Hyving KIYENG – WChamp
Men's 5000
1. Cyrus RUTTO 13:31.5
2. Davis KIPLANGAT 13:31.7
3. Geoffrey KOECH 13:33.9
Women's 5000
1. Hellen OBIRI 15:28.89
2. Margaret CHELIMO 15:30.71
3. Sheila CHEPKIRUI 15:33.57
Men's 10,000
1. Geoffrey KAMWOROR 27:35.9
2. Bedan KAROKI 27:40.3
3. Paul TANUI 27:42.6
Women's 10,000
1. Agnes TIROP 31:56.0
2. Irene CHEPTAI 31:56.4
3. Alice Aprot NAWOWUNA 32:16.7
*Will not compete at Worlds
More: MB: WOW: UTEP's Emmanuel Korir and Michael Saruni go 1-3 in 800 at Kenyan Trials – Korir has already gone pro!!
*MB: Official Thread: Athletics Kenya Trials for IAAF World Championships, London 2017
****
Hardest and Easiest U.S. Teams To Make — Sign Us Up For The 1500? Avoid The Women's 400 Hurdles At All Costs
We thought it would be fun to take a look at which events are the hardest and easiest to qualify for Team USA in. Rather than be subjective, we decided to let the facts speak for themselves. In the following chart, you'll see the number of Americans with a top-5 or top-10 mark in that event this year.
| | | | | |
| --- | --- | --- | --- | --- |
| Event | Top 5 M | Top 10 M | Top 5 W | Top 10 W |
| 100 | 3 | 5 | 1 | 3 |
| 200 | 2 | 3 | 3 | 6 |
| 400 | 4 | 6 | 3 | 5 |
| 110/100h | 2 | 3 | 3 | 5 |
| 400h | 3 | 4 | 5 | 6 |
| 800 | 3 | 3 | 2 | 4 |
| 1500 | 0 | 0 | 0 | 0 |
| Steeple | 0 | 1 | 0 | 2 |
| 5k | 0 | 1 | 0 | 0 |
| 10k | 0 | 2 | 0 | 1 |
| marathon | 0 | 0 | 0 | 0 |
| LJ | 0 | 2 | 3 | 4 |
| TJ | 3 | 4 | 0 | 1 |
| HJ | 0 | .5* | 1 | 1.67** |
| PV | 1 | 1.75*** | 2 | 1.17**** |
| shot | 3 | 4 | 3 | 4 |
| discus | 0 | 1 | 1 | 2 |
| hammer | 0 | 0 | 1 | 3 |
| javelin | 0 | 0 | 0 | 0 |
| multi | 0 | 1 | 0 | 3 |
*2 guys are in a 12-way tie for 8th
**2 women are in a 9-way tie for 9th
*** 3 guys are in a 4-way tie for 10th
****1 woman is in a 6-way tie for 10th
Based on that, it's clear the women's 400 hurdles is the hardest event to make. In that event, the US has the top 6 times in the world. High school sensation Sydney McLaughlin got what may have been the perfect long-term result. The Olympian PR'd and got a new world U20 record but missed the team. Why is that a good result? It didn't seem that McLaughlin enjoyed the pressure of big pro-level meets last year. So she proved she's still progressing but as she said, now she gets to go the beach and enjoy the summer.
All of the sprint/hurdle teams are incredibly hard to make in the US as in every sprint/hurdle race there is at least one American in the top 5 in the world this year with an average of 2.9 per event. On the men's side, the 400 is stacked as the US holds 4 of the top 5 times in the world so far in 2017, making Wil London III's qualification all the more impressive. London, a sophomore at Baylor who won the Big 12 outdoor title as both a frosh and sophomore, was only 8th at NCAAs. At USAs, he made the team by running a massive pb out of lane 1 and impressed legendary 400 coach Clyde Hart in the process. Hart, who coached Olympic champions Michael Johnson, Jeremy Wariner and Sanya Richards-Ross and last week received the USATF Legend Coach Award, told us it was "easily one of the top performances I've had a quarter miler do under the circumstances."
Of course, one thing that helps in the women's 400H and the men's 400 is that the US gets four entries in each event as they possess the reigning DL champs (Cassandra Tate and LaShawn Merritt).
In terms of the mid-d and distance events on the track, based on the number of top 10 marks in 2017, the 1500 is the easiest one to make as there isn't a single American in the top 10 in the men's or women's 1500 (based on time) so far this year. Looking at the field events, Team USA is doing very well in the shot put this year as both the men and women have 3 of the top 5 performers so far in 2017.
More: LRC 19-Year-Old Wil London Runs Huge PR Out Of Lane 1 To Make Worlds And Coaching Legend Clyde Hart Says It's "Easily one of the top performances I've had a quarter miler do under the circumstances."
****
They Went Home Devastated
Coming out of USAs, we felt like the following people went home the most devastated.
#1 Clayton Murphy – He came into USAs as the #1 ranked man in the world in the 800, looking for legendary status as he was attempting to pull of the first 800/1500 double in 84 years. Now the Olympic bronze medalist will experience Worlds just as you will – by watching it on TV.
#2 Jeff Henderson – The Olympic long jump champ had the best wind-legal jump at USAs at 27-2 (8.28m) but he only ended up fifth as Oregon's Damarcus Simpson grabbed the third spot with a 27-5.25 jump in the sixth round that was aided by a massive 5.0 m/s wind (4th placer Jarvis Gotch jumped 27-2.75 with a 2.4 m/s wind). However, Henderson may still go to Worlds as Simpson and Gotch haven't yet achieved the 8.15 standard with a wind of less than 2.0 m/s.
But Henderson as of right now is getting screwed in two ways. First by the wind and then by the IAAF. Why the IAAF gives auto entries to people who won Worlds two years ago but not to the Olympic champs from last year is beyond us. Giving byes to the 2017 world champ in 2019 makes sense as there are no Worlds in 2018. But in the year after the Olympics, the bye should go to the Olympic champ.
#3 Craig Engels – Engels can relate to Prefontaine in more ways than just the mustache and long hair. Sometimes in going for gold, you end up fourth. Engels showed he had no fear as he went into the lead ahead of Olympic champ Matthew Centrowitz with less than 100 meters to go in the men's 150,0 but ended up tying up and getting passed at the line by Johnny Gregorek for the third spot (assuming Robby Andrews gets the standard).
Interesting fact about Gregorek – the son of 1984 US Olympic steepler John Gregorek who went to Columbia and then Oregon for a year of grad school – he never won an Ivy League 1500/mile title and now he's a US World Championship team member.
Note: originally we said Gregorek had never won an Ivy League title, but that was incorrect — he won the steeplechase in 2013.
Interesting fact about his dad. John has held the US junior steeplechase record since 1979. It is 8:33.8.
Speaking of the steeple, to everyone who thinks American steepling is at unprecedented heights in 2017: that may be true, but the top 3 at the 1984 Trials all ran faster than their respective places at USAs in 2017.
Top 3 at 1984 Olympic Trials
1. Henry Marsh 8:15.91
2. Brian Diemer 8:17.00
3. John Gregorek 8:18.45
Top 3 at 2017 USAs
1. Evan Jager 8:16.88
2. Stanley Kebenei 8:18.54
3. Hillary Bor 8:18.83
###
Of course, one also can feel a lot of sympathy for fourth placers Ben True and Erik Sowinski as they did a ton of work in their races before losing out. Andy Bayer was also fourth in the steeple, and he's got to be sick of it at this point — it was his third straight fourth-place finish (and fourth overall, as he was also fourth in the 1500 in 2012, though he didn't have the standard).
****
Their Dreams Became Reality
#1 Sara Vaughn – Heading into USAs, the 31-year-old realtor and mother of three faced stiff odds of making Worlds. For starters, she had only made two US finals during her career at 1500 (career-highest finish was 7th) and the 3 spots in the 1500 appeared to be largely accounted for before the meet even began. The 3rd and 4th placers, Jenny Simpson and Shannon Rowbury, were in the field, as was Olympic 800 finalist Kate Grace had moved up to the 1500 this year and came in with the top seed time.
However, Rowbury struggled doubling back from the 5000 and a spot was there for the taking. Vaughn, surprisingly, was the one who took it.
#2 Drew Windle – The 24-year-old former D2 star whacked .07 off his PB in the final of the 800, where he ran 1:44.95 to punch his ticket to London. Windle should enjoy the experience in London as getting back on a World Championship team will not be easy in the years to come if Murphy and 2016 world indoor champ Boris Berian (who didn't compete this year due to injury) come back into the event in good health.
#3 Raven Saunders – Unlike Windle and Vaughn, Saunders has been a high-profile athlete for years. The 2014 world junior silver medallist in the shot has already won four NCAA titles and was fifth at the Olympics last year. However, she was suspended from the Ole Miss team for most of the spring and was only fourth at NCAAs a few weeks ago. She made up for that disappointment at USAs, however, by coming up with a massive 64'10" (19.65m) sixth-round throw that moved moved her from fourth to first.  That sixth-round heave was a massive 7'6.25″ farther than what Saunders threw at NCAAs, and 3'9″ farther than she'd thrown ever outdoors (it was 8 inches better than her indoor PB from NCAAs).
****
Stat of the Week
66.67% – percent of the men's World Championship team spots that went to foreign-born athletes in the steeple (2/3), 5k (1/3) and 10k (3/3).
****
What About The Sport?
Occasionally, we offer suggestions on how to grow the popularity of the sport. Here are three after USAs.
1. It's Called "Play-By-Play" for a Reason
In 2017, NBC has decided not to employ the services of Tom Hammond, who did play-by-play of every Olympics from 1992 through 2016. In his place, they've decided to use broadcaster Rick Allen as the play-by-play man on their major track broadcasts.
So far, Allen is struggling in the role.
Listen to this call of the women's 200 from NBC's broadcast at USAs and tell us what is missing (we didn't want to infringe on NBC's rights so we posted only the audio):
There is virtually zero actual "play-by-play" commentary going on at all. Other than "clean start," you get zero description of what is going on, and no mention of who is in the lead at any point of the race until the name of the winner is announced. During the race, the only fact we learn about the race is that it's "not as convincing as we were expecting." The job description is called "play-by-play" commentator for a reason. Fans need to know who is in the lead, who is battling for the lead, etc.
Contrast the above play-by-play of a 200 – or lack thereof – with how 200 play-by-plays should be done. Close your eyes and listen to how much more description you get in these three versions of a famous 200 race (Version #1, Version #2 and Version #3 by Tom Hammond – we put his last as the volume is low).
While Hammond had his critics among track and field geeks (insiders have told us he wasn't a fan of the sport), he was a good "play-by-play" man in describing the action.
With Allen, there is an absence of play-by-play going on. Yes, it's his first year on the job so initially we weren't going to give him a lot of slack as we figured he wasn't used to track and were hopeful that he'd quickly pick it up. However, we were stunned to learn that Allen has a track and field background – he was a three-time All-American in the decathlon at Nebraska. That makes us very nervous moving forward as he should be familiar with the nuances of track and field such as picking out who is ahead on the turn in a 200.
We do have a favorite play-by-play solution. Bill Spaulding is fantastic. If eight five-year-olds lined up in front of him for a 100, he could describe the action with excitement and great detail if you handed him the lane assignments 30 seconds before it started. He's so good, he can make a race with one competitor race sound exciting. So he's got the 'play-by-play' skill which is key but what really impresses us about Bill is he does a TON of research before getting in the booth. We know that from listening to him and from the fact that LetsRun.com co-founder Robert Johnson has done some Ivy League broadcasts with him.
Thankfully, we're not the only ones that are fans of Bill. USATF has recognized his talent and has been using Bill on many of their broadcasts (Oxy, USA Jrs.). He's doing the TrackTown Summer Series championship on ESPN next week so if you haven't heard him, you can listen to him there.
2. Should something be done about the Diamond League champ and defending World Champ getting a bye?
The fact that the reigning DL/World champs get a bye into Worlds is hurting the USATF Outdoor Championships. The big stars just have to show up and they go to Worlds. They can literally just jog down the runway and not even jump – which is what Christian Taylor did – and they're on the team (Cassandra Tate, Allyson Felix and LaShawn Merritt also withdrew after running the requisite qualifying rounds).
The #1 problem track and field faces is that all meets except for the championships don't mean anything – they are basically practice. The two most popular meets for US fans are the only two meets where the results matter – USAs and Worlds. If USAs doesn't matter for the biggest stars, what is the point of watching it?
3.Every timing website needs to provide compiled results
We love how USATF provides live mid-race splits for the distance races at USAs. However, we think USATF needs to work with the timing company to improve a few things on its results page.
There is no way to look at results by event (for comparison, on the IAAF site you can easily toggle between the different rounds of an event). You can only view results by day. Also you can't link to an individual result. Update: A visitor has emailed us and said if you first sort by "men" or "women" you can indeed see all the results for a particular event.
On a related note, but more important note, there is no link that takes you to compiled results for each day. The fact that they don't do it at all is insane. Newspapers like to publish complete results. All timing sites should add a link for compiled results for each day. It helps in two different ways. First, if you missed the meet, it saves you a lot of time as you don't have to click on 20 links to see what happened. Secondly, it makes people a fan of the whole sport as they see all event results, not just the few they are most in to. USATF sends out complete results at the end of each day to the media, so the fix would be to add a link to that page somewhere on the timing site.
If an event started after 12 midnight on the East Coast, it was listed on the results page for the following day. If an event took place on Thursday night at 10 p.m. in Sacramento, it should be listed under Thursday's results. This can be fixed by toggling between Local time and Event time on the timing page, but it's not intuitive and a novice visitor may become confused.
4. Despite Sacramento's poor attendance, it would have done fine hosting the Olympic Trials in 2020
Before USATF announced on Wednesday that it had awarded the 2020 Olympic Trials to Mt. SAC (Los Angeles area), a few messageboard posters asked if we still thought the 2020 Trials shouldn't go to Eugene since the attendance in Sacramento wasn't very good. Our answer: yes we still think that. An Olympic Trials is a totally different beast than a US champs. The Olympic Trials, regardless of where they are held – New Orleans, Sacramento, Eugene – draw nice crowds as sports fans/town supporters will go to an Olympic Trials but not a US Champs. The word "Olympic" is special to people. The fact that Eugene does such a good job of supporting track is the reason why they should get the US champs in a year like 2018 when there are is no Worlds to qualify for. That's not feasible as the Eugene track should be undergoing renevation for the 2021 Worlds.
Back when LetsRun.com co-founder Weldon Johnson was competing, when he'd tell random strangers on a plane that he was a professional runner, they'd often give him a quizzical look and look at him like he was crazy. If he clarified and said he was a "runner getting ready for the Olympic Trials," they'd get all excited and act like he was already on the team. "Good luck man. I'll see you on TV in Athens."
Personally, we feel that if USATF is going to award the Trials to a new city, it should go to that city before they ever even host a USAs. You want the novelty factor to be high. Mt. Sac seems like the #1 choice and we're glad the board recognized that.
MB: Hey BroJos – Tell me how great Sacramento was as the venue for Nationals?
MB: USATF Awards 2020 Olympic Trials to Mt. Sac 
****
Cameron Cooper Moves To #5 All-Time On US HS 800 Ranks
With no world juniors to qualify for this summer, there wasn't a lot of noteworthy action at the junior US meet this year. However, Michigan high schooler Cameron Cooper, who will be going to LSU next year, had a huge meet. He went into the US junior meet a 1:49.46 pr. In the first round, he crushed that by running 1:48.60. Then,  a day later, he crushed that PR by more than a second, running 1:47.59 to move to #5 all-time on the HS ranks.
Not bad at all. Cooper, who has run 4:08.96 for 1600, took nearly two seconds off his pb on the weekend. He's now sandwiched between some nice names on the all-time US list.
The 5 fastest boys in US HS history at 800 (according to TFN).
1:46.45 Michael Granville (Bell Gardens, California) 1996
1:46.58 George Kersh (Pearl, Mississippi) 1987
1:47.31 Pete Richardson (Berkeley, California) 1981
1:47.55 Donavan Brazier (Kenowa Hills, Grand Rapids, Michigan) 2015
1:47.59 Cameron Cooper (Oak Park Michigan) 2017
MB: Cameron Cooper 1:47.59 800m to win USA Juniors
*****
Tweet of the Week
The following tweet was retweeted by ultrarunner Jim Walmsley after he blew up and dropped out of the 42nd Western States Endurance Run (100-Miler). Walmsley had built a huge 35-minute lead in the first 55 miles and was on course-record pace before the heat got to him. He dropped out at 78 miles, and South African Ryan Sandes, 35, was the beneficiary as he won in 16:19:37.
"Sometimes when you're not careful trying to set off fireworks you light yourself on fire." – @walmsley172 https://t.co/Yvwy69wLVx pic.twitter.com/IFeaNO4yP8

— Captain America (@withawhymyke) June 25, 2017
The women's race was interesting as well as Cat Bradley, a 25-year-old kindergarten teacher from Boulder, moved up from third last year to first this year. Early on when the race was being run in the mountains and snow, Bradley let herself more than 20 minutes back but she ultimately won by nearly 20 minutes in 19:31:30 as former Olympic marathoner Magdalena Boulet, 43, was second in 19:49:15.
More: Steady wins the race *Results
*****
Photo Of The Week
Kudos go out to Stephanie Garcia for not letting this spill in the semis of the steeple prevent her from qualifying for the final, where she ended up fourth. But seeing Garcia struggle mightily with her form reminded us of how Michel Boeting, agent for Olympic steeple champ Conseslus Kipruto, told us earlier this year he thought it was a good thing that many Kenyans don't practice steeple technique:
"I think if Kenyans go for real hurdle training as Europeans and Americans do, it will lead to accidents. Now they are fearless and don't really think too much about the barriers. If we want to have a Kenyan hurdle like the rest of the world, you would need to have someone who just started running for it to be successful."
Garcia's struggles this year came after she tried to perfect her form and, in turn, it got worse as she can't help but obsess over it.
LRC How Much Do the World's Top Steeplechasers Practice Hurdle Form? For 2008 Olympic Champ Brimin Kipruto, the Answer is "Never"
*****
Recommended Reads / Watch
LRC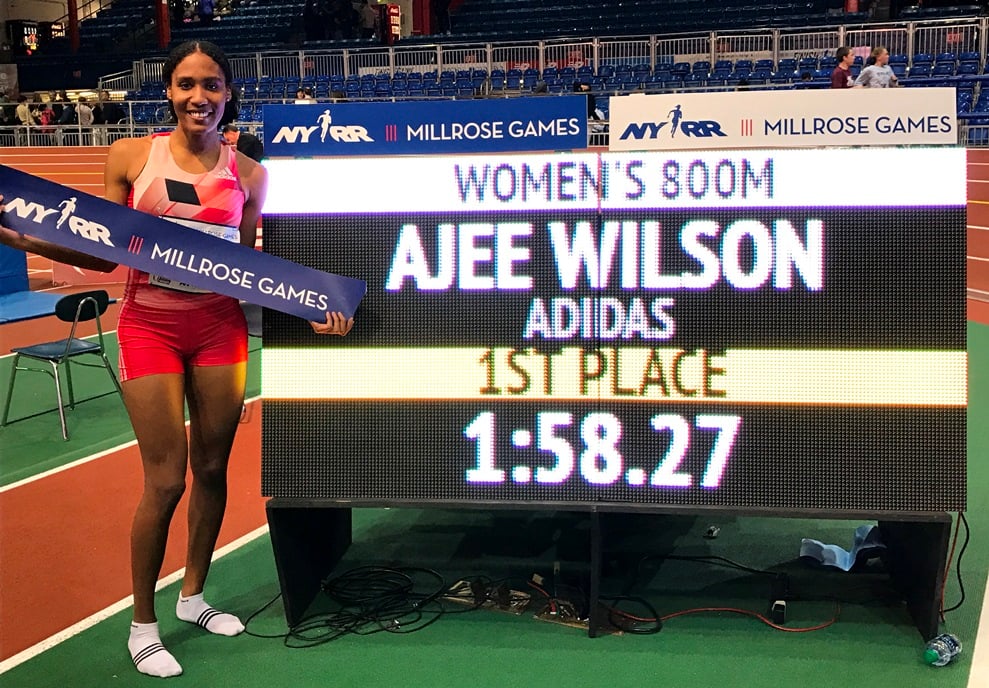 Ajee Wilson's Coach Derek Thompson Says "We Don't Have Anything to Hide" And "We're Coming To Win" At USAs
Olympic Shot Put Champ Ryan Crouser Had A NFL Tryout Planned As Backup If He Didn't Make It To Rio
Mom, Firefighter, Pro Runner: Kellyn Taylor Has No Chill"
Q&A With Shalane Flanagan Ahead Of USAs
LRC Pro Runners Reading Mean LetsRun.com Posts Edition #1: Robby Andrews, Kyle Merber, Craig Lutz
To see our favorite reads from other weeks, go here.
****
Quotes Of The Day And Last Week's Home Pages
To see the actual quotes of the day from last week or last week's home page or any home page, go to our archive page.
Past editions of The Week That Was can be found here. Questions or comments? Please email us or post them in our running fan forum.