WTW: The Kid Playing In The Sandbox At Alan Webb's Practices Is Now A Phenom; How Do Meb, Deena And Sean Wade Do It At 40+; How Many Americans Have A Legitimate Shot At The 2016 US Olympic Marathon Team?
by LetsRun.com
September 29, 2015
Our weekly recap – the Week That Was – appears below.
We already provided a lot of our thoughts on the action at the 2015 BMW Berlin Marathon and the NCAA cross country action from last week which you can catch up on at the links below if you haven't already read it:
Article continues below player
2015 BMW Berlin Marathon Coverage * NCAA XC: NCAA XC Weekend Recap: Grant Fisher Doesn't Need To Redshirt, The Boise State Women Are For Real And The NCAA 1,500 Champs Struggle
Past editions of The Week That Was can be found here. Questions or comments? Please email us or post them in our running fan forum.
****
The Second Coming of Alan Webb Craig Virgin? / Good Parents Make A Difference
Normally we put our Recommended Reads – our favorite articles from the previous week – at the end of this weekly recap. We've done that once again this week but want to start with one article you absolutely need to read now. We loved the following profile of Andrew "Drew" Hunter – the US high schooler who ran 8:16 for 3k to win at the Penn Relays as a sophomore and then beat the 'unbeatable' Grant Fisher last year as a junior –  by Dickson Mercer on RunWashington.com:
Drew Hunter: Homemade Champion
Hunter, who is a senior at Loudoun Valley (Va.) HS and has pbs of 4:02 for the mile and 8:42 for two miles, is obviously a huge talent. But his story is probably more interesting than his talent is big.
Hunter is coached by his parents Marc and Joan Hunter. Marc was a star back in the day, a multi-time state champion in the 1970s in Ohio before going on to finish 4th at the 1977 NCAA XC championships for Cleveland State. He twice represented the US at World Cross Country and ran pbs of 13:36 and 28:40 before injuries stopped him from running again at age 23. Joan was a decent 800 runner (2:11-ish pb) who has excelled in the masters ranks.
So two talented parents produce a super-talented son? What's so unusual about that?
Well check this out. The Hunters coached Alan Webb during his freshman year in HS. They knew they had a SUPER talent on their hands but what did they do? Quit coaching for more than a decade because they knew with three young kids at home (they now have nine children), they didn't have the time to do the job properly.
"There was just no way to be good parents with three toddlers and be good year-round coaches," Joan said, reflecting on their decision to retire from coaching after Webb's freshman year.
"Everyone was telling me I was nuts," Marc said, who helped hire Scott Raczko, his and Joan's replacement. "I thought I was nuts. But family comes first."
Fast-forward a decade and the Hunters have a second phenom under their tutelage – their own son, a guy who used to play in the sandbox when Webb was at practice. Interestingly enough, Drew initially hated the sport even though it was clear based on times in gym class and a few local races he was good at it. But guess what? That was perfectly fine with Mom and Dad.
"I remember him coming up to us one time after winning some races and saying, 'Can I talk to you guys?'" Marc said. "[Drew said] 'I really don't like running. I know I'm good, but I don't like it. It's too hard. I don't want to do this anymore.'
"We actually kind of tried to talk him out of doing [cross country] before ninth grade … because we love the sport [and] we kind of got tired of hearing him put the sport down," Joan said. "We were like, if you think it's so stupid, don't do it."
Midway through freshman year, though, Drew developed a love for the sport and is now making his own history in the sport.
Alan Webb had his ups and downs during the Hunters' decade away from coaching, but the decision has worked out great for Marc, Joan and Drew. As Mercer wrote:
Marc and Joan Hunter had last coached during an era in American distance running that valued low-mileage, high-intensity training.
There is a reason that the United States squads for the 2000 Olympic marathon were each teams of one. "We just did not have good distance runners for the most part," said Joan, who writes Drew's workouts.
Joan's own philosophy about training changed when she turned to Tom Schwartz, perhaps better known in the LetsRun.com world as "Tinman," for advice on competing in masters track.
Joan, as it turned out, liked nothing more than doing a dozen really-fast 200s. Schwartz had other ideas, like running more miles, doing longer intervals with shorter rest periods, and doing tempo runs. Joan, in turn, started running some of the best masters times in the country at everything from 400 meters to 5k. And Schwartz now helps write Drew's training, as well.
So Hunter is clearly thriving under a coaching philosophy that would get the stamp of approval from LetsRun.com, which was founded in large part to get the coaching philosophy of John Kellogg out to the masses (Editor's note: One of the first pages ever published on this website was this one: Four Principles To Correct Training For Elites). The Internet played a vital role in helping people realize that back in the 1970s Americans ran fast thanks to mileage and tempos but struggled in the 90s thanks to a focus on intensity.
Younger runners may have a hard time understanding how bad the average coach was in the 1990s. Here is a true story. We have a friend who was at a school that has been in the top 10 in NCAA XC during the last decade and he says they didn't do tempo runs at all when he was there in the late 1990s.
What's next for Hunter? A sub-4 is certainly possible but please realize Hunter is not a miler. Here's how Schwartz, aka "Tinman", described Hunter on TheRunZone.com in February.
Drew is not a miler. He's very much like Craig Virgin (who didn't start running until his sophomore year in high school, just like Jim Ryun). Craig was a star endurance athlete, who ran a full 2 miles in 8:40 in the early 1970s, his third year of running, and he could clobber people in cross-country due to fantastic aerobic capacity and endurance. Craig was a star in college and beyond, winning two world cross country titles, setting the American record for 10,000m. I think Drew is the same as Craig.
       Don't mess with the recipe for training Drew! It's working; Drew is getting fitter, faster, and stronger, as time passes. Ignore what other people are doing and focus on yourself is what I'd tell Drew. You have me to help you, as needed, and you have a training method that's proven very effective to use.
More: RunWashington.com: 
Profile On 4:02 Man Drew Hunter, Who Last Spring Became The First High Schooler To Beat Grant Fisher Since His Sophomore Year
*TheRunZone.com discussion on Hunter from February
LRC Messageboard Talk on Hunter: May 2015:  Andrew Hunter 4:03-1600, 1:52-800. Sub 4?
June 2015: Andrew Hunter is plain BETTER than Fisher
June 2015: DREW HUNTER TAKES DOWN GRANT FISHER IN BROOKS PR 2 MILE
November 2014: Andrew Hunter Eclipses McGorty's Records
****
Super Masters / "Get Older, Run Shorter"
Last week, US 40+ legends Deena Kastor and Meb Keflezighi made news with some fast running at the Rock 'n' Roll races in San Jose.
The 42-year-old Kastor tied the world record for 40+ by running 15:48 at the Rock 'n' Roll San Jose 5K. She'll race the Chicago Marathon next week. On the men's side, Meb, who is racing the New York City Marathon in November, broke Mbarak Hussein's US masters half marathon record of 63:23 by running 63:02.
Meb's time was actually a little disappointing as it's slower than his three other half-marathons this year as a 39-year-old (62:18 in January, 62:17 in March and 62:26 in May). A 62-minute time is one Meb wanted as the world record (62:28) is right in line with what Meb ran earlier in the year.
"I wish I could have gone for the world record but I'm happy to have the American record," said Meb after the race.
But Meb and Deena get a ton of press as they are super-famous Olympic medallists from the US of A. How about some love for former 2:10 marathoner Sean Wade? The 49-year-old, who ran for New Zealand at the 1996 Olympics but lives and trains in Houston, has some lofty goals for when he turns 50 on February 3. As detailed by Marc Bloom in Running Times, Wade is hoping to become the first 50-year-old to break 4:20 in the mile and he also wants to break 15:00 for 5k. His license plate even reads "SUB15. Wade's got an outside shot as he recently ran a 4:25 mile at 5th Avenue.
What's the key to their success?
If we could sum it up, it would be staying injury-free and a lot of cross training. As Bloom writes:
Wade's mantra is: get older, run shorter. After suffering calf injuries in recent years that affected his racing schedule, Wade found a happy medium in training "only" 60 miles a week plus daily pool work. In his current schedule, he runs up to an hour every day with another hour of running in the pool. Wade says that he can do up to 270 strides per minute in the water for 45 to 60 minutes.
Wade's body can't handle super-high mileage anymore but it sounds as if he's doing about two hours a day of training – probably very similar to the amount he did back in his prime as a marathoner (120 minutes a day of running would be 120 miles a week at 7-minute miles).
Meb is of course famous for doing a lot of his work on his ElliptiGO:
Congrats @runmeb on US Masters #HalfMarathon record! We're proud of you! http://t.co/SmR7zLx13m pic.twitter.com/gSGmIMQSXI

— ElliptiGO (@elliptigo) September 28, 2015
In reality, their current success is similar to when they were in their primes. They all are extremely talented and work extremely hard. When casual runners ask us the 'secret to success' to long distance running, we always say, "Unfortunately, there are no secrets. It's called long distance running. You need to run a lot."
We guess we should say, "You need to train a lot." You have to stay healthy so if you can't run a lot, cross training is the next best thing.
More: Can a 50-Year-Old Run a 4:20 Mile?
*MB: Meb gets U.S. 1/2 Masters record in San Jose – 63:02
*MB: This Deserves A Ton of Praise: 42 Year Old Deena Kastor Runs 15:48
*Canadian Jim Finlayson Breaks Beer Mile 40+ World Record With 5:01.24 (includes video) Very impressive for someone over 40 considering the WR is only 4:55.
*MB: Jim Finlayson runs another masters beer mile world record
****
More Free Weekly Training Advice
In case you aren't 40+, we've got some more free training advice from you – don't get sick.
From Runner's World,  "A small 2014 study in the European Journal of Applied Physiology showed athletes' run time to exhaustion in the heat improved by 14 percent after taking probiotics for four weeks. A study in the Journal of Science and Medicine in Sport showed a 50 percent reduction in the incidence of upper respiratory and GI symptoms among elite athletes."
So are probiotics a performance enhancer? Not exactly.
"I would not look at a probiotic as a performance enhancer. What probiotics can do is keep the runner healthier so they can train better," said Lisa Dorfman, a runner and nutritionist based in Miami.
More: Do Probiotics Improve Running Performance? How a healthy gut can help athletes train better. 
Matt Llano has been living at Shalane Flanagan's house for weeks as he gets ready for this weekend's Berlin Marathon The two became friends as both are 'foodies'.
*MB: Good article on Matt Llano living and training with Shalane Flanagan as he prepares for Sunday's Berlin Marathon
Vin Lananna is surprised World Indoors hasn't already sold out "I don't think there is enough understanding of what indoor track actually is," Lananna says.
*MB: Vin Lananna is surprised World Indoors isn't sold out – isn't sure if Salazar/Rupp doping allegations are to blame
*****
2013 World Junior XC Had Some Studs In It
There was an article put out by the IAAF's Spikes last week on the 2015 World marathon champ, 19-year-old Ghirmay Ghebreslassie of Eritrea, that mentioned he was 7th at World Junior Cross Country in 2013. We decided to take a look at the list of top finishers from that race to see how accomplished the guys were who finished ahead of him in that race.
Most of them are pretty darn studly. Check out the top 10.
| | | | | |
| --- | --- | --- | --- | --- |
| # | Name |  Country | DOB | Note |
| 1 | Hagos Gebrhiwet | ETH | 11-May-94 | 12:47, world championship bronze and silver on track |
| 2 | Leonard Barsoton | KEN | 21-Oct-94 | 27:20, 5th World XC in 2015 |
| 3 | Muktar Edris | ETH | 14-Jan-94 | 12:54/27:17, bronze at World XC in 2015 |
| 4 | Tsegay Tuemay | ERI | 20-Dec-95 | 13:20/61:46 – still just 19 |
| 5 | Conseslus Kipruto | KEN | 8-Dec-94 | 8:01 steeple, 2 WC silvers in steeple |
| 6 | Birhan Nebebew | ETH | 14-Aug-94 | 13:14/27:14 |
| 7 | Ghirmay Ghebreslassie | ERI | 14-Nov-95 | World champ in marathon. 2:07:47 pb |
| 8 | Dawit Weldesilasie | ERI | 10-Dec-94 | 61:37 half marathon pb |
| 9 | Ronald Kwemoi | KEN | 19-Sep-95 | 3:28.81 1500 pb (#9 all-time, same as Mo Farah) |
| 10 | Michael Bett | KEN | 12-Jun-95 | 8:57 steeple, 13:42 5000 |
Any thoughts that the muddy conditions would produce lucky top finishers if not the case. For the record, there were three Americans in the top 30 in that race. Purdue's Matt McClintock was 20th, Oklahoma States's Craig Nowak was 24th and Wisconsin's Malachy Schrobilgen (13:53/29:17) was 26th. All three of the Americans were in the top 20 at NCAAs in XC last year.
What about the junior girls? They are pretty good but not quite as accomplished as the junior boys.
| | | | | | |
| --- | --- | --- | --- | --- | --- |
| 1 | Faith Kipyegon | KEN | 10-Jan-94 | 17:51 | 3:56/14:31, WC silver in 1500 this year |
| 2 | Agnes Tirop | KEN | 23-Oct-95 | 17:51 | Won senior World XC this year |
| 3 | Alemitu Haroye | ETH | 9-May-95 | 17:57 | 14:43/30:50. 7th in 10,000 this year. |
| 4 | Caroline Kipkirui | KEN | 26-May-94 | 18:09 | 15:24 pb. No races this year. |
| 5 | Ruti Aga | ETH | 16-Jan-94 | 18:18 | Lots of top US road finishes (3rd Boilermaker, 2nd Bloomsday) |
| 6 | Sofiya Shemsu | ETH | 12-Sep-94 | 18:20 | 2:03/4:17 – No races in 2015 |
| 7 | Roseline Chepngetich | KEN | 17-Jun-97 | 18:21 | Still just 18, 9:25 steeple. Made final at Worlds. |
| 8 | Sheila Keter | KEN | 27-Jun-95 | 18:21 | 4:11 1500, no races in 2015. |
| 9 | Buze Diriba | ETH | 9-Feb-94 | 18:29 | 14:50/31:33. |
| 10 | Alemitu Hawi | ETH | 14-Nov-96 | 18:35 | Still just 18, 15:10 pb. World jr 5k silver. |
More: 2013 World XC Coverage
****
How Many Olympic Trials Marathon Runners Have A Legitimate Shot At Making The Team?
Last week, a journalist from a major newspaper called us and asked us how many people did we think at the upcoming US Olympic Marathon Trials had a legitimate shot at making the team. We didn't have a number off the top of our heads and said we'd think about it. He followed up with an email and asked if it was two dozen (a dozen per gender).
We decided to do a little research.
Historically, on the men's side, if you run under 2:12, you have made the team. Up until 2012, only one man had ever run under 2:12 at the Trials and not made the team (Dave Gordon ran 2:11:59 in 1984 and was 4th).
In 2012, five guys broke 2:12 and didn't make the team (in all, eight men did it in the race) but US marathoning isn't better now than it was in 2012 as many of the sub-2:12 guys from 2012 have question marks about them as shown below.
Top 8 At 2012 US Olympic Marathon Trials
1 Meb Keflezighi 2:09:08 – 40 years old.
2 Ryan Hall 2:09:30 – hasn't broken 2:17 since Trials.
3 Abdi Abdirahman 2:09:47 – hasn't broken 2:16 since Trials; will be 38 on race day.
4 Dathan Ritzenhein 2:09:55 – has broken 2:12 3 times since.
5 Brett Gotcher 2:11:06 – hasn't broken 2:17 since Trials.
6 Andrew Carlson 2:11:24 – hasn't broken 2:17 since Trials.
7 Fernando Cabada 2:11:53 – ran 2:11 in 2014.
8 Nick Arciniaga 2:11:56 – has broken 2:15 3 times since Trials.
Thus it seems that to make the team in 2016, the historical norm of sub-2:12 seems about right. 2:11 may not get you on the team, but it will get you close. At a minimum, you need to be able to run at least 2:12.
How many guys have broken 2:12 since the start of 2013?
Seven.
How many guys have broken 2:14 since the start of 2013, giving them hope they'll be in the 2:11-12 shape it will take at a minimum to make the team?
20.
The US's Fastest Marathoners Since 2013
| | | | | | |
| --- | --- | --- | --- | --- | --- |
| 1 | 2:08:37 | Meb Keflezighi | USA | Boston MA | 2014 |
| 2 | 2:09:45 | Dathan Ritzenhein | USA | Chicago | 2013 |
| 3 | 2:10:52 | Jeff Eggleston | USA | Brisbane | 2014 |
| 4 | 2:10:57 | Ryan Vail | USA | London | 2014 |
| 5 | 2:11:20 | Bobby Curtis | USA | Chicago IL | 2014 |
| 6 | 2:11:36 | Fernando Cabada | USA | Berlin | 2014 |
| 7 | 2:11:47 | Nick Arciniaga | USA | Boston MA | 2014 |
| 8 | 2:12:28 | Matt Tegenkamp | USA | Chicago IL | 2013 |
| 9 | 2:12:28 | Matt Llano | USA | Berlin | 2015 |
| 10 | 2:12:52 | Josphat Boit | USA | Boston MA | 2014 |
| 11 | 2:12:54 | Aaron Braun | USA | Houston TX | 2015 |
| 12 | 2:12:55 | Shadrack Biwott | USA | Frankfurt | 2014 |
| 13 | 2:12:56 | Jared Ward | USA | Los Angeles | 2015 |
| 14 | 2:13:16 | Jake Riley | USA | Chicago IL | 2014 |
| 15 | 2:13:26 | Ian Burrell | USA | Houston TX | 2014 |
| 16 | 2:13:30 | Sean Quigley | USA | Fukuoka | 2014 |
| 17 | 2:13:32 | Tyler Pennel | USA | St. Paul MN | 2014 |
| 18 | 2:13:45 | Gabe Proctor | USA | Chicago IL | 2014 |
| 19 | 2:13:52 | Craig Leon | USA | Chicago IL | 2013 |
| 20 | 2:13:53 | Michael Reneau | USA | Duluth MN | 2013 |
So maybe a dozen is a good number. Nine guys have broken 2:12:30 in the last three years. Throw in the last two U.S. Marathon champs, Tyler Pennel and Jared Ward, and/or a super-talented question mark (someone like Diego Estrada or Sam Chelanga, neither of whom has committed to running the Trials as of now, or Ryan Hall) and 12 serious contenders seems about right. Beyond that, there are probably a dozen more guys (some of whom are on the list above) who could possibly make it if they run the race of their lives in LA and a few of the top contenders struggle.
Next week, we'll take a look at the women's numbers in similar fashion.
****
Stat of the Week
$16,932 – amount of money (at a minimum) that the Nike flapping insoles cost Eliud Kipchoge at the 2015 BMW Berlin Marathon.
The first man to break 2:04:00 in Berlin on Sunday would have earned a $33,864 (30,000 Euro) bonus from the race organizers. Kipchoge ran 2:04:00, so he just missed that and instead earned the smaller $16,932 (15,000 Euro) bonus for breaking 2:05:00 (bonuses are not cumulative). It's safe to say that without the shoe mishap, Kipchoge could have run at least one second faster.
The good news for Kipchoge is the shoe malfunction didn't cost him the race win as that would have been much more costly. By winning in Berlin, Kipchoge has basically locked up the $500,000 World Marathon Majors prize with two wins. Kipchoge could be tied at two victories if Tokyo winner Endeshaw Negesse wins in Chicago or if Boston winner Lelisa Desisa wins in New York or if either of them or world champ Ghirmay Ghebrselassie runs and wins Tokyo next year. But even if that happens, it seems as if Kipchoge would still get the $500,000. Under the new format, if there is a tie with two wins apiece, race directors can either anoint a champion or split it but the others would have to do something almost unfathomable to top Kipchoge's wins in London and Berlin.
The question now becomes, 'Will Nike pay Kipchoge the bonus money?' Back in 1997, when John Kagwe's nylon Nike laces repeatedly came untied and it cost him the New York City course record, Nike did pay him the $10,000 bonus he would have received.
If you believe that "all publicity is good publicity" then the shoe flap was good as it landed Nike on the front page of the Marketing and Technology section of the Wall Street Journal.
More: MB: How the heck do insoles come out while running?
*MB: NIKE QUALITY: Shoes FALL APART in WC steeple AND Berlin Marathon.
*MB: Eliud Kipchoge has run 6 marathons with a slowest of 2:05:30 and average of 2:04:34
****
4 Quotes of the Week (that weren't quote of the day)
#1 Brazil Is Budget Conscious (Good For Them)
"I would be ashamed to waste what London spent in a country where we need sanitation; where education needs money. So I'm very glad we're not spending money like crazy."
-Fernando Meirelles, a Brazilian filmmaker and part of the creative team for Brazil's opening and closing ceremonies in 2016, talking to the AP about how Brazil will spend 10% of what London did on the ceremonies as the country struggles with high unemployment and inflation.
#2 ARD & The Sunday Times Turn Their Attention To Doping in Soccer
" A study conducted by 12 European anti-doping labs found that 7.7% of [soccer] players tested showed 'conspicuous levels of testosterone.' This is up from the 1.3% found in older studies."
– except from a Reuters story on a report by the German TV station ARD and The Sunday Times.
While we try to lead the anti-doping fight, one thing that drives us nuts is how track and field seems to be the only sport that gets lots of negative publicity for doping. We've always felt that doping very well could be larger in the 'major' sports as the monetary incentive to dope in those sports dwarfs that found in track and field. Please don't tell us that doping wouldn't help people in soccer – that's the same line people used 15 years ago in baseball and it was proven to be a laughable argument.
More: German Broadcaster ARD And The Sunday Times Report That European Soccer Study Could Show High Level Of Steroid Use
Europe's Soccer Governing Body UEFA Denies Doping Problem
#3 A Great Tribue To Roy Griak
"When I think back to my greatest memories as a runner, it is not the conference titles as an individual, nor is it the being an All-American or an Olympian … my greatest achievement is I was a part of a team coached by Roy Griak."
–Garry Bjorklund, the former three-time Big 10 XC champion and 1971 NCAA 6-mile champ, tallking to GopherSports.com about his collegiate coach at Minnesota, Roy Griak. The first Roy Griak Invitational XC meet since his death was held last week.
More: Griak Hall of Fame Feature: Roy Griak
#4 Not Everyone Really Wants To Be Great
"Trying to get people to move from London to Loughborough was like I was trying to ask them to move a long way, but it's just two hours. I mean, how good do they really want to be? It's about making sacrifices.
"I had an initial list of people to talk to and look at to come to Loughborough. I had the meetings and for so many it was like 'the scary town of Loughborough' and the stuff that they said just didn't make any sense.
"It's a good training centre, you have everything you need. Why would you not want to move? That was a big shocker for me."
– former UK Athletics coach Rana Reider talking to UK Athletics about how many top Brits weren't willing to relocate when he was coaching in the UK.
That quote reminds us one thing that is drastically underappreciated about Mo Farah. He was willing to move his family to another country to try to be the best. A lot of wannabe Olympic medallists love where they live and aren't willing to give that up. Yes, one needs to be happy to excel in athletics, but one also needs to train at a very high level so you have to make sacrifices.
****
Recommended Reads
Previous "Recommended Reads" can be found here.
Washington Post: "Running For Their Lives, Ethiopians Seek A Safer Track In Washington DC" Articles follows story of Ethiopian refugees such as 18-year-old 400 NR holder Genet Lire, who used running as a means to escape political persecution in Ethiopia. They were held for days to weeks with no charges or due process and were physically beaten. Now they've left behind their families and promising running careers to struggle to survive in the US.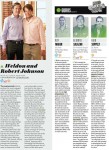 LetsRun.com Founders Robert and Weldon Johnson Named as Two of "The 50 Most Influential People in Running" by Runner's World LRC's founders, Robert Johnson and Weldon Johnson (Brojos) are among the 50 most influential people in running according to Runner's World thanks to you. RW had high praise for the LRC audience saying the Brojos are the "masterminds behind perhaps the most engaged online community of runners."
For Inmates At The Oregon State Penitentiary (OSP), 'The Wall' Has A Totally Different Meaning And Running Is Much "More Than Just A Race" Dedicated runners can be found everywhere, even in prison. At OSP, a 40+ year-old running club started by Steve Prefontaine and with ties to Bill Dellinger and former Athletics West coach, Dick Brown, gives new life to inmates serving long sentences for violent crimes. They train daily, run monthly races (which are even open to the public) and help rehabilitate themselves and completely change their lives. A definite must read by Michael Heald. Mary Marckx Creel (Pre's girlfriend back in college): "It was the gospel to him, that running could save you. By spreading it to prisoners, he was showing that they could be redeemed."
Recommended Watch: Former Sub-2:30 Marathoner Michael Westphal Uses Running To Battle His Parkinson's Disease Sometimes Westphal can barely walk, but when he runs he almost feels normal and recently qualified for Boston with a 3:32 marathon.
Roy Griak Minnesota Hall Of Fame Feature: Garry Bjorklund And Others Share Their Memories Bjorklund: "When I think back to my greatest memories as a runner, it is not the conference titles as an individual, nor is it the being an All-American or an Olympian … my greatest achievement is I was a part of a team coached by Roy Griak."
****
Quotes Of The Day And Last Week's Home Pages
To see the actual quotes of the day from last week or last week's home page or any home page, go to our archive page.
Past editions of The Week That Was can be found here. Questions or comments? Please email us or post them in our running fan forum.