LRC The Married Guy's and Gal's Guide to NCAA Indoors: EDWARD CHESEREK GOES FOR THE QUADRUPLE (Mile-3K-5K-DMR) & Everything Else You Need to Know Cheserek is definitely going for the triple but we think he may attempt the quadruple. The casual fans' guide NCAA Indoors.

LRC "I Want It To Happen": Florida Star Grant Holloway Is Rooting For Edward Cheserek to Pull Off Greatness at NCAAs  Cheserek may be going for the quadruple at NCAAs and if he pulls it off he (and Oregon) could challenge Florida for the team title.
LRC Men's + Women's DMR Preview: Expect Oregon's Edward Cheserek to Put the Team on His Back Again As The Ducks Shoot for a DMR Sweep Believe it or not, the Oregon women have never won the DMR at NCAAs. Look for that to change on Friday as we think the Ducks will win both DMR titles.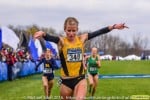 LRC
Women's 3K/5K Preview: Erin Finn & Katie Rainsberger Try to Stop NCAA XC Champ Karissa Schweizer from Pulling Off the Distance Double
K
arissa Schweize
r hasn't lost a race since October, and when we look at her, we're reminded of Seidel last year or Dartmouth's 
Abbey D'Agostino
in 2013-14 — NCAA XC champs who got hot and kept it rolling all the way through indoors.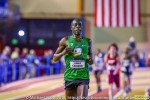 LRC Men's 3K/5K Preview: The Edward Cheserek Show Rolls On; Can He Break the NCAA All-Time Record for Individual Titles (15)? Edward Cheserek will likely become the most decorated runner in NCAA history this weekend at Texas A&M.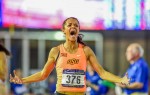 LRC Women's Mile Preview: Oklahoma State's Kaela Edwards Aims To Become First Repeat Champion Since 1990 It's been 27 years since there was a repeat winner of the NCAA women's mile but that likely will change this weekend unless UNH's Elinor Purrier or Penn State star  freshman Danae Rivers can pull off an upset.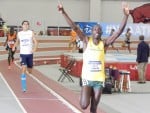 LRC Men's Mile Preview: Collegiate Record Holder Edward Cheserek Is Heavily Favored But Don't Forget Oklahoma State's Josh Thompson Or CU's Ben Saarel Collegiate record holder Edward Cheserek is the HEAVY favorite but Oklahoma St. coach Dave Smith, who has coached 11 sub-4 milers since 2009, is giving his star, Josh Thompson, free reign to go for broke, "Swing for the fences. Maybe you get it, maybe you blow up and get eighth. But either way, I think it's more fun to say let's go for it."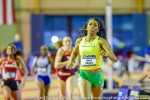 LRC Women's 800 Preview: NCAA Record Holder Jazmine Fray Of Texas A&M Battles Defending Champ Raevyn Rogers Of Oregon The collegiate record holder versus the winner of the last 3 NCAA 800s. It doesn't get much better than this.
*Register Guard: History Will Be On The Line For Oregon Ducks And Edward Cheserek At NCAAs The UO women go for their 7th title in 8-years and the all-time meet scoring record while the men try and win their 4th straight and Cheserek is set to break the record for most individual NCAA titles.
*Raevyn Rogers Is Happy To Be Underdog At NCAAs "It takes the pressure off my back, but at the same time, it gives me that underdog feeling that I have to work for it even more, and it motivates me to prove that I can be better."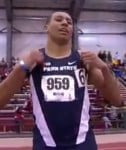 LRC Men's 800 Preview: Penn State's Isaiah Harris Leads A Field In Which Nine Guys Have Broken 1:47 This Year 9 men under 1:47. Two freshman phenoms. An Olympic Trials finalist and many more. The men's 800 is certainly a good one.
*Gordon Mack Thinks There Should Be An NCAA Team Championships Held The Week Before The NCAA Individual Championships
HS Nats Are This Weekend As Well
Nike Gets Lots Of Mid-Week Press – Some Good And Some Bad
Telegraph Exclusive: FBI Joins Probe Into Mo Farah Coach Alberto Salazar
Nike's Sub-2 Attempt Will Be Run On F1 Course In Milan – Kipchoge Tests It Out And Runs 59:17 Half Marathon

 Tadesse ran 59:41 and Desisa embarrassed himself at 62:55.

Nike Unveils Shoe As Well Nike claims the shoe, which features a spring plate, improves running economy by 4%, which might improve performance by 4%.
IAAF Is Looking Into Whether Nike's Shoe – And Other Manufacturers's Shoes – Are Legal Let's hope so as Nike's which features a "spring plate" has already been worn by Rupp, Kipchoge and Flanagan in the Olympics.

Recommended Read:

Alex Hutchinson: If Shoes Make A Sub-2 Hour Marathon Feasible, What Does That Mean For The Sport?

Sub-2 Marathon Test Run Yields Fast Times, Lingering Questions Kipchoge claimed that Tuesday's run, which featured the runners getting fluids handed to them by a guy on a moped, pacers jumping in and out and the runners ingesting core-temperature pills, was only a 60% effort. Yeah, right.
*

MB:

 Kipchoge claims his 59:17 was a 60% effort (total BS) – if that's true then why did Desisa run 62+
---
Ryan Hall Believes The Two Hour Marathon Is Possible Now … On A Treadmill Hall thinks it'll be a while before we see one on the roads, though."I'll be excited the first time I see a marathoner go out under 60 minutes. Just doing that alone will be a pretty big step towards the sub-two-hour marathon."
NCAAs Are This Weekend And Sadly One Deserving Runner Won't Be There #Ridiculous

LRC NCAA Punishes Coach and Athlete … For Knowing And Following The Rules – Nation's 10th-Fastest 5,000 Runner Barred From NCAA Meet The NCAA is famous at times for being a stickler to obscure rules. Well, now it's punishing a collegiate coach and his athlete because he both a) knew and b) followed the rules. Brilliant. As a result, the nation's 10th fastest 5,000 runner, Loyola Marymount's Danielle Shanahan (15:52 PR), won't be competing at NCAAs.
*MB: Woman runs 15:52 5k (#10 in NCAA): NCAA screws her over and won't let her run because her coach followed the rules!