USATF Indoors Final Day -The Shelby Houlihan Show Continues, Ajee Wilson and Clayton Murphy Impress, Lipsey and Blankenship Get First USA Titles, and World Record Hurdlers Win
by LetsRun.com
March 5, 2017
There was a nice mix of new and veteran faces claiming titles on the final day of the 2017 USATF Indoor Championships in Albuquerque. In the mid-distance events, Erik Sowinski (1:15.07) and Ajee Wilson (1:23.84) claimed their third and fourth indoor titles, respectively, while Olympic bronze medallist Clayton Murphy won the 1000 (2:18.60) to go with the outdoor 800 crown he earned last summer. Charlene Lipsey (2:37.97 1000) and Ben Blankenship (3:59.22) became first-time champions, while Shelby Houlihan capped off a dominant weekend by adding the two-mile title (10:19.14) to the mile title she won on Saturday night.
The 60 hurdles were headlined by a pair of outdoor world record holders, with Keni Harrison and Aries Merritt living up to the billing. Harrison overcame a so-so start to win her first U.S. title in 7.81(how crazy is that – her first US title and she is a WR holder) while Merritt won his third — but first since undergoing a kidney transplant in 2015.
Article continues below player
Other winners on the day included Ronnie Baker in the 60 (6.45) and Olympic medallists Sandi Morris in the pole vault (4.70m/15-5) and Michelle Carter in the shot put (19.03m/63-5.25). World Indoor champion Vashti Cunningham also claimed her second straight U.S. high jump title (1.96m/6-5) at the tender age of 19.
Full recap, results and analysis below starting with the distance races, women then men.
Women's 600: Ajee Wilson wins clash of the titans vs. Courtney Okolo, runs #3 all-time 1:23.84
The women's 600 lived up to the hype as Ajee Wilson and Courtney Okolo staged a thrilling three-lap duel tonight, Wilson holding off a hard-closing Okolo on the home straight by just .16 of a second.
Wilson, the U.S. indoor record holder at 800 and Okolo, the U.S. indoor record holder at 500, were the two big names on paper and the question on everyone's minds heading into this one was which one of them would lead at the break. Okolo, the NCAA 400 record holder outdoors (49.71), had the better speed but she did not elect to use it and Wilson held the lead at 200 (26.20) with Okolo on her outside shoulder and Kendra Chambers tucked behind her on the inside.
Wilson slowed significantly over the second lap (28.94), but she continued to lead and at the bell, Okolo was still in second a couple steps behind Wilson while Chambers was fading.
Okolo pushed hard on the backstretch and began to close the gap, but couldn't get past, and Wilson attacked again as she entered the final turn. Okolo still wasn't licked and launched one last attack on Wilson's outside in the homestretch, but it wasn't enough as Wilson earned the wire-to-wire victory in 1:23.84, the third-fastest time ever run indoors. Okolo wasn't far behind as her 1:24.00 puts her #4 on the all-time indoor list.
Results *Lap by Lap Splits
1 Ajee Wilson 01:23.84 adidas
2 Courtney Okolo 01:24.00 Nike
3 Kendra Chambers 01:25.46 Texas Elite TC
4 Olicia Williams 01:26.54 Big Bear TC/New Balance
5 Cecilia Barowski 01:27.07 HOKA NJNYTC
6 McKayla Fricker 01:27.72 Brooks
Quick Take #1: Ajee Wilson just wrapped up a stellar indoor season
Wilson is well-known for religiously following the instructions of her coach Derek Thompson, and tonight he told her to get to the lead early. Wilson executed that race plan to a T, never allowing Okolo to get by, and her reward was her fourth U.S. indoor title (three at 800 meters, and now one at 600).
Wilson ran five indoor races this year and won them all, including an American record in the 800 (1:58.27 at Millrose) and her 1:23.84 600 tonight. Running 1:58 in February is definitely a good sign for Wilson's hopes outdoors as she never ran faster than 1:59.51 in all of 2016.
Two years ago, Wilson ran 1:57 at the Pre Classic and looked like she would be a serious medal threat at the World Championships. A lot has changed since then — Wilson became injured shortly after that race and the IAAF's hyperandrogenism guidelines were suspended — and with Caster Semenya in the game, gold is off the table for now. But after running this fast indoors, Wilson could be even better outdoors than she was in early 2015.
QT #2: What would have happened if Okolo went out faster?
Okolo ran a really impressive time tonight but Wilson is a stud and it was going to take something truly special to beat her tonight. It was a little curious that Okolo didn't fight harder for the lead early in the race. Okolo is known as one of the stronger 400 runners, but against Wilson, her advantage is her speed and getting out in front early would have changed the race. Of course it's possible that Wilson would have come from behind to win anyway (or battled Okolo even harder to take the lead at the break).
QT #3: Races Like This Are Good for the Sport
When a sprint specialist meets an 800m specialist and you're not sure who is going to win, it's good for the sport.
Talk bout this race on our messageboard:
Men's 600: Erik Sowinski maneuvers best to claim his third U.S. title
Cas Loxsom is the world record holder* at this event, but he isn't the 2017 USATF Indoor champion as Erik Sowinski got the win in a personal best of 1:15.07. That's national title #3 for Sowinski, who wishes that USATF holds nationals in Albuquerque every year — all three of his national titles have come on this track.
Unlike the women's 600, which featured two women head and shoulders above the rest, there were several guys in this field who figured to have a shot at winning, which made the positioning key at 200 meters. It was converted 400 runner Chris Giesting who broke best, hitting 200 in 23.56, with Shaquille Walker, 19-year-old phenom Donavan Brazier and Sowinski behind him. Loxsom was in fifth place on the inside, and if he was to win another national title, he would have to pass four men over the next 400 meters. Giesting continued to lead through 400 in 48.19 as places 2-3-4 shuffled up; at the bell, it was Brazier, Sowinski and Walker behind Giesting in that order with Loxsom remaining in fifth.
The backstretch of the final lap was where the race was decided. Sowinski entered it in third, but he had room to step out and move past Walker and Giesting into the lead before the final turn. Loxsom, on the other hand, found himself blocked by the men in front of him and unable to pass.
Loxsom finally freed himself on the turn and swung wide on the homestretch, but at that point Sowinski had put too much ground on him and despite a heroic final 50, Loxsom had to settle for second. Sowinski crossed the line in 1:15.07, shaving .44 off the PR he set yesterday to move up to #4 on the all-time list, with Loxsom finishing just behind in 1:15.18.
Results *Lap by Lap Splits
1 Erik Sowinski 01:15.07 Nike
2 Casimir Loxsom 01:15.18 Brooks
3 Shaquille Walker 01:15.39 Brooks
4 Russell Dinkins 01:15.86 NYAC
5 Chris Giesting 01:15.96 HOKA NJNYTC
6 Donavan Brazier 01:16.10 Nike
QT #1: Not running this race in lanes makes it way more interesting
Loxsom got the unfortunate draw of lane #1 and that made it hard for him to get in position after the first 200m. He could never recover. Sowinski has the most experience racing professionally indoors and he put that knowledge to use.
QT #2: The world best could have gone down if this was a two-man race
Sowinski said afterwards he felt that he was capable of running faster as he was cut off with 300 to go, and Loxsom definitely could have run faster if he hadn't been boxed in. If you had put them together in a two-man race today, we'd have been surprised if the world best (1:14.91) didn't go down.
*Officially, the IAAF does not recognize a world record for the indoor 600, so Loxsom's mark is a "world indoor best"
Women's 1000m: Charlene Lipsey holds off Lauren Johnson, caps breakout season with first national title
At the start of 2017, Charlene Lipsey was just one name among many in the ranks of aspiring American middle distance runners. Two months later, the 25-year-old Lipsey is anonymous no more and is now a national champion and a serious threat to make this summer's World Championship team at 800 meters.
Lipsey, as she did in the prelims, got to the lead early in tonight's final and high schooler Sammy Watson, just as she did in the prelims, went to the outside shoulder of the leader, with 2015 Worlds team member Lauren Johnson slotting behind Lipsey on the inside.
It remained that way for two laps, but at 600 meters Lipsey and Johnson began to separate and by the bell (2:07.43), it was a two-woman race, Johnson still just behind Lipsey.
Lipsey still couldn't shake Johnson on the final lap and as they came off the final turn, Johnson swung out to lane 2 in a last-ditch effort to make the pass. But Lipsey had enough in reserve to hold her off and broke the tape for her first national title in 2:37.97, Johnson taking second in 2:38.33. Watson, who last night moved up to #3 all-time among U.S. high schoolers indoors by running 2:43.18, blew that time out of the water tonight, clocking 2:40.72 to take fourth. That time moved her past Alexa Efraimson (2:41.23); now only Mary Cain (2:35.80) has run faster among U.S. high schoolers.
Results *Lap by Lap Splits
1 Charlene Lipsey 02:37.97 adidas
2 Lauren Johnson 02:38.33 Unattached
3 Hannah Fields 02:40.18 Brooks
4 Samantha Watson 02:40.72 Unattached
5 Megan Krumpoch 02:41.42 New Balance
6 Stephanie Schappert 02:41.76 HOKA NJNYTC
7 Eleanor Fulton 02:44.66 Skechers Performance
8 Claudia Saunders 02:45.12 Brooks
9 Baylee Mires 02:46.38 Brooks

QT #1: Lipsey's extra strength this year paid dividends over the final lap to cap a great night for Derek Thompson
Lipsey joined Thompson this year, and Thompson promptly went to work on her training at both ends, increasing her speed work and bumping up her long run. The results have been tremendous, and the extra emphasis on the mile (she raced three this year, which matched her combined total from her first three pro seasons) gave her the strength she needed to win the 1000 tonight.
Thompson has a small professional training group (Wilson, Lipsey and Marielle Hall) but after Lipsey's success this year, we imagine he'll be fielding calls from a few up-and-coming athletes in search of a coach.
QT #2: Could Sammy Watson go pro out of high school? Check back after outdoors.
Watson is better right now than Wilson was as a high school senior at this time, and Wilson wound up turning pro straight out of high school. They've accomplished the same things outdoors (both won World Youth and World U20, and Watson was a year younger than Wilson was for each), and Watson has run much faster at all distances at the same point — Wilson's indoor 800 PR in high school was 2:04.13; Watson's is 2:01.78. So the logical decision for Watson should be to go pro, right?
Not necessarily. Remember, Wilson was slated to attend Florida State in the fall of 2012 and only changed her plans after running 2:00.91 outdoors to win World Juniors the summer after she graduated HS. Watson, who has not announced her college choice yet (she said USC and Texas A&M were her top two back in January), could certainly get a pro contract at this point but it may not be worth much. As terrific as her run was tonight (2:40 is ridiculous for a high schooler), shoe companies won't be pounding down the door for someone who could not beat Hannah Fields.
If Watson runs marginally faster outdoors, it makes sense for her to head to college for a year with an option to turn pro early if she really breaks out (think Donavan Brazier last year). On the other hand, if she makes a big improvement this spring (low-2:00 or faster), her value will be higher than it is now and it would make sense to take the money.
For now, we hope Watson is proud of her performance tonight and enjoys her senior spring of high school.
Men's 1000m: Clayton Murphy Exudes Racing Savvy and Great Speed
Kids if you want to learn how to race just watch Clayton Murphy. Murphy ran a tactically perfect race first 750m, running off the shoulder of leader Andrew Wheating, and then he showed the burst of speed that helped him get the Olympic 800m bronze last year, and today it got him the 1000m title in 2:18.60.
In terms of the leading duo, nothing changed in this race the first 750m. The tall Andrew Wheating had the lead and Murphy positioned himself right behind him. Early on contenders like Robby Andrews were further back in 5th and Brannon Kidder in 7th. Kidder realized he was in a load of trouble if he was giving up distance to the Olympic bronze medallist with 200m to go so he made a move up to 4th with 300m to go. Coming onto the homestretch for the penultimate time, Murphy decided it was time to go and accelerated. Wheating tried to hold him off as they entered the turn just after the bell, but Murphy got the lead around the turn and would never relinquish it. Kidder was really moving now like Murphy, but was coming from further back. On the backstretch it was clear only Murphy or Kidder was going to win this one as they were flying.  Murphy was composed throughout and even glanced at the screen once he hit the final straightaway and put on a little burst to make sure he could hold off Kidder to get his first indoor USA title.
Wheating held off Andrews for third.
Results *Lap by Lap Splits
1 Clayton Murphy 02:18.60 Nike
2 Brannon Kidder 02:19.10 Brooks
3 Andrew Wheating 02:20.39 Nike
4 Robby Andrews 02:20.40 adidas
5 Drew Windle 02:21.64 Brooks
6 Hans-Peter Roelle 02:22.29 Team Run Eugene
7 Brandon Lasater 02:22.49 Atlanta TC
8 Edwin Herring 02:23.71 Unattached
9 Tony Clement 02:33.00 Unattached
QT #1: Clayton Murphy Exudes Class
If you somehow had forgotten how good Clayton Murphy is, watch this race. He had perfect tactics and a tremendous burst of speed the final lap. Murphy ran 25.63 the final lap. Kidder's final lap was a very impressive 25.82, but he wasn't beating Murphy today unless he was in front of him at the bell.
A great run by Kidder (whose best event right now is likely the 1000), but an even better one by Murphy.
QT #2: Will Robby Andrew Learn How to Run Tactically Sound?
In college Robby Andrews was known for having a huge kick that would propel him to the wins in races when he wasn't right on the lead. That usually does not work at the pro level. At the Olympics, Andrews had plenty in the tank to make the Olympic 1500m final, but he was positioned so poorly tactically he had no where to go and had to step on the infield which got him DQd.
Today Andrews didn't have plenty in the tank, but he spotted a guy who is faster than him, Murphy, tons of distance in this race. Not a smart thing to do. Kidder also spotted Murphy tons of distance being further back than Andrews early, but he tried to get himself where he needed to be with 300m of racing left. The problem for Kidder was Murphy went for the lead right as Kidder was getting in striking distance. The problem for Andrews was a bigger one, he never was in the position he needed to be in this race.
Men's mile: Cristian Soratos' bid for glory comes up 30 meters short as Ben Blankenship wins his first national title
Two years ago, Cristian Soratos shook things up at the NCAA Indoor Championships with a huge mid-race surge, but ultimately had to settle for second behind Edward Cheserek. Tonight, Soratos once again went for it in a national championship and once again it took a great performance from a Eugene-based runner to deny him, as Ben Blankenship blasted a 27.09 final lap to run down Soratos in the home stretch and win his first national title in 3:59.22. Blankenship was only sixth in last night's two-mile final, but he was at home over his preferred distance tonight, coolly moving from fourth to first over the final lap. He even found the time to celebrate by pushing his hands down just before crossing the finish line — a gesture he made at the same spot of the track 20 hours earlier, when he tried to signal he didn't want to lead during the early stages of the two-mile final.
The Race
This one began conservatively and through the first four laps (2:04.75), the entire field was still together. But just before the halfway point, Soratos moved to the front and proceeded to drop a 58.61 400, stringing the race out as Garrett Heath and Olympic silver medallist Evan Jager ran 2-3 behind him. Kyle Merber, who had looked great all year and ran 3:52 last weekend, moved up into second on lap six, and with two to go he was in great position on Soratos' shoulder. However, with 300 to go, Merber began to move backwards as Heath, Jager and Blankenship all passed him before the bell.
Soratos still led at the bell, but he wasn't free and clear yet as Heath, Jager and Blankenship were still in contention. Blankenship shifted gears on the backstretch and moved up to second, but Soratos still led by a couple of steps on the final turn. Blankenship was closing and he still trailed behind as they hit the homestretch, but he had one final gear and hit it. With 25 meters to go, he finally caught Soratos, who was powerless to respond, and Blankenship cruised by him to win his first U.S. title. Soratos was a clear second in 3:59.56 while Heath held off Jager for third.
Results *Lap By Lap Splits
1 Ben Blankenship 03:59.22 Nike
2 Cristian Soratos 03:59.56 adidas
3 Garrett Heath 04:00.31 Brooks
4 Evan Jager 04:00.38 Nike / Bowerman TC
5 Lopez Lomong 04:01.26 Nike / Bowerman TC
6 Kyle Merber 04:02.75 Hoka One One
7 John Gregorek 04:03.72 ASICS
8 Steven Mangan 04:09.88 NE Distance
9 Adam Godwin 04:10.43 Unattached
10 Ford Palmer 04:11.93 HOKA NJNYTC
11 Leo Manzano 04:21.92Hoka One One
DNF Alfredo Santana adidas Garden State TC
QT #1: A well-deserved national title for Ben Blankenship, who stayed relaxed and raced smart
Blankenship was only sixth in last night's two-mile, but it's become clear this season that his current fitness is much better suited for the 1500/mile than the two-mile: recall that he struggled in the 2-mile at Millrose (9th in 8:27) before coming back a week later to win the 1500 in Birmingham in 3:36.
Blankenship looked very relaxed, even when he was kicking on the final lap, and knew that as long as he was in contention late he'd be in good shape.
"Just wanted to play it cool, relax my way into it," Blankenship told NBC Sports' Lewis Johnson after the race. "Make sure I was still in striking distance with 200 to go."
Blankenship was in striking distance at the bell, and even though he had to pass three guys on the final lap, that was no problem as his final 200 (27.09) was almost a second better than the next-fastest guy (Soratos in 28.03).
QT #2: Cristian Soratos' Second Year as a Pro Going Much Better Than his First
Last year Cristian Soratos did PR at 1500 outdoors (3:39.83), but it was a pretty disastrous season for a guy who came out of the NCAAs with big expectations. Soratos didn't even qualify for the Olympic Trials.
Soratos went back to Bozeman, Montana, this year and his collegiate coach Lyle Weese. The results have been much better so far. First came a dominant win and PR in the "B" mile at Millrose (3:54.23) and then an absolute PR at 800 (1:48.83). Now he has his highest finish at a US Champs.
Women's 2 mile: Shelby Houlihan Caps a Dominant Weekend
When someone is way better than you, there's not much you can do, a lesson the women in the two-mile were taught by Shelby Houlihan tonight. Last night's mile — which Houlihan won thanks to a 2:06.98 final 800 and 28.78 final lap — proved that Houlihan had the best kick in this field and set her up as the favorite. And unfortunately for her two-mile competitors, Houlihan is also a 2016 Olympian at 5,000 meters with a 15:06 PR, so dropping her early in this race — at altitude, no less — was not going to be an option. As a result, Houlihan was able to dictate the race, chilling out until 600 meters to go, at which point she gradually increased the pace before ripping the field apart with a 29.91-second final lap. It was a truly dominant performance, and one that gave Houlihan her second national title in a 24-hour span.
The race started extremely slow (over 6-minute mile pace the first 800) and remained slow through the mile (5:39 for 1618m) when Katie McMenamin of the Roots Running Project decided to make it an honest race. McMenamin upped the tempo to sub-35-second laps and would lead until 600 to go. That is when Houlihan decided she had had enough and made her move to complete the double. McMenamin, Heather Kampf, Sara Sutherland, and Katie Mackey tried to respond to Houlihan but it was futile. Sutherland was still with Houlihan at the bell but Houlihan was clearly best the final lap and powered away to her second title in two days as Kampf passed Sutherland for second and Mackey got 4th ahead of McMenamin.
Results *Lap By Lap Splits
1 Shelby Houlihan 10:19.14 Nike / Bowerman TC
2 Heather Kampf 10:21.80 ASICS / Team USA Minn.
3 Sara Sutherland 10:22.49 Saucony
4 Katie Mackey 10:22.78 Brooks
5 Katie McMenamin 10:24.80 Roots Running Project
6 Emily Lipari 10:44.62 Boston Athletic Association
7 Rachel Schilkowsky 10:46.20 rabbit
8 Emily Oren 10:46.35 Oiselle
9 Katrina Coogan 10:48.51 New Balance
10 Ayla Granados 10:52.38 rabbit / Strava TC
11 Patricia Terry 11:19.75 Texas Elite TC
QT #1: Houlihan was clearly the best female distance runner in Albuquerque this weekend
Houlihan came into the meet in terrific shape after a training block in Flagstaff this winter, and with her biggest threats — Jenny Simpson, Shannon Rowbury, Kate Grace, Brenda Martinez — skipping the meet, there was no one to stop her from dominating the competition this weekend. Though her winning times were not impressive (4:45 and 10:19 for the mile and two-mile), Houlihan's closing speed was, not only for how fast it was but how strong and powerful she looked on the last lap of each race.
Rowbury, Grace and Simpson are better in the 1500 than anyone the U.S. is going to trot out at 5,000 meters this summer (comparatively), so if Houlihan wants to make it to Worlds, her best bet is the 5,000. But after her success in the mile this year indoors, it may make sense for her to test the 1500 a few times outdoors before deciding on an event to focus on.
Sprints
Women's 60m Hurdles: Keni Harrison Gets Her First National Title
Keni Harrison set the world record in the 100m hurdles last year so now every time she runs, there is the expectation that she run fast. Many thought she might challenge Susanna Kallur's world record of 7.68 here as Harrison ran 7.74 in the semifinals here to show the record was in reach. In the final however, she didn't get a good start and was in a dogfight with Jasmin Stowers. Harrison hung on to win by .01 in 7.81, her first national title. The bar is very high for Harrison this year, but most importantly for her she remained undefeated in 2017.
Results
PLACE ATHLETE RESULT REACT LN/POS
1 Keni Harrison adidas 7.81 0.176 4
2 Jasmin Stowers Nike 7.82 0.179 6
3 Christina Manning adidas 8.02 0.150 3
4 Kaila Barber Unattached 8.10 0.190 8
5 Evonne Britton Unattached 8.12 0.146 2
6 Jade Barber Unattached 8.14 0.235 1
7 Jackie Coward Unattached 8.40 0.168 7
DNF Sharika Nelvis adidas 0.139 5
Men's 60m Hurdles: Aries Merritt Gets USATF Title #1 Post Kidney Transplant
There isn't much Aries Merritt hasn't done in the sport as he won the Olympic gold and set the world record in 2012. However, his career is in a new phase as he received a kidney transplant after the 2015 season.
He got his first USATF title post-kidney transplant as he won the 60 hurdles here over Aleec Harris in 7.51. The last time Merritt won indoors was 2012, which was his magical year.
Results
PLACE ATHLETE RESULT REACT LN/POS
1 Aries Merritt Nike 7.51 0.159 4
2 Aleec Harris adidas 7.54 0.161 6
3 Jarret Eaton Unattached 7.59 0.167 5
4 Spencer Adams Unattached 7.67 0.119 3
5 Dondre Echols Unattached 7.69 0.158 7
6 Max Hairston Unattached 7.71 0.134 2
7 Ryan Fontenot Unattached 7.80 0.157 8
8 Brendan Ames Unattached 7.87 0.145 1
Women's 60m: Morolake Akinosun Gets Her First National Title
Morolake Akinosum, who ran at the University of Texas, and got a 4×100 gold in Rio, won her first USATF title in 7.08 over Dezerea Bryant in 7.11.
Results
PLACE ATHLETE RESULT REACT LN/POS
1 Morolake Akinosun Nike 7.08 0.176 4
2 Dezerea Bryant Nike 7.11 0.168 3
3 Lekeisha Lawson adidas 7.15 0.179 5
4 Mikele Barber adidas Garden State TC 7.21 0.160 6
5 Tawanna Meadows Nike 7.28 0.169 7
6 Nikia Squire Unattached 7.35 0.176 8
7 Melanise Chapman Unattached 7.36 0.151 2
8 Gabrielle FarquharsonUnattached 7.43 0.170 1
Men's 60m: Ronnie Baker Gets USATF Title #1 in a Quick 6.45
Ronnie Baker, won two NCAA 60m titles at TCU, and he got his first USATF title comfortably in 6.45 today. It's a time only 5 people have ever run faster than. The big question is what can Baker do outdoors now? He ran 6.47 two years ago and still is yet to break 10.00 in a wind legal race.
Results – PLACE ATHLETE RESULT REACT LN/POS
1 Ronnie Baker Nike 6.45 0.164 6
2 LeShon CollinsTeam Perfect Method 6.54 0.158 5
3 Desmond Lawrence Unattached 6.58 0.138 3
4 Marqueze Washington Unattached 6.60 0.167 2
5 Dentarius Locke Nike 6.60 0.164 4
6 Tevin Hester Unattached 6.61 0.153 8
7 Cordero Gray Unattached 6.64 0.128 7
8 Quentin Butler Nike 6.66 0.128 1
Field Events
High Jump: 19 Year Old Vashti Cunningham won her second USATF indoor title.
Women's pole vault: Sandi Morris repeats after Jenn Suhr backs out
Suhr, the reigning World Indoor champ, made headlines on Saturday by withdrawing from the pole vault at USAs, and that paved the way for Olympic/World Indoor silver medallist Sandi Morris, who defended her crown on Sunday thanks to a clutch final-attempt clearance at 4.70 meters (15-5).
When Suhr made her initial withdrawal announcement on Saturday, she cryptically referred to "frustrations" that she has had to deal with at USAs, causing many to wonder what, exactly, she meant. Suhr shed some more light by posting on Facebook again on Sunday a video and text.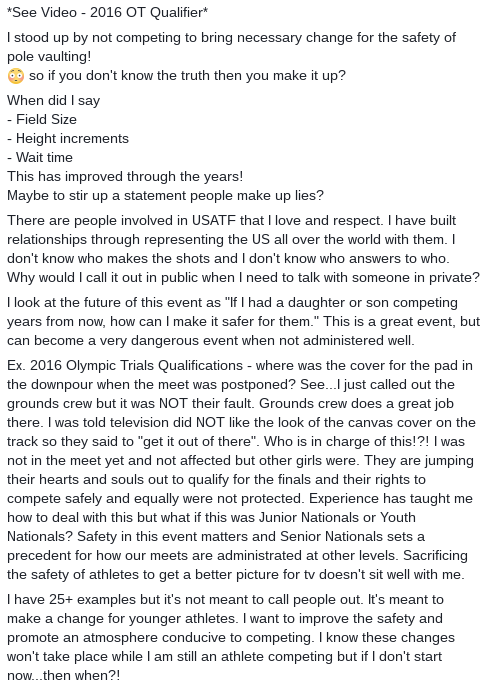 It was not clear if there was a specific safety issue in Albuquerque that caused Suhr to withdraw.